King Cake Donut Holes give you all the tasty king cake flavor, in miniature fried balls of fluffy dough. The dough is enhanced with a hefty hit of cinnamon, then fried and dunked in vanilla bean icing. All that's left is a festive sprinkle of green, yellow, and purple sanding sugars to bring the Mardi Gras vibes right into your own kitchen!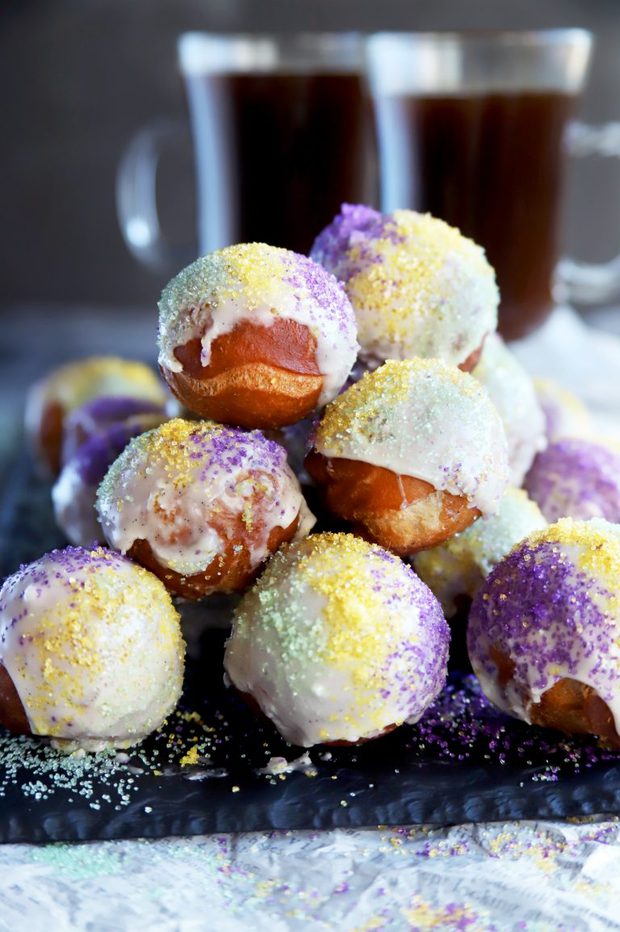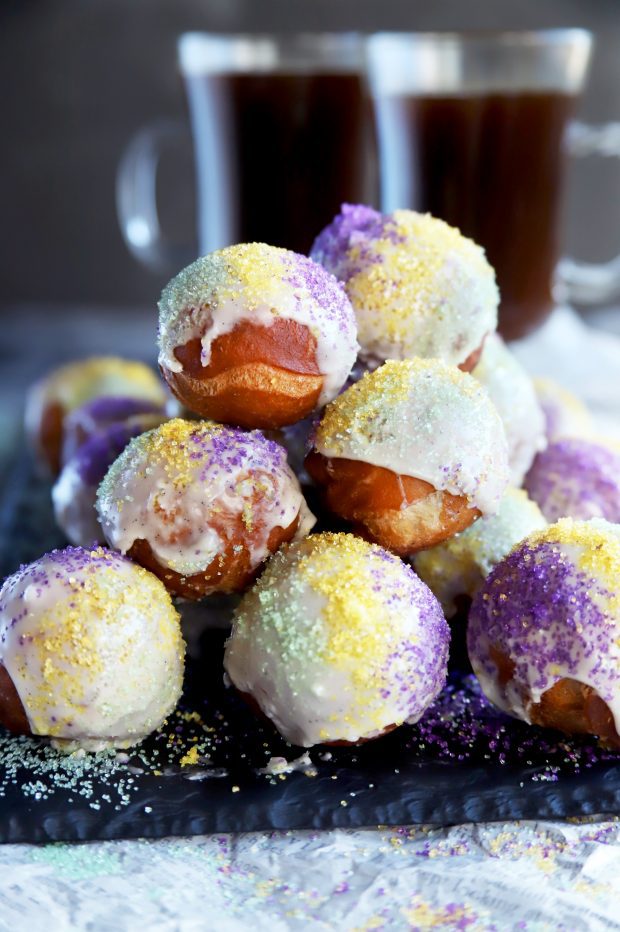 Please note that some of the links below are affiliate links. If you make a purchase through one of these links, I will receive a small commission.
One of my goals in life is to make it to New Orleans for Mardi Gras. Even though it's after the football season is over (the Man is a BIG Saints fan, just in case you weren't aware), I think it would be a pretty easy sell for him to go.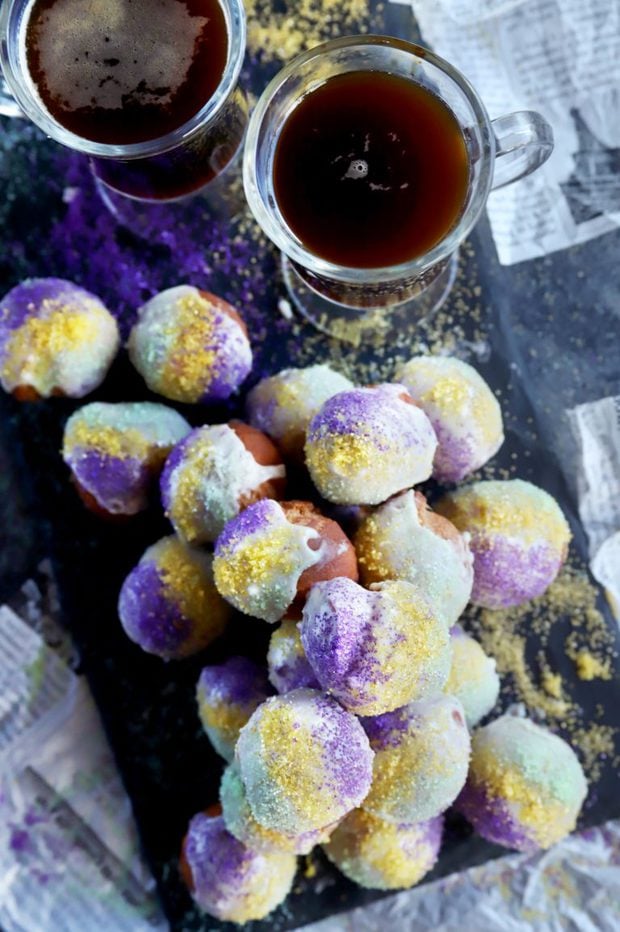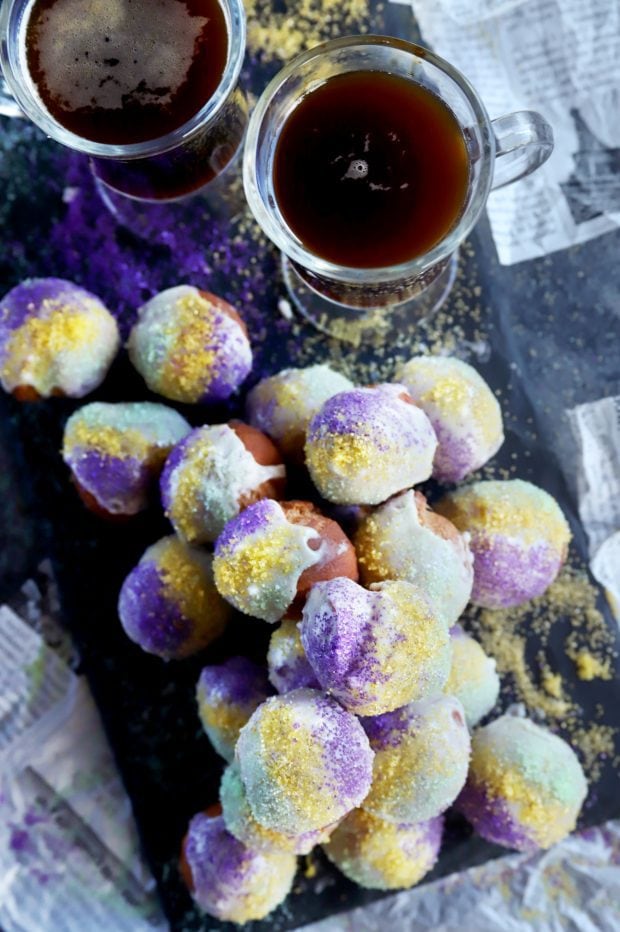 Honestly, it's not really so I can walk around, drinking in the streets and partying until dawn.
Ok it's not ONLY for that.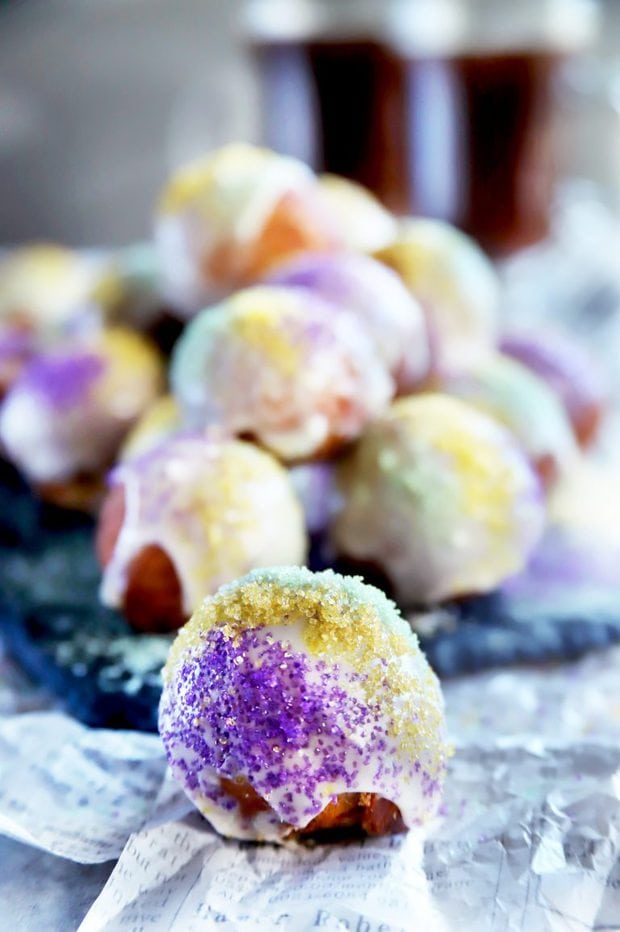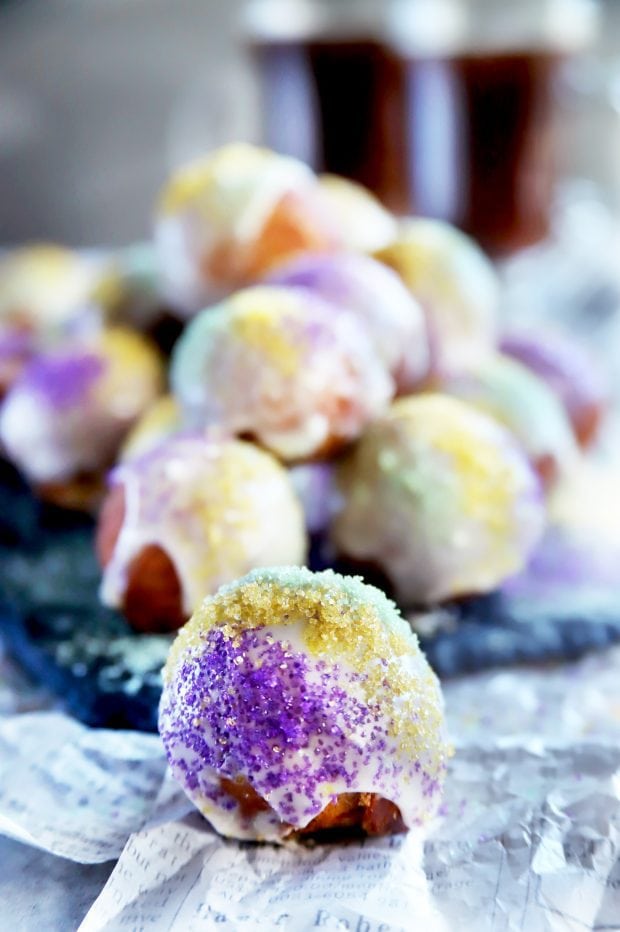 It's really all about the food for me. New Orleans already has a massive reputation for incredible food, but when it comes to a holiday that has some amazing food inspiration, Mardi Gras sure has it.
These little king cake donut holes are my new favorite way to enjoy king cake, but for BREAKFAST. The fried balls of dough have a lovely cinnamon flavor to start with. Then, they are dipped in a rich and creamy vanilla bean icing for a boost of flavor.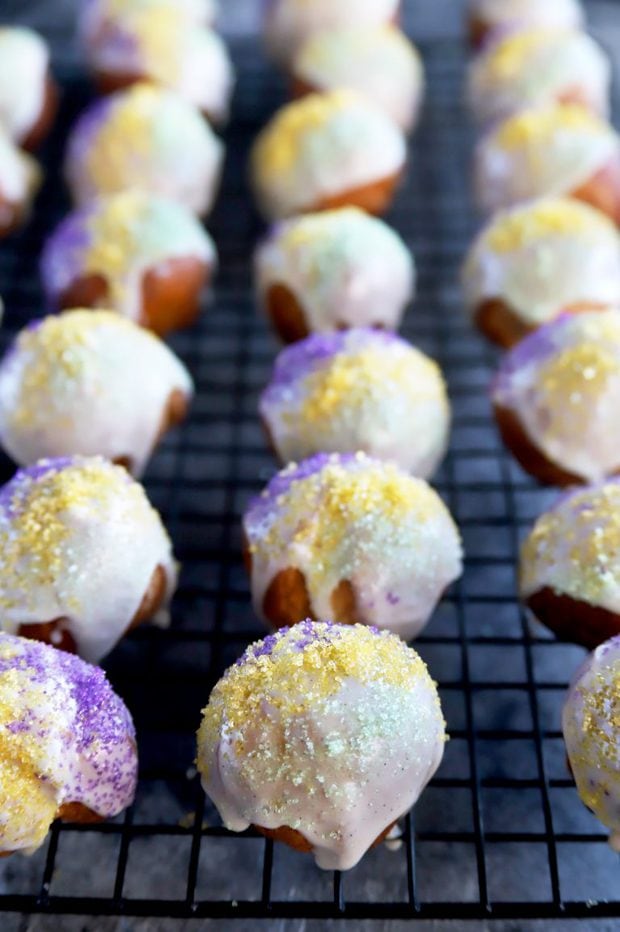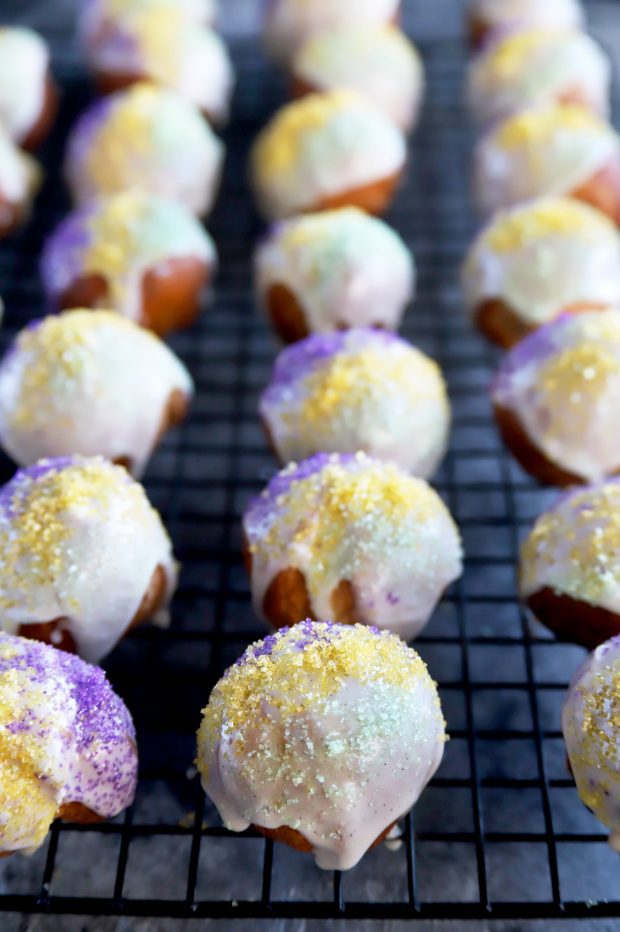 Finally, they are sprinkled with the festive green, purple, and yellow of Mardi Gras for an extra touch of celebration!
They are perfectly poppable and they make waking up on a Saturday or Sunday morning a whole lot easier… Especially if you've had a few hurricane cocktails the night before, if you know what I mean 😉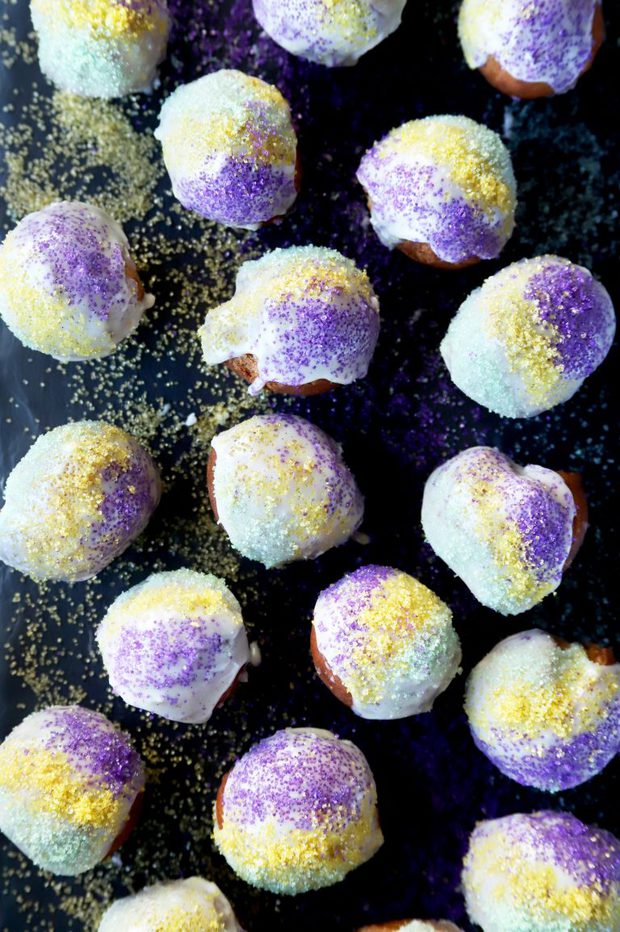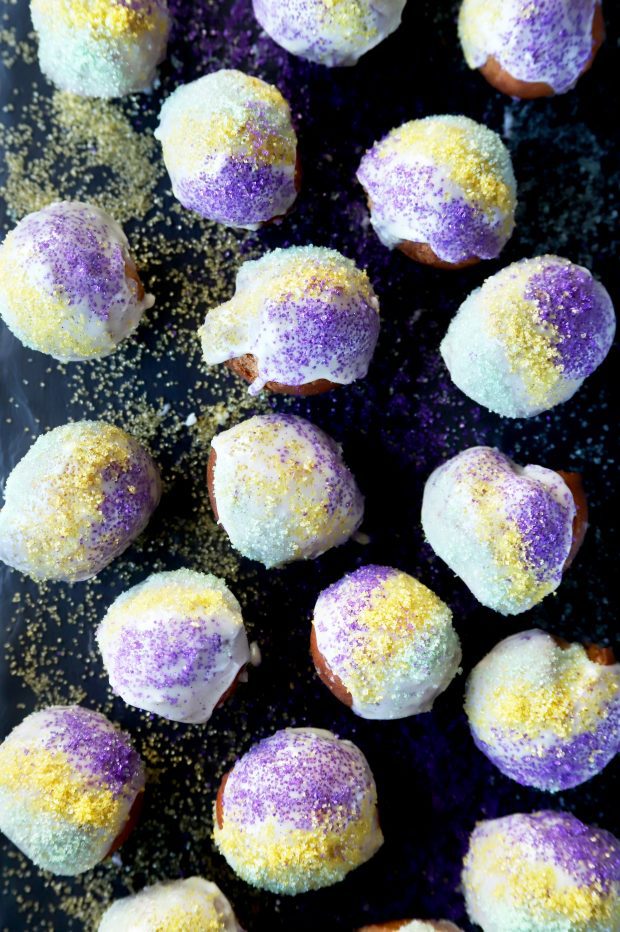 Are you looking for more inspiration for Mardi Gras this year? Here are some of my favorite recipes to bust out this time of year.
Cajun Shrimp & Andouille Sausage Stuffed Potatoes
King Cake Crack Candy (this one is SO EASY!)
Beignet and Coffee Cocktail Shake
Hatch Green Chili Gumbo (my take on blending Mardi Gras with some Colorado flair!)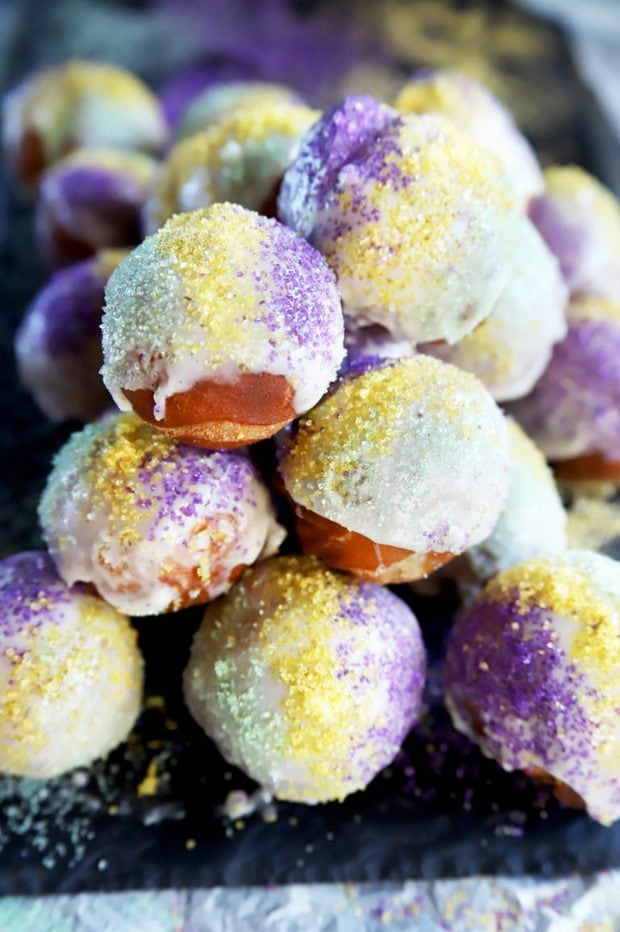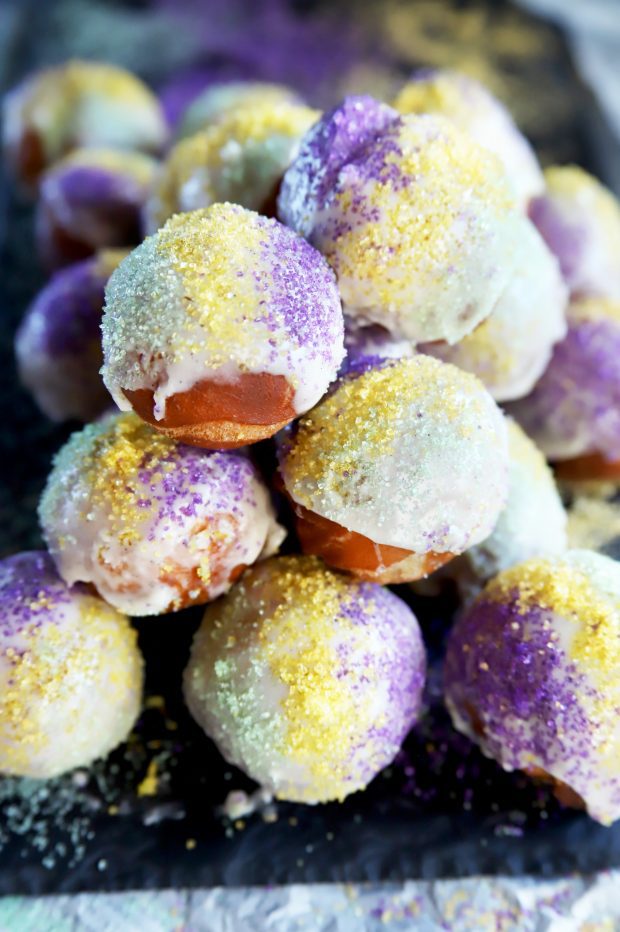 ALSO me and my fellow blogging friends are banding together to bring you a whole list of tastiness for the season! Check below the recipe card for the full list of recipe inspiration!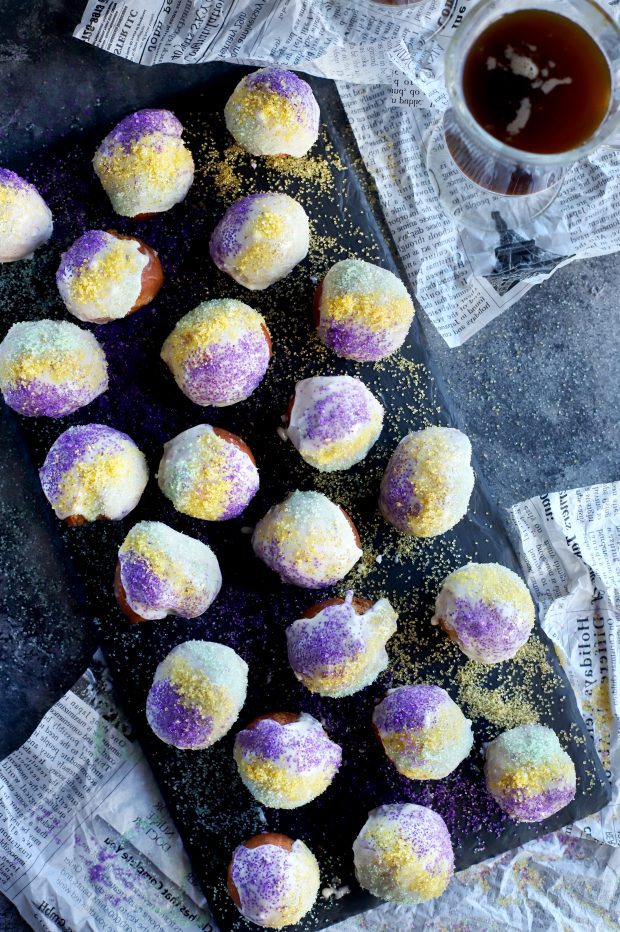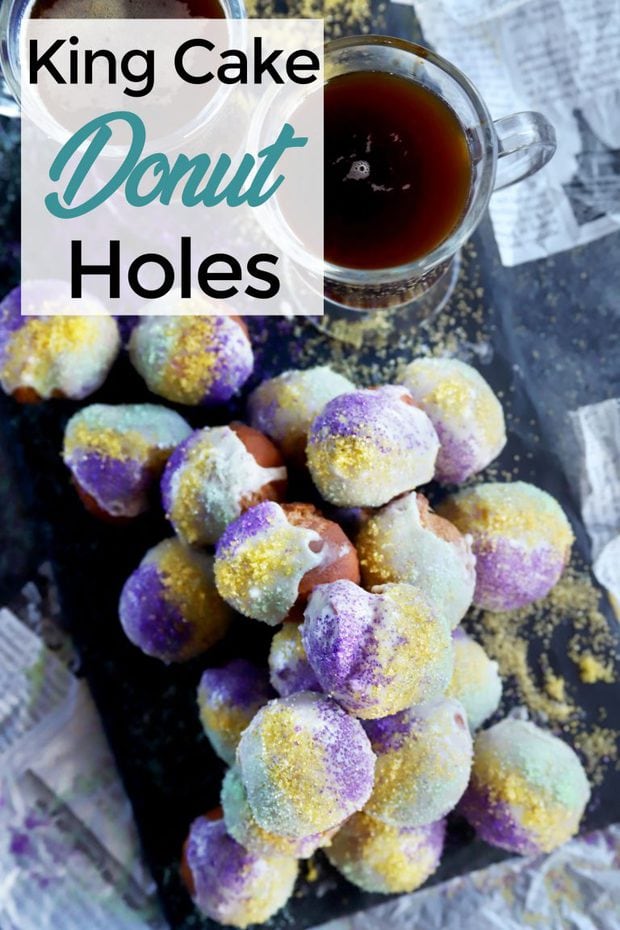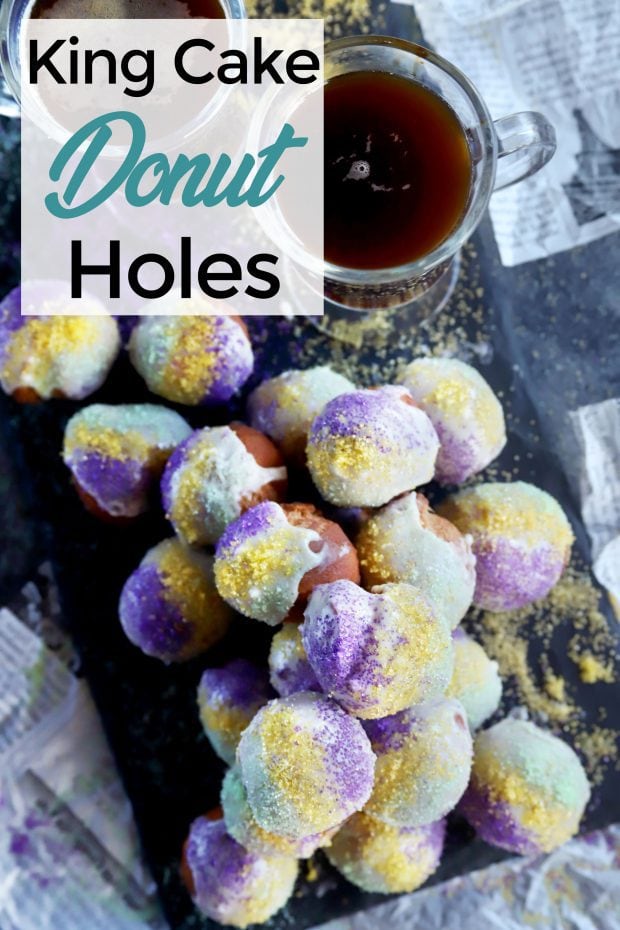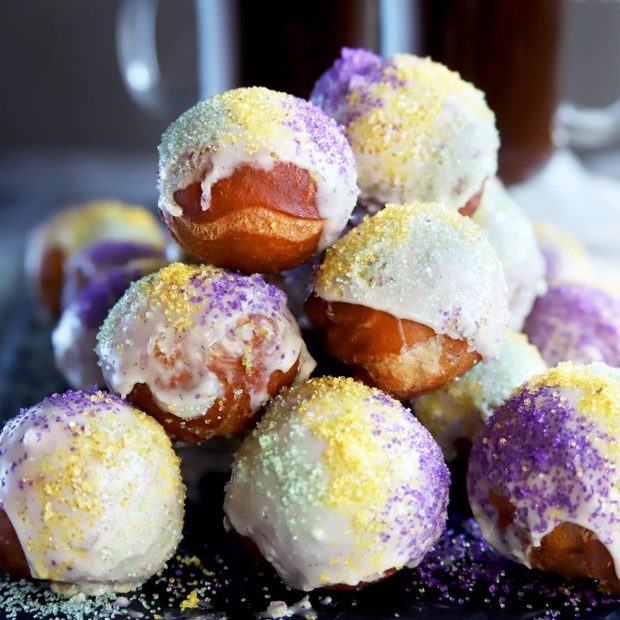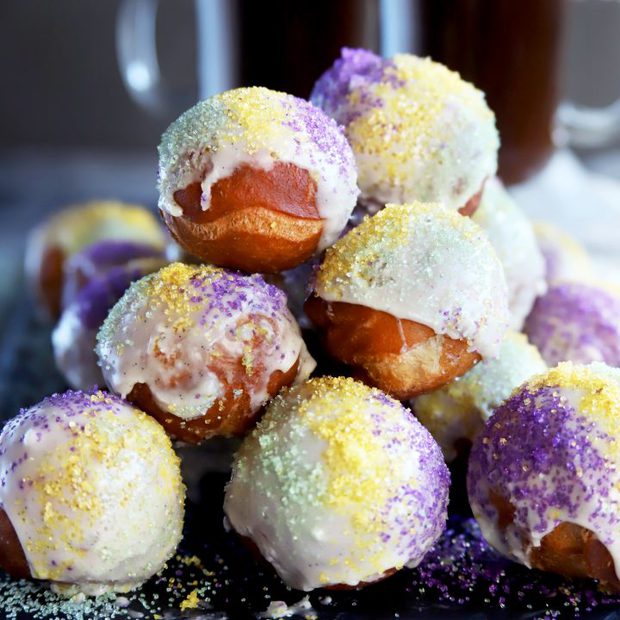 King Cake Donut Holes
All the flavors of King Cake in bite-sized form, with a cinnamon dough that's fried and dipped in a vanilla bean icing. Decorate with purple, yellow, and green sanding sugars for a festive flair!
Ingredients
DOUGH
2 1/2 tsp dry active yeast
2/3 cup warm milk
1/4 cup granulated sugar + more for coating
3 large eggs, room temperature
3 1/2 cups all-purpose flour
1 1/2 tsp fine sea salt
1 1/2 tsp ground cinnamon
8 Tbsp unsalted butter, softened
Canola oil for frying
ICING
1 1/4 cups confectioners' sugar
Pinch of salt
1 Tbsp light corn syrup
1 Tbsp melted butter
2 Tbsp milk
2 tsp vanilla bean paste
DECORATION
Green sanding sugar
Yellow sanding sugar
Purple sanding sugar
Instructions
To make the donut holes, add yeast, 2 tsp sugar and warm milk in the bowl of a stand mixer. Let stand for 5 to 8 minutes, until the mixture is foamy. Whisk in remaining sugar and eggs.
Add half of the flour and all of the salt to the bowl. Using a dough hook, mix on low until the dough starts to come together. Add the rest of the flour and mix until the dough looks a bit shaggy. Slowly add the butter and beat at medium speed. Knead for about 3 minutes until the mixture is a smooth dough.
Add dough to a bowl that's been greased lightly with oil. Cover with plastic wrap. Place in the refrigerator and let chill overnight.
When you are ready to make the donut holes, flour a flat work surface and roll out the dough to approximately 1/2 inch thick. Using a one inch round cutter, cut out circles and then form those circles into balls. Place them on a parchment lined baking sheet.
Add oil to a large, heavy bottomed pot (I used a Dutch oven) and heat over medium heat until oil is 350˚F.
Fry the doughnuts in batches of approximately 5 to 6 balls. Cook for approximately 2 minutes, rotating to make sure they cook on all sides, until golden brown. Remove when cooked through to a paper towel lined baking sheet.
Stir all ingredients for the icing in a medium bowl until smooth. The icing should be thick enough to stay on the donut holes, while also thin enough to allow excess to easily drip off.
When the donut holes are cooled, dunk each in the icing and place on a rack on a rimmed baking sheet.
Sprinkle with sanding sugars as desired for decoration.
Recommended Products
As an Amazon Associate and member of other affiliate programs, I earn from qualifying purchases.
I'm excited to share that it's not only me that is busting out the Mardi Gras recipes this time of year! Today my fellow foodie bloggers and I have gotten together to share as much deliciousness as possible with you all! Check out all the recipes below for everything you could ever need to celebrate Mardi Gras season. There's cocktails, there's savory, and there's sweet!
Hurricane Matthew (A Hurricane Drink Recipe)
by Off the Eaten Path
Vieux Carre Cocktail
by Feast + West
No Churn Mardi Gras King Cake Ice Cream
by The Speckled Palate
Cajun Spicy Tomato Soup
by Online Pastry Chef
Jambalaya Balls
by Love & Flour
Shrimp Hush Puppies
by Stetted
Traditional Polish Pączki
by The Crumby Kitchen
King Cake Donut Holes
by Cake 'n Knife
Easy Shrimp Po Boys
by Simply Whisked
Easy Jambalaya
by The Secret Ingredient Is
Mardi Gras King Cake
by Nancie's Table
Homemade Beignets
by Kudos Kitchen by Renee
Pecan Pralines
by Stephie Cooks