Please note this post contains affiliate links.
Instant Pot Short Rib Osso Buco is the easy way to make a fancy meal, all in one pot! Using short ribs instead of traditional lamb makes the classic Milanese dish even heartier. Topped with an herbaceous and tangy gremolata, you can bust out an elegant meal in little to no effort.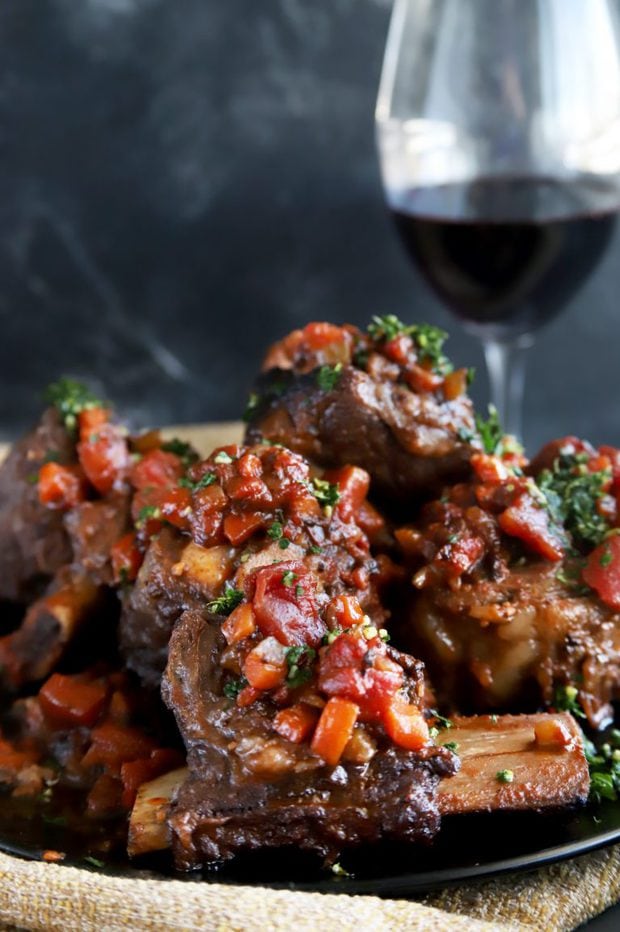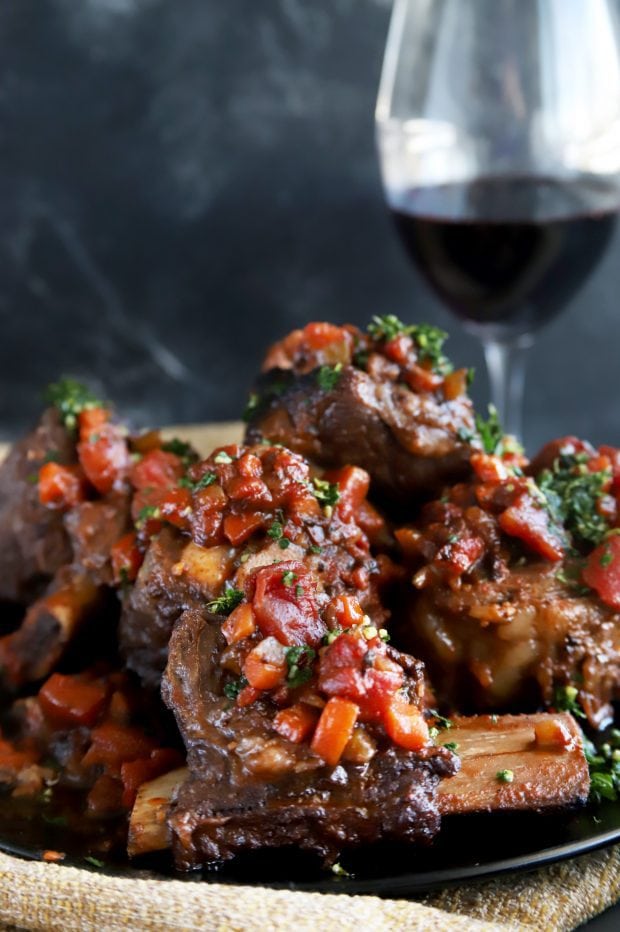 Disclosure: This post is sponsored by Instant Pot! As always, all opinions are my own. Thanks for supporting the brands that support Cake 'n Knife!
Lately I've been trying to turn as many fancy meals as I can into Instant Pot masterpieces.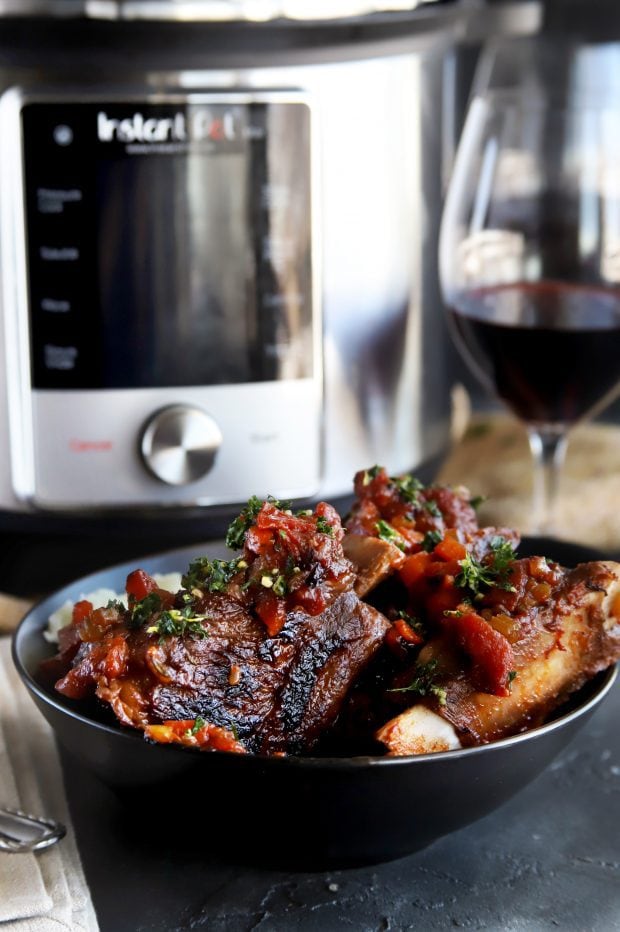 Because let's face it, we can't all have dinner parties on the weekend with hours to plan them and cook every recipe.
Normally those dinner parties come together hastily, with little time to cook because everyone's schedules are insane due to work/kids/classes/etc. However, there's a different way.
That's why I turn my favorite meals into something delicious that comes together in one pot and doesn't take an insane amount of effort to pull together.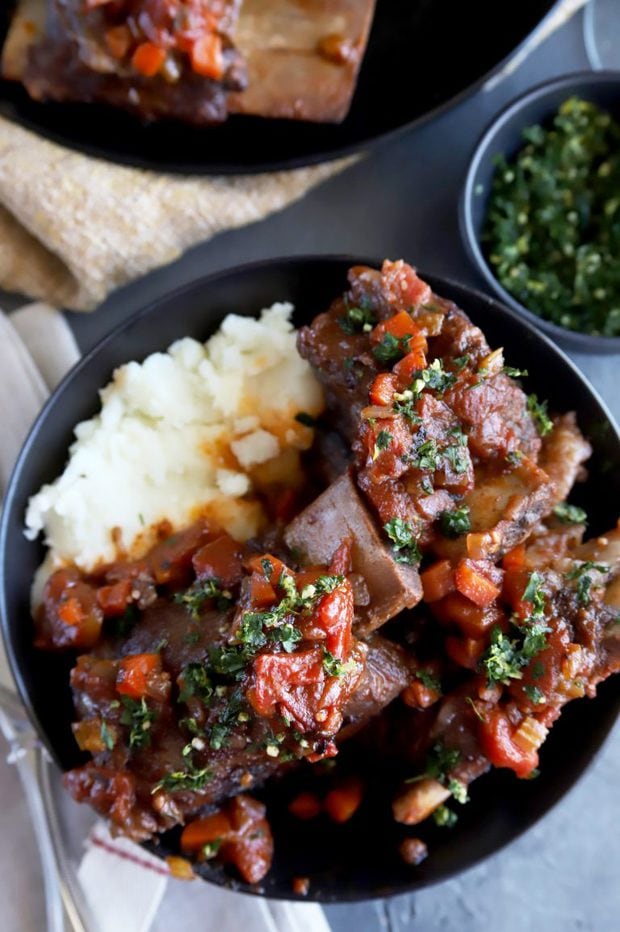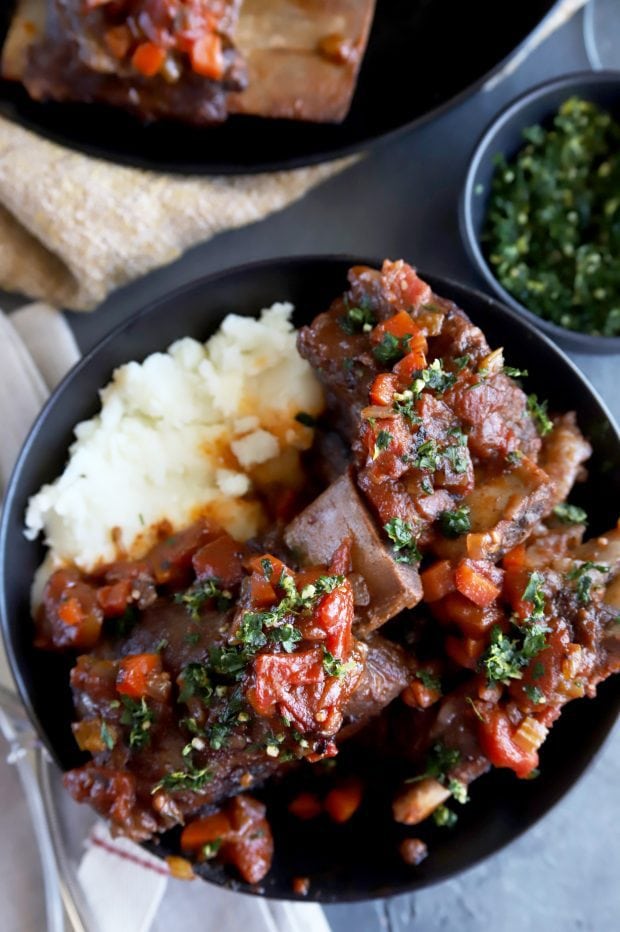 Please note that some of the links below are affiliate links. If you make a purchase through one of these links, I will receive a small commission.
The flavor in these short ribs is pure HEAVEN, my friends. It's a savory bomb of deliciousness that will, simply put, make your night perfection.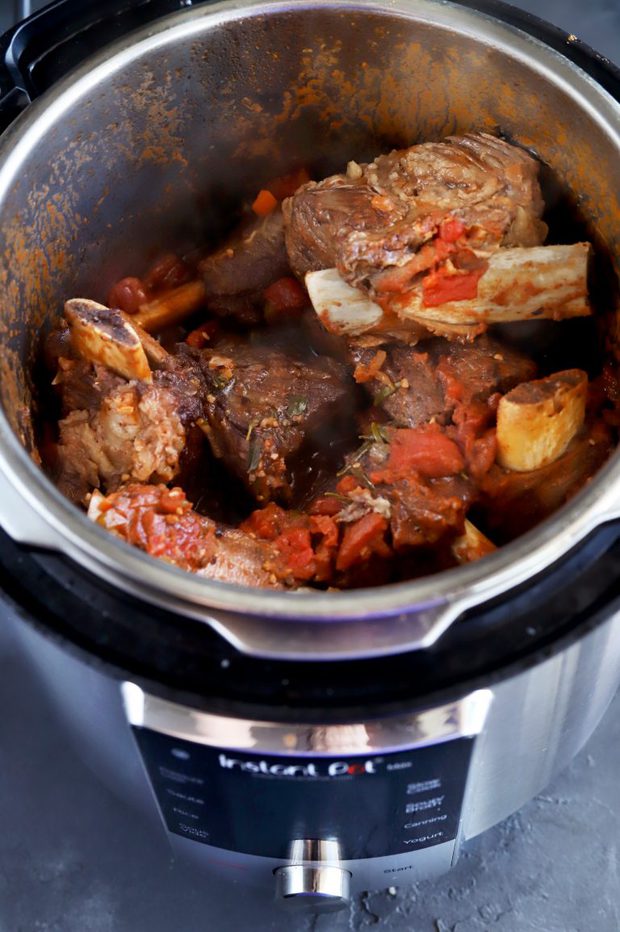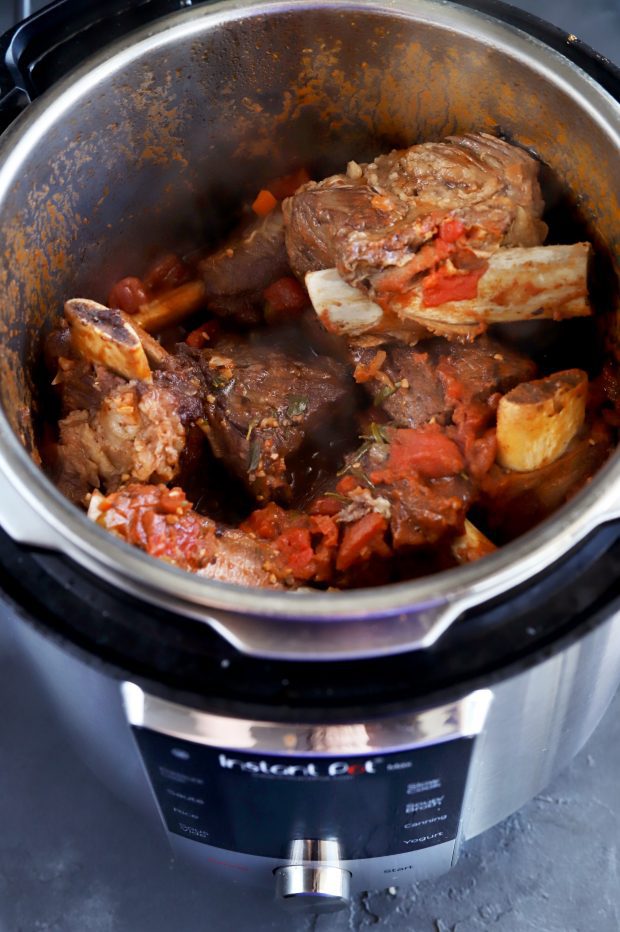 It's a dish that not only stuns people in flavor, but also in appearance.
I mean just look at that plate of meaty perfection. Gosh, I'm drooling already just thinking about it again…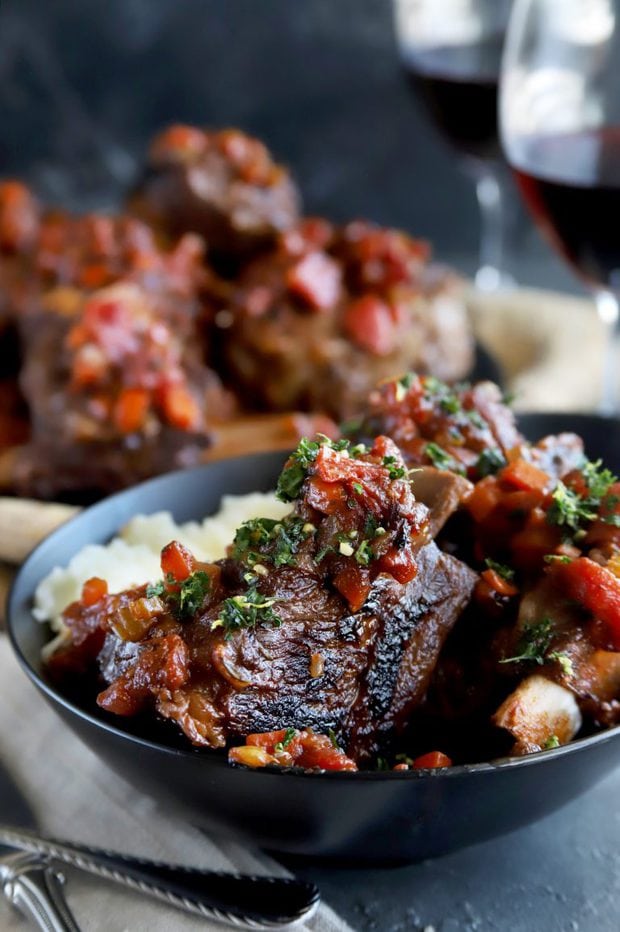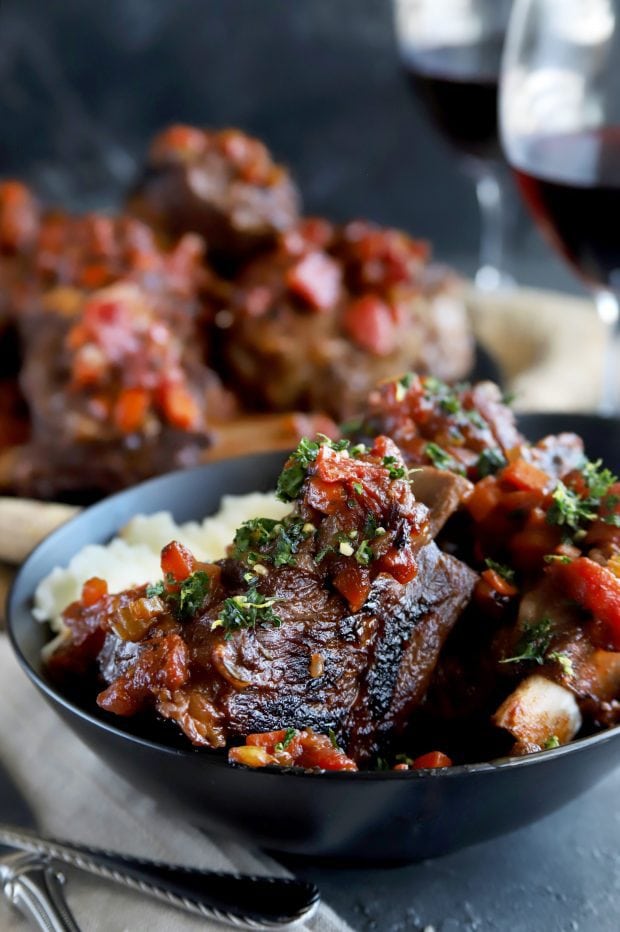 Let's talk about the flavor. There's veggies sautéed in bacon fat, thick and meaty short ribs, red wine, and rich tomatoes. All of those layers of flavor are what make this dish so complex.
The best part though? It all comes together in one pot, and that pot is the Instant Pot.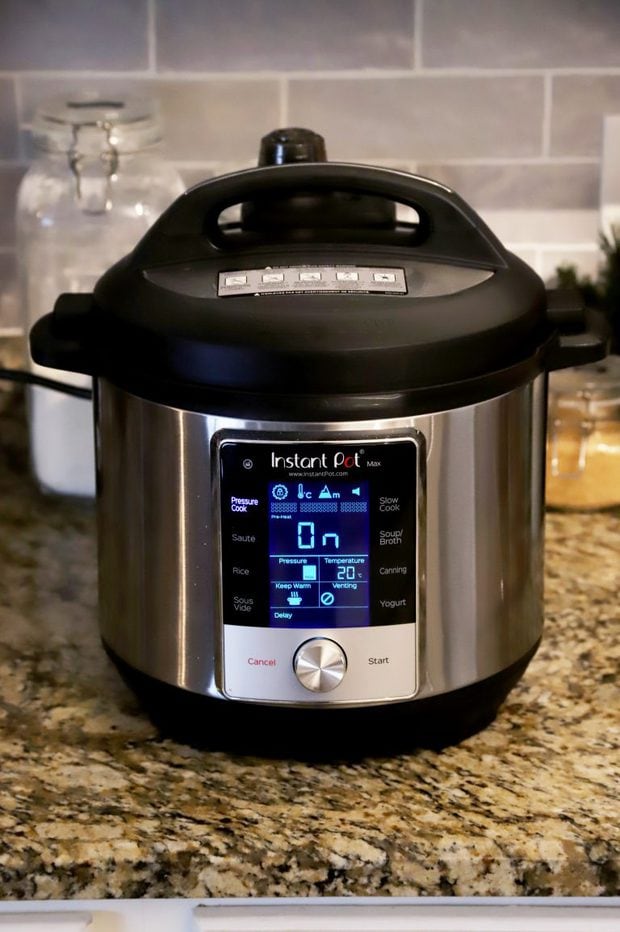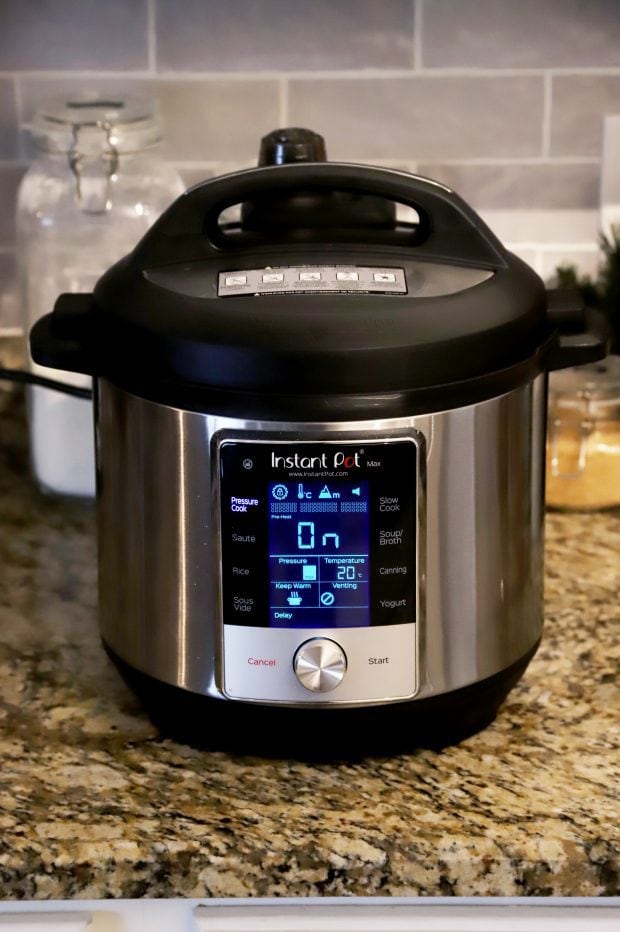 This Instant Pot Max 6 Quart is INSANELY AWESOME. Seriously, I am not sure how I would live without it. Some of you might be wondering what the difference is between this Instant Pot model and others, and there are quite a few!
Revolutionary 15psi pressure cooking capability and NutriBoost™ technology which enhances the cooking process, as well and using up to 70% less energy.
New Sous Vide program where you can get perfect cooking results and retain more vitamins/minerals in the food. If you have been dying to try sous vide at home, this is an awesome way to do it all in the same cooker!
The Slow Cook function is even more enhanced now to compare with a traditional slow cooker. It makes it even easier to customize your slow cooking now!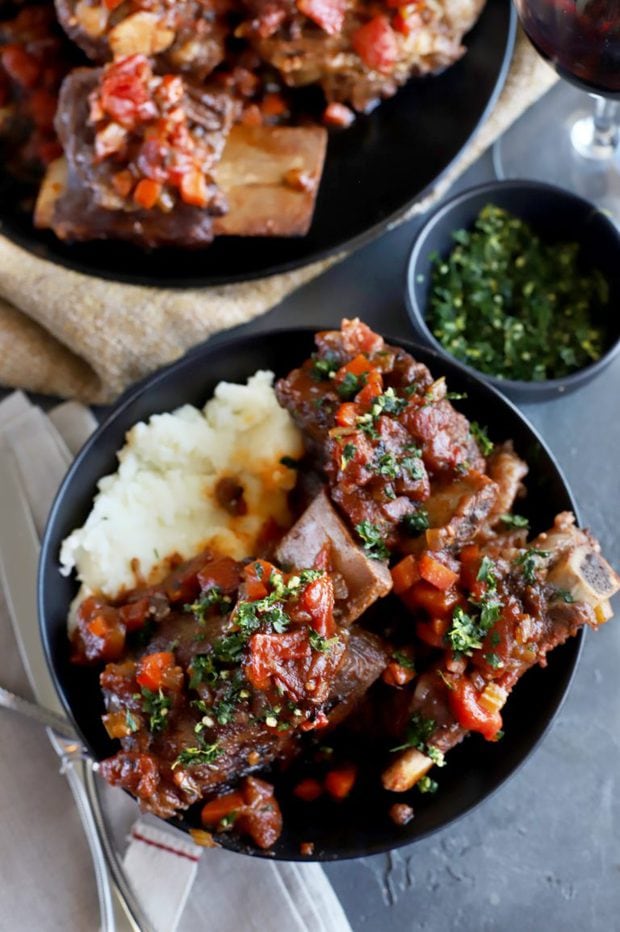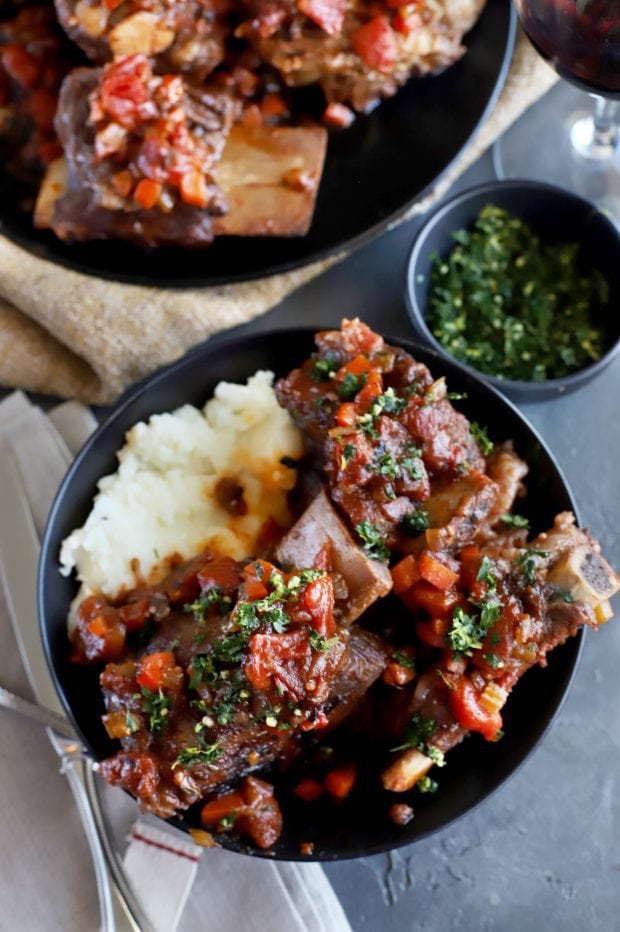 As you all know, I depend on this appliance so much in our daily life. It is energy efficient and you don't even have to press a button to release pressure anymore. Now you can set it via the touch screen and the Instant Pot takes care of the rest for you.
No more worrying about getting burned by steam in any way!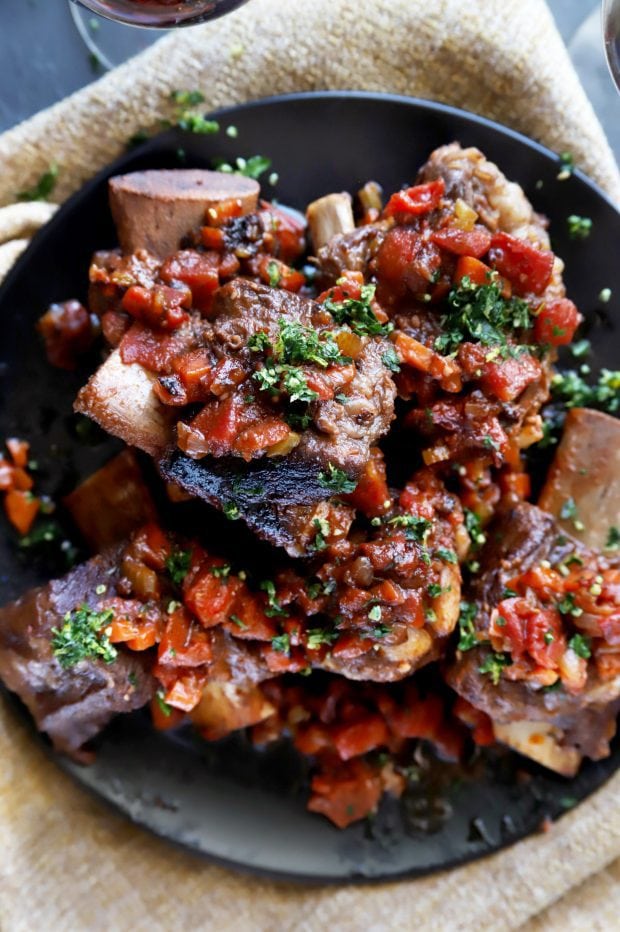 Again, the LCD screen is just the best. Because I am a nerd. I know.
This Recipe's Must-Haves
The ever-so amazing Instant Pot Max 6 Quart Multi-use Electric Pressure Cooker with 15psi Pressure Cooking, Sous Vide, Auto Steam Release Control and Touch Screen! Obviously a must for this recipe, but you can use any other Instant Pot model for this recipe as well (except for the mini, unless you cut the recipe in half).
I love these locking Dreamfarm Clongs 12-Inch because the lock is super easy to tap open and shut. Also they are bent so you can set them on your counter without worry about dirtying it! Because cleanliness, friends.
You all know how much I love my Stainless Steel Mixing Bowls. Literally can't go a day without using at least one of them!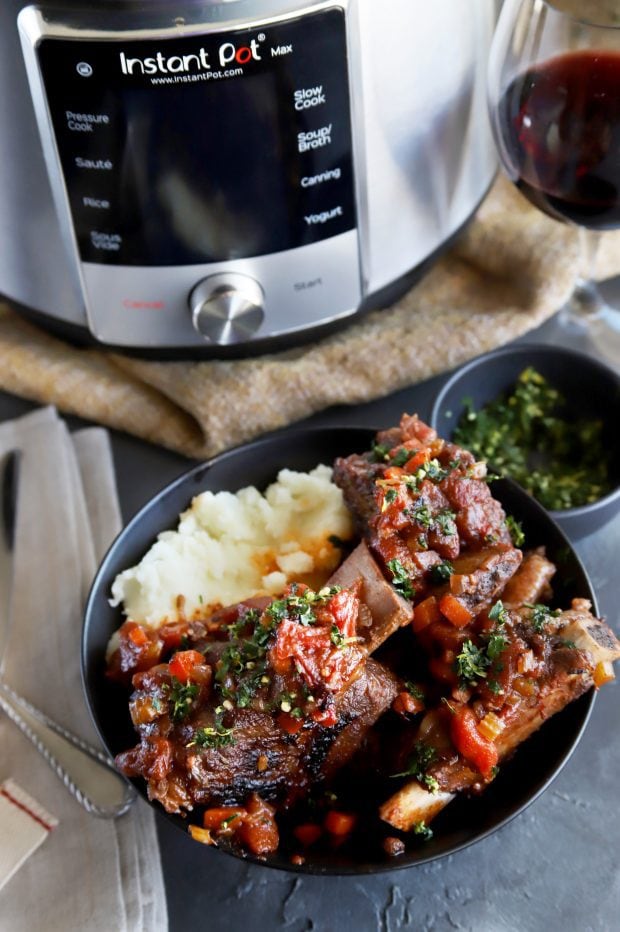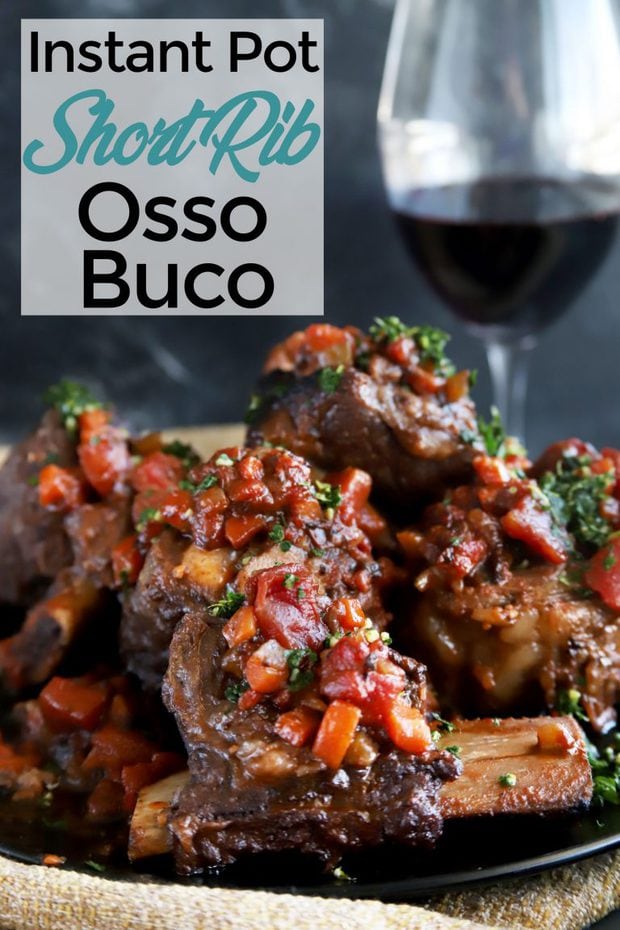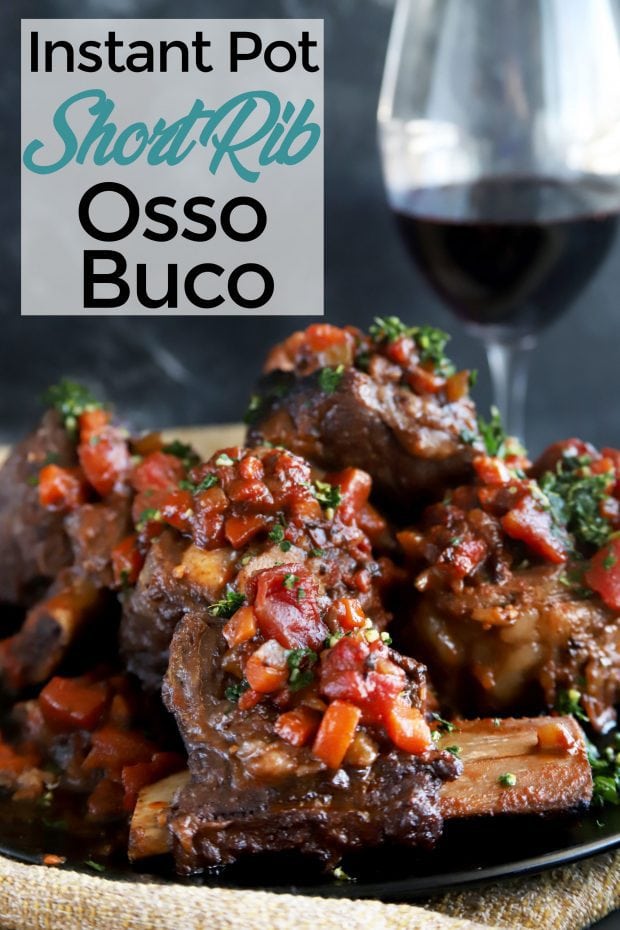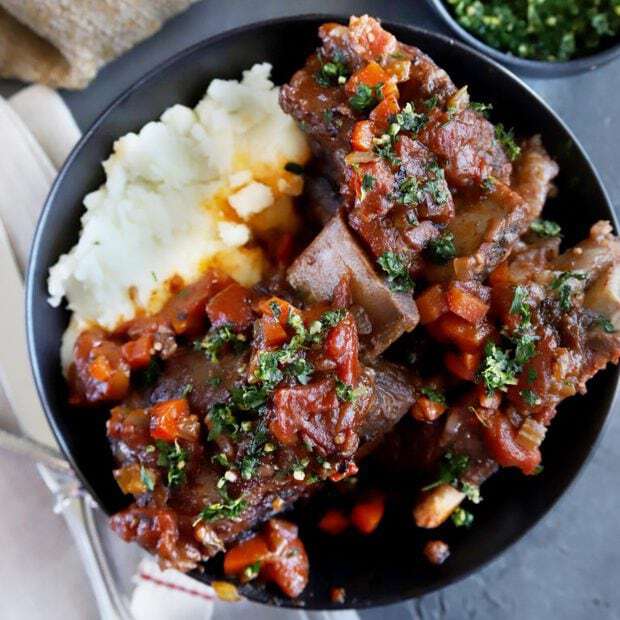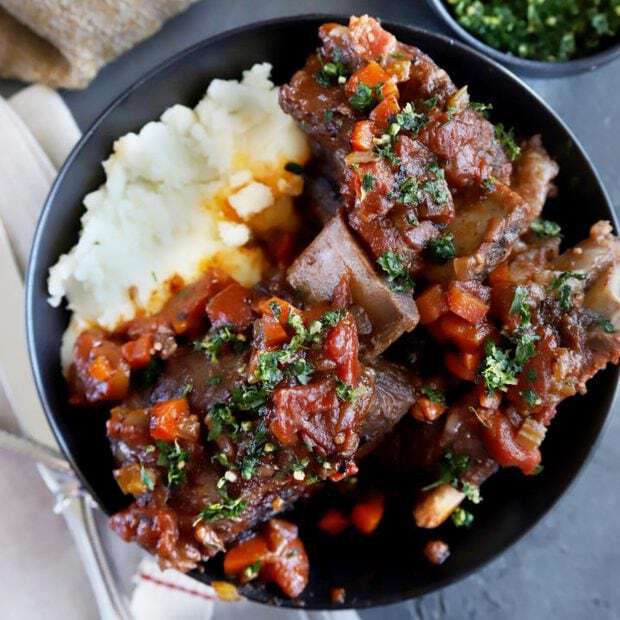 Instant Pot Short Rib Osso Buco
Cook Time:
1 hour
15 minutes
Total Time:
1 hour
20 minutes
Take the fancy meal you love and throw it in the Instant Pot! It's oh-so easy, flavorful and tastes like heaven.
Ingredients
OSSO BUCO
4 sprigs fresh thyme
2 sprigs fresh rosemary
1/2 lb thick-cut bacon, cut into lardons
8 bone-in beef short ribs, patted dry with a paper towel
2 tsp kosher salt
1/2 tsp ground black pepper
2 Tbsp unsalted butter
1 onion, diced into 1/4-inch pieces
2 medium carrots, diced into 1/4-inch pieces
1 celery stalk, diced into 1/4-inch pieces
3 garlic cloves, thinly sliced
1 tsp tomato paste
2/3 cup dry red wine
½ cup beef stock
1 14.5oz can diced tomatoes, drained
GREMOLATA
¼ cup finely chopped fresh parsley
Finely grated zest of 1/2 lemon
2 garlic cloves, minced
Pinch of kosher salt, plus more as needed
Instructions
Tie together thyme and rosemary with twine and set aside.
Set Instant Pot Max to Saute. Once hot, add bacon and cook until crispy. Remove bacon from Instant Pot and save for later use.
Season short ribs with salt and pepper. Add short ribs in batches, searing on all sides. This will take about 5 to 7 minutes per batch. Remove short ribs to a plate and set aside.
Unplug the Instant Pot to cool slightly, about 3 minutes. While Instant Pot is cool, melt butter and stir in onions, carrots and celery.
Turn Instant Pot back on to Sauté. Cook vegetables until softened, about 5 minutes. Stir in garlic and tomato paste.
Add wine and deglaze the pan, scraping up any browned bits at the bottom. Stir in stock and tomatoes. Nestle meat back into the pot.
Add herb bundle, cover, and cook on High pressure for 40 minutes. Naturally release pressure.
Remove meat and simmer sauce on Sauté until reduced, about 5 to 7 minutes.
While sauce is reducing, stir together ingredients for gremolata in a small bowl.
Serve short ribs with sauce spooned on top. Sprinkle with gremolata.
Notes
I highly recommend serving this dish with mashed or roasted potatoes!
Recommended Products
As an Amazon Associate and member of other affiliate programs, I earn from qualifying purchases.