Please note this post contains affiliate links.
King Cake Cookies are all the king cake flavor in cookie form! The soft, chewy, and thick sugar cookies have a burst of cinnamon and vanilla, just like king cake. The touch of lemon in the frosting is pure Mardi Gras deliciousness.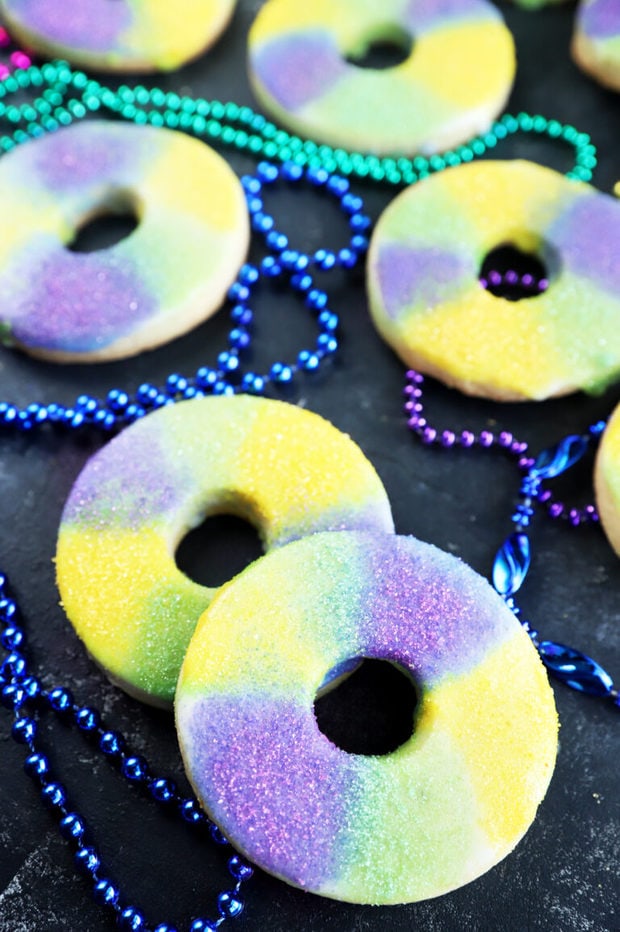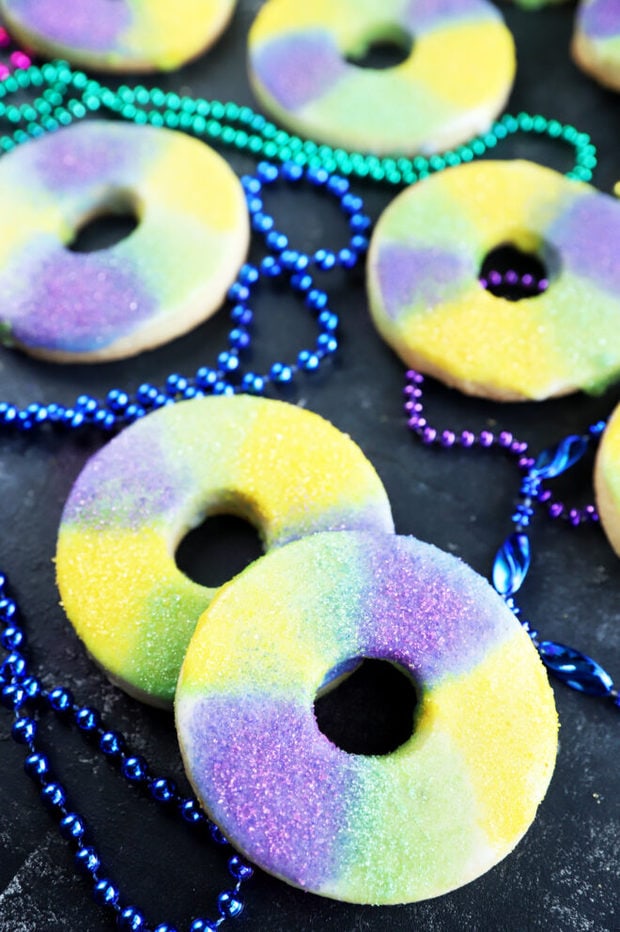 Fat Tuesday is just around the corner, friends!
Are you celebrating this year?
Since I know a lot of you will be planning your parties for the weekend, or perhaps you'll be going hardcore on the holiday itself, I wanted to send you into the weekend with one final treat to celebrate with.
King cake cookies are a sugar cookie that's been packed with all the flavor of king cake and decorated to look just like one.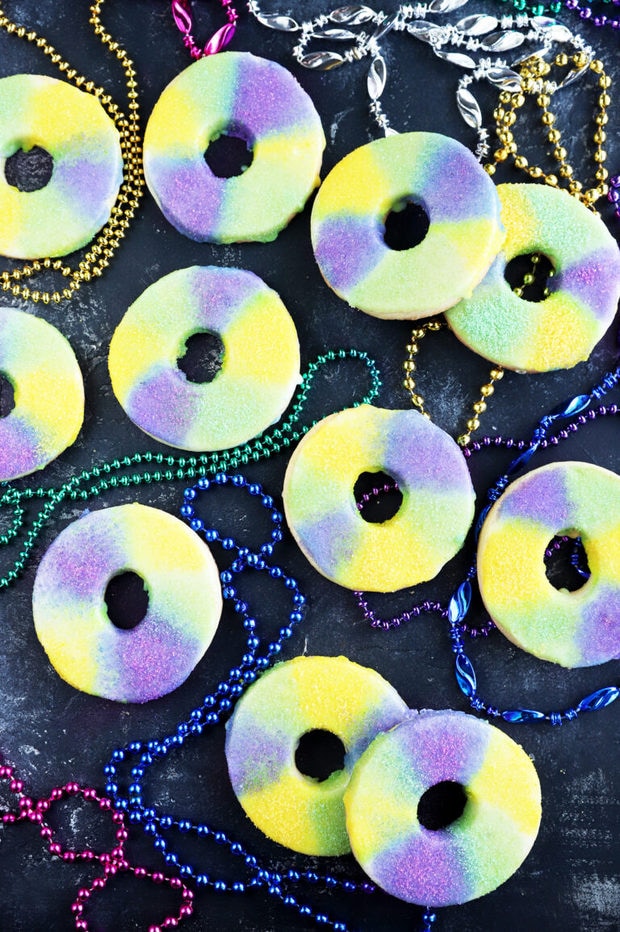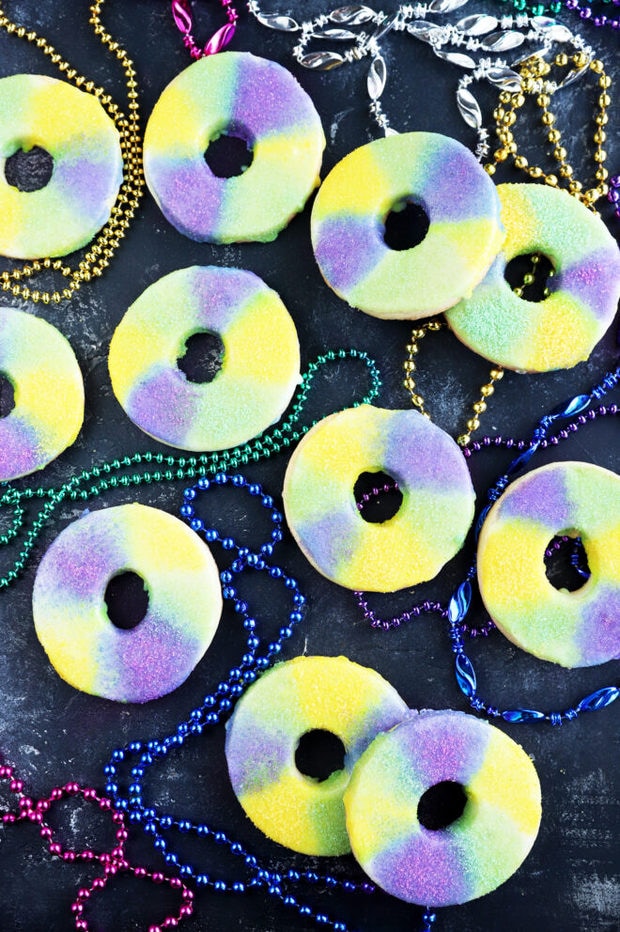 A king cake is a pretty iconic dessert, but I don't know if I will ever have the energy to make the entire thing from scratch. I'd rather order one from a local bakery… but if I really get the bug to bake, I want to bake cookies.
The Man and I are totally obsessed with cookies. I mean, there's a reason we try not to keep them in the house… They disappear SO quickly when they are on hand. For me, there's nothing better than a chocolate chip cookie but when I'm in the mood for a sugar cookie… well, I want it to be soft and chewy.
These cookies are exactly that. The perfect texture and thickness to feel truly indulgent, with the subtle flavors of king cake and the cute toppings to match!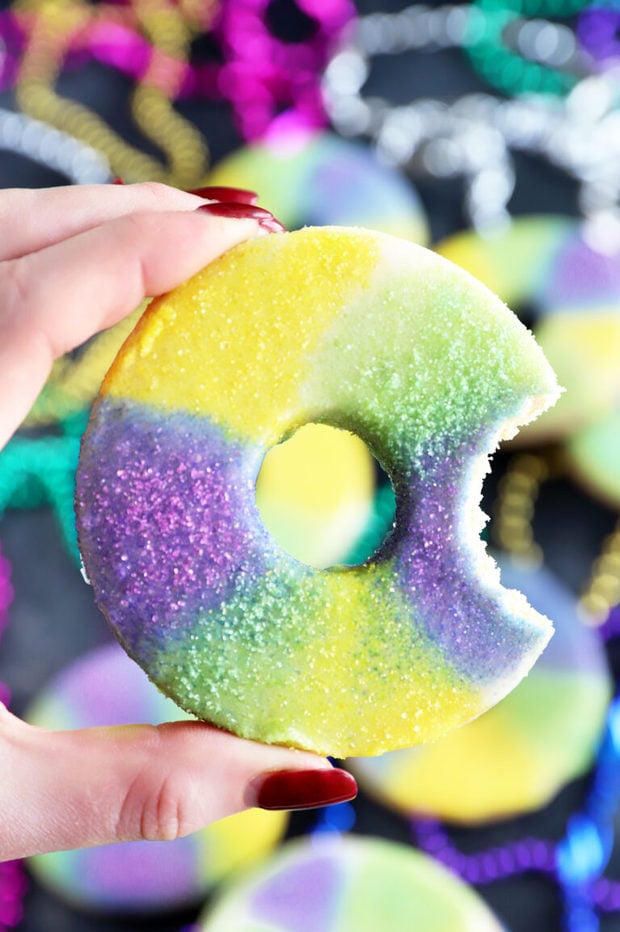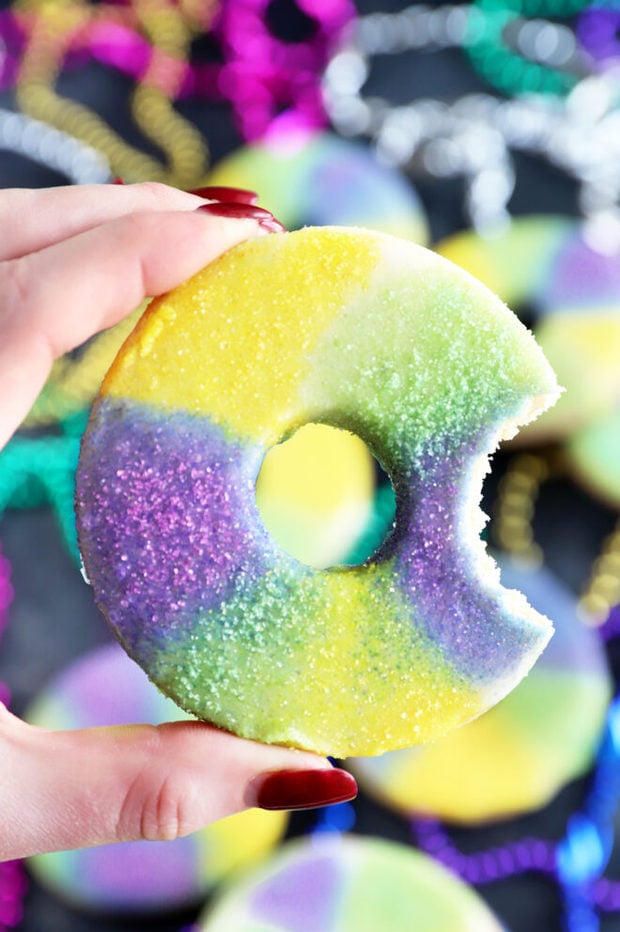 This Recipe's Must-Haves
To make the dough for the cookies, you'll just need your sturdy stand mixer.
You will also need a marble rolling pin to roll out the dough and a set of biscuit cutters or cookie cutters to cut out the circles.
Place the cookies on a half sheet baking pan to bake. You'll also need one of your mixing bowls and a whisk to make the glaze for the cookies.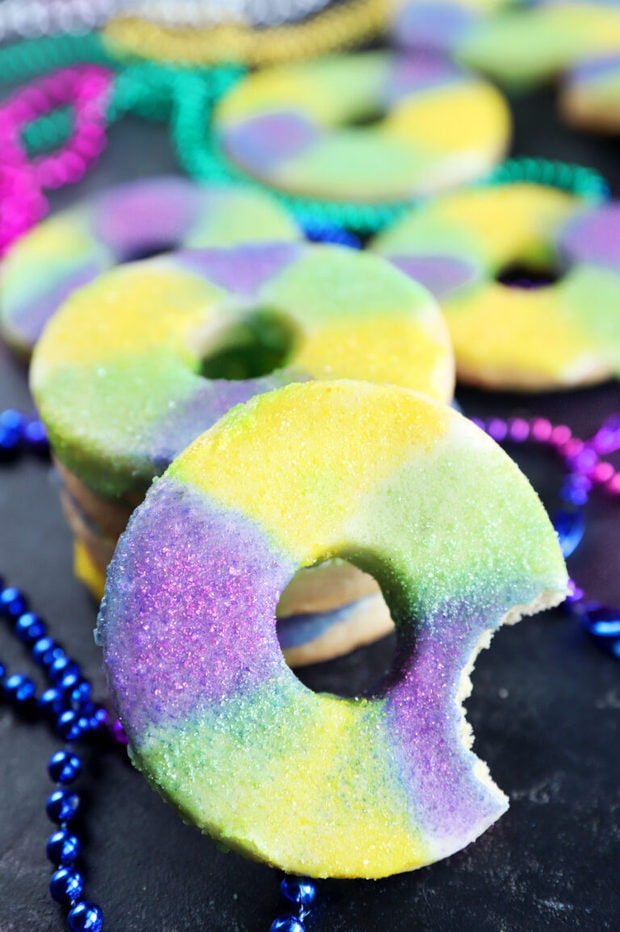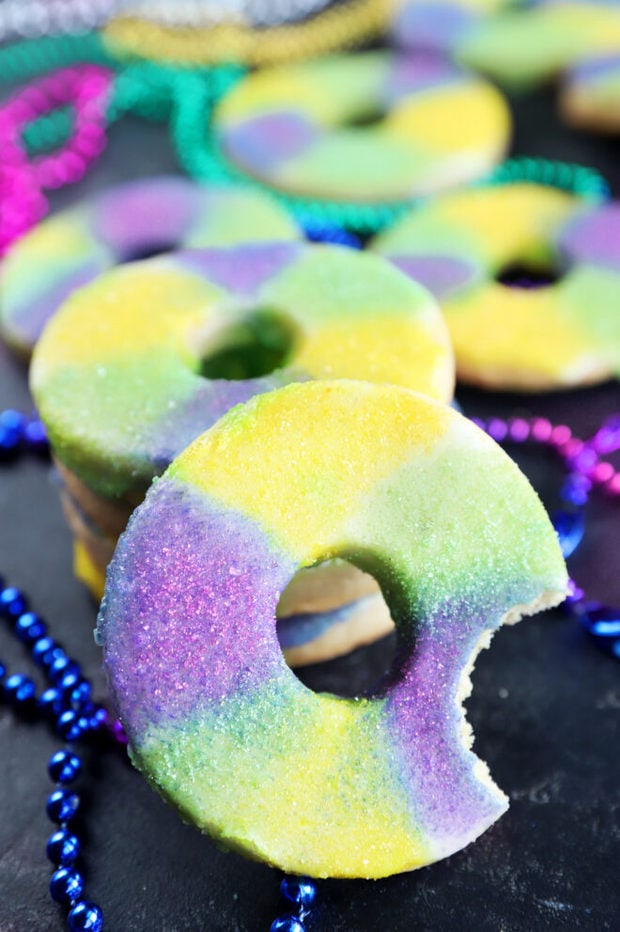 Let's make king cake cookies!
Make Dough
To make the dough, you start by beating together sugar and butter until it's nice and fluffy. Add in the remaining wet ingredients, then we move to the dry ingredients.
Whisk together the dry ingredients, add to the wet, and beat until combined. That's all ya gotta do!
Roll Out & Freeze
Now it's time to roll out those cookies. I like mine thick and chewy, so make sure you don't roll it out too thick.
Cut out the cookies, re-roll the scraps, and cut out more cookies. Repeat this until all the dough has been used up!
The key to the cookies staying soft is placing them on the baking sheet and freezing the cookies unbaked for about 5 minutes.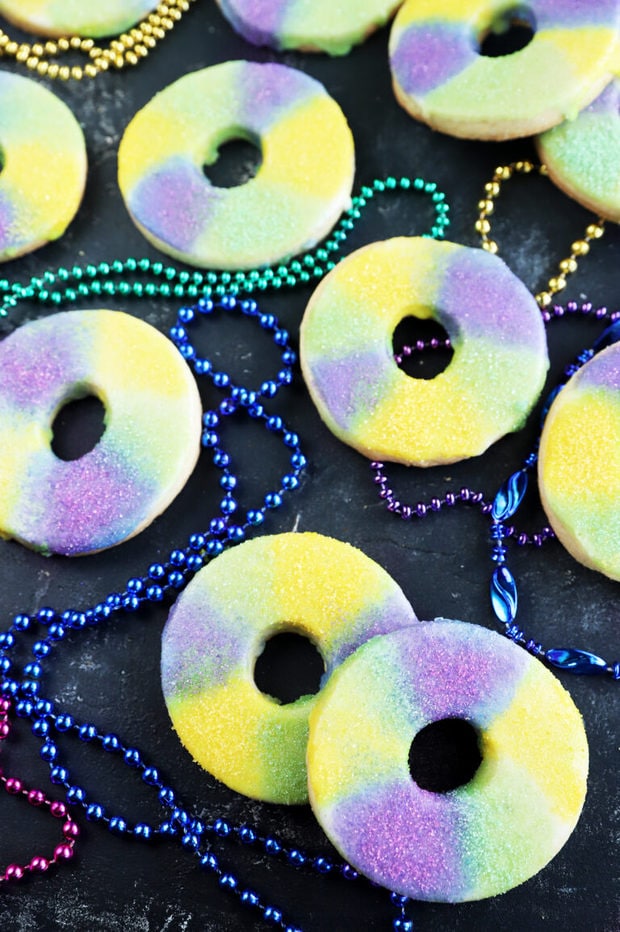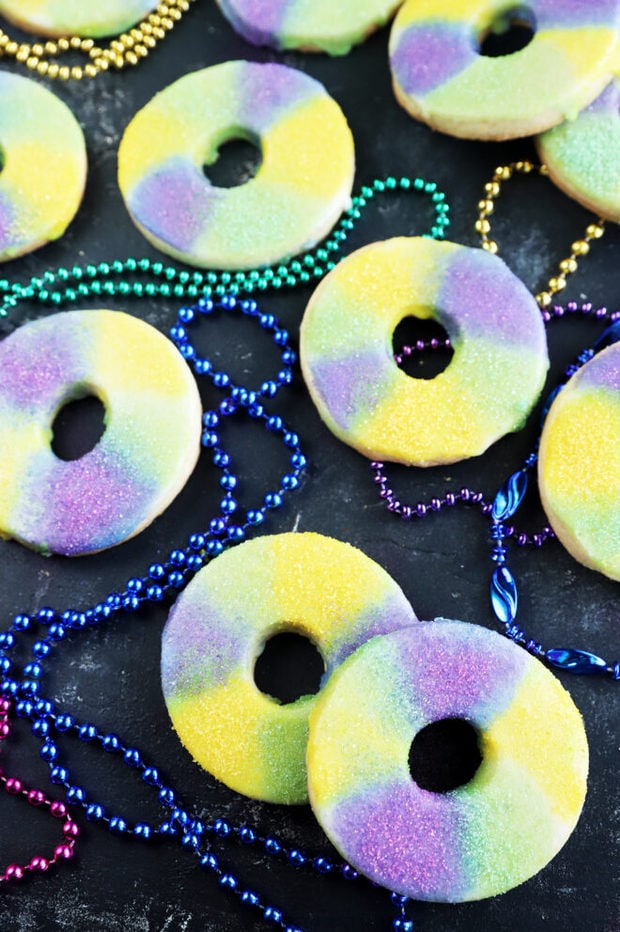 Bake
Add the chilled pan with cookies to the oven and bake! These cookies only take 10 to 15 minutes, and you want to remove them right when the edges are golden brown. They will still be soft so just let them cool on the pan for a few minutes before removing to a wire rack to cool completely.
Make Glaze & Decorate
Once the cookies are cooled, it's time to decorate. The glaze comes together in seconds, whisking together the ingredients in one bowl. Then you dip the cookies in the glaze and decorate with the sugars. I like to alternate them around the circle so each color appears twice, but that's just my personal preference!
Need inspiration for baking up yummy cookies? Check out my cookies recipe page for some tasty ideas.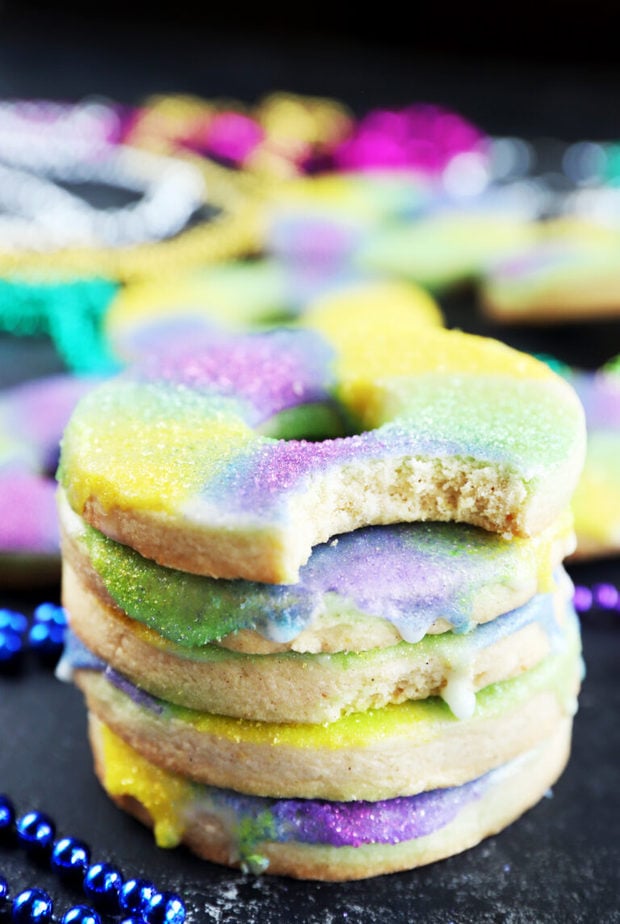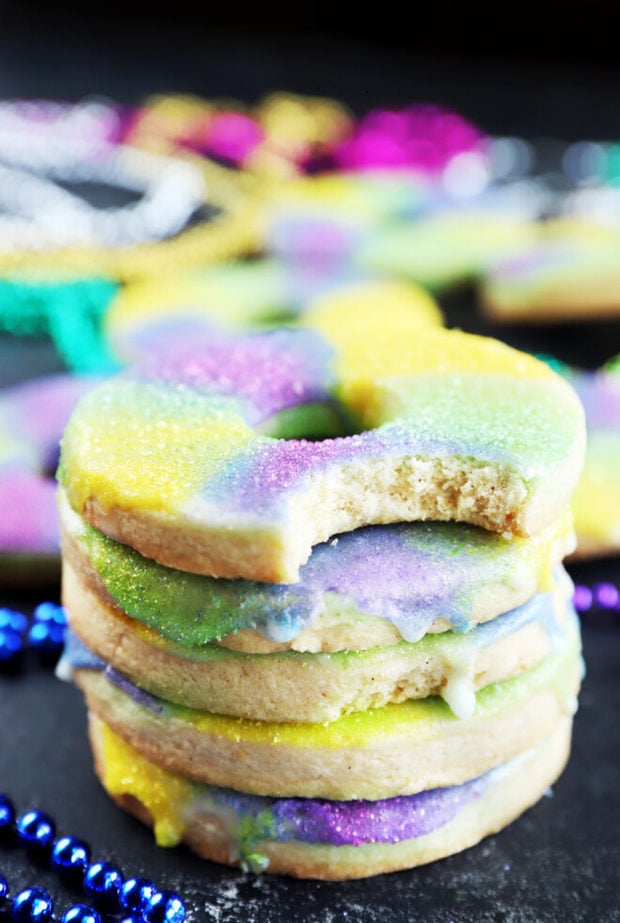 FAQs
How do these cookies taste like king cake?
King cake is a combo of cinnamon and vanilla, and that's just what's in these cookies! I also added a bit of lemon to the glaze to brighten things up a bit, much like cream cheese does for regular king cake.
Can I make them in advance?
You sure can! These cookies last for about 3 to 4 days before they lose their softness.
How do I store them?
Store the cookies after cooling them completely and letting the glaze set until firm. You can either store them in an airtight container or sealable plastic bag.
What if I can't find sanding sugars?
One of my readers was super helpful over on my king cake crack candy post and told me how to make your own colored sugars! All you need is to add 3 Tbsp sugar to a ziplock bag and add 1 drop of food coloring. Seal and use your fingers to roll the sugar around in the bag. Add more food coloring as needed to reach desired color. To make green, mix yellow and blue. To make purple, mix red and blue.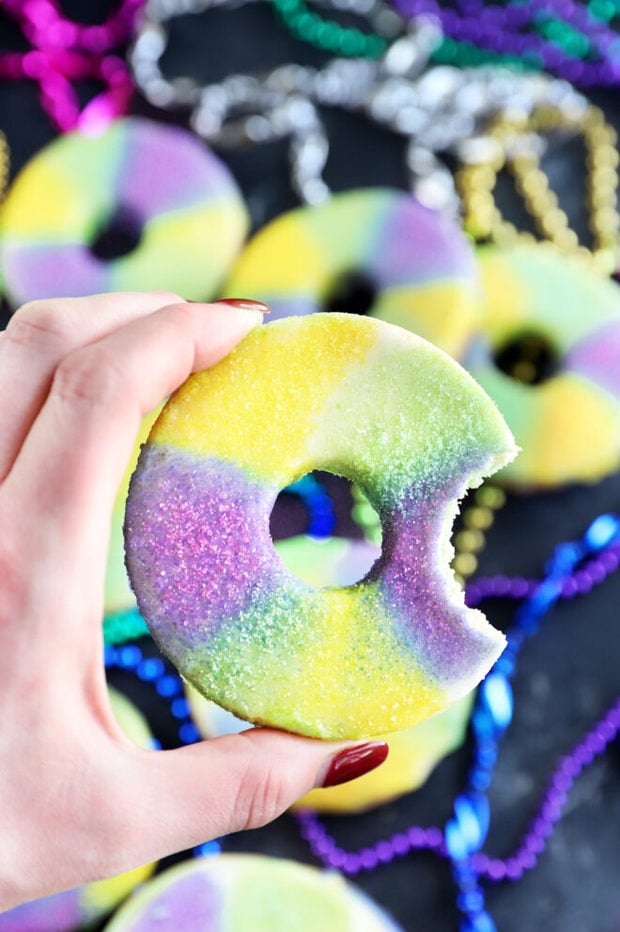 Some tips for making these king cake cookies awesome!
• Make sure the cookies aren't rolled out too thin, or they won't be nice and chewy.
• Don't skip freezing the dough before baking! This is what helps the cookies hold their shape and stay thick without spreading.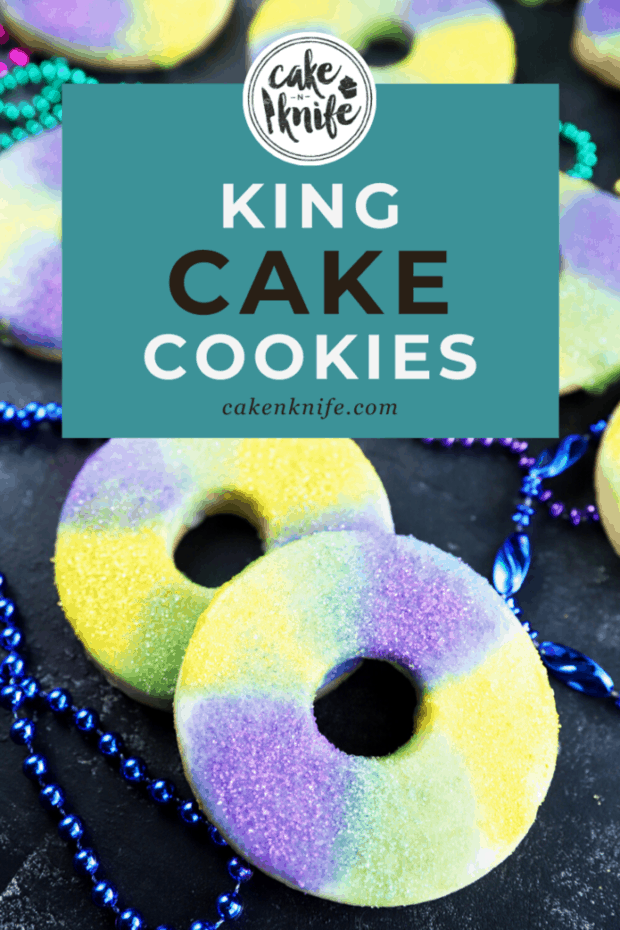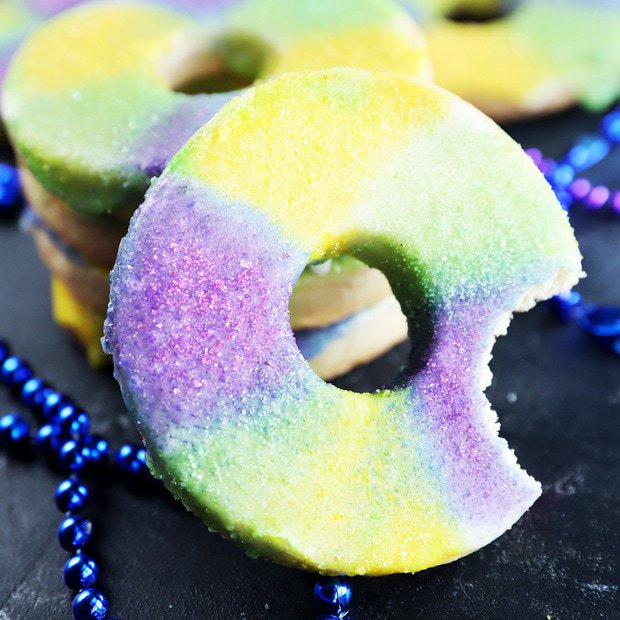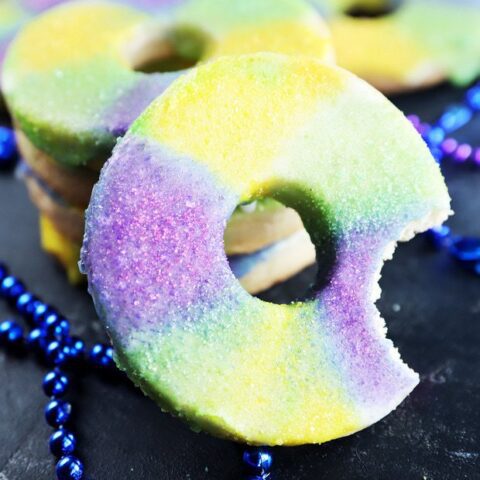 King Cake Cookies
Yield:
Makes about 1 1/2 dozen
Additional Time:
5 minutes
Let the good times roll with these chewy sugar cookies that taste like king cake!
Ingredients
Cookies
1 cup unsalted butter, softened
1 cup sugar
1 egg
1 1/2 tsp vanilla extract
3 cups flour
1 1/2 tsp baking powder
3/4 tsp ground cinnamon
1/4 tsp salt
1/2 tsp lemon zest
Glaze
1 1/2 cups confectioners' sugar
2 tsp lemon juice
2 to 3 Tbsp water
Green, purple and yellow sugars
Instructions
Preheat oven to 350˚F. Line baking sheets with silicone mats or parchment paper.
In the bowl of a stand mixer, beat butter until it is creamy and smooth. Add sugar and beat until fluffy, approximately 3 to 4 minutes. Add egg and vanilla bean paste, beating until combined.
Whisk together flour, baking powder, cinnamon, salt, and lemon. Add dry ingredients to the wet and beat until incorporated.
Turn out dough onto a flat floured work surface. Roll out dough until 1/2 inch thick.
Using a cookie cutter, cut the dough into 2 to 3-inch circles. Use a 1/2-inch circle cutter to cut out the centers, creating the traditional round shape of a king cake. Reroll unused dough and cut out cookies again until all dough has been used. Add cut cookies to the lined baking sheets.
Chill cookie dough for approximately 5 minutes in the freezer.
Bake cookies for 10 to 15 minutes, until the edges are golden brown but the cookies are still soft. Let cool completely.
In a small bowl, whisk together confectioner's sugar, lemon juice, and 2 Tbsp water for the glaze. If the glaze is too thick, add more water, 1 tsp at a time, until smooth but not too thin.
Dip cooled cooked in the glaze and decorate with green, purple, and yellow colored sugars.
Recommended Products
As an Amazon Associate and member of other affiliate programs, I earn from qualifying purchases.