Please note this post contains affiliate links.
Instant Pot Creole Chicken Sausage Soup is ready in less than 15 minutes, using Johnsonville® Andouille Rope Sausage I found at Safeway! This creole inspired soup is packed with vegetables, meat, and a bit of heat. You can easily make it ahead of time, and even freeze it for meal prep.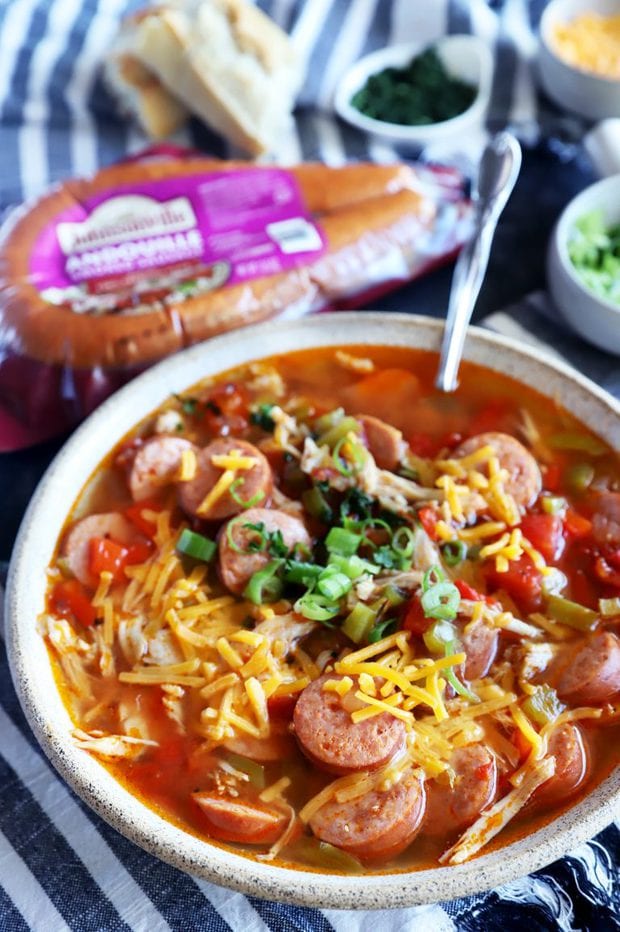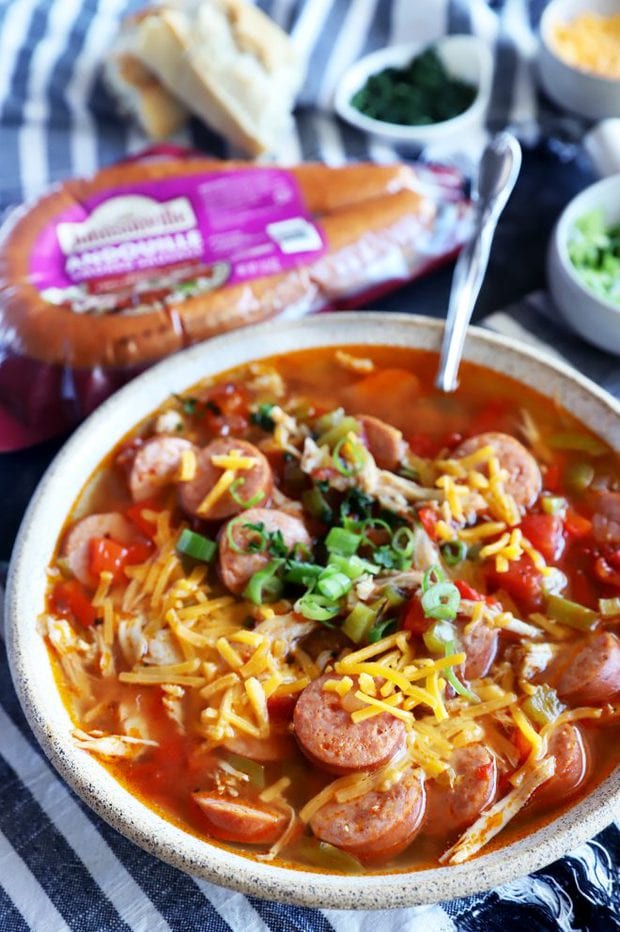 This post has been sponsored by Johnsonville®. All thoughts and opinions are my own.
One of my husband's favorite ingredients to use when cooking? Andouille sausage, hands down.
He is the one who actually got me hooked on the meat, because I was not familiar with it as much when we met.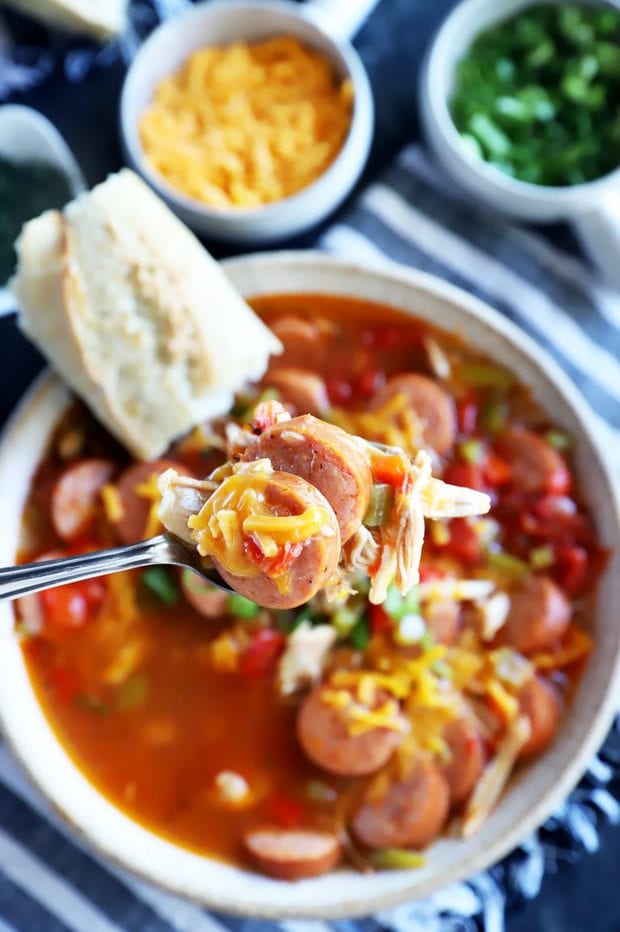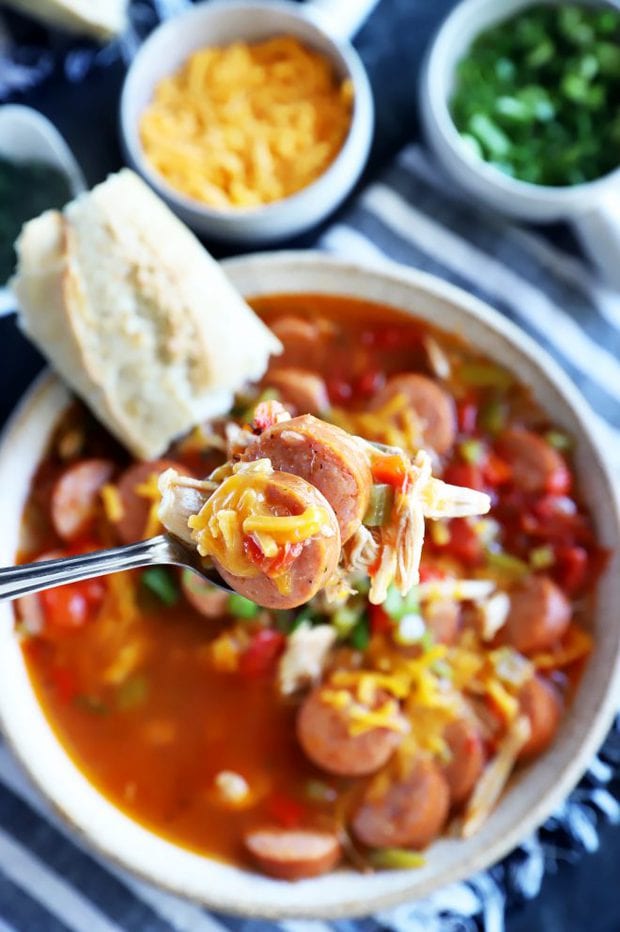 The Man is a wiz with jambalaya and gumbo, so I am SUPER excited that we are now entering cooler months.
Of course, with all the craziness lately with work and baby prep, we've been too tired by the end of the day to make that deliciousness from scratch. Therefore, I had to put on my thinking cap to make something quick and extra flavorful.
This Instant Pot Creole Chicken Sausage Soup is the easiest soup recipe in the entire world. I mean it. There's no sautéing, no extra cooking, and a limited list of ingredients. Instead, you literally throw everything in the pot and it's all done in 15 minutes.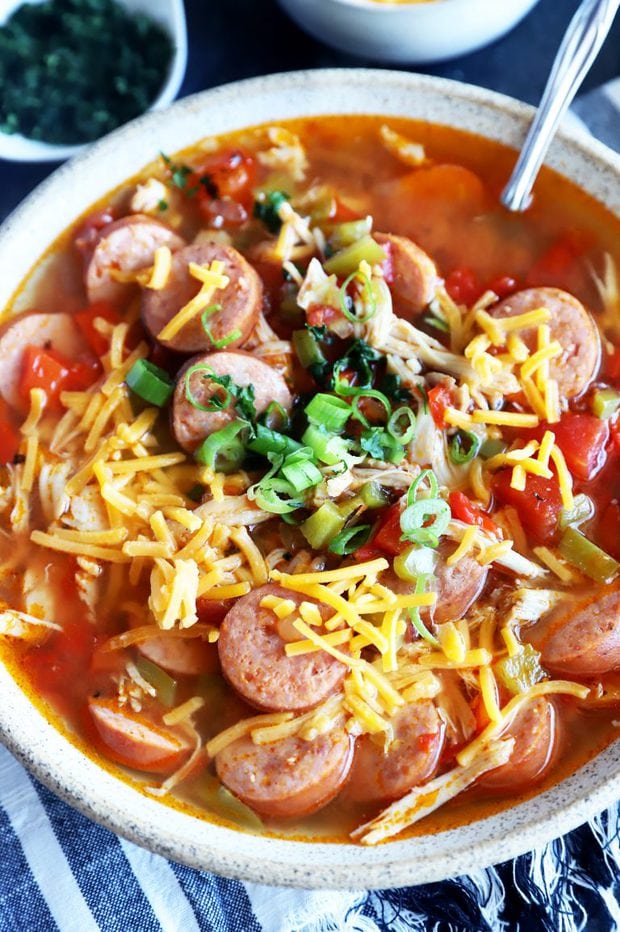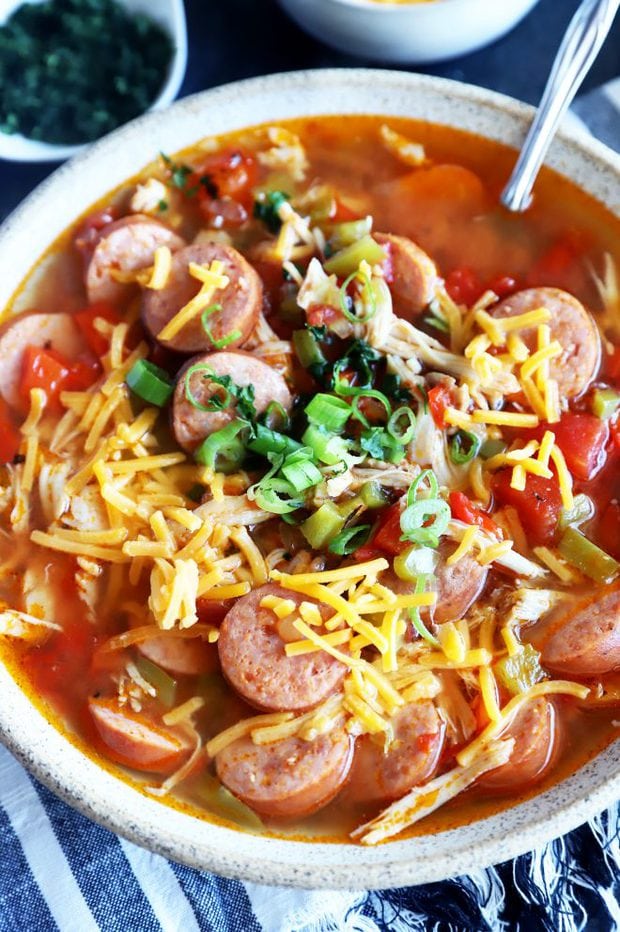 I know, 15 minutes!! If that doesn't sell you on this soup first and foremost, I don't know what will.
The flavorful dish actually gets a ton of its flavor from the Johnsonville Andouille Rope Sausage, which gives the soup an added richness. Made with 100% premium pork and no fillers, Johnsonville has been making high-quality sausage for 75 years (crazy, right??), and because they only focus on sausage, you know it's going to be good.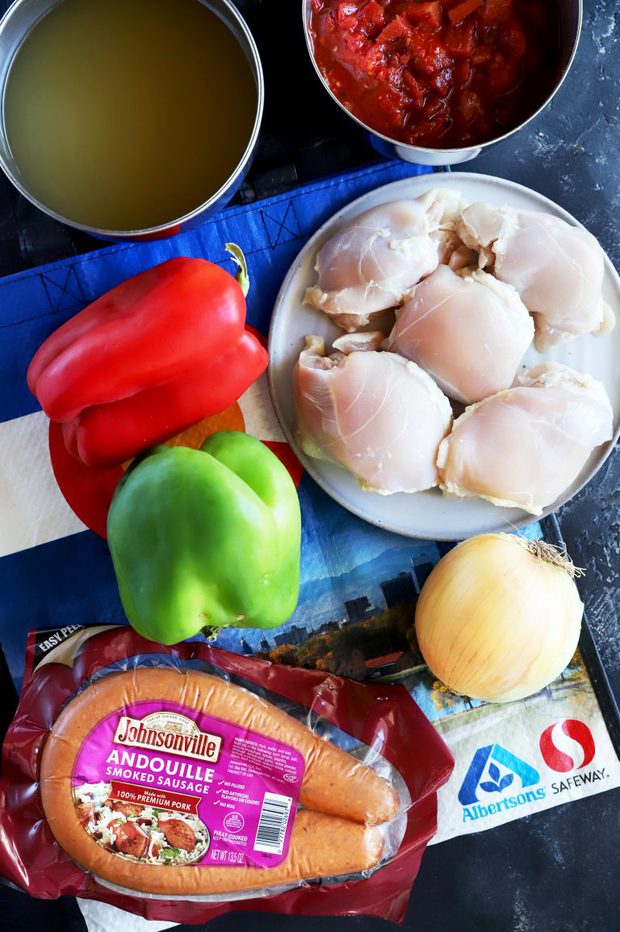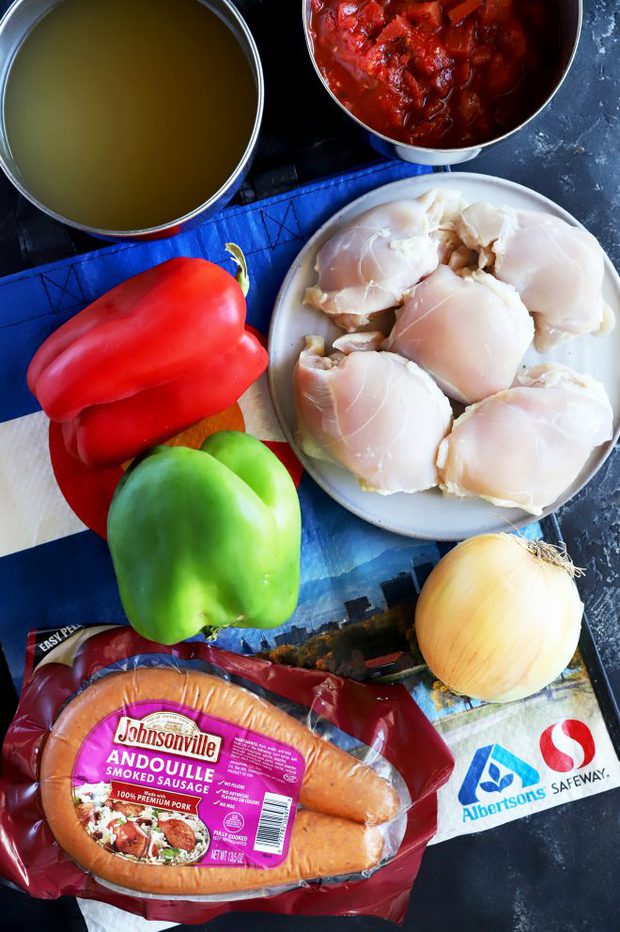 With the meaty goodness Johnsonville brings, this a hearty meal that will keep you warm all night long.
I found this Johnsonville Andouille Rope Sausage at Safeway. And if Andouille isn't your speed, there are a variety of other Johnsonville Rope sausage flavors to choose from, like traditional smoked, Cracked Black Pepper Beef or Smoked Turkey Garlic! You can actually use any of these rope sausages in this recipe, because the flavor of each of them are a fantastic pairing for the creole seasoning.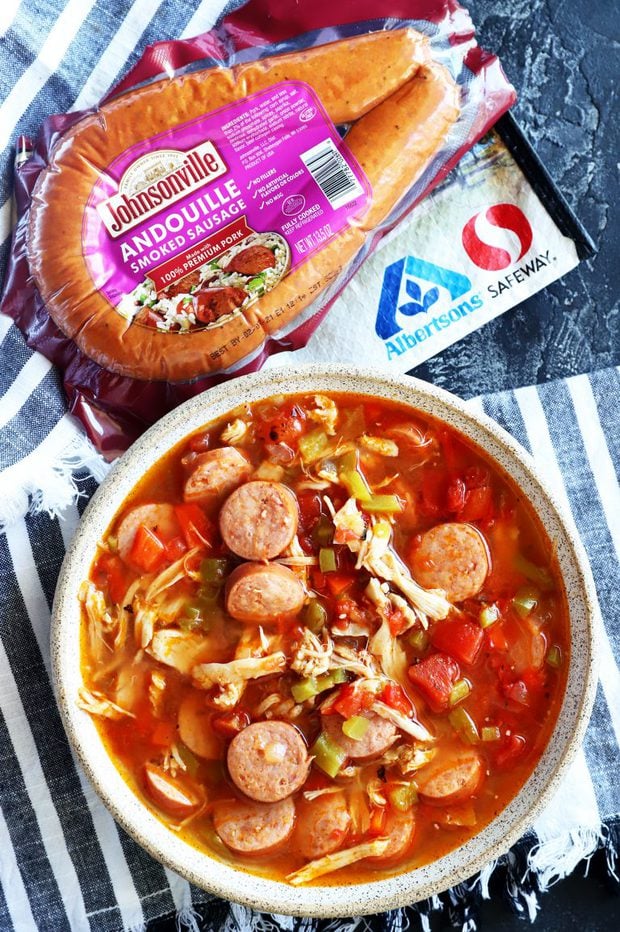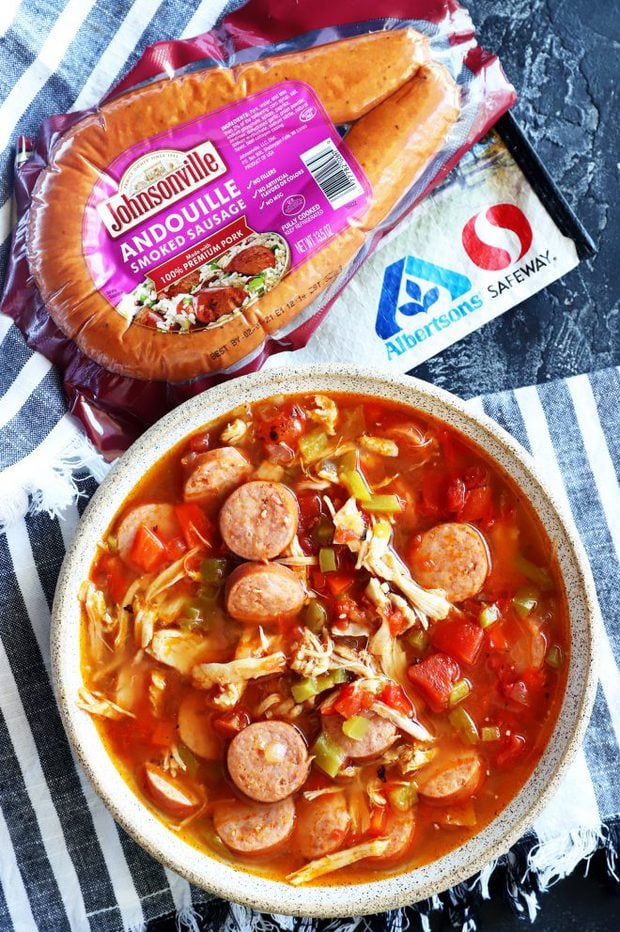 Just don't forget to check out the Safeway mobile app for coupon offers. I just so happen to have one here for you, now that I mention it… You can save $1 on one Johnsonville® Rope Sausage (any flavor!) by clicking below!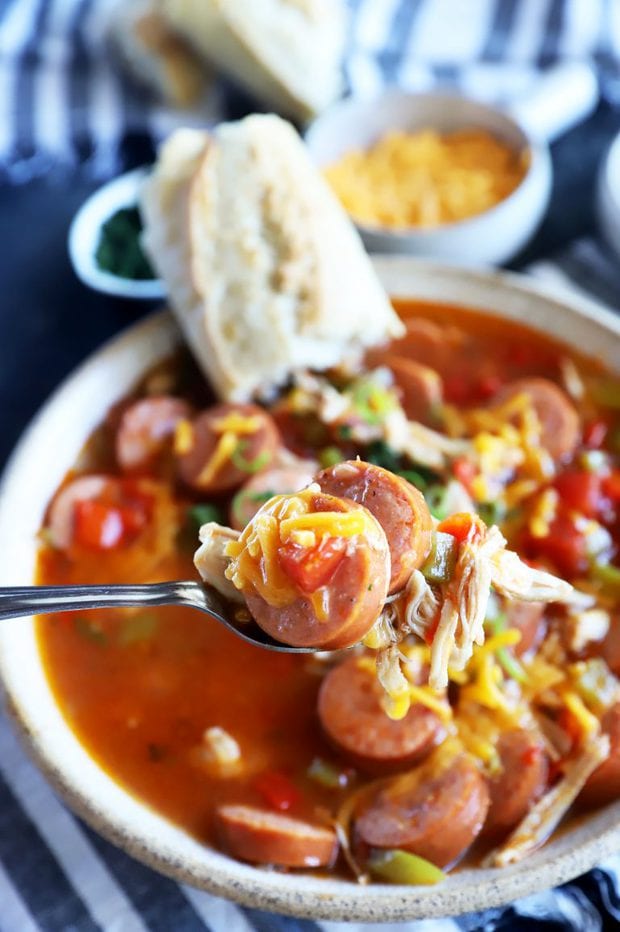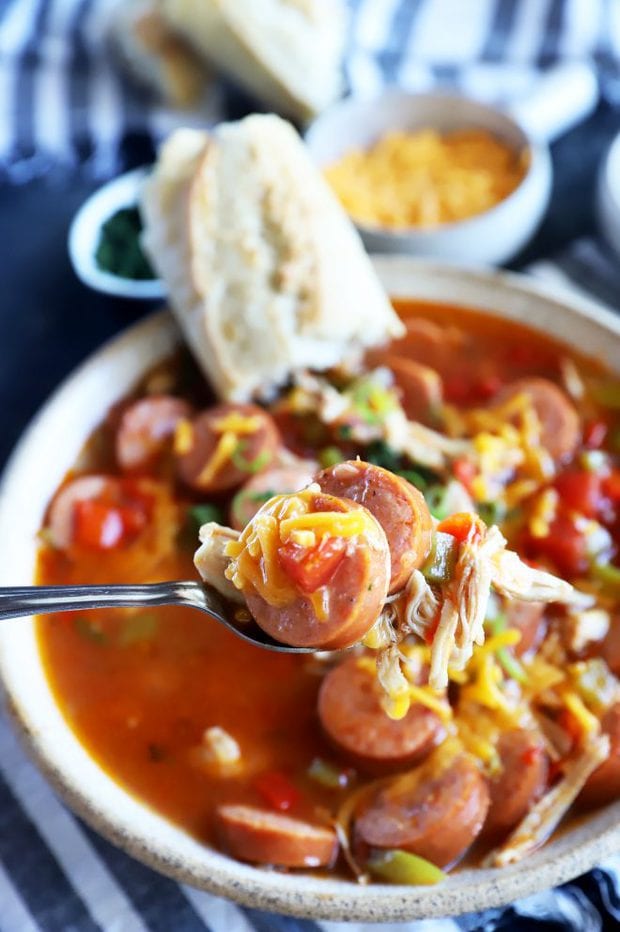 we're making IP chicken sausage soup!
Pressure Cook
Hey guess what?! There's only a couple simple steps for this recipe. Start by throwing all the ingredients into the Instant Pot. Cook it all up for just 8 minutes on High pressure and manually release the pressure once it's finished.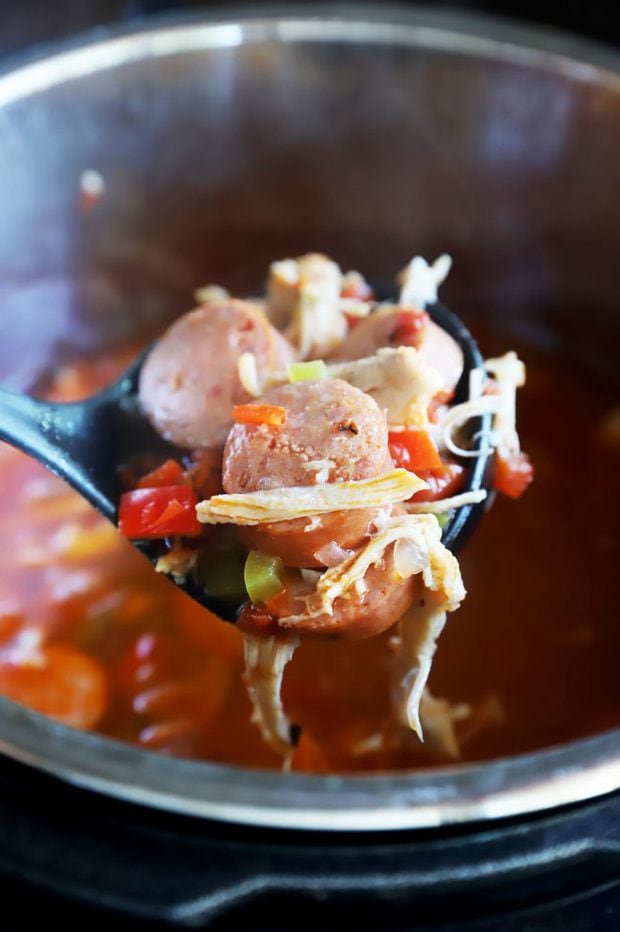 Shred Chicken
Remove the chicken thighs to a cutting board and shred the meat using two forks. You can also put them in a bowl and use an electric hand mixer to shred the meat, but with this amount, I find it faster to clean up when you use two forks.
Return the chicken to the soup and give it a stir before serving!
Need some more inspiration for soups or stews? Check out my soup recipe page!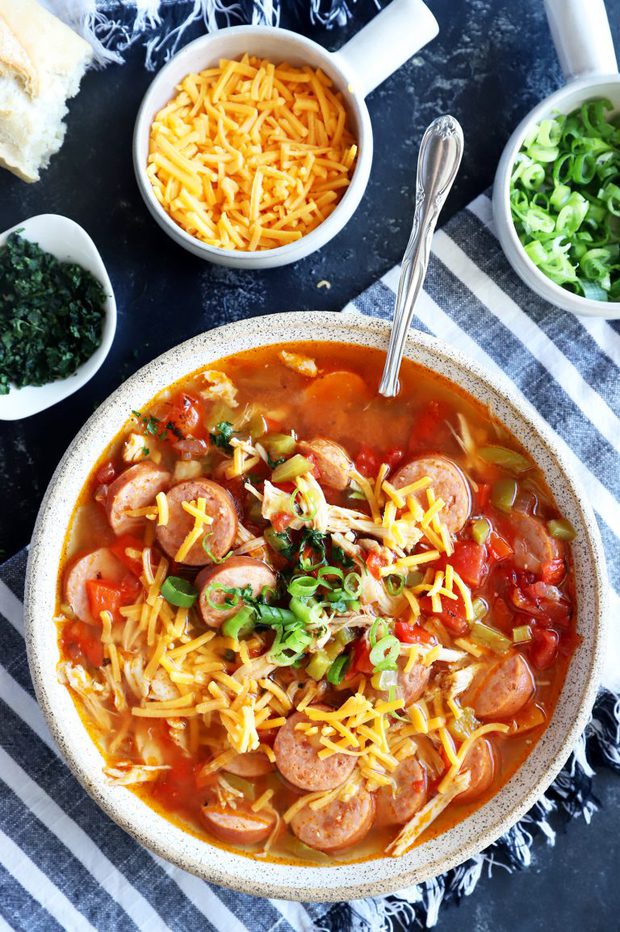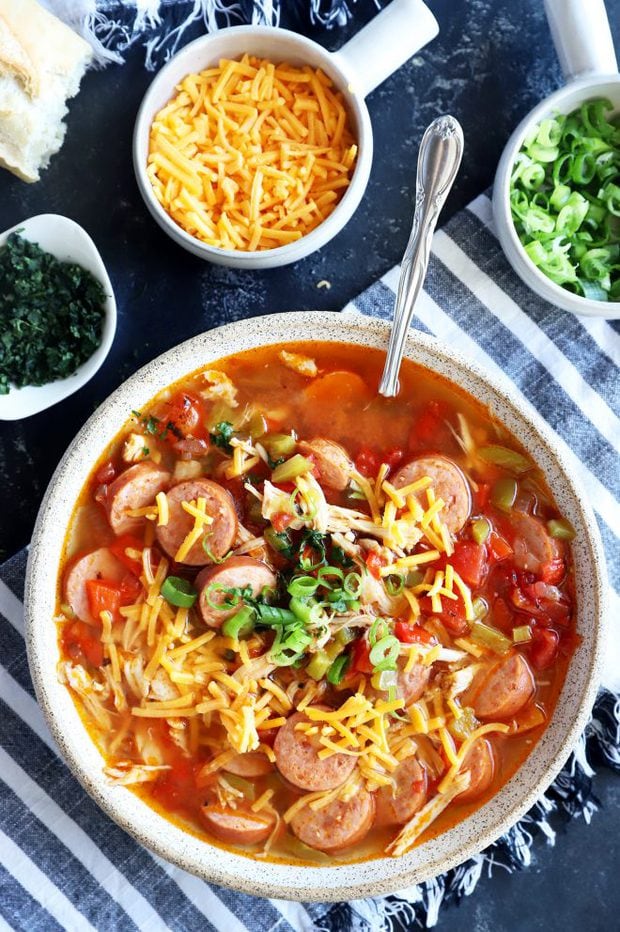 can I make this ahead of time?
You sure can! The soup can be made and kept warm in the Instant Pot for up to 3 hours if needed.
Otherwise, cool the soup completely and store in an airtight container in the refrigerator for up to 4 to 5 days.
can the chicken sausage soup be frozen?
I love to make this soup for freezer meal prep! All you have to do is put all the ingredients in a bag or airtight container (no cooking yet!). Freeze for up to 2 months. When you are ready to cook, dump out the soup in the Instant Pot and cook for 15 minutes on High pressure.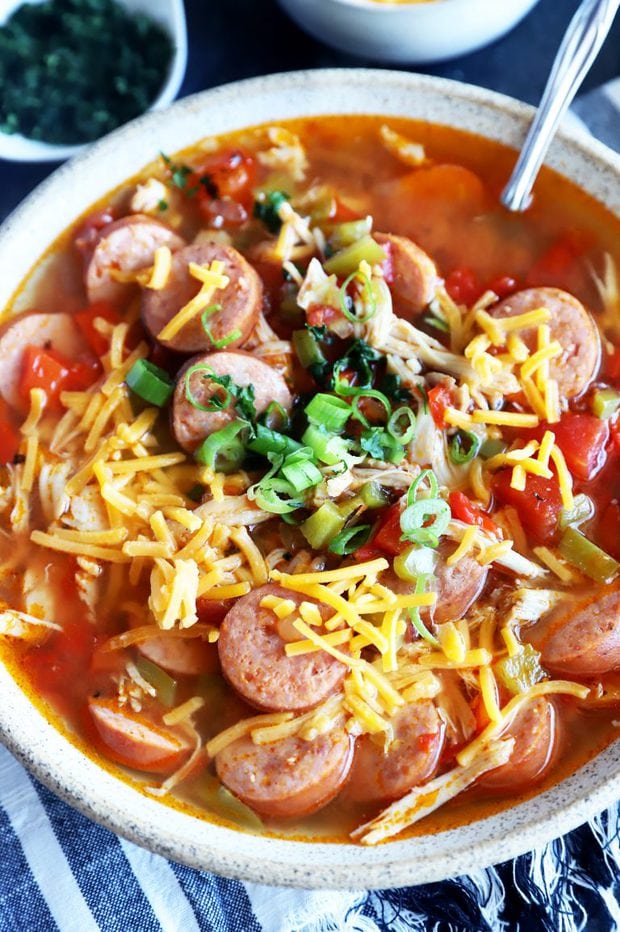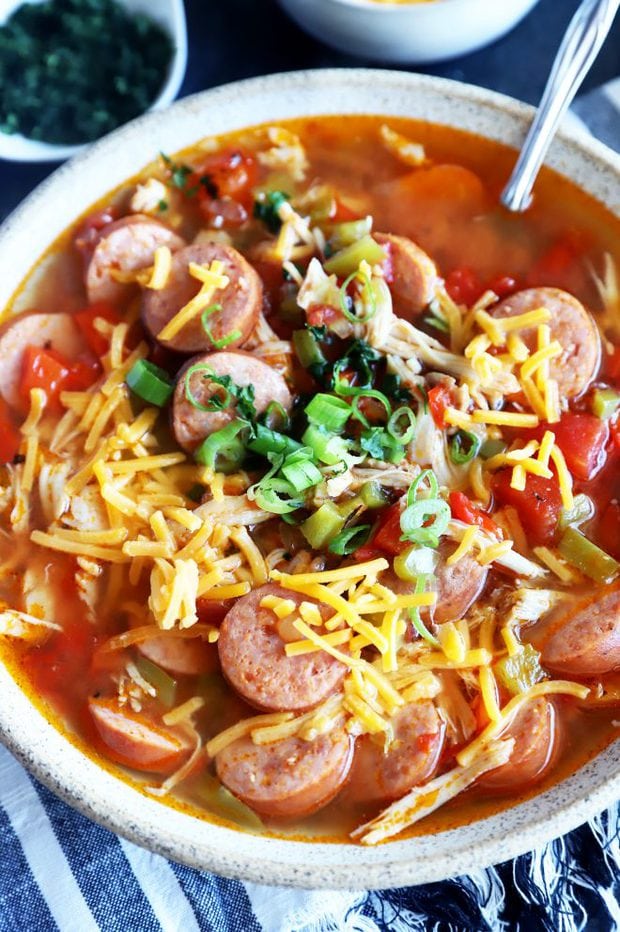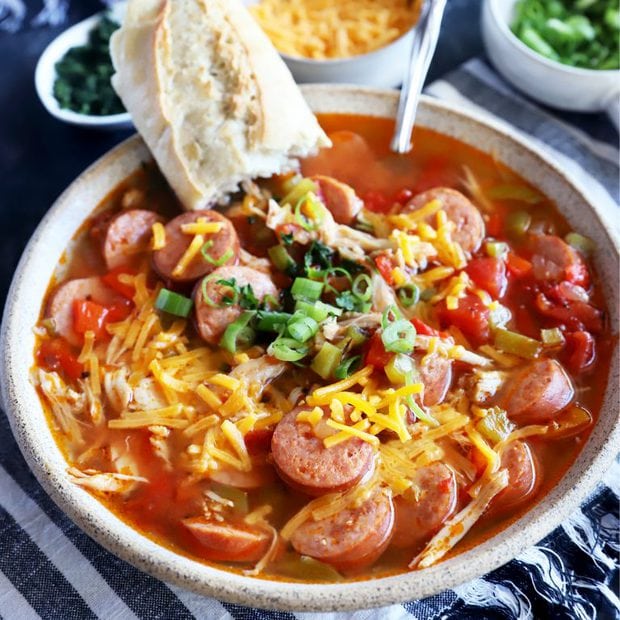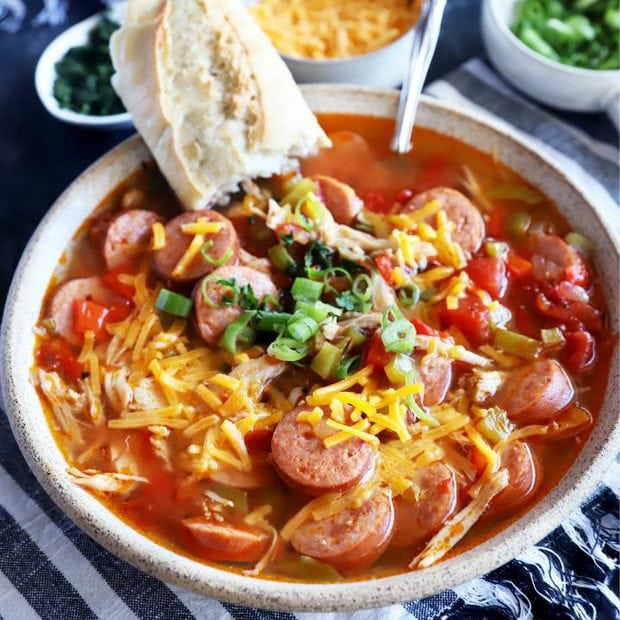 Instant Pot Creole Chicken Sausage Soup
This rich and hearty dinner is on the table in just 15 minutes!
Ingredients
Soup
1 ½ lbs boneless skinless chicken thighs
1 13.5-oz Johnsonville® Andouille Rope Sausage, sliced
1 14-oz can fire roasted crushed tomatoes
3 1/2 cups chicken stock
1 green bell pepper, chopped
1 red bell pepper, chopped
1 yellow onion, diced
4 cloves garlic, minced
2 Tbsp Creole seasoning
1 tsp salt
Toppings
Shredded cheese
Chopped parsley
Sliced green onion
Hot sauce
Instructions
Add all ingredients to the Instant Pot insert. Set to Manual and cook on High pressure for 8 minutes.
Remove chicken to a cutting board and shred with two forks. Return chicken to the pot. Serve immediately with crusty bread.
Recommended Products
As an Amazon Associate and member of other affiliate programs, I earn from qualifying purchases.