Please note this post contains affiliate links.
Red Wine Jus is the best sauce to serve with savory and hearty meats! It is incredibly simple to make, with red wine, beef stock, and fresh rosemary. You can make it ahead or while your meat is cooking! Makes 1 cup.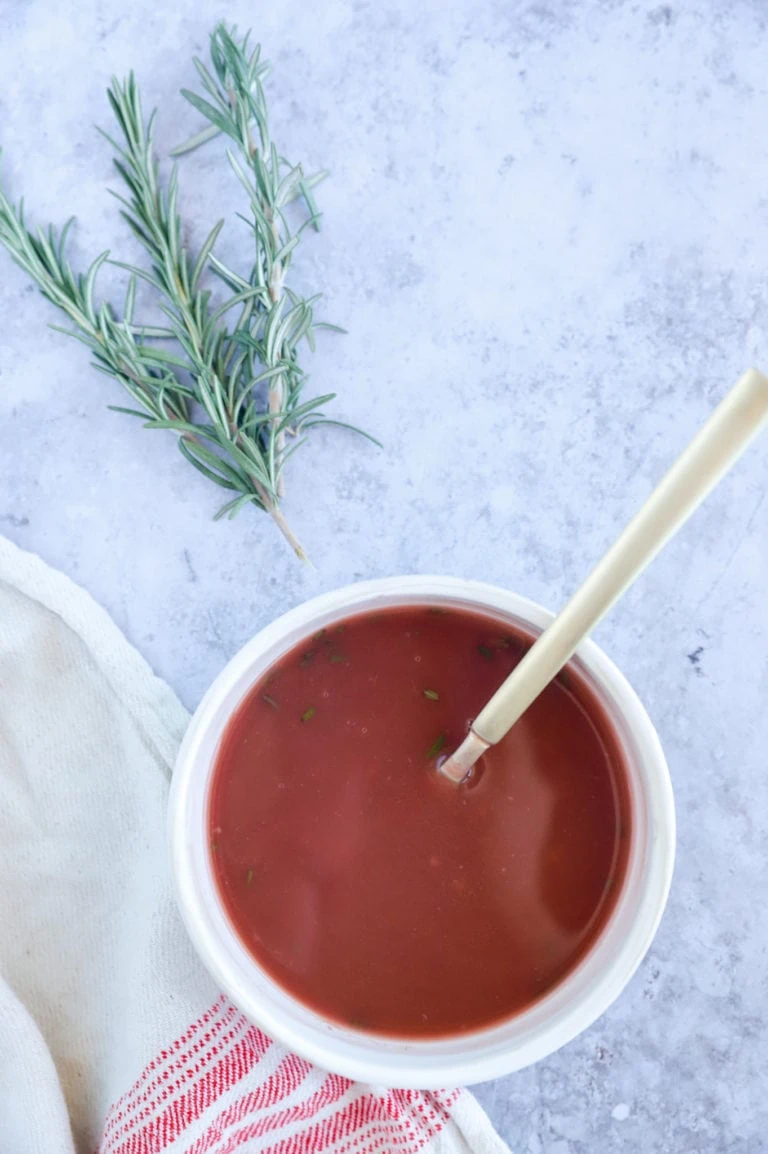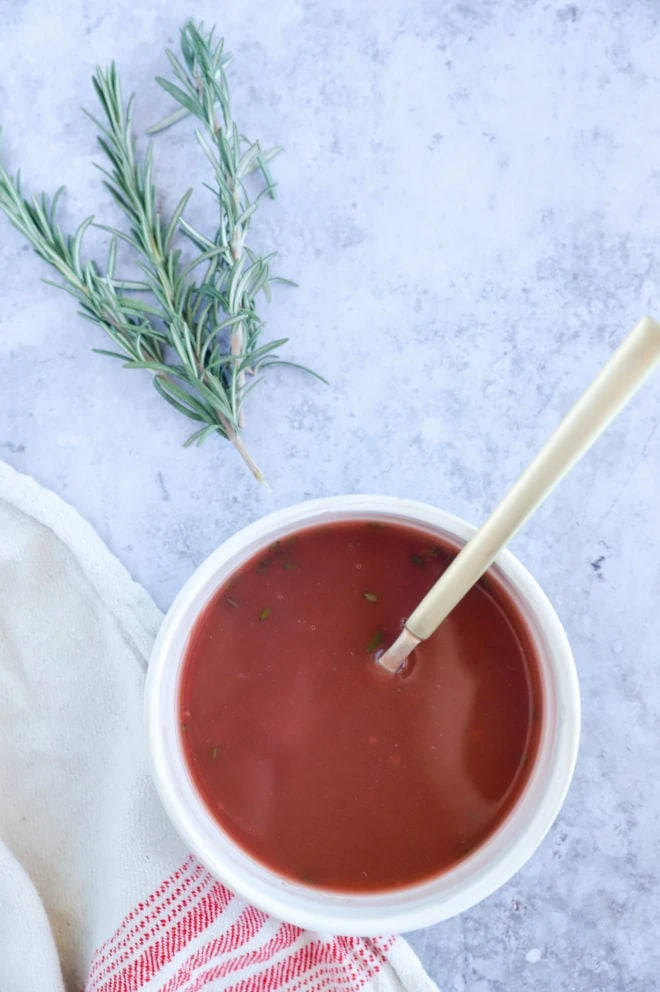 This red wine jus is one of those recipes I've carried with me since I first made a rack of lamb, but I never dedicated an entire post to it for some reason.
I suppose I thought it didn't warrant it's own recipe post, but then I started using it for so many other recipes (like herb crusted rack of lamb and slow cooker garlic rosemary pot roast).
When you are making something time and tie again, you realize that the dang sauce needs its own dang post!
Red wine sauce (because that's really what the "jus" stands for, you know?) is savory and full of bold flavor, making it a delicious accompaniment for all those hearty meats you love from steak to lamb and everything in between. It's not a red wine reduction – instead it's a sauce that is simple and easy to master to pair with your favorite hearty meats like lamb or prime rib.
It's downright sumptuous and it'll transport your meal to a whole new level.
Unlike other recipes, this is incredibly easy to make and doesn't require a long time to cook down. Since it's a small batch (made to serve about 4 to 6), it's quick to make and the cornstarch gives you a little shortcut which I always appreciate.
When you are already working so hard to create a delicious meal, a simple sauce with lots of flavor can truly elevate the entire meal. Therefore, spend your time perfecting the main and let this red wine sauce be an added bonus to the deliciousness you worked so hard on.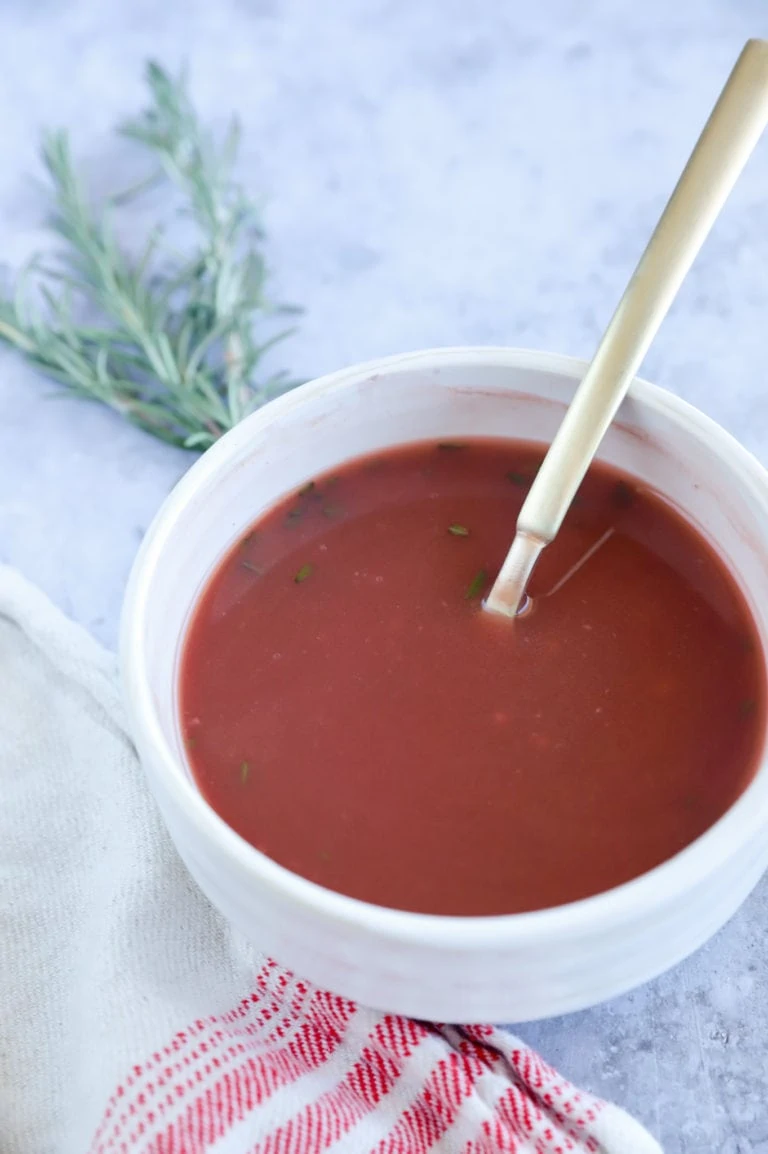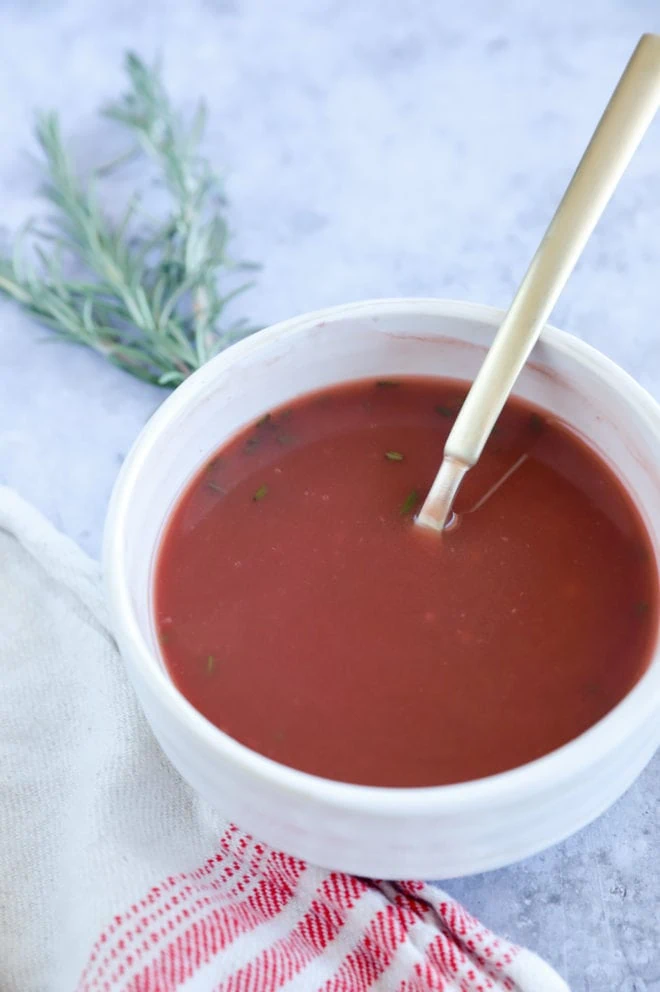 ingredients
garlic – garlic is a must for EVERYTHING, so I have a jar of minced garlic living in my fridge at all times. No smelly hands, no peeling garlic. The best shortcut to pay for, in my opinion.
red wine – for this recipe, I recommend a full-bodied red like a Cabernet Sauvignon or Shiraz. You can also use a Bordeaux or a Chianti if you prefer.
beef stock – use homemade or store-bought! I do not recommend using hot water and a bouillon cube, unless you make it before adding it to the recipe.
butter – you can use unsalted or salted butter for this! You'll season with salt and pepper to taste at the end, so either works.
rosemary – definitely use fresh rosemary! Dried is ok in a pinch (use half the amount listed), but fresh tastes so much better. If you don't have rosemary, you can also use fresh thyme!
cornstarch – this is used as a thickening agent for the sauce.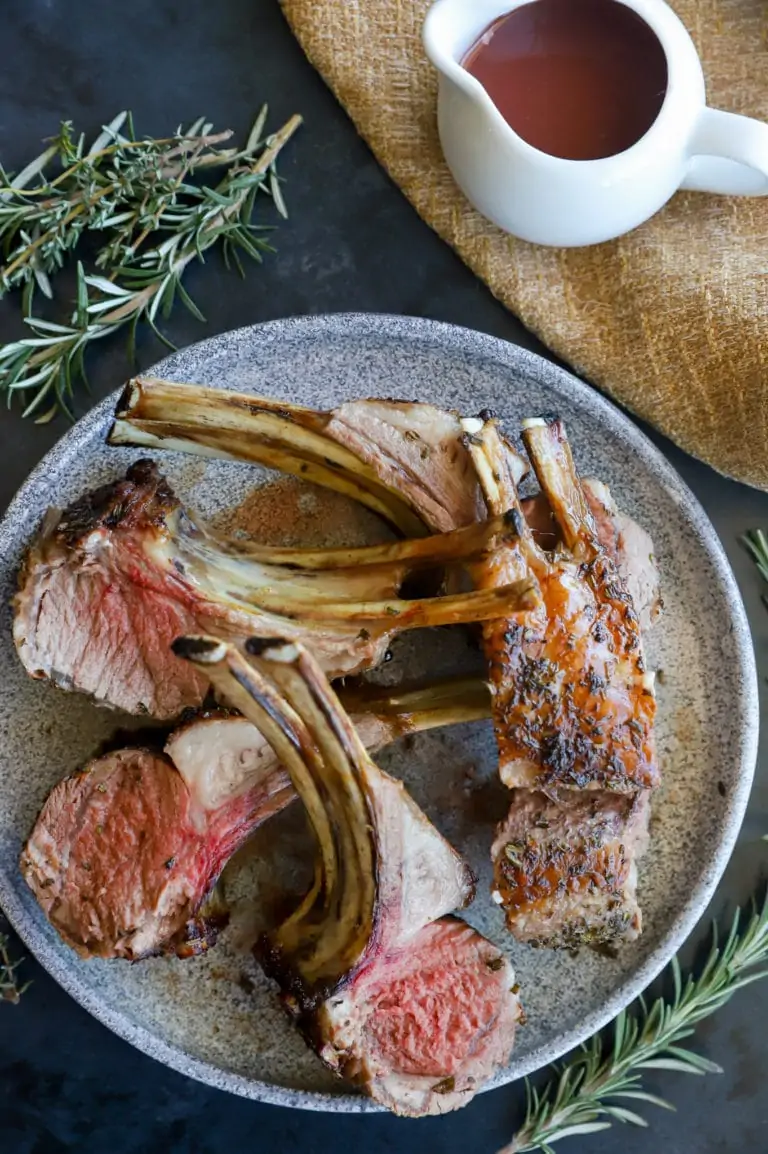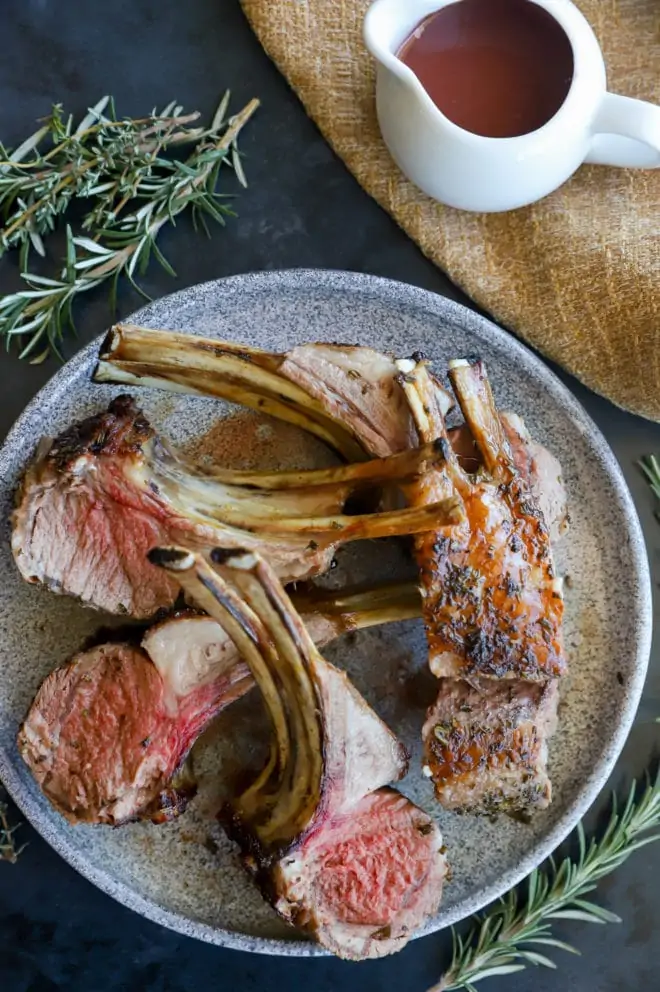 this recipe's must haves
This sauce recipe is SUPER simple, so you don't need a lot of tools to get the job done. That's a big selling point for me, how about you?
First, you'll need a chef's knife and cutting board to chop the fresh rosemary leaves.
To make the sauce, you will need a saucepan, a wooden spoon, and a whisk.
here's how to make red wine jus
brown garlic
In a medium saucepan, heat the olive oil over medium-high heat. Once the oil is shimmering, add the garlic and brown. This will take about 1 minute.
add cornstarch
Stir in the cornstarch well, until the garlic is coated.
add liquid
Slowly whisk in the wine and beef stock. Simmer over medium heat and cook while stirring frequently, until the mixture is reduced by half. This will take about 5 to 7 minutes.
finish sauce
To finish the sauce, stir in butter and rosemary until the butter has melted. Taste the sauce and season to taste with salt and pepper (I usually add a nice pinch of each).
Keep the sauce warm over low heat until you are ready to serve it.
Pro Tip! Make this easy sauce it ahead of time! This red wine jus stores for up to three days, so it's great to make before you plan to serve it, especially if you have company coming over. Check the details on how to store and reheat it at the bottom of this post, just before the recipe card!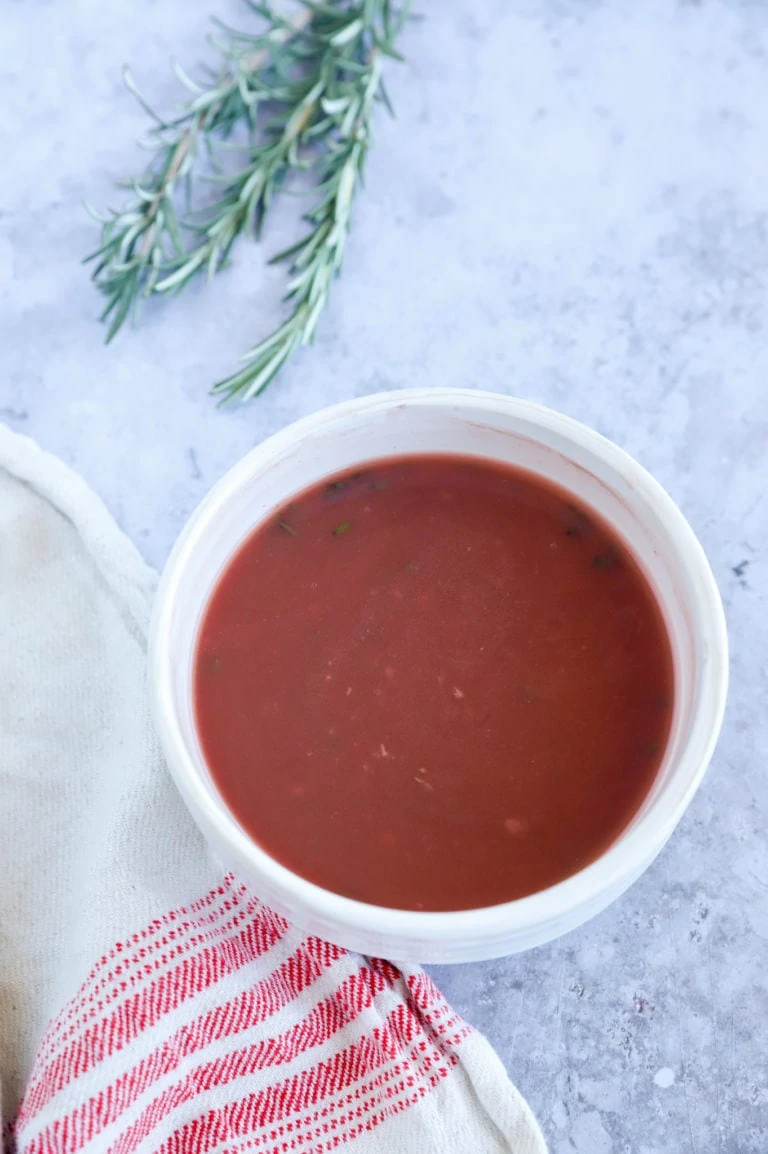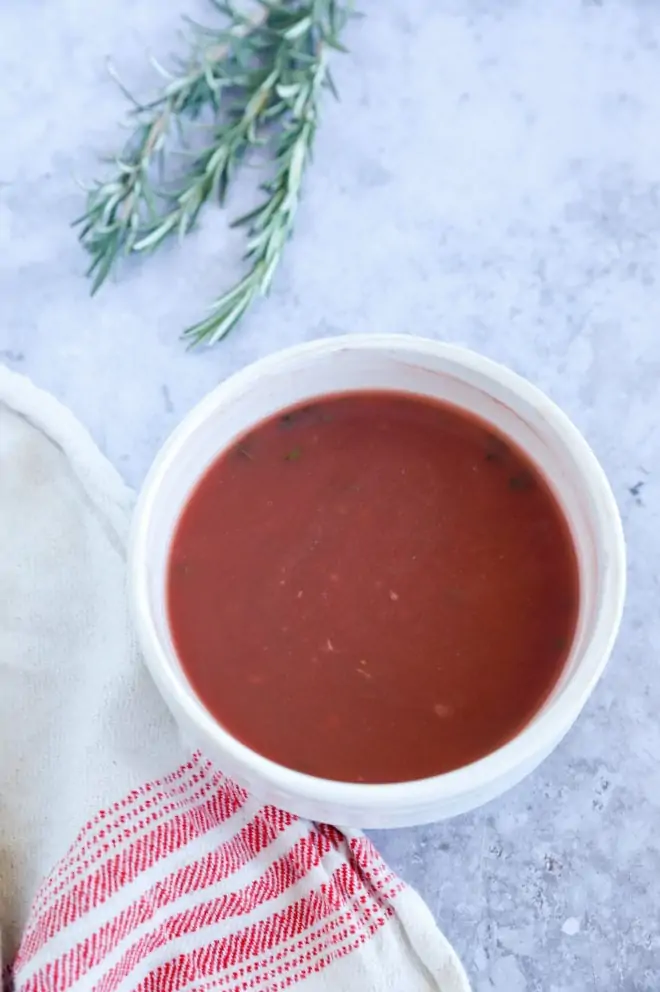 tips for success
give it time to reduce. This sauce will not be a thick gravy, but it will thicken as it cooks. Make sure you give it the time it needs to reduce enough to coat the back of a spoon well.
use a good wine. I highly recommend using a wine that you would be happy to drink. Not only because you will have enough leftover to enjoy yourself, but also because of the flavor it imparts in the sauce. It doesn't need to be high end, but don't buy the cheapest bottle you can find.
the alcohol burns off. For those wondering, the red wine is boiled and reduced which drives off any alcohol. The concentrated flavor is delightful, but it's alcohol-free at the end.
Other tasty red wine recipes to explore: Red Wine Slow Cooker Short Rib Ragu | Slow Cooker Garlic Rosemary Pot Roast | Chorizo Potato Croquettes with Red Wine Dipping Sauce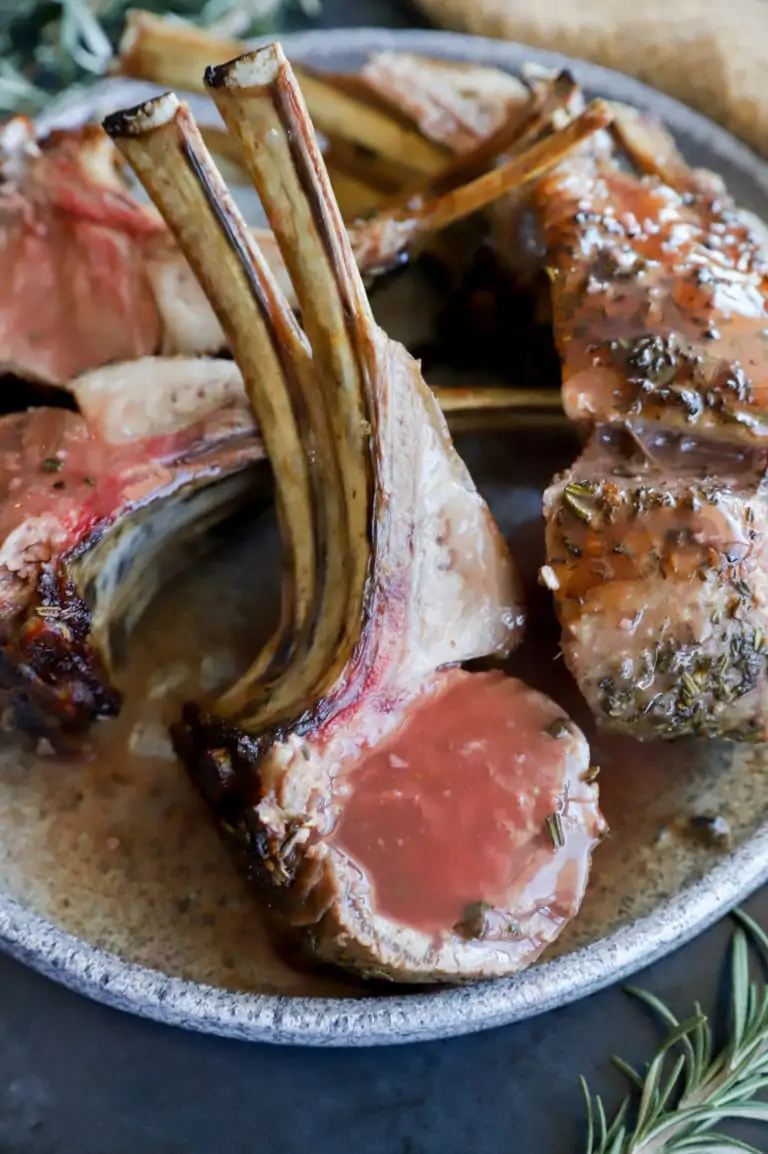 what red wine is best to use?
For a red wine jus, I recommend using a full-bodied red like a Cabernet Sauvignon, Shiraz or Chianti. A Cabernet Sauvignon is my personal favorite – just be sure to grab something you will enjoy drinking because you'll have some leftover from the bottle to pour into a glass for yourself!
can I make this non-alocholic?
If you prefer not to use red wine in your recipe at all, you can replace the red wine with an equal amount of beef broth. You won't get the same flavor profile so it really isn't a red wine jus at that point. It's more of just a beef jus, but it still makes an excellent sauce. I would only recommend using beef broth – do not use chicken or vegetable broth.
Need some more inspiration for meaty entrees to serve with this red wine jus? Check out my meat mains recipe page!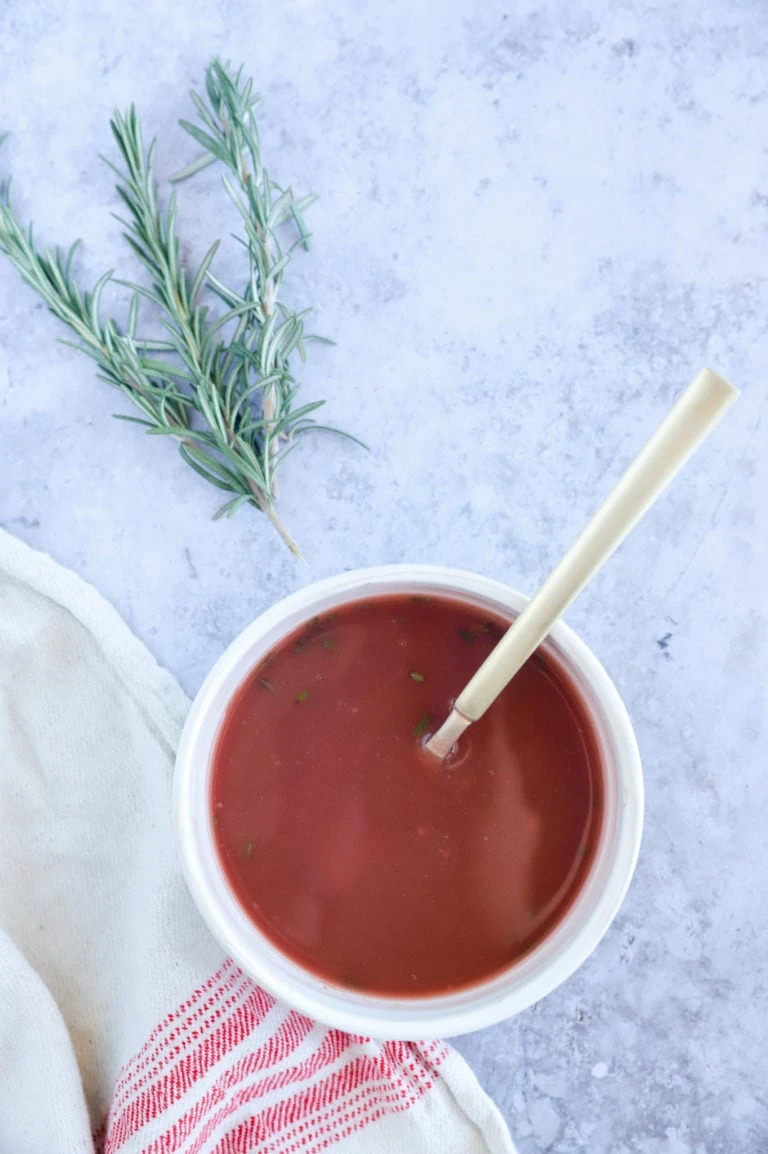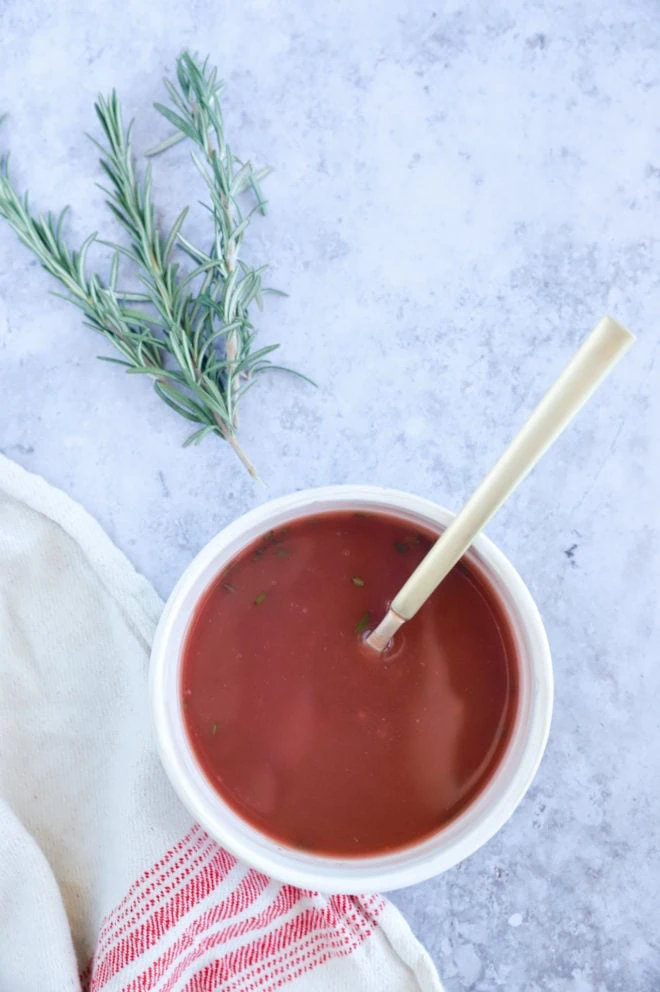 how to serve red wine jus
I love poached eggs served simply on a slice of toast spread with avocado and topped with some red pepper flakes! If you are looking for some recipe ideas, of course you know I've got you covered.
how to store and reheat
You can make this red wine jus ahead of time! Simply cool before storing in an airtight container in the refrigerator. The sauce will keep for up to three days. Reheat in a saucepan over low heat until warmed through.
Finally, if you make this red wine jus recipe, please be sure to give this recipe a rating or leave a comment! I love to hear when you all make recipes, and I do take the time to respond to every single comment. Feel free to drop questions below too, if you have them!
Oh and be sure to tag me on Instagram if you make the recipe! I love being able to see these recipes come to life in your homes – it's my favorite thing to look through those photos. It really means the world to me!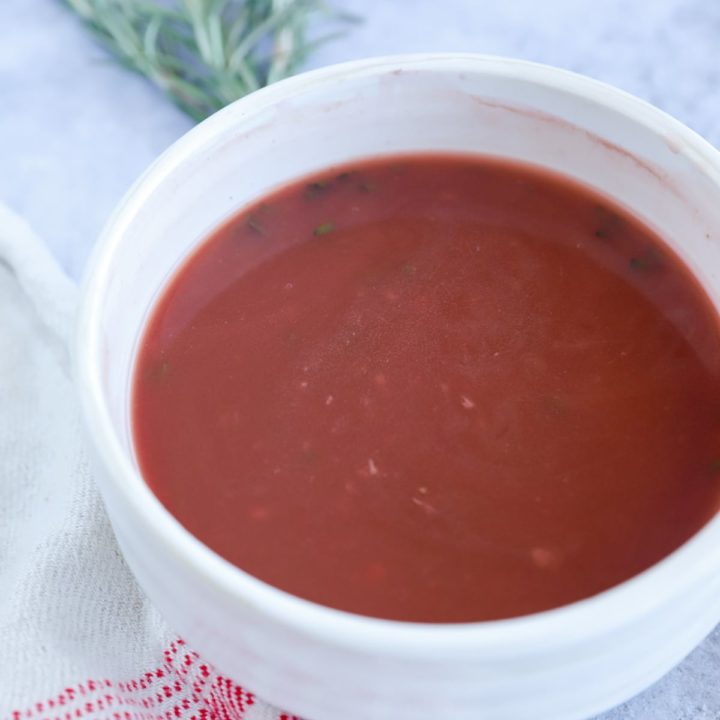 Red Wine Jus
The perfect sauce for any red meat!
Ingredients
2 tsp olive oil
2 cloves garlic, minced
1 tsp cornstarch
1 cup red wine (Cabernet Sauvignon or Merlot works well)
1 cup beef stock
2 Tbsp butter
2 tsp rosemary, chopped
Salt & pepper
Instructions
In a medium saucepan, heat the olive oil over medium-high heat. Add the garlic and brown slightly, approximately 1 minute. Add in the cornstarch and stir until the garlic is coated. Pour in the wine and beef stock.
Allow the mixture to reduce by half, approximately 5-7 minutes. Stir in the butter and rosemary and season with salt and pepper to taste.
Keep warm over low heat until ready to serve.
Recommended Products
As an Amazon Associate and member of other affiliate programs, I earn from qualifying purchases.