Please note this post contains affiliate links.
Herb Goat Cheese Stuffed Leg of Lamb is just the centerpiece for your upcoming Easter celebrations. A rich and creamy mixture of fresh herbs and goat cheese fills the tender lamb, making it a dinner to remember! Served alongside easy rosemary roasted root vegetables, your Easter dinner just got a whole heck of a lot easier.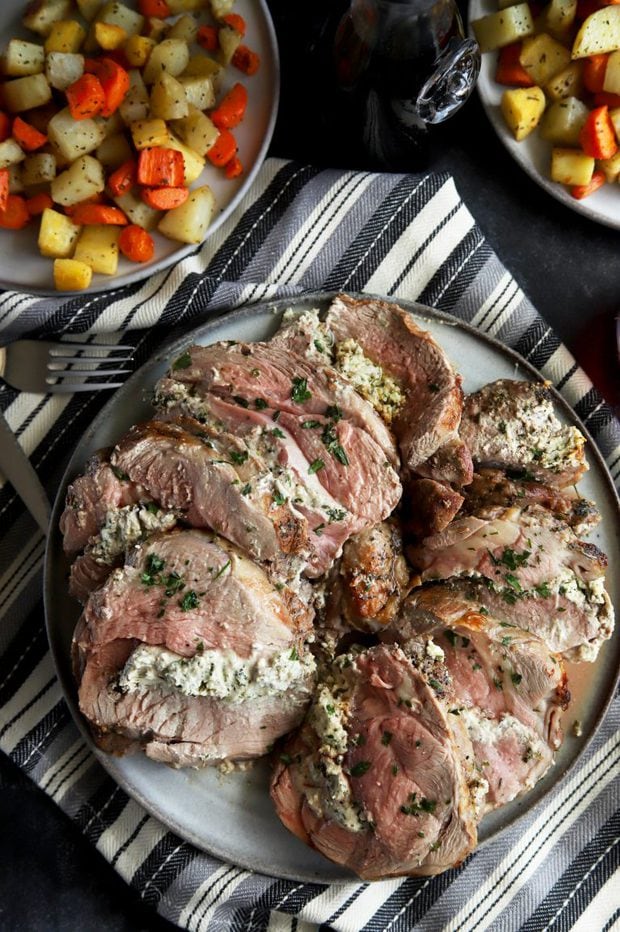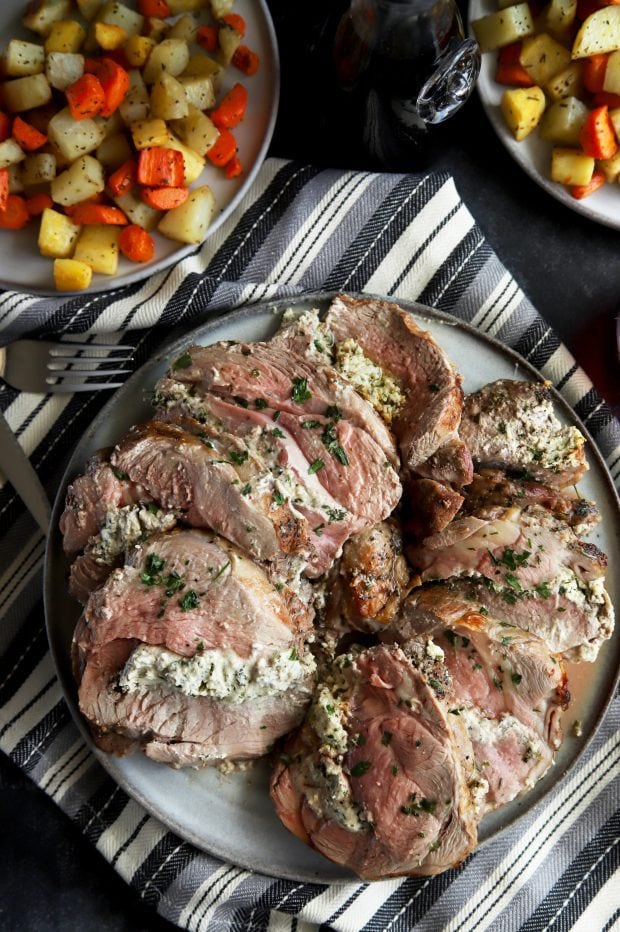 Please note that some of the links below are affiliate links. If purchases are made via these links, I will receive a small commission.
Well, I was all impressed with myself when I busted out this recipe yesterday. I was snacking on some of the end pieces I had cut off, taking a break when a text from a dear friend comes across my screen.
Notre Dame is burning.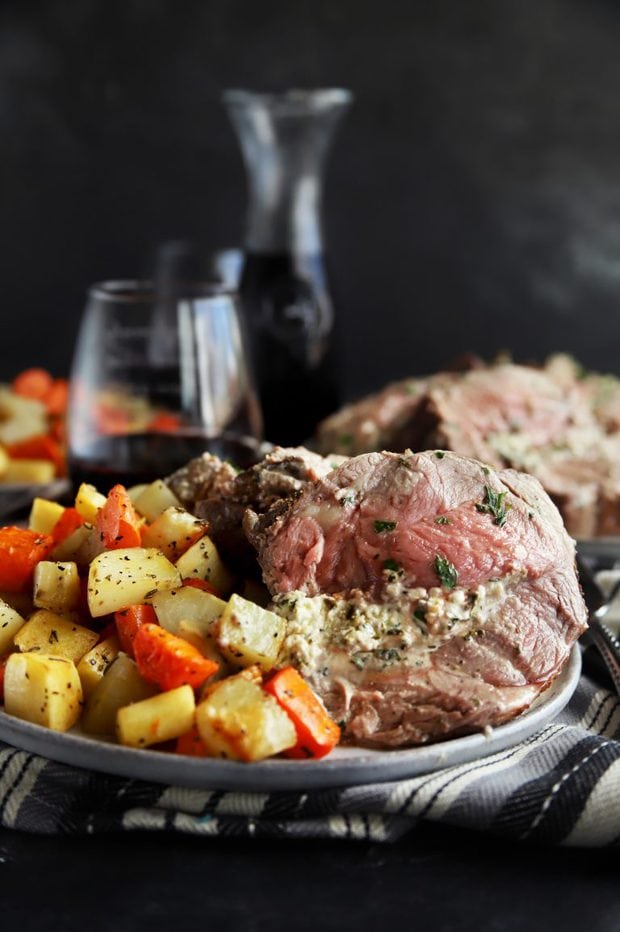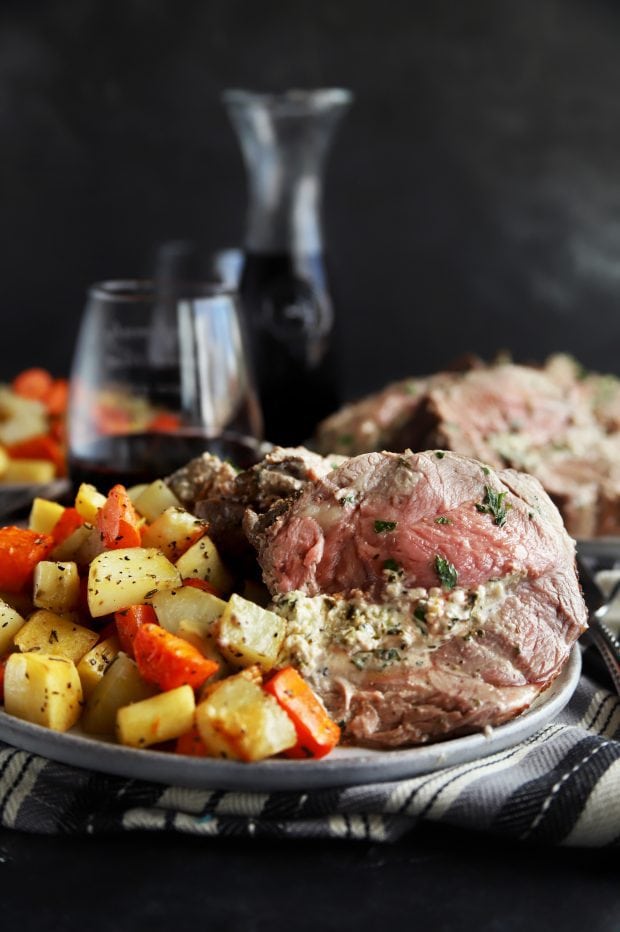 My heart literally sank into my stomach in that moment.
Honestly, as I write this, I am still completely in shock. Looking through the photos and videos of such a beloved treasure as it burned and collapsed in on itself was truly tragic in so many ways.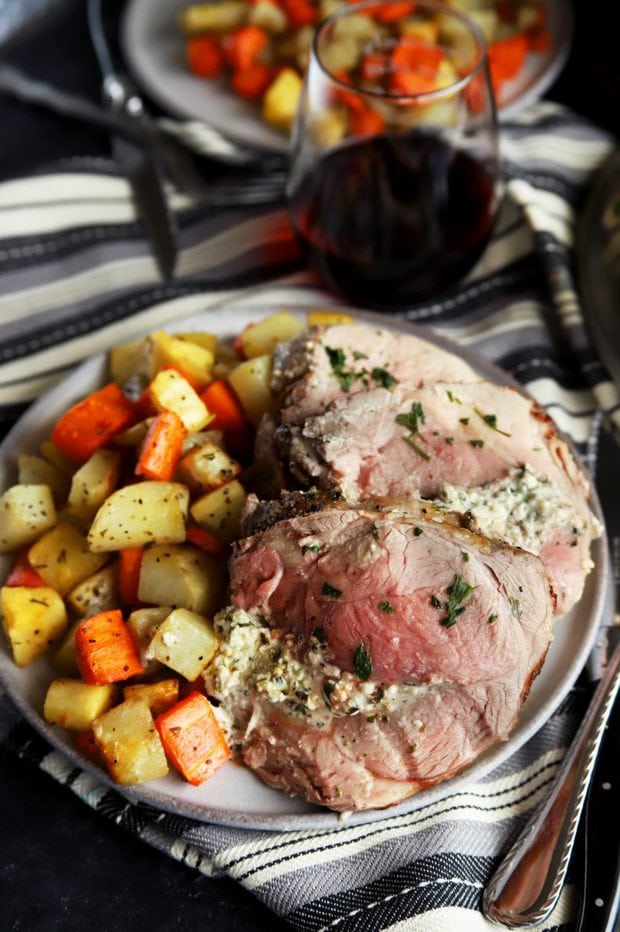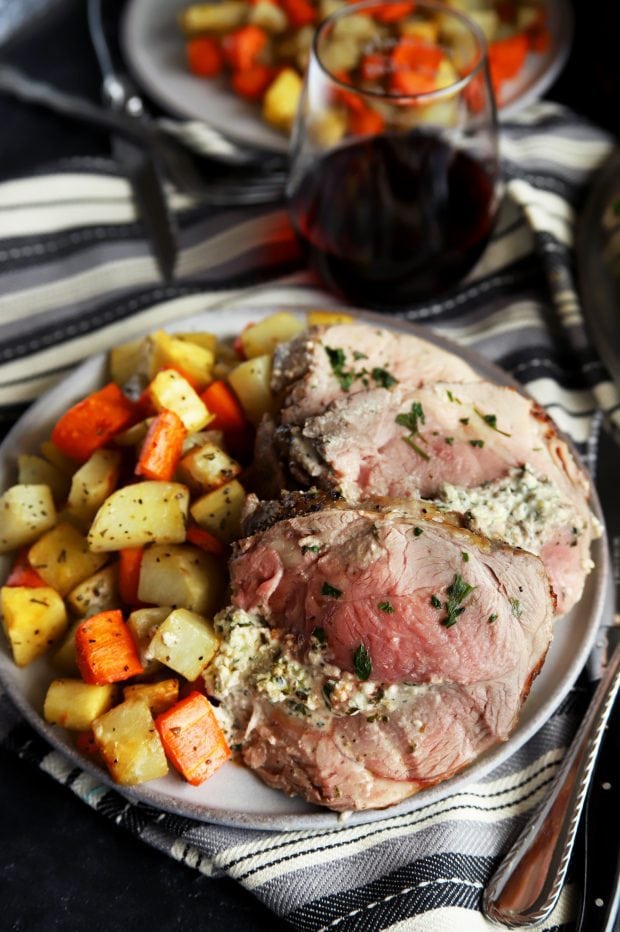 Even more sad is that I am in the process of planning a trip back to Paris in the fall of this year…
I am ever so grateful that I have been to Paris a few times. I have seen the splendor that Notre Dame held. The sound of the choir singing still rings in my ears. I can almost smell the scent of the candles as the smoke wafted from matches nearby.
There are no words for how much was lost in that fire, and I can only hope that there are pieces that were saved… My heart goes out to Paris in this moment. It's kind of hard for me to write about this lamb recipe right now.
That landmark was magic.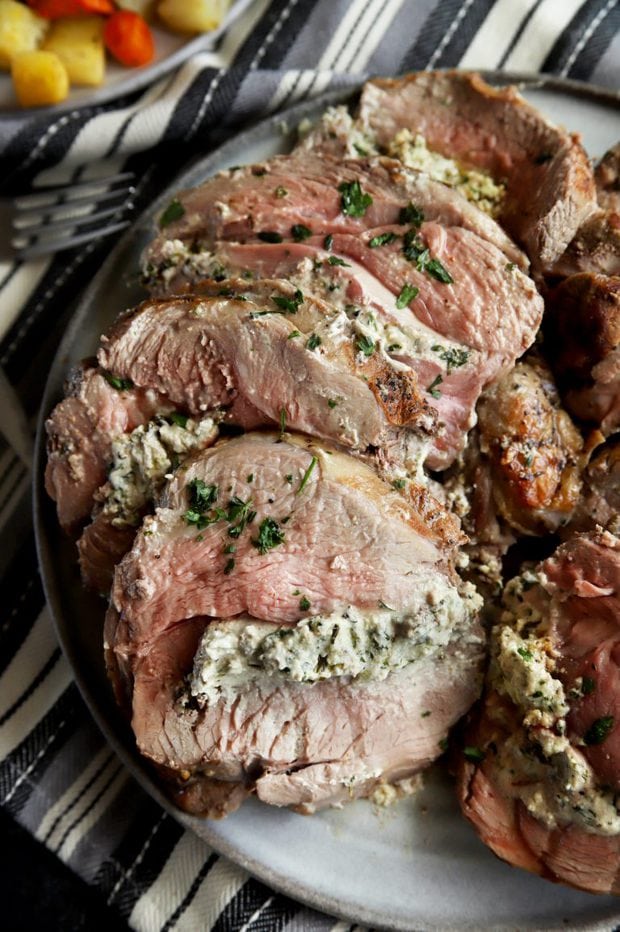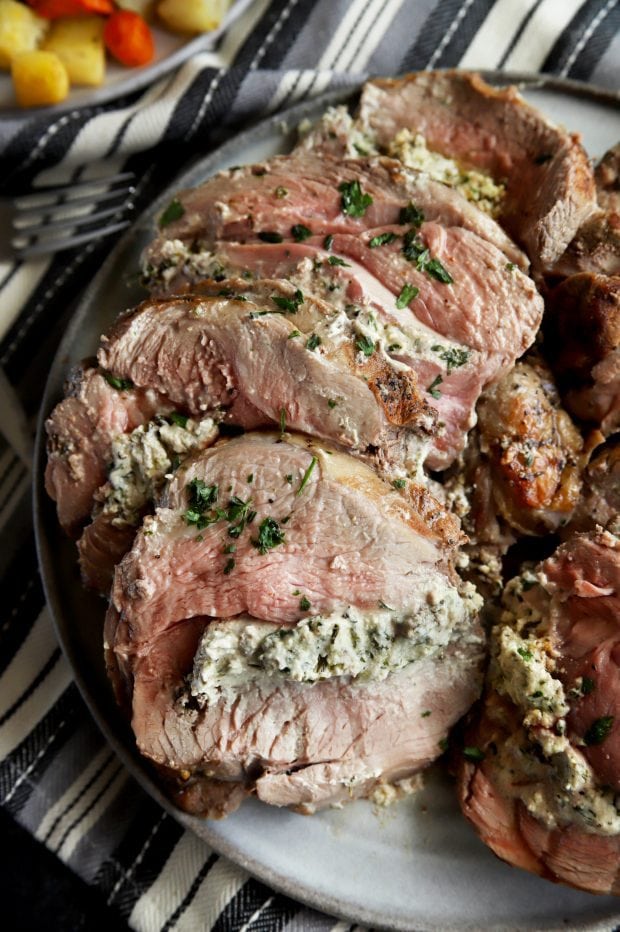 As someone who tends to eat their feelings, I suppose it was a blessing that I had made a stuffed leg of lamb instead of an entire chocolate cake. I ate a lot of that lamb throughout the day and night, as I went through old photos I have from past trips to Notre Dame.
Let's talk about this recipe for a moment shall we?
This is the kind of lamb dinner that you pull out when you not only want to impress, but you also want an easy recipe that won't have you tending to it all night long.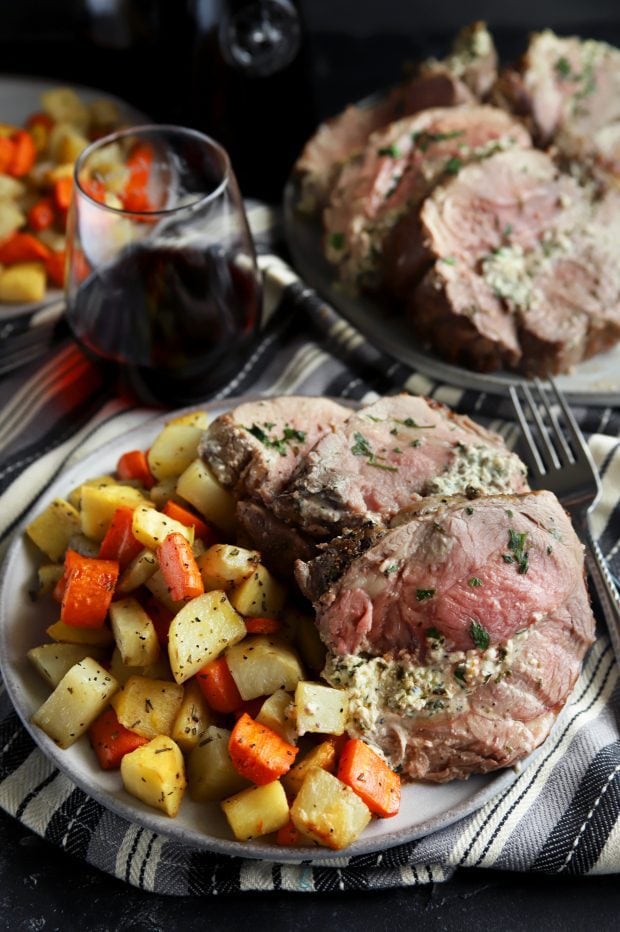 The stuffed leg of lamb is full of creamy and tangy goat cheese, along with garlic and fresh herbs. When all those flavors combine with the tender meat, the result is divine.
Then you serve those thick slices alongside the roasted root vegetables that are seasoned with a simple combination of salt, pepper, and fresh rosemary.
It all bakes up in the oven in the same amount of time. So all you have to worry about is setting the table and pouring yourself a glass of wine while you put your feet up.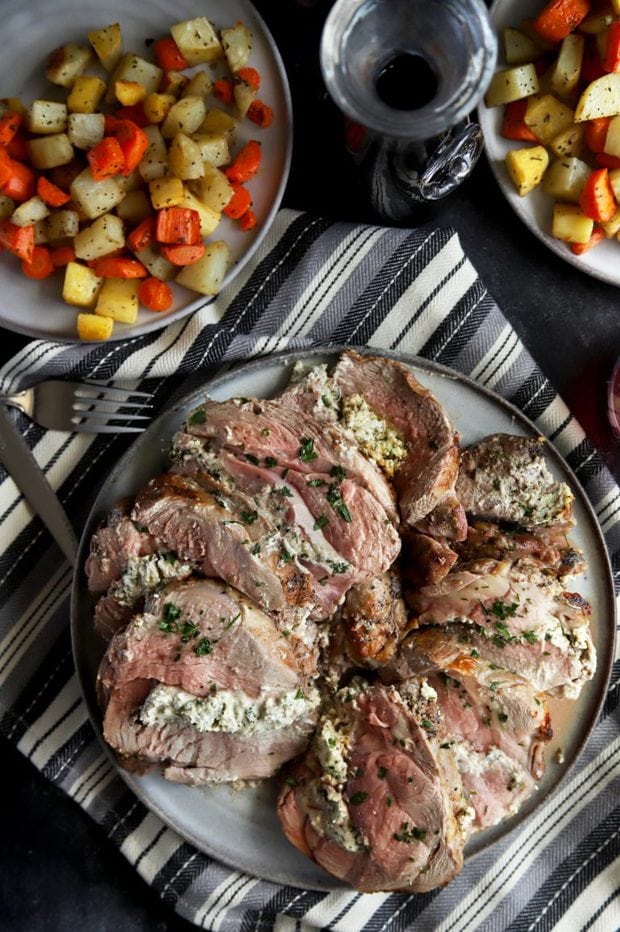 All in all, it's a meal that you will never regret making and everyone will go bananas over. Just in time for your Easter dinner celebration!
For some dessert ideas, be sure to either check out this lemon rosemary meringue tart (SO EASY) or this mixed berry pavlova (my personal fave spring and summer dessert, from now until forever).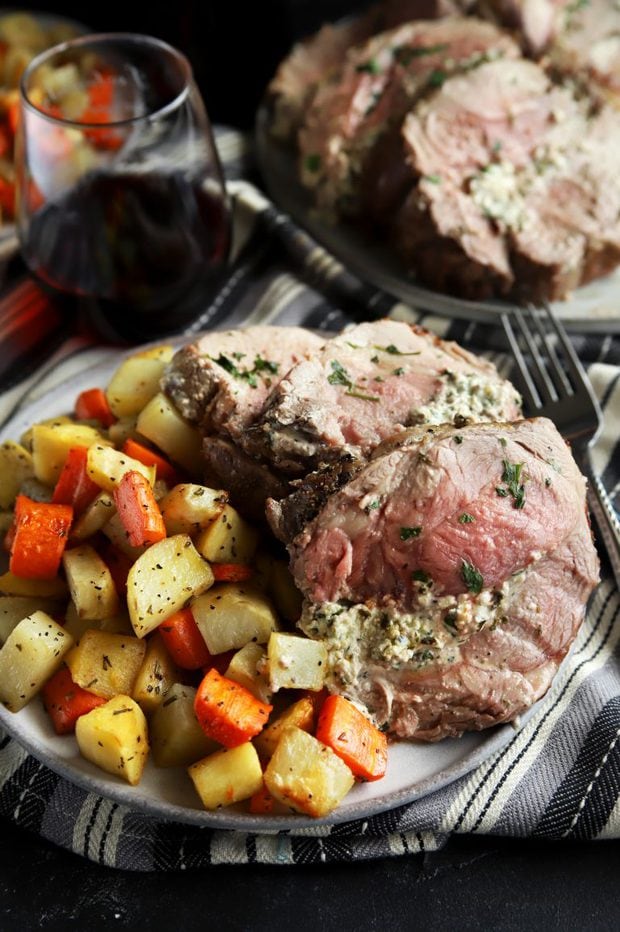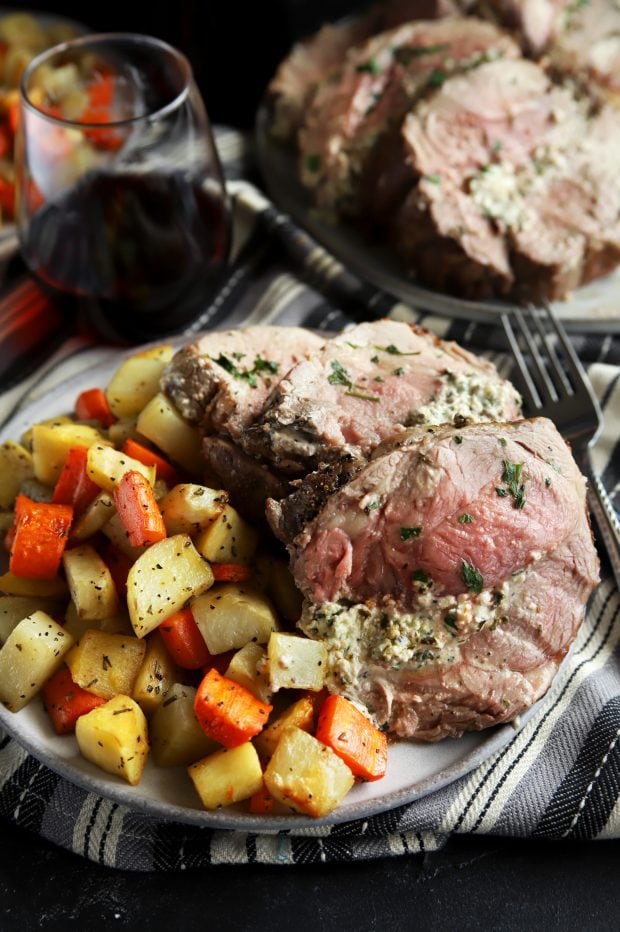 This Recipe's Must-Haves
As you all know, my heart has a soft spot for Le Creuset and I absolutely love using their cast iron skillet. However, I know not everyone wants to splurge so if you need a reliable skillet for less, check out this Lodge cast iron skillet instead.
To turn the leg of lamb in the skillet, you'll need a set of clongs. They having locking power that you need in tongs. Plus a little stand that won't get your counter or stove dirty when you set them down.
For tying up this stuffed leg of lamb, I love this cooking twine set. It comes with a stand that has a cutter on top, so you can easily grab pieces as you are working in the kitchen.
To get said pieces of twine off the lamb (and for endless other kitchen tasks), I always use these kitchen shears. They are oddly enough one of my favorite kitchen tools!
Don't forget a sturdy half sheet baking pan for the vegetables. USA PAN makes such high quality stuff, and the price is always right! I like this one because it comes with a rack that fits inside the pan so you can use it for roasting bacon and such as well.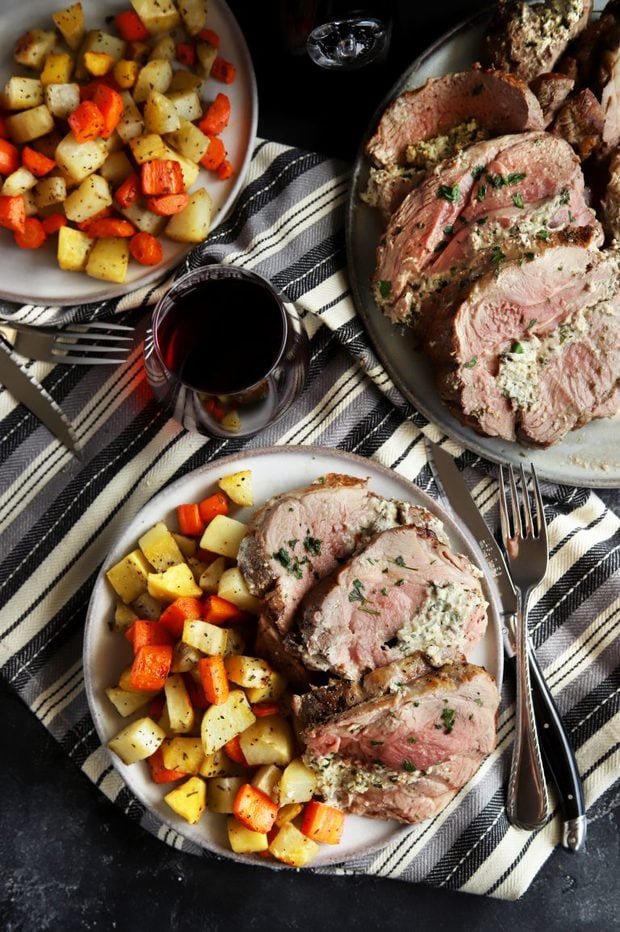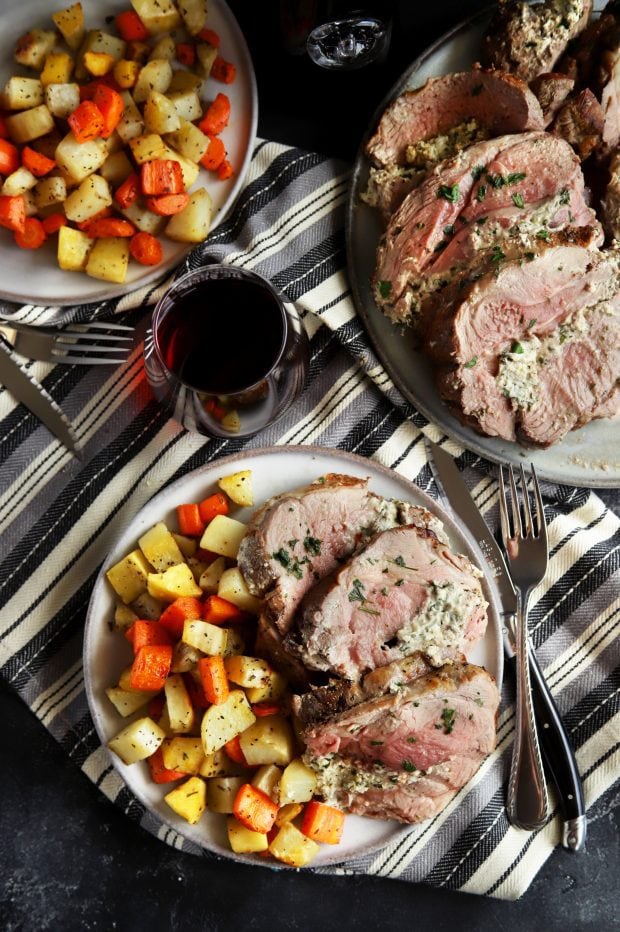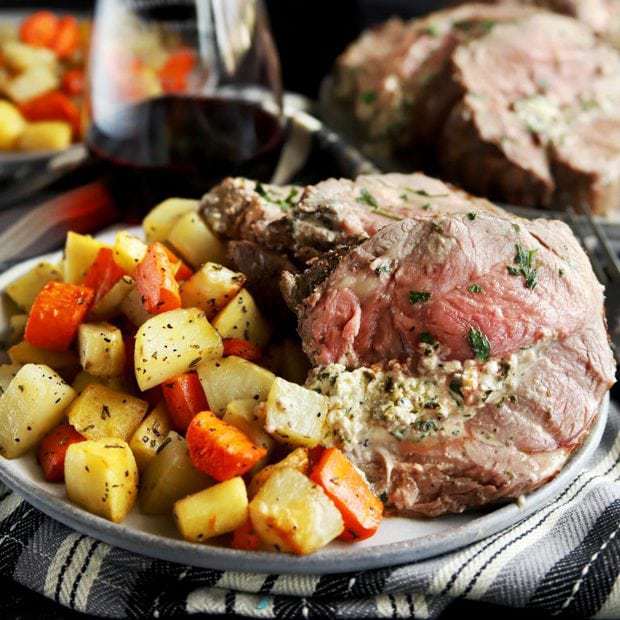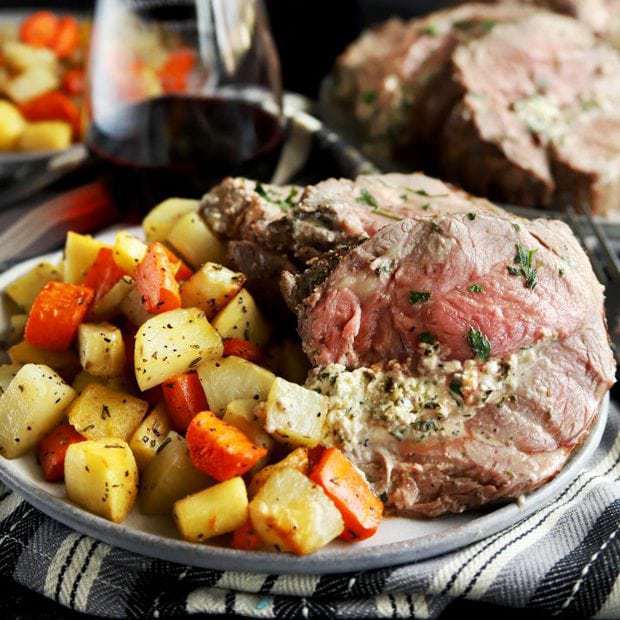 Herb Goat Cheese Stuffed Leg of Lamb
Creamy, tangy goat cheese is mixed with fresh herbs, then stuffed inside tender leg of lamb. It's easy to make and even easier to serve up with rosemary roasted root vegetables.
Ingredients
Stuffed Leg Of Lamb
3 garlic cloves, minced
1/2 tsp salt
1/2 tsp black pepper
1 1/2 cups crumbled goat cheese
1/4 cup chopped rosemary leaves
1/4 cup chopped thyme leaves
2 Tbsp chopped parsley leaves
1 (5 lbs) leg of lamb, butterflied
1 Tbsp olive oil
Roasted Rosemary Root Vegetables
4 carrots, peeled and roughly chopped
3 russet potatoes, peeled and roughly chopped
2 parsnips, peeled and roughly chopped
2 tsp freshly chopped rosemary
2 tsp olive oil
Instructions
Preheat oven to 375˚F. Grease a rimmed baking sheet with cooking spray. Set aside.
In a small bowl, stir together garlic, salt, pepper, goat cheese, rosemary, thyme, and parsley for the stuffed leg of lamb.
Lay lamb out on a flat work surface. Use a meat mallet to flatten any extra thick areas, if needed. You want the leg to be even thickness.
Add the goat cheese filling in a mound lengthwise on one side of the lamb. Roll lamb over the stuffing, tucking the ends in as best as you can.
Use 5 one-foot pieces of twine to tie up the leg of lamb. Slide one piece in underneath the leg of lamb, then tie them off starting from the outer ends and moving inward to the center piece. Make sure the twine pieces are spaced evenly. Use 1 two-foot piece of twine to wrap the roll lengthwise and tie tightly.
Heat 1 Tbsp olive oil in a large cast iron skillet over medium-high heat. Once hot, add lamb and sear on all sides, about 2 minutes per side.
While the meat sears, add root vegetables, rosemary, and olive oil to a medium bowl. Toss to coat the vegetables evenly, then spread in an even layer on the prepped rimmed baking sheet. Season with salt and pepper.
Place skillet with the lamb on the center rack of the oven. Place the pan of vegetables on the rack in the lower third of the oven .
Roast until vegetables are cooked through and the lamb is browned and cooked to desired doneness. This will take about 25 minutes for rare, or 30 minutes for medium rare. The internal temperature of the thickest part of the lamb should be between 130˚F and 140˚F.
Remove from oven and cover lamb loosely with foil, letting it rest at least 10 minutes before slicing and serving. Be sure to cut and discard strings before you slice!
Serve with roasted rosemary root vegetables.
Recommended Products
As an Amazon Associate and member of other affiliate programs, I earn from qualifying purchases.