Chile Braised Short Ribs with Parmesan White Wine Risotto are the one decadent meal you need to make this year. The rich chile marinade infuses the ribs with such intense flavor that the creamy risotto beneath comes to life in a whole new way. Get ready to swoon.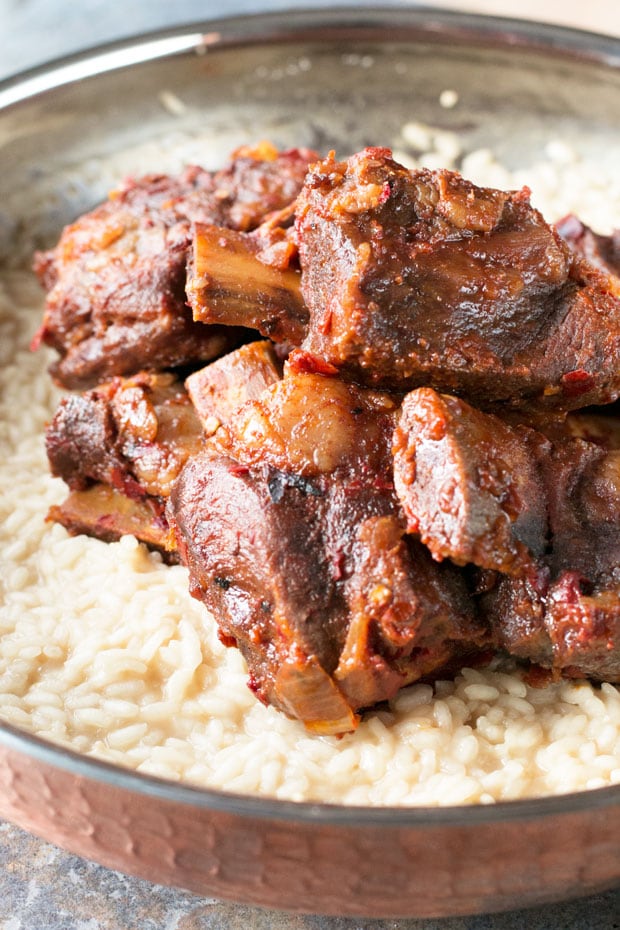 These ribs are so freaking delicious it makes me want to scream.
I really don't have any other words to describe the feeling as accurately as that.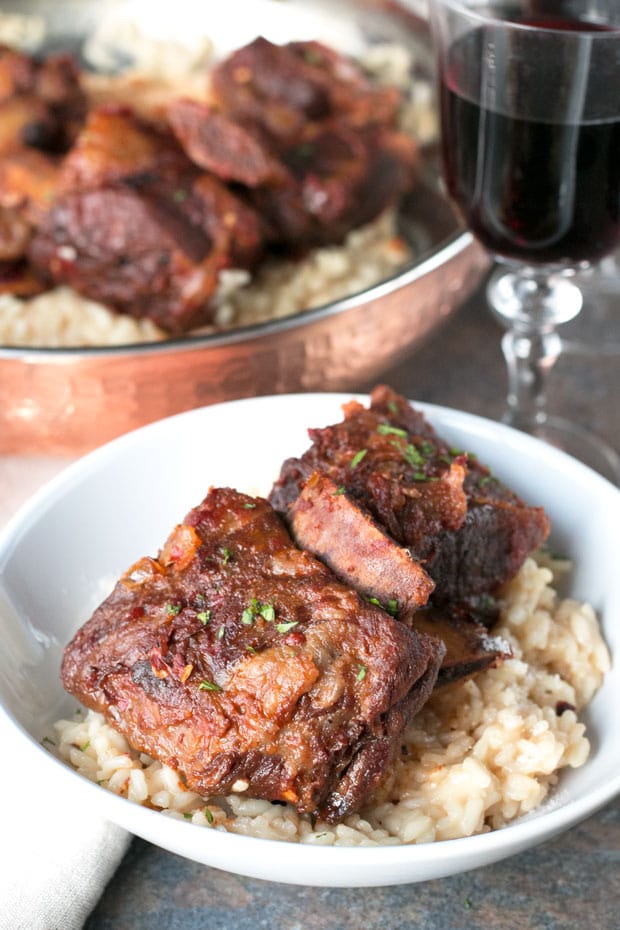 A little overdramatic? Perhaps. But these ribs and risotto when paired together are just that. damn. good.
You know when you make a meal that just changes everything? A meal that stands up to the test of time.
One that you want to make for every special occasion. The dinner that you would make if you were going to propose to the love of your life that night.
This chile short ribs and risotto dish has that kind of power.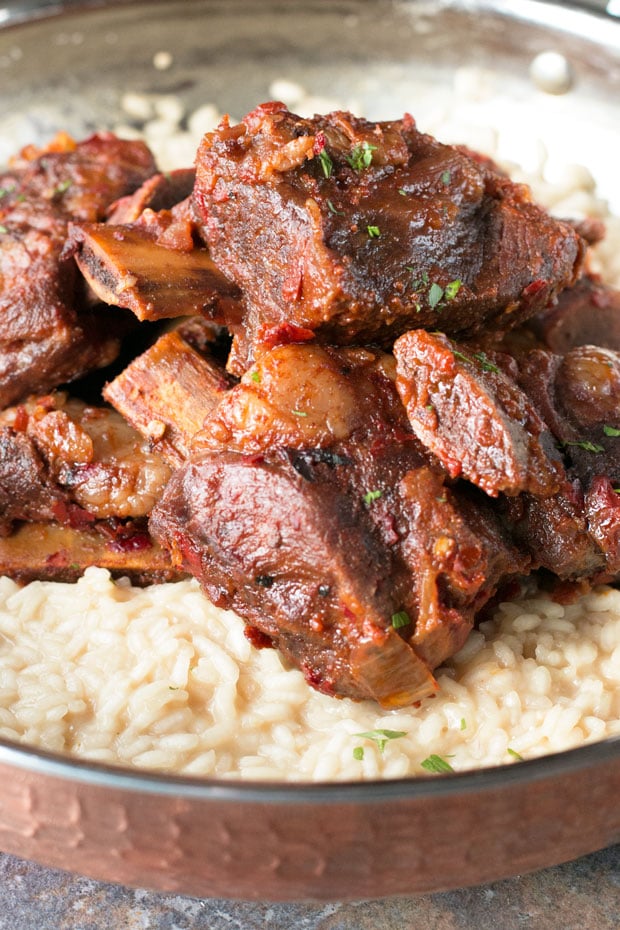 I absolutely adore this Lagostina Martellata Hammered Copper 12-inch Skillet pan because not only is is a great skillet to cook anything in, it's rather perfect for making risotto in.
The copper exterior helps retain the heat in the dish so the risotto cooks evenly, and it's gorgeous to look at too.
To top it all off, the edges are flared so when you are pouring this risotto into bowls, you don't have to worry about any pesky drips.
Whether you need a killer meal for Christmas night or you need something truly special to ring in the New Year with, this dish is the one everyone will remember (including Y-O-U) for years to come.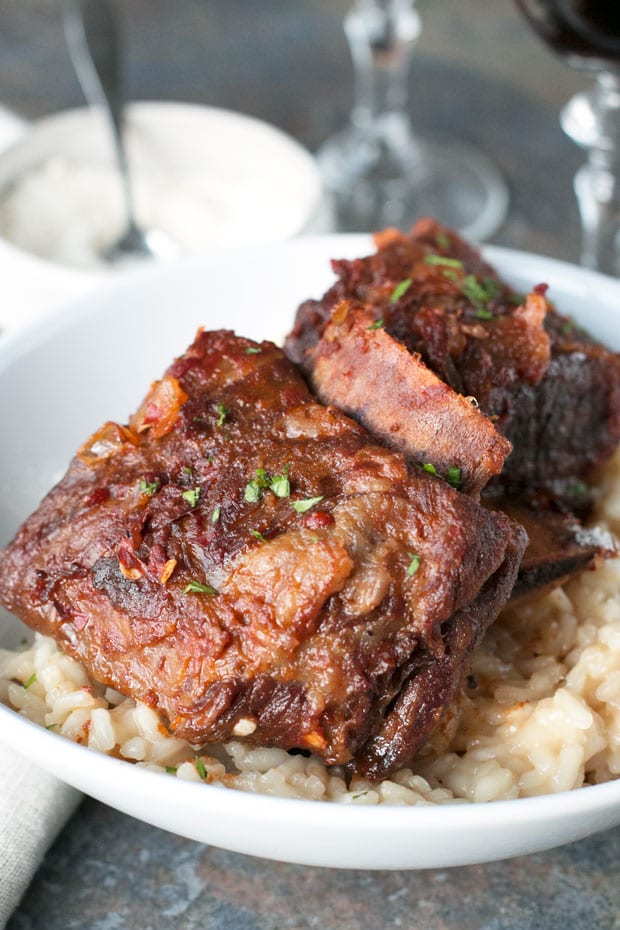 I have a little pre-Christmas/end of the year surprise for you all… Lagostina has graciously offered to give one Lagostina Martellata Hammered Copper 12-inch Skillet away to a lucky reader, just in time to attack all your New Year cooking resolutions head on!
Be sure to enter the giveaway down below the recipe.
Happy Holidays!
Disclosure: I received free product from Lagostina as part of this post. As always, all opinions and recipe are my own. Thanks for supporting the brands that support Cake 'n Knife!
This Recipe's Must Haves
Pin this Chile Braised Short Ribs with Parmesan White Wine Risotto recipe for later!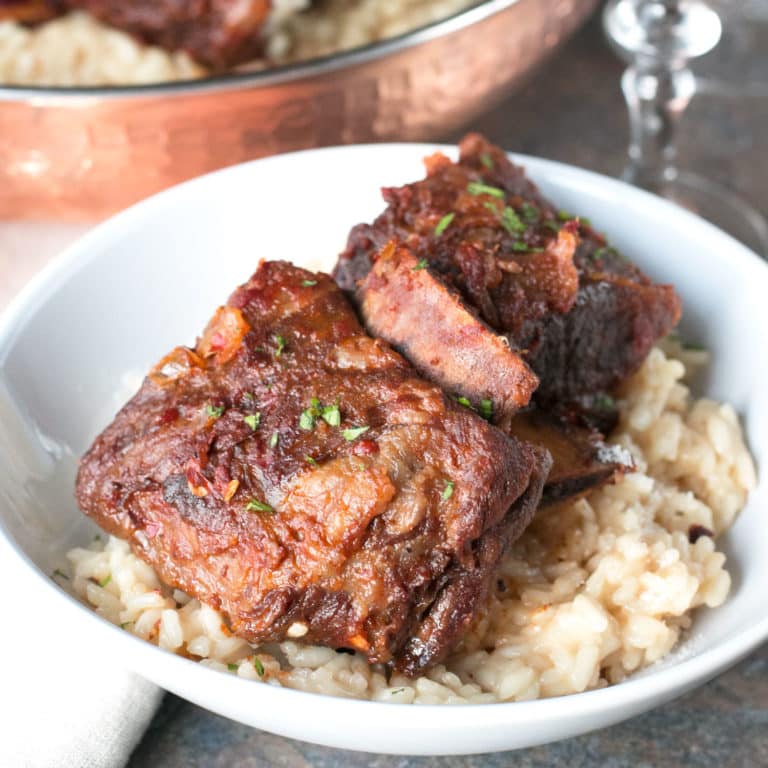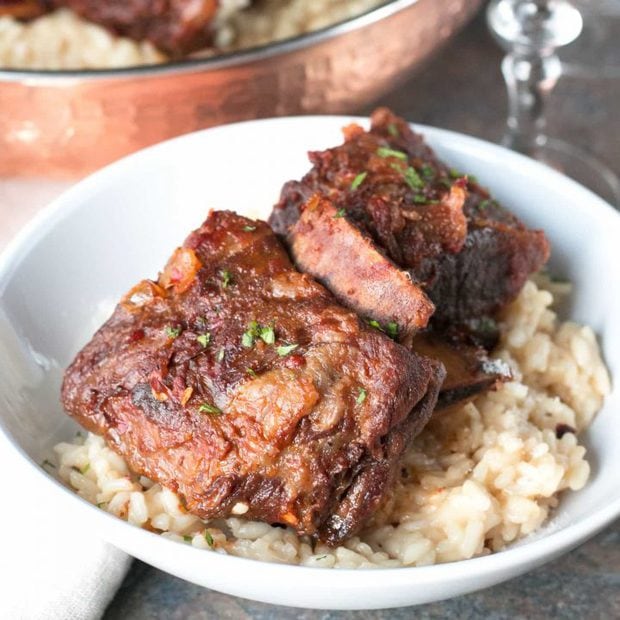 Chile Braised Short Ribs with Parmesan White Wine Risotto
Total Time:
4 hours
10 minutes
Rich, indulgent and packed with so much depth of flavor, you'll never forget eating this meal!
Ingredients
4 dried New Mexico chiles
3 garlic cloves
1/8 cup olive oil
4 tsp salt
3/4 tsp ground coriander
1/2 tsp ground cumin
2 1/2 lbs thick beef short ribs
1/2 white onion, chopped
2 cups chicken stock
1 Tbsp tomato paste
Garnish: freshly chopped cilantro
Parmesan Risotto
2 to 3 cups chicken stock
1 Tbsp olive oil
2 garlic cloves, minced
1 cup arborio rice
1 cup white wine (I used a chardonnay)
1/4 cup grated parmesan cheese
1 Tbsp butter
Instructions
In a small dry skillet, toast the chiles over medium-high heat until puffed, approximately 2 minutes. Remove stems and add to a bowl of hot water. Let the chiles soften and soak for 20 minutes; drain.
Add softened chiles, garlic, olive oil, salt, coriander, and cumin to a blender or food processor. Puree until well-combined. Add chile mixture, short ribs and chopped onion to a large bowl. Using your hands, coat the short ribs well in the marinade. Cover with plastic wrap and refrigerate overnight.
Preheat oven to 350 degrees.
In a large, heavy-bottomed, oven safe pot, add shorts ribs and marinade with 2 cups chicken stock. Bring to a boil over high heat. Once boiling, cover and place in the oven. Braise for 2 hours.
Remove from oven, stir in tomato paste, cover and return to the oven. Braise for an additional hour.
When there are 40 minutes left for the short ribs, make the risotto. In a medium saucepan, bring the chicken stock for the risotto to a simmer; cover and keep warm over low heat.
In a large Lagostina skillet, heat olive oil over medium heat. Add the garlic and cook until browned, about 1 minute. Stir in the rice and toast for 2 minutes. Add the wine and simmer until almost evaporated. Pour in approximately 1 cup of the hot stock. Cook, stirring constantly, until the stock has been absorbed. Repeat this process, adding 1 cup of stock at a time and stirring until the rice is tender. You may not need all the stock so test the rice between each addition. It should take approximately 25 to 35 minutes total. Stir in parmesan cheese and butter, and season with salt and pepper. Keep warm over low heat until ready to serve.
Remove ribs using tongs from the pot. Serve short ribs over risotto.