Please note this post contains affiliate links.
It's impossible not to love a French dip sandwich served with a steaming cup of au jus. The combination of savory beef with cheese and toasted bread that's been spread with garlic butter is simple, classic, and mouthwatering.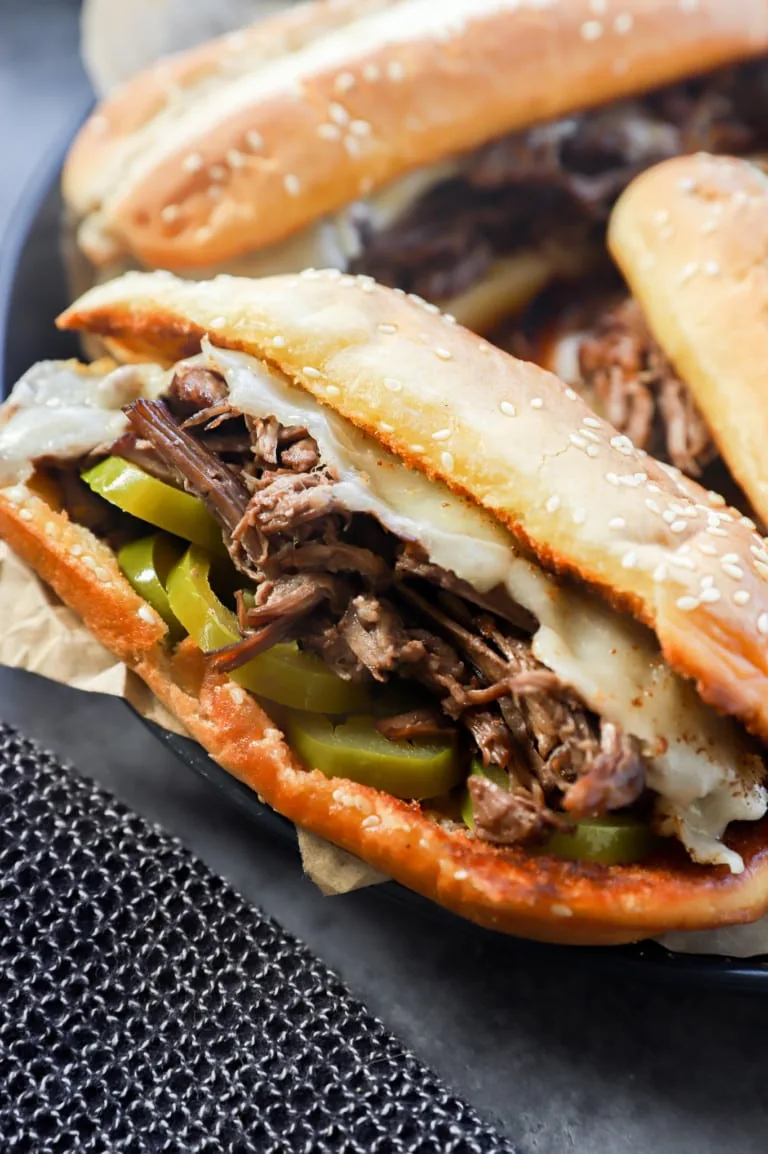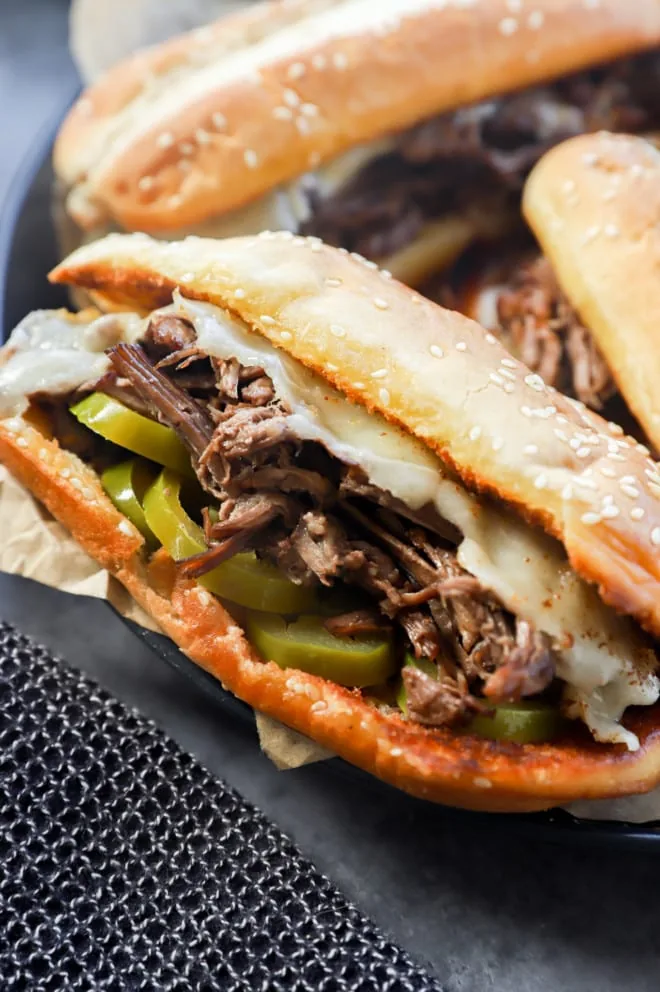 about this French dip sandwich
The French dip sandwich is pure comfort. It's one of those sandwiches that we cannot stop ordering whenever we go out to eat.
So let's jut say we've done the legwork on how to make the best possible sandwich.
This recipe is based on a true classic, made with tender beef, a comforting layer of cheese, and a steaming cup of savory au jus for the ultimate dipping experience.
Whether it is a busy weeknight or you are looking for a laid-back weekend meal, this sandwich always has a place on the table.
Why should you make a beef dip sandwich? Well, for starters, it's ridiculously easy to make. Why? Because these sandwiches are made with tender, slow-cooked beef on toasted bread that's been slathered with garlic butter. This is my favorite way to use up leftover braised meat! You could use leftover pot roast meat, braised chuck roast, or even thinly sliced prime rib.
Though the classic might be made of deli-style sliced roast beef, once you try a French dip with hearty chunks of tender beef, you will never go back.
This is a meal you can whip up on any weeknight, no special occasion required. So, why should you make a French dip sandwich? Because life's too short not to indulge in comfort food regularly.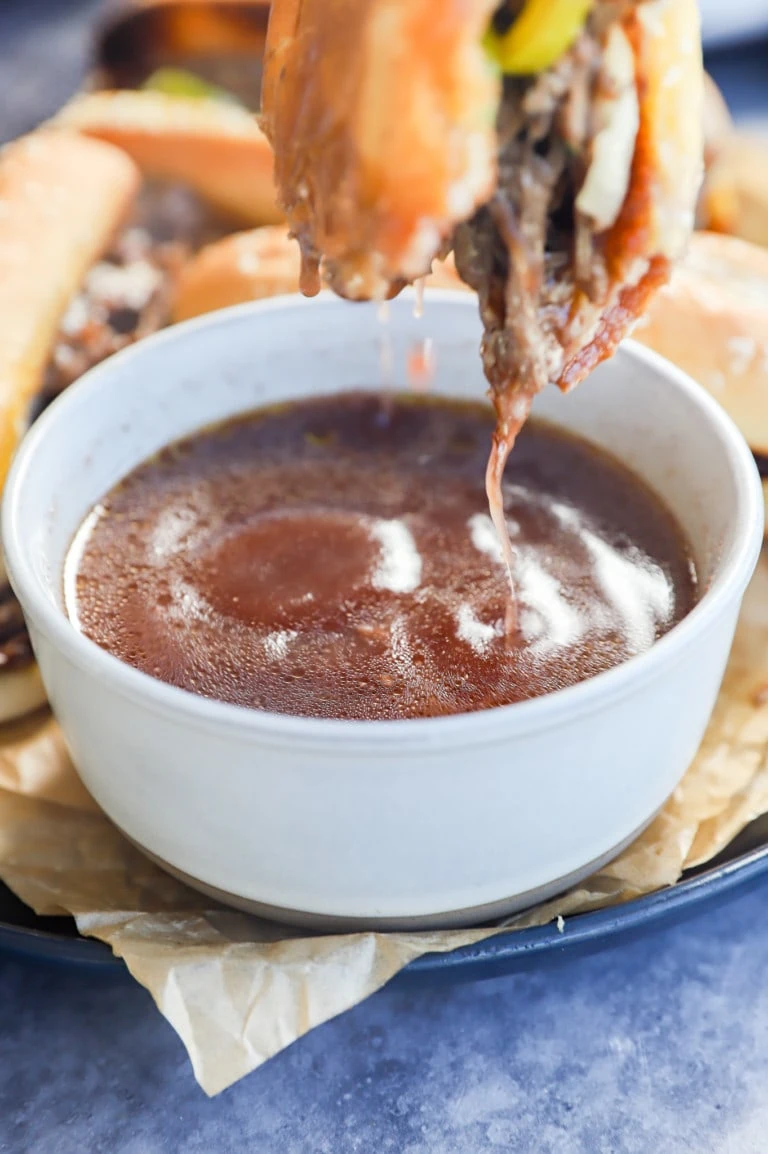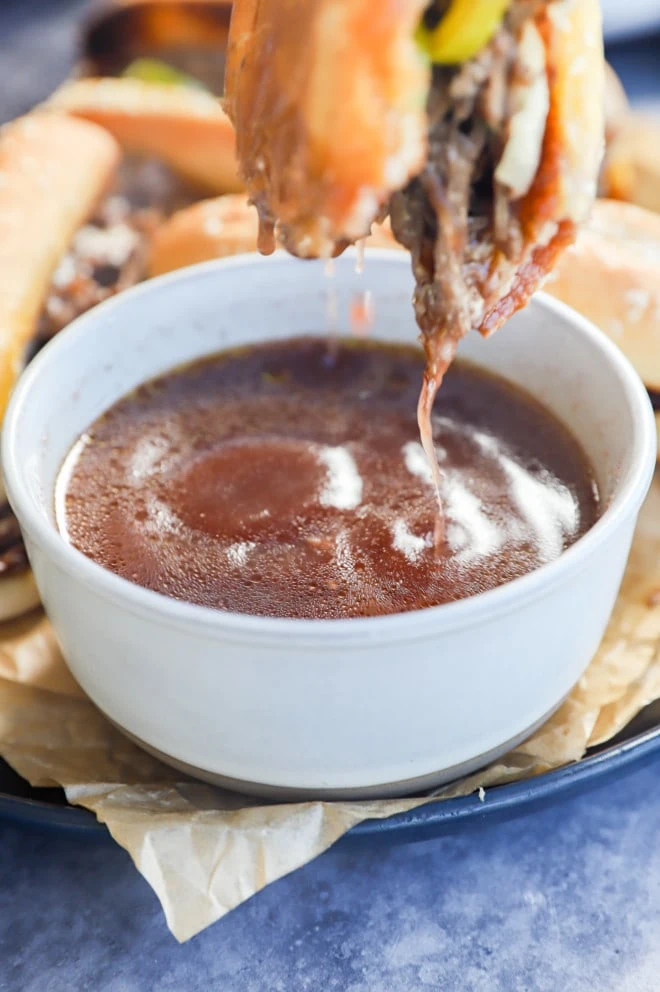 what is a French dip?
A French dip sandwich is also known as a beef dip. It is a hot sandwich that typically consists of thinly sliced roast beef on a hoagie roll, French roll, or baguette. Generally it is served plain, but popular versions include adding provolone or Swiss cheese and/or caramelized onions. This hot dish is served with a bowl of hot au jus for dipping.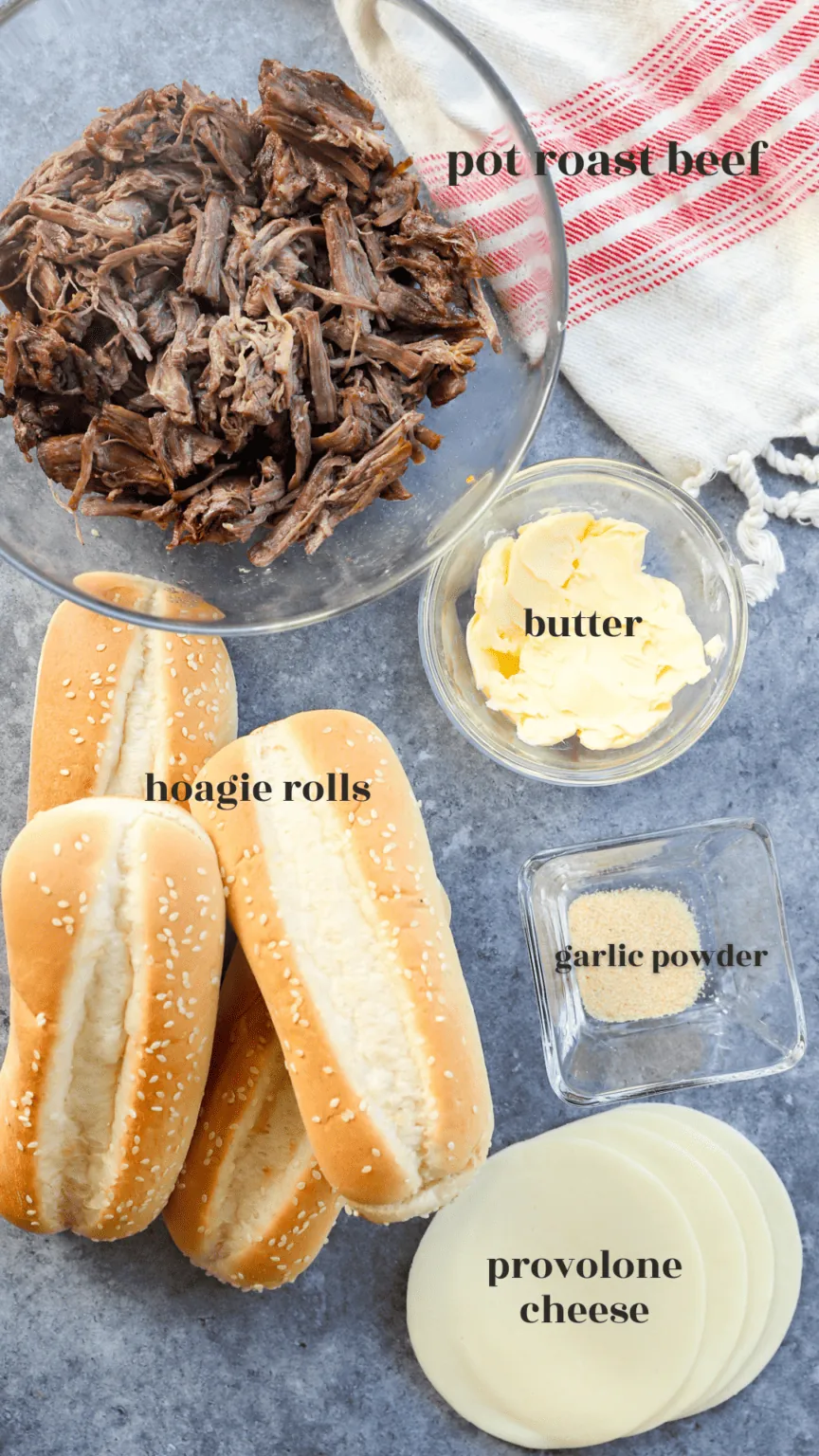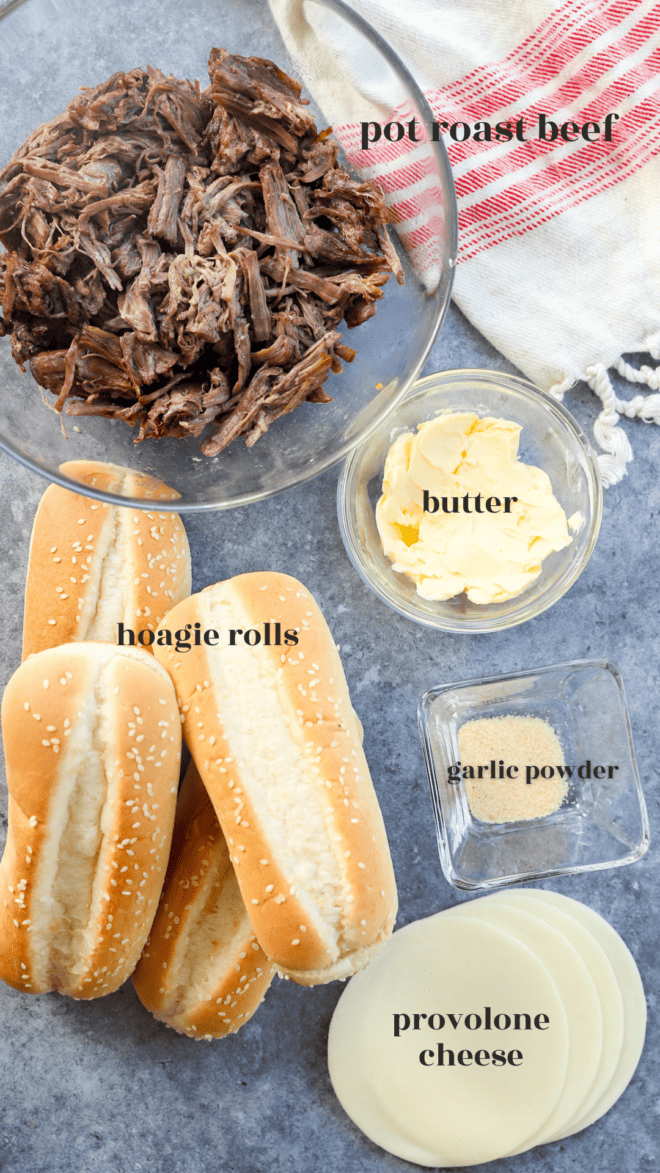 ingredients
butter. You can use either unsalted or salted butter for the garlic butter spread. Make sure that it is brought to room temperature before using it.
garlic powder. Usually I would recommend using minced garlic in recipes, but I find that garlic powder gets better incorporated into the butter for these sandwiches.
bread. Hoagie rolls are the favorite for these sandwiches! You could also use big hunks of French baguette and turn them into sandwich rolls.
beef. I prefer to use roast beef (or pot roast) for the sandwiches. Essentially, you are looking for shredded, tender beef to pile up on those rolls. You could also use thinly sliced prime rib (which I find hard to come by/expensive, and making it at home is a lot of work) or deli-style sliced roast beef.
cheese. Stick with the classic provolone cheese. The flavor is best for the sandwich and it melts perfectly.
extras. Here's where you can get creative! Leave the sandwich as is, or add some flair. We like to pile on the hot pickled peppers or pickled jalapeños. You could also add in caramelized onions. Sprinkle the meat with freshly chopped parsley.
this recipe's must haves
You don't need any special equipment to make these sandwiches. A small bowl from a set of mixing bowls to make the butter, with a spoon.
Then you just need aluminum foil!
For the au jus, make sure you have a saucepan, either to make it or to reheat it if you already have it on hand.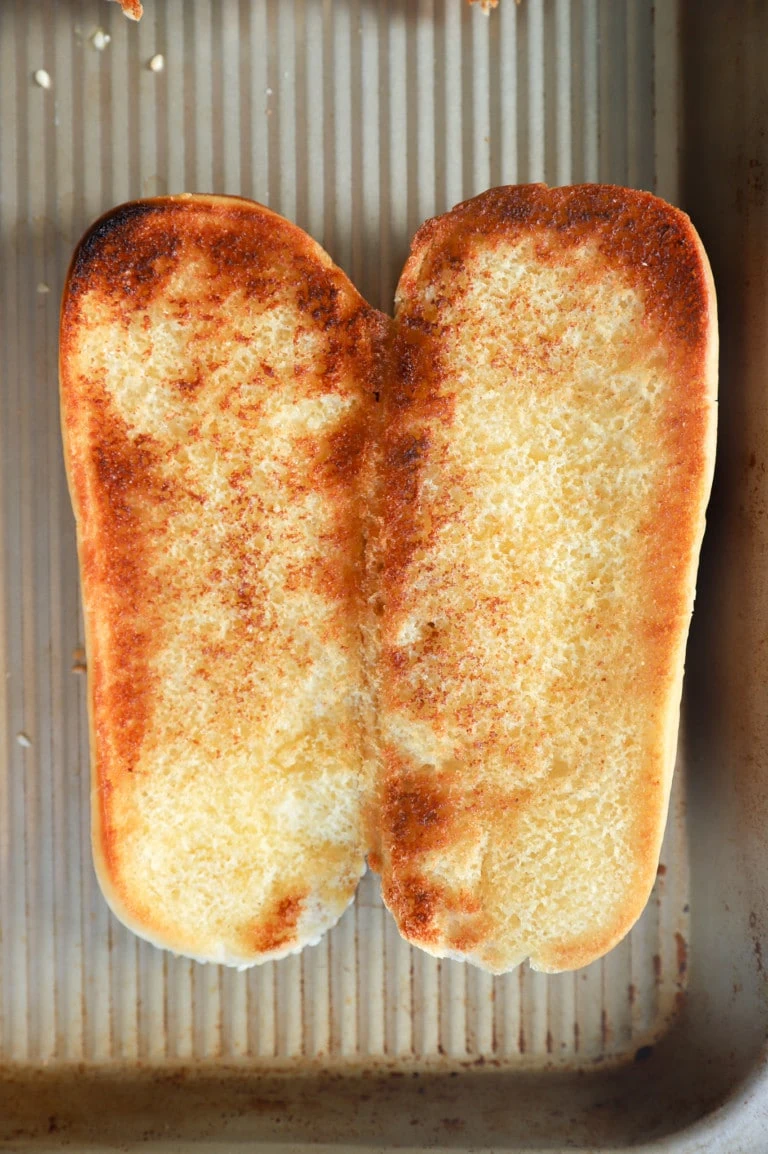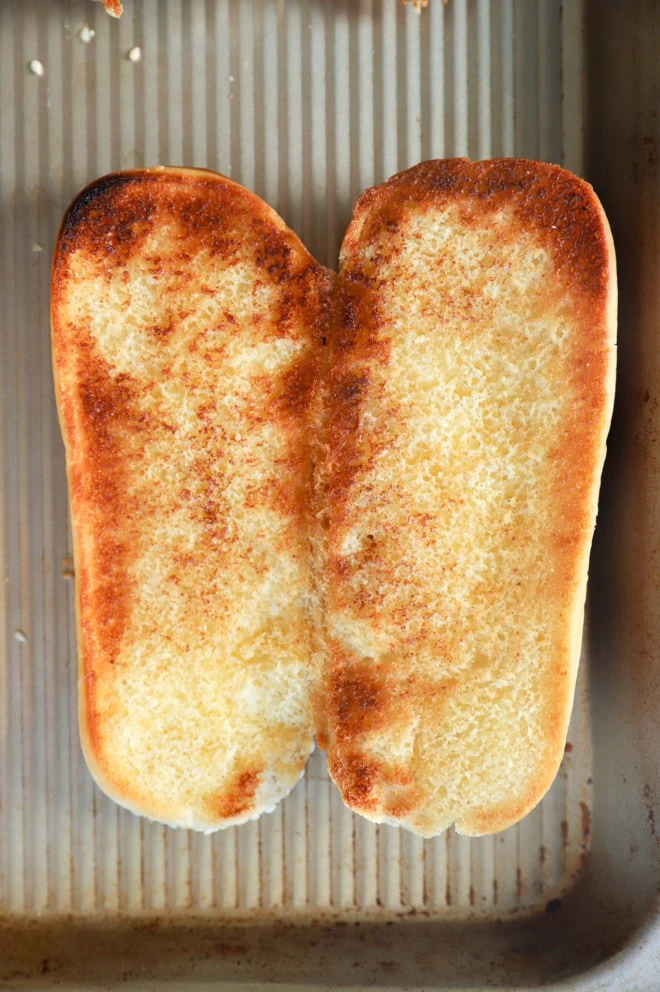 here's how to make the best french dip sandwich
make garlic butter
In a small bowl, stir together softened butter and garlic powder until well-combined.
Spread the butter on the cut sides of the rolls and place them buttered side up on a baking sheet.
toast rolls
Toast the rolls under the broiler until golden brown. This should only take 1 to 2 minutes, so be sure to keep a close eye on them!
Remove from the oven and set aside. Preheat oven to 400˚F.
assemble
Pile the beef on one side of each roll, dividing the meat evenly between the rolls. Top each with slices of provolone cheese. I like to use one slice per sandwich, cutting the cheese slice in half to arrange on top of the beef. However, you can use two slices if you prefer more cheese.
bake
Fold the top half over the other half and wrap each sandwich in aluminum foil.
Bake on the rack in the oven for 10 minutes, until hot.
While the sandwiches are baking, make or reheat au jus on the stovetop over medium heat.
Serve sandwiches warm with au jus for dipping.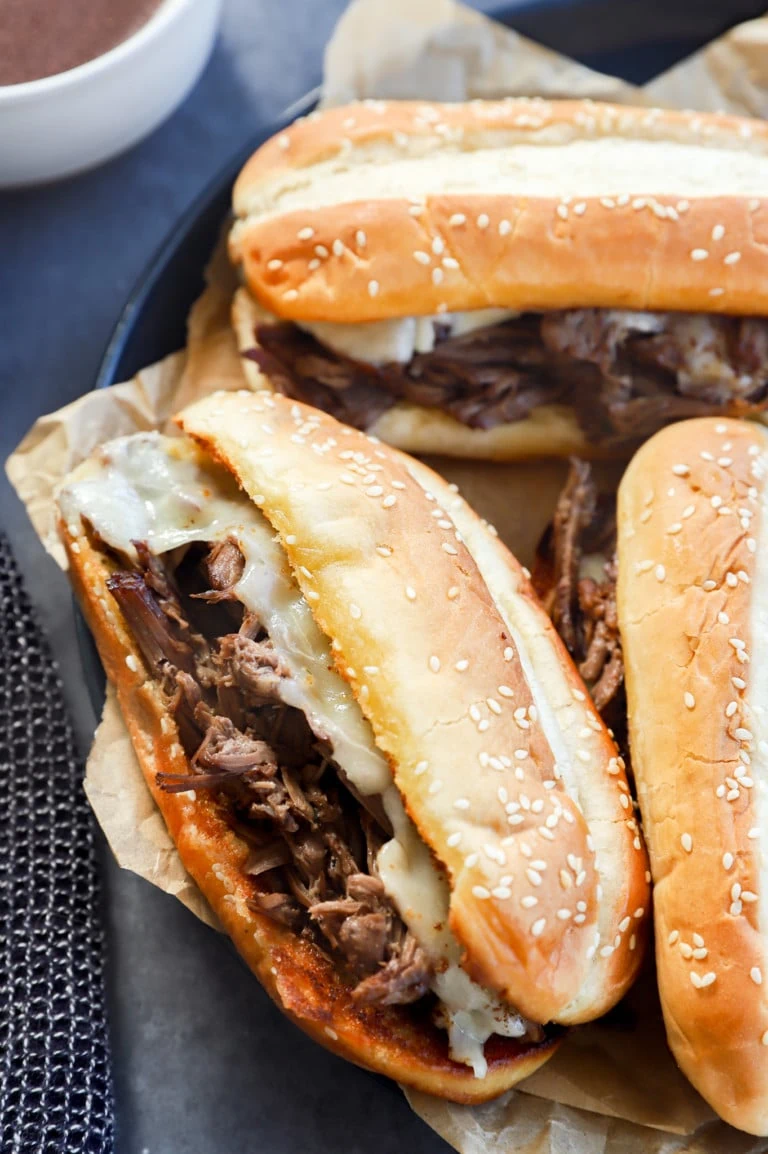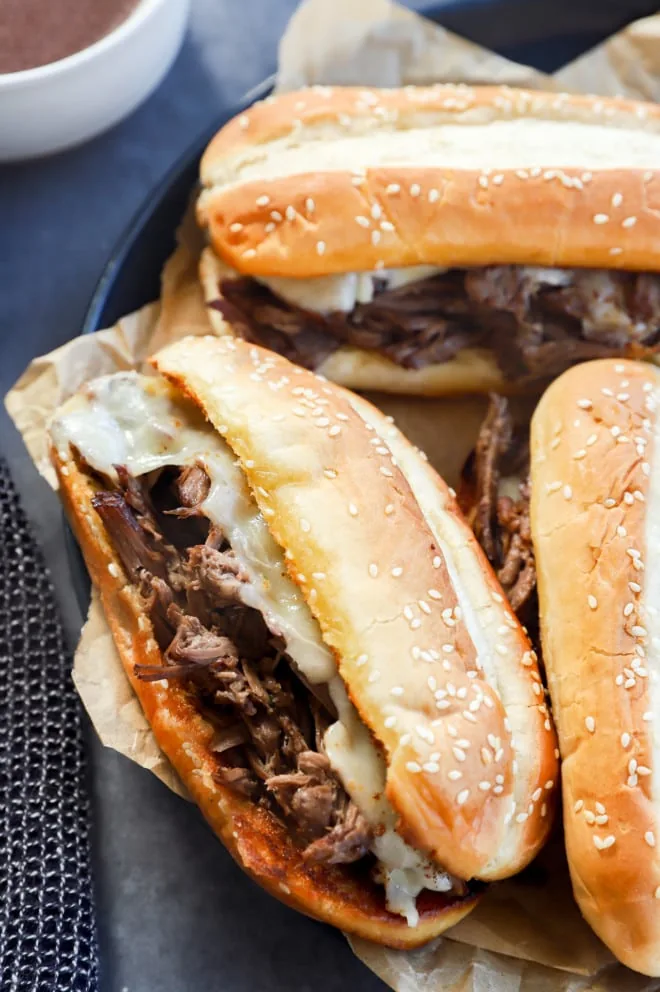 tips and tricks
soften the butter. Be sure that your butter is at room temperature or it will be impossible to mix in the garlic powder. It will also be extremely difficult to spread the butter on the soft hoagie rolls.
use the best meat. If you can, opt for leftover pot roast, shredded braised beef, or thinly sliced prime rib. While sliced deli roast beef will work in a pinch, the flavor just won't compare to the former listed options.
make au jus. Do not buy the packets for instant au jus! Also, do not use soup mix packets or beef broth! You can easily make au jus yourself, even if you don't have the beef drippings from a freshly roasted piece of meat.
toast the bread first. Make sure that you do not skip toasting the hoagie rolls before adding the meat and cheese. This helps the bread from getting soggy when you bake the sandwiches and will also help the rolls hold up to being dunked in delicious au jus.
More tasty sandwich recipes to try: Pulled Chicken Burger | Salsa Burger | Instant Pot Philly Cheesesteaks | Breakfast Croissant Sandwiches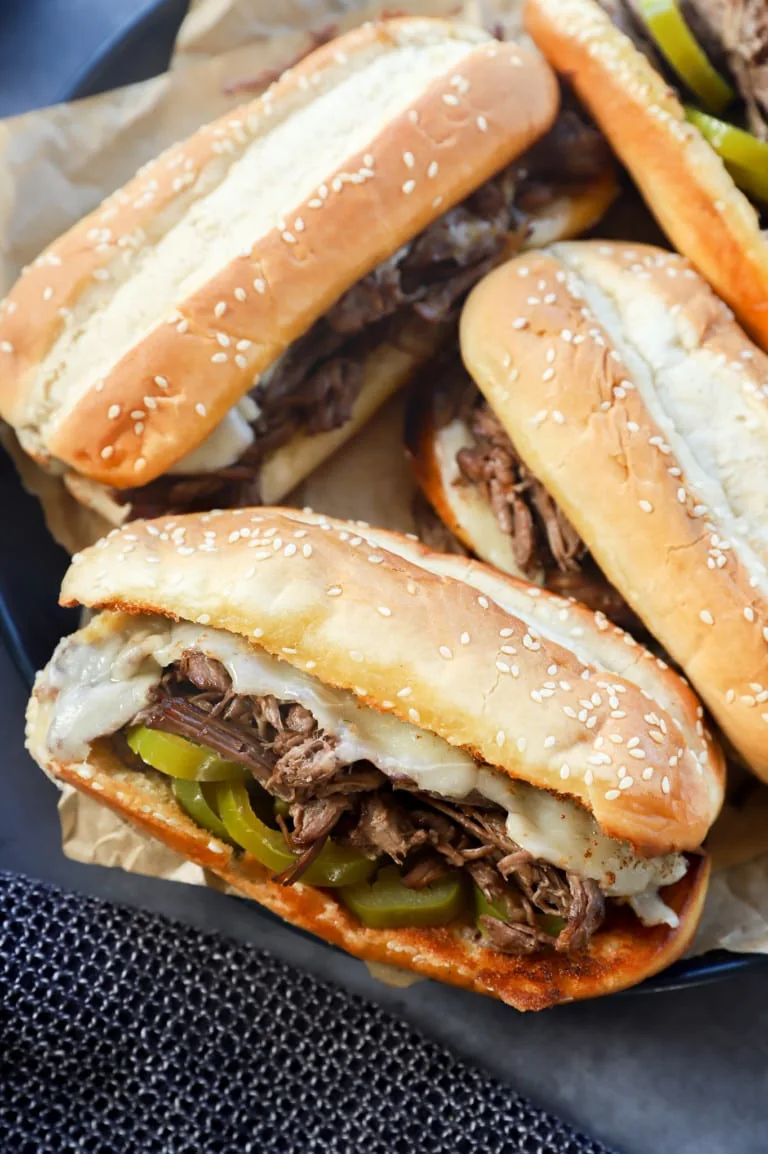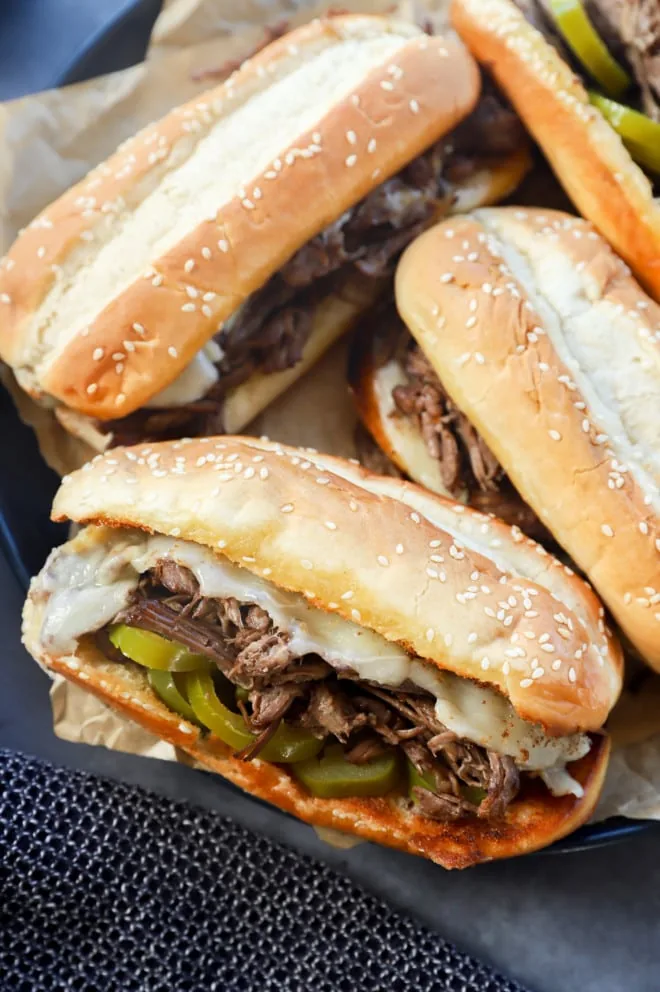 what is the best meat for a french dip?
In my opinion, the best meat for a French dip is some sort of slow cooked, tender shredded beef. As much as I enjoy the thinly sliced prime rib version that are out there, nothing beats the added depth of flavor that slow roasted meat brings to the party.
In this version, I simply used leftover Instant Pot pot roast! You could also use slow cooker pot roast, slow-braised beef chuck roast, or whatever tender beef you have on hand.
Alternatively, thinly sliced prime rib or roast beef also make for tasty sandwiches!
does a french dip have to have cheese?
Generally, French dip sandwiches are served plain, without cheese. However, the creamy provolone cheese slices added on top in this version give an added flavor and texture that just can't be beat.
You can easily skip the cheese if you do not want to include dairy!
does a french dip have onions?
The real answer? Some do, and some don't. It honestly depends on who is making it. Out of the many French dip sandwiches I've had in my life, it's about 50/50. I skip the onions in this recipe to make for a quicker sandwich (plus the pickled hot peppers are always a winner for added flavor).
You can easily add caramelized onions to the sandwiches! Add them to the sandwiches before wrapping them in foil and baking as instructed in the recipe card below.
can I use the air fryer?
Yes, you can use the air fryer instead of the oven! If you are using the air fryer, you will likely need to heat up each sandwich one at a time. Spray the basket with non-stick cooking oil. Instead of wrapping in foil, place the sandwich open-faced in the air fryer.
I like the spread the meat evenly over both sides of the roll, then top one side with cheese. Cook at 350˚F for 3 to 5 minutes, until the cheese is melted and the meat is heated through. Add some pickled peppers, if you want, and enjoy!
what's the difference between French dip and Italian beef?
A French dip is traditionally made with thinly sliced beef and braised in a broth or au jus. However, Italian beef sandwiches are piled up with beef that's been braised with Italian herbs, spices, and served with pickled vegetables that gives it a distinct flavor.
You could say my version is inspired by the Italian beef, since I use pot roast as the meat to get the extra flavor. Of course, you can just as easily used sliced roast beef as I mentioned in the Ingredients section earlier in this post.
I'm sure a lot of us are more familiar with the Italian beef sandwich now that we have all watched 'The Bear' right? Is that just me?
Need more inspiration for dinner tonight? Check out my dinner recipes page!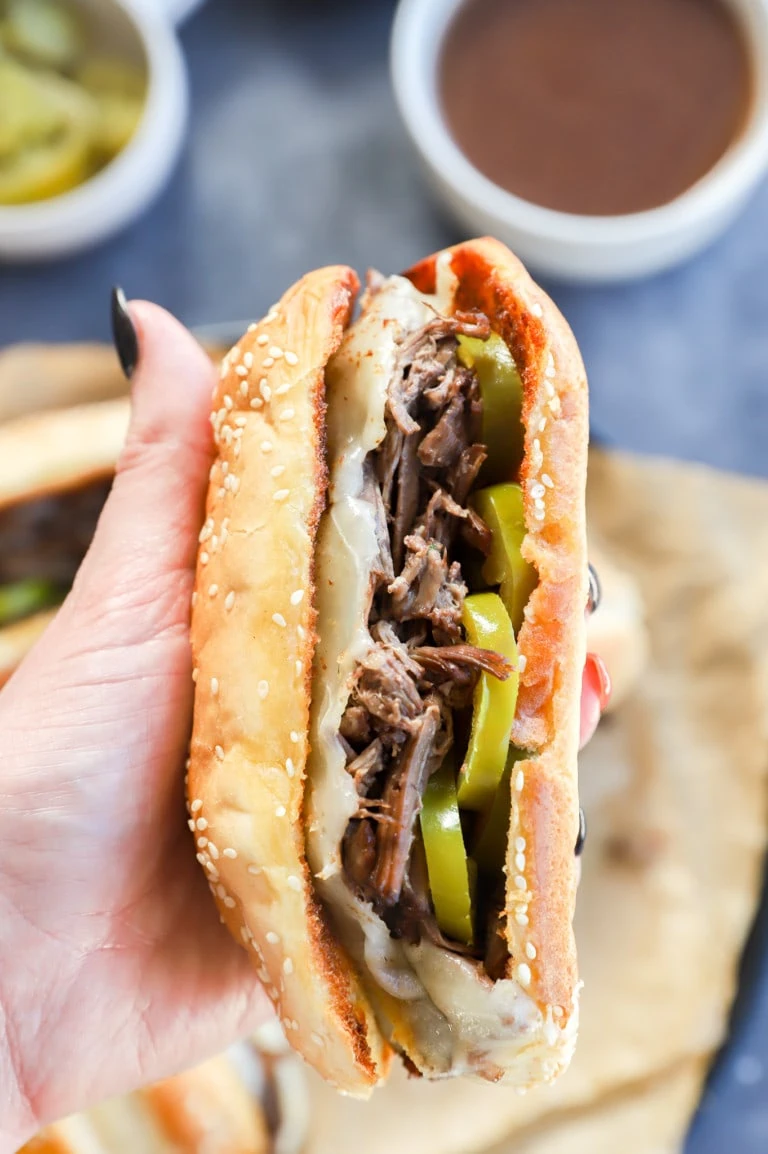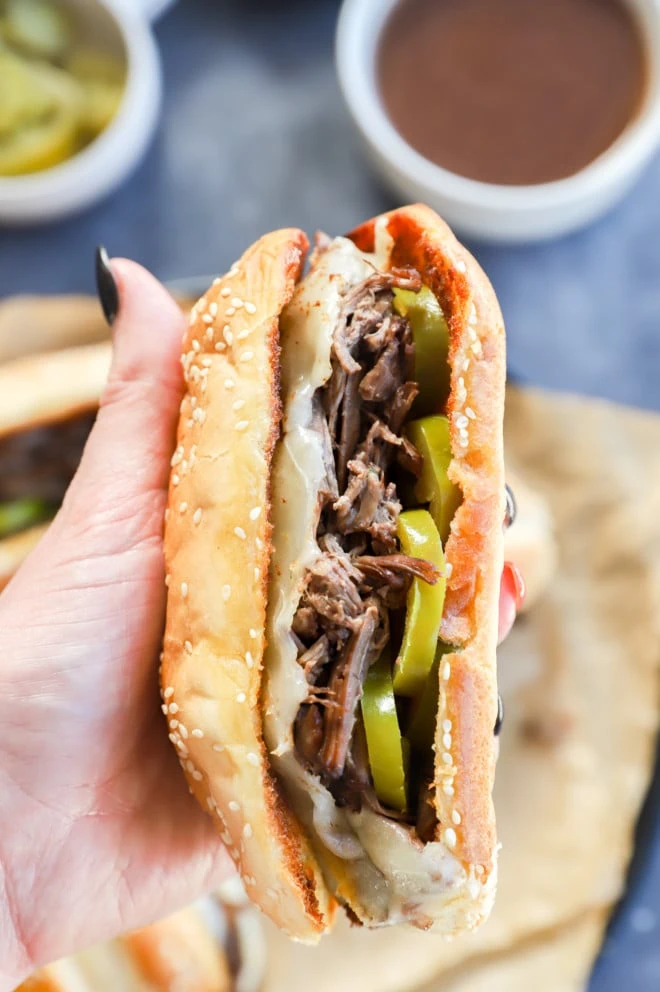 what to serve with a french dip
Au jus is perfect for serving with your favorite French dip sandwich! In fact, it is a must. Therefore, that's the number one pairing you want to reach for when serving up these sandwiches. This au jus recipe I have allows you to make the au jus with or without drippings from a beef roast, so you can whip it up any night!
When it comes to side dishes, I love the classic plate of fries or some chips (whatever your favorite flavor might be!). Keep it simple. These sandwiches are definitely the star.
how to store and freeze
Store. If you have a leftover sandwich, or half a sandwich, I like to wrap them up individually in aluminum foil to store in the refrigerator for up to 2 days. However, I recommend storing all the elements separately and only assembling the sandwiches when you are ready to warm them up and eat them.
Reheat. Reheat leftovers in the oven the same way as you originally bake them! You can also reheat in the air fryer (my preferred method for a leftover sandwich) at 350˚F for 3 to 5 minutes. This will reheat the sandwich and also toast the bread again!
Freeze. I do not recommend freezing these sandwiches.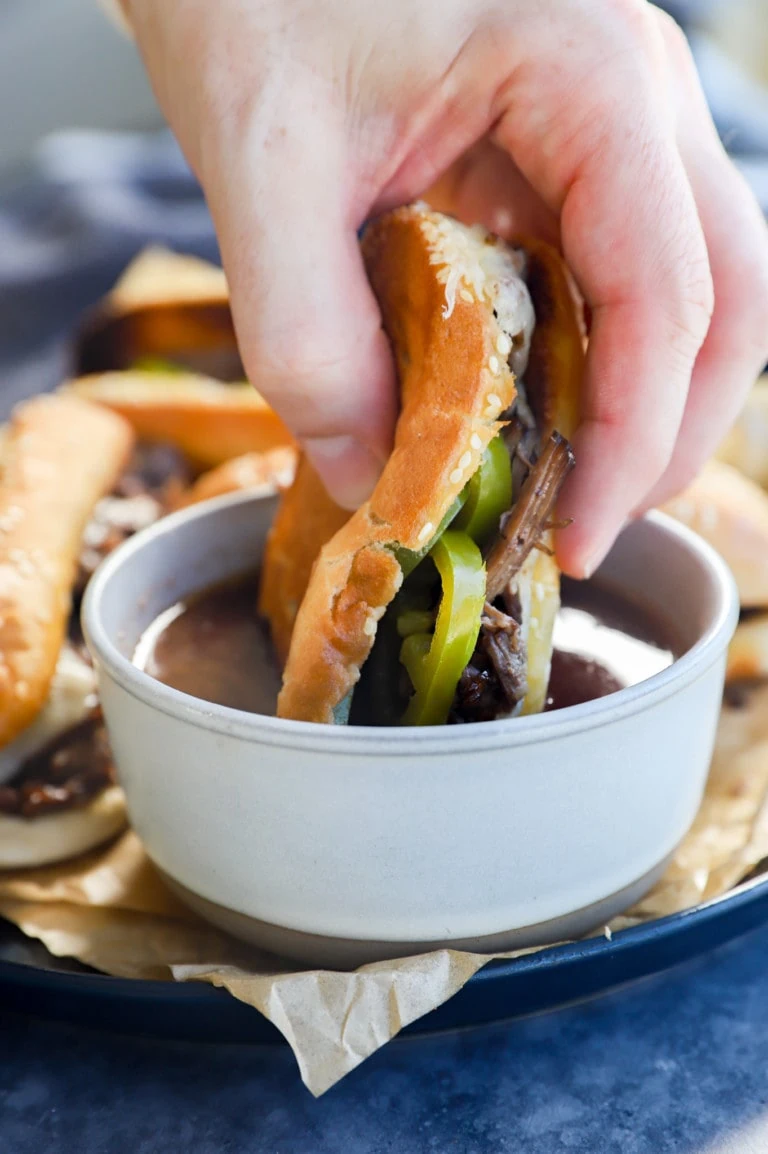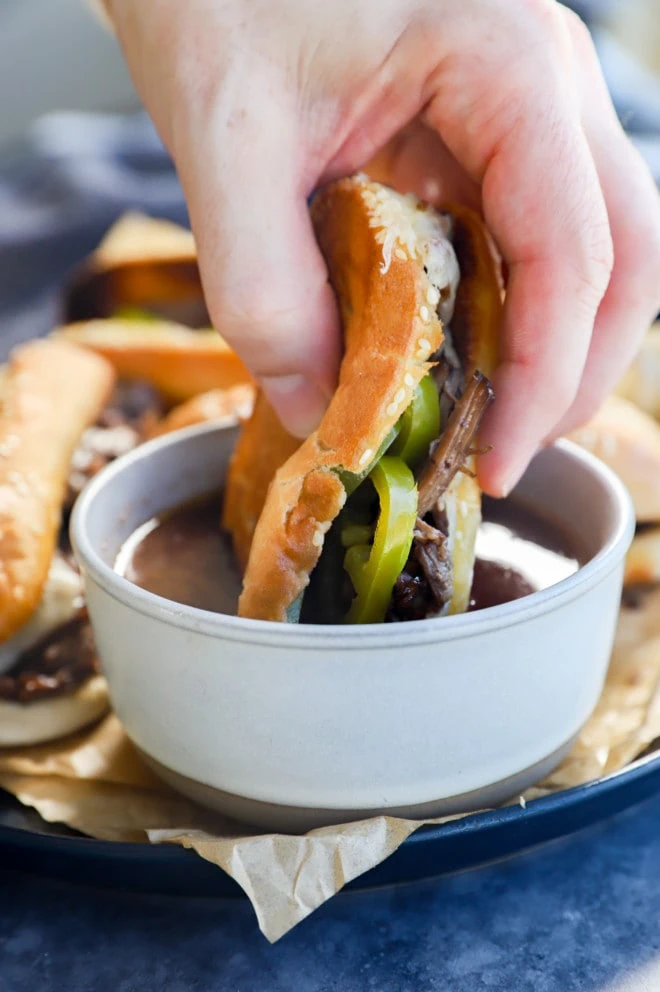 more delicious beef recipes
For an elegant meal, be sure to check out this savory bbq beef tenderloin. Roasted to perfection in the oven, it's an easy centerpiece for any dinner party.
If you love a cozy stew, this instant pot irish beef stew is the ideal recipe because it's easy to make and perfect for serving with mashed potatoes.
Looking for another quick meal featuring beef? Greek beef pitas are ready in just 25 minutes!
Finally, if you make this french dip sandwich recipe, please be sure to give this recipe a rating and/or leave a comment! I love to hear when you all make recipes, and I do take the time to respond to every single comment.
Feel free to drop questions below too, if you have them!
Oh and be sure to tag me on Instagram if you make the recipe! I love being able to see these recipes come to life in your homes – it's my favorite thing to look through those photos. It really means the world to me!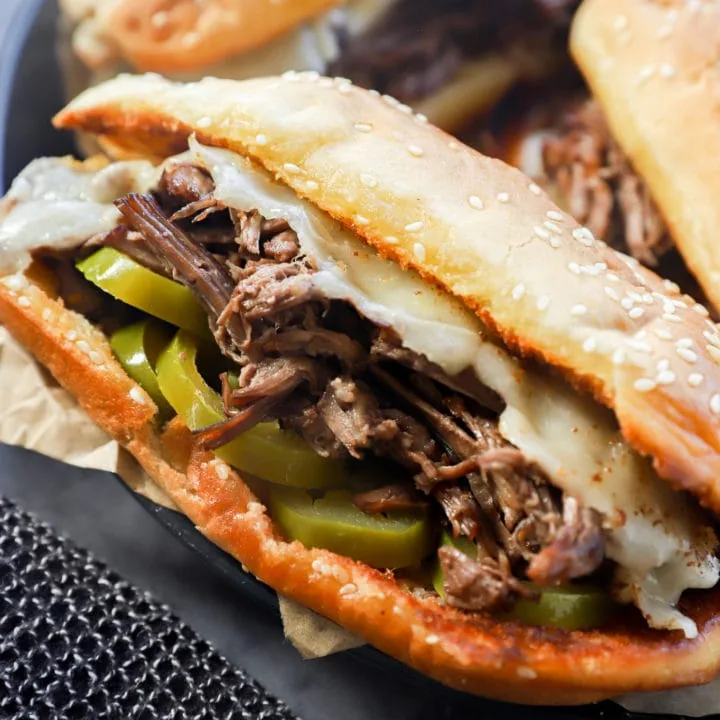 French Dip Sandwich
Easy, simple beef sandwiches are the ultimate comfort food!
Ingredients
4 Tbsp butter
1/2 tsp garlic powder
4 hoagie buns, cut in half horizontally
4 slices provolone cheese
Optional: pickled hot peppers or jalapenos
Instructions
In a small bowl, combine butter and garlic powder until incorporated. Spread the butter on the cut sides of the buns. Place the buns cut side up on a baking sheet under the broiler set to High. Cook for about 1 to 2 minutes, keeping a close eye on them, until toasted. Remove from oven and set aside.
Preheat oven to 400˚F.
Add beef to the hoagie buns, dividing the meat evenly between them. Top with provolone slice per sandwich. Close the buns and wrap the sandwiches in a layer of aluminum foil each. Place in the oven to warm for 10 minutes.
While the sandwiches are in the oven, warm the au jus over the stove on medium heat until hot.
Serve sandwiches with au jus for dipping.
Recommended Products
As an Amazon Associate and member of other affiliate programs, I earn from qualifying purchases.