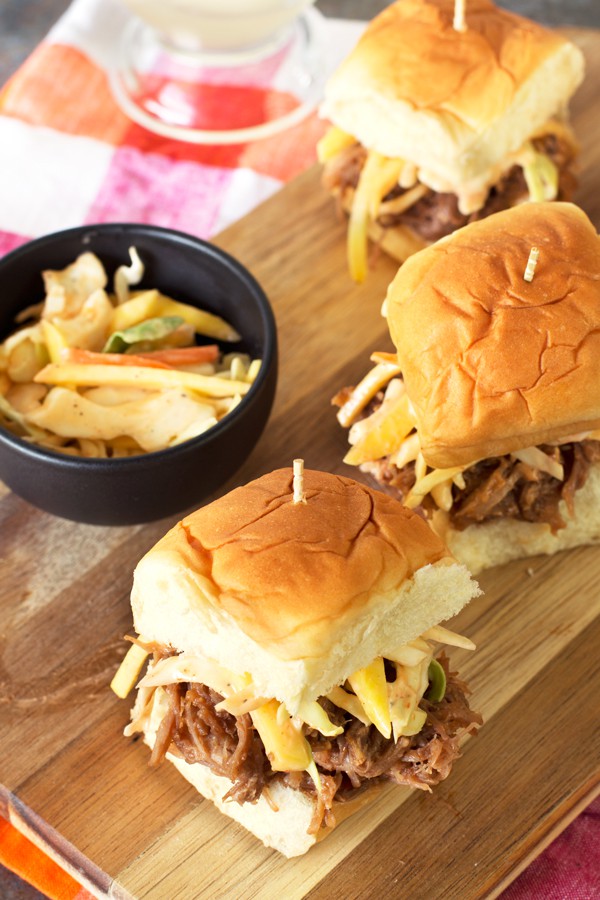 I'm bringing you tropical bliss sandwiched between Hawaiian rolls today… Seriously, it's bliss.
I could live off of pulled pork every single day (in fact, that's precisely what I did with the leftovers I had from this batch of sliders). Really good pulled pork is my kind of comfort food and I love to make it in huge batches; especially when it's this tropical-infused version, with just the right amount of sweet and spicy flavor to drive your taste buds mad.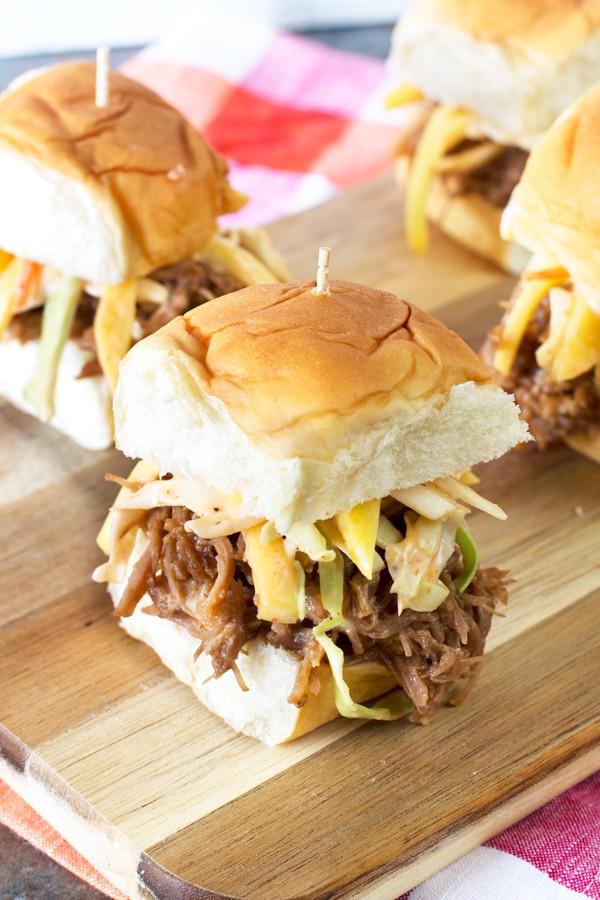 For me, this is exactly what I want to be eating throughout the summer at barbeques and picnics, particularly this coming weekend for the Fourth of July festivities. These tropical pulled pork sliders are the perfect opener for an epic day of eating and drinking outside in the hot sun!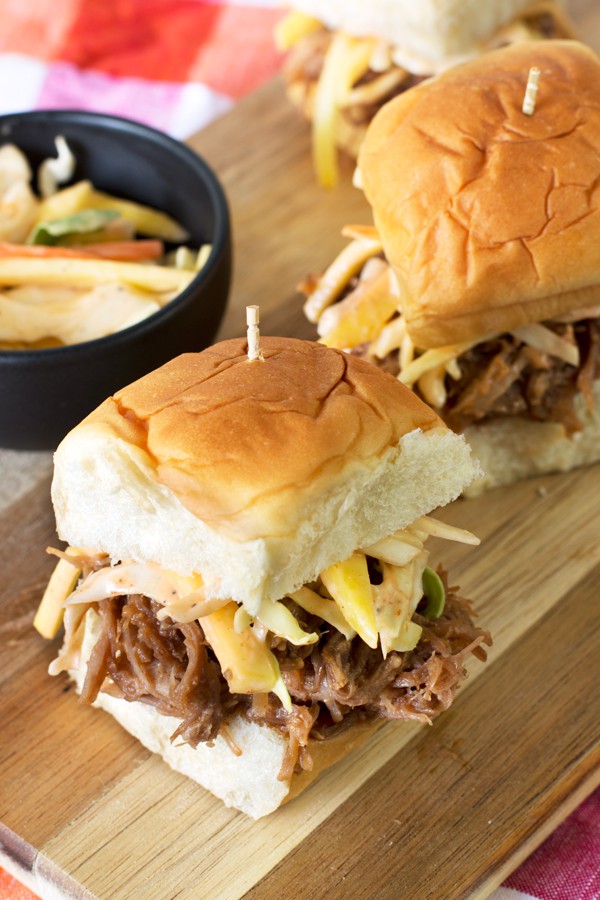 The mango coleslaw is what really makes these sliders tropical bliss. The coleslaw is crunchy and cool to balance out the rich pork flavors, but has a sweet heat to it that rises up on the back of your tongue nice and slow. If I could dive into a bowl of this stuff and eat my way out, I totally would.
No really, I would. Don't even thing about daring me to do it, because I WILL. #challengeaccepted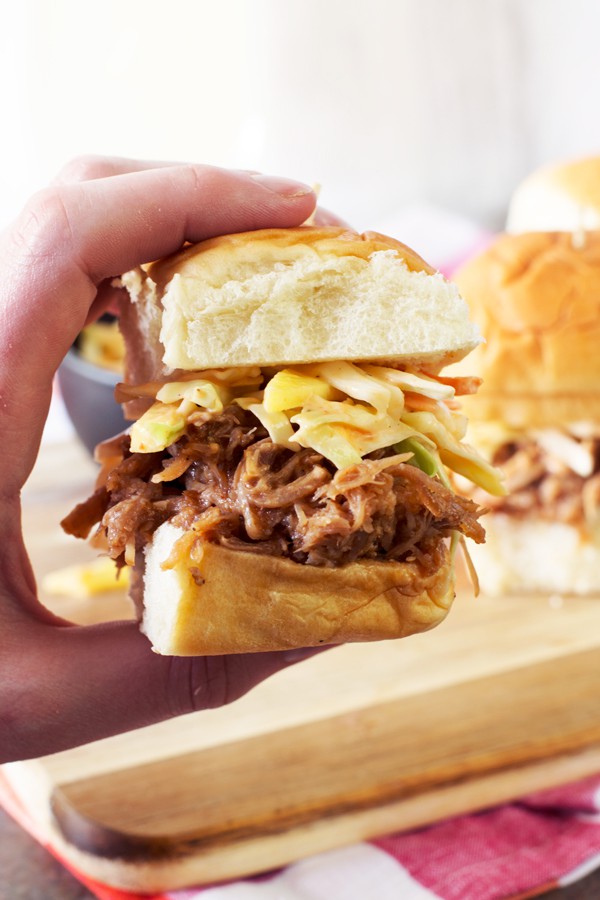 It will be a great distraction from the fact that this is my last Tuesday at my job… EVER. So bittersweet and terrifying at the same time. GAH. Distract me by telling me what you are cooking this weekend for the holiday! If you don't know, stay tuned because I have a couple more recipes up my sleeve to share with you this week. 🙂
Plus a skinny piña colada is the best pairing for these sliders. Just sayin'.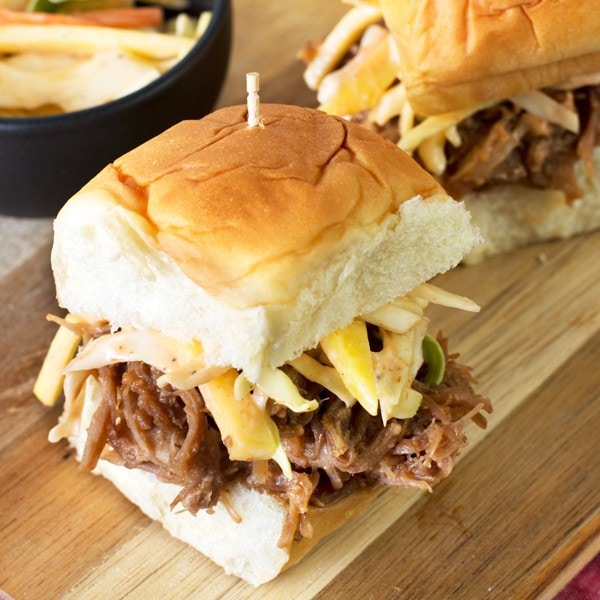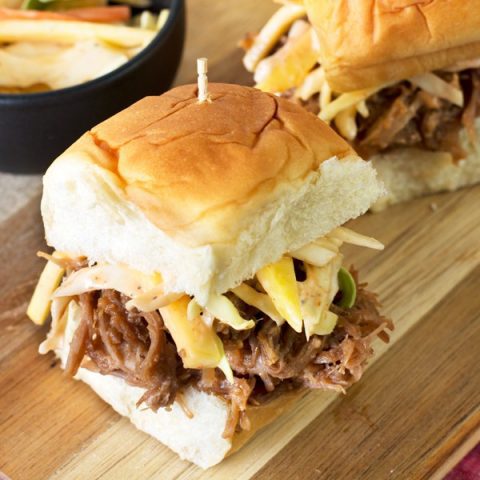 Tropical Pulled Pork Sliders with Mango Coleslaw
Tender pulled pork is cooked in spices and pineapple juice, topped with a mango slaw and sandwiched between a Hawaiian roll - tropical bliss!
Ingredients
Pulled Pork
3-4 lb pork shoulder, trimmed and cut into large chunks
1/2 onion, diced
1 cup pineapple juice
1/2 cup water
1/2 Tbsp cayenne
1 Tbsp salt
1 Tbsp pepper
1 Tbsp paprika
1 Tbsp garlic powder
1/2 Tbsp brown sugar
12 King's Hawaiian Rolls, cut in half and toasted
Optional: 1/3 cup of your favorite citrus barbecue sauce
Mango Coleslaw
1 14oz package of coleslaw
1 mango, peeled and thinly sliced
1/2 tsp salt
1/2 tsp pepper
2 1/2 Tbsp mayonnaise
1 1/2 tsp Sriracha
Juice of 1 lime
Instructions
Combine the pork shoulder pieces, onion, pineapple juice, water, cayenne, salt, pepper, paprika, garlic powder and brown sugar in a pressure cooker or the bowl of a slow cooker. Stir to combine. If you are using a pressure cooker, cook the pork for 80 minutes. If you are using a slow cooker, cook for 4 to 6 hours on high, until the meat is falling apart.
In a large bowl, combine all of the ingredients for the mango slaw, stirring to ensure everything is coated evenly. Set aside in the refrigerator until ready to serve.
When the meat is done, remove the chunks to a cutting board and shred using two forks. If you choose to use a citrus barbecue sauce, add the meat to a bowl and stir in the sauce before assembling.
To assemble the sliders, top the bottom halves of the rolls with a 2 to 3 heaping tablespoons on the pulled pork. Top with about 1 tablespoon of the mango coleslaw and top each with the other half of the bun. Serve immediately.