Mastering Global Cooking – French: Croque Monsieur
So the decision to make this may or may not have come from a Meryl Streep movie….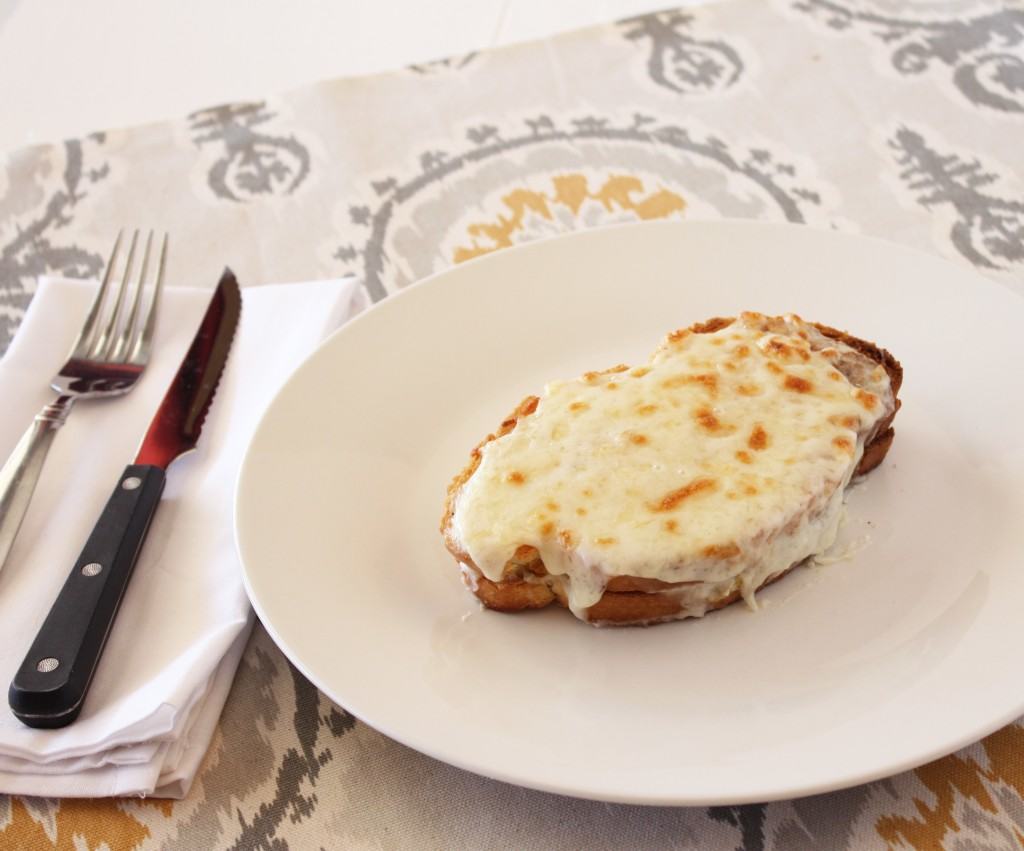 I LOVE Meryl Streep. She is just so…. glamorous, gorgeous, talented, fabulous… One of my all time fav movies with Meryl Streep is It's Complicated. I think it is also the one movie I actually enjoy Alec Baldwin in too…. 
Tell me you have seen It's Complicated because if you haven't you need to watch it. While eating croque monsieur. It just has to happen.
I wasn't 100% sure what to expect with this sandwich. I had seen pictures and heard rave reviews, but have never actually tasted it. All I can say is, this is HANDS DOWN the best sandwich I have ever eaten in my entire life. Of course there is no way that a sandwich literally smothered in cheese could be bad…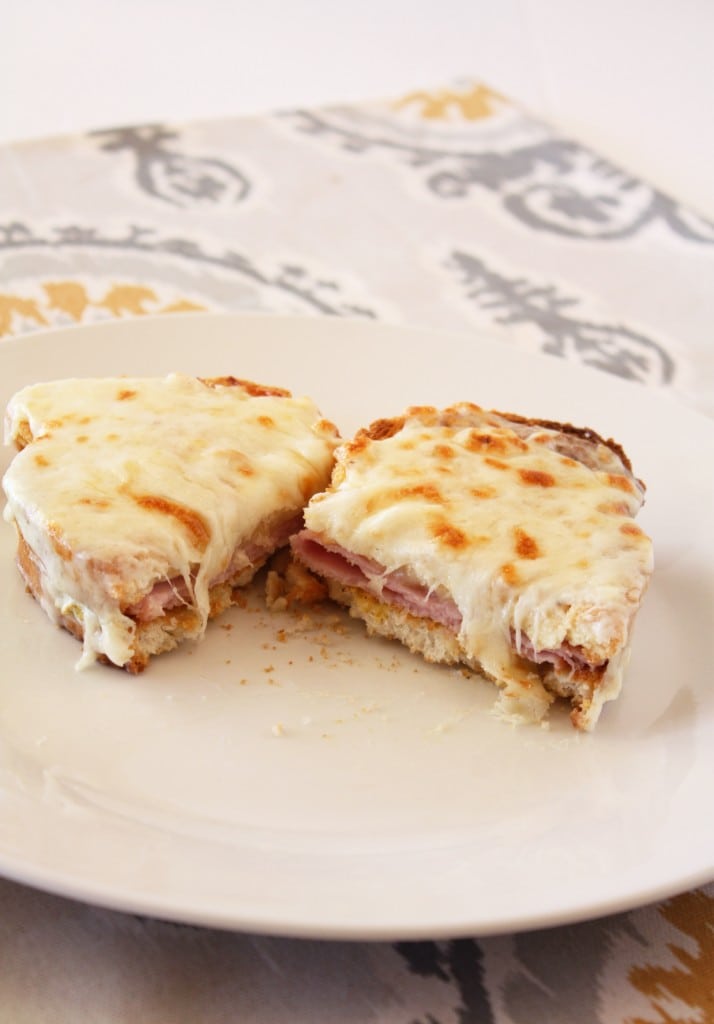 The level of cheese in this sandwich is insane. I mean cheese between the slices, smothering the whole sandwich in cheese sauce, and then cheese on top of all of that, broiled until bubbly and brown. Oh boy…
Oh and did I mention that this is a pretty darn cheap meal to make? WIN!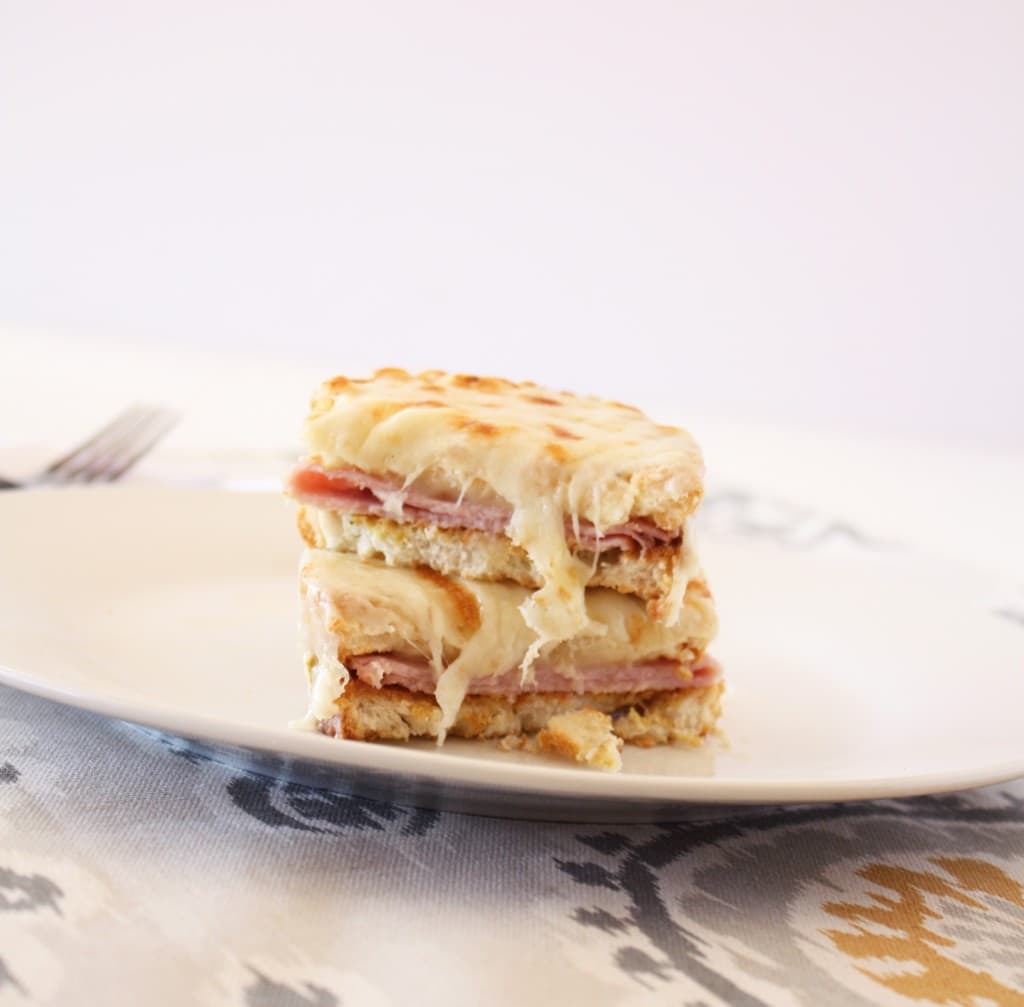 Give me a lifetime supply of these and I am pretty sure I would die a happy girl! There is just endless happiness wrapped up in this lovely little croque monsieur.
Croque Monsieur
Yield: 4 sandwiches
Prep Time: 10 minutes
Cook Time: 25 minutes
Total Time: 35 minutes
Delicious, cheesy goodness - i.e. the best sandwich you will ever eat!
Ingredients
3 Tbsp butter
3 Tbsp all purpose flour
2 cups milk
1/2 Tbsp freshly grated nutmeg
1/3 cup Mozzarella, grated
1/2 cup Parmesan, grated
1/2 cup Gruyere, grated
2 tbsp Dijon mustard
8 slices French bread, toasted
6 oz ham, thinly sliced
Salt & pepper
Instructions
Preheat oven to 425 degrees.
In a medium saucepan, melt butter over medium heat. Add in the flour, stirring with a wooden spoon continuously until smooth. At the same time, in a separate saucepan over medium heat, warm the milk. Pour the warm milk into the flour mixture, breaking up any lumps that appear. Stir until the sauce is thickened, approximately 3 minutes. Remove from heat and season with salt and pepper. Stir in nutmeg, half of the mozzarella and all of the Gruyere and Parmesan.
Return the saucepan to medium heat and stir until the cheese is melted, approximately 3 minutes. Keep warm over low heat.
Place slices of toasted bread on a lined, rimmed baking sheet. Spread Dijon over 4 of the slices, top each with slices of ham and some of the mozzarella. Top with the remaining slices of bread.
Turn oven to broil on low. Pour over the cheese sauce and top with the remaining mozzarella. Bake under the broiler for approximately 5 to 10 minutes, until the cheese bubbles and is browned. Serve immediately.