Please note this post contains affiliate links.
Bourbon Caramel Apple Popovers are THE dessert of the fall. Creamy bourbon caramel tops easy-to-make apple popovers to end your meal with a boozy seasonally sweet note. Are you drooling yet? Because I am.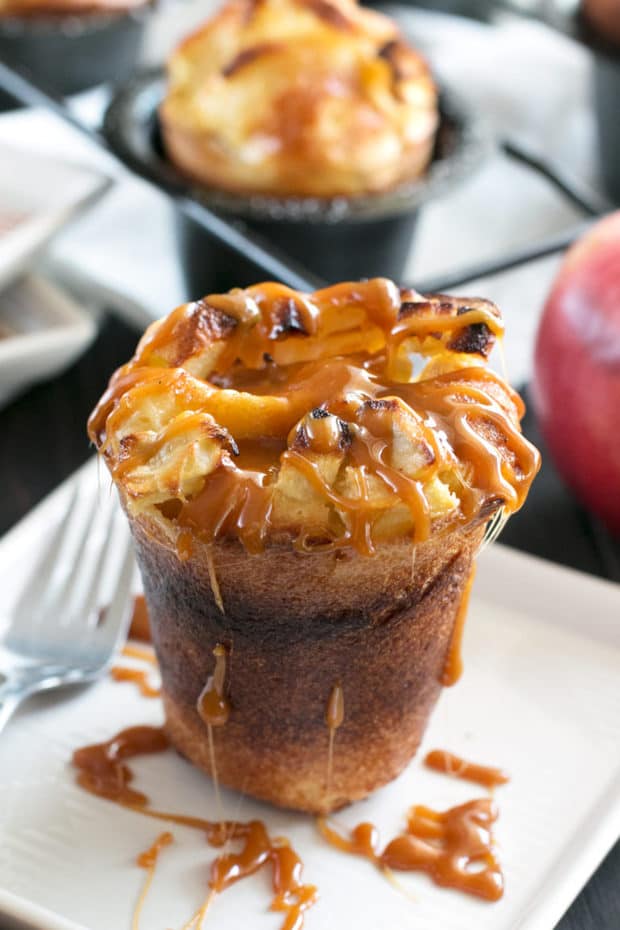 Soooooo have you had enough of my fall obsession yet?
I feel so basic as I continue to sing praises about this season that I love. At least I'm not toting a PSL in a pair of delightful boots with a ten scarves and a messy bun?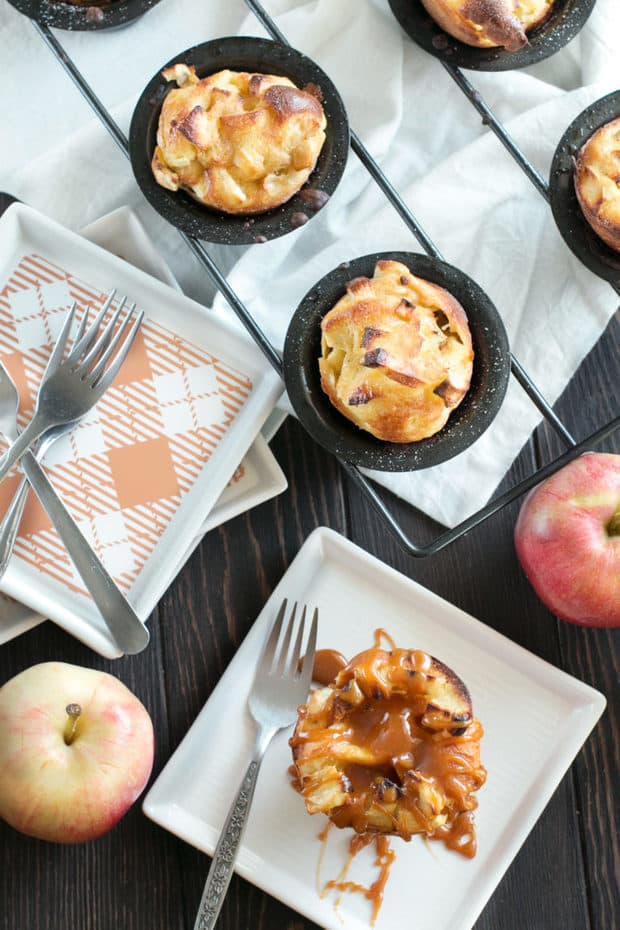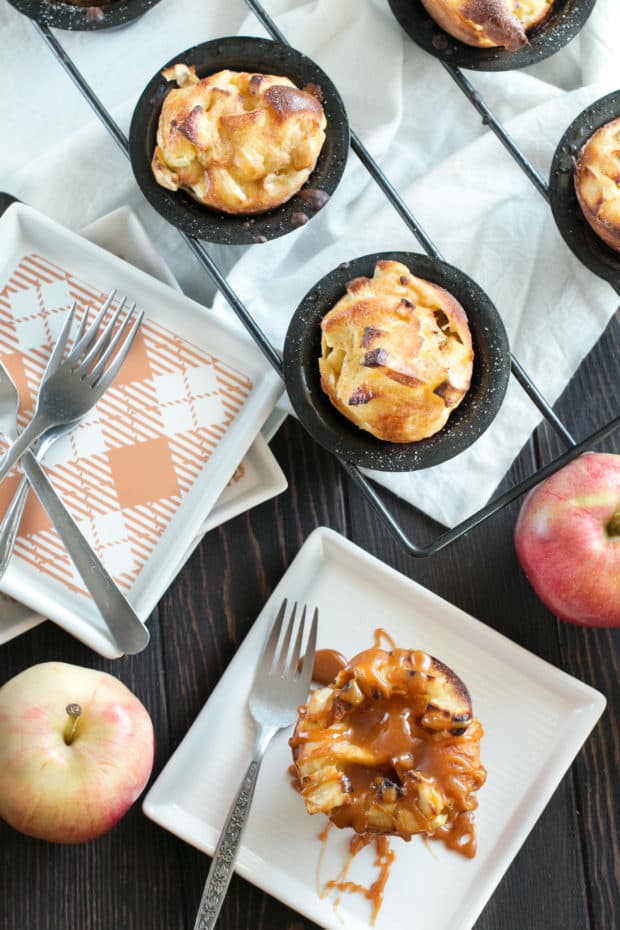 Instead of heading back to pumpkin (I think I gave you enough with my updated cookies and ravioli posts, right?), I am going to APPLE.
And BOURBON.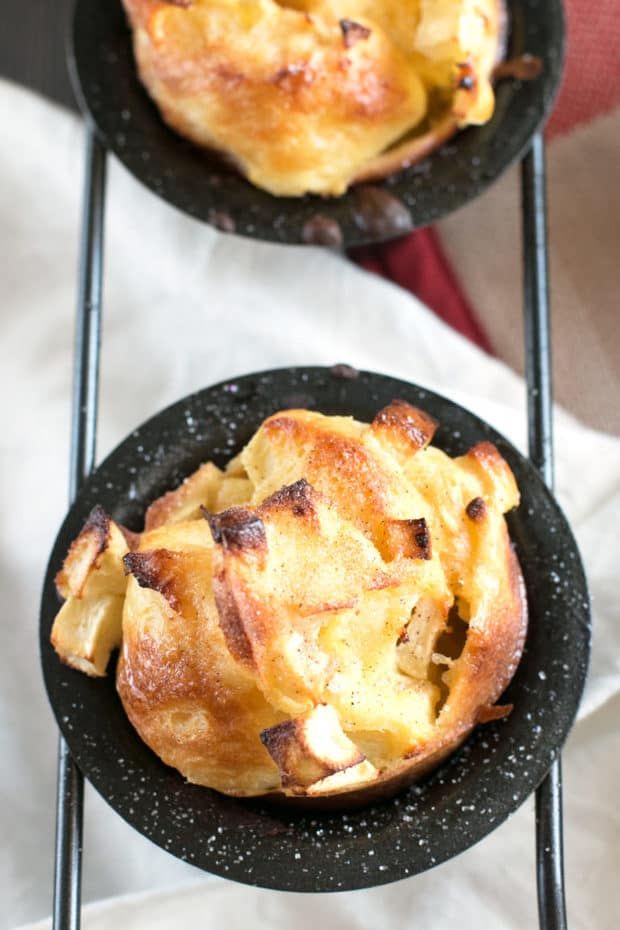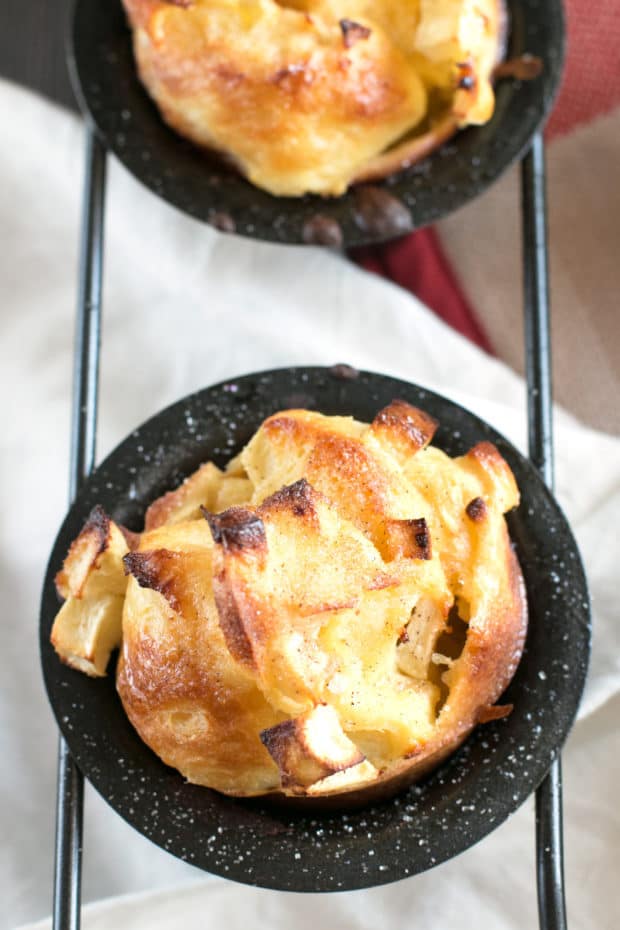 Bourbon and apple are such lovely bedfellows. They seriously are made for each other.
For me, apples are everything during the fall. When I was a kid, we would go to the orchard every year to pick apples, enjoy apple fritters, and bring home tons of fresh pressed apple cider. It's actually one of the things I miss the most about the midwest, because there just aren't enough orchards out here in Colorado.
Then let's talk about that whole bourbon element that I threw in the mix.
I mean, it is fall and that means you say helloooooooo (even more fervently than normal) to bourbon.
Especially when it's in a creamy caramel sauce that you make from scratch.
I don't know why I don't make more popovers. They are so ridiculously easy to throw together and their texture is downright heavenly. You get all those fluffy air pockets in there that make the popovers actually pop over (get it? get it?) the tins you back them in. They are light and airy, and the fresh apple gives a little burst of tangy freshness in each bite.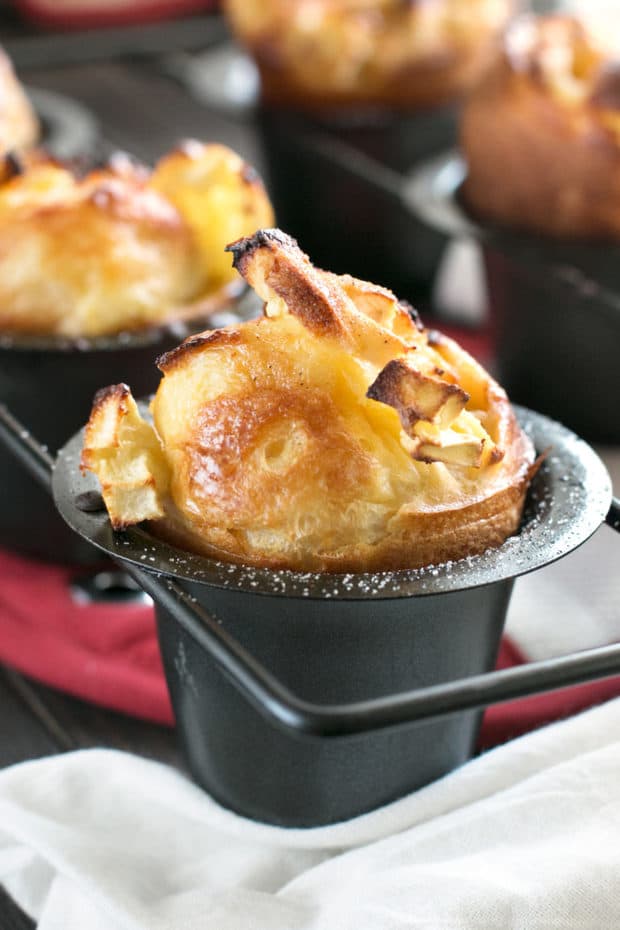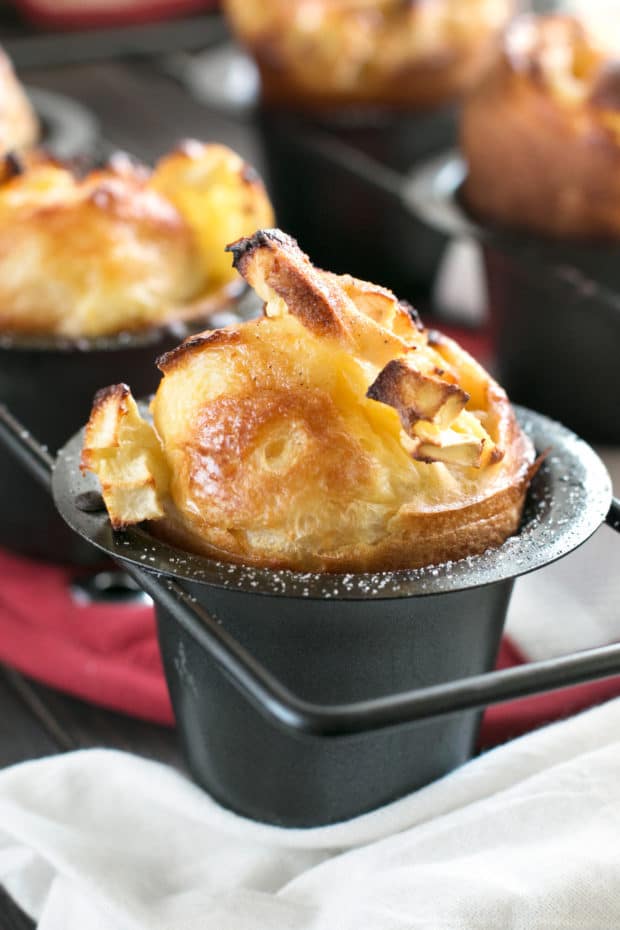 Then you drizzle over the bourbon caramel, and it's MONEY BABY.
M-O-N-E-Y.
You will love having these for breakfast, an afternoon snack, or delightful dessert to end a crisp fall day spent walking through colorful leaves in your cozy sweater and scarves.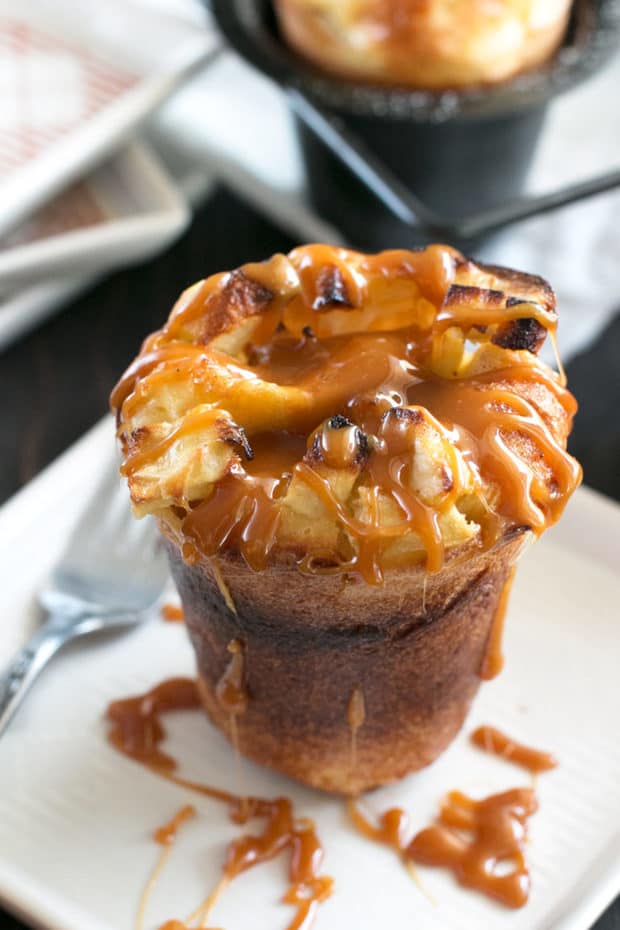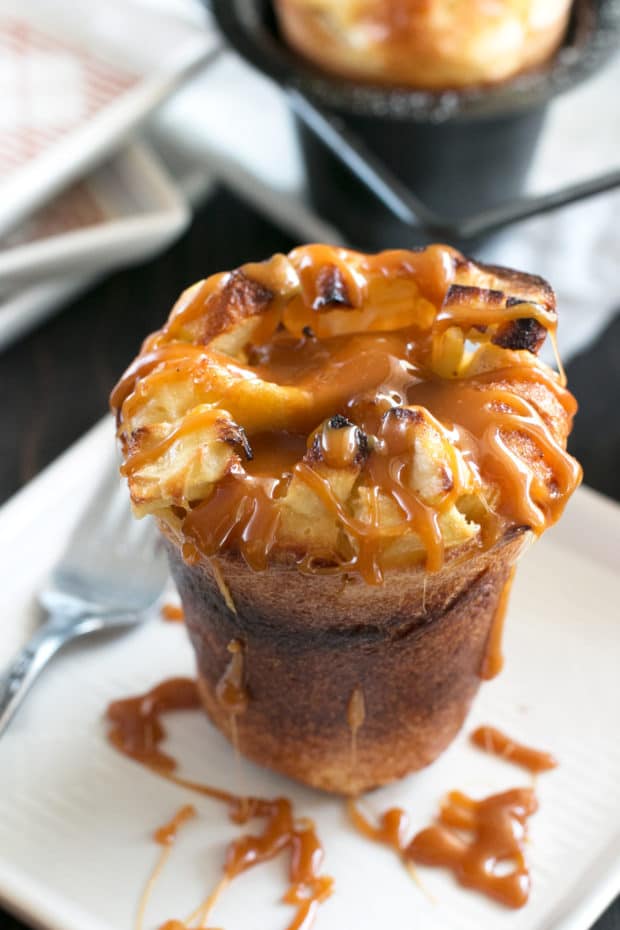 If that's not enough, today I'm bringing you another brilliant collaboration with my blogging besties!
Us ladies, we love our booze and we love our dessert, so what better way to celebrate fall than with a boozy desserts collab! Check out the other tasty treats below (because simply making Bourbon Caramel Apple Popovers is never enough… you need MORE boozy sweetness in your life!):
Spiced Apple Upside Down Cake with Bourbon Caramel Glaze from Erin @ The Speckled Palate
Vanilla Tequila Bread Pudding from Madison @ A Joyfully Mad Kitchen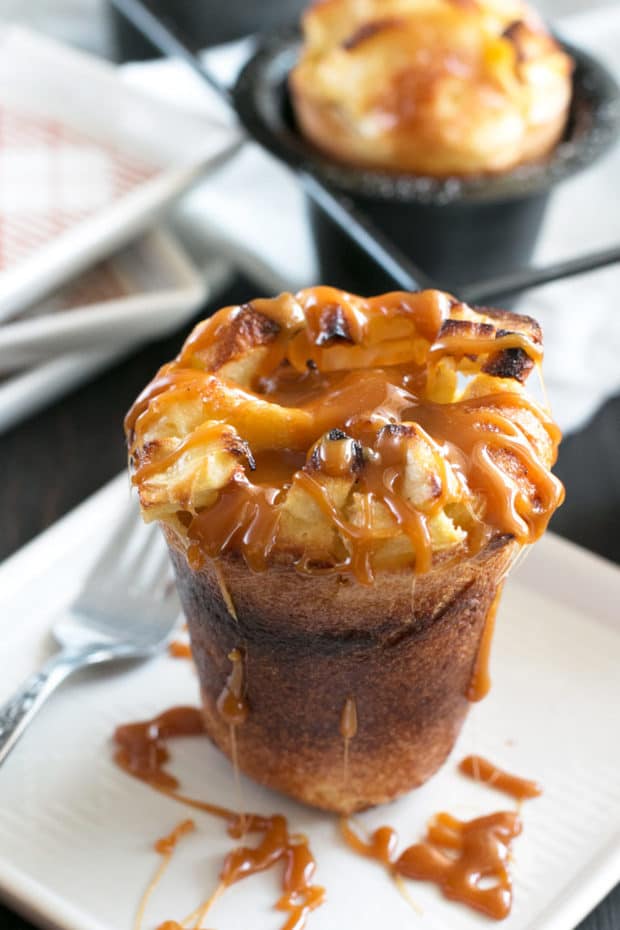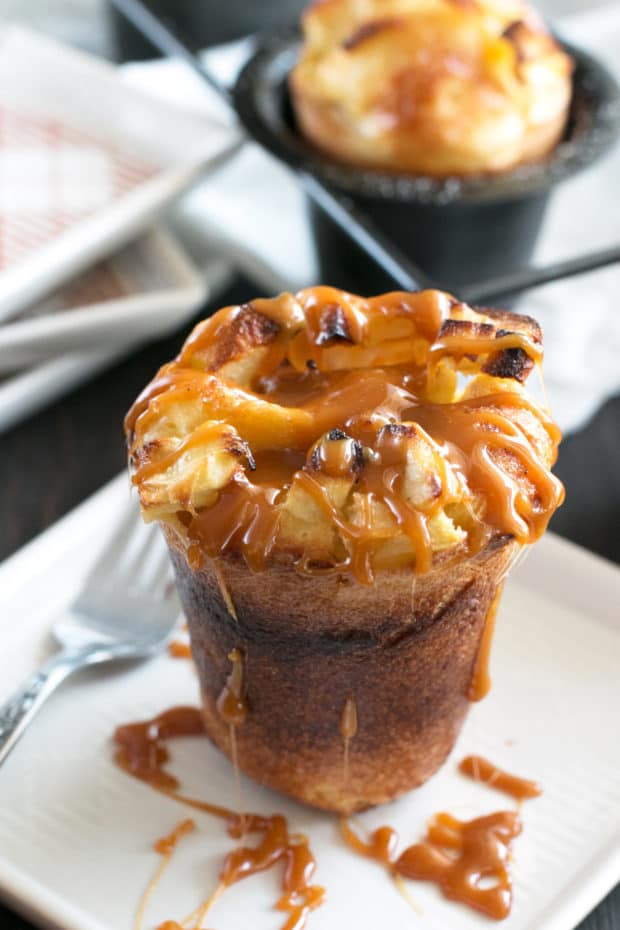 Enjoy, my friends. Enjoyyyyyyyyyyy.
This Recipe's Must Haves
You will need a skillet to pull together the delicious bourbon caramel that is drizzled on top of these fluffy popovers.
I like to use mixing bowls to make the dough for the popovers – super easy and they are dishwasher safe!
Finally, you'll need a popover pan. I have my grandma's pan from decades ago, but the one linked here is a great current version of the one I have.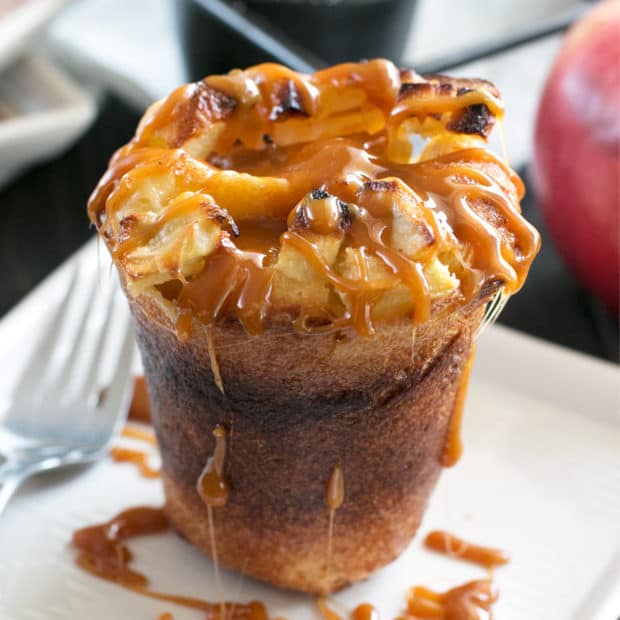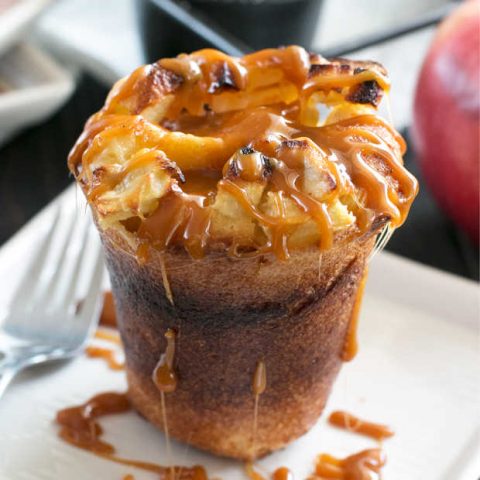 Bourbon Caramel Apple Popovers
Yield:
Makes 6 popovers + extra caramel sauce
Total Time:
1 hour
10 minutes
Light and fluffy popovers are dotted with green apple and topped with a luscious bourbon caramel making them perfect for breakfast OR dessert.
Ingredients
Bourbon Caramel
1 1/2 cups sugar
2 1/2 tablespoons light corn syrup
2 tablespoons unsalted butter, plus more for the pan
1/4 cup bourbon
1/2 cup heavy cream
Apple Popovers
3 eggs, room temp
1 1/2 cups whole milk, room temp
1 tsp pure vanilla extract
1 Tbsp sugar
1 1/2 cups all-purpose flour
1/2 tsp salt
1 tsp ground cinnamon, divided
1 green apple, peeled and cubed into 1/2-inch pieces
Nonstick cooking spray
Instructions
Preheat oven to 450˚F with a nonstick popover pan on the rack in the lowest position.
First, make the caramel. In a large skillet over medium-high heat, combine sugar and corn syrup, stirring occasionally, until the sugar is dissolved, approximately 8-10 minutes. The mixture will be a dark amber.
Reduce heat to medium. Slowly add the heavy cream, bourbon and butter to the skillet (be careful, it will splatter a bit!). Cook, stirring constantly, until combined, approximately 3-4 minutes.
Remove from heat and set aside.
In a large bowl. whisk together eggs, milk and vanilla until frothy, approximately 1 minutes.
Add flour, salt, sugar, and ground cinnamon to the egg mixture. Whisk until the batter comes together with some small lumps still remaining. Gently fold in chopped apple.
Remove popover pan from the oven and coat with cooking spray. Fill popover cups approximately 3/4 full with batter.
Bake 20 minutes, then reduce heat to 350 degrees and bake an additional 20 minutes until golden brown.
In the last 5 minutes of baking, reheat the caramel over low heat until smooth and creamy again.
Remove popover pan from the oven and carefully remove the popovers from the pan onto a wire rack.
Serve immediately with bourbon caramel.
Recommended Products
As an Amazon Associate and member of other affiliate programs, I earn from qualifying purchases.