Raspberry Lemon Sweet Buns with Cream Cheese Frosting are the rolls everyone will come running to the breakfast table for. With a heavenly combination of cream cheese frosting, raspberry and lemon, you end up with the perfect mixture of tangy sweet richness. DELISH!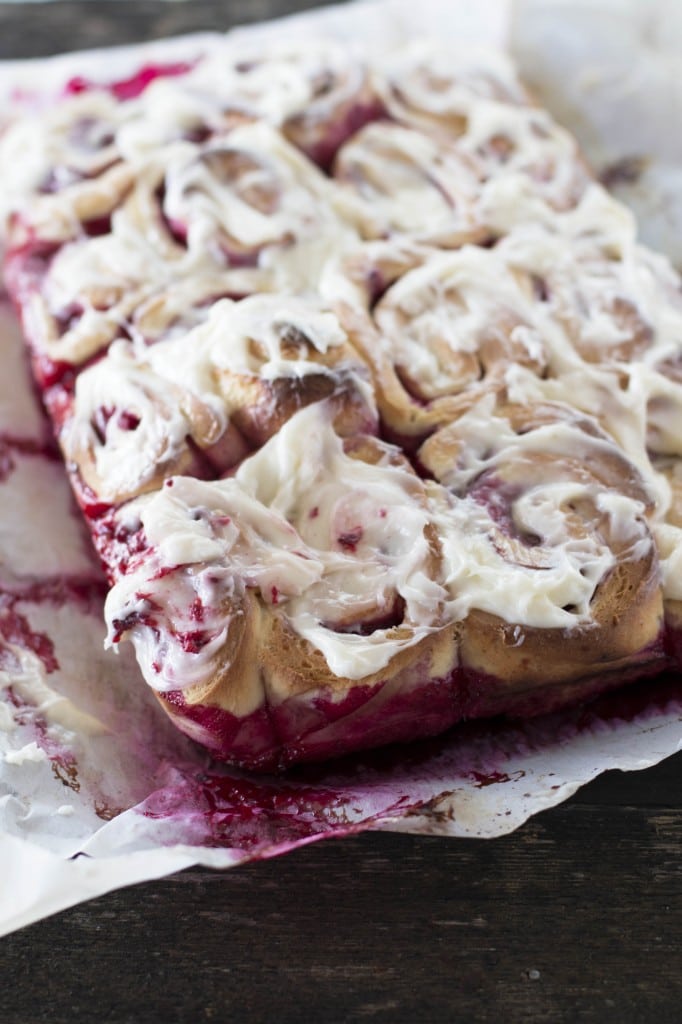 Please note that some of the links below are affiliate links. If you make a purchase through one of these links, I will receive a small commission.
I can't even handle these….
You know when you take a bite of something you made that is seriously amazing and it's just that WOW moment?
Yea, that was my first bite of these gorgeous things. I think my eyes bugged out of my skull, Looney Tunes style and all.
Goodness gracious this past week feels like a flash and I think I am slowly losing my mind. I can't even remember what day it is. Is it Tuesday or Wednesday? Or Friday?
I feel like the days have been flying by a hyper-speed.
Though this time, I am finally feeling like I am keeping fairly caught up with everything which is a bit surreal. I mean, when you can't even remember what day it is, how in the world am I churning out projects and checking off tasks on my to-do list with such efficiency?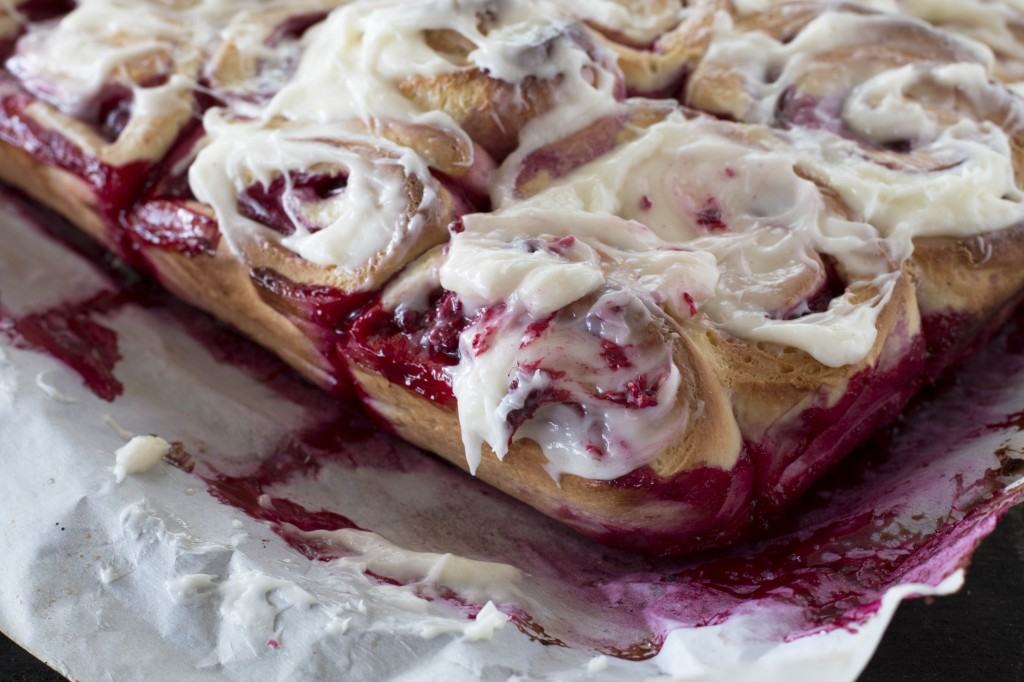 Somehow I managed to master these gorgeous buns and for that, I am truly grateful. As soon as I ate my first one, I was like, this is totally going to be "that recipe" for me. You know, the one that I will be famous for among friends and family?
I can already hear the requests for every brunch I every go to at someone's house for the rest of eternity.
Normally I would have issues with that, but considering how much I want to stuff ten of these rolls in my face at this exact moment, I am willing to put any qualms aside.
Yep, I could easily live with some of this magic for the rest of my life.
These rolls embody three of my favorite things – cream cheese frosting, raspberry, and lemon. What you end up with is the perfect mixture of tangy sweet richness. What a way to start the day! Or end the day…
I might have eaten several for dessert…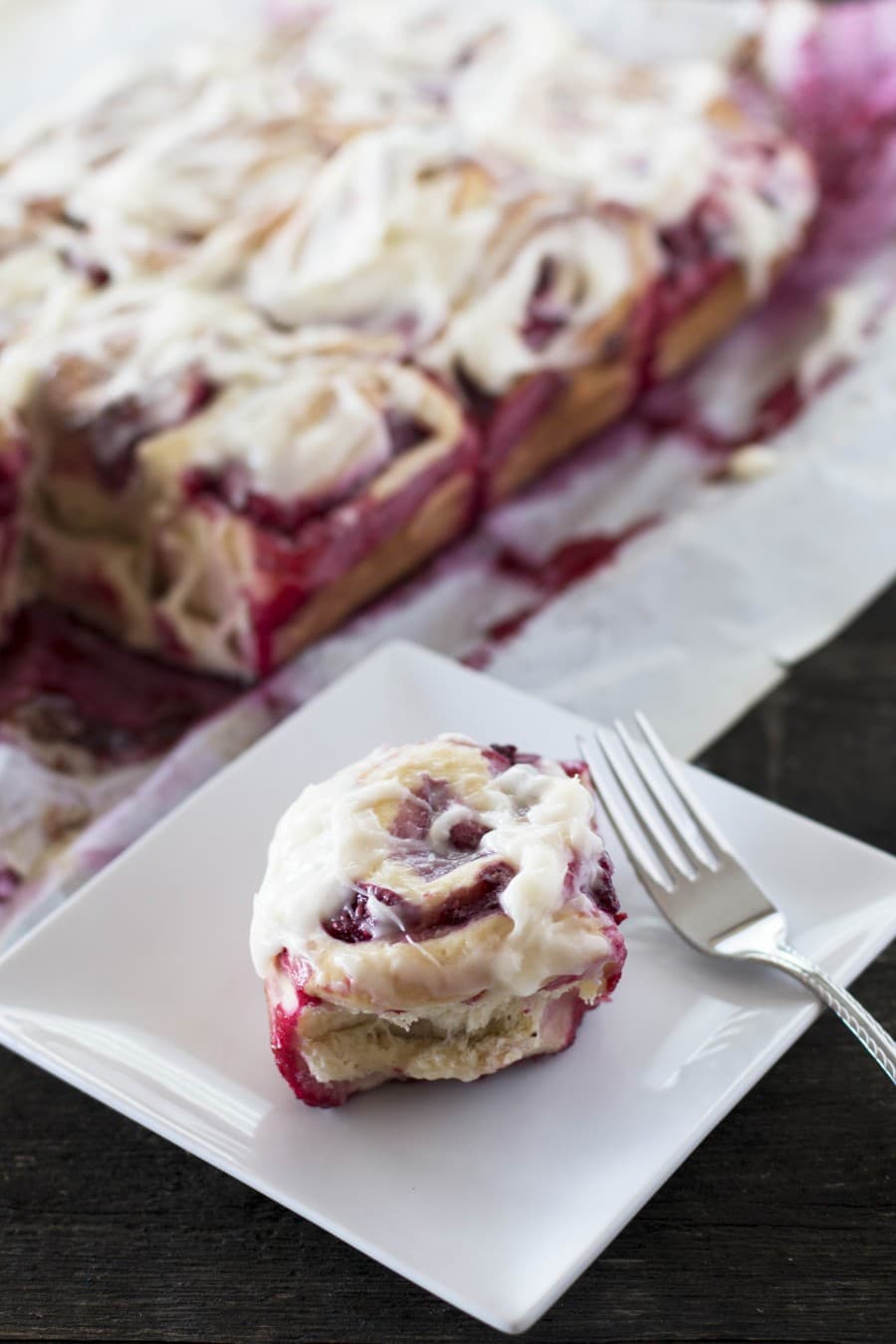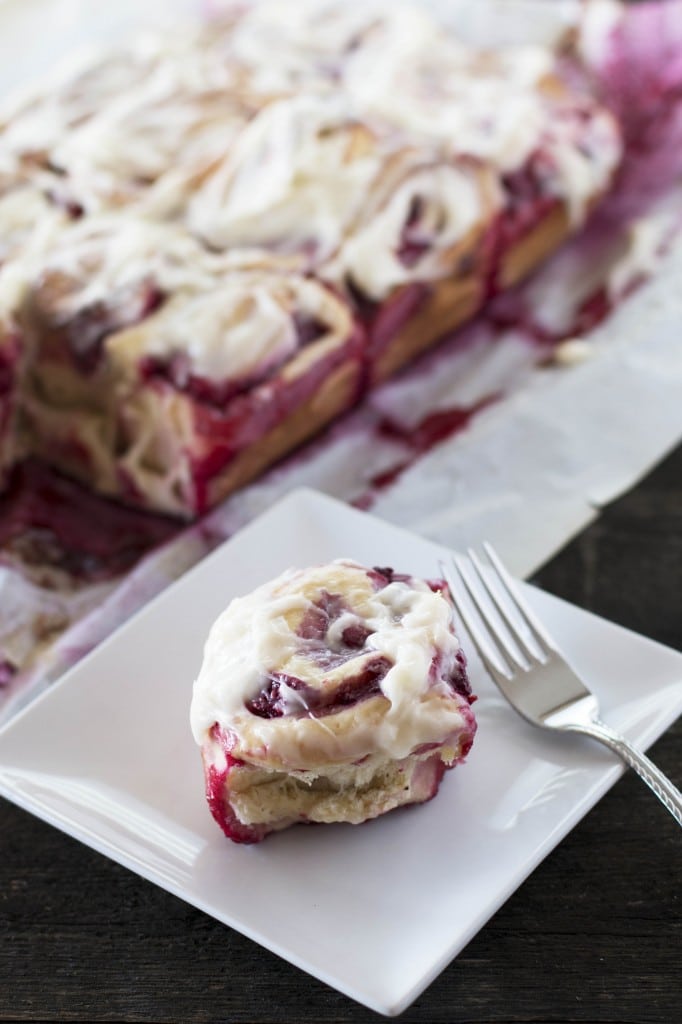 I know, I know. I really need to learn self-control.
#likethatwillhappen
This Recipe's Must Haves
Pin this Raspberry Lemon Sweet Buns with Cream Cheese Frosting recipe for later!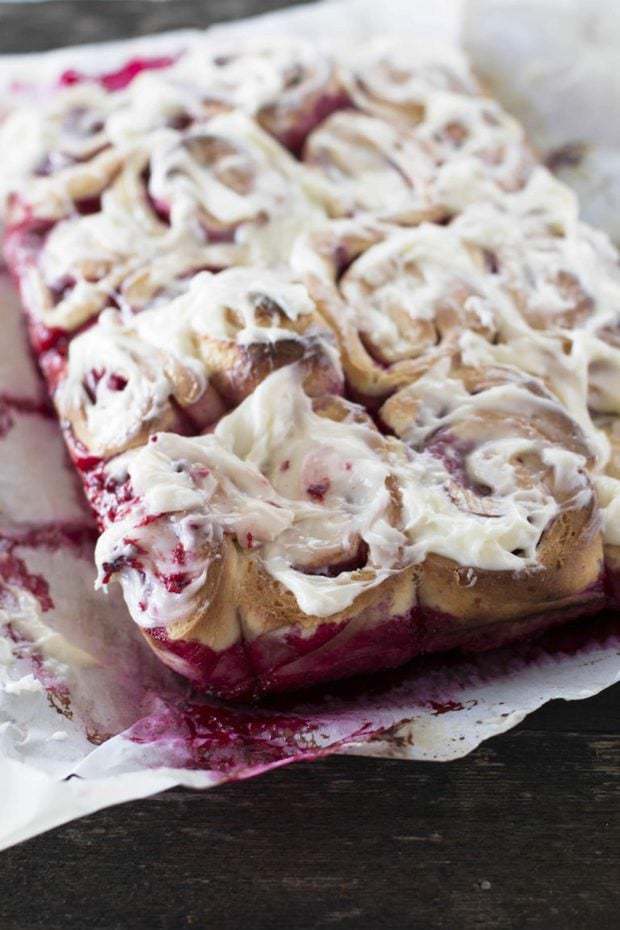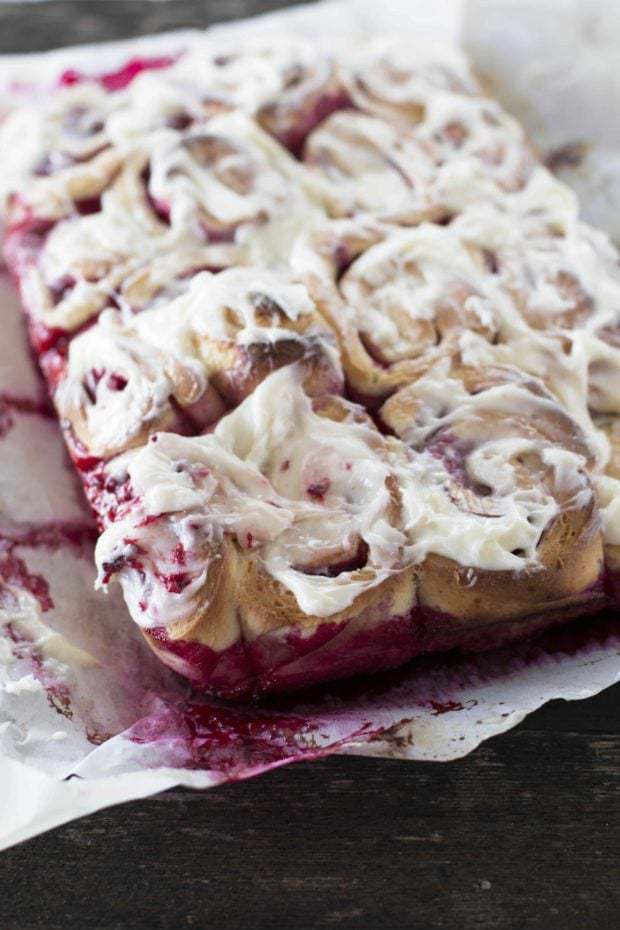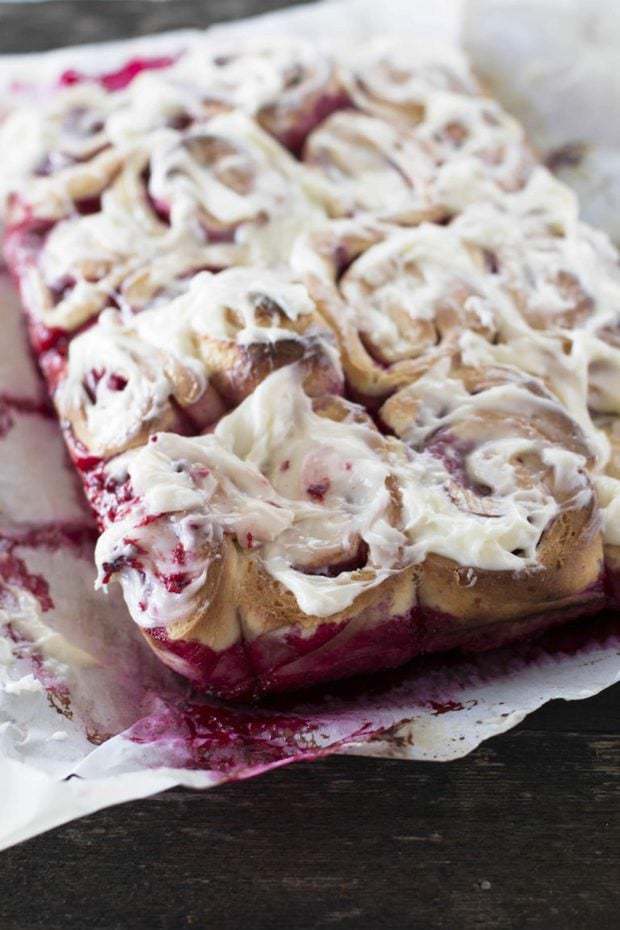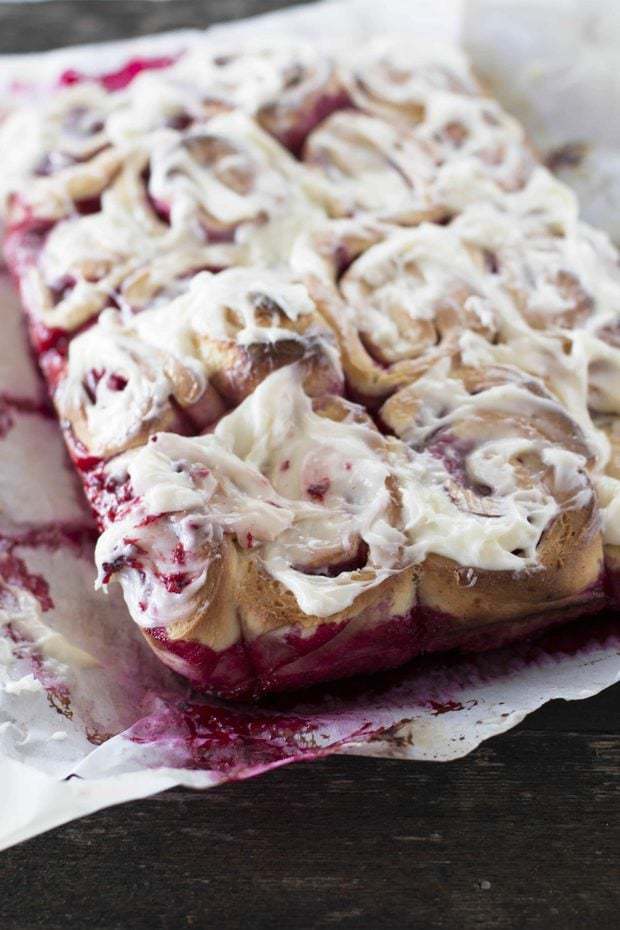 Raspberry Lemon Sweet Buns with Cream Cheese Frosting
Additional Time:
4 hours
30 minutes
Total Time:
5 hours
20 minutes
These sweet buns are the best lazy weekend breakfast. Make them ahead and enjoy throughout the week!
Ingredients
Dough
1 cup milk
2/3 cup sugar
1 1/2 Tbsp active dry yeast
1 stick unsalted butter, softened (8 Tbsp)
2 large eggs
1/2 tsp sea salt
4 1/2 cups all-purpose flour
Filling
10 oz frozen raspberries
1/4 cup + 2 Tbsp sugar
1/2 Tbsp lemon zest
1 tsp cornstarch
Frosting
1 cup confectioner's sugar
3 Tbsp butter, melted
1 1/2 Tbsp heavy cream
2 oz cream cheese
Instructions
Warm milk for the dough over moderately low heat until it simmers. Remove from heat and immediately pour the milk into the bowl of an electric stand mixer fitted with the dough hook and stir in the sugar and yeast. Let rest for about 5 minutes until the yeast is foamy. Add the softened stick of butter, eggs, and sea salt. Beat to combine. Then add the flour and beat until a soft dough forms on medium speed, approximately 3 minutes. Increase speed to high and beat until the dough is soft and pliable, an additional 10 minutes.
Remove the dough and place on a lightly floured surface. Knead with your hands a few times and then form the dough into a ball. Grease a medium size bowl with butter and add the dough ball to the bowl. Cover with plastic wrap and let rest in a warm place until doubled in size, about 1 1/2 to 2 hours.
Line the bottom of a 9x13-inch baking pan with parchment paper, allowing the paper to extend up the long sides. Grease the paper with butter. Turn out the dough from the bowl onto a lightly floured work surface and roll out into a 10"x24" rectangle.
In a medium bowl, combine the frozen raspberries with the sugar, lemon zest and cornstarch. Dump the filling onto the dough and spread evenly over so the entire piece of dough is covered. Working quickly, tightly roll the dough to form a 24 inch log. Cut the log into quarters and then cut each quarter into 4 slices. Arrange the slices in the baking pan with the cut sides up. Any berries and juice that have spilled onto the work surface should be gathered and added to the baking pan between the rolls. Cover the rolls with plastic wrap and allow them to rise for an additional 2 hours.
Preheat the oven to 425 degrees. Bake the rolls for about 25 minutes, until they are golden brown. Transfer the pan to a rack and allow to cool for 30 minutes.
In a small bowl, whisk together the confectioners' sugar, butter, heavy cream, and cream cheese until the frosting is spreadable.
Grab the sides of the parchment paper that hang over the baking pan and invert the rolls onto a cooling rack. Peel off the parchment paper off and turn the rolls over onto a serving platter. Spread frosting evenly over the rolls with a spatula. Serve immediately.