Mixed Berry Margarita is a bright way to usher in spring and summer, even if it is snowing buckets here in Colorado. The fresh berries give a sweet and tart flavor to this margarita, perfect for sipping in the sunshine.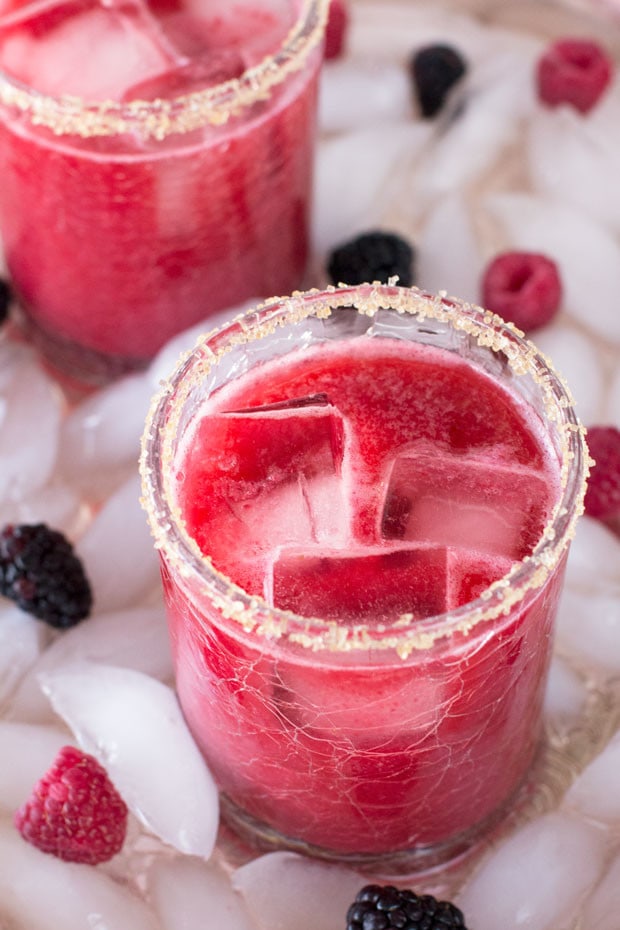 So much for warmer weather, eh Denverites? Holy cow, it snowed SO much here in Denver yesterday. Not light, fluffy, pretty snow. No, it was heavy, dense, horribly painful to shovel snow. I shoveled twice and it's well up above my knees out there. I'm postponing digging out my car… The only downside is working from home. There's no hiding from the looming deadlines and no boss telling me I can enjoy a lovely snow day instead of continuing to work. *sigh* One of the (few) negatives about working from home.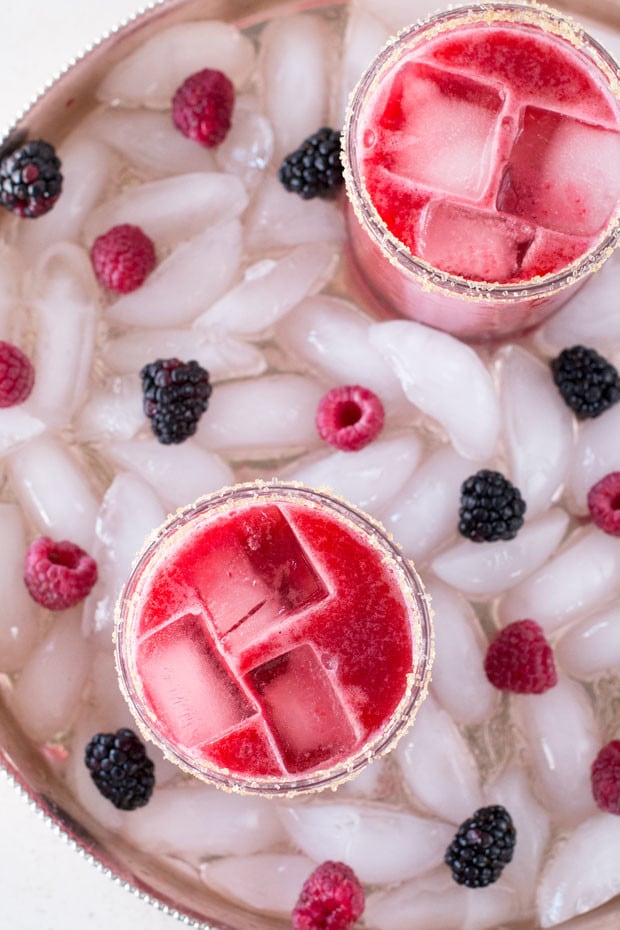 At least Kya was having the time of her life. She particularly loved when I would shake the trees so she could run through the mass amounts on snow that would fall everywhere. I enjoyed snow falling in my face, down my jacket and chilling the back of my neck. The soreness today is just a reminder that I still need to shovel my way out to get to the store at some point… I'm popping ibuprofen and ignoring it while I feast on what's left in the fridge – yep, I'll be having cake for dinner most likely.
*rant over*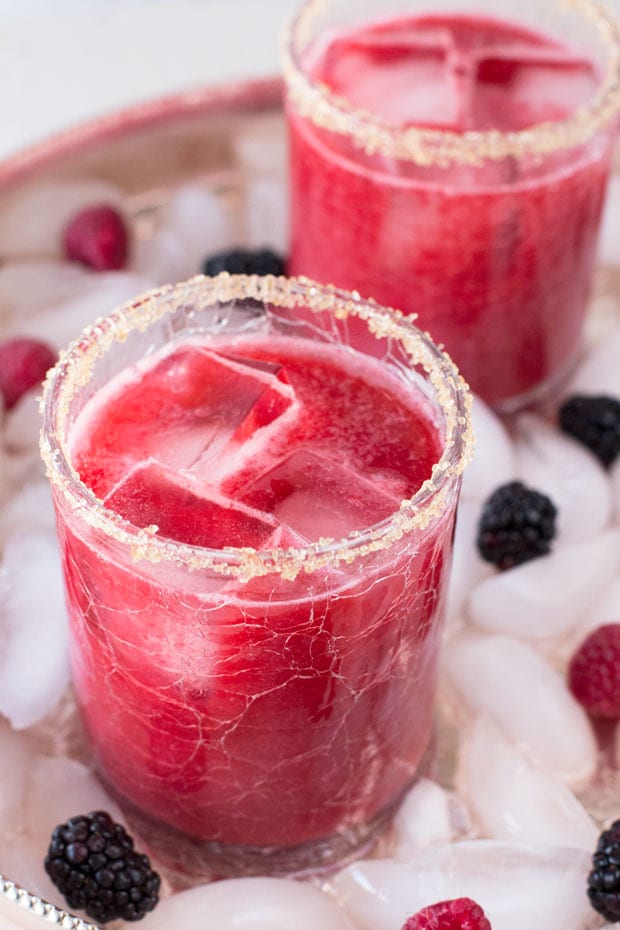 Thankfully I'm bringing you a ray of sunshine today! These mixed berry margaritas are just the bright sip of happiness that I need to indulge in to tear through this snowy haze that I am in. The combination of raspberry, blackberry and strawberry in this drink just scream spring and summer to me. It's just the right balance of tart and sweet to keep you coming back sip after sip after sip.
While I wait for the snow to melt in my world, I'll be knocking these back in my flannel socks and Alton Brown sweatshirt fighting the urge to crawl back under the covers for the foreseeable future. Wish me luck.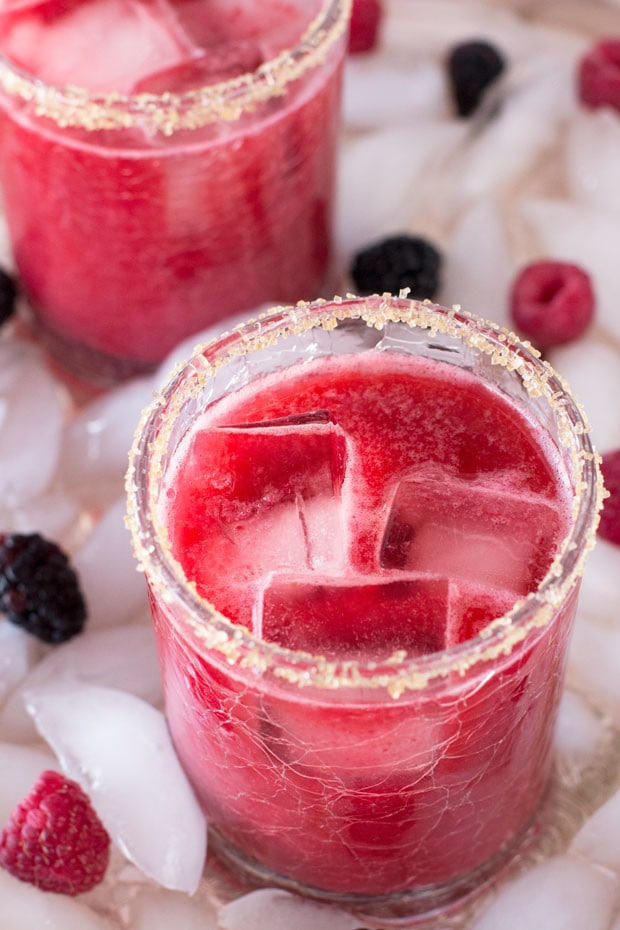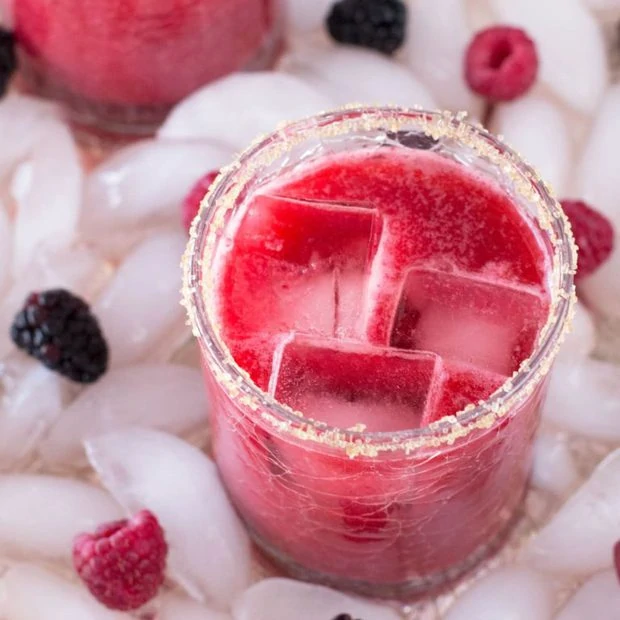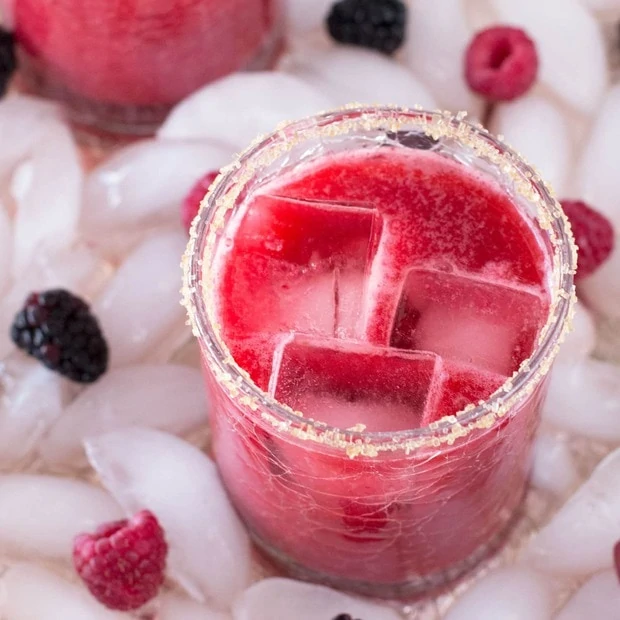 Mixed Berry Margarita
Fresh, fruity and full of tequila, it's the ideal drink for warmer weather!
Ingredients
3oz blackberries
4oz raspberries
8oz strawberries, hulled and sliced
4 oz tequila
2 Tbsp agave
1 1/2 oz triple sec
2 oz fresh lime juice
Turbinado sugar for rims
Ice
More berries for garnish
Instructions
Puree blackberries, raspberries and strawberries together in a blender. Strain the mixture through a fine mesh sieve into a pitcher.
Stir in agave, triple sec, tequila and lime juice until combined.
Rim two glasses with turbinado sugar and fill both glasses with ice. Divide the margarita evenly between the glasses. Garnish with berries as desired.
Pin this Mixed Berry Margarita recipe for later!