Please note this post contains affiliate links.
A Thyme Apple Gin and Tonic is a simple way to elevate a classic cocktail for the fall season. A combination of apple juice and fresh thyme give the cocktail a fruity herbal twist that goes with all your favorites this time of year!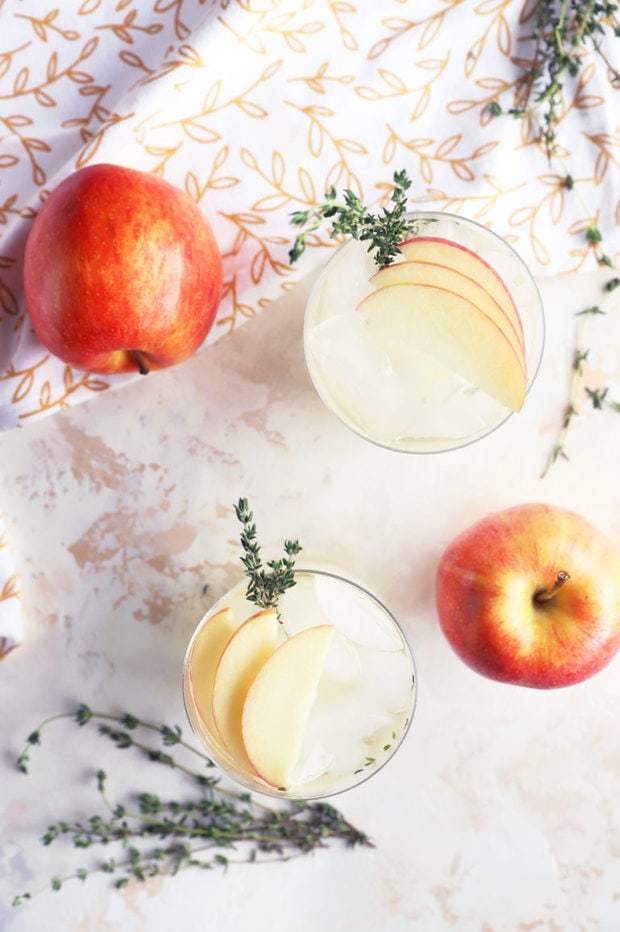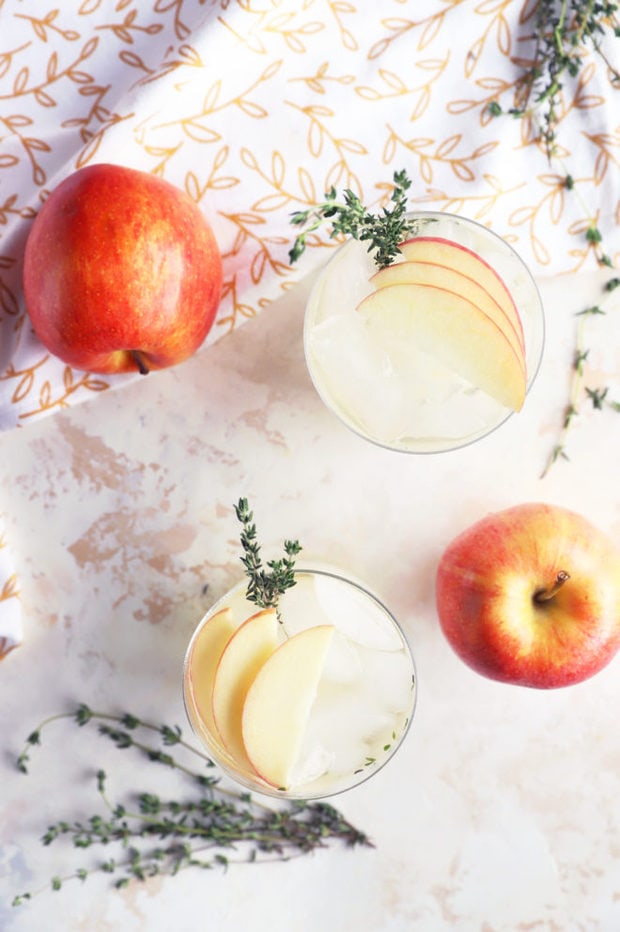 A gin and tonic is a fantastic idea any time of year. I love the floral notes that come through the cocktail, and it's those flavors that actually make it so easy to customize for any time of year.
I've made plenty of different variations of a gin and tonic, but this one is probably the simplest of them all!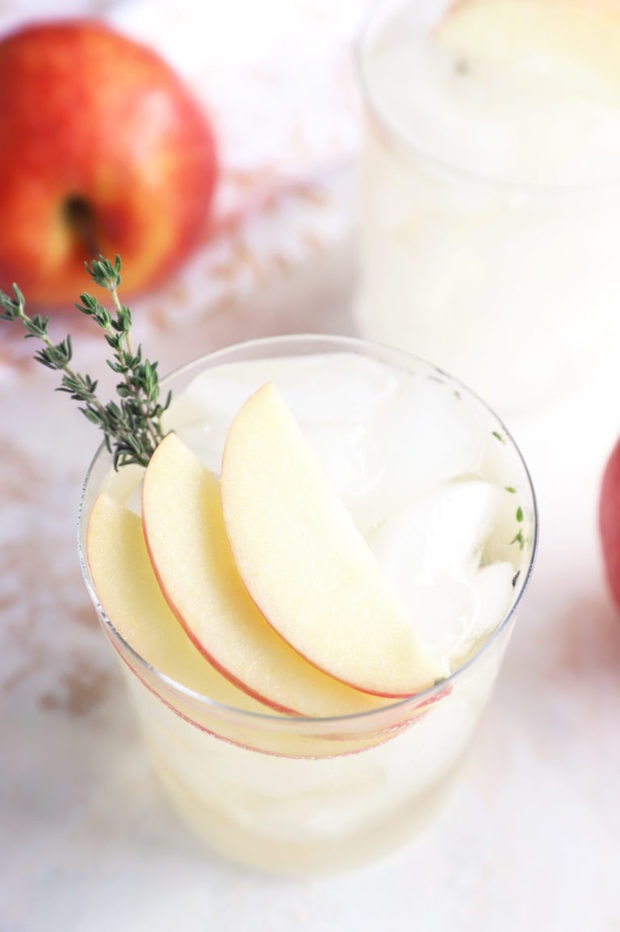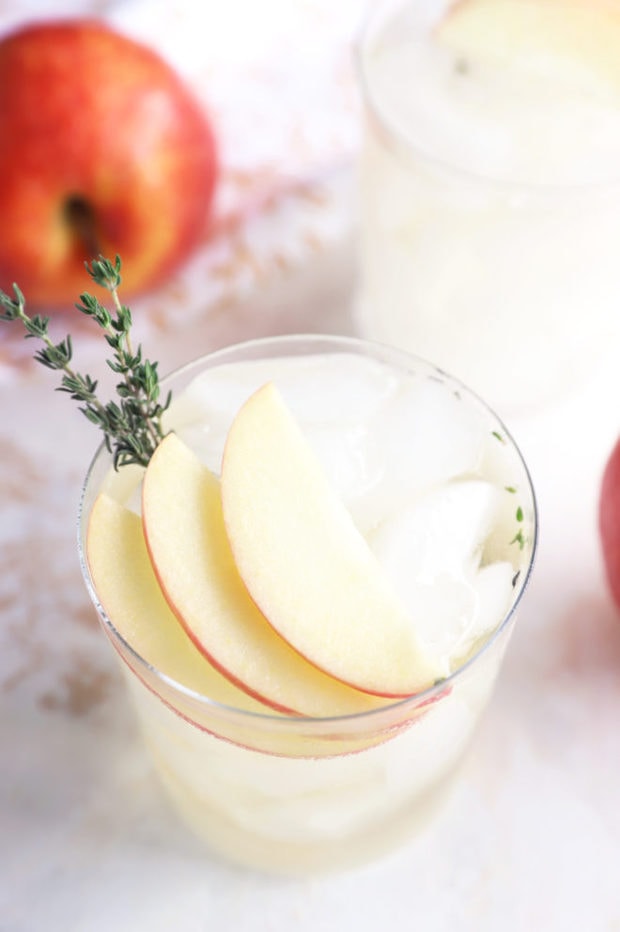 This time I skipped making a simple syrup and simply muddled together fresh thyme with apple juice to bring out the flavor of the herb.
Sometimes you just need a bit of a shortcut, you know?
Plus, I don't really like adding too much sugar to a classic gin and tonic. The apple juice gives you all the sweetness you need (just make sure you use 100% apple juice!).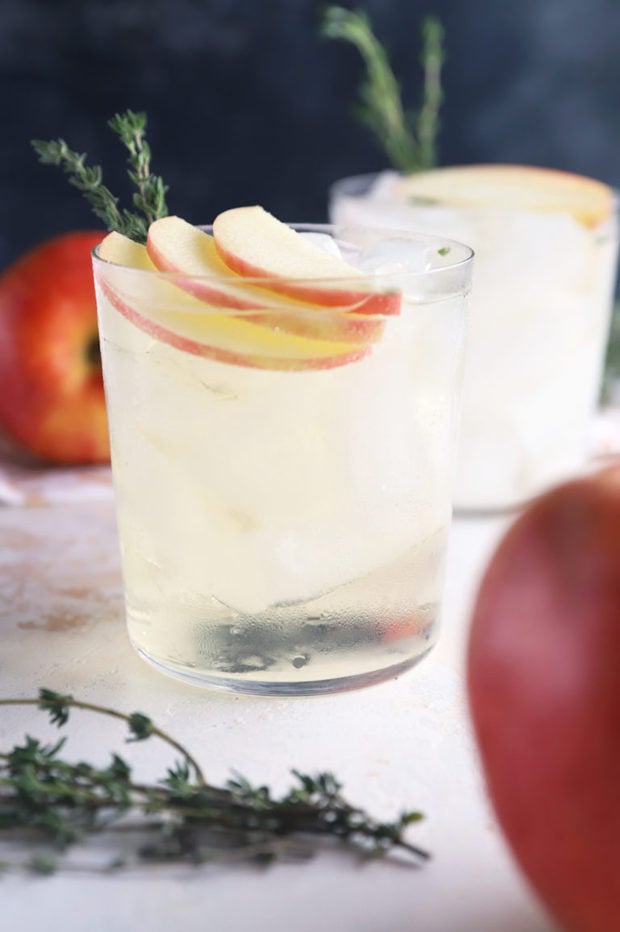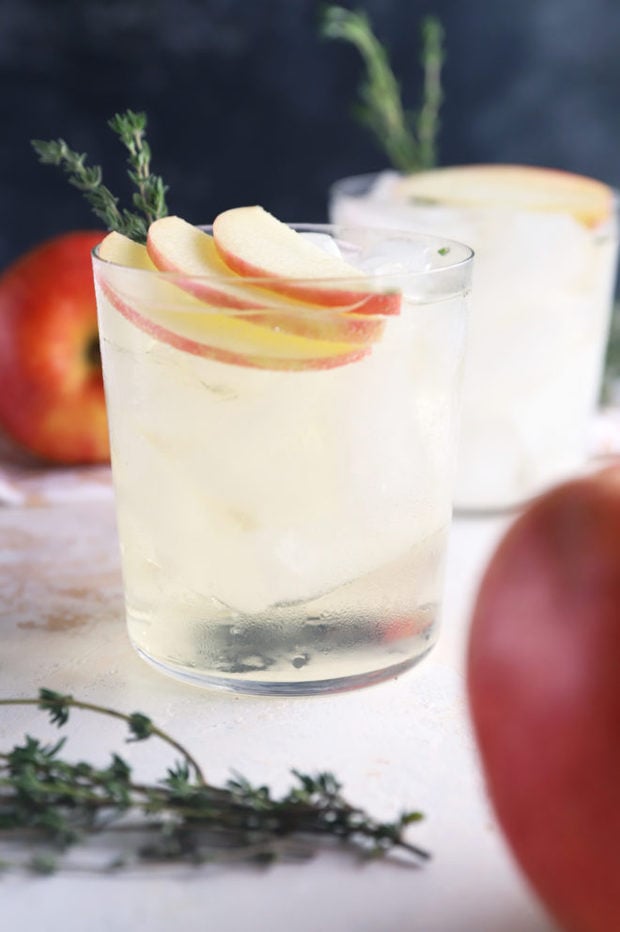 This is a simple cocktail that you can make any night of the week, but it also is ideal for any gatherings you have coming up! I'm definitely saving it for Thanksgiving and Friendsgiving because it takes no effort and you can even have your guests make their own at your bar cart.
Also, if you're looking for a non-alcoholic version, simply omit the gin and add in some extra tonic! It's an easy way to make a booze-free option for those who are not drinking, or if you just need a mocktail to lighten up your booze intake for the month.
It's a booze heavy season, ya know?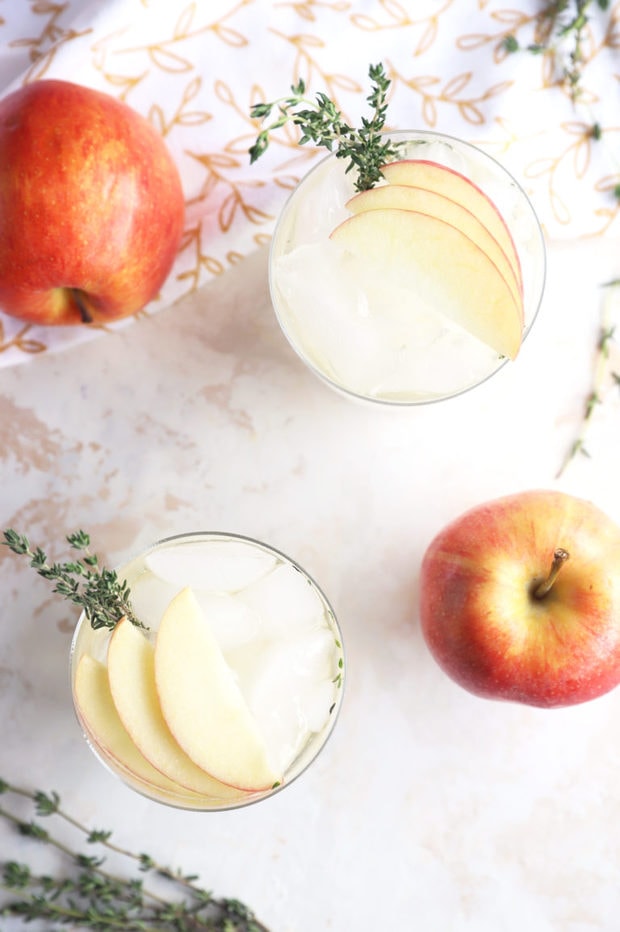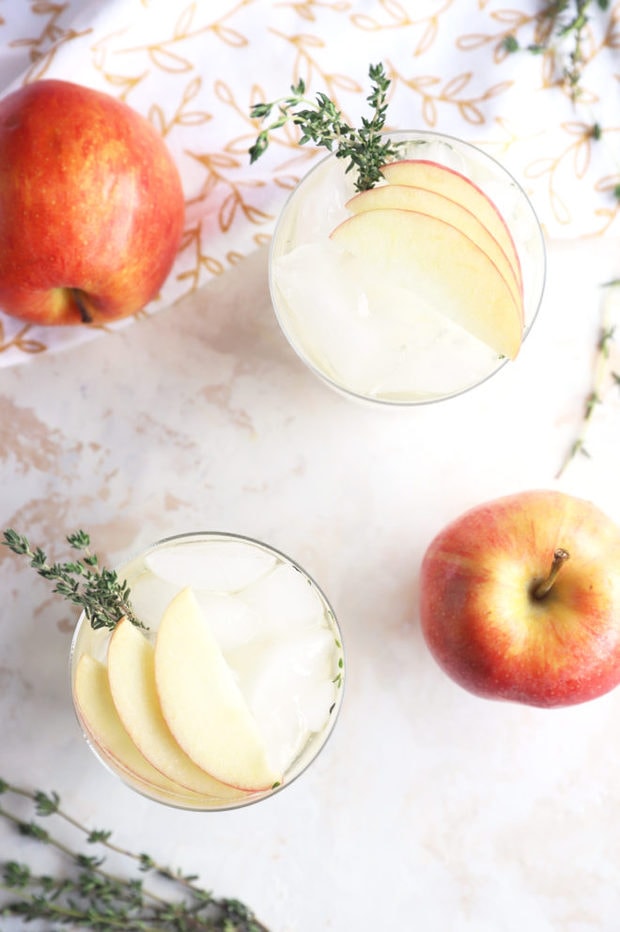 this recipe's must-haves
All you need to make this cocktail is a muddler, a cocktail shaker, and a cocktail strainer.
Pretty straightforward, am I right?
You can also opt for an ice sphere mold to make ice cubes if you prefer. This will help with the cocktail not watering down as quickly so I like to have them available at parties when everyone is mingling and might be sipping slowly on their drinks.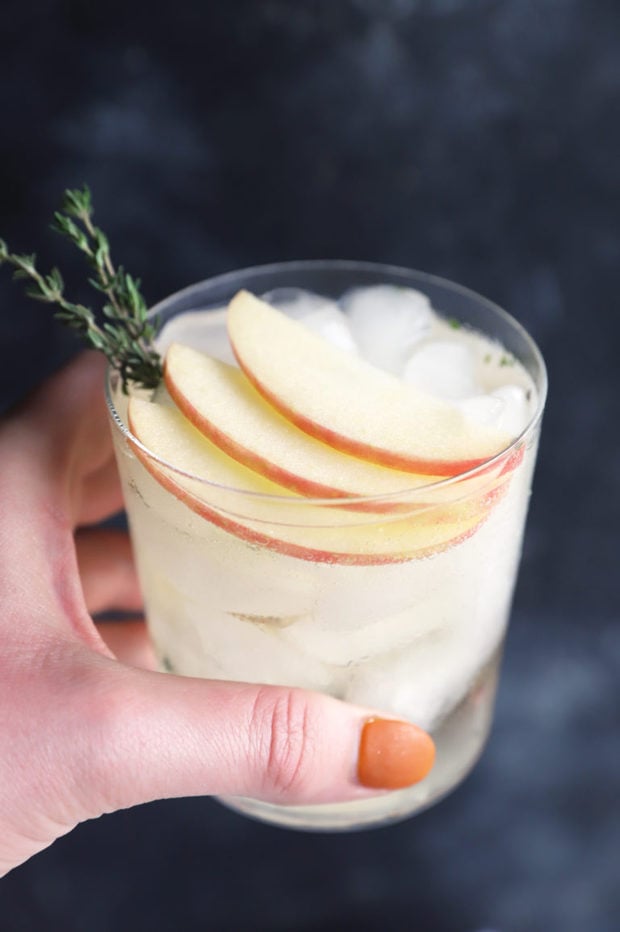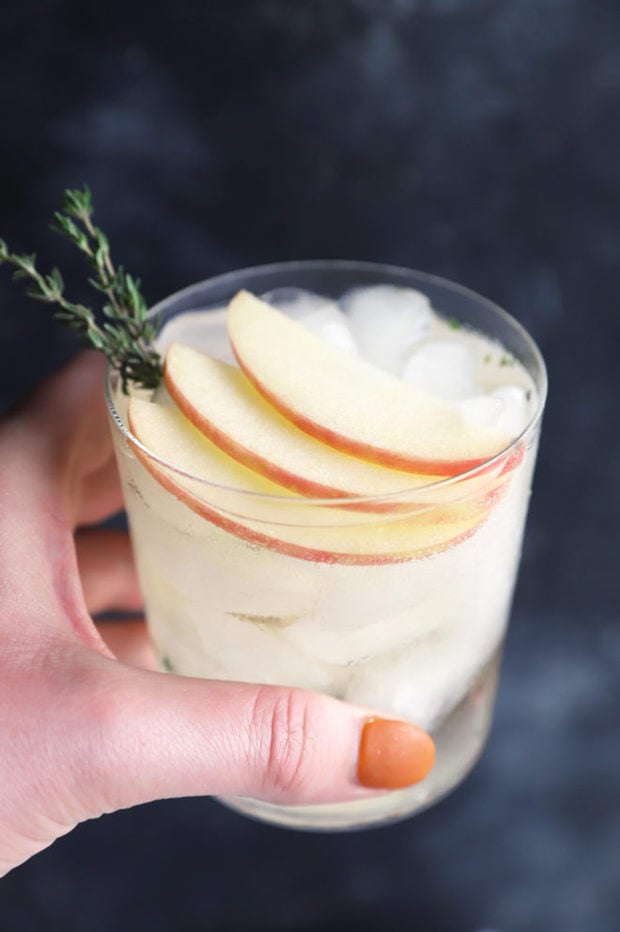 here's how to make a thyme apple gin and tonic!
Muddle
Add thyme to the bottom of a pint glass with apple juice. Muddle the thyme a bit to get the flavor out of the leaves.
Stir & Strain
Add gin and fill the glass with ice. Stir well and strain into a cocktail glass filled with ice.
Top with tonic water and garnish.
Need some more inspiration for cocktail hour? Check out my booze recipes page!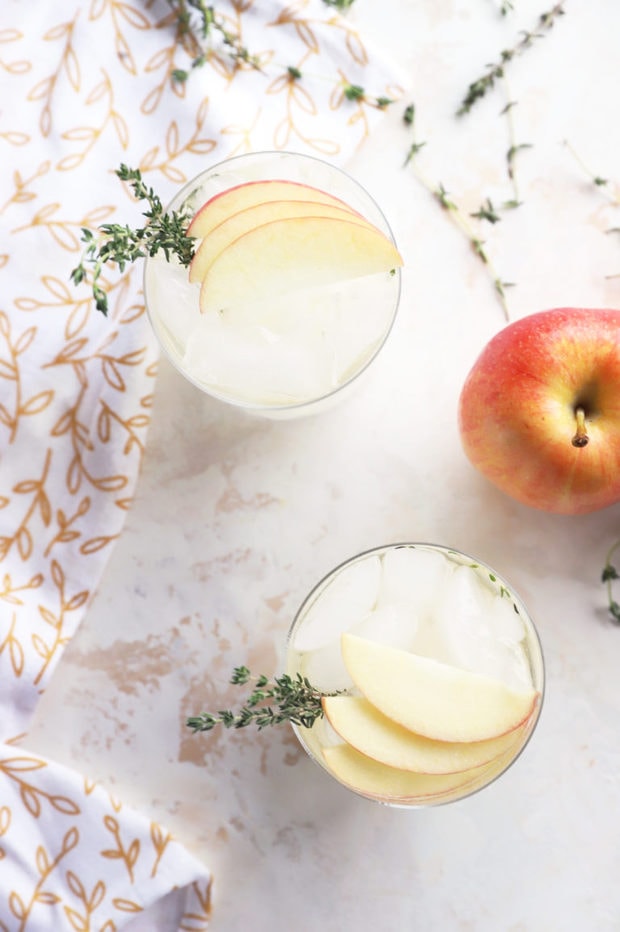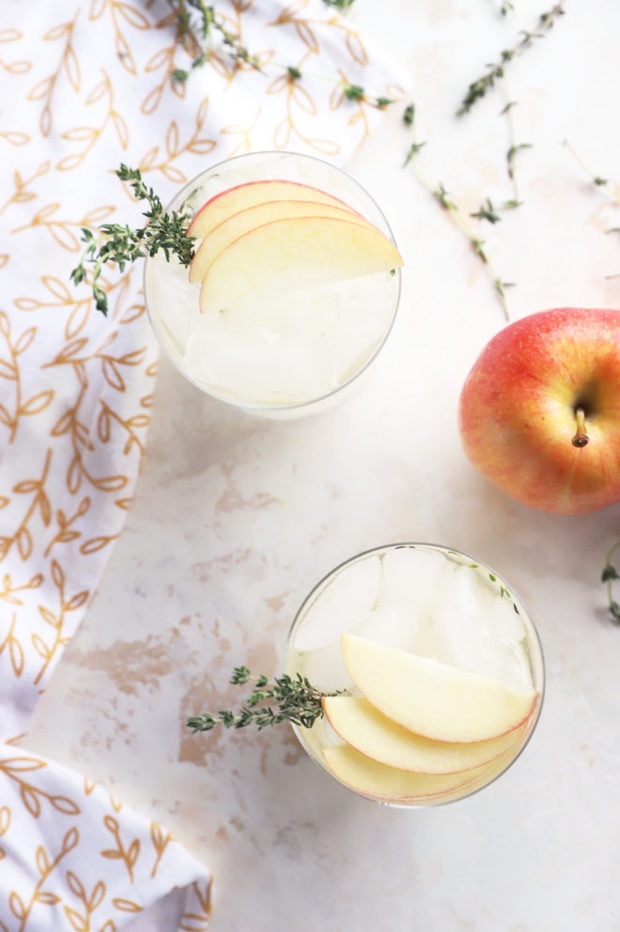 can I make this a mocktail?
You sure can! Simply omit the 2 oz gin and add in 2 oz of tonic water instead.
can I use dried thyme?
I do not recommend using dried thyme instead of fresh for this recipe. It simply won't give you the flavor that you are going for! Instead, opt for the fresh thyme sprigs. Trust me.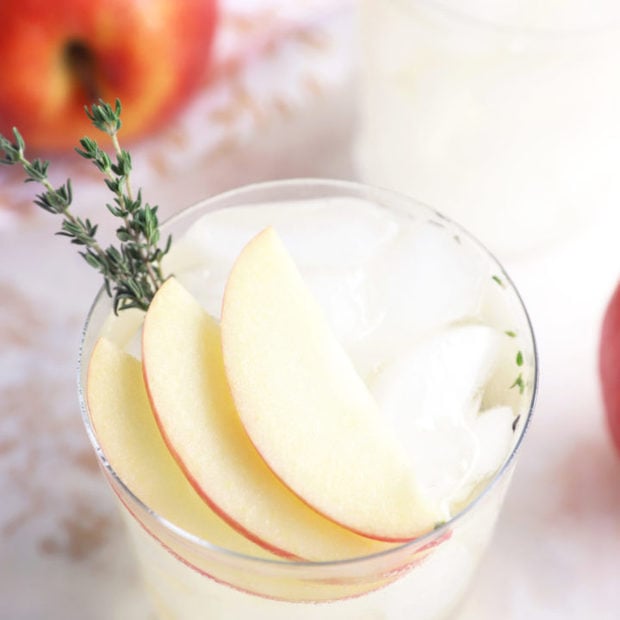 Thyme Apple Gin and Tonic
Simple and straightforward, this fall take on the gin and tonic is a new favorite!
Ingredients
1 thyme spring
1 oz apple juice
2 oz gin
Tonic water
Garnich: apple slices, thyme sprigs
Instructions
Muddle thyme with apple juice in the bottom of a pint glass. Add gin and fill with ice. Stir well.
Strain into cocktail glass filled with ice.
Top with tonic water and garnish. Serve.
Recommended Products
As an Amazon Associate and member of other affiliate programs, I earn from qualifying purchases.