Holiday Gift Guide 2021: Cocktail Gifts
The cocktail gifts for the cocktail lover in your life! Whether you know a master mixologist or someone who's just stepping into cocktail creation at home, this cocktail gift guide has all my favorite must-haves for any home bar.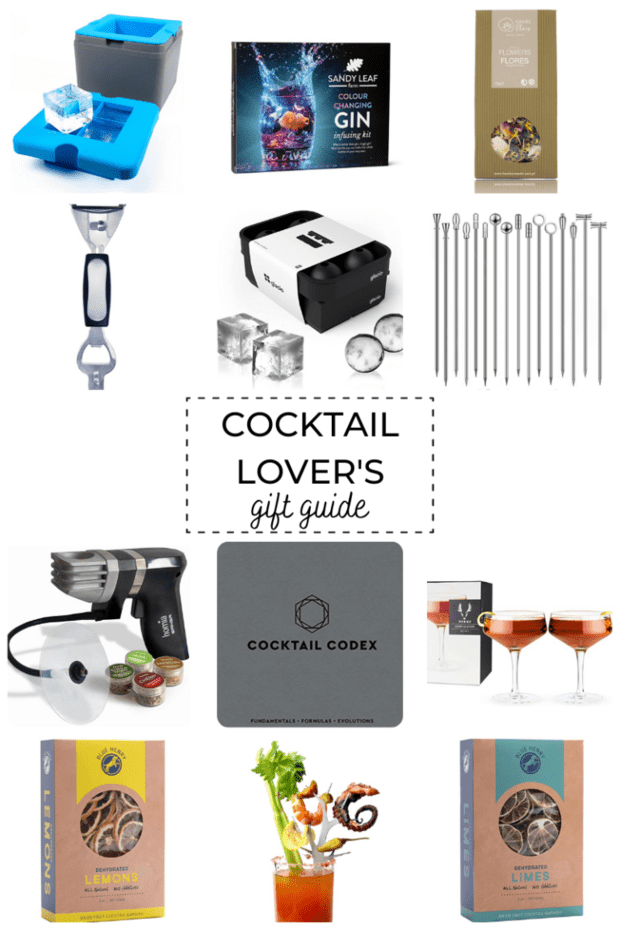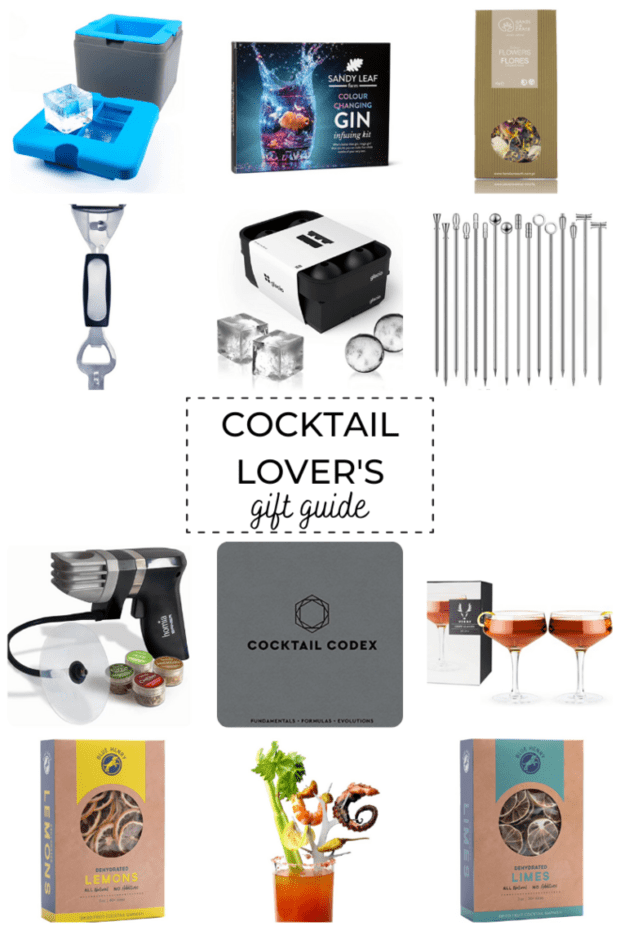 A lot of you who visit my blog love your cocktails, so I can only imagine you have friends and family who also love to imbibe!
Personally, I love to give gifts that people will actually use. Sometimes this can be tough when you aren't familiar with the best tools to help them with their favorite hobby – in this case, mixology!
That's where I come in with this cocktail gift guide. There are SO many cocktail gifts out there to choose from and it can be completely overwhelming!
There are five million tools associated with mixology, from the basic jigger to the overcomplicated dry ice machine. It's a lot and not everything is totally necessary, especially for the home bar.
So where do you even begin to look for a gift?
Not to fear! I am hear to take a lot of the guesswork out of the whole gift-giving process for the cocktail lover in your life.
As the ultimate gift guide for cocktail enthusiasts, this list cocktail gifts is filled with the best gifts.
Here you'll find all my mixology favorites that I use all the time (and some that are currently sitting on my wishlist…). It doesn't matter if you are gifting to a pro or a newbie behind the bar, any of these cocktail gifts are just what they have been dreaming of.
Note that this post is not sponsored, but it does include affiliate links. This means that if you click through and take action, I will receive a small commission.
Holiday Gift Guide 2021: Cocktail Gifts
From cocktail making tools to my favorite cocktail book, you can find something for the master mixologist or cocktail making beginner on this cocktail gifts list!
This is my go-to cocktail book because it not only teaches the basics, but provides tons of ideas for new takes on the classics for the pros.
Coupe classes are one of my favorite cocktail glasses! They are so elegant and can be used for so many cocktails, including martinis.
Say goodbye to the straw toothpicks and hello to these gorgeous reusable ones! They are classic designs so everyone will love them.
For the adventurous mixologist, gift them the gift of smoke! Smoked cocktails are all the rage and this smoking gun comes with a variety of wood chips to try out.
For the gin-lover, this is a fun way to explore new ways to enjoy their favorite spirit!
This all-in-one bar tool has it all - you can pop off bottle caps, pucnh into canned juices, peel fruits and veggies, and even create decorative citrus rind strips for garnishes.
If you want the perfect ice, it needs to be clear ice. This ice cube tray takes the work out of it!
If you know someone who loves cocktails, but doesn't care about clear ice, these molds are fantastic becuse the ice cubes are large and won't water down their creations.
Gorgeous garnish is a must in my world, and you can get it easily with these dehydrated lemon wheels! They also make lime wheels if you prefer.
If you love bloody mary's, you tend to love your garnishes because that's half the fun! These tree skewers make it easy to load up your cocktail glass with all your favorites.
Another gorgeous garnish option is dried edible flower petals. They really make any drink elegant in an instant!