Please note this post contains affiliate links.
Avocado Sun-Dried Tomato Chicken Egg Rolls are served with a creamy ranch dipping sauce, making for a flavorful and bright snack no one can resist. They are the ideal savory snack to serve up for any upcoming gathering you have planned! Be sure to make plenty, because they disappear FAST.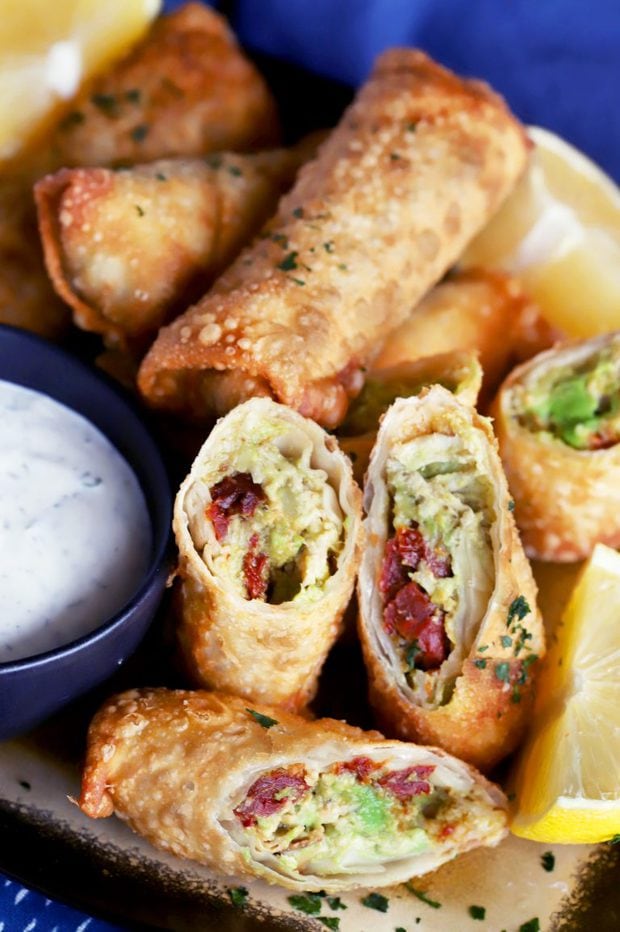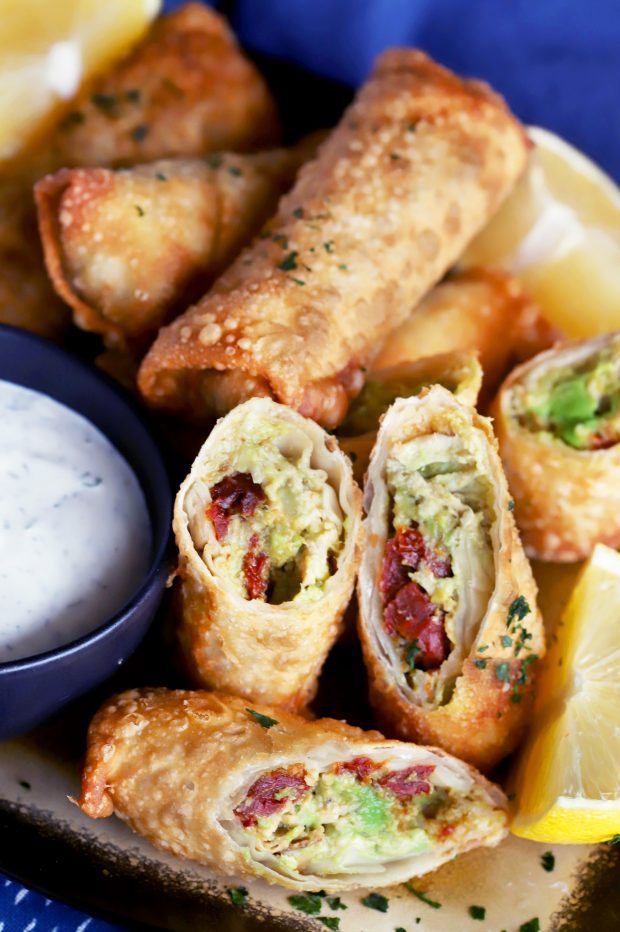 Let's talk egg rolls shall we?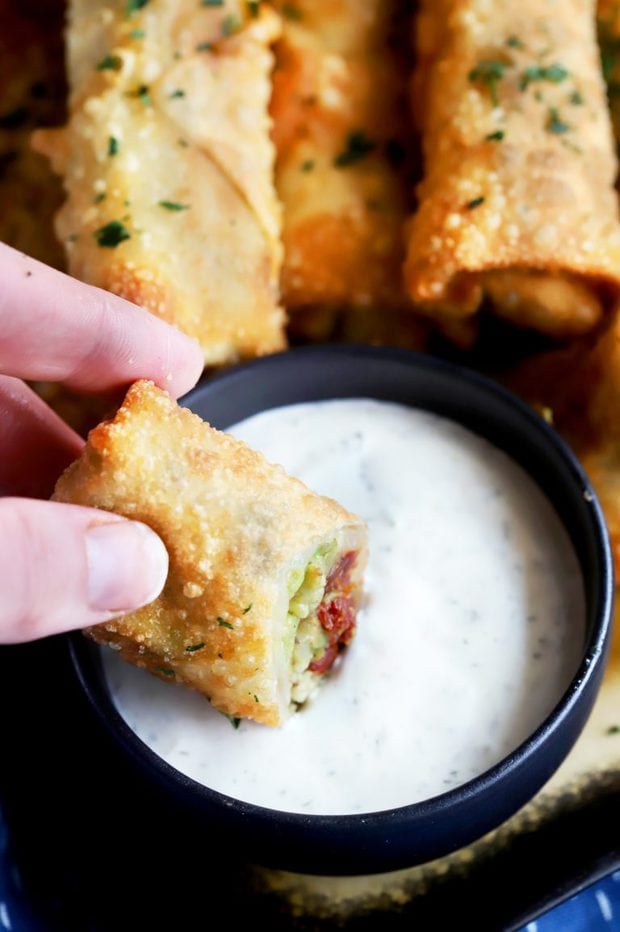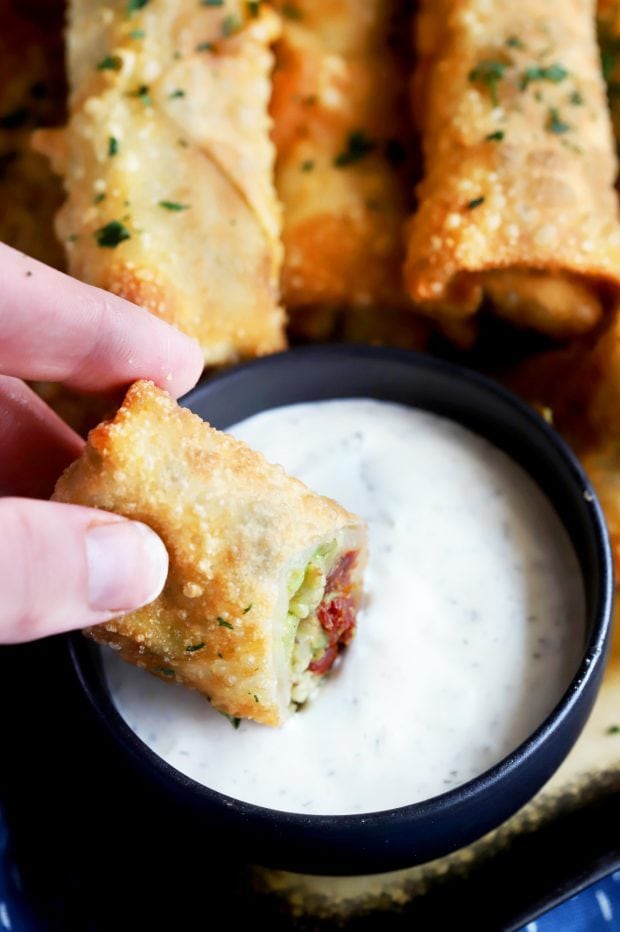 When it comes to making a unique snack, I'm all about frying up a batch of golden brown, crispy egg rolls. Did you know you can fill these bad boys with practically anything?
I've done just about everything you can imagine with egg rolls, from stuffing them with grilled vegetables to berries and cream cheese.

Every single time, they are pure perfection.
I started making egg rolls about 4 years ago when I created Southwestern Avocado Egg Rolls. It was my first time using avocado in egg rolls that I made at home! It was supposed to be a riff on the egg rolls that you can find at a certain chain restaurant across the U.S.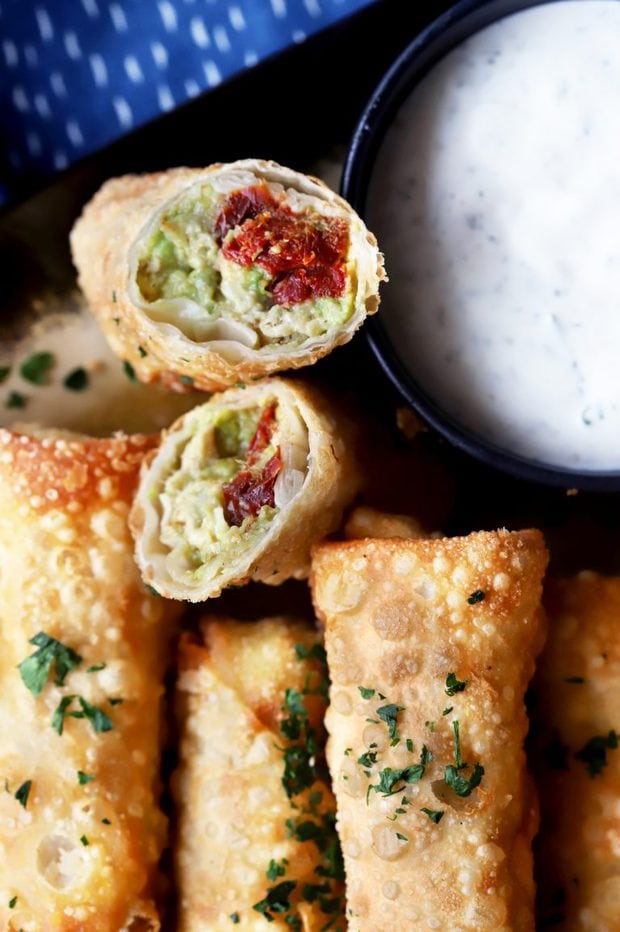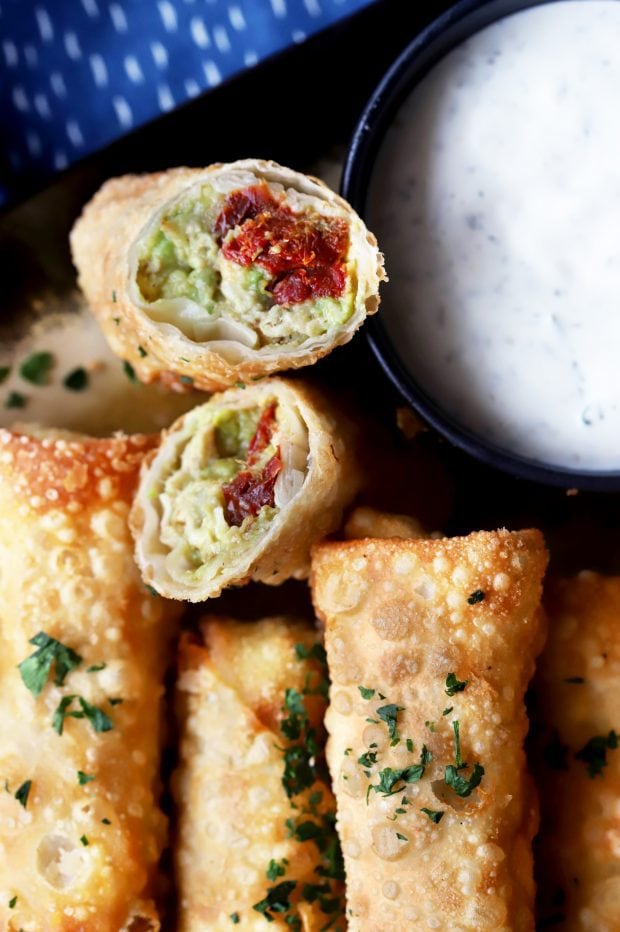 They are incredible. Let me tell you, friends, avocado is the ideal ingredient to add to egg rolls.
That's why this recipe is one of my absolute favorites I've made so far. These crispy fried rolls are full of cheese, avocado, chicken, and sun-dried tomatoes with a bunch of seasonings to bring out each of their unique flavors.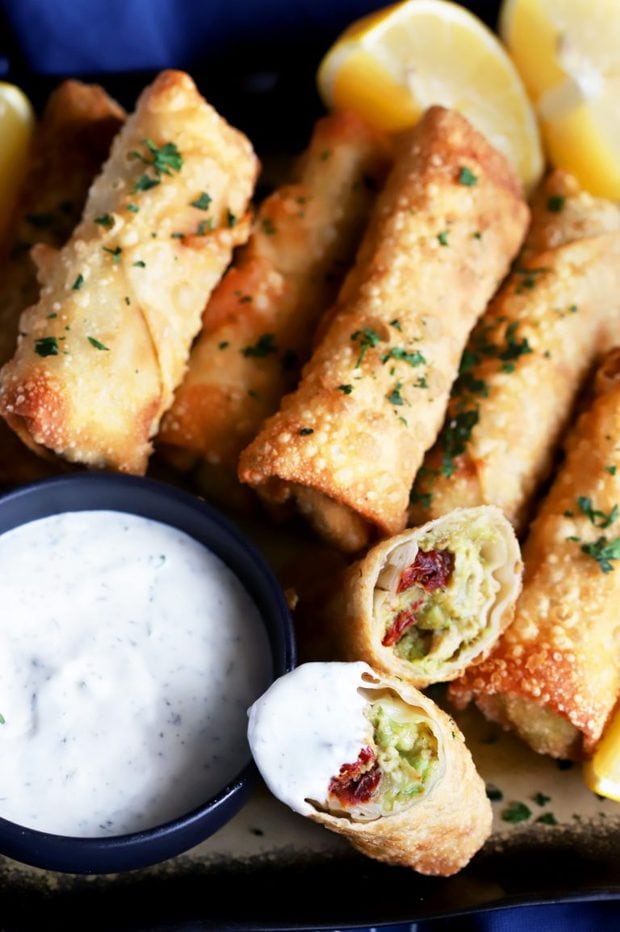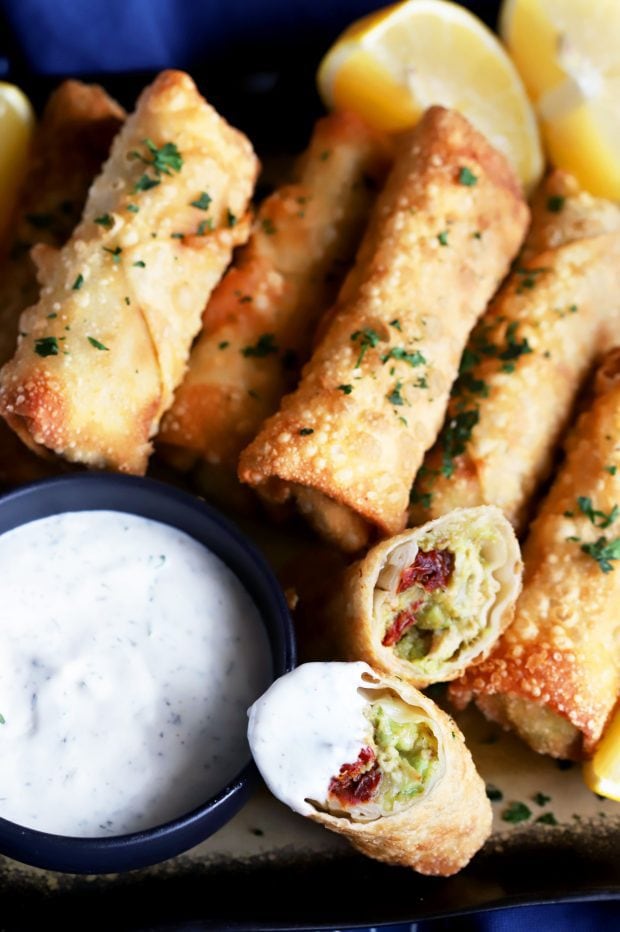 I am OBSESSED with avocado and sun-dried tomato right now. Primarily I've been using them on my avocado toast in the mornings! OMG IT IS SO GOOD, especially with an egg on top!
So why not wrap it all up inside a tasty egg roll?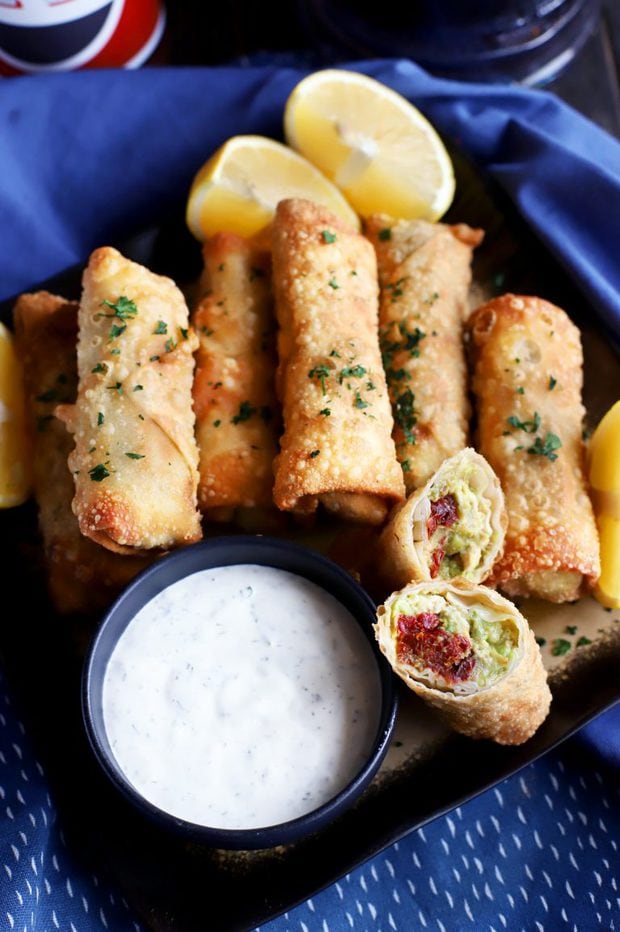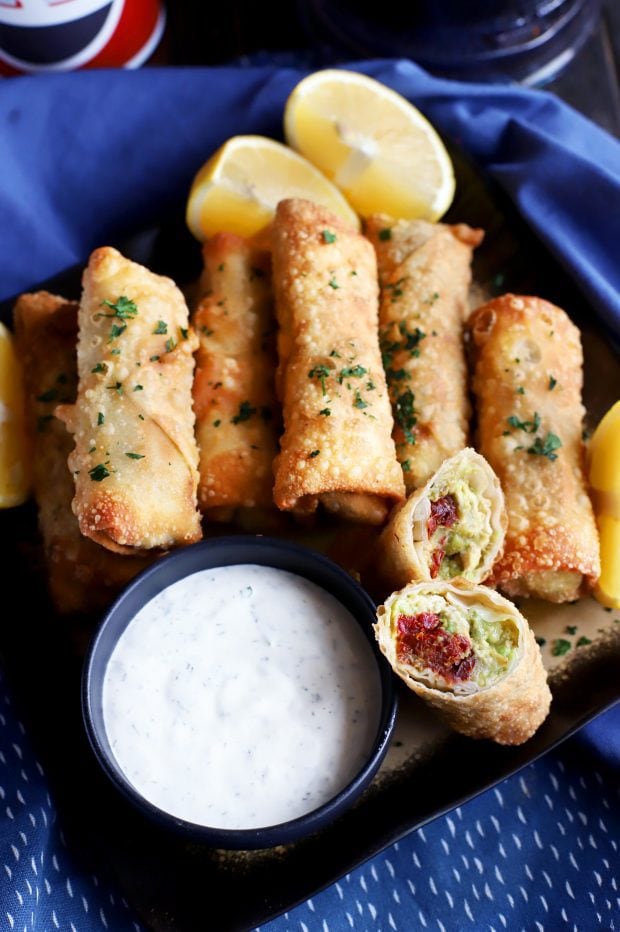 The addition of chicken and cheese brings a heartier element to the party, so you can totally serve these as a snack, or make a little light meal out of it all.
The creamy ranch dipping sauce is just the icing on the chicken egg rolls. That's because it adds a tang and creamy depth of flavor.
You won't be able to stop eating them!
If you are looking for more egg rolls, try out these thai egg rolls!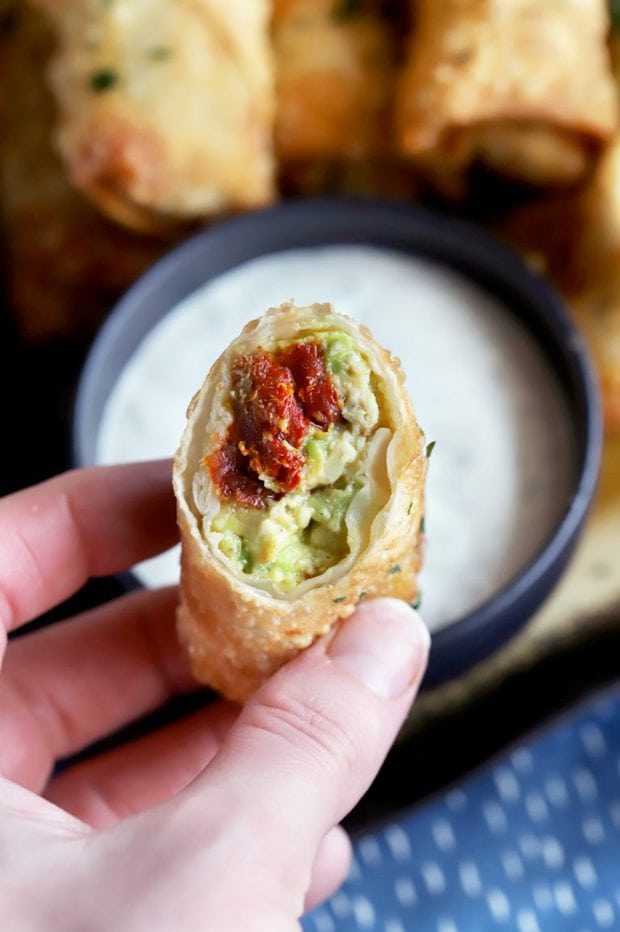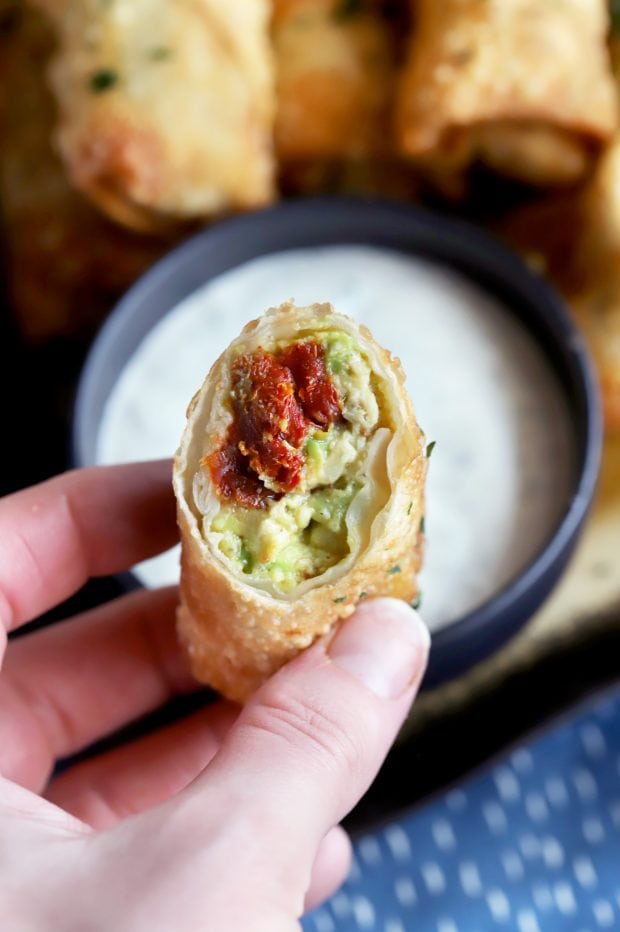 This Recipe's Must-Haves
I like a cutting board and chef's knife to prep all the ingredients for these tasty fried rolls!
To fry them up, I use a dutch oven, but any large heavy-bottomed pot will work.
After they are golden, retrieve them from the hot oil with a spider strainer.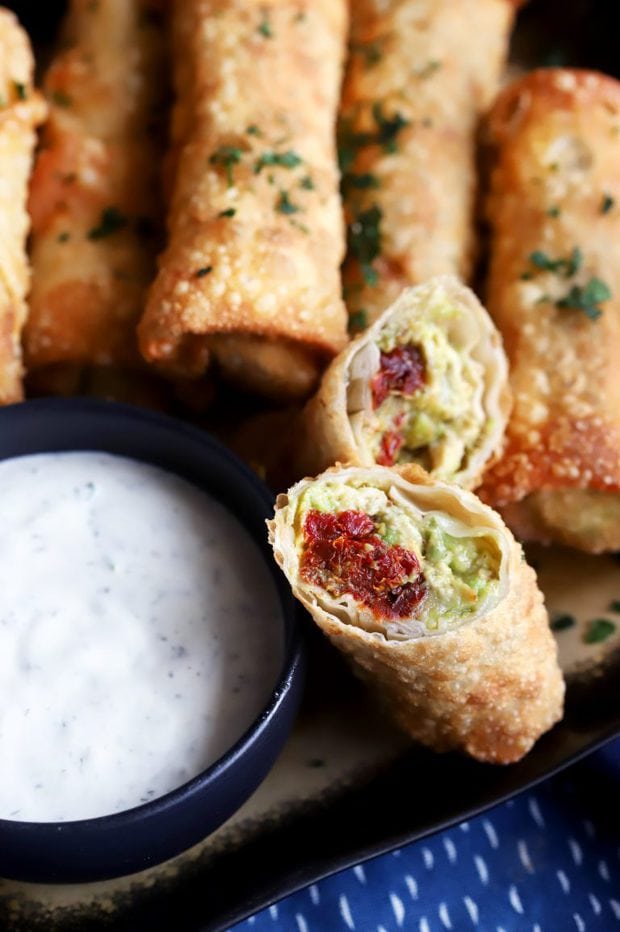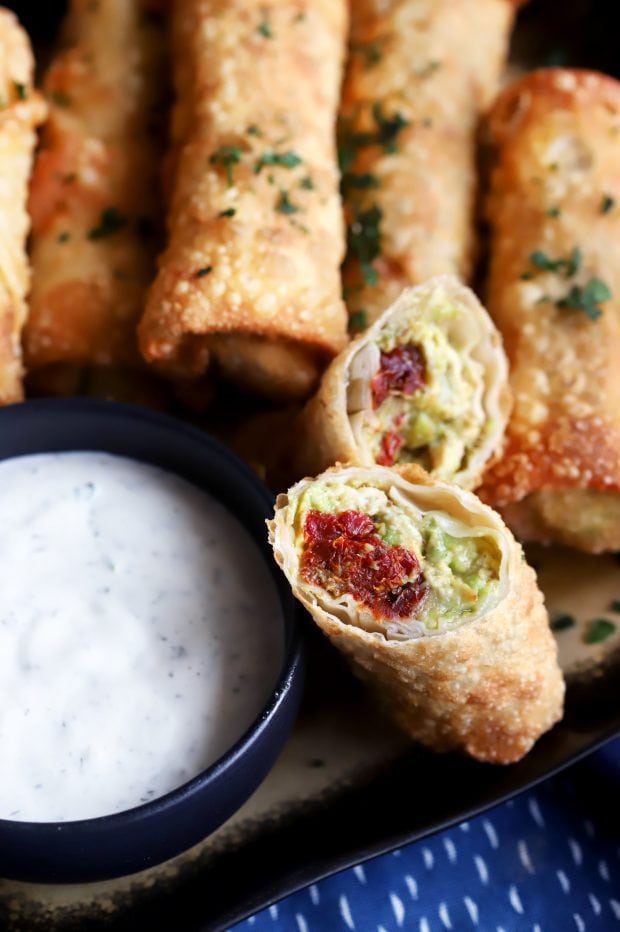 Love all egg rolls? Try these buffalo chicken egg rolls next!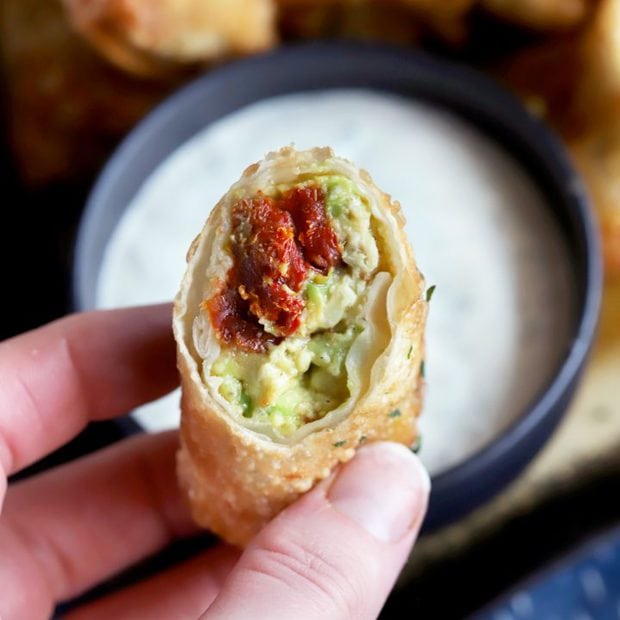 Avocado Sun-Dried Tomato Chicken Egg Rolls
Yield:
Makes 12 egg rolls
Served with a creamy ranch dipping sauce, making for a flavorful and bright snack no one can resist.
Ingredients
Ranch Dip:
1/2 cup Mayonnaise
1/2 cup Sour Cream
1/2 teaspoon Dried Dill
1/2 teaspoon Dried Parsley
1/2 teaspoon Dried Chives
1/2 teaspoon Garlic Powder
1/4 teaspoon Onion Powder
1/8 teaspoon Salt
1/8 teaspoon Black Pepper
2 teaspoons Fresh Lemon Juice
1 1/2 teaspoons Milk
Egg Rolls:
4 Avocados, peeled, pitted, and diced
1/2 cup Cooked Shredded Chicken
1/3 cup Shredded Monterey Jack Cheese
1/3 cup Sundried Tomatoes, chopped
1/2 teaspoon Garlic Powder
1/4 teaspoon Onion Powder
1/4 teaspoon Salt
1/4 teaspoon Black Pepper
1/8 teaspoon Ground Cayenne Pepper
12 Egg Roll Wrappers
Instructions
To make the ranch dip, add mayonnaise, sour cream dill weed, parsley, chives, garlic powder, onion powder, salt, pepper, lemon juice, and milk to a medium bowl. Whisk together to combine. Refrigerate until ready to serve.
Add diced avocado, chicken, cheese, sun-dried tomatoes, garlic powder, onion powder, salt, black pepper, and cayenne pepper to a large bowl. Gently stir to combine all ingredients well.
Fill a small bowl with cold water.
To wrap your egg rolls, start with a clean, flat surface. Lay one wrapper so one of the corners is facing you (like a diamond). Dip your fingers in the water and spread on each edge of the egg roll wrapper. In the corner closest to you, spoon 1 to 1 ½ Tbsp of the avocado chicken filling into the center. Lift the bottom corner up and begin to roll away from you, making sure you tuck the corner under as you roll. Once you are halfway up the wrapper, fold in the left side and then the right side towards the center. Continue rolling away from you until only the final corner is ready to roll.
Dip your fingers in the water and brush it over the final corner. Finish the roll, brush a little more water along the seam, and place seam-side down. Make sure you roll the egg rolls tightly. If they are too loose, they will fall apart when you fry them.
To fry the egg rolls, fill a pot with 4-5 inches of cooking oil. Heat the oil to 350˚F. Gently add the egg rolls to the hot oil, frying no more than 3 or 4 at a time, turning occasionally. Fry until the egg rolls are golden brown on all sides, approximately 2 minutes. Place on paper towels to drain and cool.
Serve immediately with ranch dip.
Recommended Products
As an Amazon Associate and member of other affiliate programs, I earn from qualifying purchases.