If you are planning to set sail in the near future with Carnival, you need to pick their flagship Vista cruise ship as your floating hotel. Why? Not only because the destinations and ship itself are amazing, but because it's a foodie's paradise. Once you get to know the secrets of the ship with my Foodie Guide to the Carnival Vista, you will be booking a trip before you know it. You know, after you finish licking the screen and all…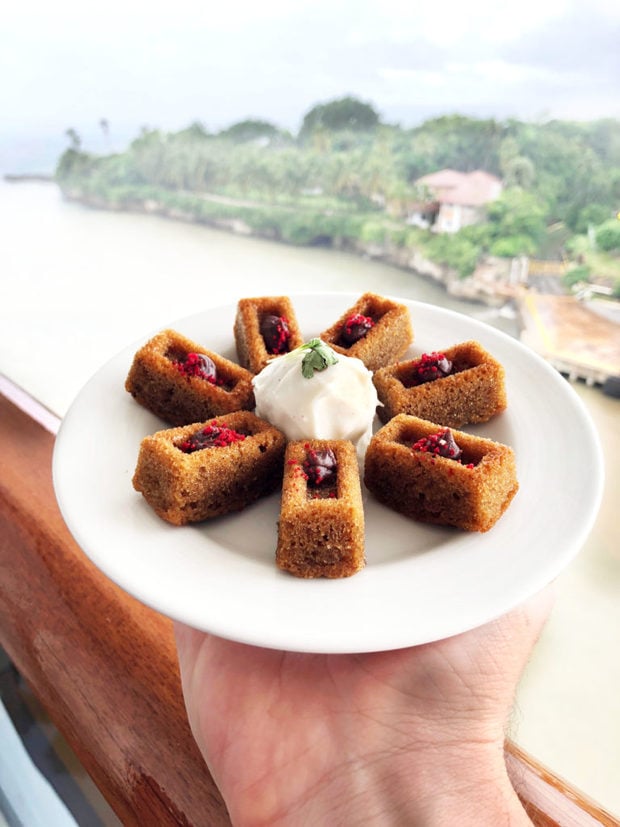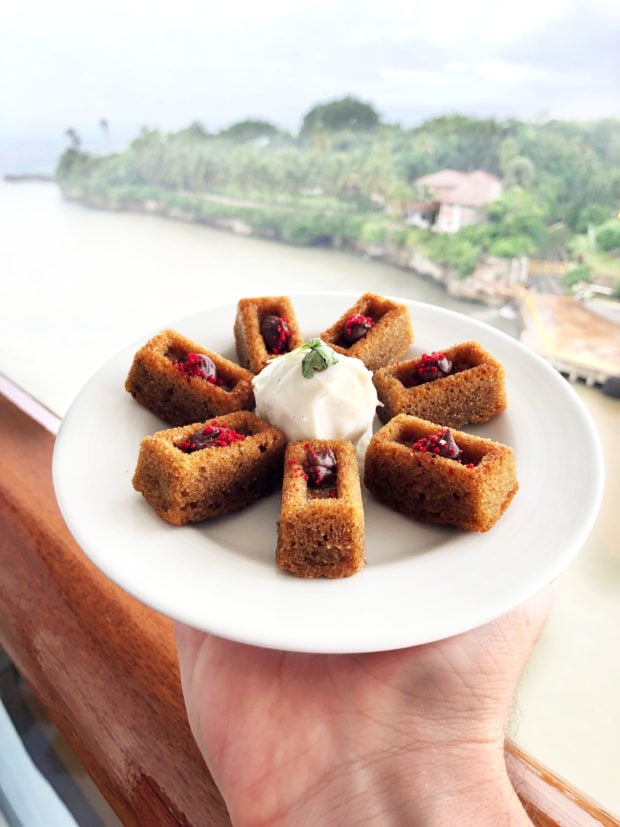 Disclosure: This post was sponsored by Carnival. All opinions are my own, as usual. Thank you for supporting the brands that support Cake 'n Knife!
When you take a cruise, it's not just about the destinations anymore.
It's about the destinations AND the cruise ship. Now this being my first cruise, I have no others to compare it to, but for any other cruise I go on the Carnival Vista is going to be a tough ship to beat.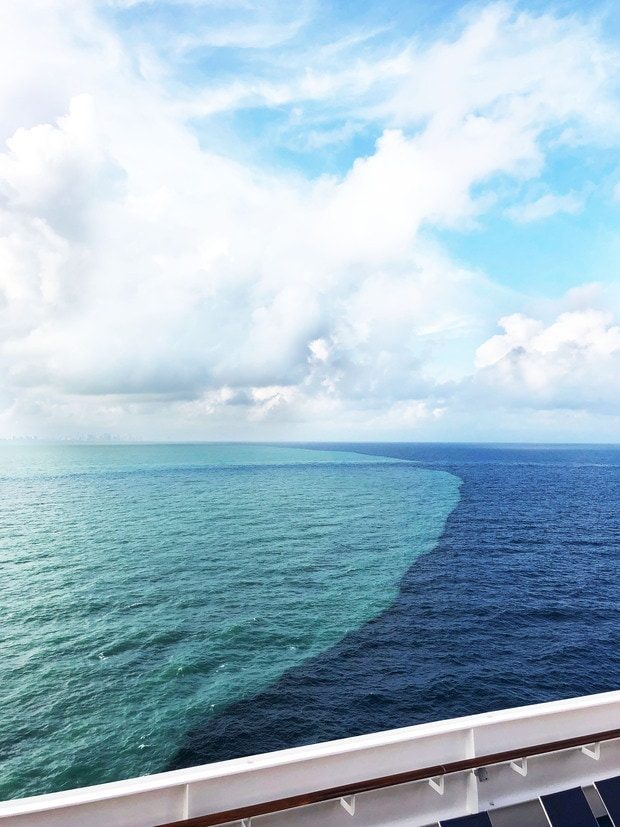 Not only because the ship is GIANT, gorgeous and filled with tons of different things to do. But primarily because the food and drink on this ship are OUT OF THIS WORLD phenomenal. I mean, every little thing is done right. From the casual burger stand to the stunning steakhouse, the varied Asian kitchen to the made-to-order burrito and taco stand, you can always find whatever you are looking for no matter what mood strikes you.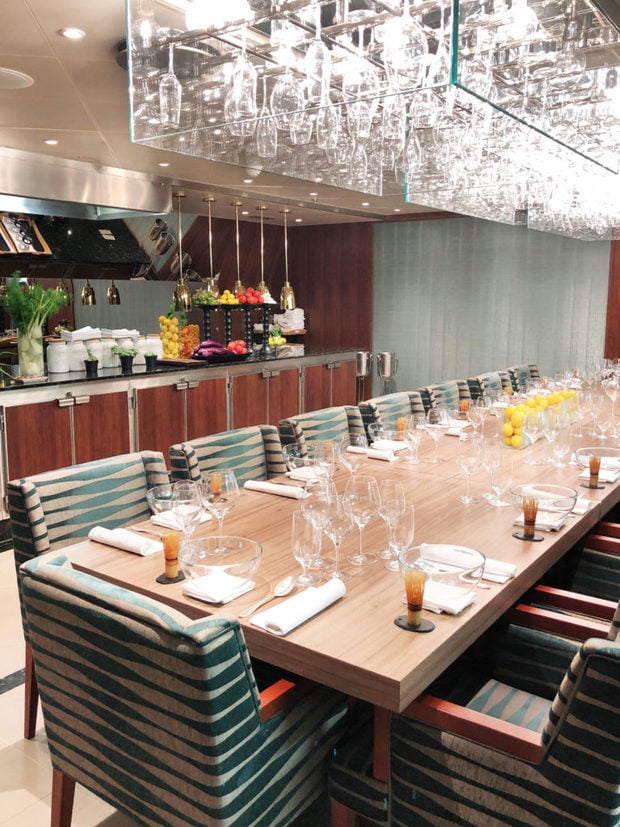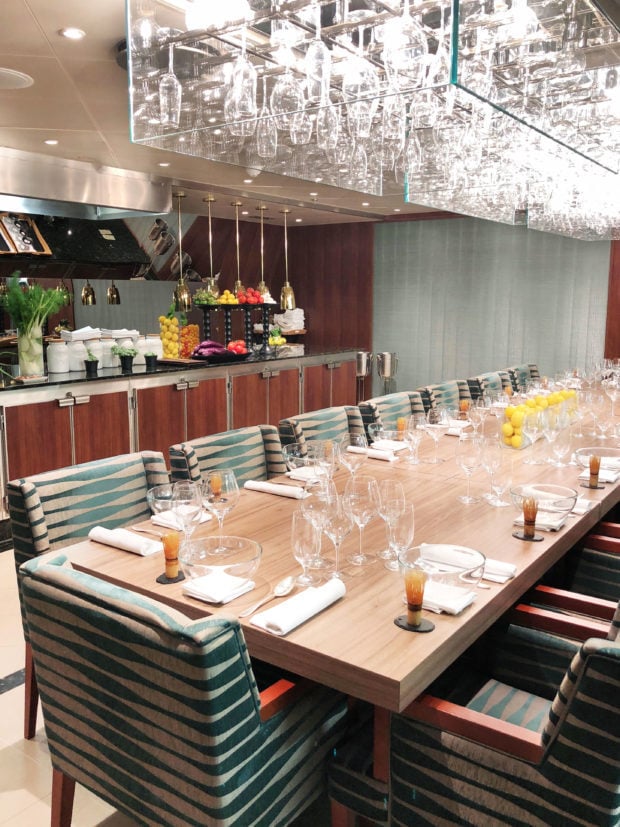 I put together my ultimate foodie guide to the Carnival Vista so you can know the in's and out's of all of my favorite places on the ship (oh, did I happen to mention there's even MORE on the ship aside from these particular spots? YEAH, for real)! This is the quick 'n dirty guide to when to hit what restaurants, the best things to order and where to find hidden secrets (like where to get the best wine…).
So get ready to start drooling… You'll be booking your next cruise by then end of this post!
Pro tip: make your reservations the day you step on the boat at all the additional cost restaurants. You can do this on the phone, but as I advise in my Cruise Ship Secrets for Millennials post, you're going to want to grab a drink and walk the boat that first day anyway. So while you do that, go ahead and put in your reservations as you walk around. You'll be able to get the more ideal times!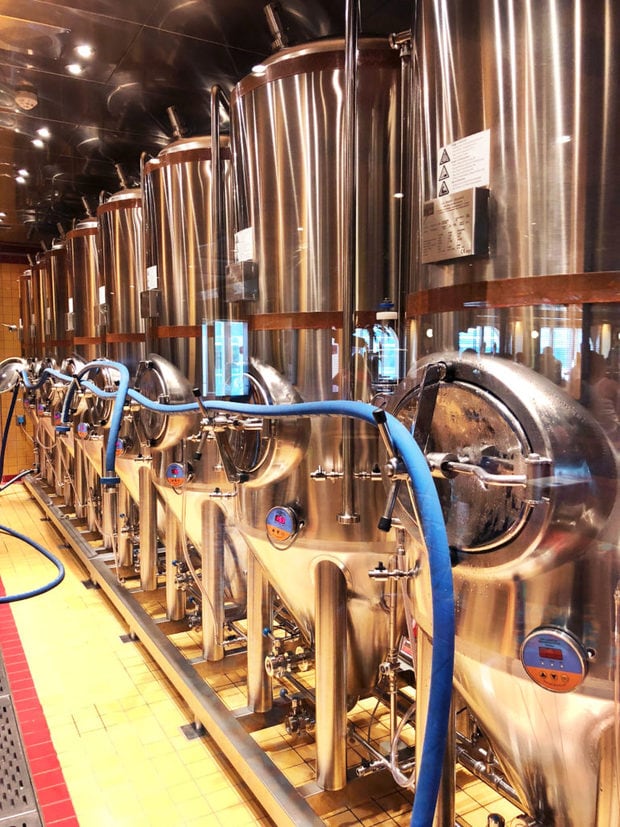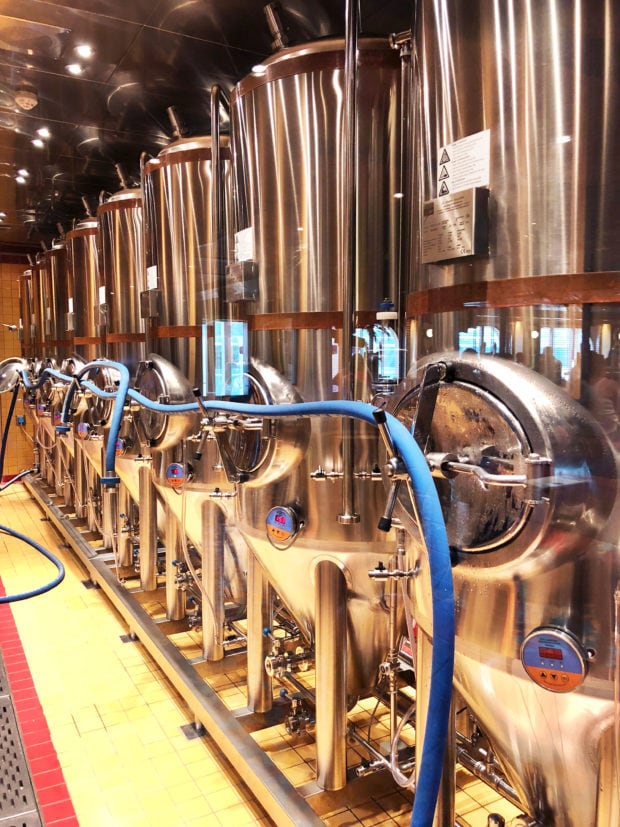 To Eat
LUNCH
Guy's Burger Joint
This burger place is in my top two lunch spots on the ship. Why? BECAUSE THE BURGERS ARE SO FREAKING GOOD. They are juicy and a little greasy with those perfect squishy buns that I live and breathe for. You can get them plain and dress 'em up with a whole host of toppings from the toppings bar, or you can order their specialty burgers (heck, there's even one with an onion ring on top! That was the Man's fav, naturally)! It was really excellent and they had those perfectly crispy fries that just thinking about them makes my mouth water.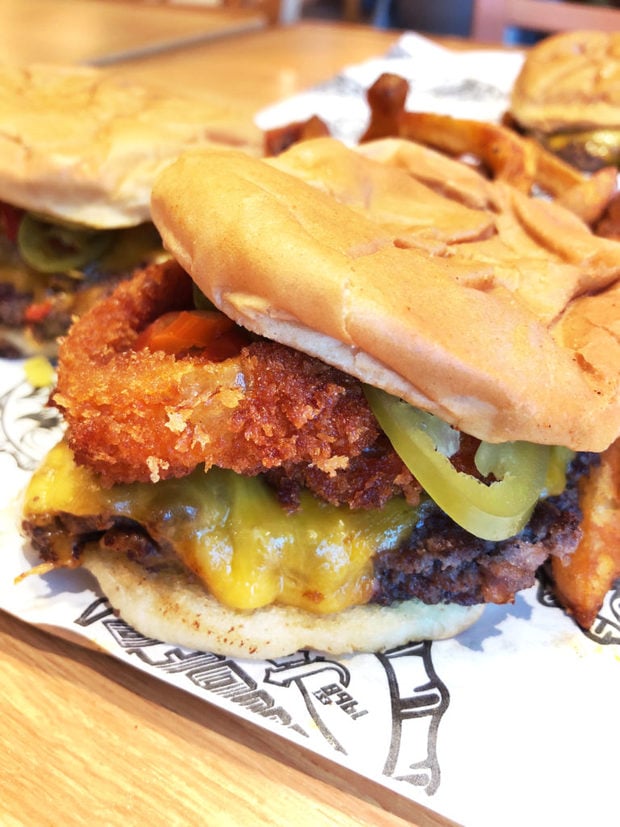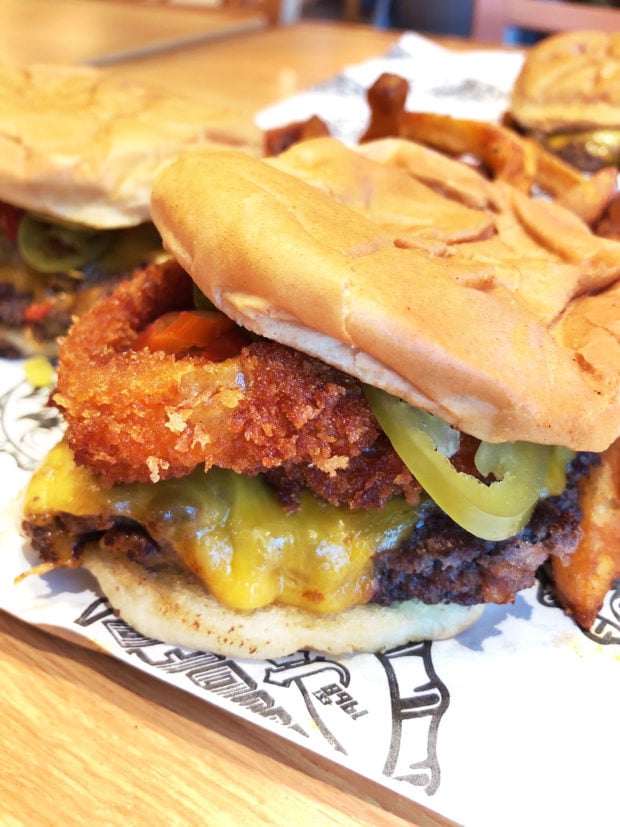 Guy's Pig & Anchor Bar-B-Que
Now this place isn't open every day so keep your eye on the ship schedule so you know when it is. The line gets long fast and it's not wonder why because holy YAS there is such great grub here. I LOVED the pulled pork and there are a ton of different sauces to try out. Not to mention you can go back for as much as you want and their collard greens are the bomb dot COM.
Pizzeria del Capitano
Our favorite late night spot was this place, as well as a great spot to grab dinner if you are watching a Dive In movie out on the Lido deck. The pizza might seem standard with the limited flavors but honestly, it's simple and delicious. It's pizza done right hot out of the oven and super addictive. I am a classic kinda gal so I loved the pepperoni, but the margherita was great too!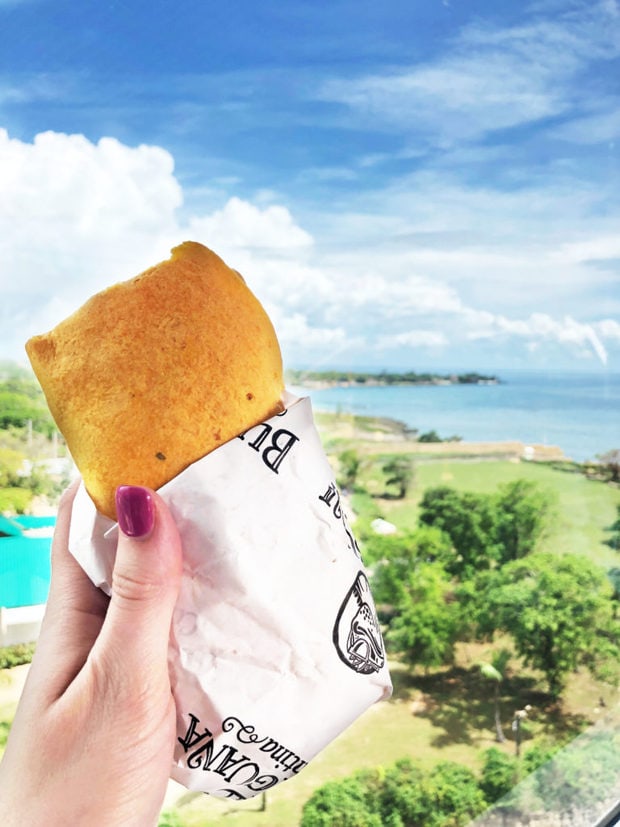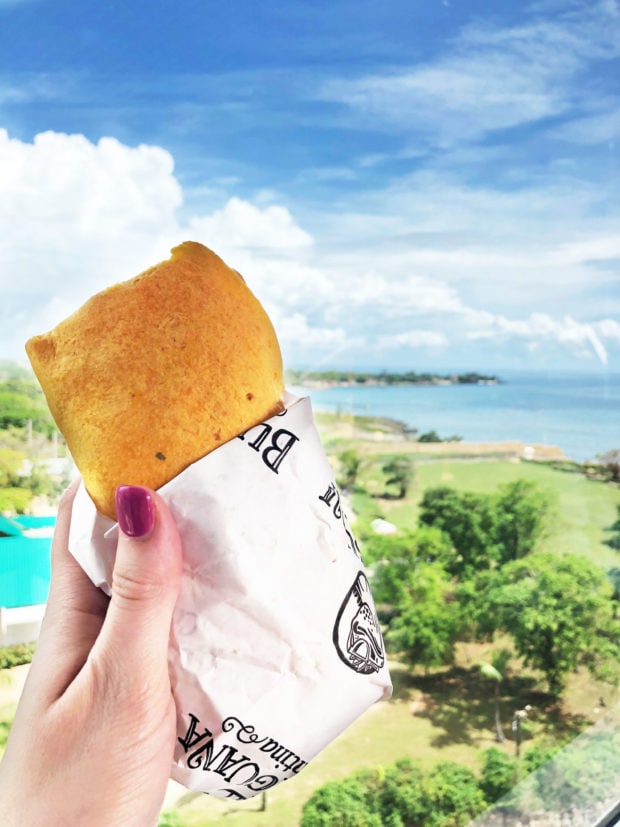 BlueIguana Cantina
You all know how near and dear Mexican food is to my heart… and the BlueIguana Cantina did not disappoint. With burritos and tacos served up poolside, you will not believe the variety of flavor combinations you can create each time you visited. Not only can you customize your fillings, you can also customize the different sauces you use as well as the hot sauces. Plus, you can't beat eating a meal like that with a view of gorgeous blue ocean waters, can you?
P.S. Don't forget to hit Cherry On Top for an ice cream sandwich after lunch! They are SO SO good, and totally worth the brain freeze if you eat it too fast 😉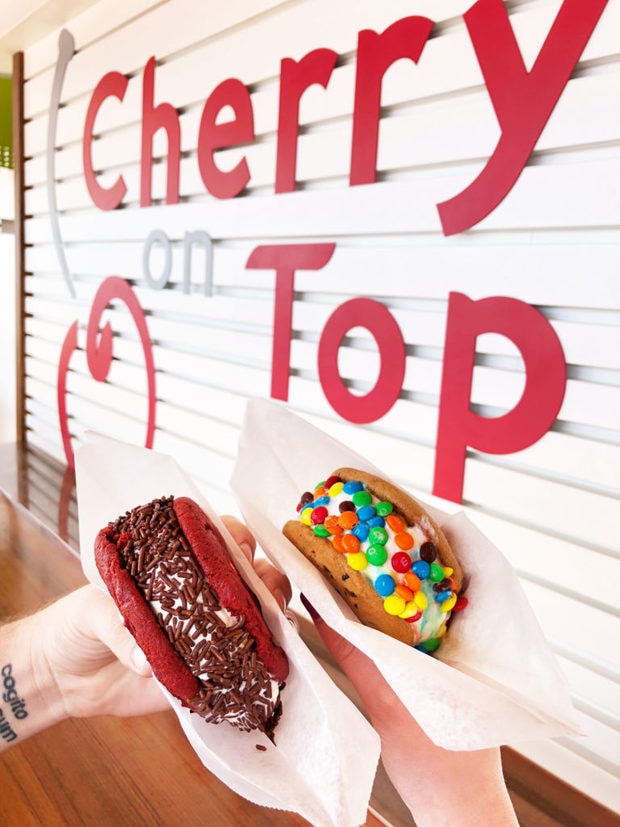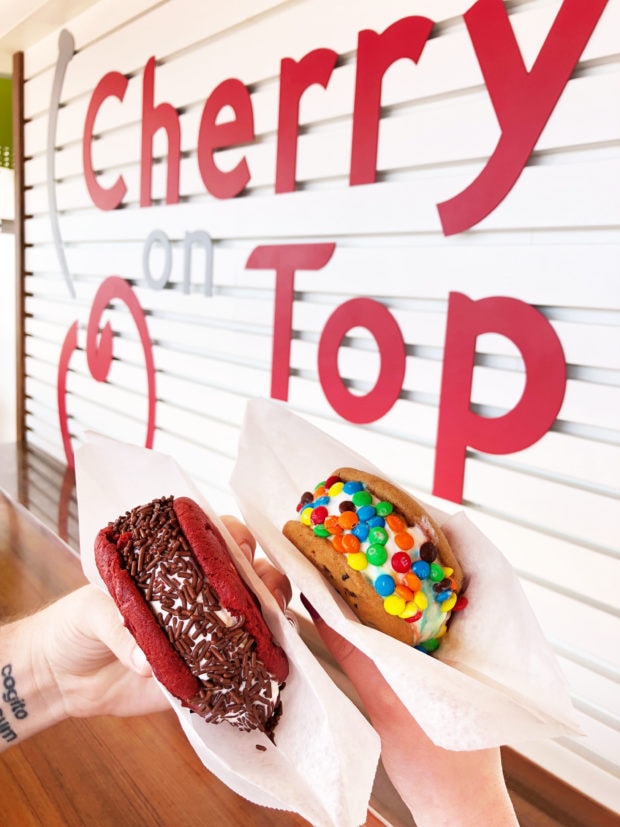 DINNER
JiJi Asian Kitchen
JiJi's Asian Kitchen serves up food from different areas of Asia, served family style, from Mongolia to Indonesia. With 6 countries in one place and impossibly unique flavors, I was unbelievably impressed that for $15 a person I could have an insanely decadent multi-course Asian meal. Plus the staff was incredibly mindful and even went across the ship to the Steakhouse to get the wine I loved. They even incorporated egg in dishes in a way that the Man ate it, AND LIKED IT. This is HUGE because he haaaaaaates eggs. HATES. THEM.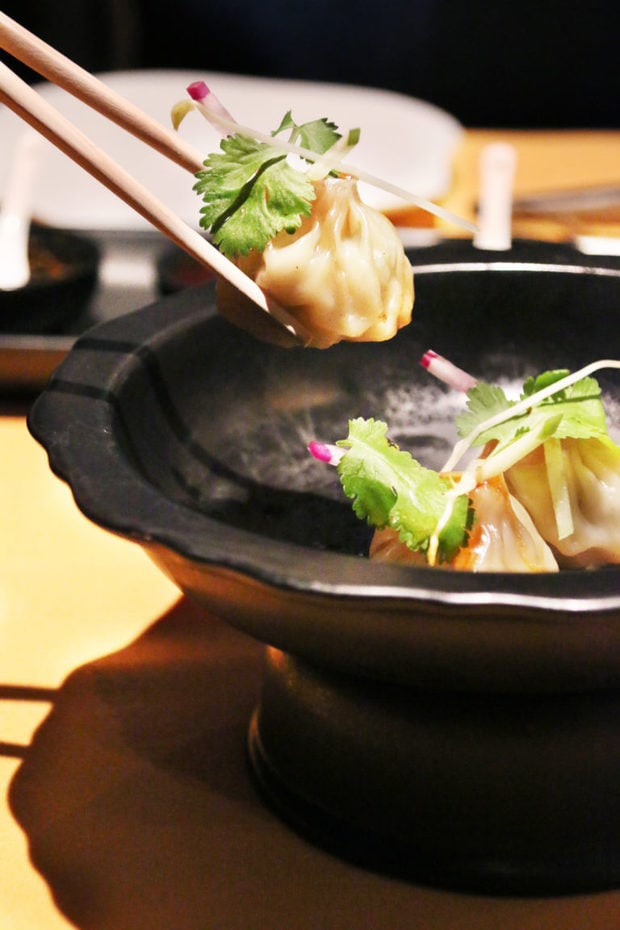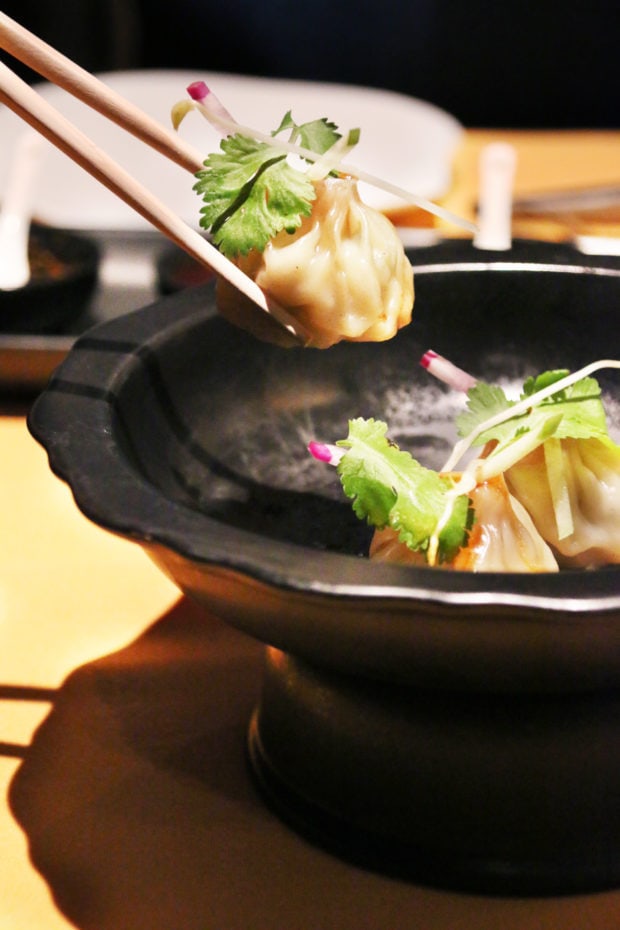 Recommended Bites: Nanjing-Style Duck is something really special with crispy skin and a green chili sauce, Jade Shrimp Har Gow (sometimes called a shrimp bonnet and serve with signature JiJi sauces), Chicken Spring Rolls with a delightful yellow marmalade and bold flavors, Kung Pao (spicy and perfected sauce with a crunch of nuts and your taste buds literally wake up with the spice), Wagyu Short Rib (this is the dish that MELTS IN YOUR MOUTH it's so good and tender. JUST WOW), Haksua Noodles (something I need to recreate at home because I am still having dreams about the deep rich flavor those thin noodles soaked up), Fried Wontons filled with lychee fruit for dessert with coconut and tapioca pearls (delightfully stunning and bursting with acidity and a subtle sweetness)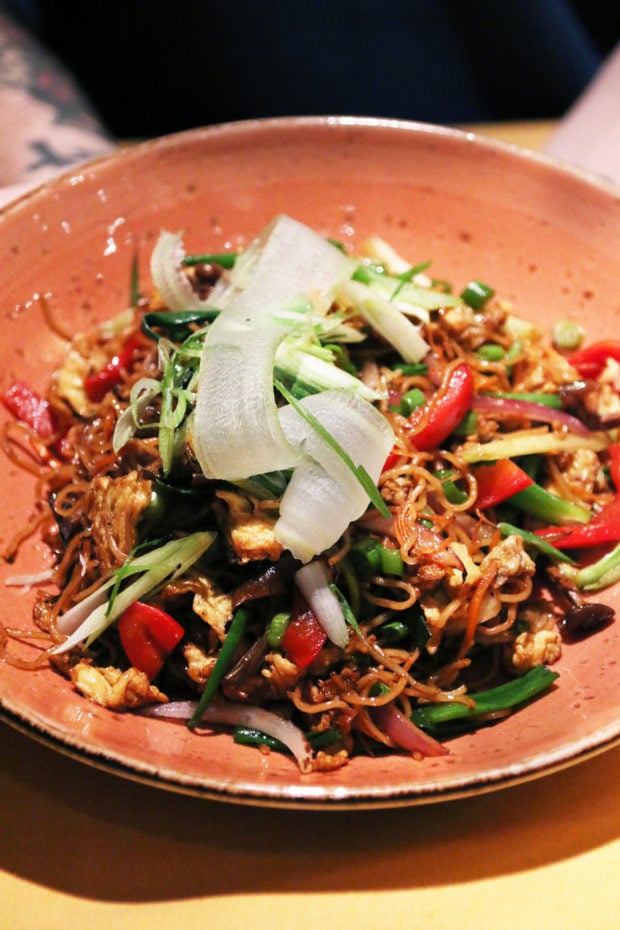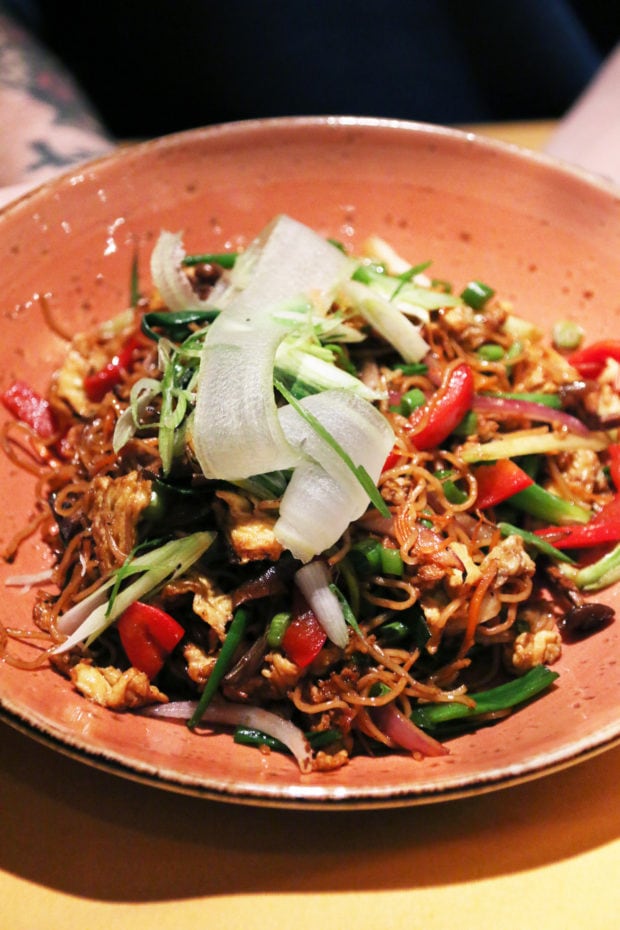 Pro Tip: Hit JiJi Asian Kitchen up for lunch because IT'S INCLUDED. It's a noodle bar lunch but it gives you a good sense of their flavors and it's a great value. Just be sure to get there on the earlier side because the line gets long FAST.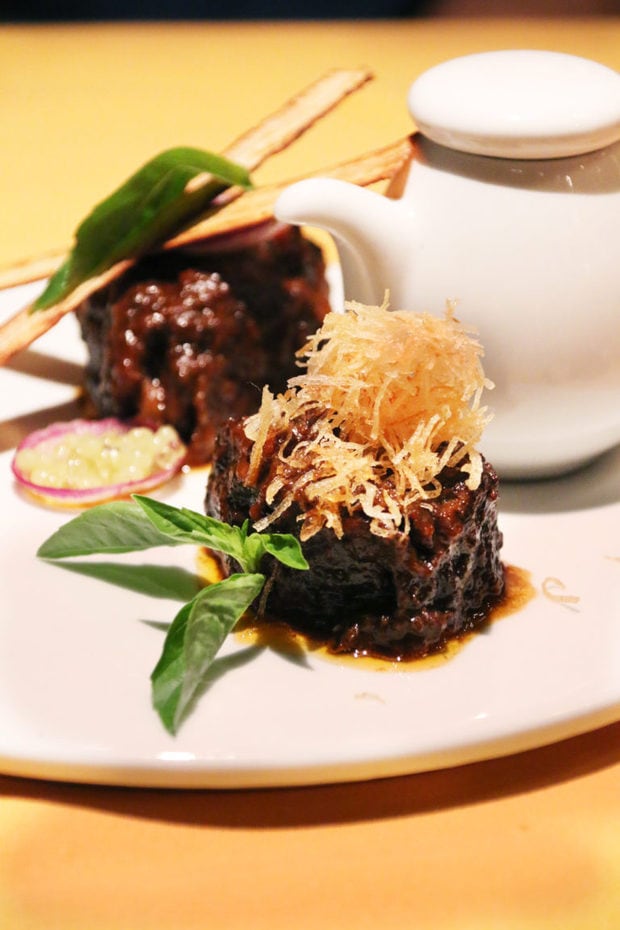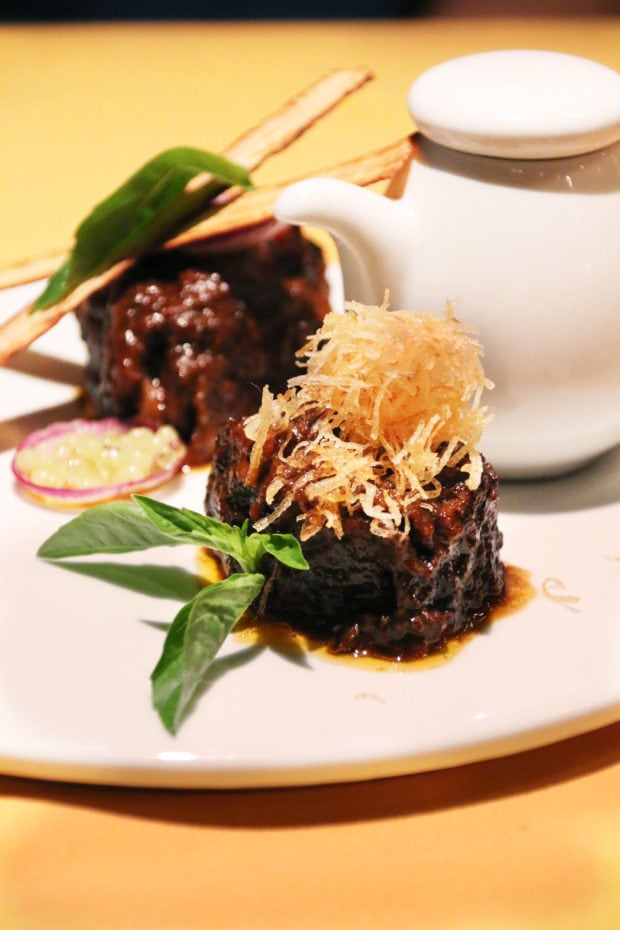 Dining Room
You may be tempted to skip the dining room given all the other tasty and mouthwatering options on the Carnival Vista, but I say hit the dining room at least a couple of times while you are on the ship for dinner. We really loved going there on the fancy dress up night! They had a ridiculously amazing menu that particular night with a pimento cheese puff appetizer that had me swirling with happiness.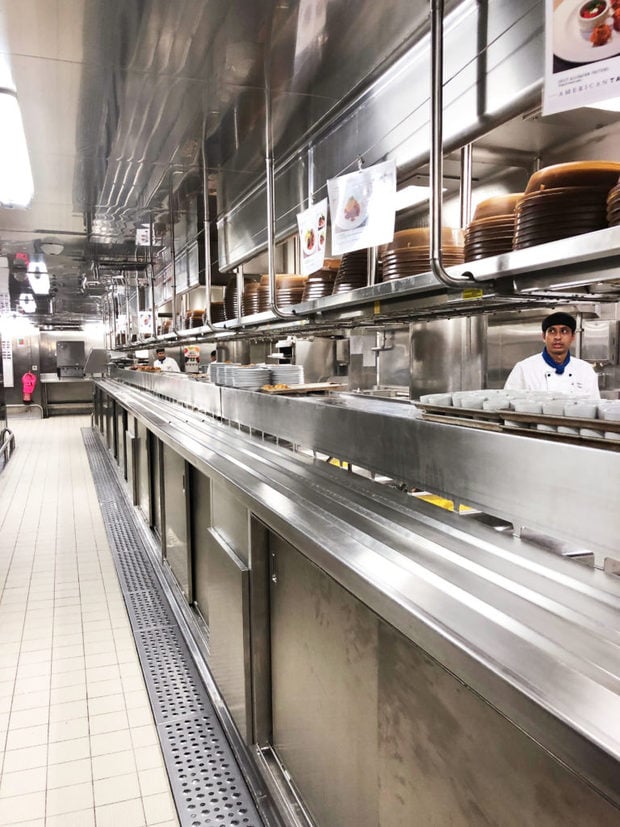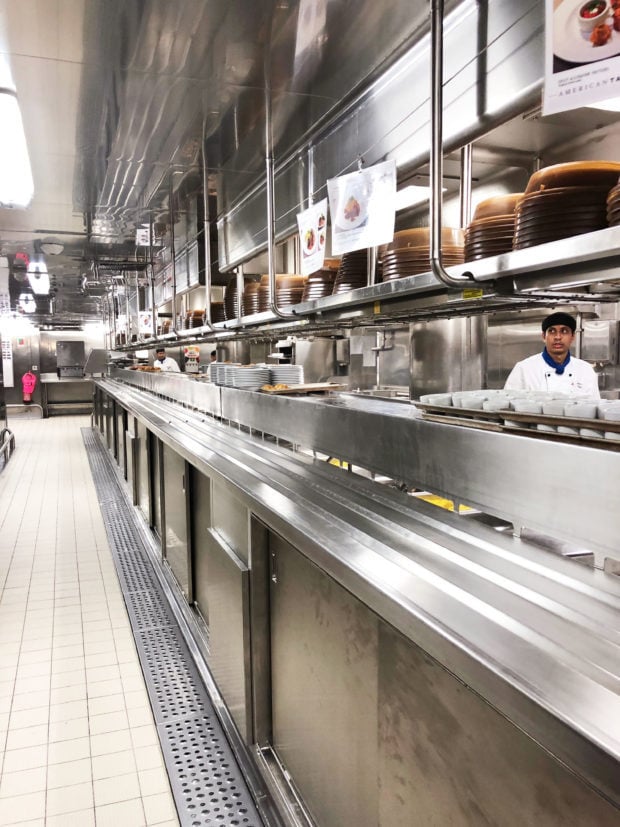 We were lucky enough to get a sneak peak behind-the-scenes of the main dining rooms and the upscale Chef's Table as well. We even had a tasting of the menu for the Chef's Table, chatting with the amazing chefs behind the scenes about food and where they get their inspiration! Like a stunning Bing Cherry Soup that was refreshing and light, not to mention incorporating local dishes and flavors. For example, while we were in the DR we tried a dish incorporating plantains and chorizo that really wow'd my taste buds. Then we got to the desserts and I nearly died from the Boston Cream Cake, Orange and Almond Cake, and the Chocolate and Cheesecake Brownie that made me jump up and down with delight.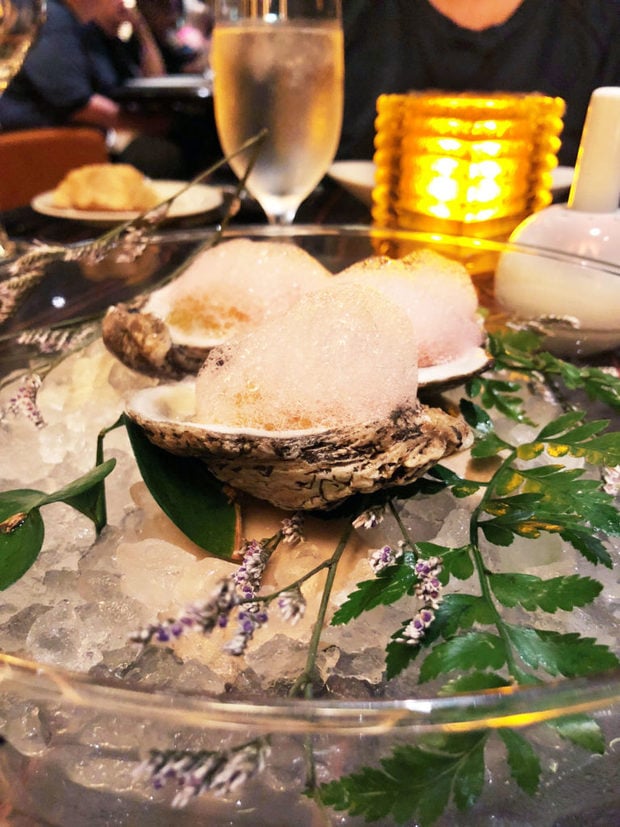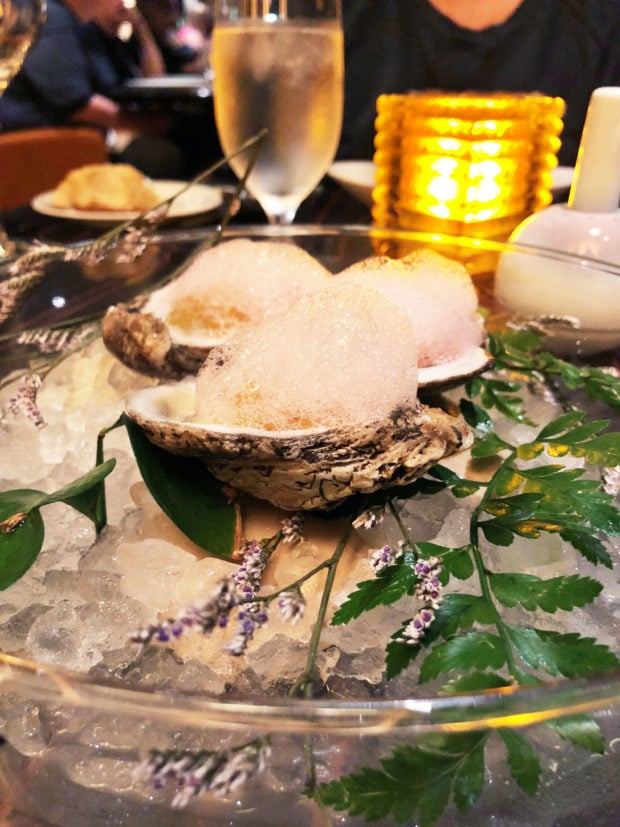 Steakhouse
This romantic restaurant is just the one to set aside for a date night on the ship. With low lighting, amazing ambience and incredible waitstaff, going here is just like going to your favorite fancy steakhouse. From the best wine list on the ship to tender steaks to a dessert experience I will never forget, this restaurant is the #1 indulgence to hit on the ship. If you are going to get anything, please get the dessert board. The chef brings out a cold slab and creates a dessert masterpiece right in from of your eyes with sauces, housemade candies, cookies and a white chocolate ball encircling an ice cream center that you get to crack open when they are done. Talk about a once in a lifetime experience!
Recommended Bites: Parmesan Three Ways (one of the more interesting things I've eaten, with parmesan as a foam, crisp and mousse making it a playful opener), Smoke & Ice Fresh Oysters (served with an apple mignonette and the most gorgeous presentation. The smoky sweet tart flavor comes through this cool appetizer, making it unforgettable!), Baked Onion Soup (overflowing with gruyere, swiss, and sourdough it's rich, flavorful and comforting), Surf and Turf (for the ultimate steakhouse experience on the ship served with delicious sauces)
Recommended Sips: If you are going to drink anything here, please oh please drink the wine. Their wine list is incredible, so it's a truly indulgent experience. Plus their servers actually know their wine and made some seriously amazing recommendations for us! The wine list is the best on the ship (see below for places to drink btw).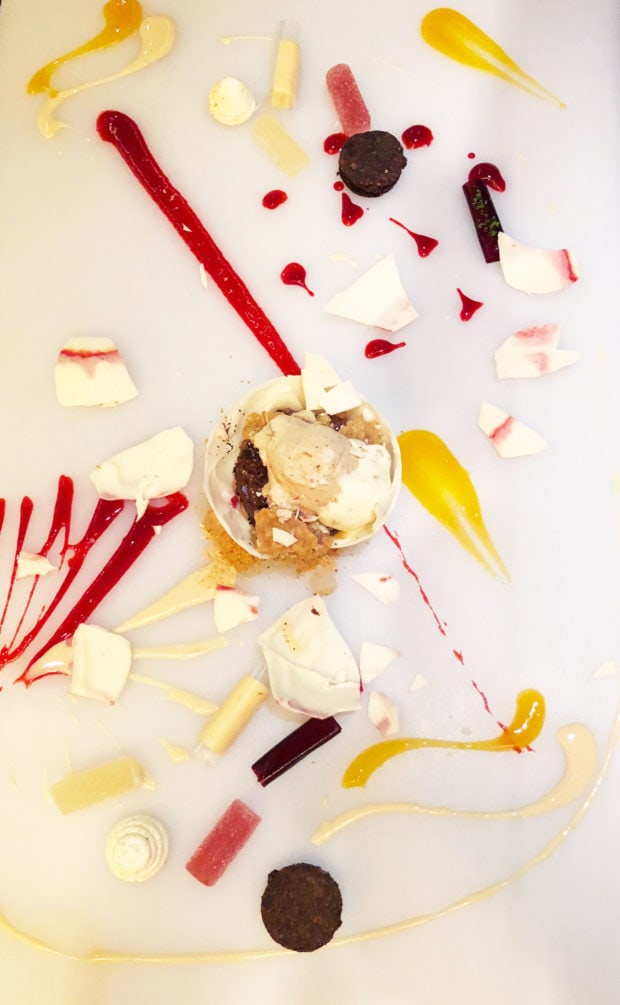 Bonsai Sushi
Fresh and beautifully plated dishes that are flavorful and just as good as some of the top sushi places in any city. The sashimi was so simple and so fresh, and the whole meal was an incredible value for sushi – I couldn't believe it! It's not included but it's so worth going to for a delicious and not so expensive dinner that'll you'll definitely end up waddling away from. We thought the portions would be small based on rumors we'd heard about typical cruise ship sushi, but their portions were just like the $12+ rolls you get on the mainland, for a third of the price.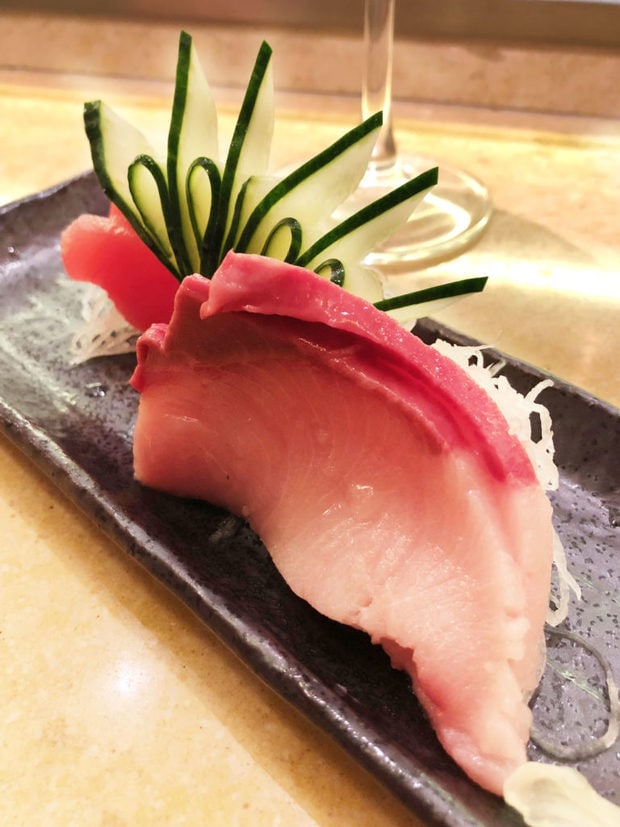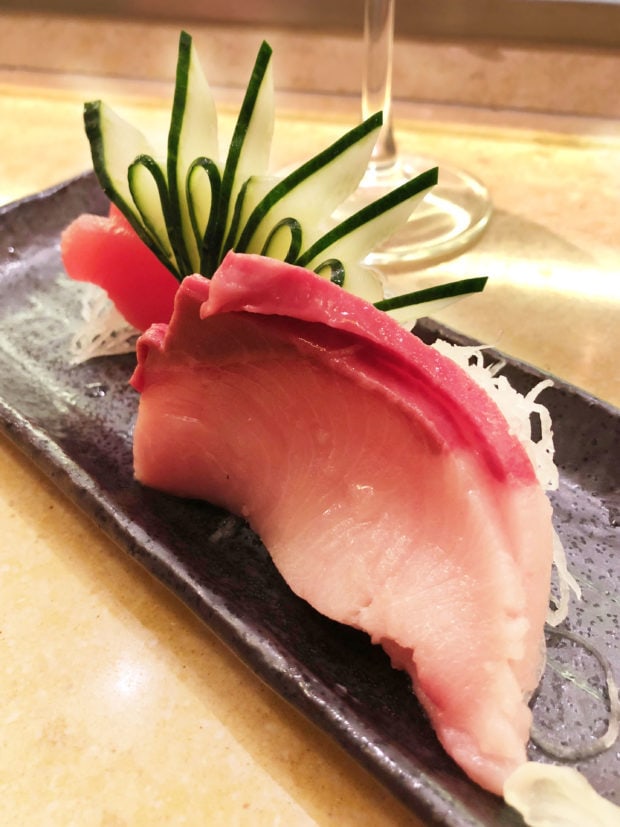 Recommended Bites: Waygu Beef (served on soft and fluffy steamed buns with tender glazed meat), Spicy Edamame with the really big coarse salt, Spicy Tuna Roll (SO MUCH TUNA and the flavors are layered really well), Tempura Roll with a delish yuzu mayo on top
Recommended Sips: Geisha Cocktail (not too sweet and nice bite of booze)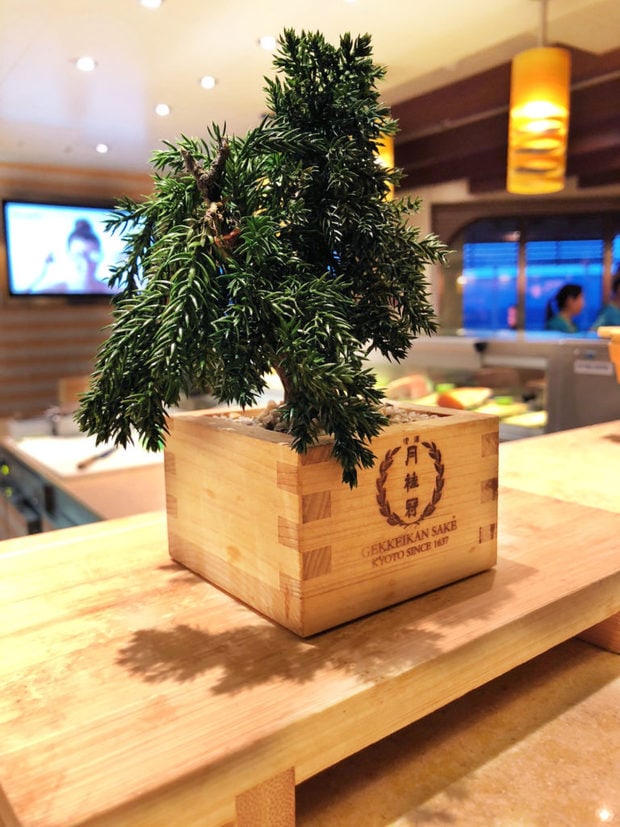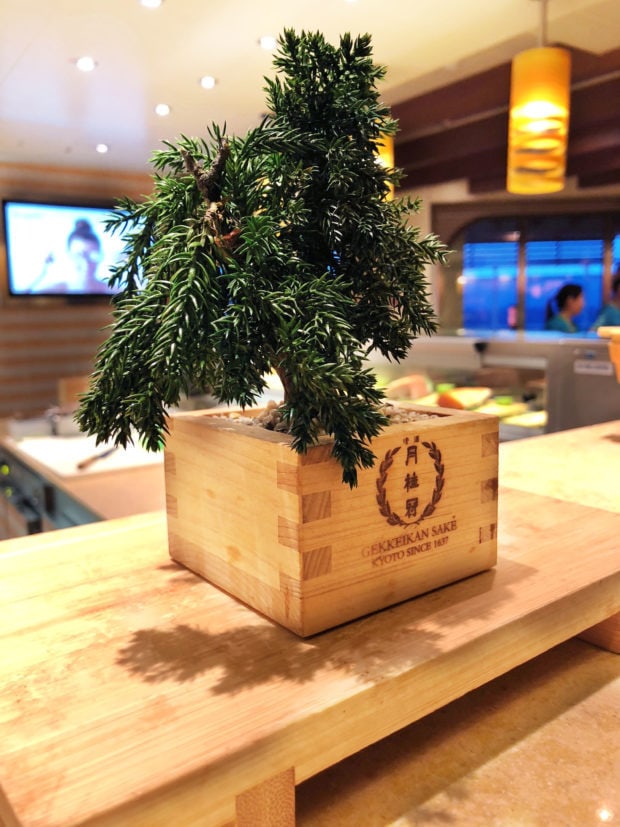 To Drink
Alchemy
This was hands down our favorite place on the ship. The two Romanian bartenders behind the bar were feisty and sassy, making every visit festive and fun. They were SO on point with their concoctions, so honestly I recommend just saddling up to the bar and ask them to make something for you. Tell them what you like in terms of flavor and just sit back to watch the witty banter and cocktail-making ensure. You will be over-the-moon happy with every single cocktail they make for you. TRUST ME. I only wish I had had time to hit up their mixology course!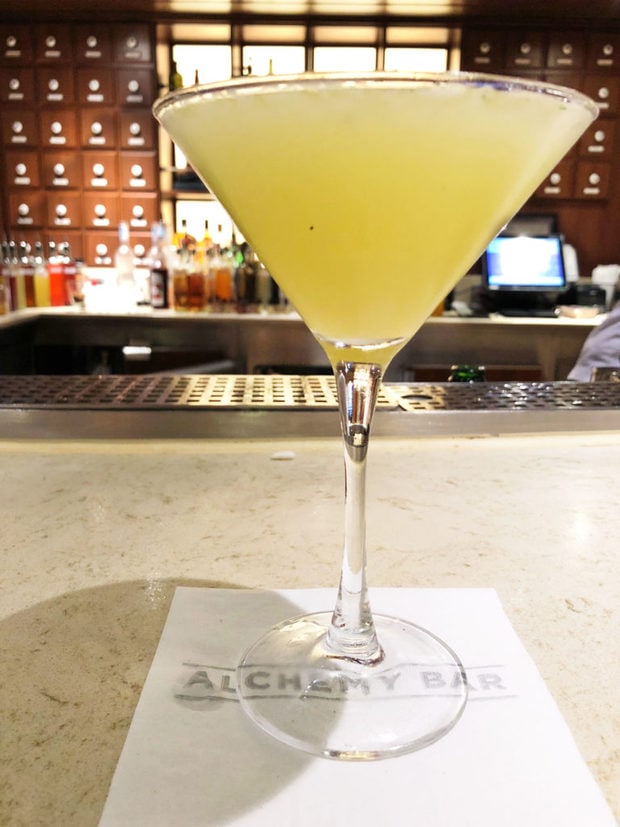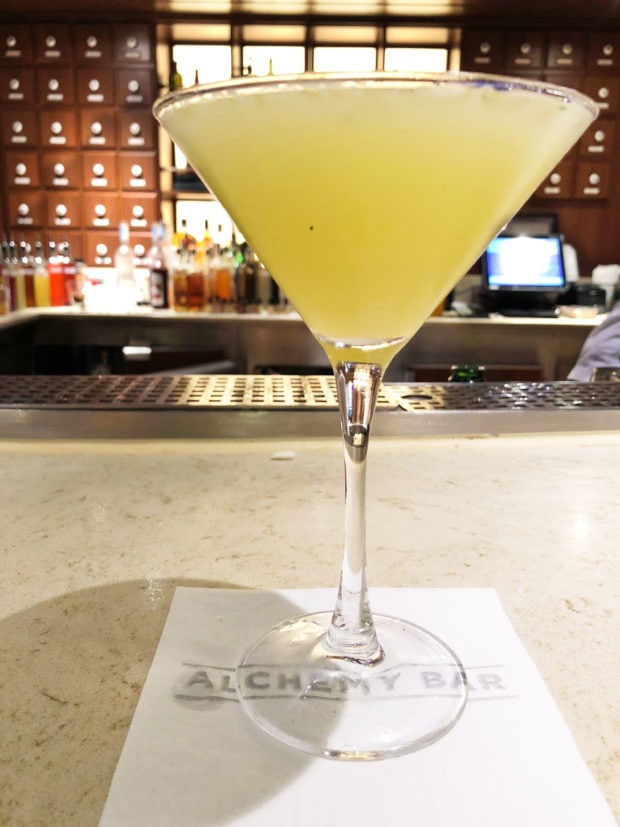 RedFrog Pub
Who out there is a beer lover? If anything, THIS should be the main selling point for you. On the Carnival Vista, not only will you find amazing food, wine and cocktails, but you'll also find an entire brewery floating on the ocean. You can simply head to the RedFrog Pub and Brewery for a casual beer or cocktail, some snacks and endless entertainment, BUT you can also go there for a brewery tour and tasting with the brewmaster. It's REALLY fascinating to learn how they brew beer at sea and supply the other ships in the fleet with their excellent frothy beer.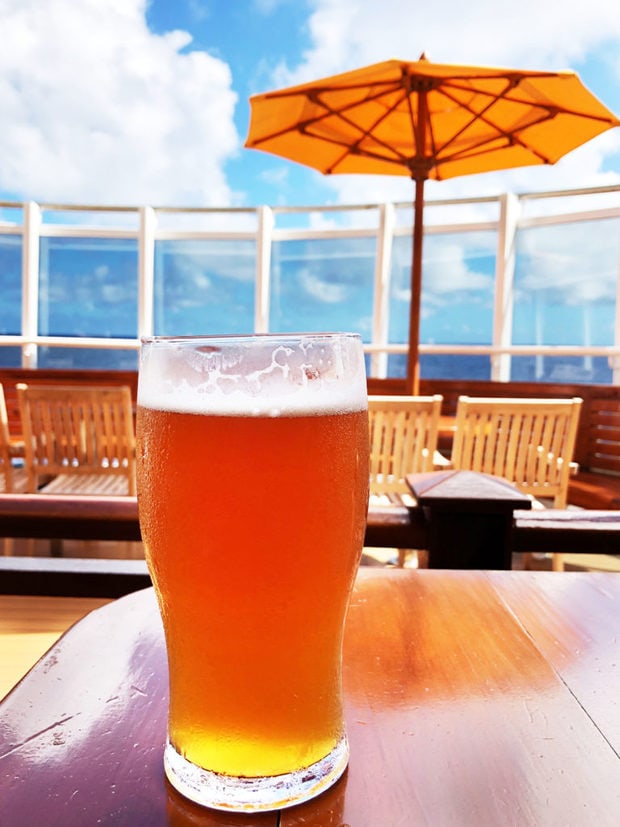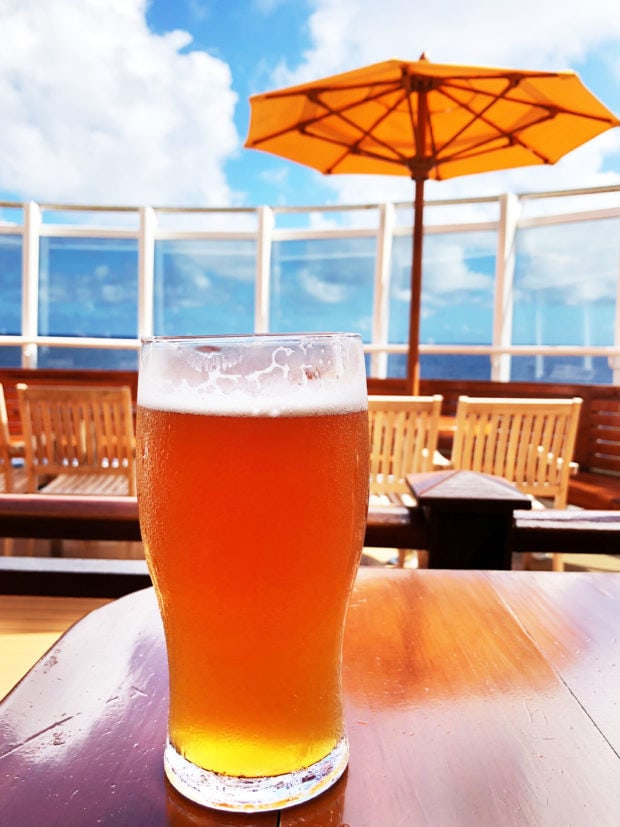 They even have a serve yourself station at the hightops along the window so you can pour to your hearts content, all with a swipe of your cruise ship card. There's shuffleboard and darts in the back to play and these amazing swinging tables out on the deck that are perfect for taking in that ocean over a card game with cold beers.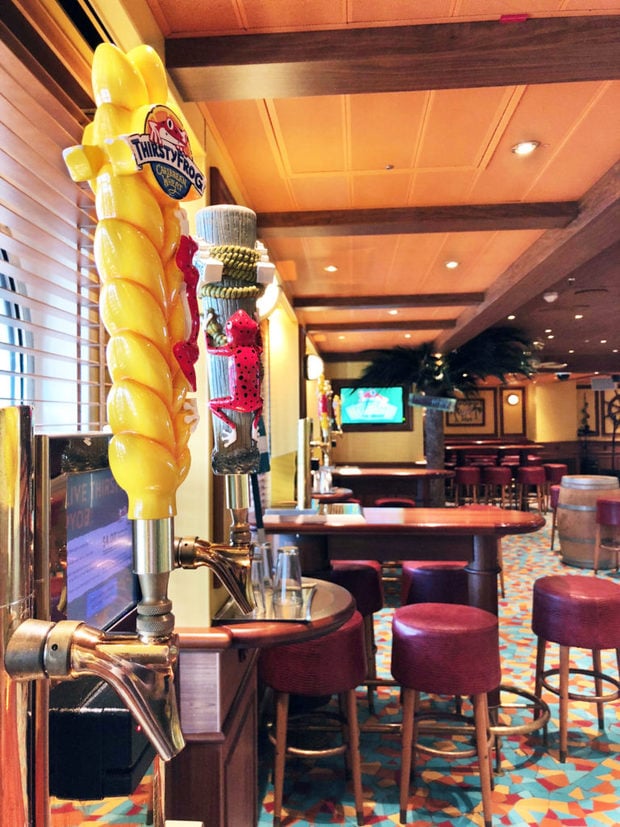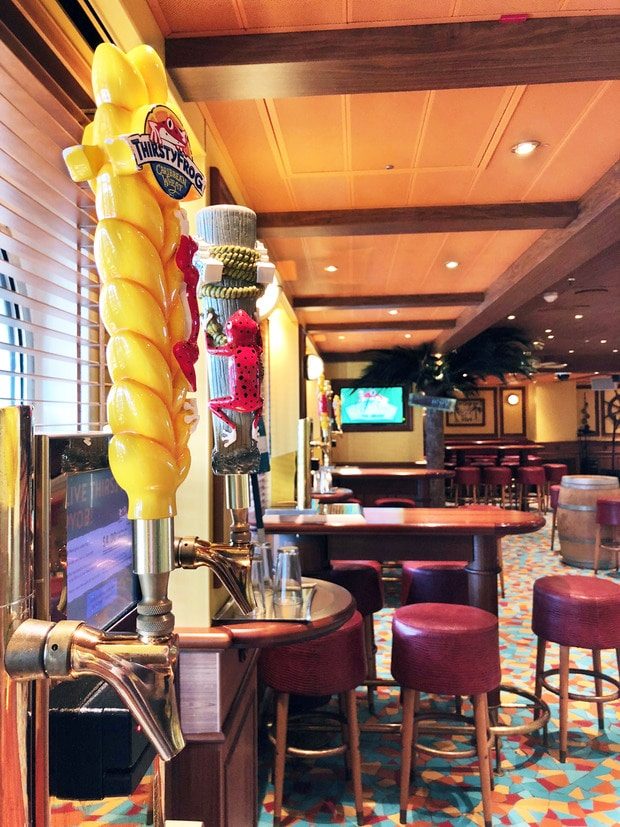 JavaBlue Cafe
The coffee shop on the ship is actually much more impressive than I was expecting! The best part is that most of the drinks are included in the alcohol beverage package (something I HIGHLY recommend purchasing if you are cruising with Carnival because it's a GREAT value). I loved enjoying a dirty chai every morning to get my day started the right way 😉
Steakhouse
The best place to get wine on the ship is hands down the Steakhouse. Now, you don't want to eat there every day (well, most likely anyway), but if you pop into the bar area when they open at 5pm, it's the best spot to get a glass of wine before your meal that evening. You can hang out as long as you want, as long as they don't need the spots for people with reservations! We had a couple of glasses before hitting the dining room, and it was just the ambience you would want for a dinner date. It's amazing how you can get a whole date night on one ship!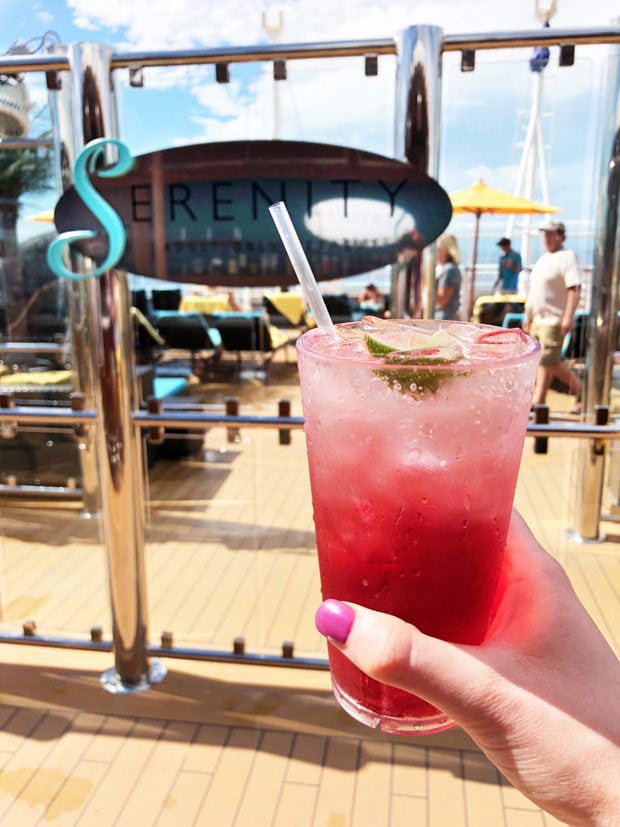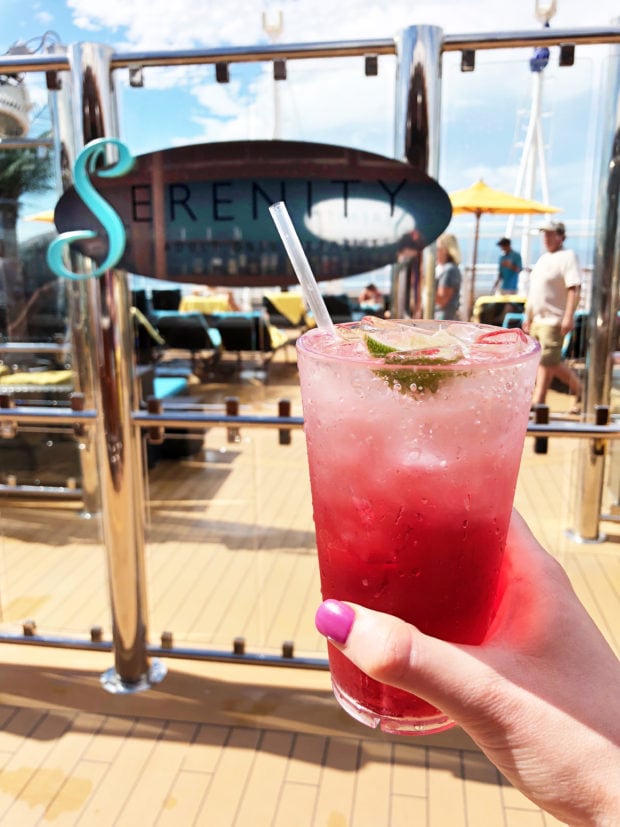 Serenity Adult Only Retreat
Want a quiet place with delicious drinks and no children? This retreat is the place to go. We especially loved that they had amazingly tasty SKINNY cocktails served up here, so while you are lounging in the hot tub or on a day bed, you don't have to feel guilty about your cocktail choices (which is necessary given how much I ate on that cruise…)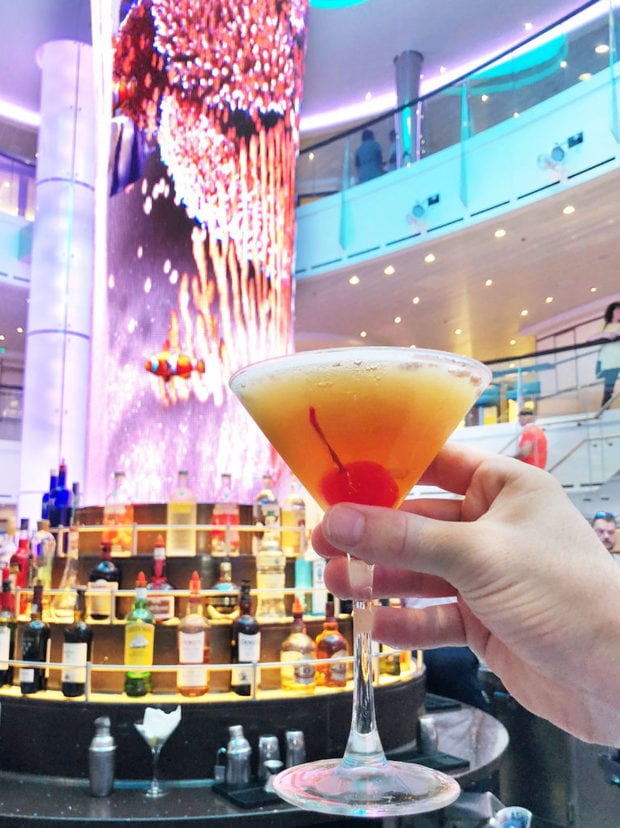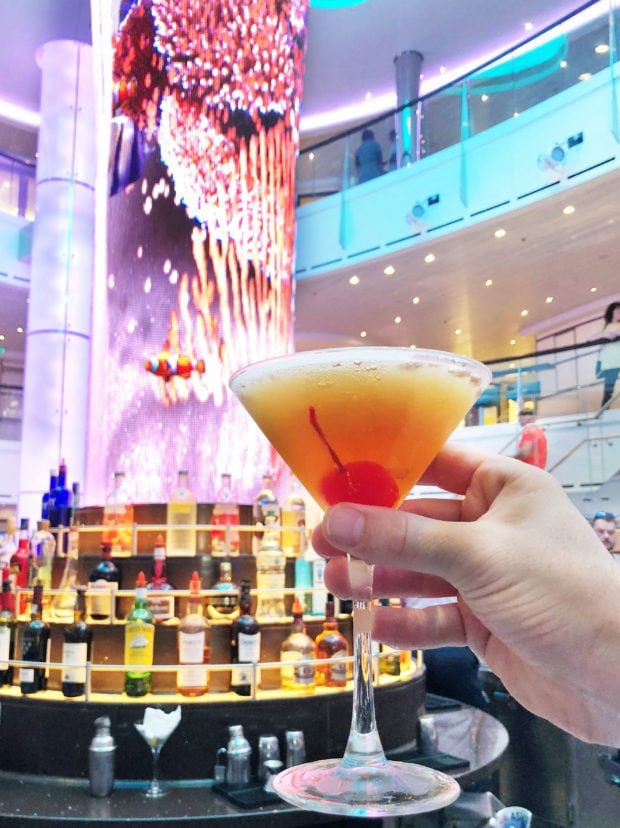 Lobby Bar
The perfect pit stop for a drink before a show? The Lobby Bar! It's a lively center spot to grab a seat at the bar and wait for a cocktail or glass of wine to take into the show (the beer selection isn't my fav here, head to the Red Frog Pub for that). It's a great spot for people-watching too, especially on fancy night to see everyone dressed in their evening best and even to catch some of the theme nights certain groups that are traveling together do! We caught a GIANT family all dressed up in flapper garb and it was EPIC.
Havana Bar
Get a little boogie with your booze when you hit the Havana Bar in the evening! With Cuban cocktails and a lively band, you can enjoy incredible music and an atmosphere that'll make you feel like you are right in the heart of Havana.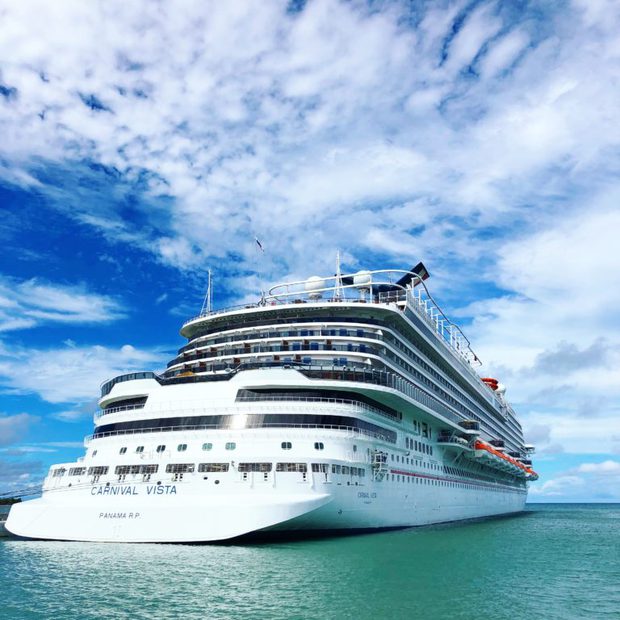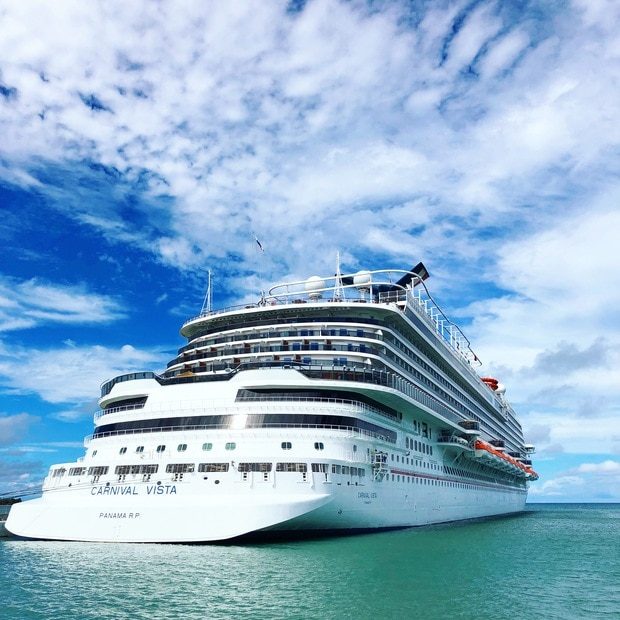 To See
Just check out my Cruise Ship Secrets for Millennials to master the Carnival Vista, or any other Carnival cruise ship!
For a quick hit list, check out my noteworthy mentions:
Dive In Movies (instead of a drive in, it's right over the pool! Get it?!)
Check out the shows (yes, they are actually really good and worth checking out!)
The Punchliner Comedy Club (every act was amazing!)
RedFrog Pub (for endless games and karaoke)
Nightclub (because who doesn't want to dance the night away in the middle of the ocean?!)
Art auction (seriously so much fun, and free champagne!)
Mini golf, cornhole and so much more in their game area on the top deck (with AMAZING 360 degree views!)
Who's ready to hit the high seas with me?!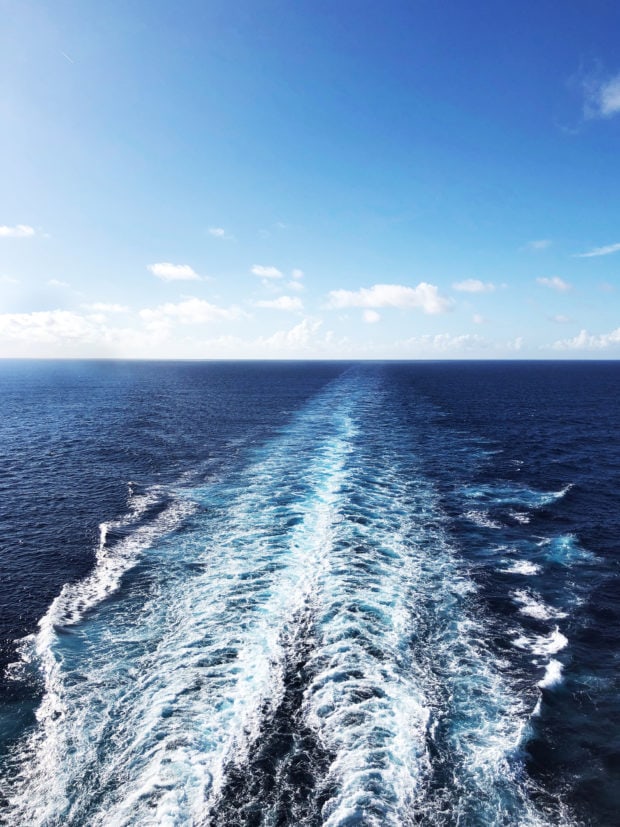 Pin this Foodie Guide to the Carnival Vista for later!