Lemon Meringue Bars (aka The Citrus Sadness Remedy)
The weather in Denver was crazy last week. It went from sunny to tornadoes in less than 12 hours. Naturally our house had to get hit with massive amounts of hail at midnight on Wednesday, leaving me completely exhausted.
The worst thing of all is the state of my new garden… Let's just say its bad. Really, really bad. My tomato plant is broken. My lovely herbs which were in abundance are now gone. Literally no flower petal remains on any of my roses.
As I went through the following day attempting to recover from minimal sleep and a devastating loss, I starting losing the battle to, as my mother would say, "turn my frown upside-down."
I knew baking was the only way out of this slump.
You know the hardest thing about baking? Choosing the right recipe. It is ridiculously difficult when you want to make everything all at once and then follow the baking marathon by shoving massive amounts of chocolate and sugar in your face.
When I was in Italy, the only thing that brought me comfort when I was having a crappy day (usually the result of conflicts due to my poor Italian and walking what seemed like 5,000 miles to and from school) was a glass of limoncello. Therefore on this particularly low Thursday, I figured lemon was the only solution to my problems since our limoncello batch is still in process and I don't have a stash stored up.
I am in love with these lemon bars. They are SO much better than those hum-drum lemon bars the PTA used to sell at bake sales during grade school. WAY better than those.
What do these bars go great with? With yet another bottle of champagne of course! That's the second one in a week…
Really.
It was my husband's idea. I swear….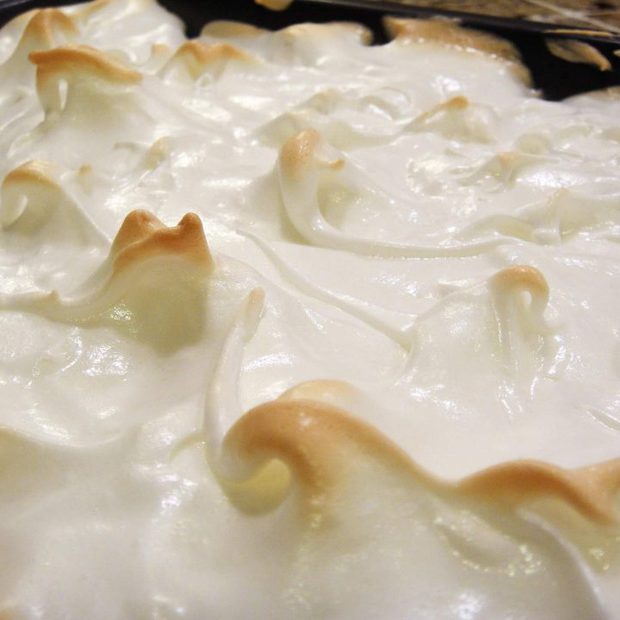 Lemon Meringue Bars
Dreamy lemon meringue bars are a great dessert in the summer.
Ingredients
16 Tbsp unsalted butter, softened
1 3/4 cups plus 2 Tbsp all-purpose flour
1/4 cup plus 3 Tbsp confectioners sugar
2 Tbsp plus 1 tsp freshly grated lemon zest
1/4 tsp coarse salt
6 large eggs, plus 4 large egg whites
2 1/4 cups plus 2 Tbsp granulated sugar
3/4 cup plus 3 Tbsp fresh lemon juice
Instructions
Preheat oven to 350.
Put butter, flour, confectioners sugar, 2 tsp lemon zest, and the salt in the bowl of an electric mixer fitted with the paddle attachment. Mix on medium speed until well blended.
Transfer mixture to a 9-by-13-inch rimmed baking sheet. Press batter evenly into baking sheet. Chill in freezer 10 minutes. Bake until golden, 20 to 22 minutes. Let cool completely on a wire rack.
Whisk together whole eggs, 1 3/4 cups plus 2 Tbsp granulated sugar, the lemon juice, and 1 Tbsp plus 2 tsp lemon zest. Pour over crust. Bake until filling is set, 18 to 20 minutes. Let cool completely on a wire rack. Keep oven at 350.
Put egg whites and 1/2 cup granulated sugar in the clean bowl of an electric mixer fitted with the whisk attachment. Beat on medium-high speed until stiff peaks form.
Using an offset spatula or the back of a spoon, spread meringue over filling, swirling to create soft peaks. Bake until meringue begins to brown, 8 to 10 minutes. Let cool completely. Cut into bars.