Please note this post contains affiliate links.
My Grandma's Lavender Cookies are sweet, floral and fragrant – a recipe that is very near and dear to my heart. They are absolutely simple to make and have a lovely glaze on top. Perfect for spring or summer, I love to garnish them with a sprinkle of lavender buds! Makes 2 dozen.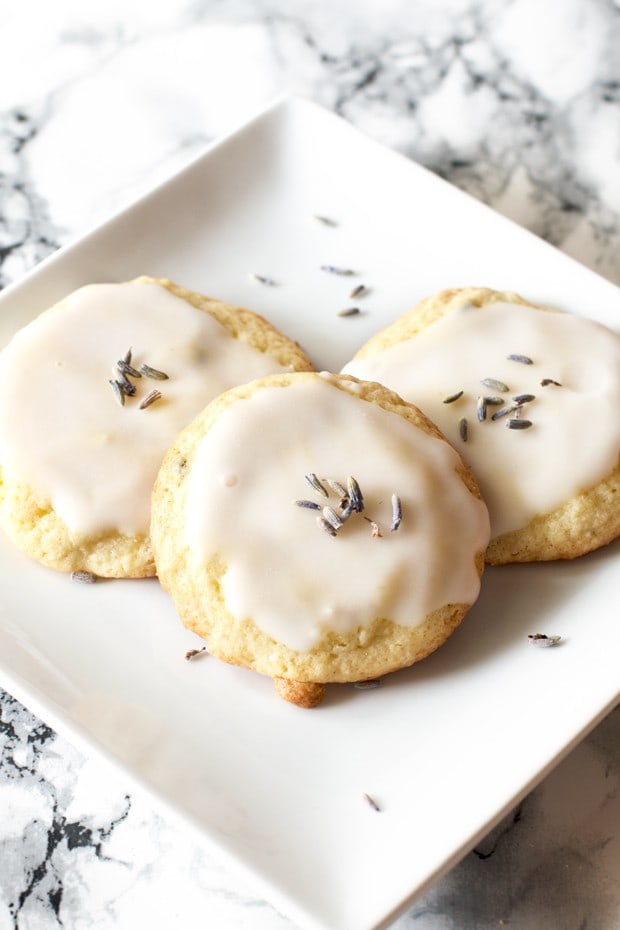 Lavender cookies are the first things I remember baking with my grandma Alice. I am sure there was probably a lot of recipes I made with her before, but this is a recipe I remember most.
I am pretty sure it started with me wanting to decorate cookies with flowers and my grandma ever-so kindly (she was the kindest woman in the world) giving into my demands.
The recipe was so simple and I helped with every step along the way. The best part was when the cookies cooled and we were ready to ice them. My grandma had me pick flowers from her garden and we laid the petals on top of each cookie, gently topping them with a thin icing.

The lavender cookies were the most beautiful things I've ever made, even to this day.
I am sure my grandma sneaked in her magical fixes, I was always a mess in the kitchen.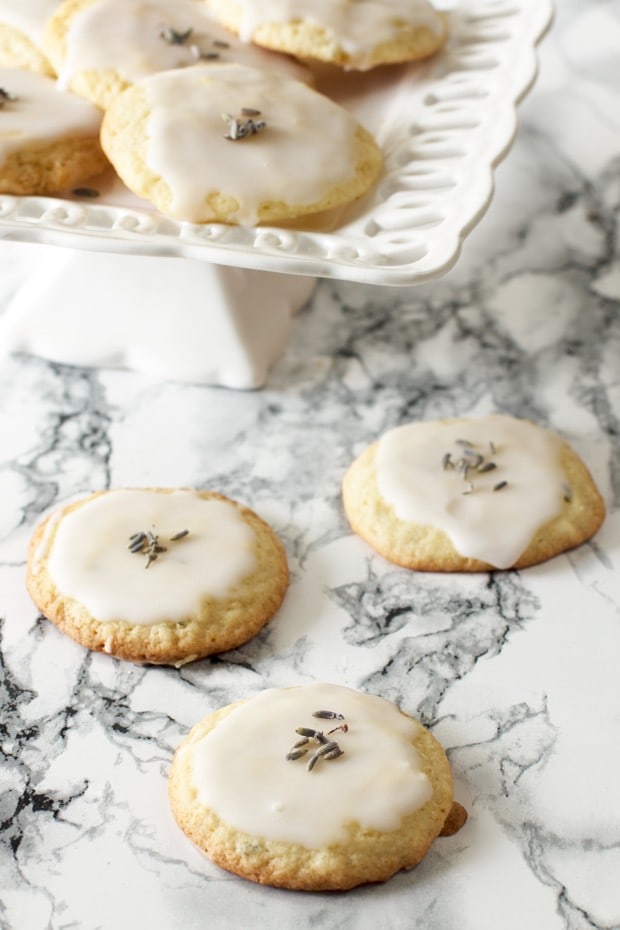 Any time I have a meltdown in the kitchen, whether a recipe isn't working for me or I just burned dinner, I think back to those cookies with my grandma.
I remember my mom walking in and her jaw dropping to the floor. It was the best feeling ever and I was beaming with pride. My grandma smelled of cookie dough and lavender.
Basically it was one of those iconic experiences that I fondly remember whenever I'm asked about how I got into cooking and baking.
I miss my grandma terribly every year when spring turns into summer.
The roses in my front yard begin to come to life and I think of her epic rose garden.
This year especially for some reason and making these cookies in my kitchen on a sunny day, I felt like she was there with me, whispering to me to lick the spoon and not let any dough go to waste.
So today I am sharing a piece of my heart and my family with yours. Here's to cookies, grandmas, and summer!
This Recipe's Must-Haves
I love my half sheet baking pan and silicone mats for baking these cookies. They are two of my most used items in my kitchen.
You will also need a stand mixer or hand mixer and bowl to make the dough for the recipe.
To make the frosting, you will need one of your mixing bowls and a whisk.
These cookies are the perfect addition to any springtime or summer party. I love making them the day of because they are so delightful, it's hard to stop yourself from gobbling them up! Of course, if you have restraint, you can certainly make them the day before! Just store them in an airtight container after you've frosted them and let the frosting set.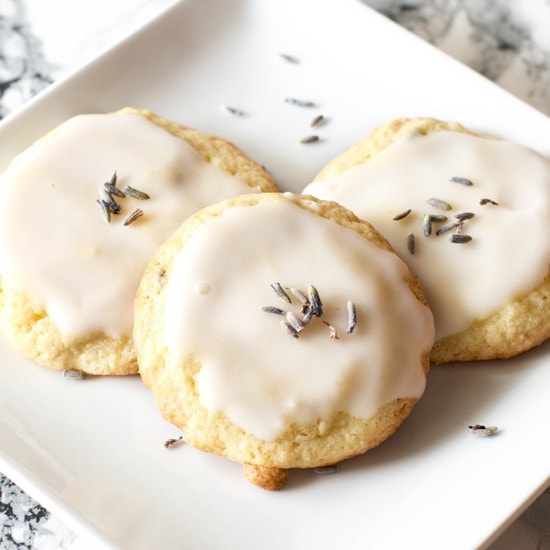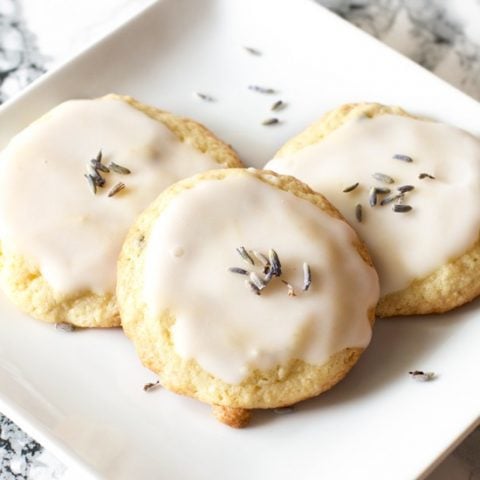 Grandma's Lavender Cookies
Just like grandma used to make, these cookies are sweet, floral and fragrant.
Ingredients
Cookies
2 eggs
1/2 cup unsalted butter, softened
1 cup sugar
1 tsp dried lavender buds (also labeled leaves or flowers depending on where you shop!)
1 1/2 cups flour
2 tsp baking powder
1/4 tsp salt
Lavender Icing
1 cup confectioners sugar
1/2 tsp lavender extract
2-3 Tbsp water
Instructions
Preheat oven to 375˚F. Grease 2 lined baking sheets or line with silpats.
In a blender, combine eggs, butter, sugar and lavender leaves. Blend on low until well combined and the lavender has broken up into small pieces.
Sift together flour, baking powder and salt in a large bowl. Pour the wet ingredients over the dry and stir together until combined. Drop dough onto the greased baking sheets, 1 Tbsp at a time.
Bake cookies for 10 to 15 minutes, until the edges are golden brown. Cool completely on wire racks.
In a small bowl, combine sugar, lavender extract and water, stirring until it forms a smooth frosting. If the frosting is too thick, you can add more water (1 tsp at a time) until it's the desired consistency. Once the cookies are cool, spread them with a thin layer of icing and garnish with a few dried lavender flowers.
Recommended Products
As an Amazon Associate and member of other affiliate programs, I earn from qualifying purchases.