Peppermint Chocolate Chip Biscotti
Peppermint Chocolate Chip Biscotti are a killer holiday gift to surprise your loved ones with this Christmas. Get in the season with peppermint and extra chocolate because the diet ain't happening until January 1st!
The Great Food Blogger Cookie Swap is one of my favorite times of year (yes, yes in addition to Christmas of course. And my birthday… Just sayin'…).
This is my third year participating and, let me tell you, getting three dozen cookies from food blogger friends across the country is pretty sweet (haha see what I did there?).
Obviously the direct result is being hyped up on sugar every day leading up to Christmas, but it also gives me an excuse to make even more holiday cookies.
Peppermint and chocolate are my two favorite Christmas flavors.
The true inspiration came from my first cookie swap when I received chocolate chip biscotti that were SO good, I hoarded them all to myself. Seriously, no one else got a bite. It was just me, my biscotti and my hot chocolate that year and it was glorious.
I decided it was about time to learn how to make these bad boys for myself, and actually learn to share (fighting my instincts here since I was raised an only child).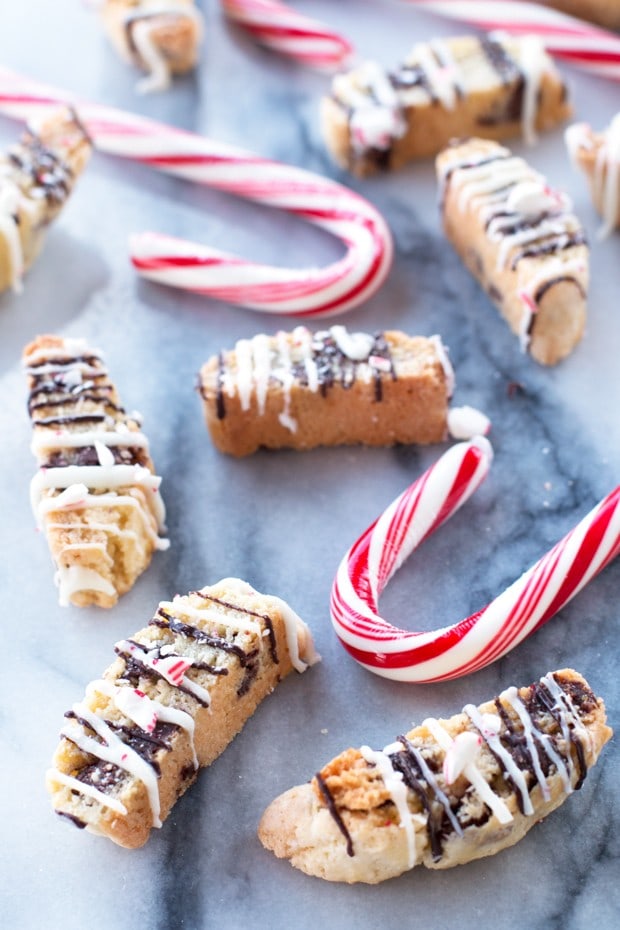 Sidenote: I can't stop listening to this song. Lunchmoney Lewis and I apparently have a deep-rooted bond that all stems from the love of dance. I wonder if he has epic kitchen dance parties like I do…?
Also another sidenote, being buried in over a foot of snow was SO fun yesterday…
I curse being on a corner right now – do you even realize how much more sidewalk there is to shovel?
I mean, I appreciate the workout but my back is currently on fire.
I'm old. Damnit.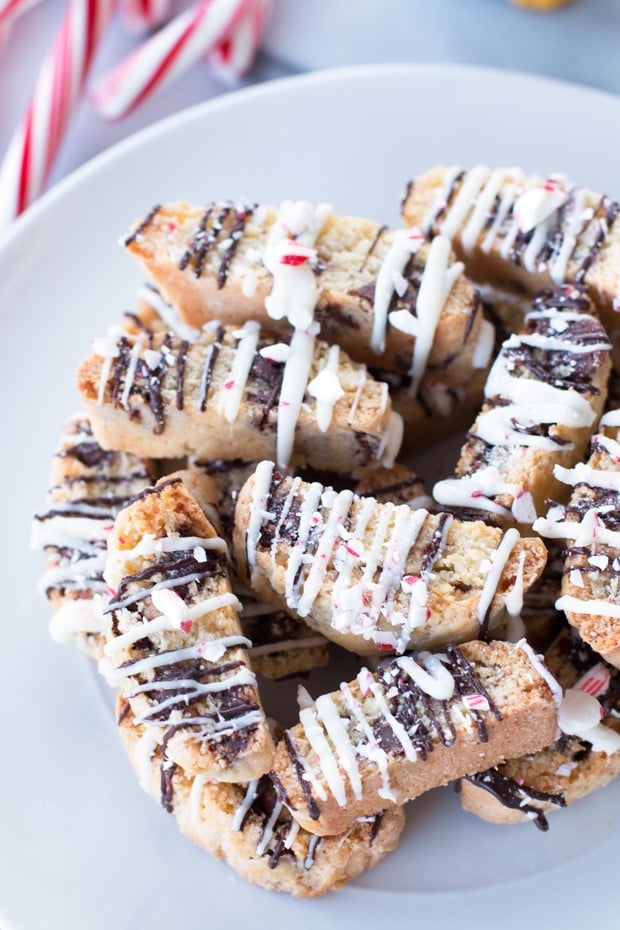 Focusing on the cookies now.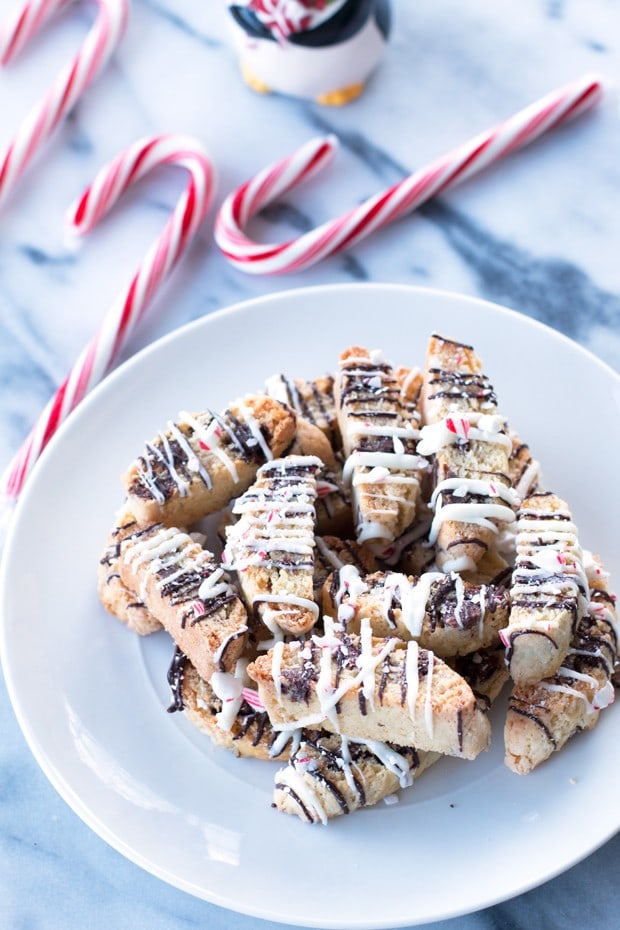 These cookies, spiked hot chocolate and a pile of Christmas movies are in my future for the next week (how is Christmas next week?!).
I might even make another batch and hoard them to myself again… No shame, I know. #cantstopwontstop
This Recipe's Must Haves
Pin this Peppermint Chocolate Chip Biscotti recipe for later!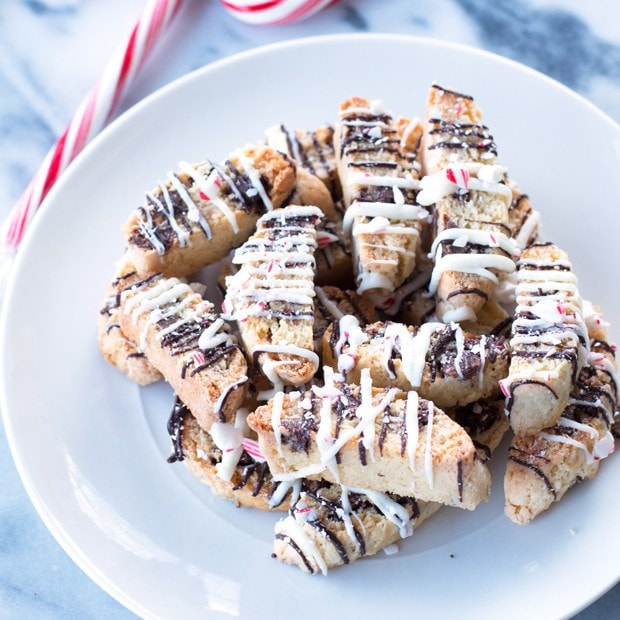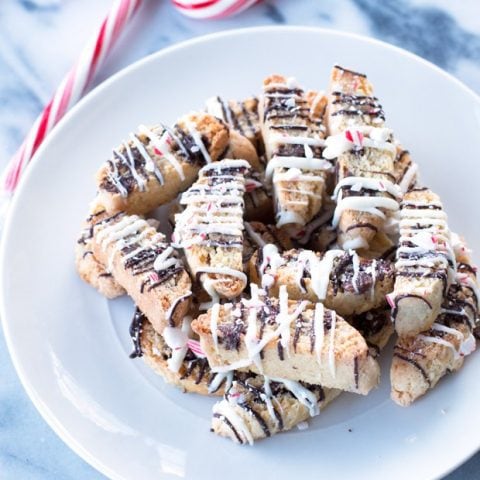 Peppermint Chocolate Chip Biscotti
Yield: 5 dozen
Prep Time: 10 minutes
Cook Time: 40 minutes
Additional Time: 10 minutes
Total Time: 1 hour
The perfect cookie to accompany that morning cup of coffee, with a kick of chocolate and peppermint!
Ingredients
2 cups all purpose flour
1 cup sugar
1 tsp baking powder
1/4 tsp salt
4 Tbsp unsalted butter, cold and cubed
3 eggs, beaten
8 oz. milk chocolate chips
1 tsp peppermint extract
1 tsp vanilla extract
3 oz. dark chocolate
3 oz. white chocolate
Crushed candy canes
Instructions
Preheat oven to 350 degrees.
In a large bowl, stir together flour, sugar, baking powder and salt. Cut in the butter using two forks (or your hands) until the mixture resembles crumbs.
Set aside 1 Tbsp of the beaten eggs. Add the rest of the eggs, vanilla extract and peppermint extract to the flour mixture and knead until the dough comes together.
Turn the dough out onto a clean surface and divide into four even pieces. Roll each piece into a long log, approximately 8 inches by 2 inches. Place logs on greased cookie sheets and brush the tops with the remaining beaten egg.
Bake the logs for 20 to 25 minutes. Remove from the oven and cool 10 minutes. Keep the oven on!
Once cooled, cut the logs into 1/2" slices and place cut-side down on the baking sheets. Return to the oven and bake for 15 minutes. Cool for 15 to 20 minutes.
In two small bowls, melt the chocolates separately in the microwave in 30 second intervals, stirring between, until smooth. Add each melted chocolate to it's own Ziplock bag and trim the corner. Drizzle the cookies with both chocolates and sprinkle crushed candy canes on top.
Notes
If you live in a drier area, you may have to add 1 Tbsp of water to the dough to bring it together (particularly applicable in Denver!).