Chewy Double Chocolate Peanut Butter Cookie Bars are an indulgent treat everyone in the family will love. The chewy chocolate cookie bars are packed with dark chocolate and peanut butter chips, making every bite divine.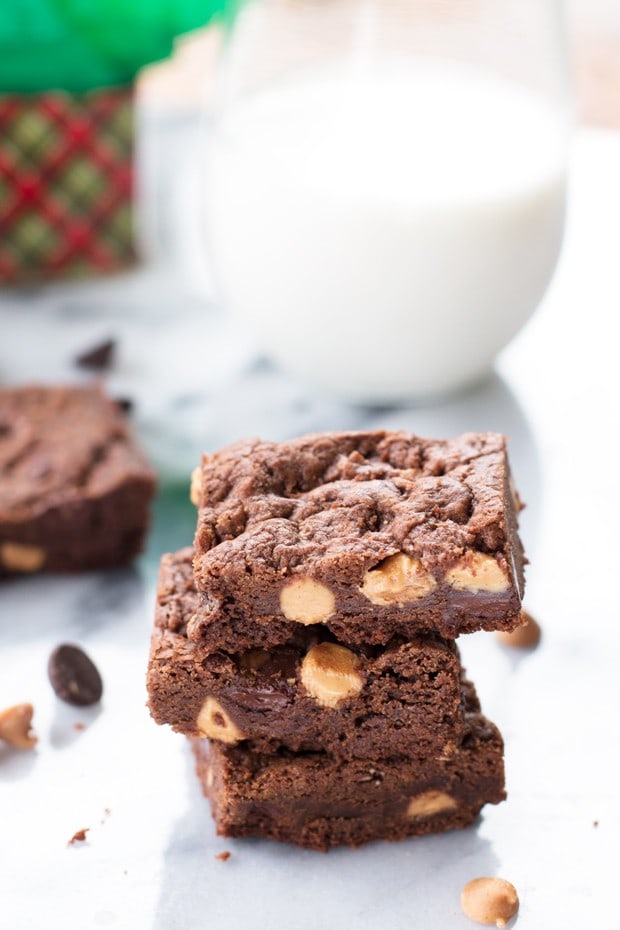 It's cookie season in my house this month! How about you? I feel like I am baking new cookies every single week… Oh wait, I am!
Plus getting three dozen ridiculously delicious cookies in the mail from fellow fabulous food bloggers – it's no surprise that the diet ain't happening until January. I mean, let's be real people.
These new cookies have topped my recent batches by leaps and bounds though. And no it's not just because they're chocolate.
Well, it's mostly not just because they're chocolate.
Plus I just noticed I'm posting something chocolate for the second post in a row…
Don't judge ok? It's called the winter diet and it's where you pack on the pounds before losing them. It makes you feel better to lose 10 pounds versus 5 pounds!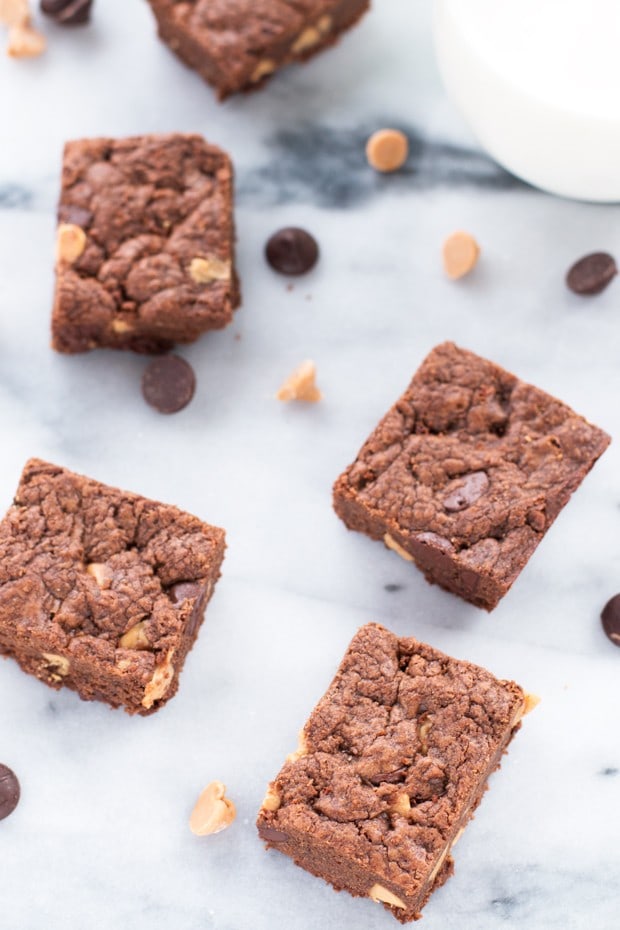 Yep that's what I'm going with.
The double chocolate and peanut butter combination in these chewy cookies makes them particularly addictive for any chocolate peanut butter fans out there (and who ISN'T one of those, right?).
If you're anything like me, you're baking up a storm for the holiday season and boy oh boy do I have a HUGE surprise for you…
I'm lucky enough to have teamed up with 50 other bloggers to bring you The Sweetest Season's Sweetest Cookie Giveaway! There's an INSANE cookie baking prize package below…
Seriously, it's so good I wish I could enter!! Check out the awesomeness below the cookie recipe!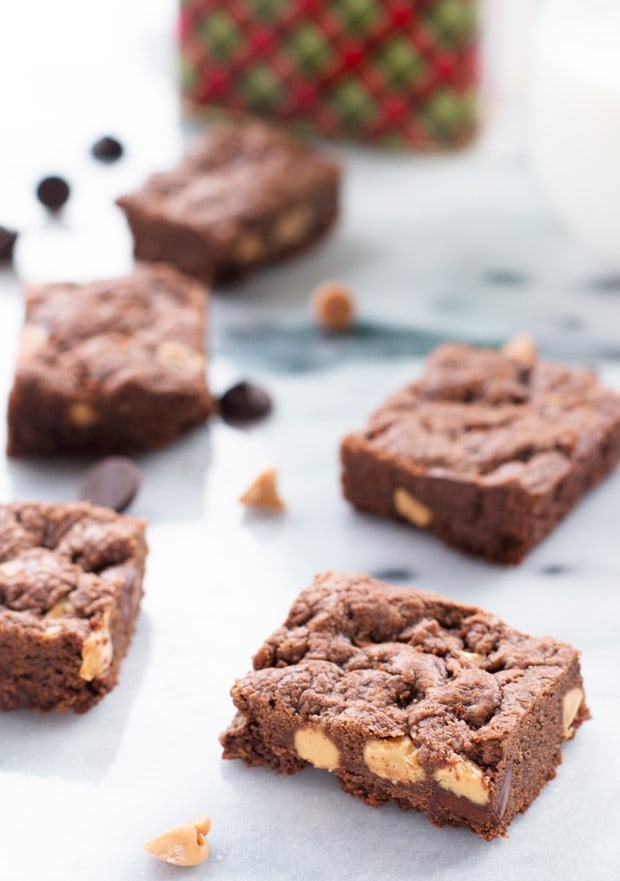 But more on that in a minute.
Let's just keeping staring at these gorgeous little cookie bars for one more second…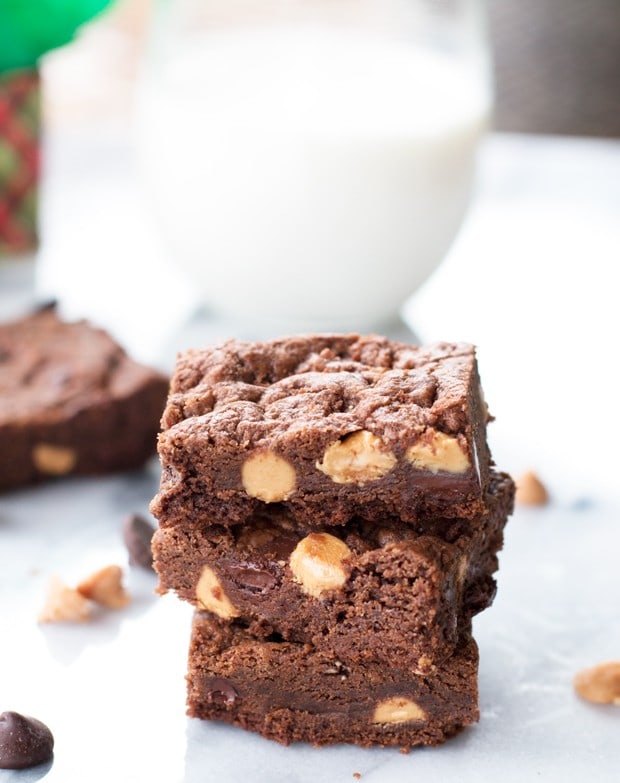 Are you drooling yet? Because my mouth is watering and I'm going to go grab a bar for breakfast right this minute.
Winter diet ALL THE WAY.
Disclosure: I received free product from Imperial Sugar, Dixie Crystals and Bob's Red Mill as part of The Sweetest Season Cookie Exchange. As always, all opinions and recipe are my own. Thanks for supporting the brands that support Cake 'n Knife!
This Recipe's Must Haves
Pin this Chewy Double Chocolate Peanut Butter Cookie Bars recipe for later!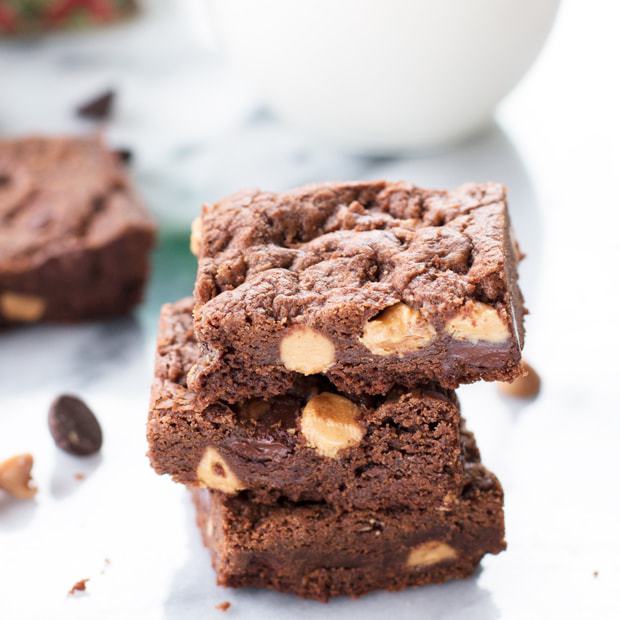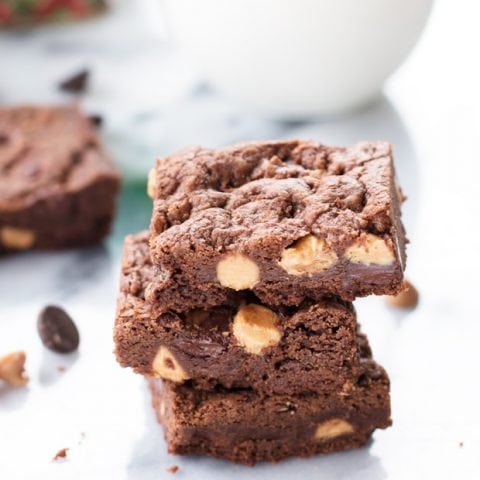 Chewy Double Chocolate Peanut Butter Cookie Bars
Yield:
20 large cookie bars
Double chocolate AND peanut butter? Cookie bars don't get much better than this.
Ingredients
2 cups + 2 Tbsp flour
1/2 cup cocoa powder
1/4 tsp salt
1/2 tsp baking powder
12 Tbsp unsalted butter, melted and cooled
1 cup brown sugar
1/2 cup granulated sugar
1 egg
1 egg yolk
2 tsp vanilla extract
1 cup dark chocolate chips
1 cup peanut butter chips
Instructions
Preheat oven to 325 degrees F. Line a 9x13 inch pan with aluminum foil, making sure the foil overlaps the edges of the pan. Spray the foil with cooking spray and set aside.
In a medium bowl, stir together flour, cocoa powder, salt and baking powder. Set aside.
In a large bowl, stir together the melted butter, brown sugar and granulated sugar. When combined, stir in egg, egg yolk and vanilla extract until smooth. Stir in the dry ingredients until incorporated completely. Fold in both dark chocolate and peanut butter chips.
Spread the batter in the foil-lined pan in one even layer. Bake for 25 to 30 minutes, until the edges pull away from the sides of the pan. Cool for at least 15 minutes before slicing into bars and serving.
Who are the killer bloggers I've paired up with for the giveaway you ask? Here the rundown!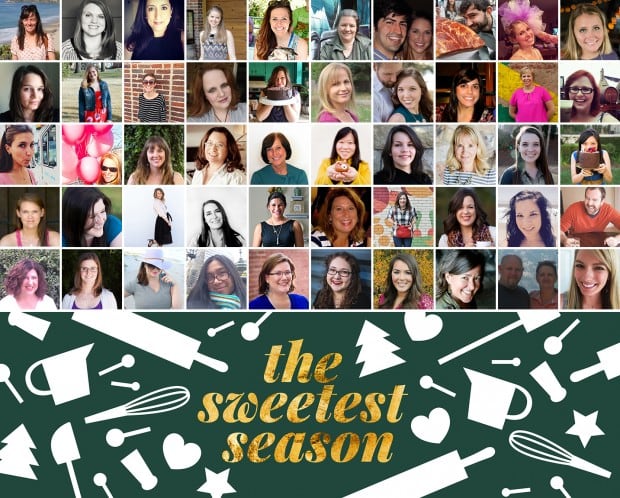 row one: Wit Wisdom Food | Beth Cakes | Alyssa and Carla | The Rustic Willow | Chez Catey Lou | Joybilee Farm | The Food in My Beard | Lizzy is Dizzy | Lemon Sugar
row two: The Speckled Palate | The Gift of Gab | think fruitful | Majorly Delicious | Sugar Dish Me | An Oregon Cottage | A Savory Feast | The Foodie Patootie | Twin Stripe | Hidden Fruits and Veggies
row three: Appeasing a Food Geek | DC Girl in Pearls | Bessie Bakes | Brunch with Joy | Cooking With Libby | 2 Cookin Mamas | Lou Lou Biscuit | Me and My Pink Mixer | Wetherills Say I Do | The Little Epicurean |
row four: The Emotional Baker | Cake 'n Knife | Glisten and Grace | Meredith Noelle | The Secret Ingredient [is love] | SammaSpot | Hey There Sunshine | Natasha Red Blog | Flavors & Sabores | Macheesmo
row five: Beer Girl Cooks | My California Roots | The Skinny Pot | Sustaining the Powers | Feast + West | Not Your Average Southern Belle | Vanilla And Bean | Our Life Inspired | That Square Plate
Be sure to check out all the blogs to see their cookie recipes throughout the week! We're using the hashtag #sweetestseasoncookies on social media this week, and you're going to want to get in on all this cookie action, TRUST me.
Now, the main event…. the giveaway!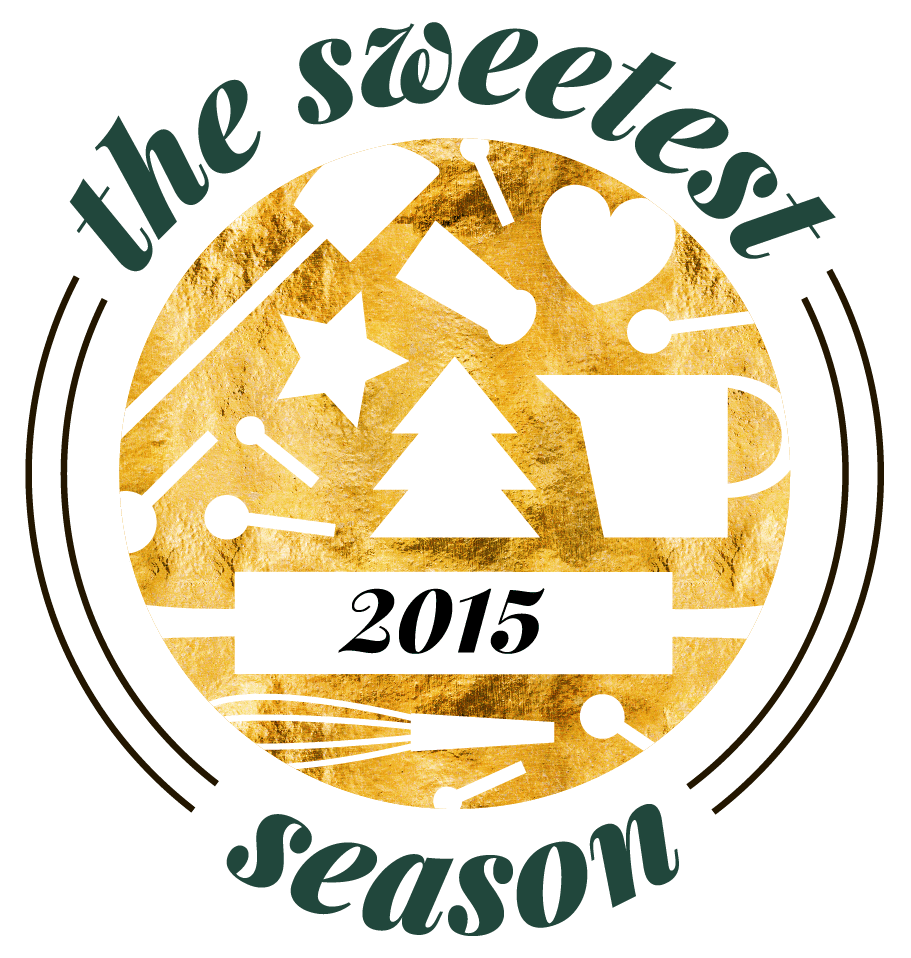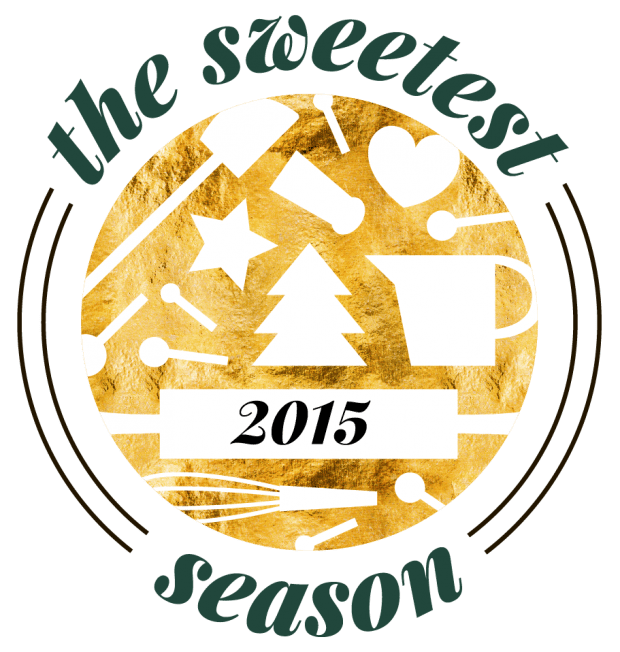 A whopping 51 bloggers teamed up to bring you an awesome cookie-centric giveaway! We picked out a stand mixer and other goodies to make baking this season go smoothly – because who needs another headache around the holidays, amIright? A giant thank you goes out to the generous sponsors who helped with The Sweetest Season by organizing,providing products to the participating bloggers and donating some incredible prizes for our giveaway! Be sure to check out Imperial Sugar, Dixie Crystals, Bob's Red Mill, Cabot Creamery and The Crumby Cupcake for lots of great recipe ideas. And check out Garnishing Co., who designed our graphics (plus she's my BFF, so that's DOUBLE the reason!).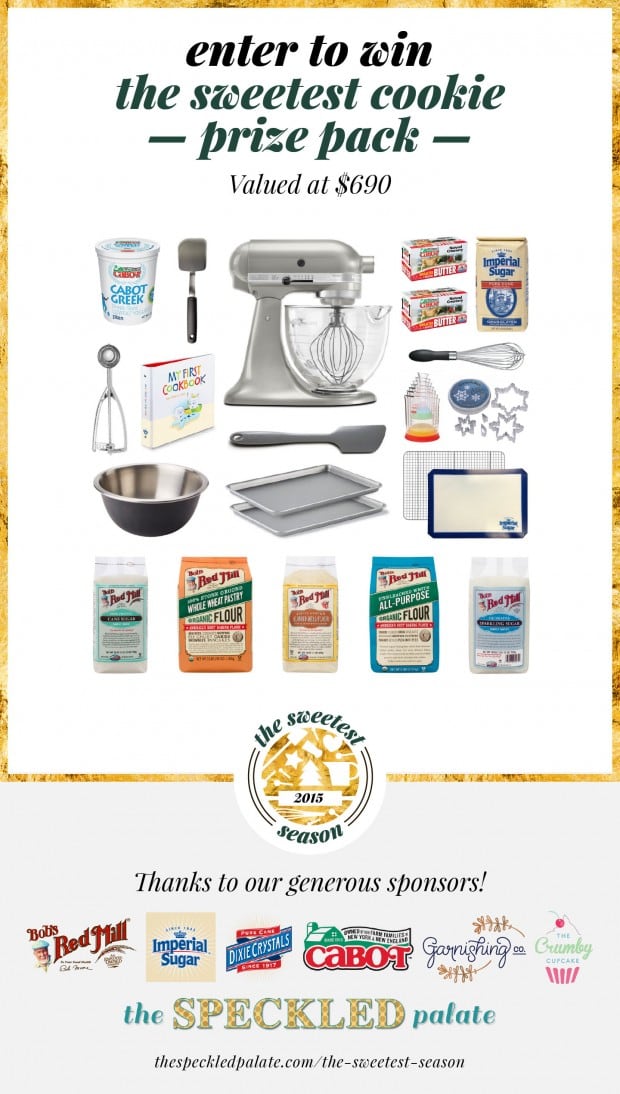 The Sweetest Cookie Prize Pack – pretty sweet huh? AND it's worth $690! See the Rafflecopter below to enter to win this amazing set of cookie baking goodies. The prize pack includes:

Giveaway rules:
Enter the giveaway through the Rafflecopter widget below. Everyone gets a free entry! You can enter multiple times, up to 65 total entries by following the giveaway sponsors on social media. (If you've followed in the past, that counts! Just enter the information as prompted.) All entries will be verified. No purchase is necessary to win.

The giveaway is open until Saturday, December 19, 2015 at 11:59 p.m. CST. One winner will be chosen at random and e-mailed within 48 hours. Winners must claim prize within 48 hours of initial contact. The retail value of the prize is $690. Prizes listed above are the only ones available.

Open to U.S. residents with a valid shipping address only. Must be 18 years of age as of December 5, 2015.

To read all giveaway terms and conditions, visit the

giveaway terms and conditions page

or click the option in the Rafflecopter below to review them.