Please note this post contains affiliate links.
Chewy carrot cake cookies are the easy way to get your carrot cake fix! With a light and fluffy cream cheese frosting, the spiced treats are ideal for your Easter baking plans. Makes 1 1/2 dozen.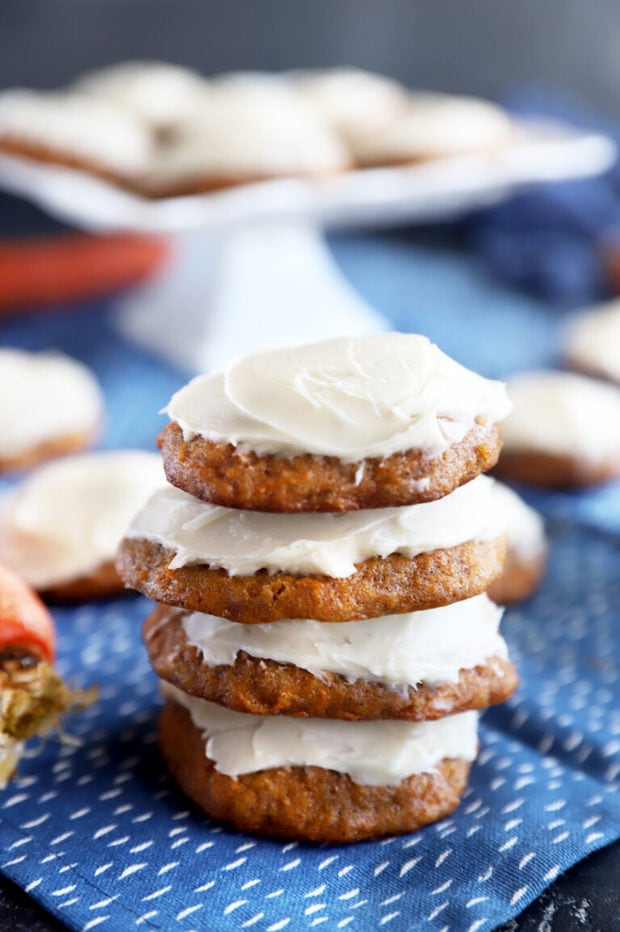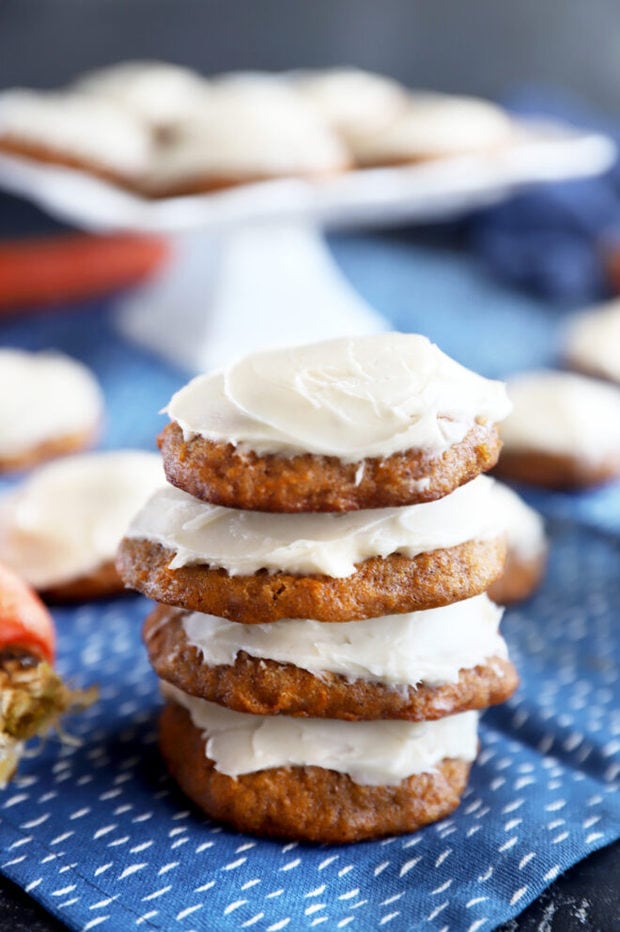 Easter is on Sunday and it really doesn't feel like it, at least for me.
Usually, Easter marks a holiday for my family. Not so much for religious reasons as we are all over the board on that.
It's more of a tradition that we've had ever since I was little and my grandparents were around. They were the more religious ones, my grandfather in particular who would walk to church every Sunday.
Easter was one of those holidays when we would always have a brunch. Sunday brunch was something cherished with my family, and the holidays brought all of my extended family in. The table would be packed, kids would hunt for Easter eggs, and there was always SO MUCH FOOD.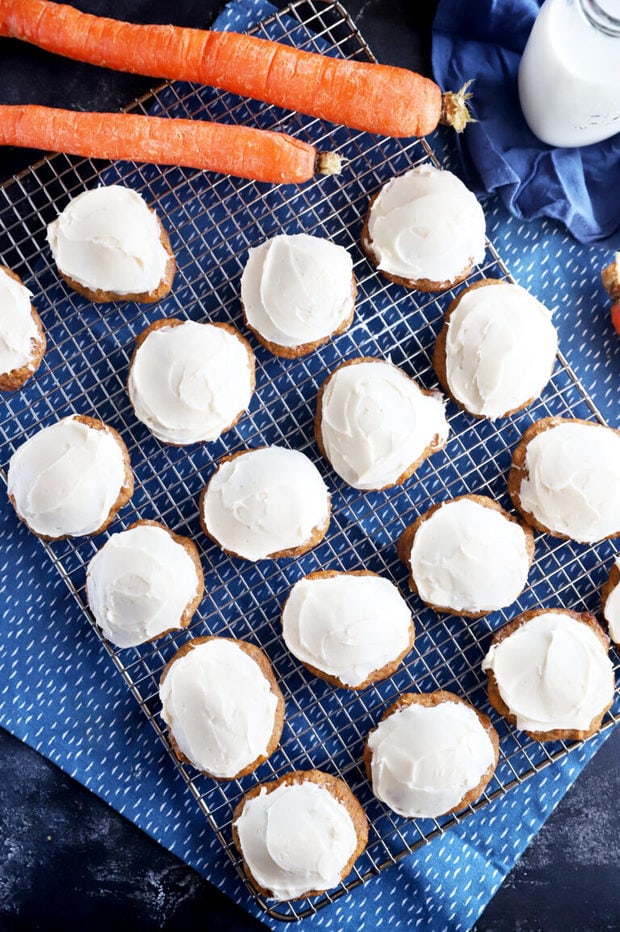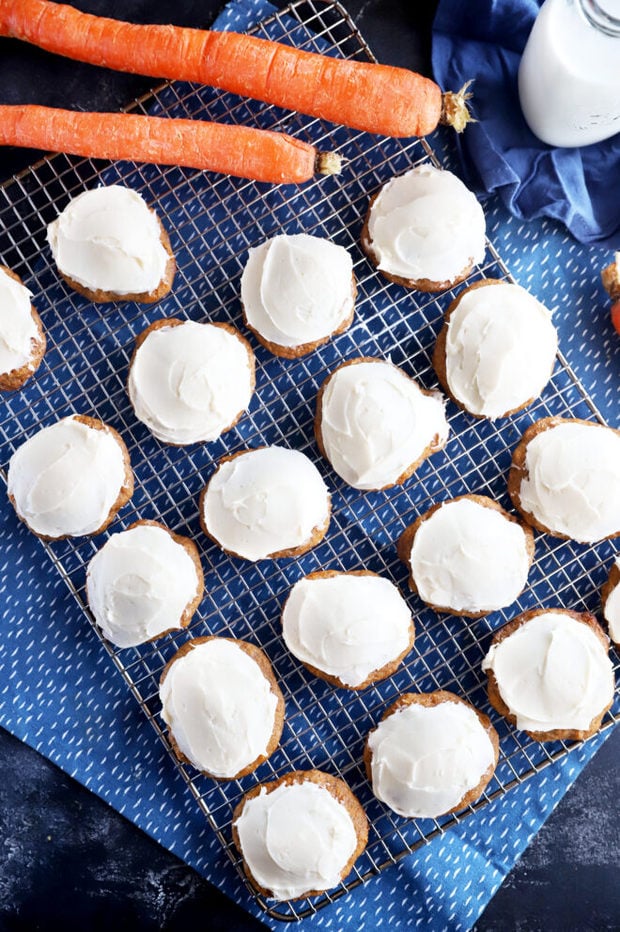 While I am not religious, Easter still holds a special place in my heart and this year in particular, I am truly missing all of my extended family.
It's pretty lonely to be staying inside all the time, and especially when you are missing special occasions. However, staying home is much more important right now, so here I am.
Baking is a comfort for me, but as you well know, I am not the best decorator of cakes. I tend to avoid them because of this, but I miss carrot cake this time of year.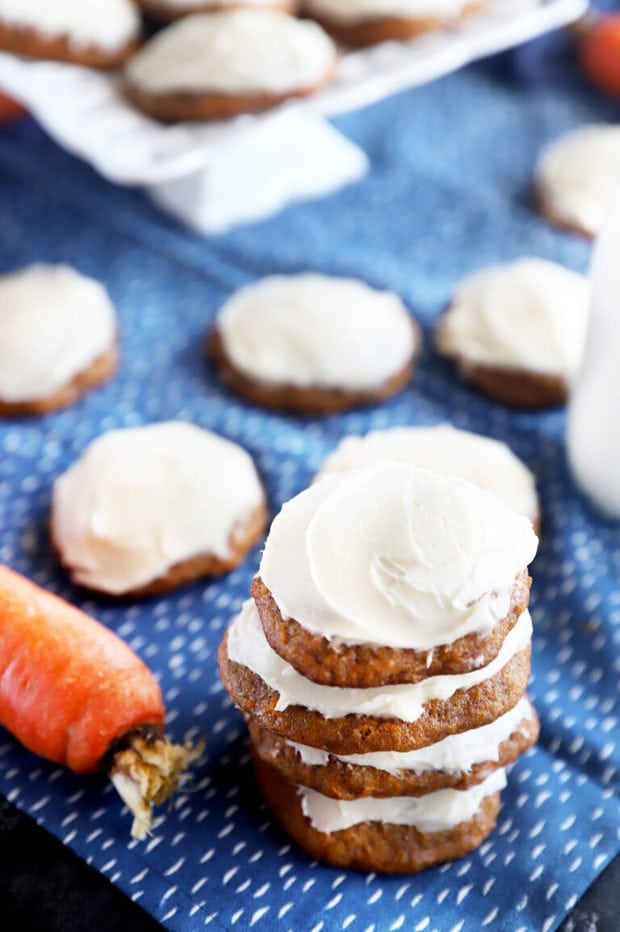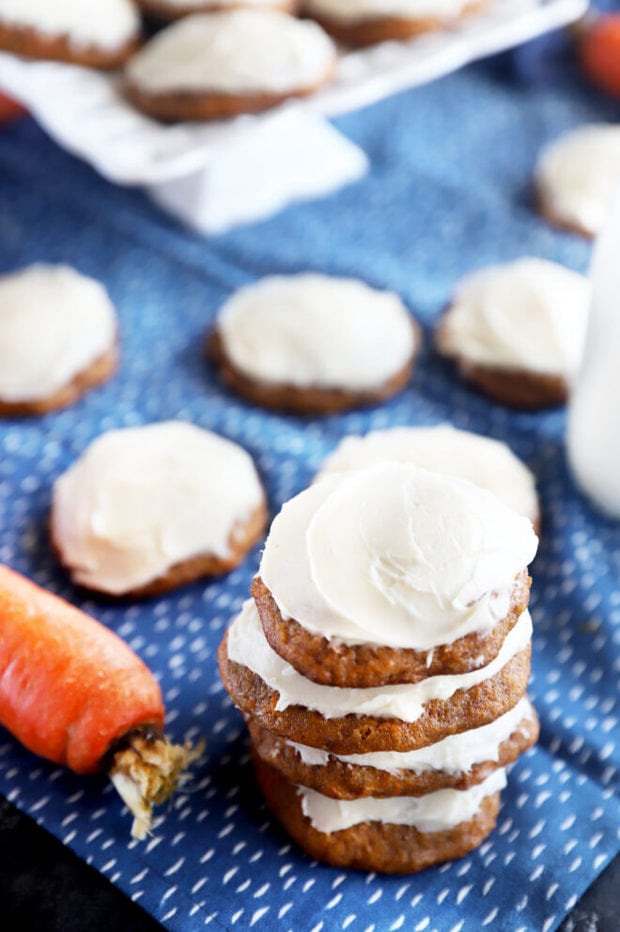 Therefore, let's just put them into cookies!
These carrot cake cookies are super simple to make and they are SO flavorful, full of that carrot and cream cheese combo we all love.
I particularly love them because they are super fluffy and chewy. They really do have a cake-like texture, but without all the work of a full, elaborate cake!
These are great to make with kiddos if you have them, or to just make and hoard to yourselves with some mimosas for your very own at-home Easter brunch. 😉
Looking for another cookie to add to the Easter spread? These simple mini eggs cookies hit the spot every time!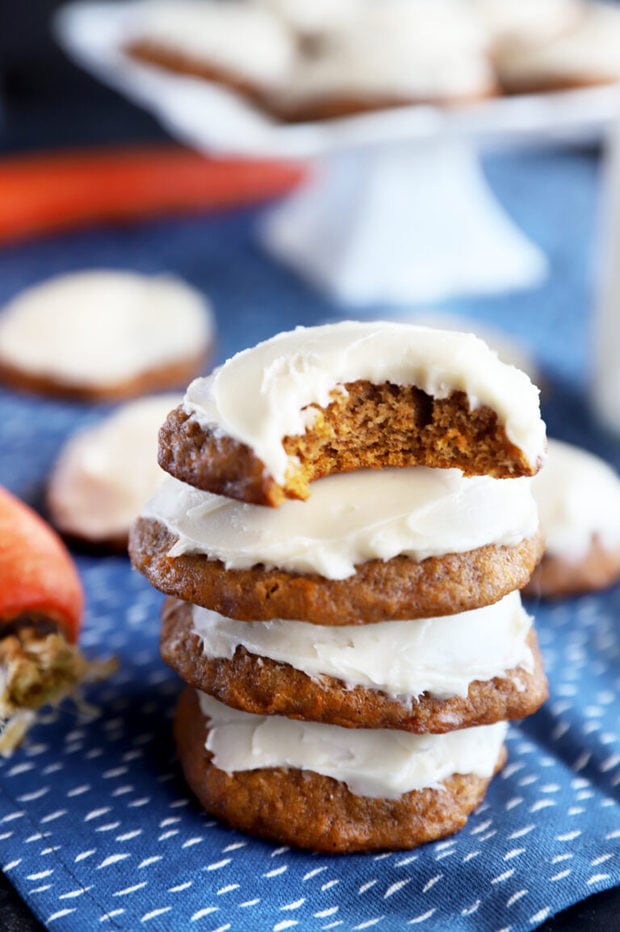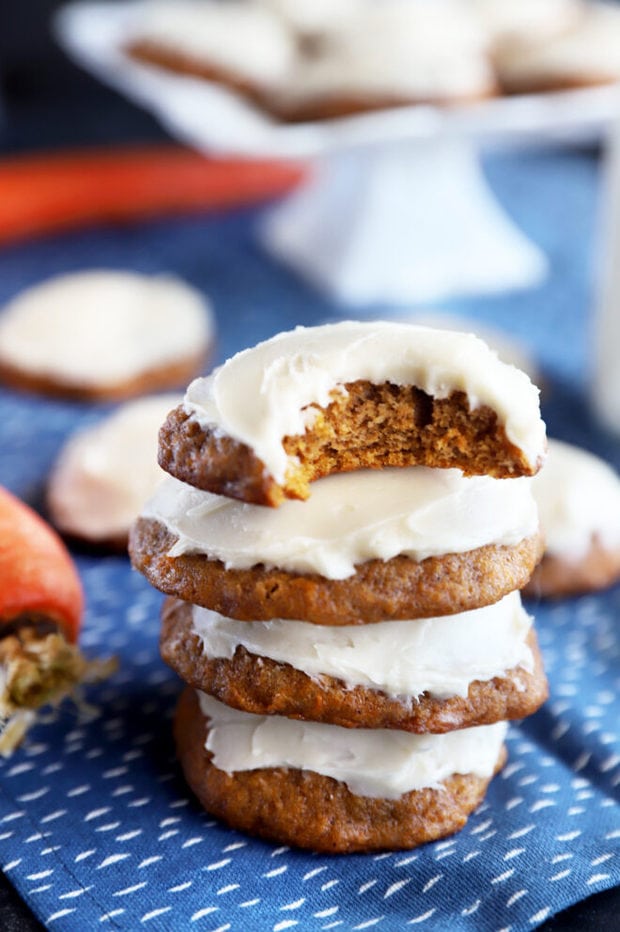 This Recipe's Must-Haves
You will need measuring cups and measuring spoons for all the ingredients for these cookies.
In addition, use your stand mixer (or mixing bowls and an electric hand mixer!) to make both the cookie dough and frosting.
I love this cookie dough scoop to scoop out the dough onto a half sheet baking pan lined with a silicone baking mat. It gives you the perfect sized cookies every time!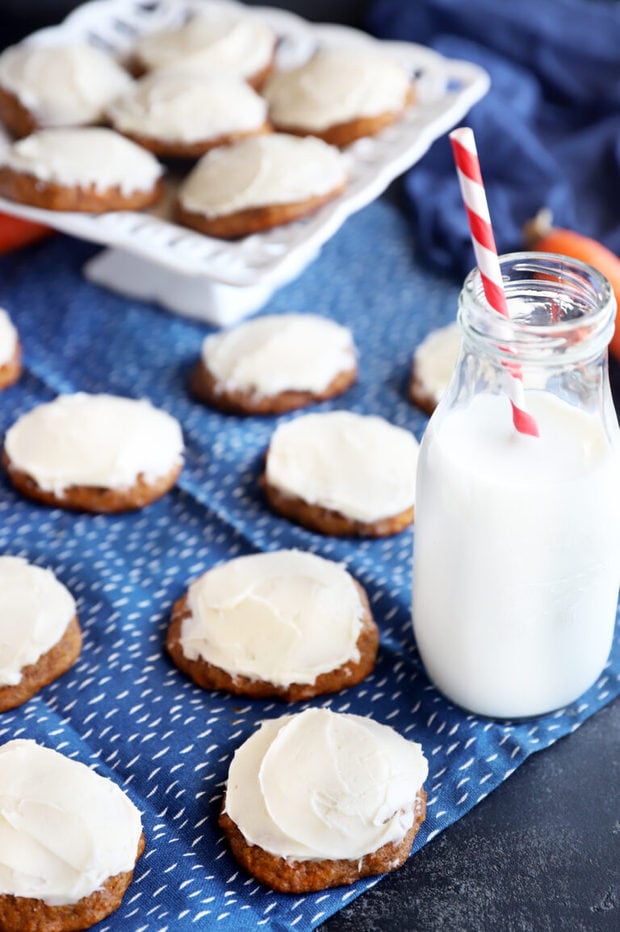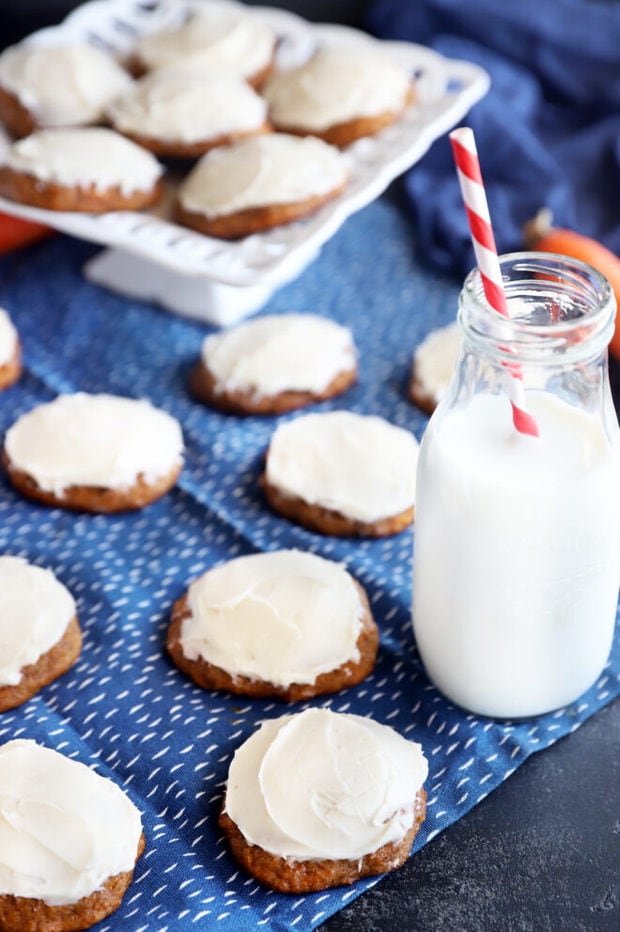 We're making carrot cake cookies!
Make cookie dough
Start by whipping together butter and brown sugar until it's creamy and smooth. Then beat in the egg and vanilla, making sure to scrape down the sides as needed.
Finally, you'll mix together all the dry ingredients and slowly incorporate into the wet ingredients with the mixer on low speed. Finally, fold in the carrot by hand.
Bake
The dough might seem pretty wet and thick, but this is ok! It's supposed to look like that.
Scoop out the dough in 1 to 2 Tbsp scoops (remember the dough scoop I mentioned above!) and add them to a lined baking sheet.
Bake the cookies for 10 to 12 minutes, until golden on the edges. They will still be nice and soft, so be careful not to over bake them. Mine took me 10 minutes exactly!
Remove the cookies to a drying rack and cool completely.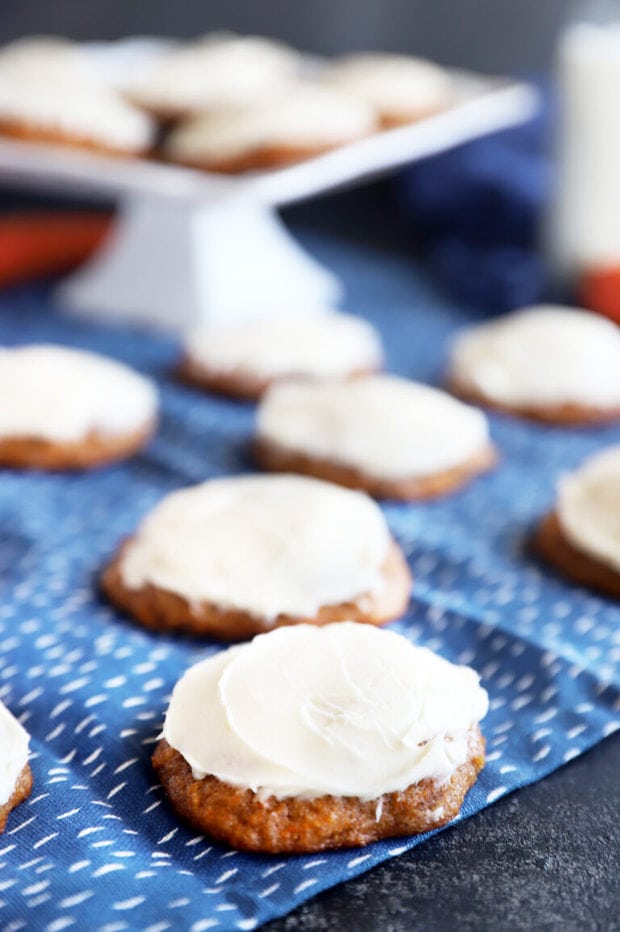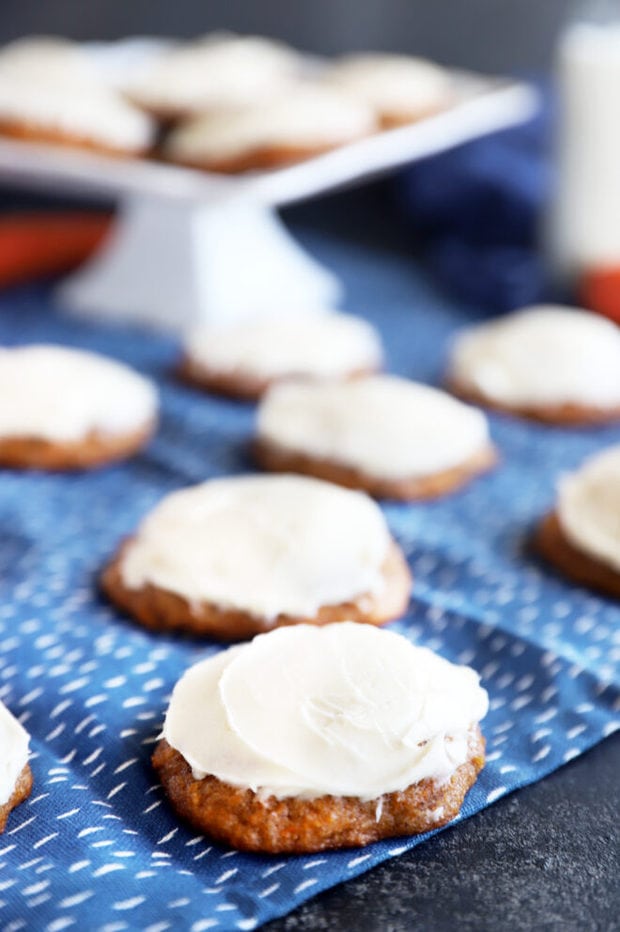 Make frosting
While the cookies cool, all you have to do is make the frosting. Beat together the cream cheese and butter in your mixer, making sure to clean it out since you probably used it for the dough before.
Add in the vanilla and powdered sugar, beating it all together until nice and smooth. If it's too dry at this point, you can add milk one teaspoon at a time until you get the right texture.
Frost and serve
As you know, I am not fancy with my frosting skills. I just use a knife and go to town! However, you can also get fancy and pipe the frosting if you'd like.
Need inspiration for baking? Check out my dessert recipes page for some tasty ideas.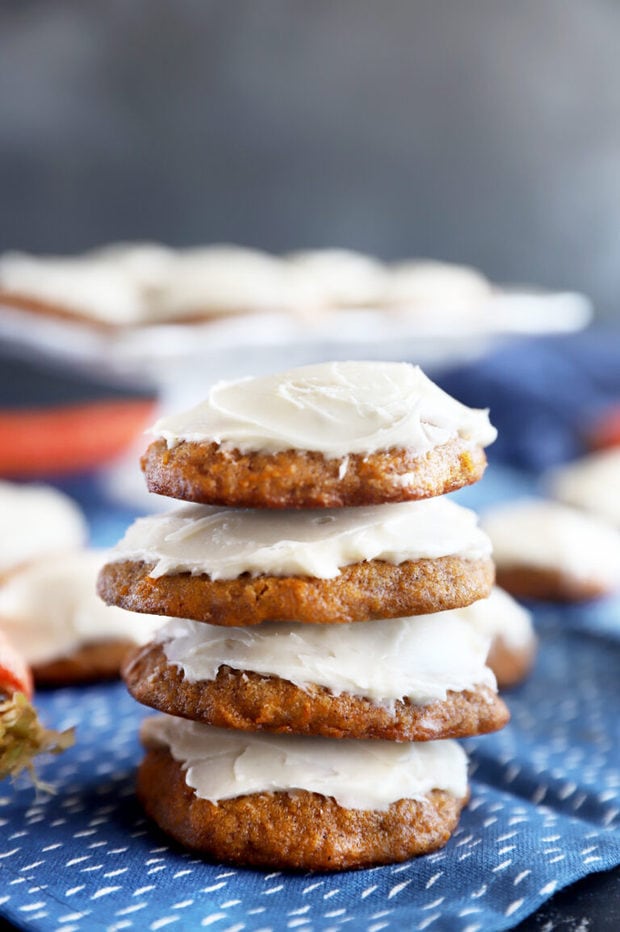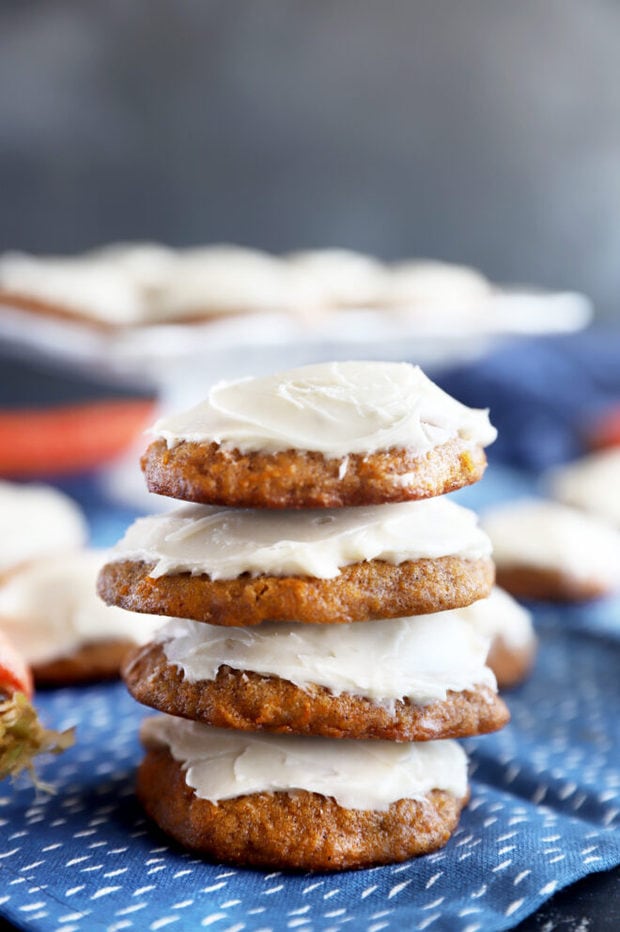 Got questions?
Can I add raisins/chocolate chips/nuts?
For a lot of people, carrot cake just isn't the same without raisins, chocolate chips, and/or nuts. You can totally add in these mix-ins if you'd like! I recommend adding a total of 1/3 cup of mix-ins, whatever they may be. Personally, I like the cookies as is, but that's just me.
Is using frozen carrots ok?
This is the one time where I would say no. Fresh carrots are much better for the recipe, and it really makes a difference. Plus, they are so much easier to grate.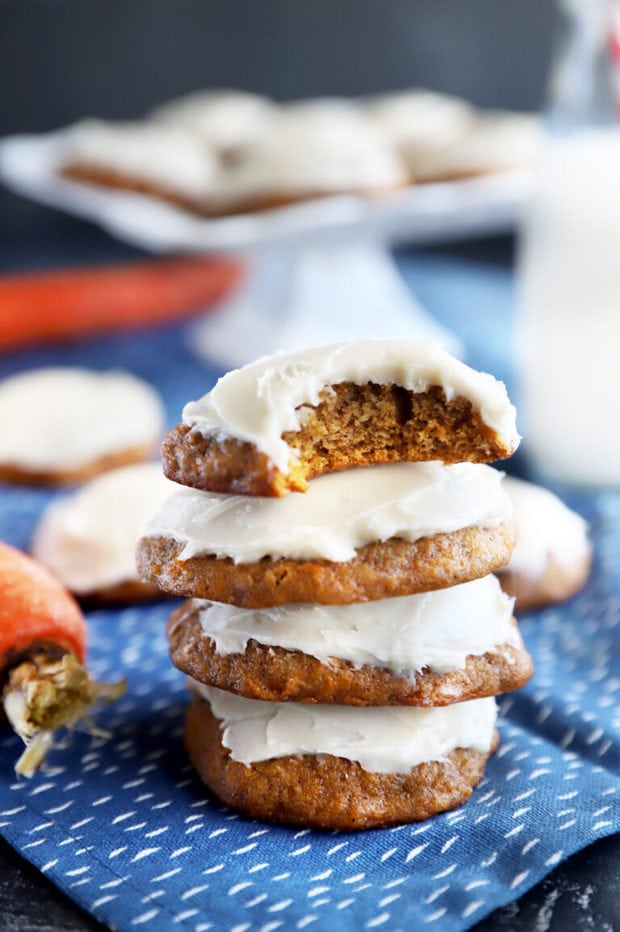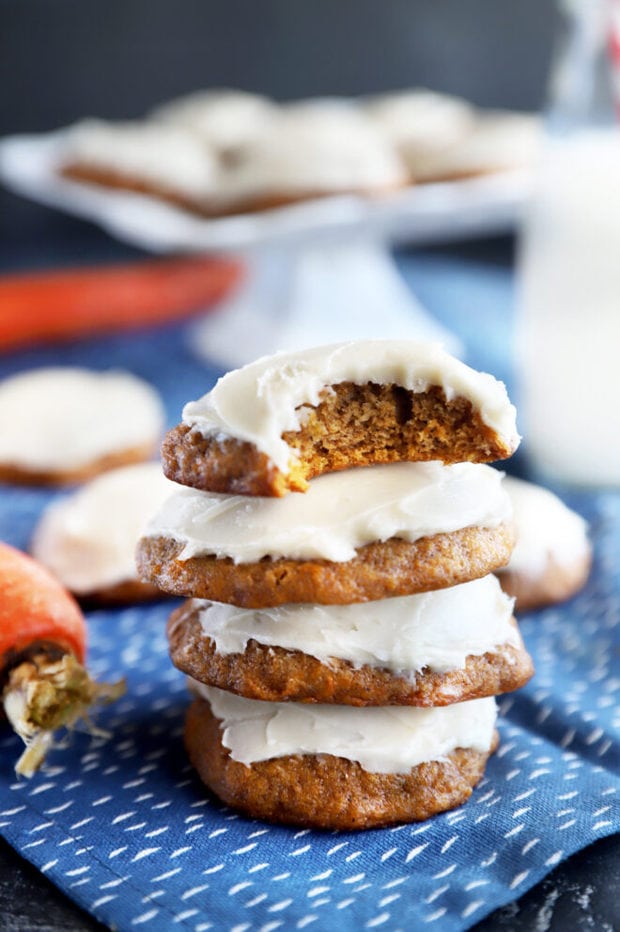 Explore more seasonal cooking with my seasonal cooking guides! From what's in season in April to a quick start seasonal cooking guide, you can find everything you need in my seasonal cooking section.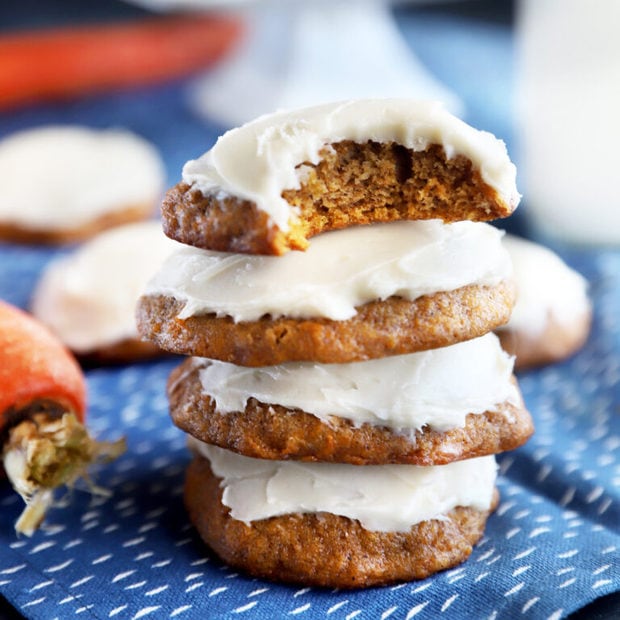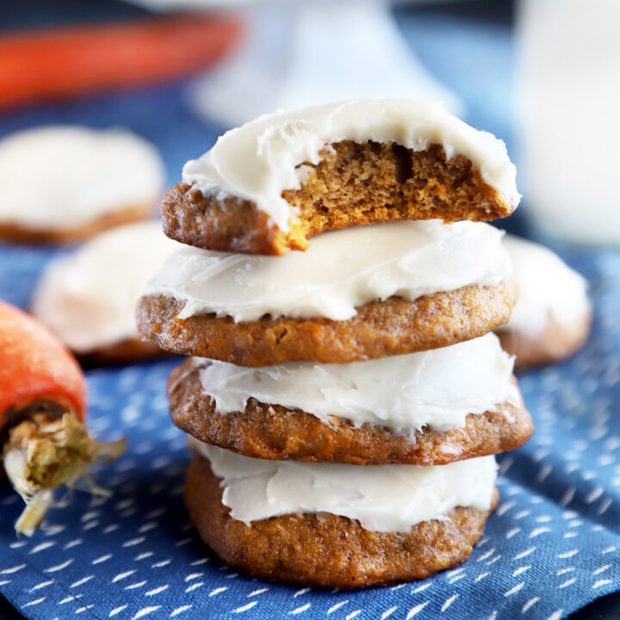 Carrot Cake Cookies
Yield:
1 1/2 dozen cookies
Chewy, fluffy cookies that taste just like your favorite slice of carrot cake!
Ingredients
Cookies
1/2 cup unsalted butter, at room temperature
1 cup light brown sugar, firmly packed
1 large egg
1 1/2 teaspoons pure vanilla extract
1/2 teaspoon baking soda
1 1/4 cups all-purpose flour
1 1/2 teaspoons ground cinnamon
1/8 teaspoon ground nutmeg
1/8 tsp ground allspice
1/4 teaspoon ground ginger
1/4 teaspoon fine sea salt
1 cup finely grated carrots
Cream Cheese Frosting
5 oz Cream Cheese at room temperature
5 tablespoons butter at room temperature
1 1/2 teaspoon vanilla extract
2 2/3 cups Powdered sugar
1 to 2 Tbsp milk
Instructions
Preheat oven to 375˚F. Line two baking sheets with parchment paper or silicone baking mats. Set aside.
Cream together butter and sugar in a stand mixer, or using a handheld mixer, on medium speed until light and creamy. Beat in egg until just combined, and then beat in vanilla. Be sure to scrape down the sides as needed.
Add baking soda, flour, cinnamon, nutmeg, allspice, ginger, and salt to a medium bowl. Whisk together until combined.
With the mixer on low speed, slowly beat in dry ingredients until just incorporated. Stir in grated carrot by hand.
Using a dough scoop or large spoon, scoop dough out in 1 to 2 Tablespoonfuls onto prepared pans. Make sure to space them about 1 inch apart.
Bake 10 to 12 minutes, until cookies are golden around the edges. The cookies will still be very soft. Cool on the baking sheets for 5 minutes. Remove to a cooling rack to cool completely.
While cookies are cooling, make the frosting. Add butter and cream cheese to your cleaned out bowl of your stand mixer (or use a handheld mixer and bowl). Beat together until smooth. Add in vanilla and powdered sugar, beating until smooth. If the frosting is dry, beat in milk 1 teaspoon at a time until smooth.
Frost the cooled cookies as desired. Serve.
Notes
Store cookies in an airtight container in the refrigerator for up to 5 days.
Recommended Products
As an Amazon Associate and member of other affiliate programs, I earn from qualifying purchases.