Please note this post contains affiliate links.
Salted Caramel Butterscotch Cookies with Pretzels are my version of the "everything in the pantry" cookie. They are packed with caramel, butterscotch, chocolate, and pretzels for a sweet, crunchy, and chewy explosion. Every bite is sensational!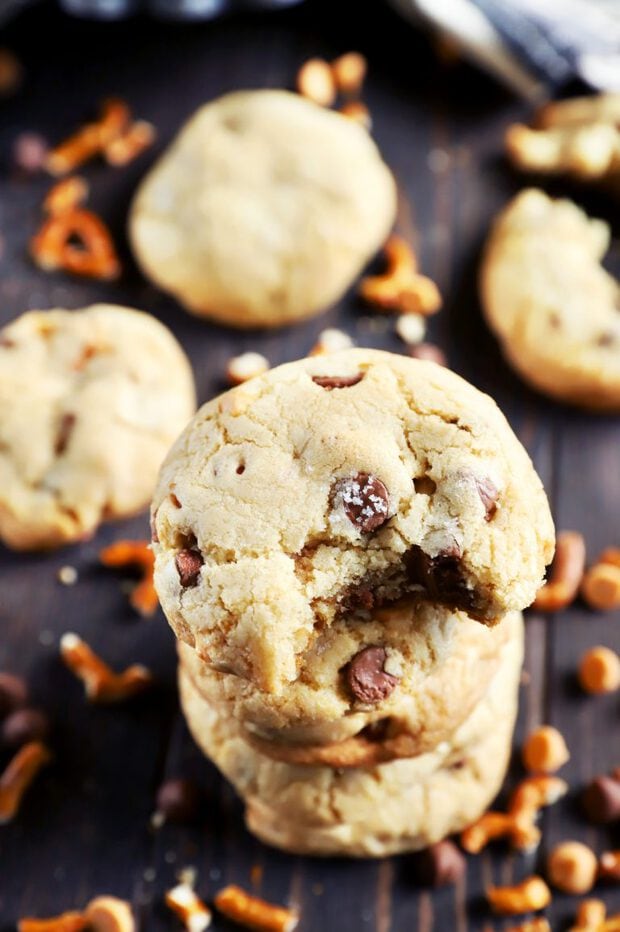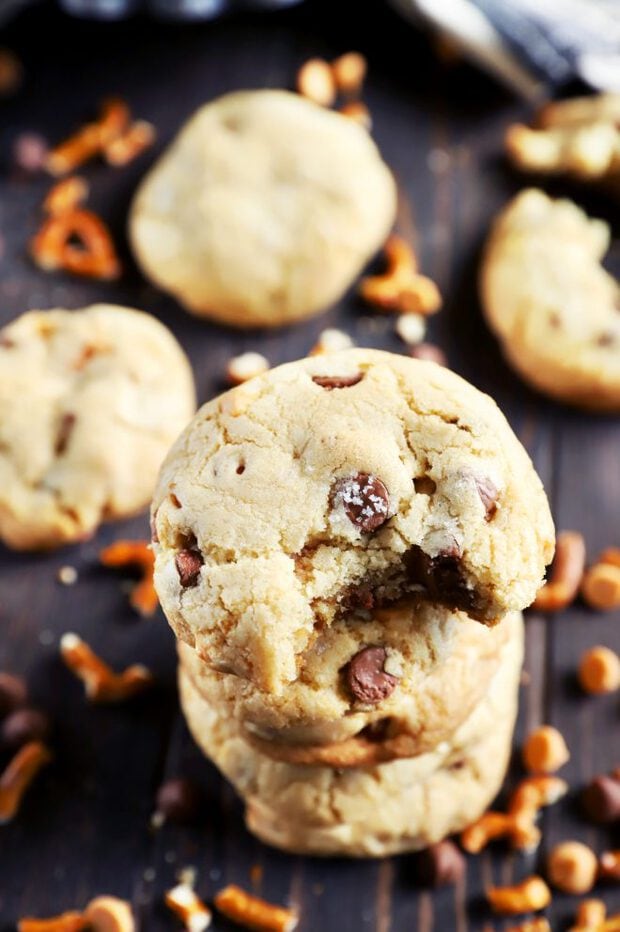 Sometimes you just want everything I a cookie. When I say everything, I mean EVE-RY-THANG.
Sweet, salty, crunchy, chewy, gooey…
I want it all in every single bite. This is what I grew up knowing as the "everything in the pantry" cookie.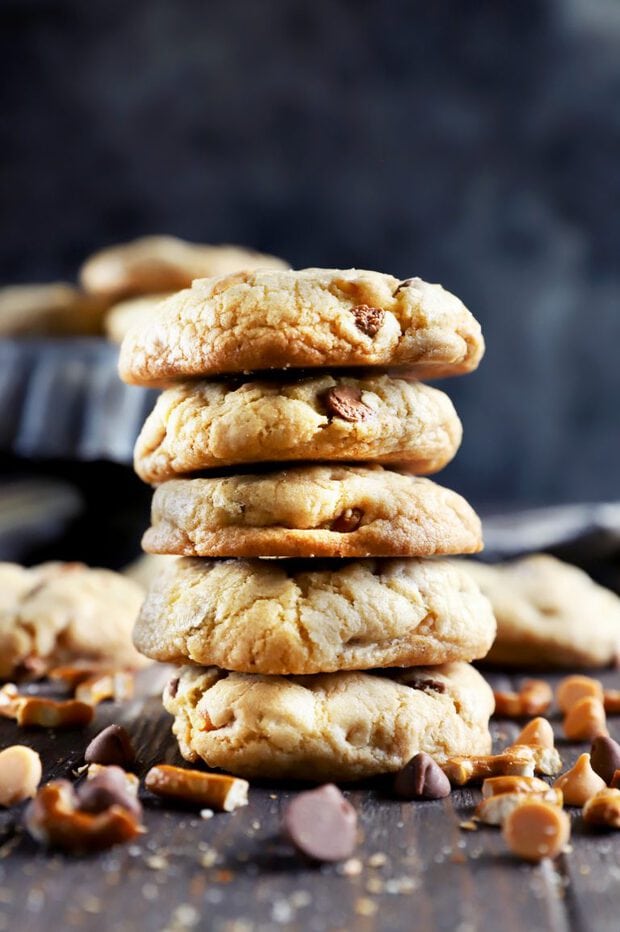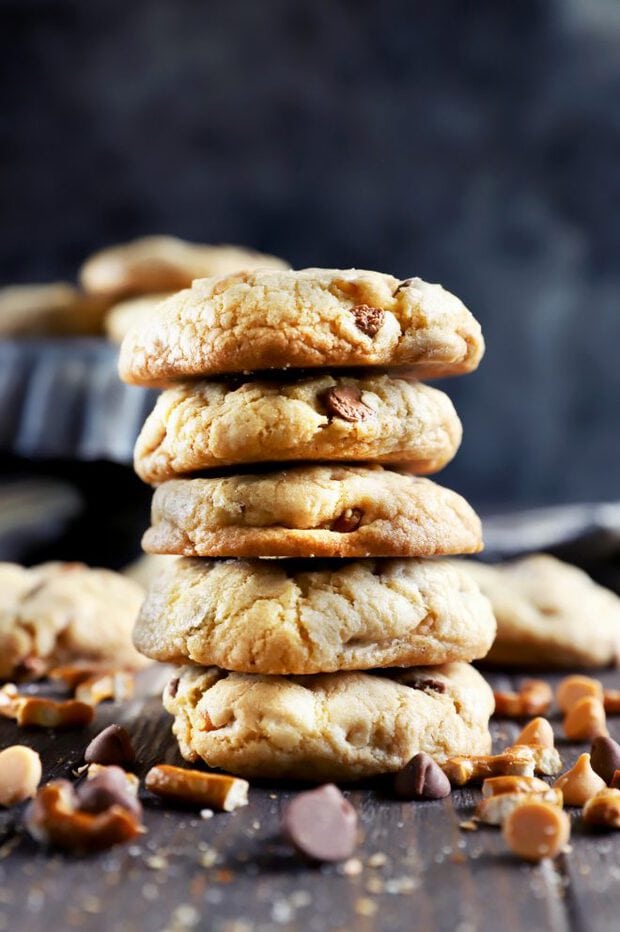 One of my friend's moms would make these cookies when we were in high school. She would put whatever leftover things she had in the pantry like random combinations of chocolate chips, pretzels or chips, caramel bits, and more in the cookies. They were different every single time, which made having milk and cookies there so much fun.
That was the instant way to get me to come over. If I knew cookies were in the oven, you can bet I was running out the door five seconds later.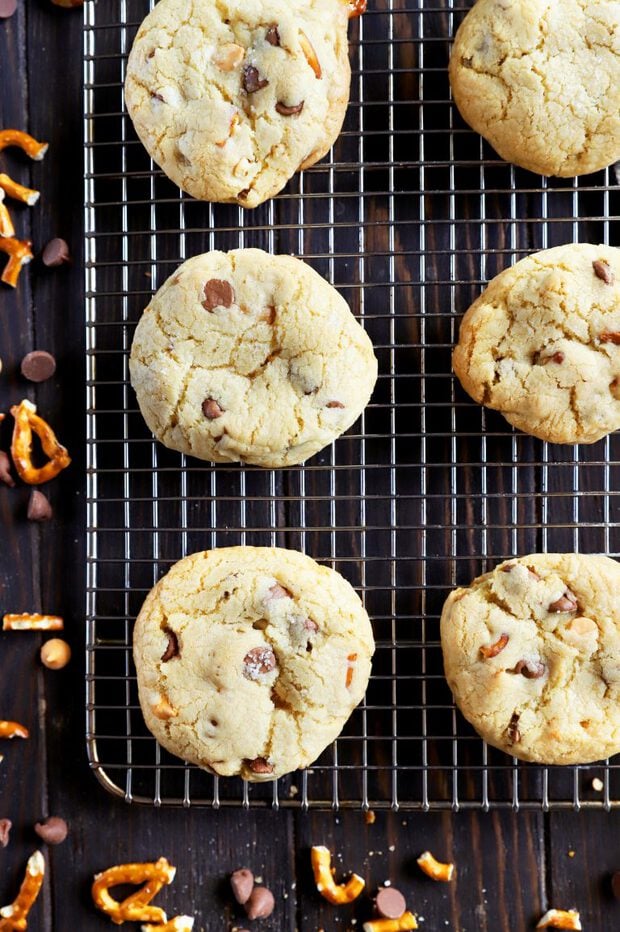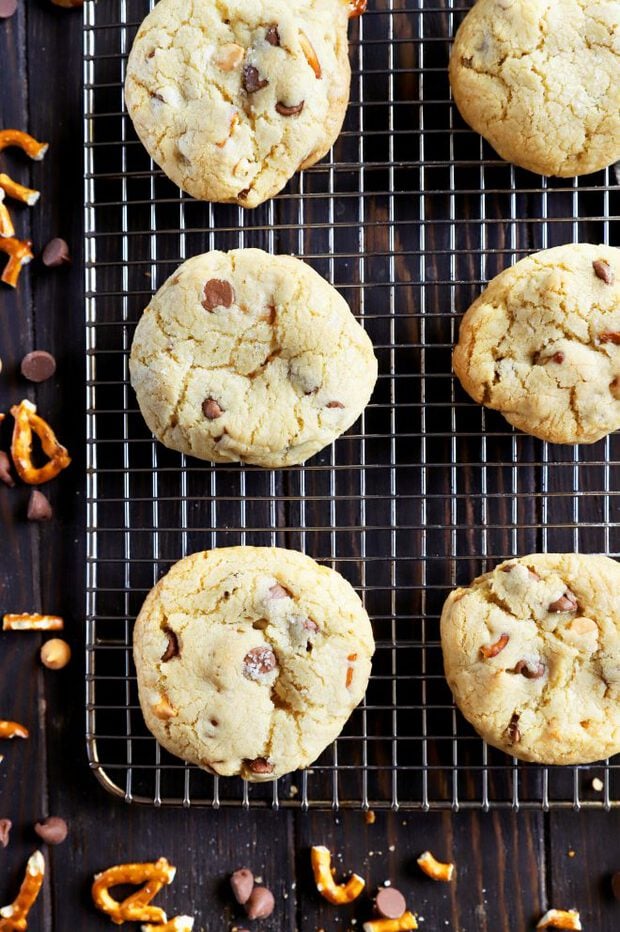 Honestly, I can't believe it's taken me this long to make a recipe for this cookie. I think it's because it was such a near and dear recipe, not to mention it would change every time I made it.
So here's a version you can make over and over again, without having to worry about improvising! It's got all the sweet, salty, chewy, gooey, and crunchy elements, making it perfect for tailgating celebrations or cookie exchanges for the upcoming holidays!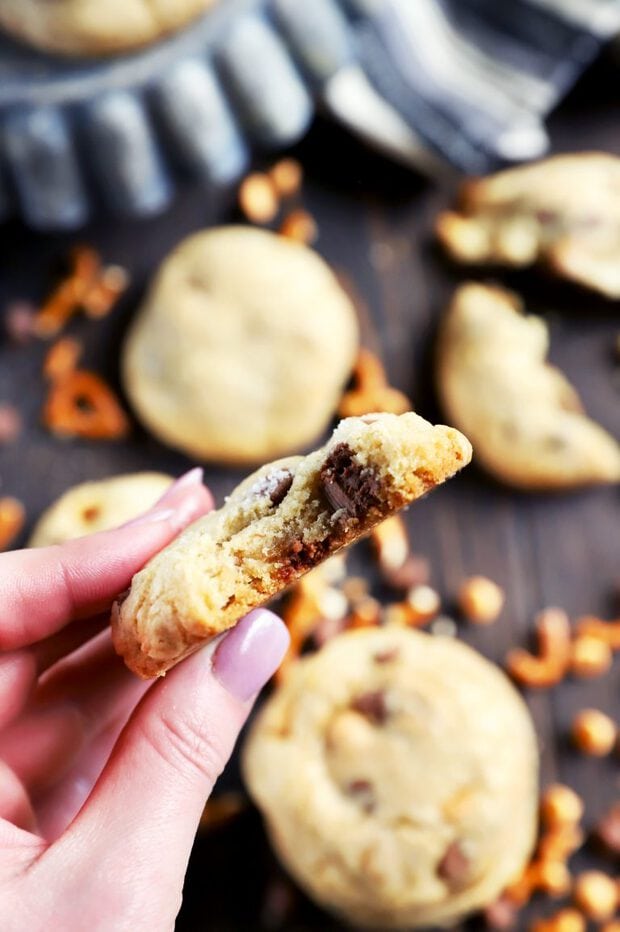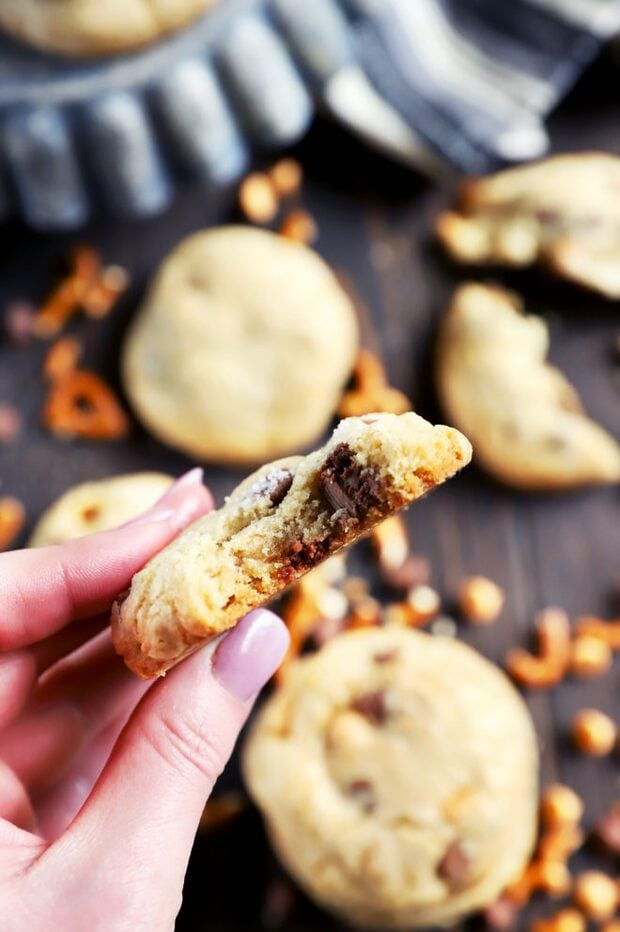 This Recipe's Must-Haves
You'll need to chop up some of the ingredients for this recipe, so make sure you have your handy chef's knife and cutting board ready!
To make the batter, I always love my KitchenAid stand mixer which gets it right, every single time.
When you are baking the cookies up, I highly recommend using a silicone mat for the cookies so they come out perfectly browned on the bottom (and don't stick to the pan). If you need a reliable pan, I recommend this half sheet baking pan because it's heavy duty and lasts for years!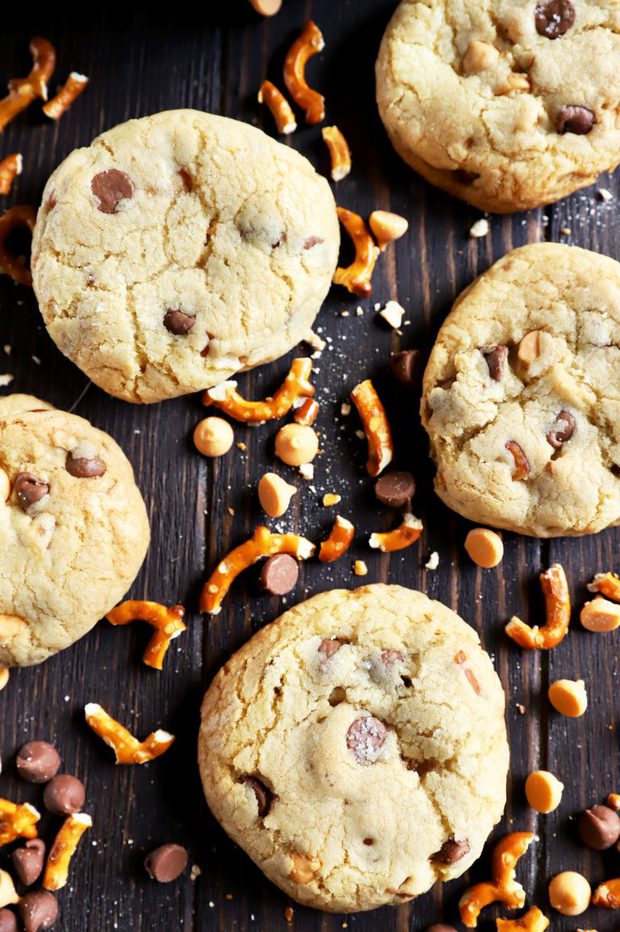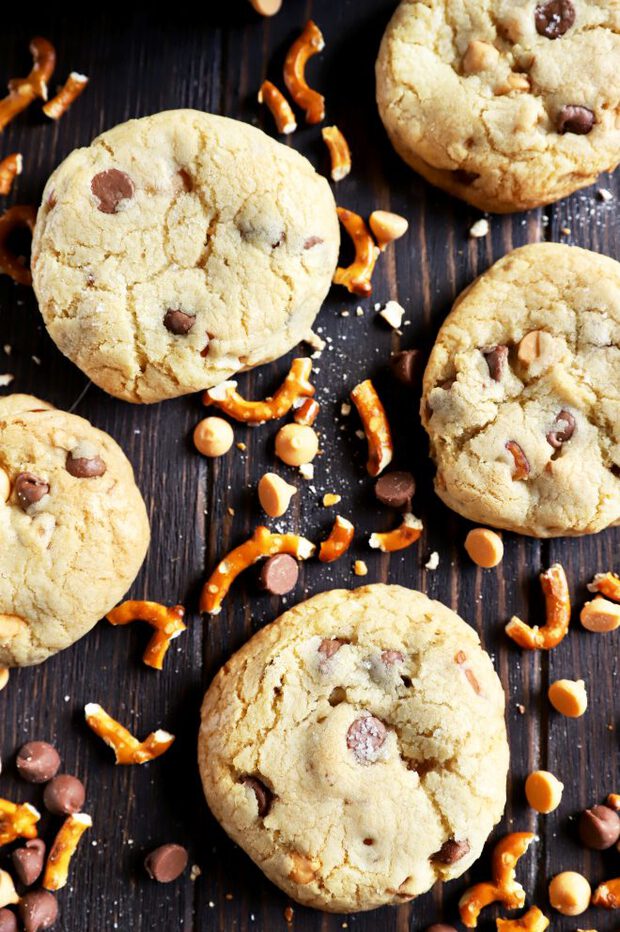 How To Make Salted Caramel Butterscotch Cookies With Pretzels
Make Batter
Use a stand mixer or an electric hand mixer to beat together the butter and sugar until it's all creamy. You want to make sure there are no chunks of butter and that everything is nice and smooth. Then you add the remaining wet ingredients.
After that, you add in the dry ingredients until the dough comes together. The dough should form a big ball at this point.
Add Mix Ins
This is where you add in all the mix ins from chips to chopped caramel and chopped pretzels. You will use your hands for this so be prepared to get a little messy (getting messy is the best anyway, isn't it?).

Bake
Form the dough into balls and bake. When you take them out they'll be all puffy and yummy.. Let them cool and then DIG IN.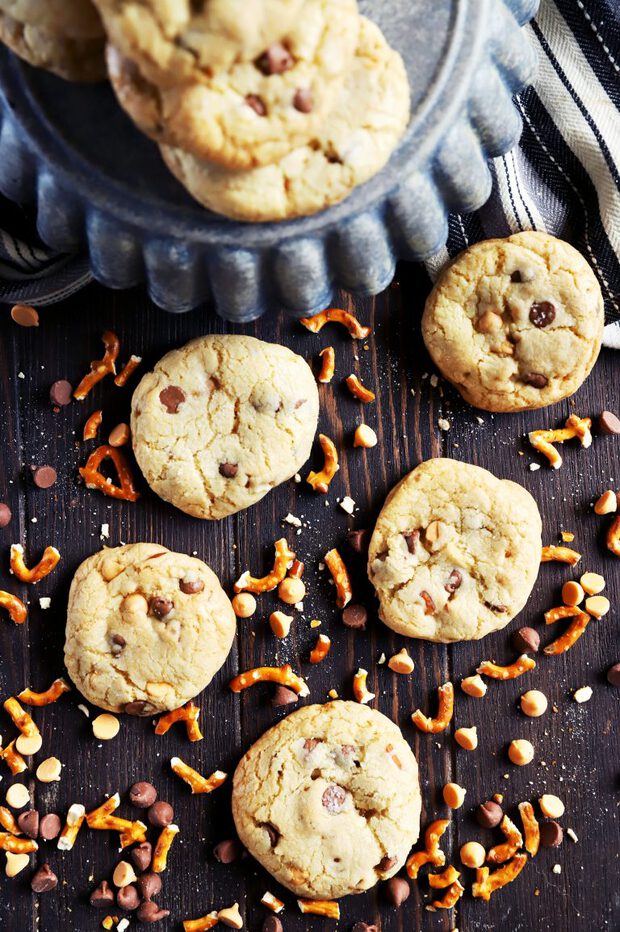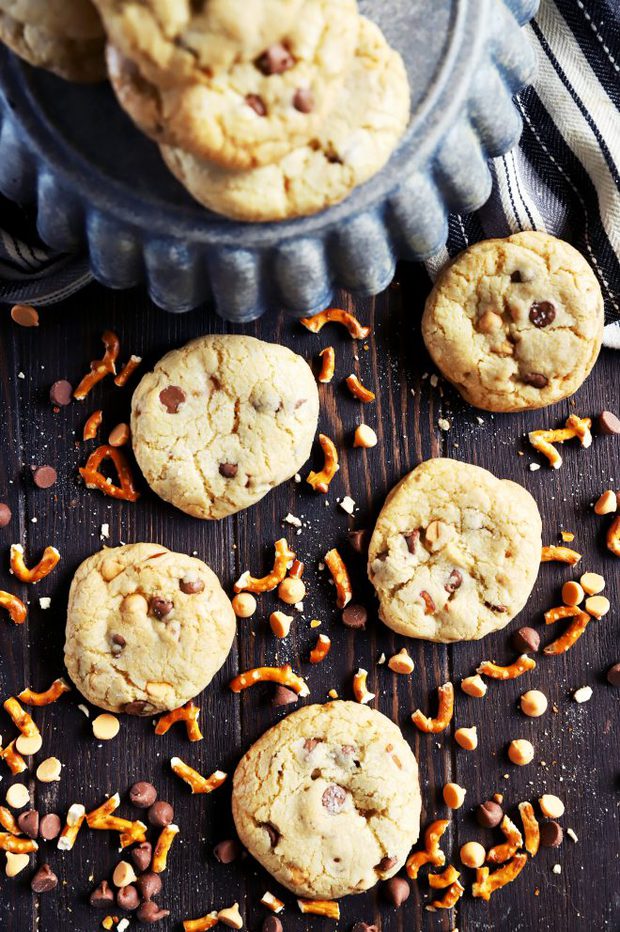 Can I Use Different Mix-Ins If I Don't Have Everything On The Ingredients List?
If you don't have everything for the mix-ins, that's totally ok! You can substitute anything for what you see on the list. I just recommend you at least have one salty element in the mix like chopped pretzels, chocolate chips, or salted nuts. The key is to have a little over 1 1/3 cups total of mix ins!
How Can I Tell When To Remove The Cookies From The Oven?
Make sure that you don't over-bake the cookies! This is essential to keep the cookies nice and soft. Take the cookies out of the oven even if you think they are not done yet. They will be pale and puffy. Know that they will sink down and turn into dense, buttery, and soft cookies with lots of crunchy, chewy elements!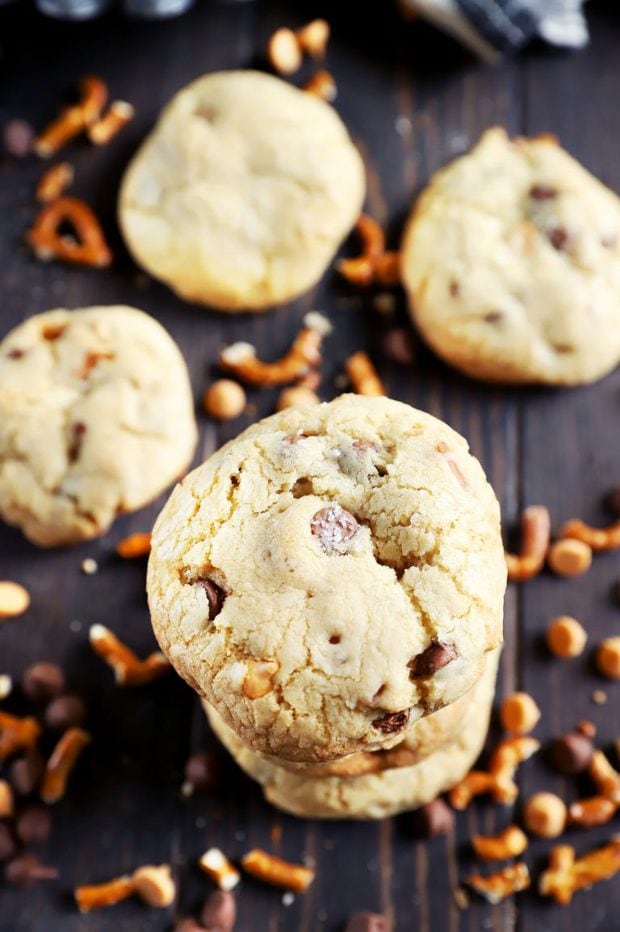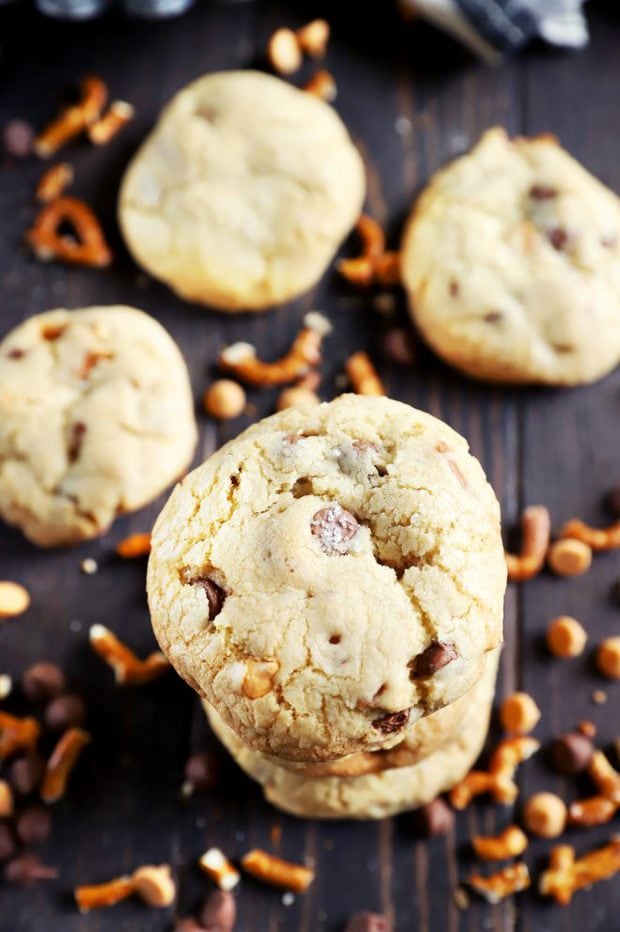 How Do I Store These Cookies?
Keep them in an airtight container at room temperature. They will stay nice and soft for several days. You can also freeze the cookies in resealable freezer bags if you would like!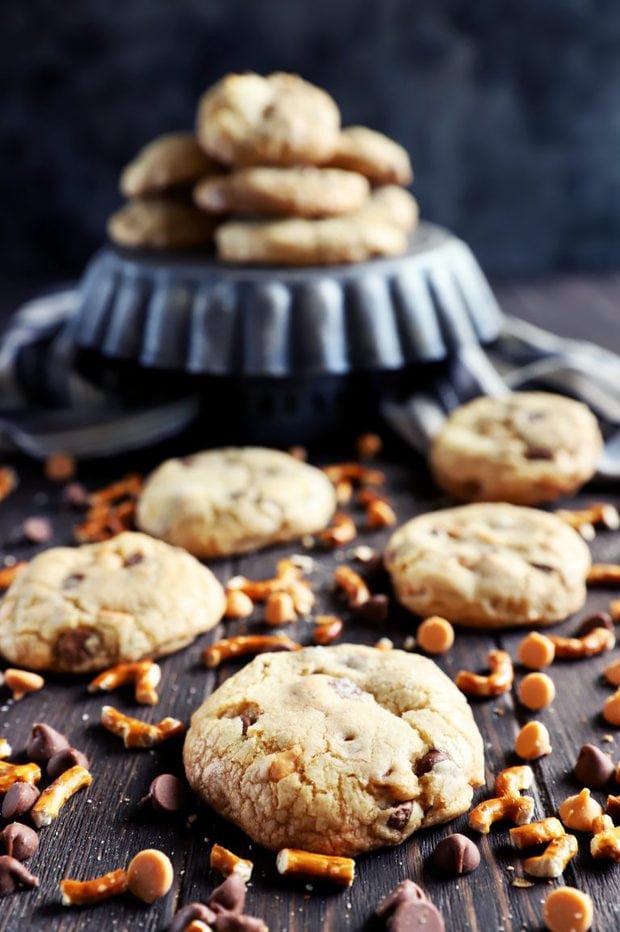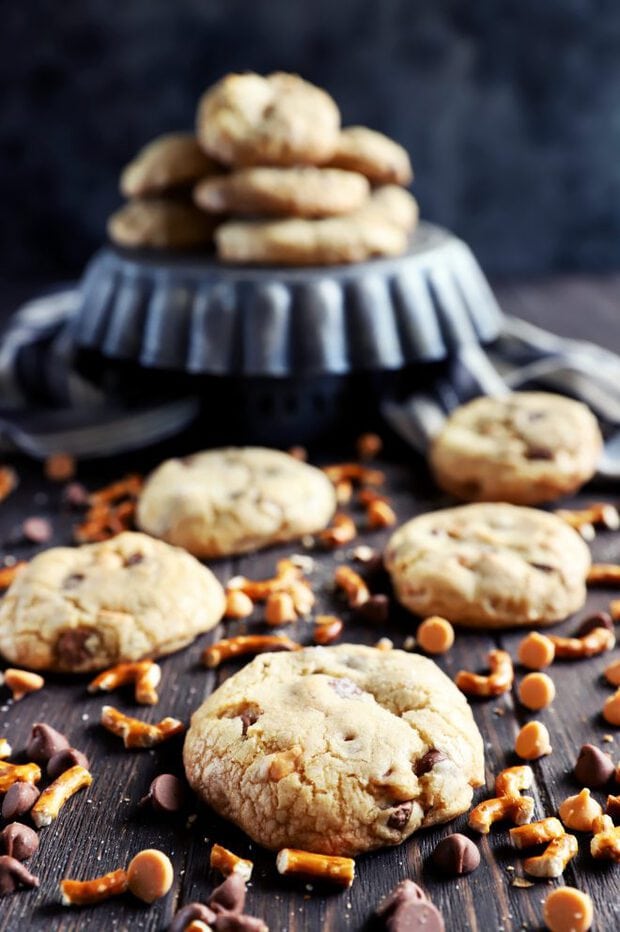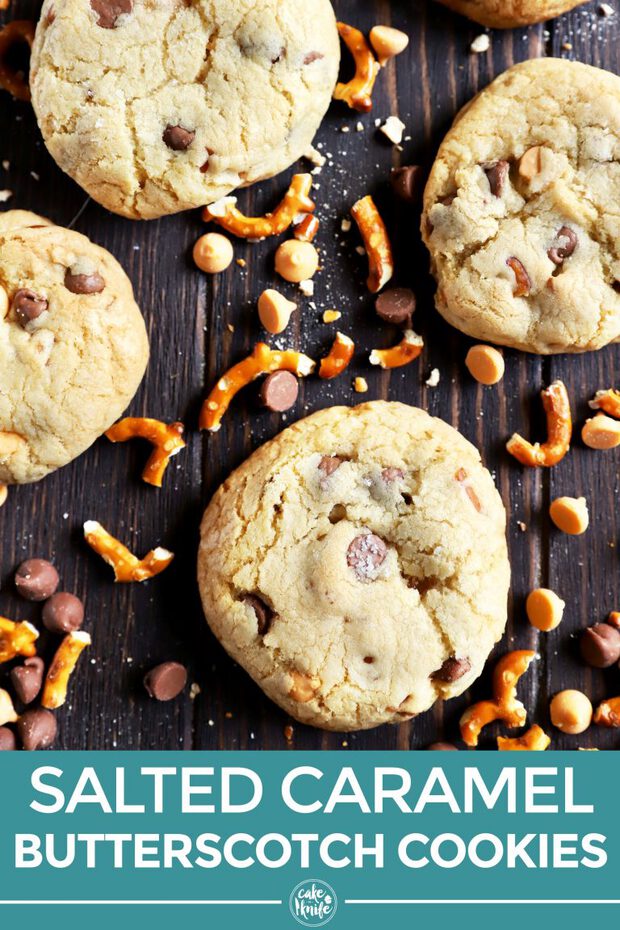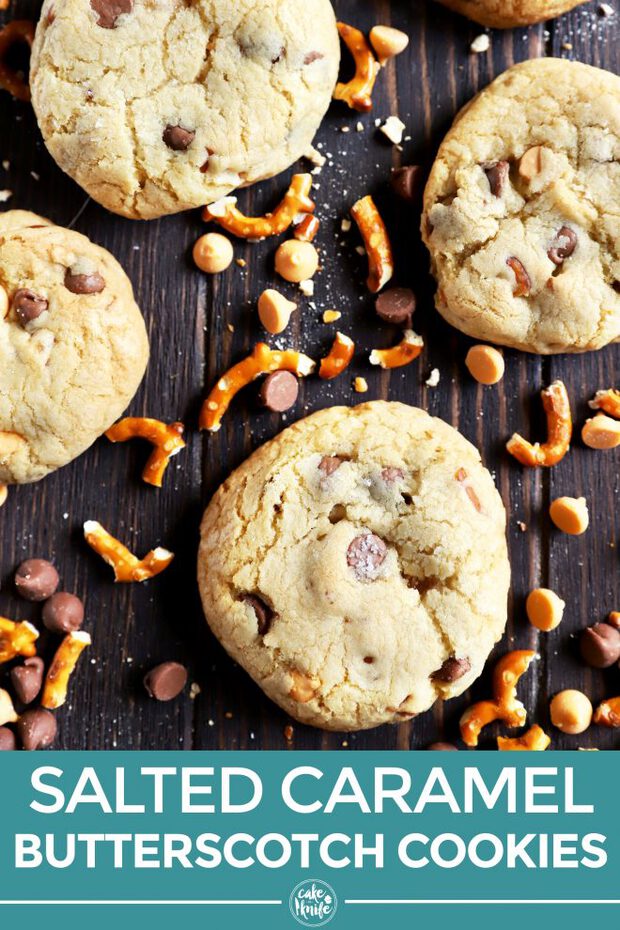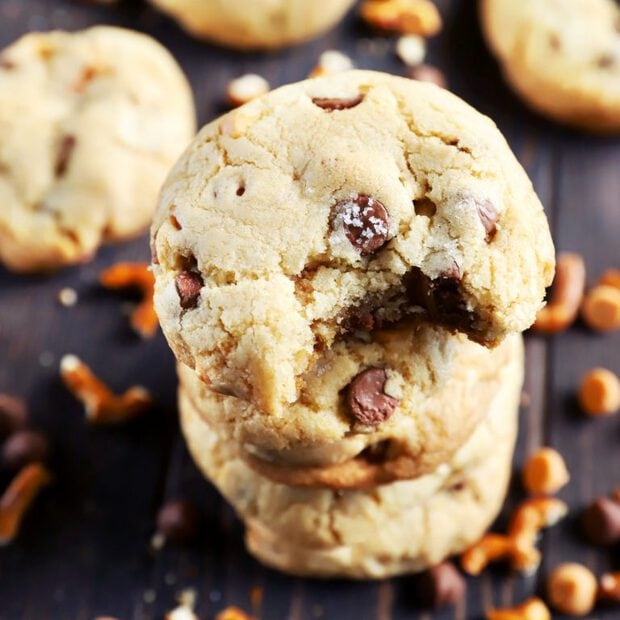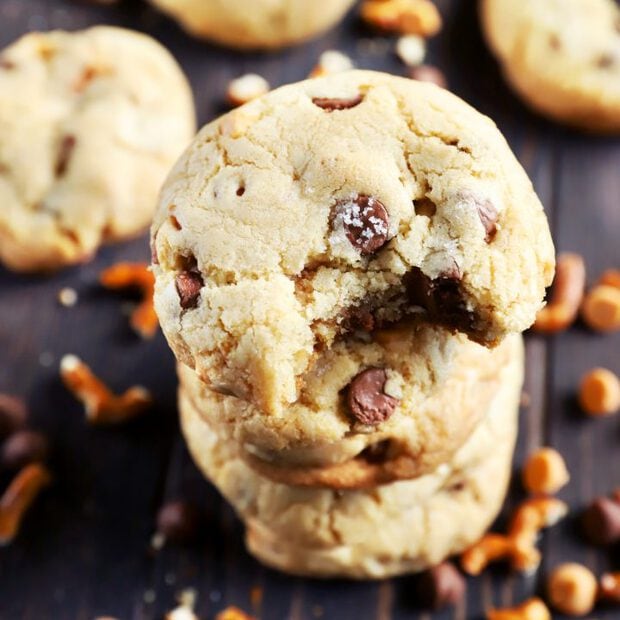 Salted Caramel Butterscotch Cookies with Pretzels
Yield:
Approx. 15 cookies
Chewy and crunchy, these cookies have everything you could ever want in them!
Ingredients
8 tablespoons of unsalted butter
1/2 cup granulated sugar
1/4 cup packed light brown sugar
1 teaspoon vanilla
1 egg
1 1/2 cups + 3 Tbsp all purpose flour
1/2 teaspoon baking soda
1/4 teaspoon salt
1/2 cup milk chocolate chips
1/4 cup caramel bits
1/3 cup chopped pretzels
1/3 cup butterscotch chips
1 tsp flaky sea salt
Instructions
Prehet oven to 350˚F.
In a small bowl, microwave butter for about 40 seconds until the butter is just barely melted. It should almost be entirely liquid.
Add butter and sugars to the bowl of a stand mixer. Beat together until creamy, about 2 minutes. Beat in vanilla and egg, until just incorporated.
Add flour, baking soda, and salt, beating until just combined. Stir in milk chocolate chips, caramel bits, chopped pretzels, and butterscotch chips until combines.
Roll dough into balls that are about 1 1/2 inches in diameter. Place on cookie sheets lined with silicone mats or parchment paper. They should be spaced a couple of inches apart. Sprinkle evenly with flaky sea salt.
Place in the freezer for 15 minutes or refrigerator for 30 minutes.
Bake for 12 to 15 minutes, until the cookies are puffy and the edges are just golden brown. Make sure that you don't overbake them, they should still be pale and puffy in the center.
Let cool on the pan for 15 to 20 minutes before removing to wire racks to cool the rest of the way.
Store in an airtight container.
Recommended Products
As an Amazon Associate and member of other affiliate programs, I earn from qualifying purchases.