Please note this post contains affiliate links.
Cheesy Ham Avocado Egg In A Hole is just what you want to wake up to in the morning, and it's ready in less than 30 minutes! With ham, cheese, avocado, and a perfectly runny egg, all you need is a mug of coffee to start your day off right.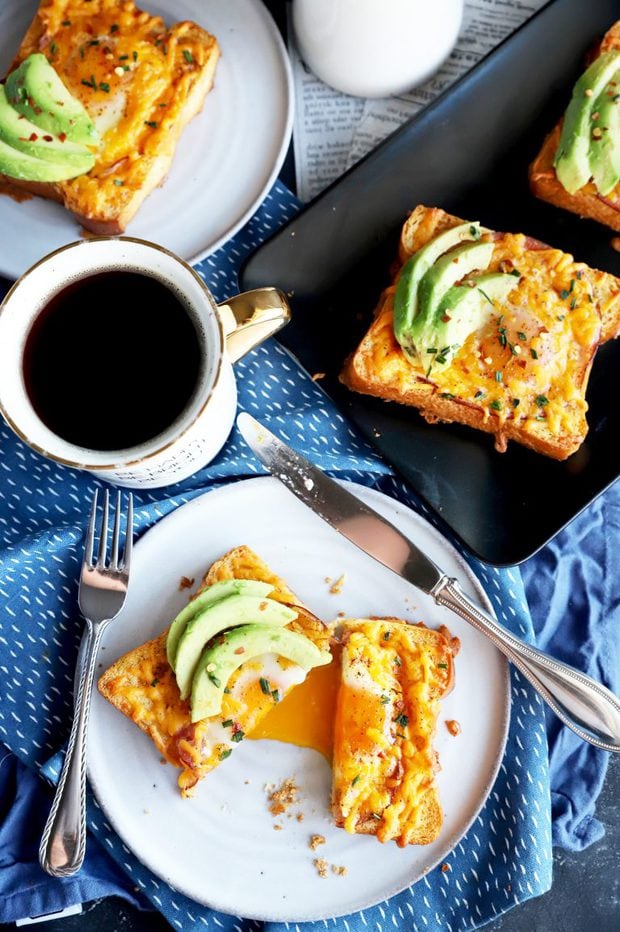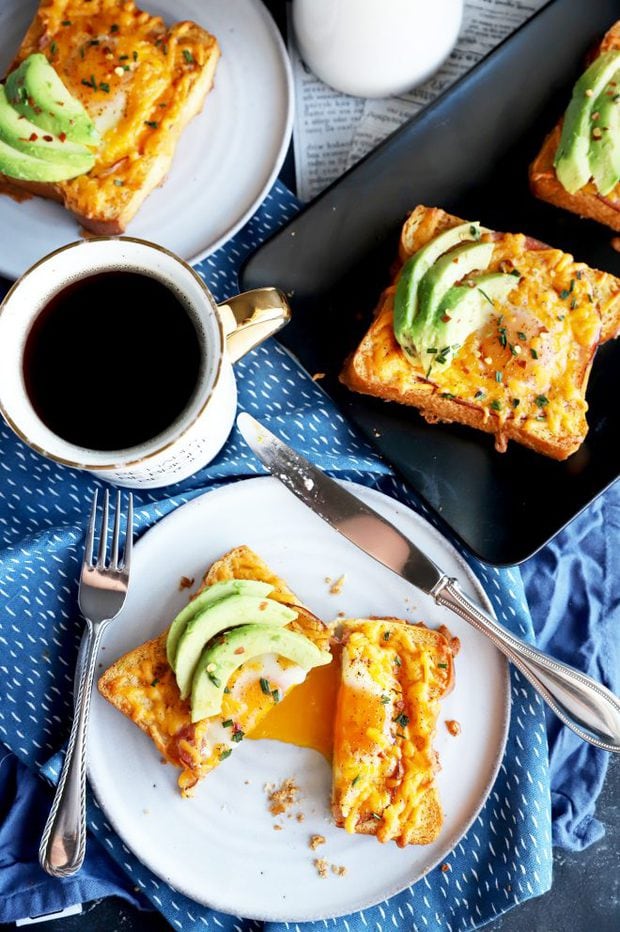 If you know me, you know that I am not much of a breakfast person. I was a strictly cereal girl for most of my youth. Even when my mom made breakfast, I just wanted a big ol' bowl of Cinnamon Toast Crunch or Reese's Puffs.
You could say I had a bit of a sweet tooth back then… Not that it's really gone away!
So it wasn't until I started working in the real world that I realized the importance of starting the day off with a REAL breakfast.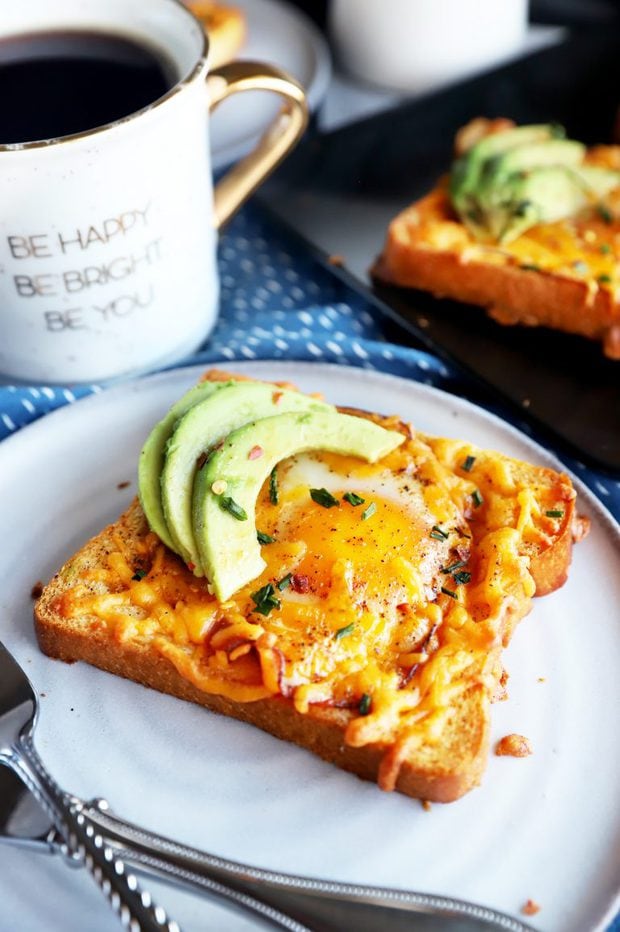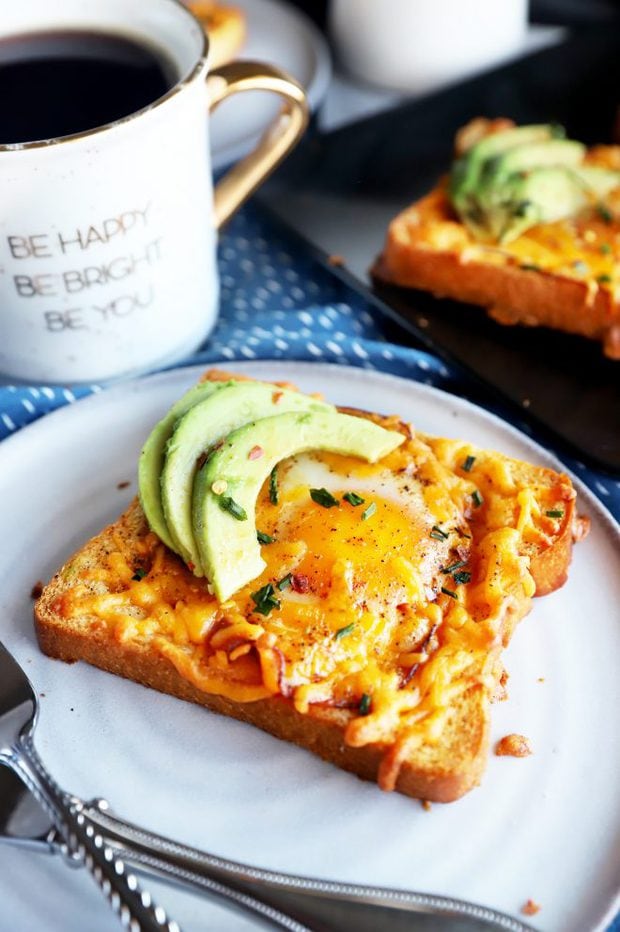 It took me a long time to figure out what I really loved, but when I found egg in a hole, I was hooked.
Egg in a hole is one of those breakfasts that I absolutely love to make. It's super easy and hearty, with a runny yolk and toasted bread to soak it up with.
This version of egg in a hole is the original recipe amped up times 10 or so. Instead of just a slice of bread with an egg in the center, this version has even MORE to it. There's slices of ham, gooey melted cheese, a tasty spice blend, and it's topped with avocado to make it even more hearty.
The whole dish comes together in less than 30 minutes, so you can leisurely brew that cup of coffee as you wait for the slices to bake up to perfection.
Every time I make egg in a hole this way, it comes out absolutely perfect with a nice and runny yolk… It's a fantastic breakfast to start the day on a weekday, but it also makes for a killer addition to a weekend brunch!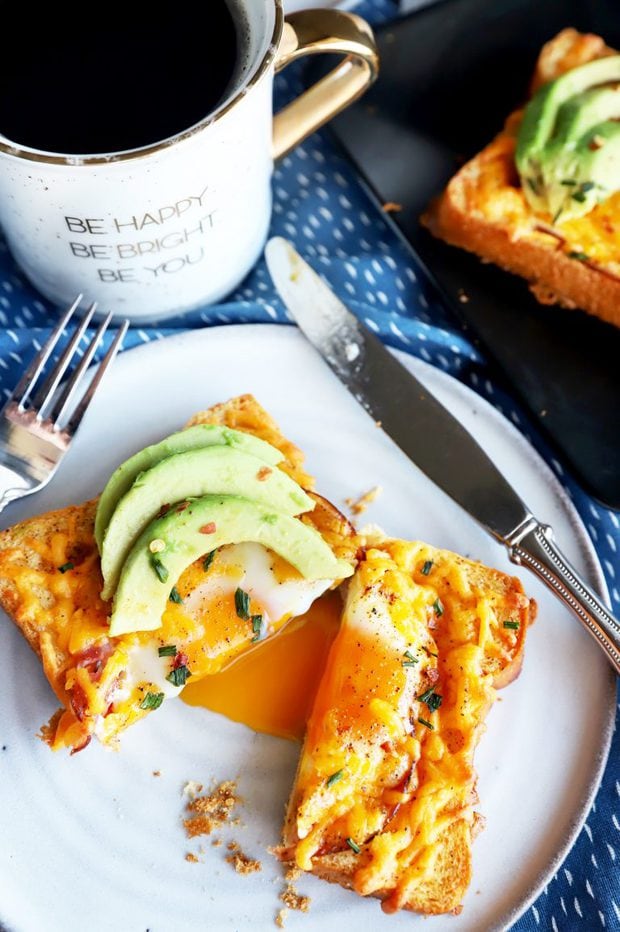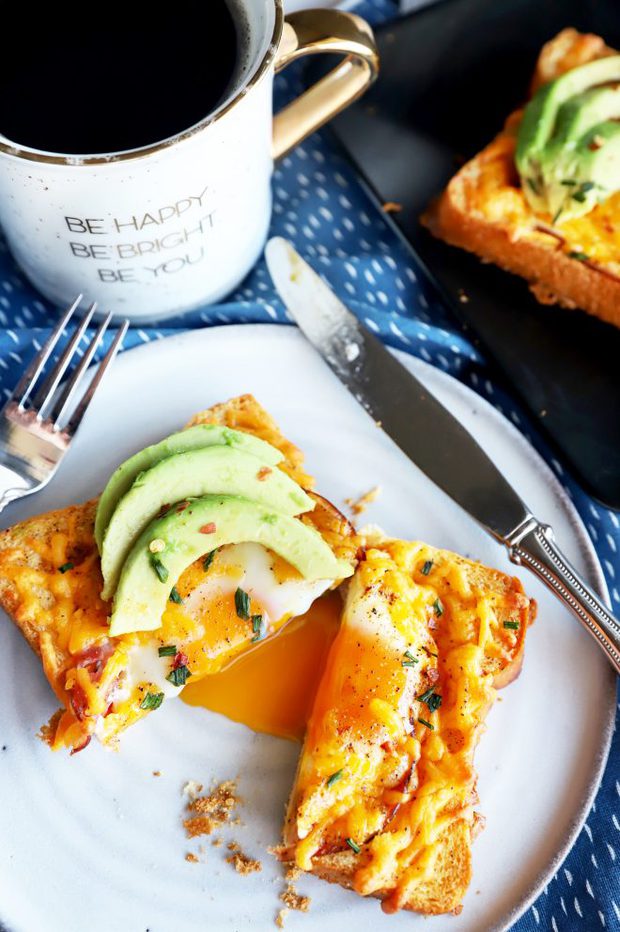 This Recipe's Must-Haves
This recipe is SUPER straightforward so you don't need a ton of tools to get it done. First off, you'll need a set of measuring cups, as you will use the one cup to form an indent in the bread (aka the "hole").
Next you'll need a half sheet baking pan to bake up these yummy slices on.
Finally, you need a chef's knife and cutting board to slice up the avocado for topping it all off!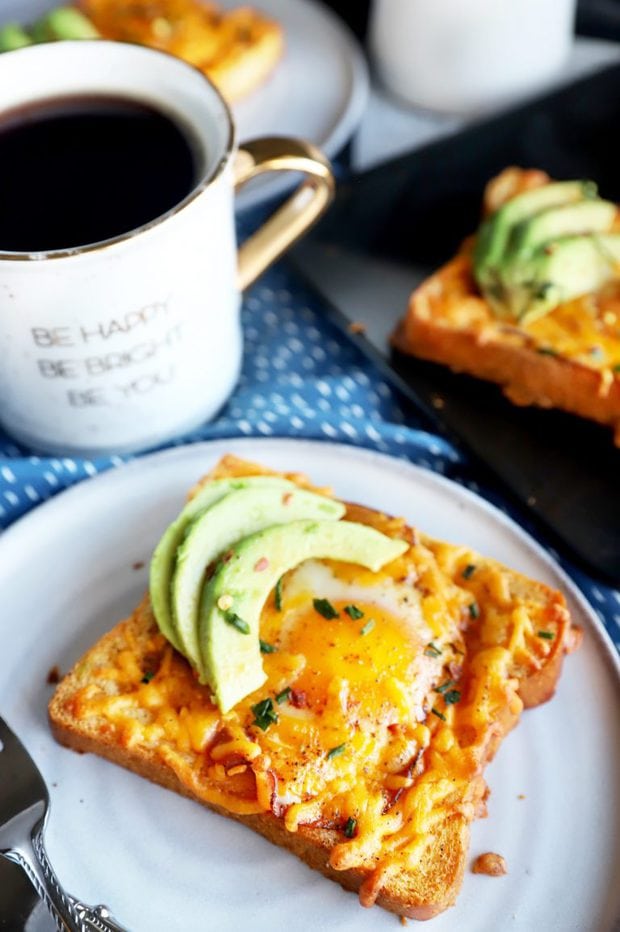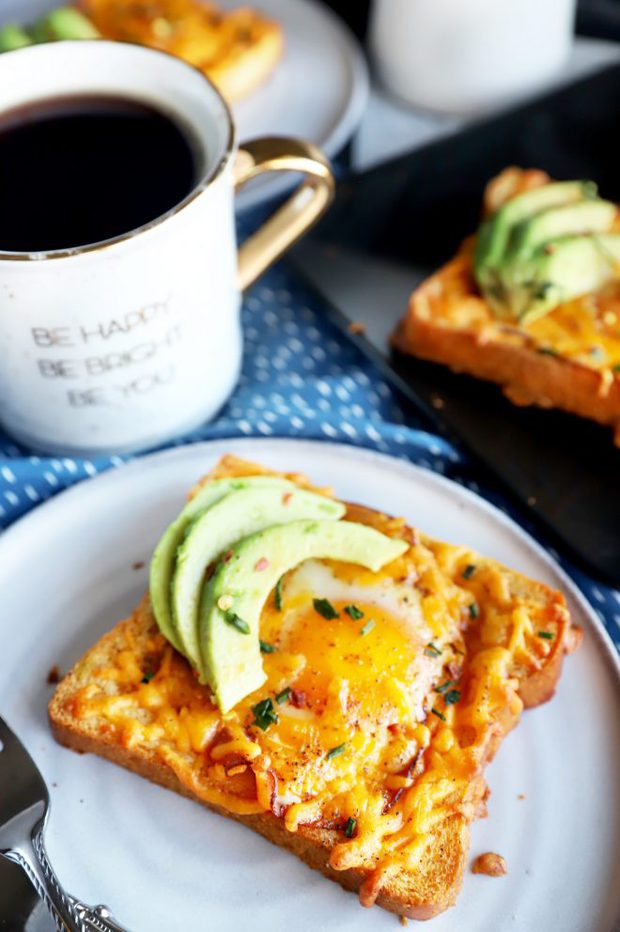 Here's How To Make Avocado Egg In A Hole
Assemble
To assemble an egg in a hole, you start with a piece of thick bread. I personally like to use brioche because of the texture and flavor, but you can also use sourdough or French bread if you prefer.
Use a one cup measuring cup to press down in the center of each slice of bread. This creates a little divot for the meat and egg to fit into.
Brush the edges of the toast with oil, then add ham into the center of the divot. Crack an egg inside each and sprinkle the edges of the slices of bread with cheese.
Finally, you'll whip up an easy spice mix in a small bowl, sprinkling it on top for an extra burst of flavor.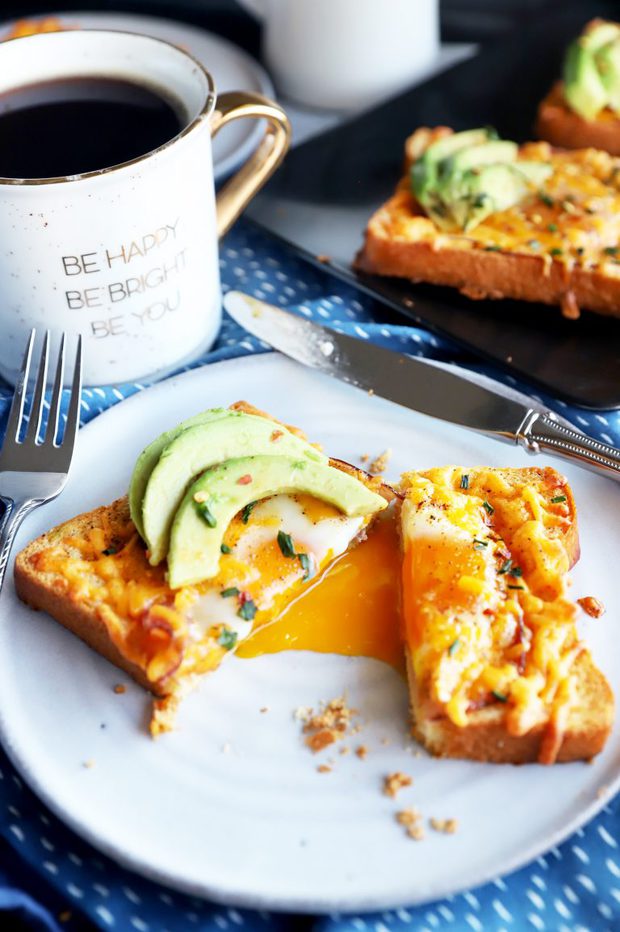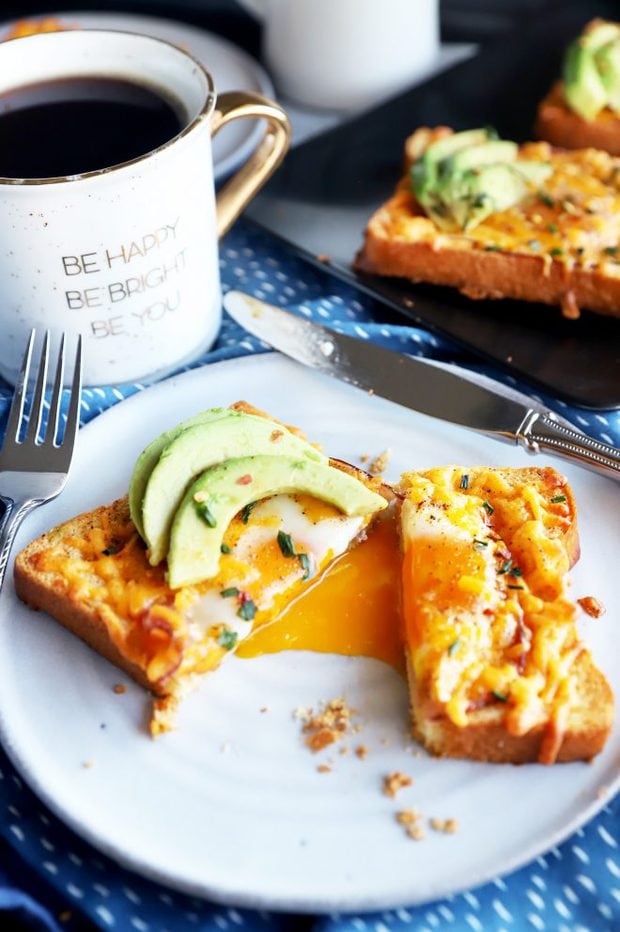 Bake
Add the sheet pan to the oven and bake them up! They only take 15 minutes to bake. The white of the egg will be cooked through, but the yolk will still be runny. AKA egg perfection…
Garnish and Serve
Sprinkle with chopped chives and top with sliced avocado. You can also throw on a sprinkle of red pepper flakes for some spice if you want!
Need inspiration for brunch? Check out my Breakfast recipes page for some tasty ideas.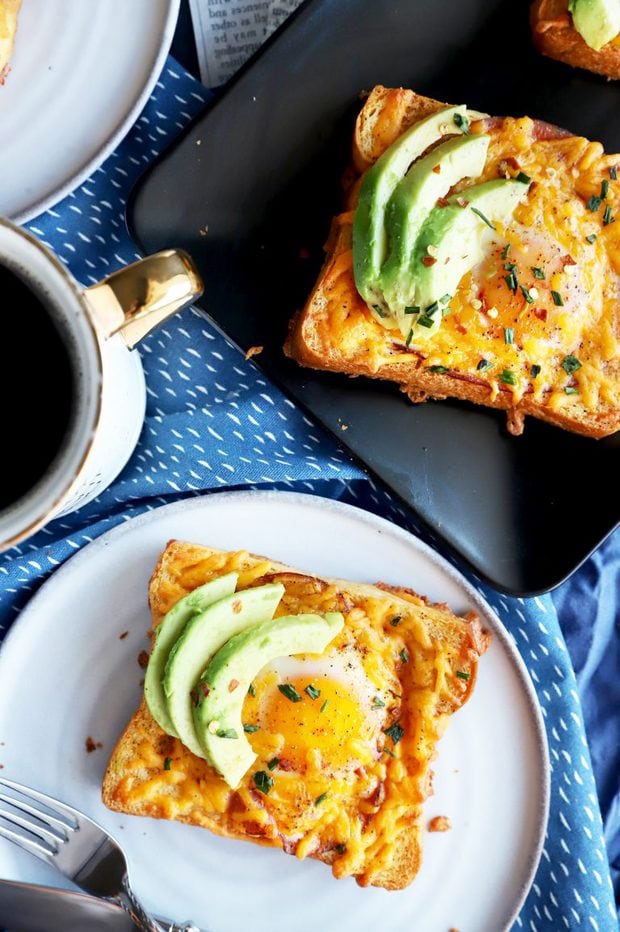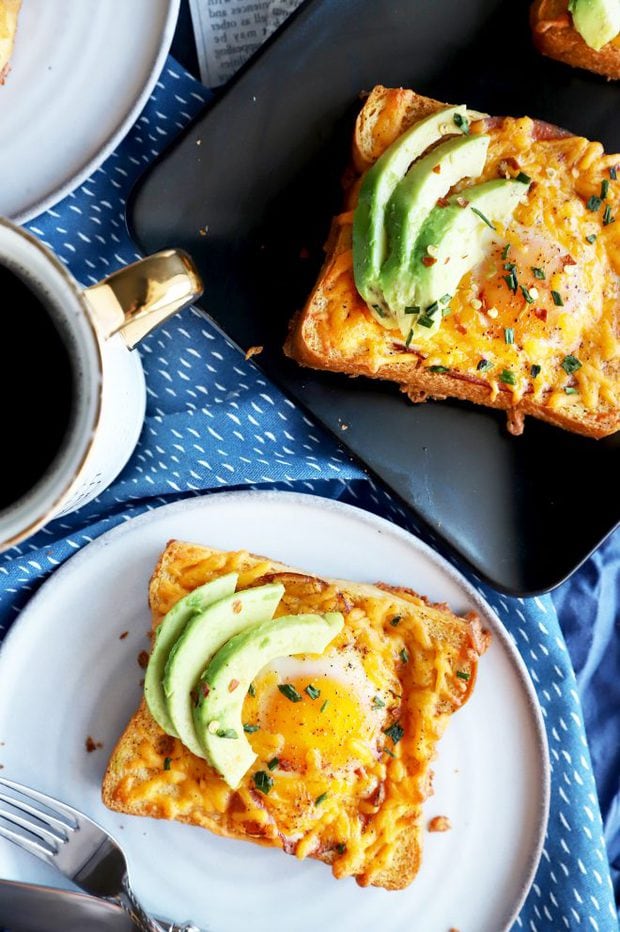 Can you freeze egg in a hole?
I do not recommend freezing this recipe, because when you reheat it, the egg will not come out perfectly runny in the center.
Can I make this recipe ahead of time?
Again, making this ahead of time means reheating, which means you'll end up cooking the egg through more than you want to. I don't recommend it, but you can try it if you want.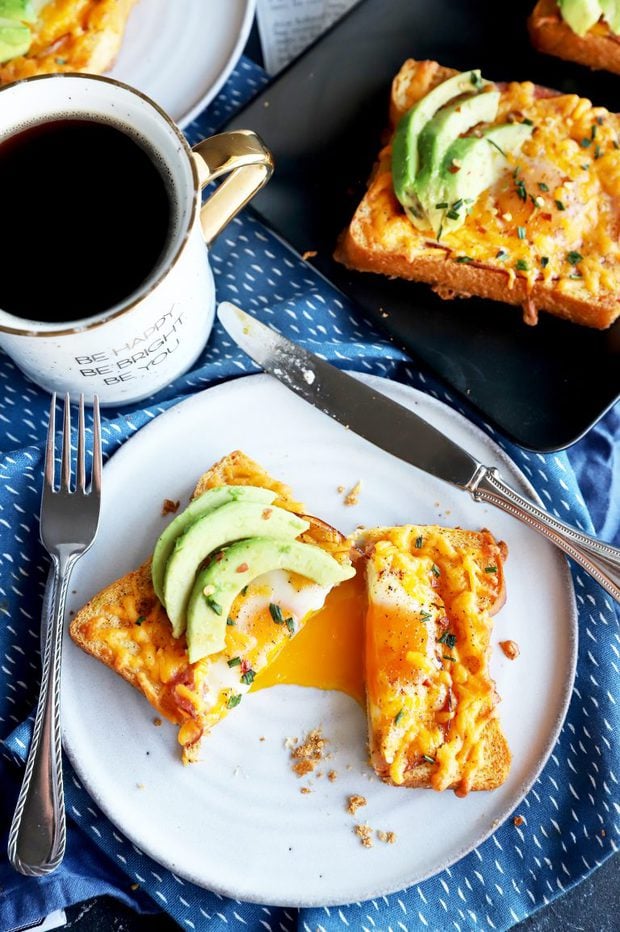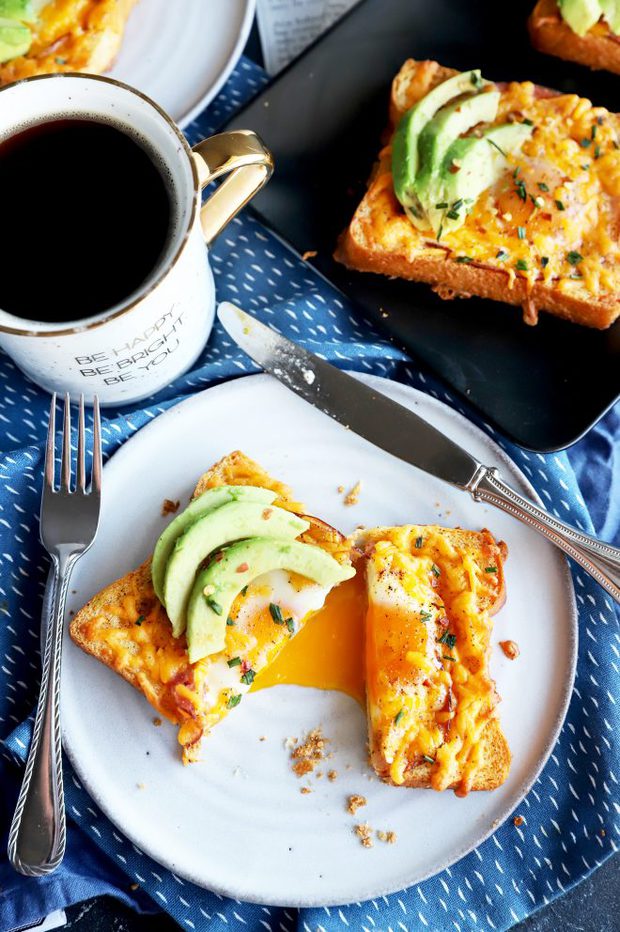 If you love this recipe, then try it's lunchtime twin, the grilled open-faced caprese sandwich!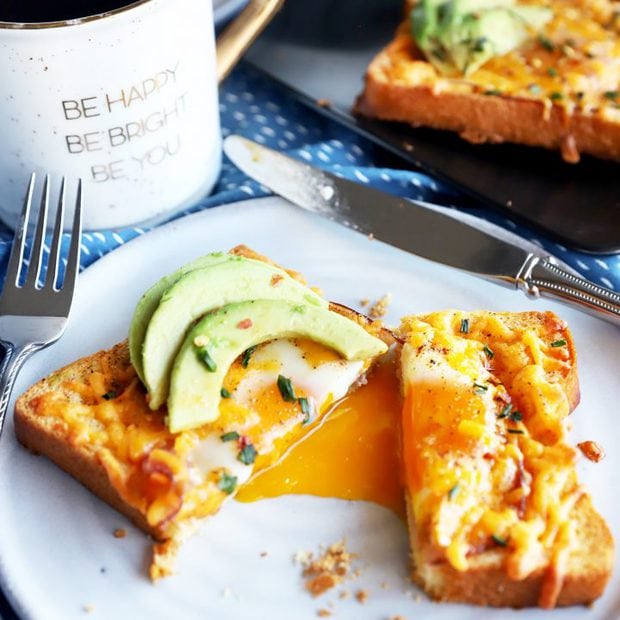 Cheesy Ham Avocado Egg In A Hole
Egg in a hole gets a cheesy twist for an easy morning breakfast!
Ingredients
4 slices bread
2 Tbsp olive oil
8 slices ham
4 eggs
1/2 tsp chili powder
1/4 tsp ground cayenne pepper
1/2 tsp salt
1/2 tsp black pepper
1/2 tsp garlic powder
1/2 tsp onion powder
1/2 cup shredded cheddar cheese
1 tsp chopped chives
1 large avocado
Crushed red pepper flakes
Instructions
Preheat oven to 350˚F. Line a baking sheet with parchment paper.
Place slices of bread on the prepared pan. Use a one cup measuring cup to press down the center of each slice. This will create a divot for the egg to go into!
Brush the edges of the toast with oil evenly.
Place 2 slices of ham in the center of the divot. Crack and egg inside of each divot. Sprinkle the edges of each slice with shredded cheese, dividing evenly between them all.
In a small bowl, stir together chili pepper, cayenne pepper, salt, pepper, garlic powder, and onion powder. Sprinkle this spice mixture evenly over each slice.
Bake for 15 minutes, until the white of the egg is cooked through but the yolk is still runny.
Sprinkle with chopped chives and top with sliced avocado. Sprinkle with red pepper flakes, if desired. Serve immediately.
Recommended Products
As an Amazon Associate and member of other affiliate programs, I earn from qualifying purchases.