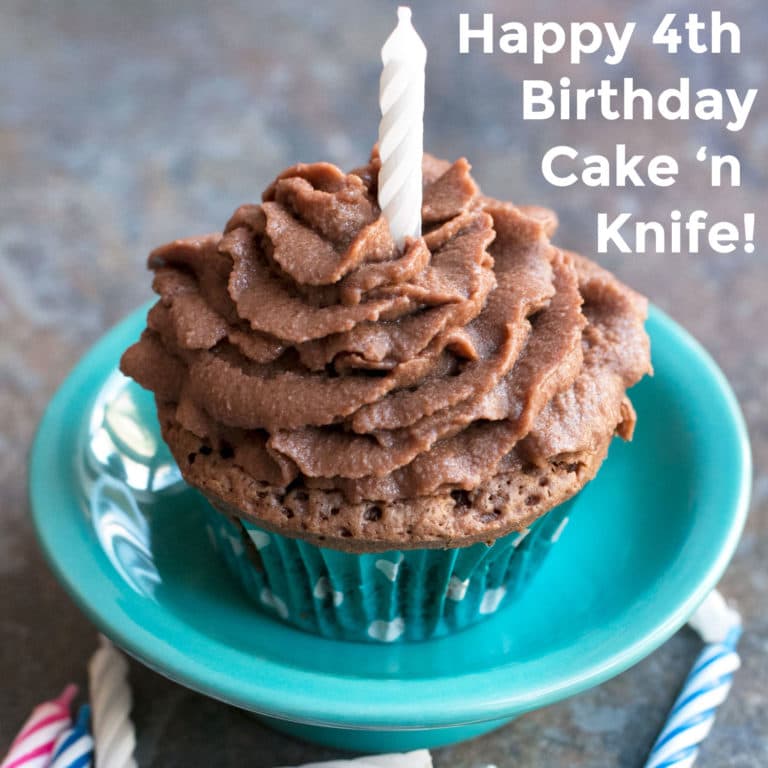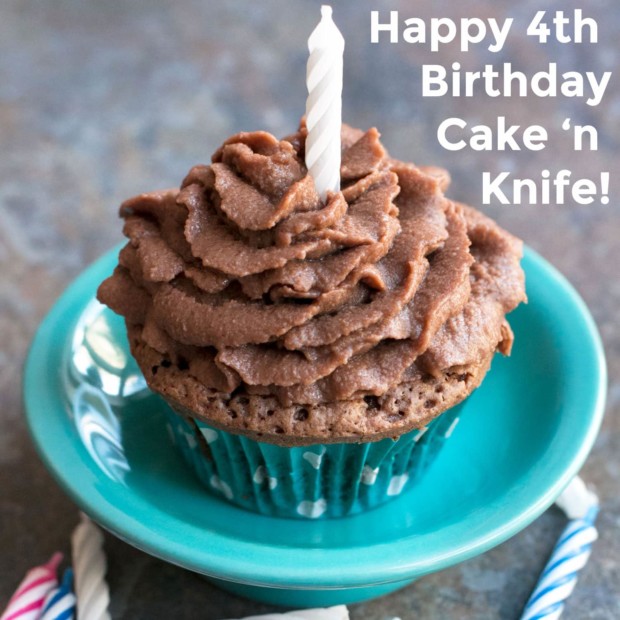 Happy Thanksgiving! Today I am going to be running around like a crazy person hosting my first Thanksgiving, managing two insane dogs, and looking forward to my favorite part of this whole holiday which is the next three days where I will do minimal work, binge Gilmore Girls, and eat ALL the leftovers in all my favorite ways (see this, this and this).
This year, Thanksgiving just so happens to fall on my blog birthday.
Cake 'n Knife has been around for four years, people. FOUR. WHOLE. YEARS.
It's a little mind-boggling to think about how far this has all come since the first post I published. I remember putting that post out there and thinking to myself, "no one is ever going to read this, are they?" Here I am four years later, making the food that I love and sharing it with you all… Crazy town, right?
A lot has changed in the past year… A lot has changed in the past month, to be honest.
I've moved. I've taken new strides in my career. I've entered into the most influential and honest relationship I've ever been in. I've celebrated 30 years on this earth.
I've also lost… Over a month ago, I lost a very dear friend to suicide.
It's taken me this long to say anything about it here because I couldn't find the words. Honestly, I am struggling to find the words now. Losing a friend is something that cuts you deeply in ways you can't even fathom. To lose someone with the biggest heart and soul to suicide is, simply put, soul-shattering… There are so many unanswered questions, too many regrets, and you can't help but wonder about all those "what if's." It feels like you are living in a constant scattered thunderstorms kind of day – there are times where a heavy grief-filled raincloud looms over you, and at other times, the sun is shining brightly on your face.
All I can do it try to focus on the sunshine whenever those rainclouds come looming overhead.
You know, I used to be terrified of change. I was petrified of it. I thought I couldn't handle it. Whenever I was faced with change I used to run away from it. There's still a little knot in my stomach every time I am presented with a serious change… but now, after suffering such a loss and after making such giant strides in my life, I am learning to lean into it. I am starting to lean into the challenges, into the happiness and joy, into the sorrow, and into the fear that I used to run so desperately away from.
As someone I know has told me several times, it's the times that we are faced with the biggest changes and challenges that we truly learn who we are.
In all the chaos of this past month, as I reflect on the past year's highs and lows, there's just one thing I want to say to all of you…
THANK YOU.
From the bottom of my heart, thank you. Thank you for reading. Thank you for listening. Thank you for cooking and whipping up crazy cocktails with me. Thank you for sharing the love of food and booze and avocados and chocolate. Thank you for laughing at my craziness and for following along on my adventures around the world and right here in Denver. Thank you for bringing these recipes to life in your homes.
This big ol' dream of mine would be nothing without each and every one of you.
I hope you have the merriest of Thanksgiving celebrations today. I'll be thinking of you all as I toast another year of blogging bliss.
All My Love,
Meghan