Egg Nog Cinnamon Rolls are the tasty treat you'll be dying to wake up to on Christmas morning. With an egg nog cream cheese frosting slathered on top, these cinnamon rolls are the quintessential holiday treat!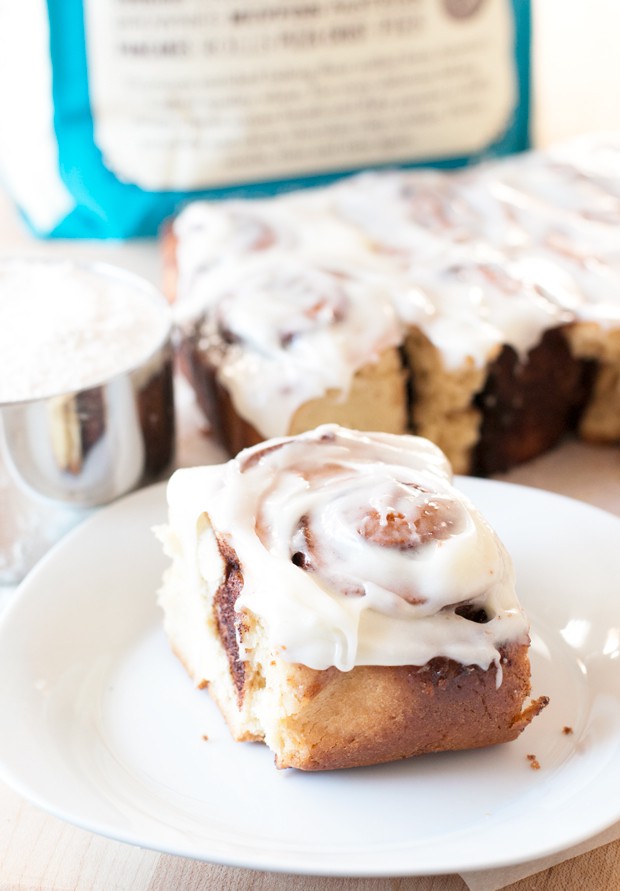 The smell of cinnamon rolls in the oven in the morning… There's not a lot of smells that are more comforting, are there?
I really wish I could say that I am one of those gals that gets up every Saturday morning and makes cinnamon rolls from scratch, but really I only bust these out for a special occasion.
Christmas, Thanksgiving weekend, a special someone's birthday. Events like that, you know?
That's just how it is with recipe like these. I know it can seem daunting, and yes, there is a bit of effort that goes into making cinnamon rolls like these from scratch, but wowza are they worth every step.
I've infused these cinnamon rolls with holiday deliciousness and each bite practically melts in your mouth.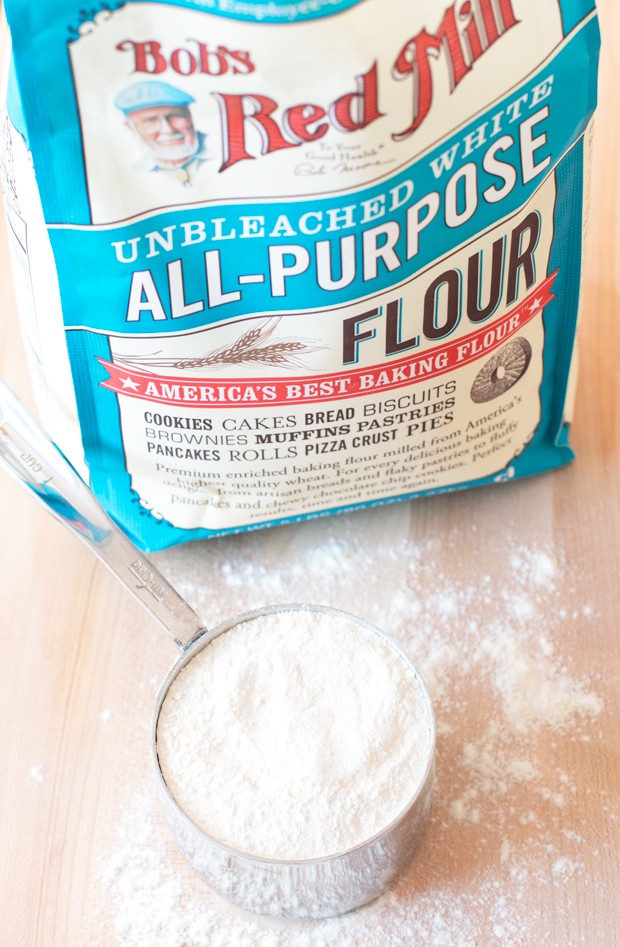 The variety of spices layered with the egg nog infused in the dough and the frosting brings out the very best of the holiday season.
Now this is just the beginning of my seasonal baking, and to get me going I am looking to Bob's Red Mill for all their amazing products to keep my baking game going strong.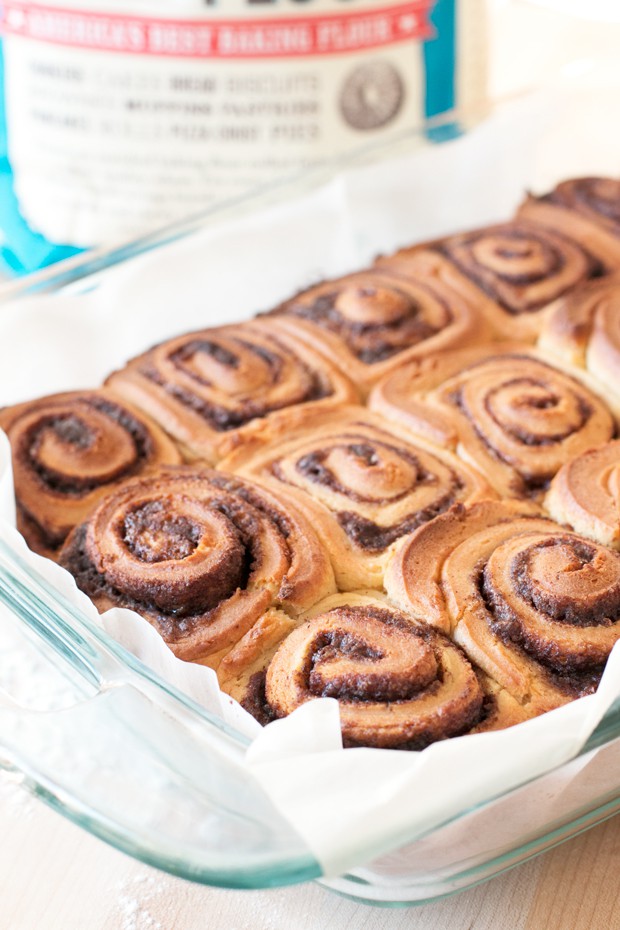 For these rolls I used Bob's Red Mill Organic All Purpose Unbleached White Flour because not only is it milled from high quality wheat, but it also naturally helps the dough for these rolls rise. It'll make your breads lighter, your cookies fluffier and it's all you need to survive the upcoming onslaught of trying to bake ALL the things in about one month's time.
It's my go-to source for flour and all my other baking needs (not to mention cooking because HELLO their lentils are bomb).
That's exactly why Bob's Red Mill and I are partnering up to bring you a giveaway to get this baking season kicked off the right way. Check out the giveaway below the recipe for your chance to win one 5lb bag of Bob's Red Mill Organic All Purpose Unbleached White Flour AND a $50 Bob's Red Mill gift card!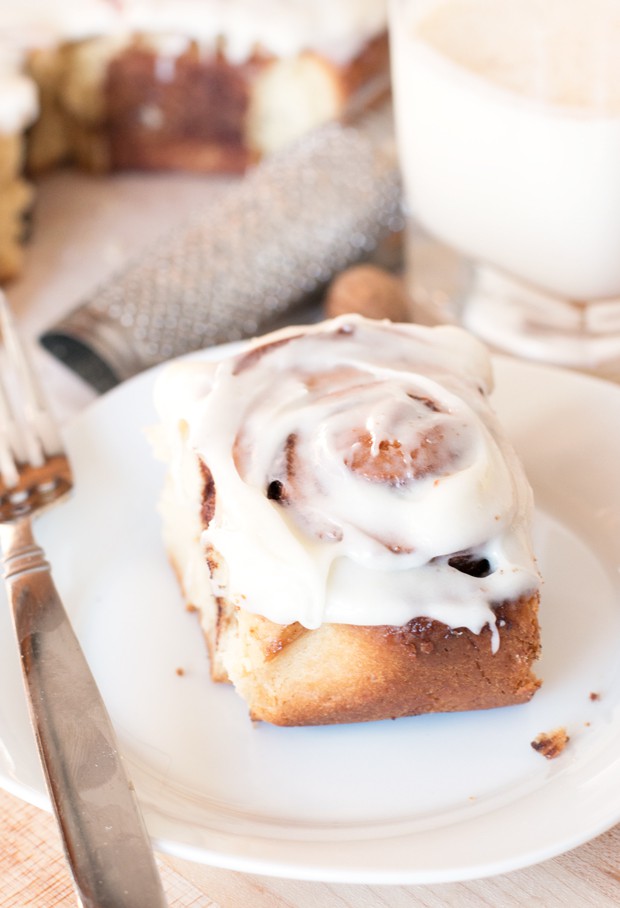 And trust me when I say, you'll be licking the entire bowl to get any last leftover drop of this egg nog cream cheese frosting…
Giveaway is open to U.S. residents only.
Disclosure: I received free product and compensation from Bob's Red Mill as part of this post. As always, all opinions and recipe are my own. Thanks for supporting the brands that support Cake 'n Knife!
This Recipe's Must Haves
Pin this Egg Nog Cinnamon Rolls recipe for later!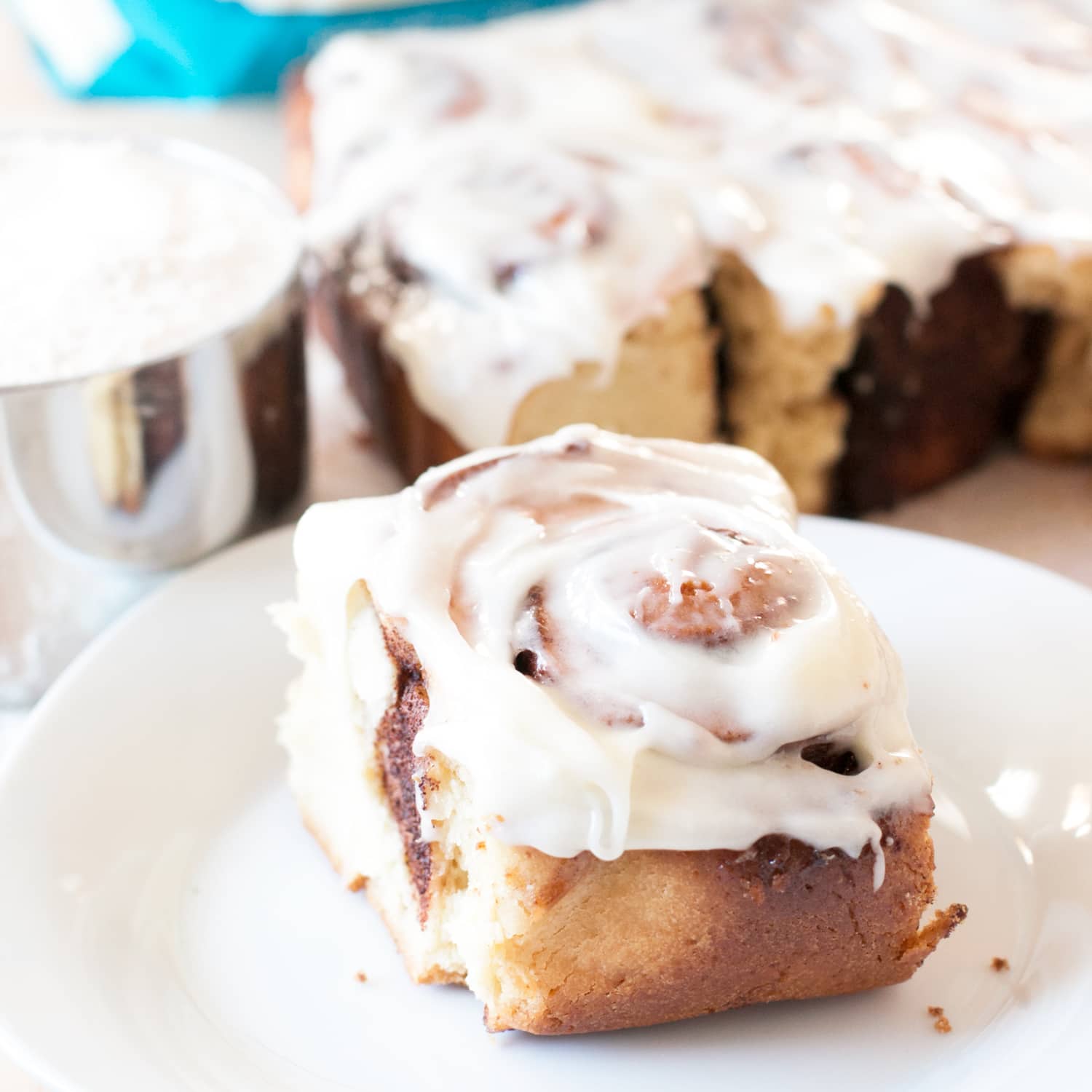 Egg Nog Cinnamon Rolls
Additional Time:
15 minutes
Total Time:
2 hours
45 minutes
'Tis the season to celebrate the holidays with all the egg nog deliciousness! Wake up to the delish smell on Christmas morning 🙂
Ingredients
Dough
1 cup warm eggnog
2/3 cup sugar
1 1/2 Tbsp active dry yeast
1 stick unsalted butter, softened (8 Tbsp)
2 large eggs
1/2 tsp sea salt
4 1/2 cups Bob's Red Mill Organic Unbleached White Flour
Filling
3/4 cup brown sugar
1 1/2 Tbsp ground cinnamon
1/2 cup butter, softened
Frosting
1 cup confectioner's sugar
3 Tbsp butter, melted
2 oz cream cheese
1 1/2 Tbsp egg nog
Instructions
Pour the warm egg nog into the bowl of an electric stand mixer fitted with the dough hook and stir in the sugar and yeast. Let rest for about 5 minutes until the yeast is foamy. Add the softened stick of butter, eggs, and sea salt. Beat to combine. Then add the flour and beat until a soft dough forms on medium speed, approximately 3 minutes. Increase speed to high and beat until the dough is soft and pliable, an additional 10 minutes.
Remove the dough and place on a lightly floured surface. Knead with your hands a few times and then form the dough into a ball. Grease a medium size bowl with butter and add the dough ball to the bowl. Cover with plastic wrap and let rest in a warm place until doubled in size, about 1 1/2 to 2 hours.
Line the bottom of a 9x13-inch baking pan with parchment paper, allowing the paper to extend up the long sides. Grease the paper with butter. Turn out the dough from the bowl onto a lightly floured work surface and roll out into a 10"x24" rectangle.
In a small bowl, whisk together brown sugar and ground cinnamon for filling.
Spread the rectangle of dough with butter for filling. Sprinkle the cinnamon sugar on top.
Tightly roll the dough to form a 24-inch log. Cut the log into quarters and then cut each quarter into 4 slices. Arrange the slices in the baking pan with the cut sides up. Cover the rolls with plastic wrap and allow them to rise for an additional 2 hours.
Preheat the oven to 425 degrees. Bake the rolls for about 25 minutes, until they are golden brown. Transfer the pan to a rack and allow to cool for 30 minutes.
In a small bowl, whisk together the confectioners' sugar, butter, heavy cream, cream cheese, and egg nog until the frosting is spreadable.
Grab the sides of the parchment paper that hang over the baking pan and invert the rolls onto a cooling rack. Peel off the parchment paper off and turn the rolls over onto a serving platter. Spread frosting evenly over the rolls with a spatula. Serve immediately.