Please note this post contains affiliate links.
The Ultimate Thanksgiving Leftovers Sandwich is my FAVORITE way to enjoy the wonderful world of Thanksgiving for days after the big day. It's got turkey, cranberry sauce, stuffing, mashed potatoes and a gravy mayonnaise all piled up on a toasted bun. Who could resist?!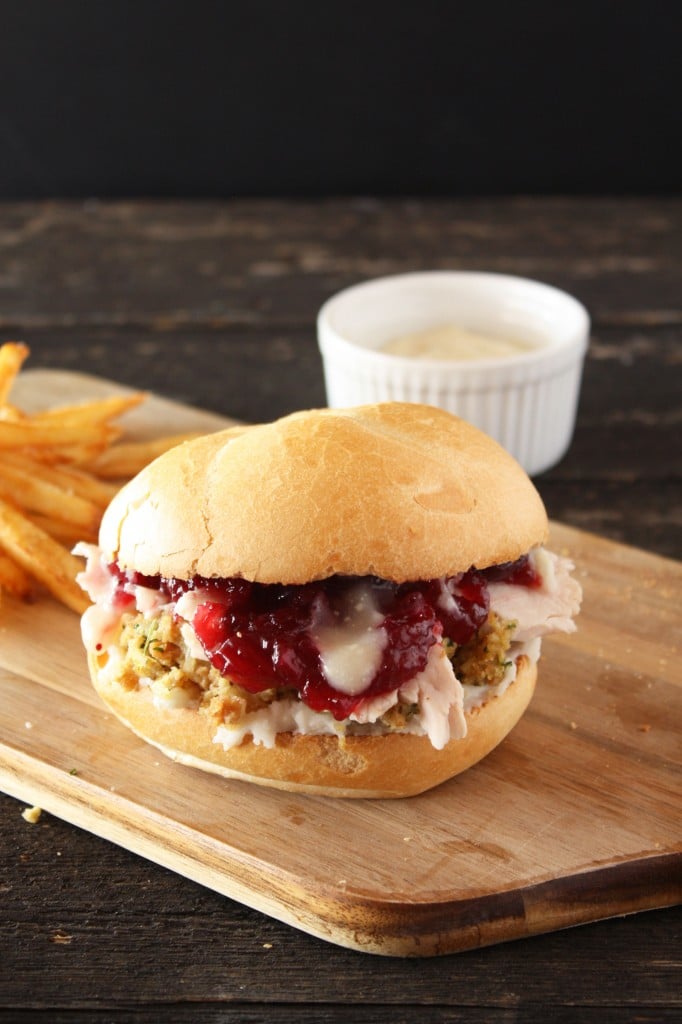 I am spending this week preparing for the massive amounts of food I will be devouring on Thanksgiving. That being said, I am also preparing for the food coma I will be in on Friday.
What better way to arm myself than with an amazing sandwich that will help me relive the glory of the previous day's Thanksgiving feast?
Thanksgiving leftovers have been a time-honored tradition in my family. Every holiday, I make sure I go home with a perfectly balanced package of food, which I spend the next day finishing as I begin to bust out the Christmas decorations. This year however, I decided I needed to kick my leftovers up a notch.
I have to admit, I really did my research on this sandwich. I searched thousands of expert tips and advice and when I finally came up with this gorgeous thing, I knew I had reached leftovers nirvana (yes, this place really exists. If you haven't been there, you have been missing out!)
When I say this is the ultimate Thanksgiving leftovers sandwich, I really mean THE ULTIMATE. Every bit of Thanksgiving that we all know and love is smashed into this mess of a sandwich. And with every single bite, it's literally magic in your mouth.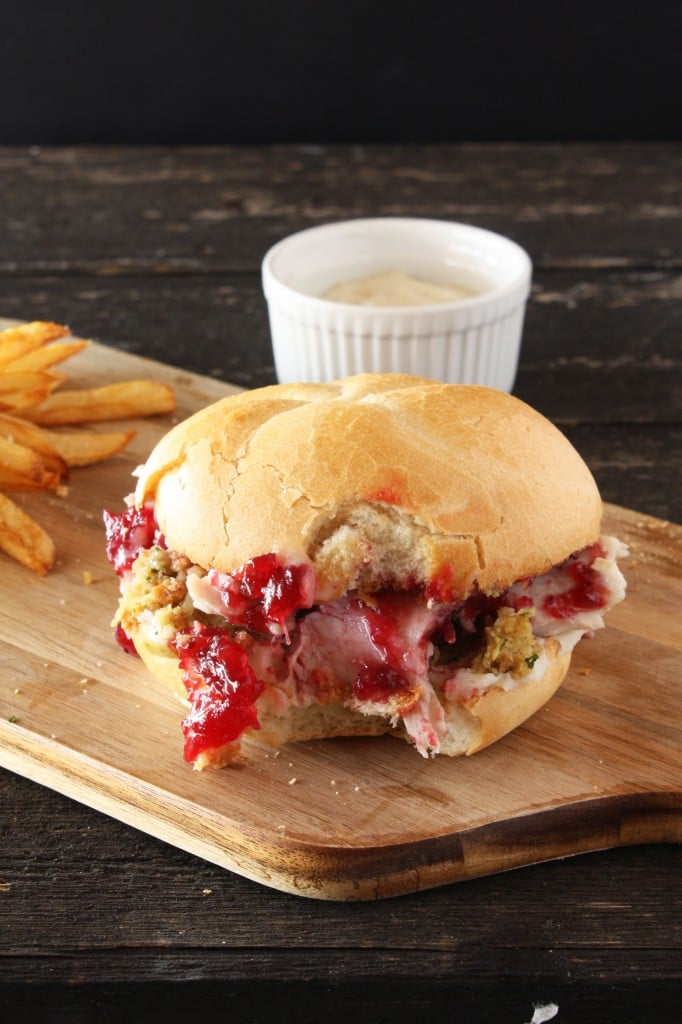 So when you wake up on Friday in your food/wine/booze hangover, look no further than right here. I've got you covered. 😉
If anyone needs me the day after Thanksgiving, I'll be curled up on the couch catching up on my favorite TV shows with this sandwich. It's my refresh day before I spend the entire weekend bringing out the Christmas decorations! It's been a tradition with my mom and I since I can remember to put up the tree the weekend after Thanksgiving. One of my most cherished memories that I absolutely love to continue every single year.
Do you decorate for the holidays right after Thanksgiving or do you give into the siren call before Thanksgiving rolls around? I have to say that every year I think more and more about decorating earlier… Resisting temptation is hard, and I have a feeling I will break down in future years to come.
Until then, Thanksgiving weekend and this leftovers sandwich will be reserved for eating, drinking, and decorating for the next holiday!
This Recipe's Must Haves
A cutting board is a must for cutting up the rolls, as well as cutting the turkey to pile on top of the sandwiches.
This countertop convection oven is EVERYTHING. I love using it daily for toast, toasted sandwiches, and baking for the Man and I when we don't want to warm up the oven. It's so fantastic!
You'll also need a bread knife to slice up the rolls for the sandwiches!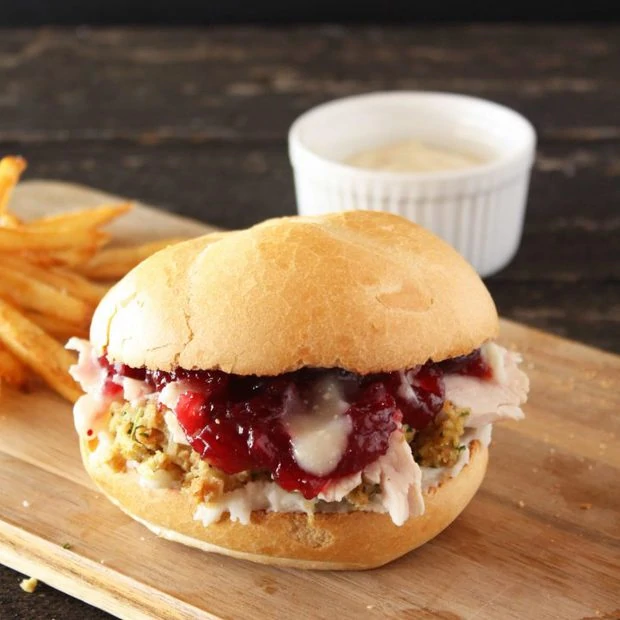 The Ultimate Thanksgiving Leftovers Sandwich
If you have leftovers from Thanksgiving, this is the BEST way to eat them!
Ingredients
1 white Kaiser roll
1 1/2 tbsp butter
2 tsp garlic powder
4-5 oz turkey, broken into smaller pieces (this helps ensure turkey in every bite)
4 Tbsp mashed potatoes
1/4 cup stuffing
4 tbsp cranberry sauce
2 Tbsp gravy (or more, see note in instructions below)
Instructions
Cut the roll in half and spread with equal amounts of butter. Sprinkle with garlic powder and place cut side down on a warm grill pan and toast. Remove from heat.
It's time to build your sandwich! I start with spreading the mashed potatoes on the bottom piece of the roll. Then I add a layer of stuffing and top that with the pieces of turkey. I then add the cranberry sauce and gravy on top (letting it drip down the sides). Top with the top piece of the roll and DIG IN.
If you want a little extra on the side, fry up some thin cut russet potatoes, sprinkle them with salt and cayenne when they are hot out of the oil, and serve with a side of gravy mayonnaise (mix 2 tablespoons mayonnaise and 3 1/2 tablespoons gravy).
Notes
The measurements above are just suggestions so feel free to add more or less of any of the sandwich ingredients. It's all about satisfying your craving for more Thanksgiving deliciousness!
Recommended Products
As an Amazon Associate and member of other affiliate programs, I earn from qualifying purchases.