Please note this post contains affiliate links.
Patriotic Tom Collins Punch is how I salute the good ol' red, white and blue every Fourth of July! This punch is where big batch cocktails meet sangria, with just the right about of fruity sweetness to accompany the floral gin notes. You won't find a better refreshment (or a more patriotic one ????) than this come Independence Day!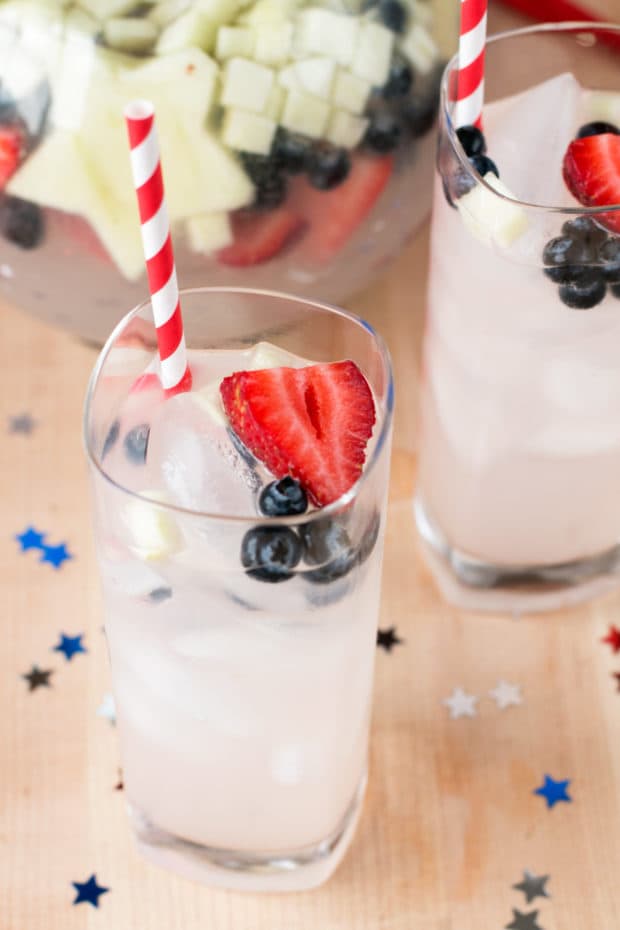 Where are all my gin-lovin' peeps at??
A classic Tom Collins is probably a cocktail that you know well, and love to bust out at happy hour. It's a simple enough cocktail to make, and it's even easier to modify (like my Citrus Tom Collins from last year).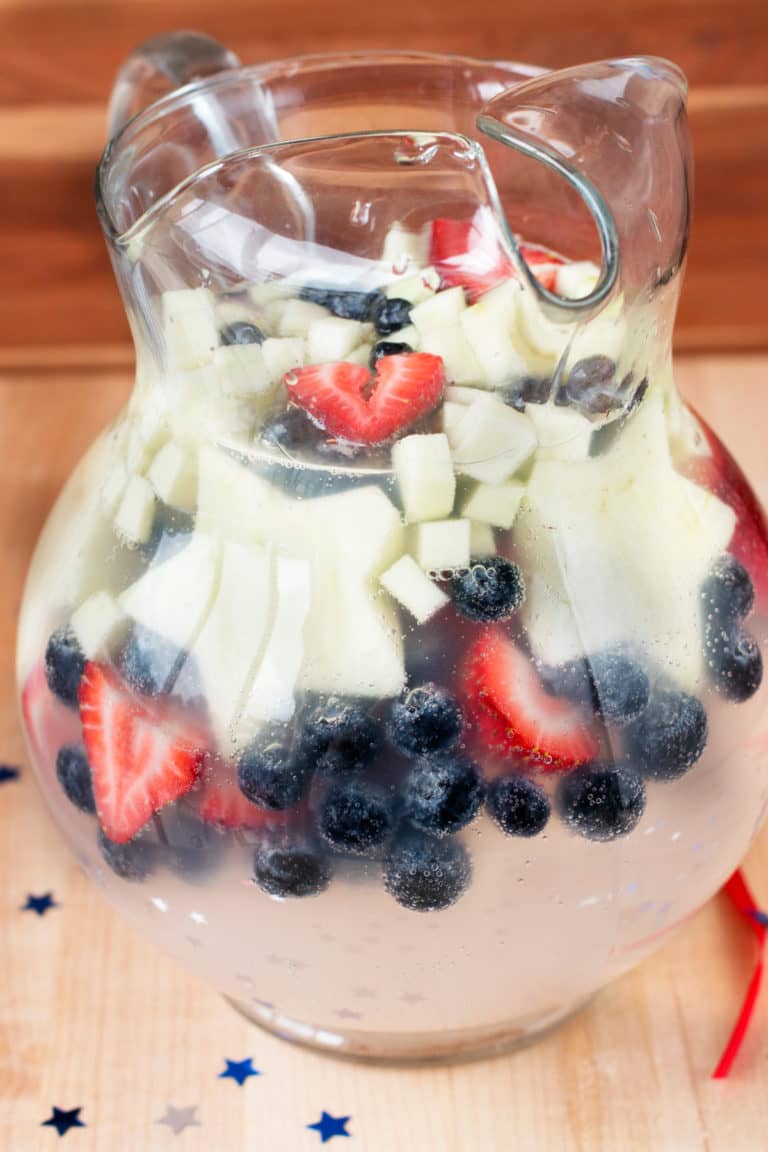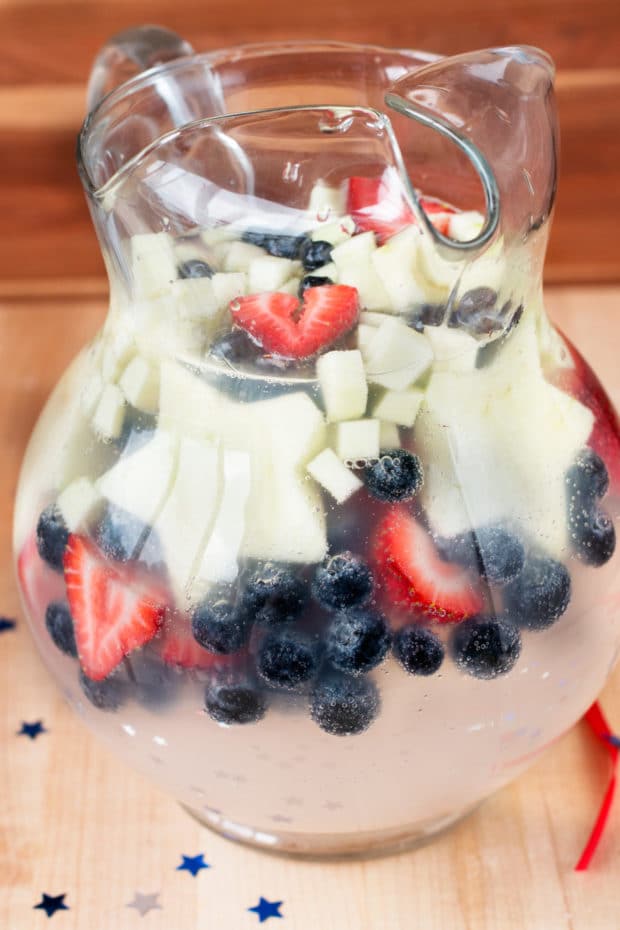 It's also a suuuuuuper easy cocktail to make in a big batches.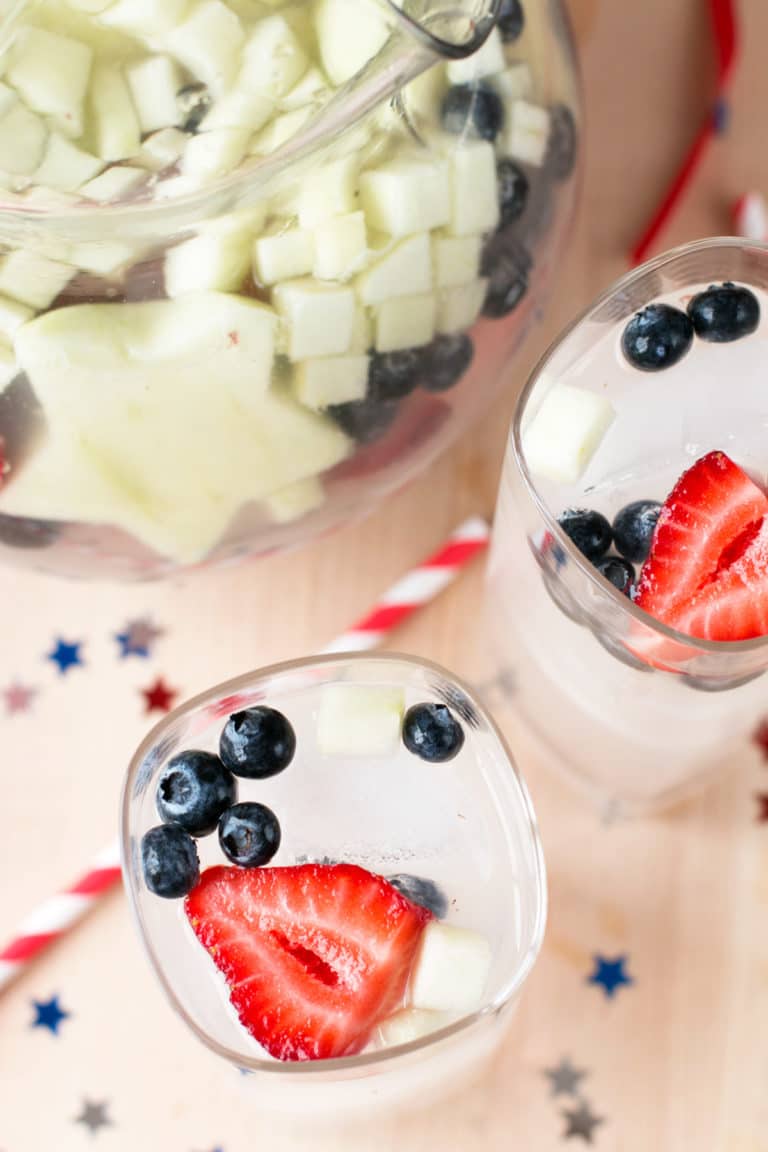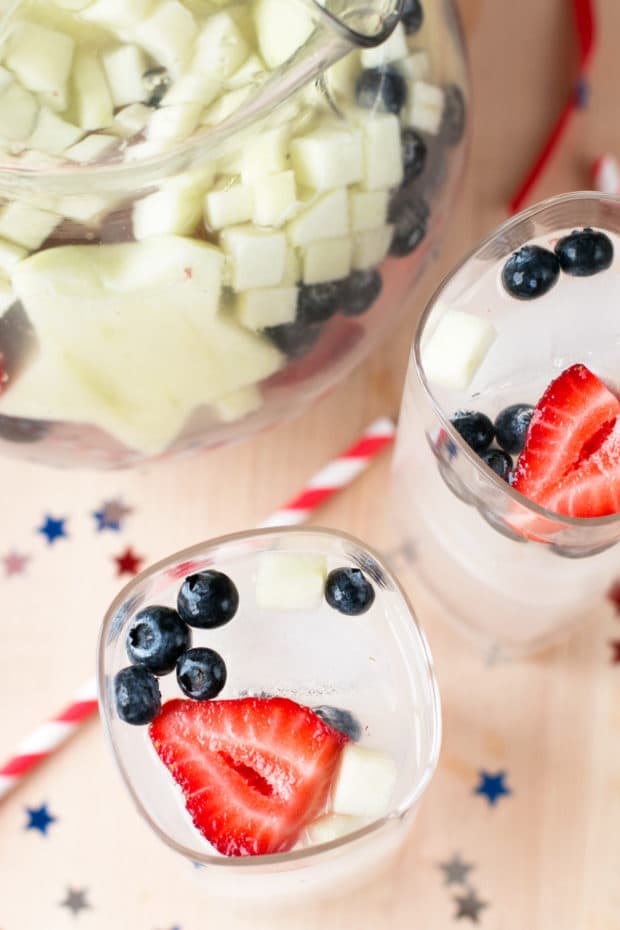 Memories of the Fourth of July always invoke a celebratory feeling, with tons of all American food, barbecue, friends, and family. In my lifetime I've had a few epic Independence Day celebrations, from being in a parade to watching fireworks at Grand Lake to spending an entire day and night just being with close friends and one too many cocktails.
The reason I was inspired to make a big batch cocktail punch for this holiday was actually inspired by a friend who brought a big batch cocktail to the celebration last year.
It was actually the cocktail that inspired Joey's Daiquiri!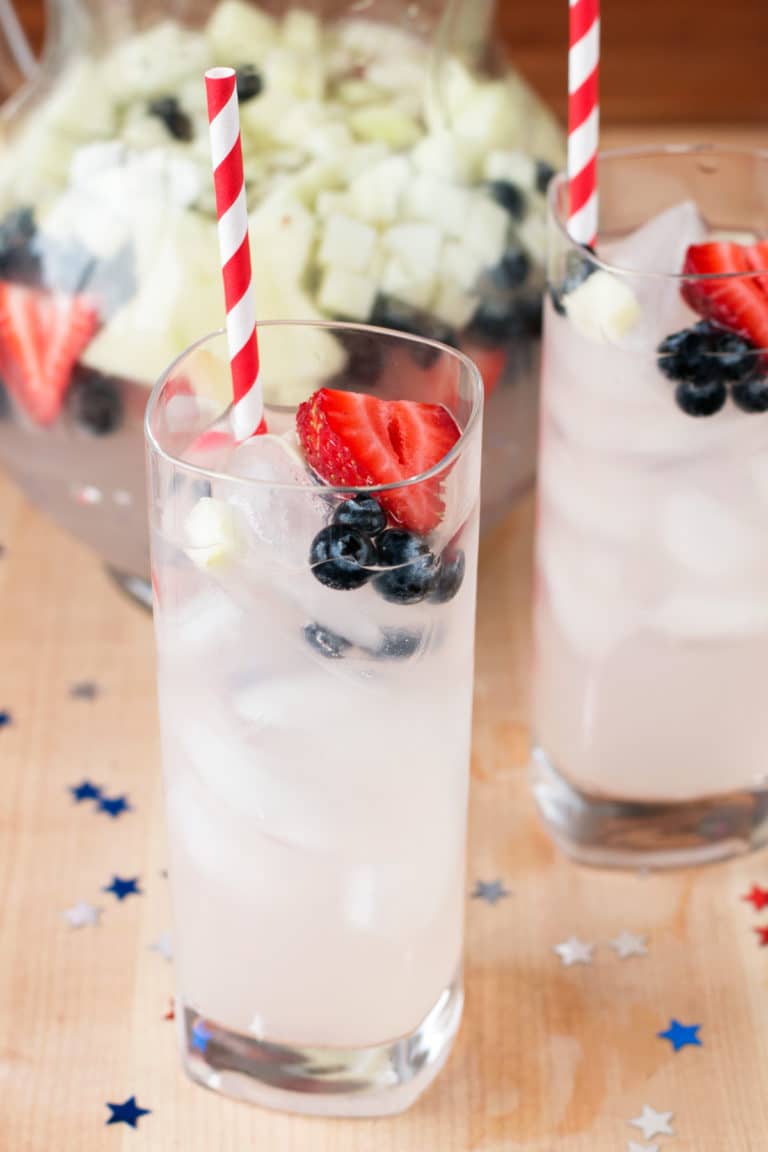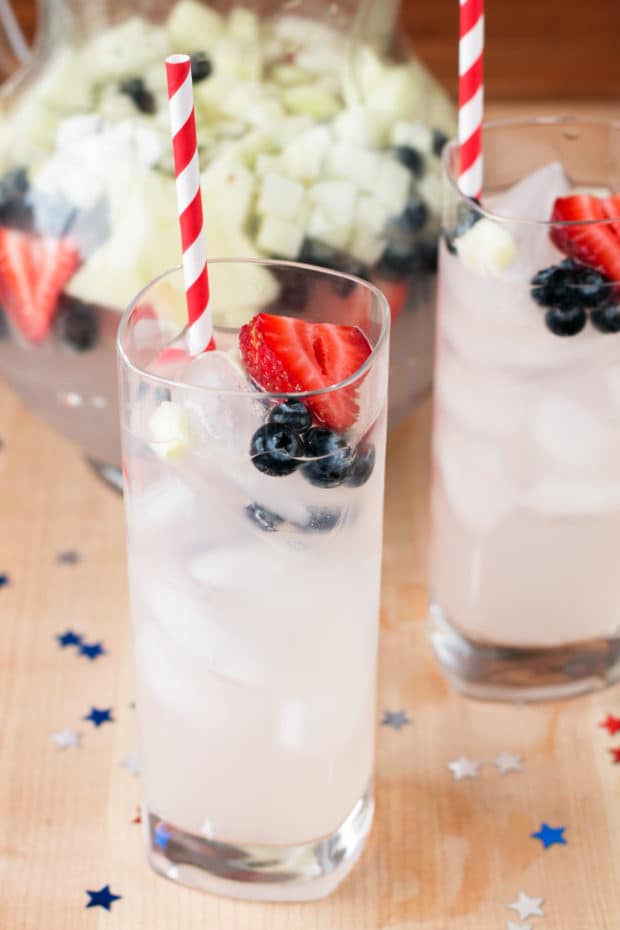 Instead of having to serve up cocktails one-by-one, take the stress of hosting away from the bar cart. This cocktail can be made hours ahead of time (just sans the sparkling club soda) so you can simply set it and forget it.
I even made sure to test it out on a group of my friends at a patio party a week or so ago, and I have to say, it was unanimously approved 😉
The floral gin notes play off the fruitiness of the berries, so it's tangy and tart without being too sweet to sip on all afternoon long. The sparkling bubbles are just the right final refreshing note, so each sip keeps you cool as you chow down on all the grilled goodness that is being cooking up in the backyard.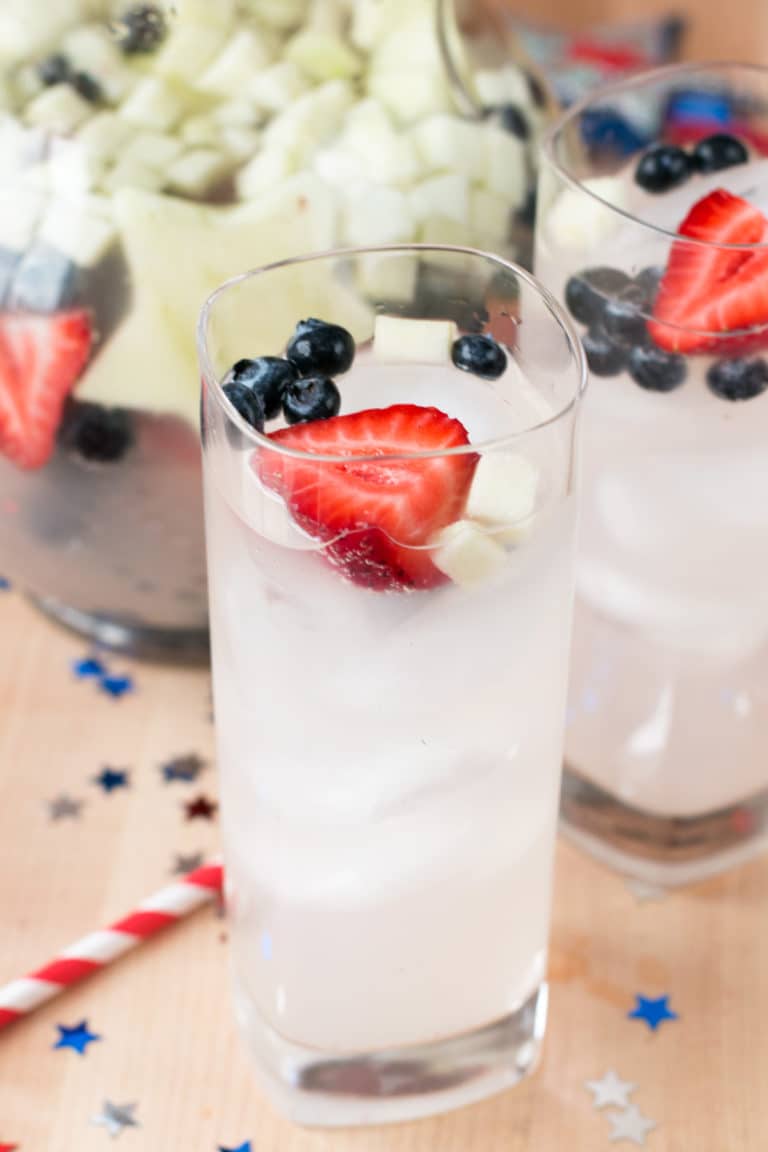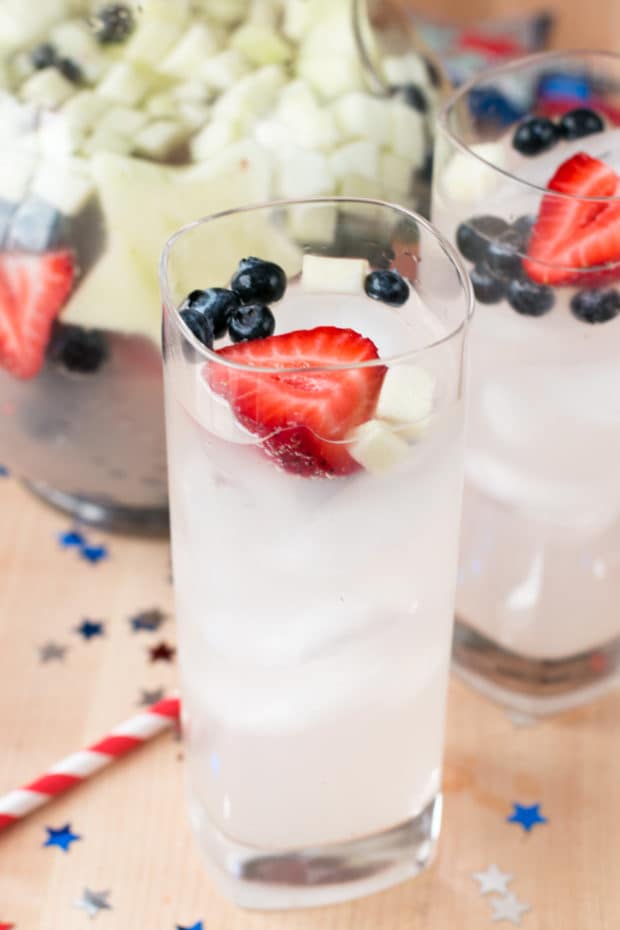 Apparently I'm not the only one who thinks a punch is the perfect way to celebrate Independence Day… Surprise surprise! It's another Cocktail Collaboration Day! My blogging gal pals and I are back at it again with a whole new round of punches to celebration the Fourth of July. With all of these recipes, you'll have enough to make every gathering over your long weekend even more memorable. Check out the recipes below!
Spiked Watermelon Limeade from Erin @ The Speckled Palate
Peach Raspberry Sangria from Madison @ A Joyfully Mad Kitchen
Did you know there's a big history to the Tom Collins? Head to Feast + West for the whole story, plus how to make the original cocktail!
This Recipe's Must Haves
Get the look you see in these pictures with this pitcher! I love how festive it is and it is perfect for a crowd. You will also need a wooden spoon to stir everything together in the pitcher.
If you want to get those cut apple stars for the punch, you will need a star cookie cutter set
!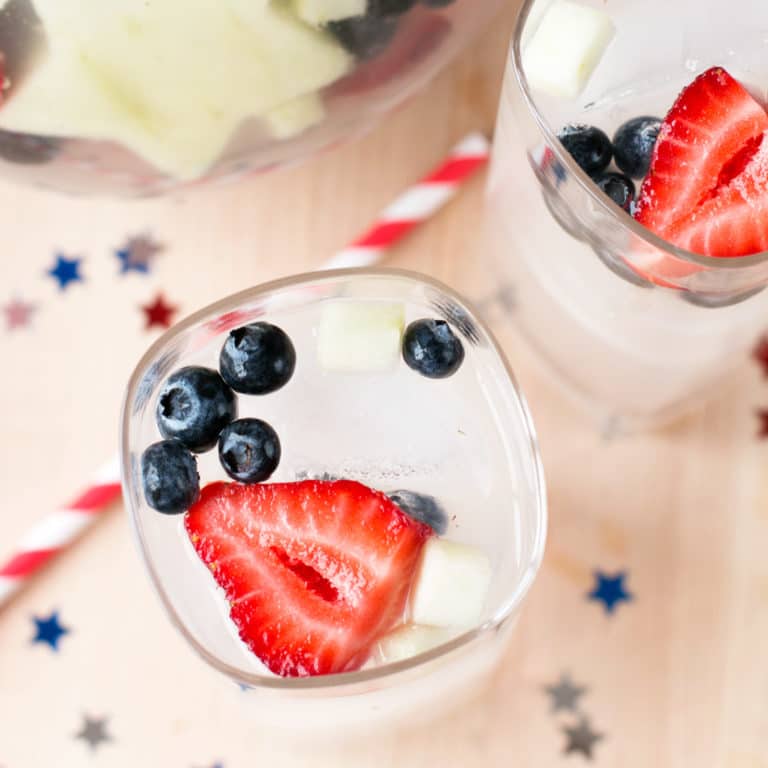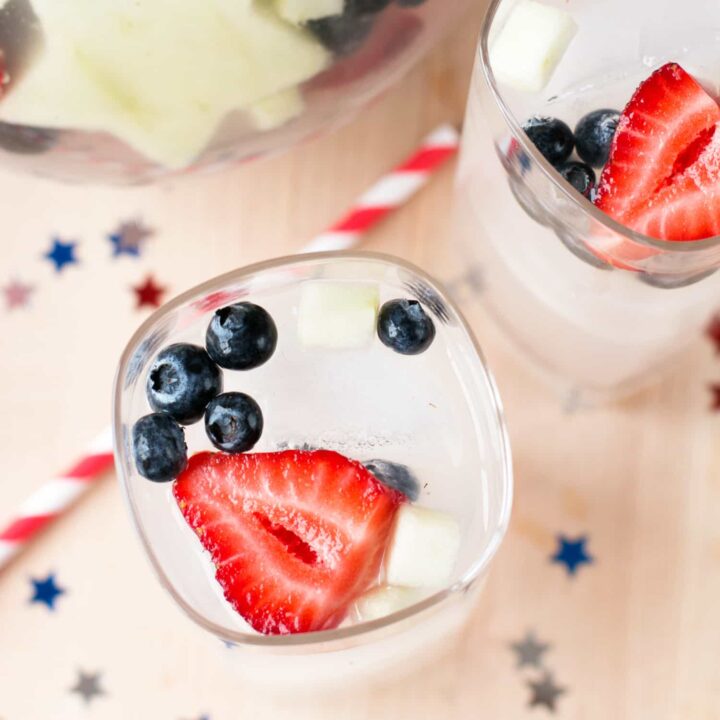 Patriotic Tom Collins Punch
Total Time:
2 hours
5 minutes
A sparkling and fruity big batch cocktail that's great for any summer gathering!
Ingredients
2 cups gin
2/3 cup lemon juice
1/2 simple syrup
1 cup halved strawberries
1 cup blueberries
3 Granny Smith apples, peeled and cut into stars (any remaining pieces should be chopped)
5 cups cup club soda, chilled
Lemon wheels
Instructions
In a pitcher, stir together gin, lemon juice, simply syrup, strawberries, blueberries and apples.
Let chill for two hours.
When ready to serve, stir in club soda.
Serve over ice.
Recommended Products
As an Amazon Associate and member of other affiliate programs, I earn from qualifying purchases.