'Tis the season for holiday cocktails and an Absolut Elyx Ginger Martini with Drunken Cranberries is just the spicy, slightly sweet, and boozy drink you need to be whipping up. Garnished with cranberries soaked in brandy, this smooth cocktail brings festive cheer to any gathering!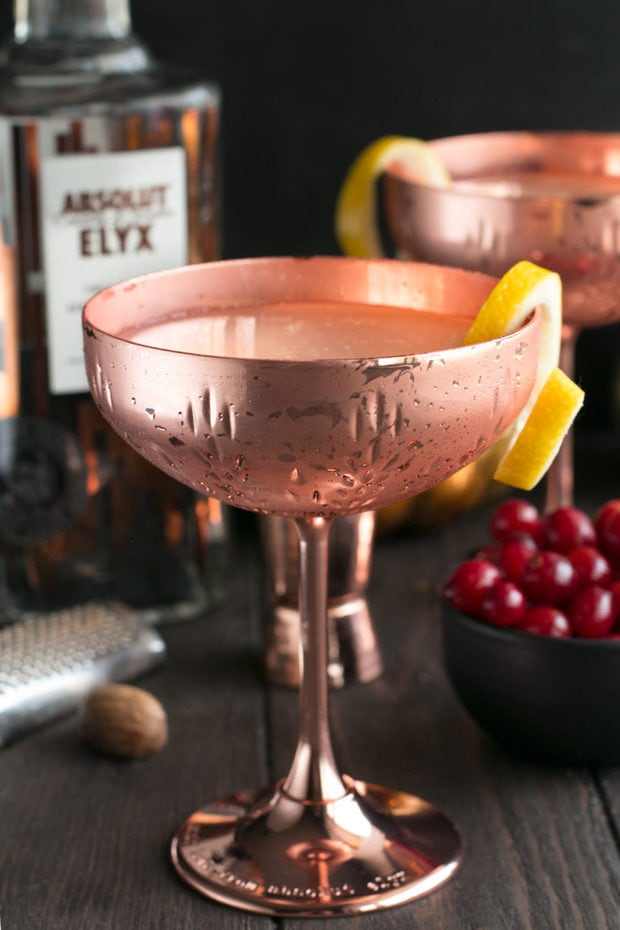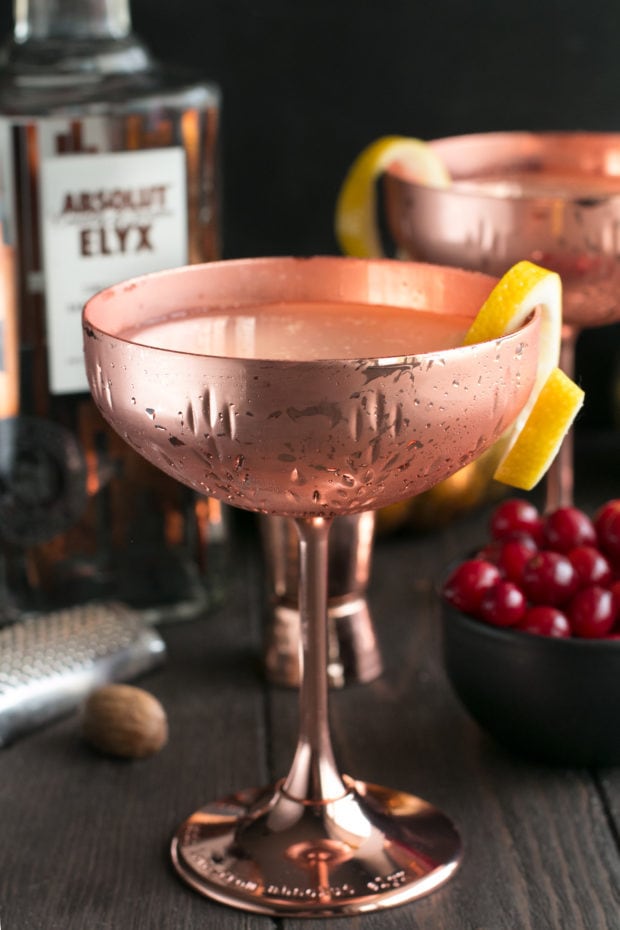 Disclosure: This post is sponsored by Absolut Elyx! As always, all opinions and the recipe are my own. Thanks for supporting the brands that support Cake 'n Knife!
The holidays are officially upon us…
Are you ready??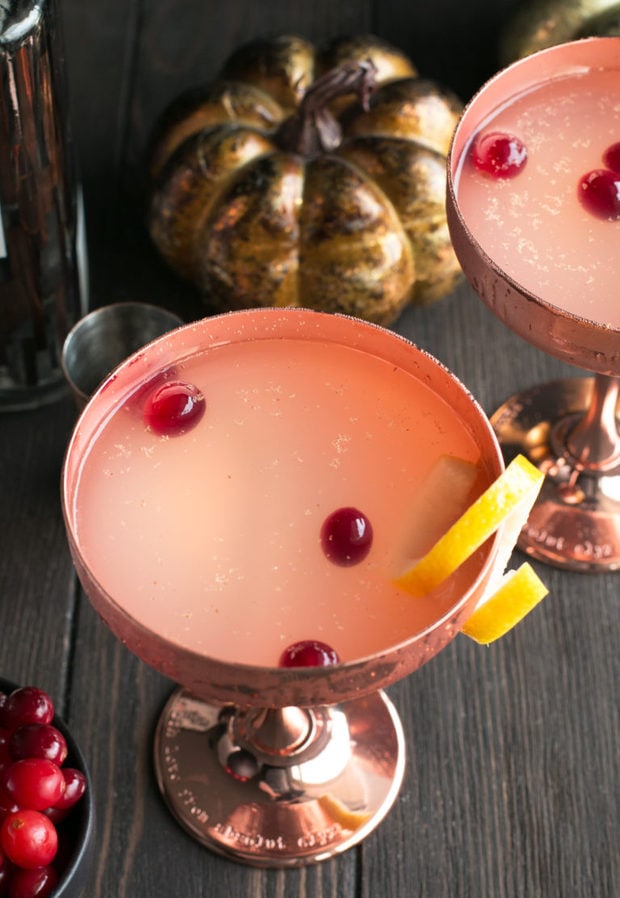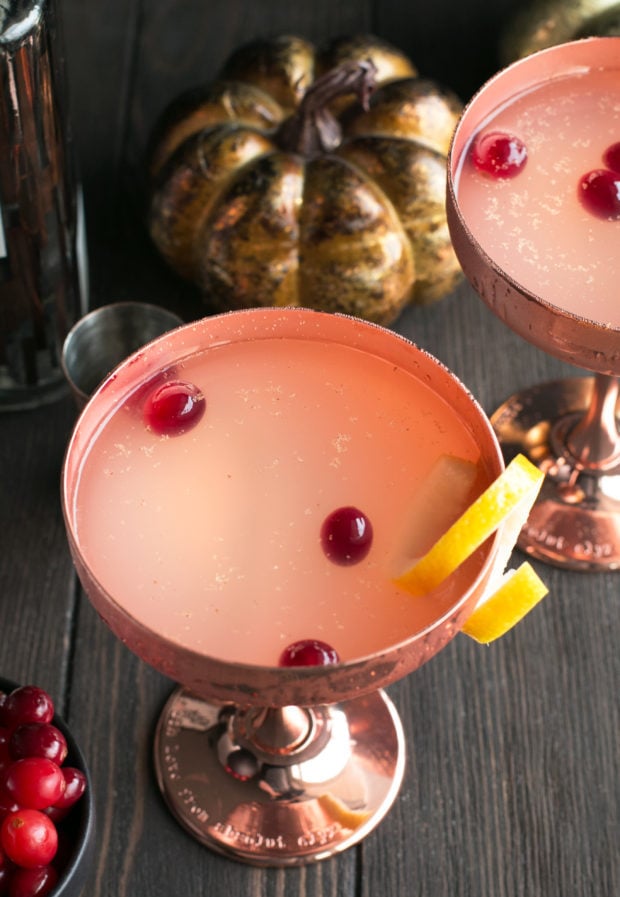 Because I am. Well sorta. Ok maybe. But not? I DON'T KNOW.
The holidays crept up on me FAST this year. While I thought I was totally ready, I am feeling like I am still stuck in the middle of October.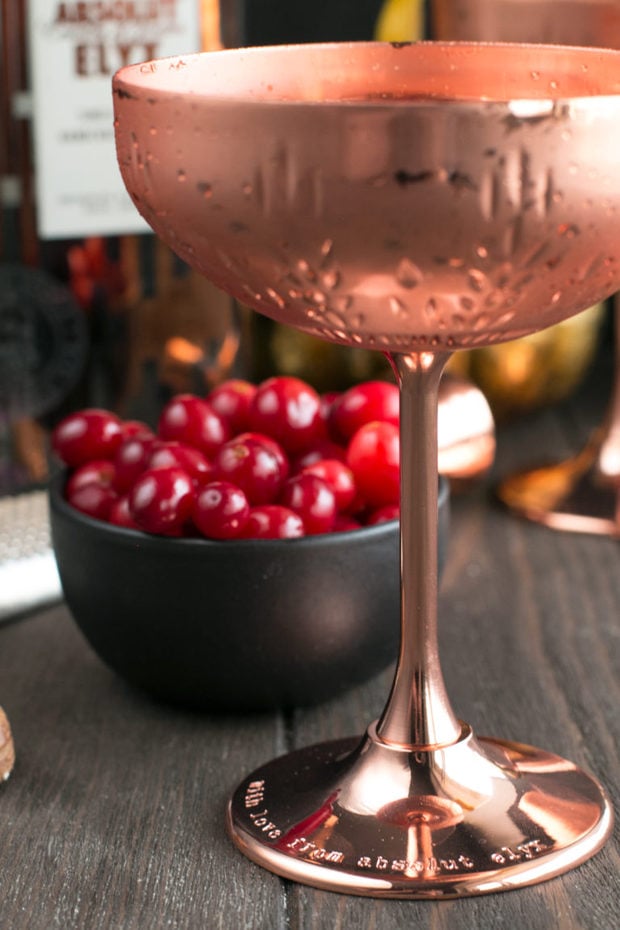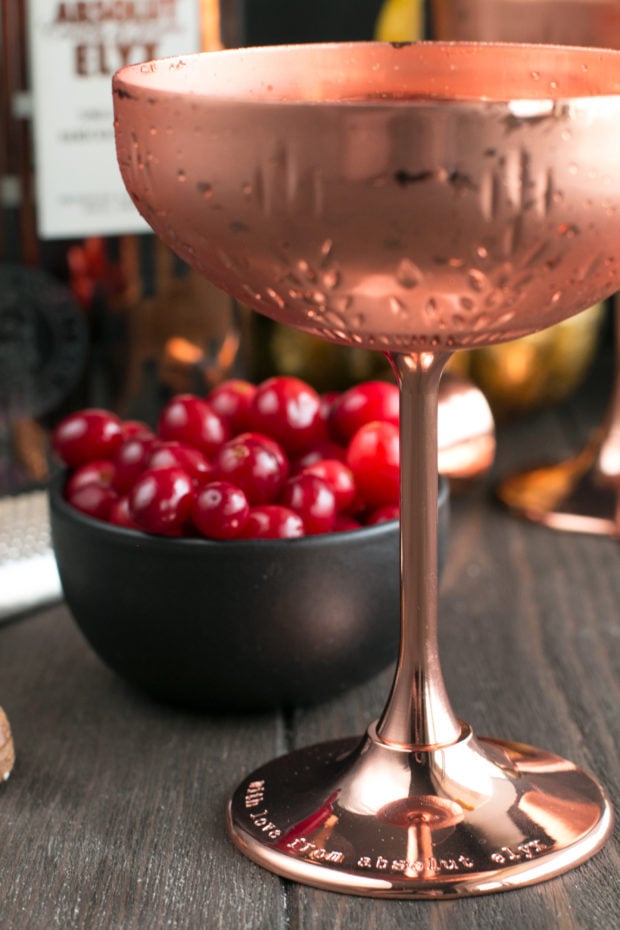 Please note that some of the links below are affiliate links. If you make a purchase through one of these links, I will receive a small commission. Thank you for supporting Cake 'n Knife!
So, to get myself in the holiday mood (and to prepare for holidays full of family and hopefully not toooo much stress), I decided to grab my handy dandy Absolut Elyx vodka and get to work on a cocktail to celebrate the season with.
Absolut Elyx has become a staple in my home since the first time I tried it in a Las Vegas bar. It's smooth flavor, it's distinct flavor, it all comes together to enhance any cocktail that you use it in.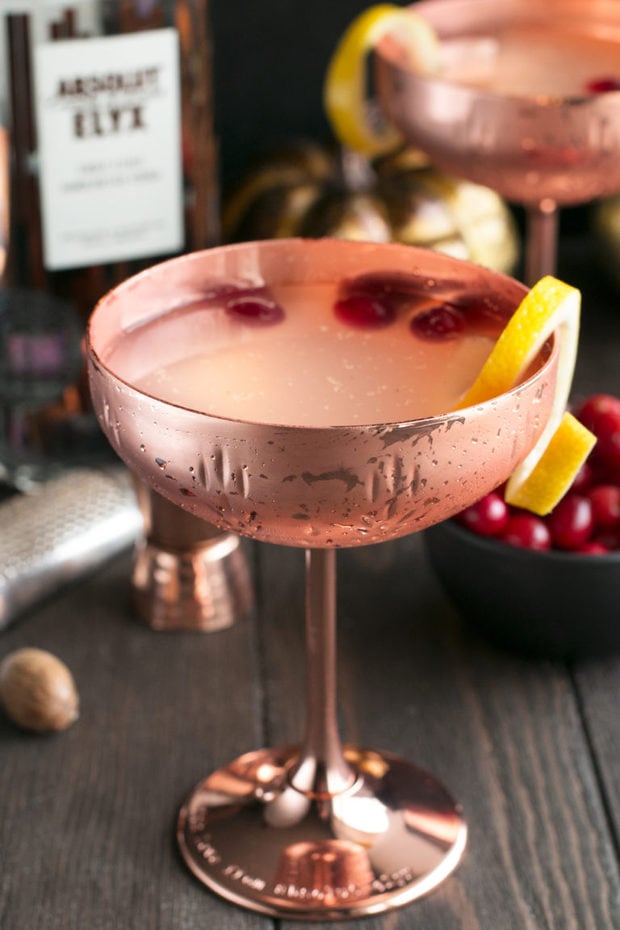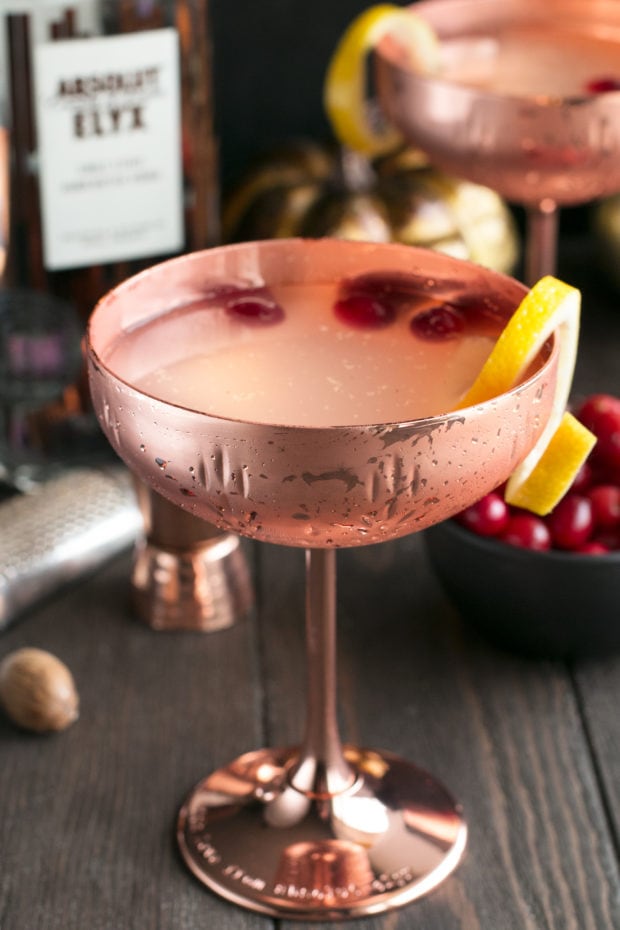 Honestly, it's the one vodka that has turned me onto vodka martinis – something I could never bring myself to drink before because the vodka flavor was just too strong and alcohol-y.
This particular martini is a fun holiday twist on a classic vodka martini that's perfect to serve up before Thanksgiving dinner is served. The spicy and slightly sweet martini has just the right amount of ginger infused into it.
It's not too overpowering in flavor so it's just the smooth flavor that you would want to start out a holiday gathering with friends and family.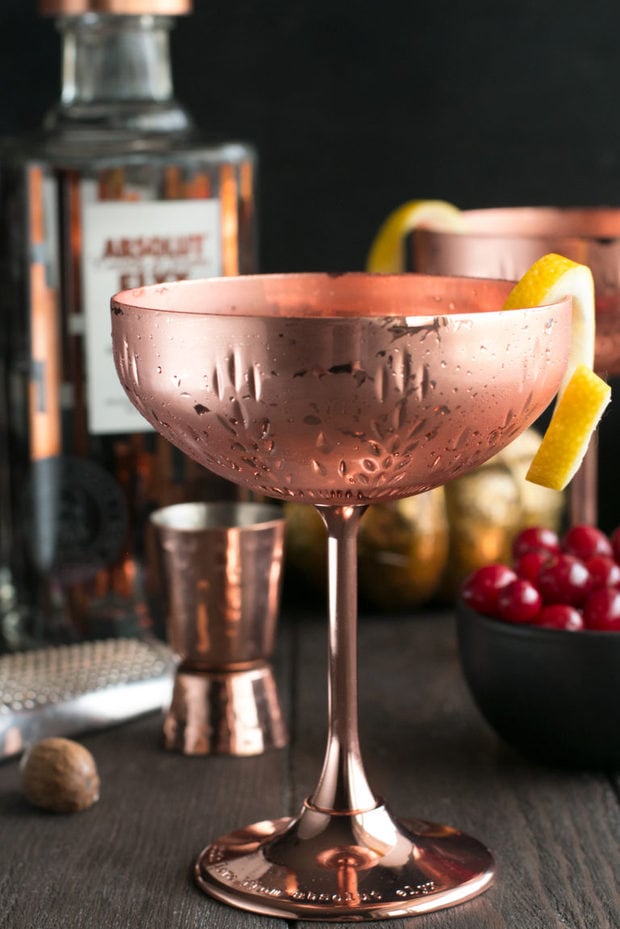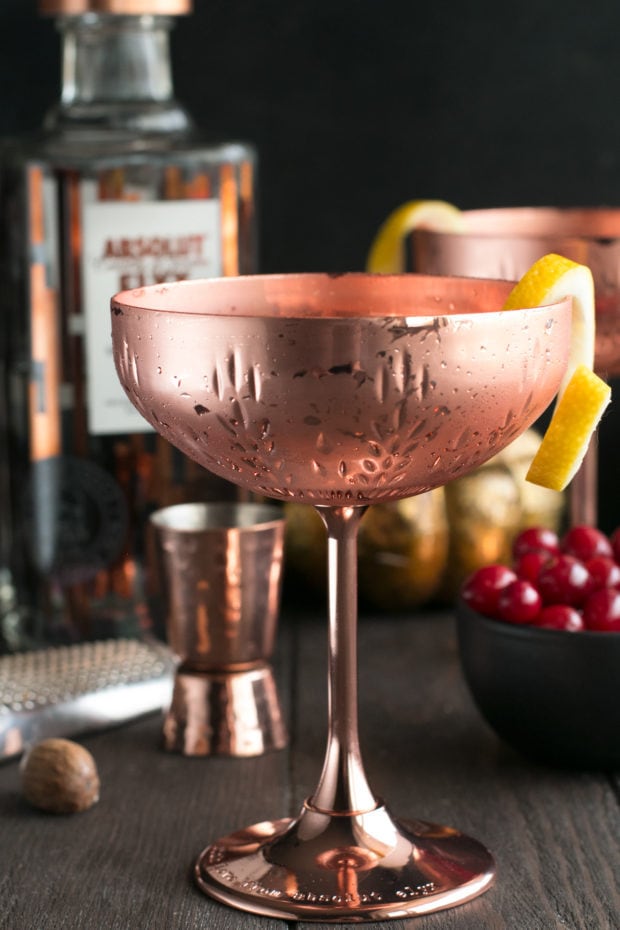 Not to mention the addition of these drunken cranberries which are absolutely DIVINE (soaking them in brandy will have that effect, I suppose).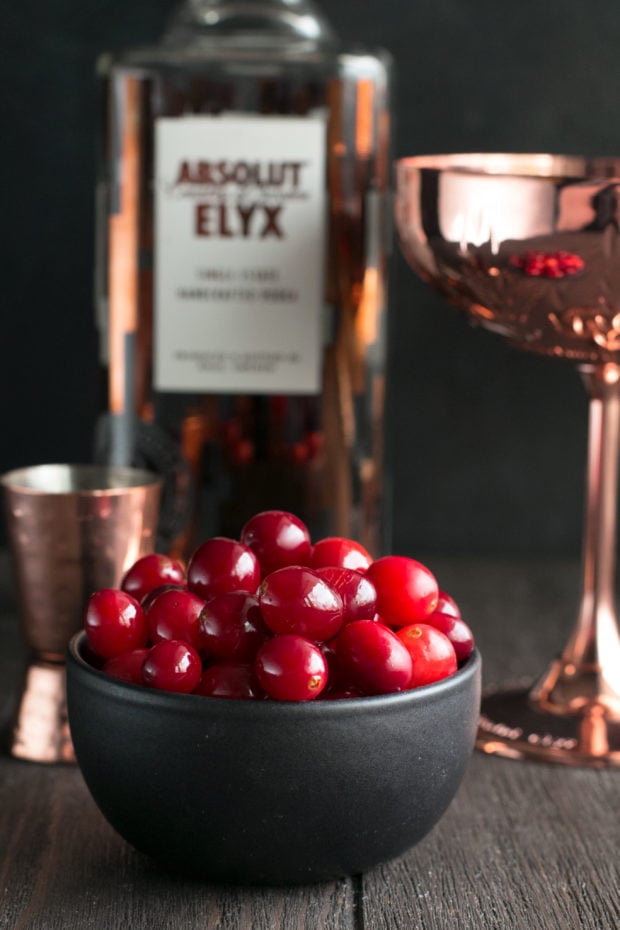 They are tart, boozy, and just a little tangy to give you a fun burst of acidity as you sip on that fancy cocktail!
This Recipe's Must Haves
If you need more cocktail inspiration for your upcoming cocktail party or impromptu happy hour, check out Absolut Elyx's cocktail inspiration!
Don't forget to check out my other Absolut Elyx creations – Absolut Elyx Wild Berry Vesper and Absolut Elyx Black Magic Martini 😉
Pin this Absolut Elyx Ginger Martini with Drunken Cranberries recipe for later!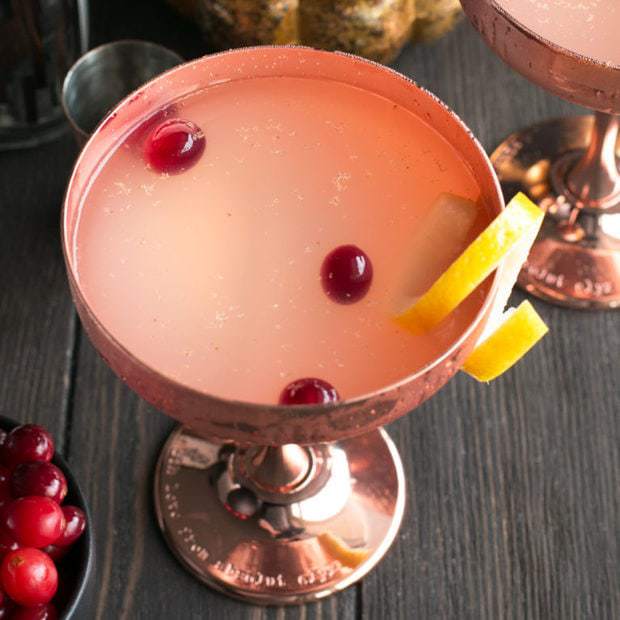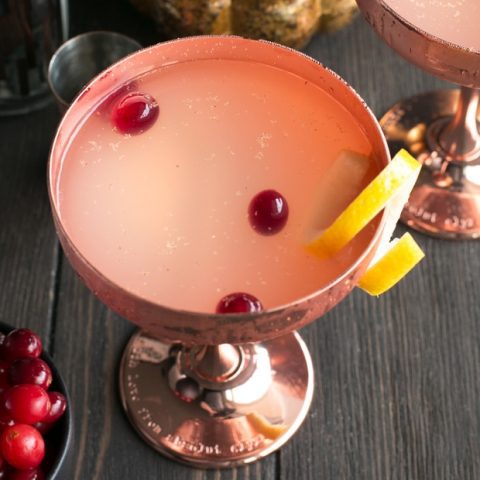 Absolut Elyx Ginger Martini with Drunken Cranberries
With just the right balance of spicy and sweet, this boozy martini is the perfect holiday accompaniment. The tart drunken cranberries are a fun garnish everyone will be swooning over!
Ingredients
Ginger Martini
Ice
3 oz Absolut Elyx Vodka
1 oz ginger syrup
1/2 tsp freshly squeezed lemon juice
Twist of lemon
Ground nutmeg
Drunken Cranberries (recipe below)
Ginger Simple Syrup
1 tsp lemon juice
1 cups coarsely chopped fresh ginger with peel, about 8 ounces
1/2 cup sugar
1/2 cup water
Drunken Cranberries
1 cup fresh cranberries
2 Tbsp sugar
1 cup brandy
Instructions
To make the drunken cranberries, preheat oven to 300 degrees. Add fresh cranberries to a small baking dish. Top with sugar and brandy, stirring to combine. Cover baking dish with foil and bake for 15 minutes. Remove from oven and allow to cool completely.
To make the ginger simple syrup, add all of the ingredients to a small saucepan over medium high heat. Stir to combine. Bring mixture to a boil. Remove from heat and cover. Allow to steep for 30 minutes. Strain out ginger pieces and allow to cool completely.
To make the cocktail, add vodka, ginger simple syrup and lemon juice to a cocktail shaker filled with ice. Strain into a martini glass.
Top with a light shaving of fresh nutmeg, a lemon twist, and drunken cranberries.
This is a sponsored conversation written by me on behalf of Absolut Elyx. The opinions and text are all mine.