A Sparkling Ginger Mint Julep is the spicy and bubbly version of a classic cocktail, just in time for those upcoming Derby celebrations! Whether you care about the race or simply love all things bourbon, sip on this cocktail and take a much-needed step into the Southern art of relaxation. The patio is calling…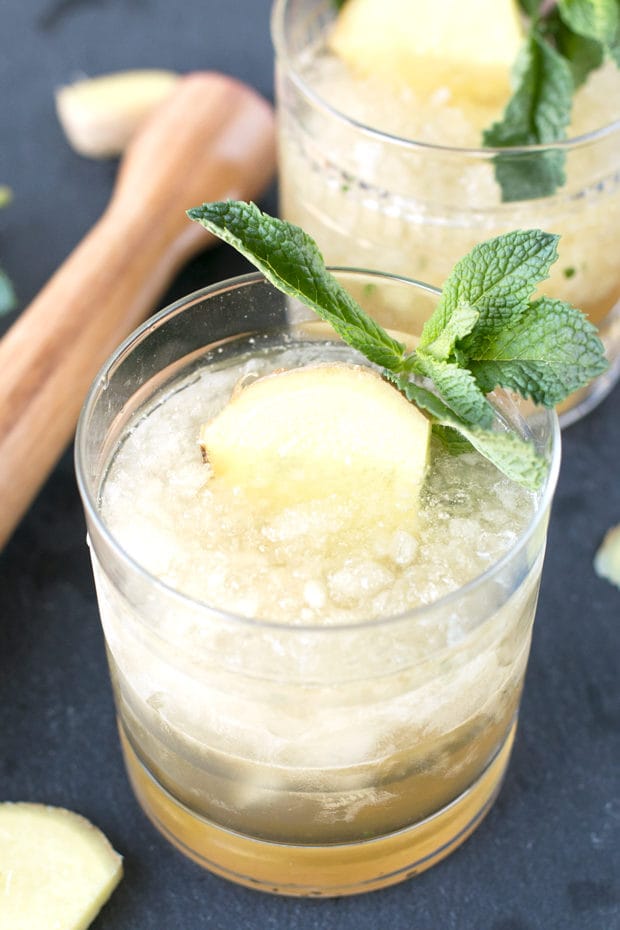 Please note that some of the links below are affiliate links. If you make a purchase through one of these links, I will receive a small commission. Thank you for supporting Cake 'n Knife!
After spending almost a week in the Carolinas, I came back with some serious separation anxiety. The food, the spirit of Southern relaxation and the history of the cities really hit home with me – particularly when I indulged in a big ol' mint julep.
I remember the first mint julep I had… I was in Charleston last summer (please don't scold me for not indulging in a mint julep until then, ok??) and it was H-O-T.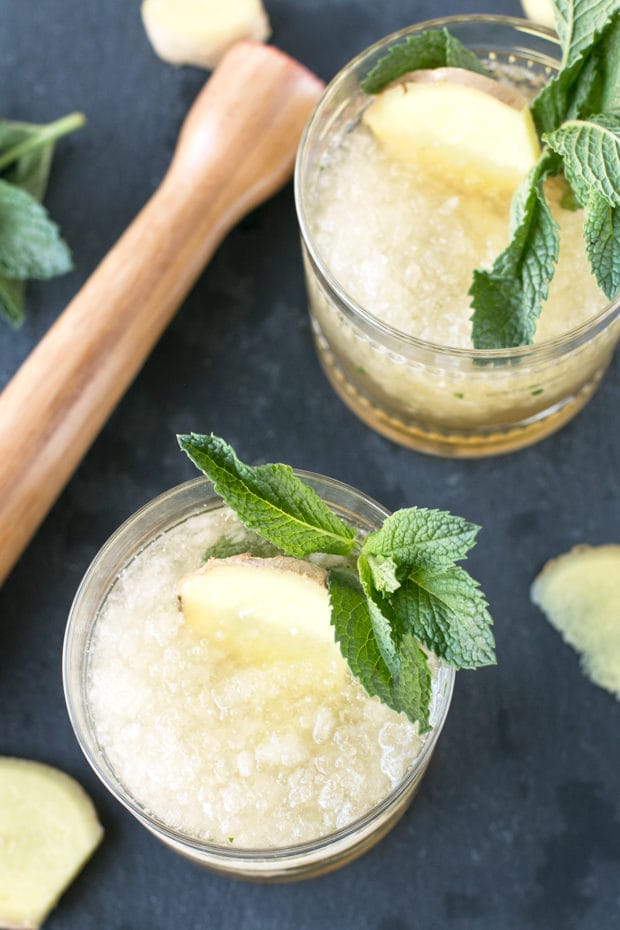 Not just HOT, but humid hot. The kind that makes your clothes stick to your skin and you feel pretty gross the moment you step outside until you find air conditioning again.
Now I'm from Colorado, so I'm used to the dry heat. In Charleston, it was a wet, damp heat that was murder. I still remember complaining to my friend, saying "omg my makeup is melting off my face!" to which she replied "oh honey, you're just glistening, that's all!"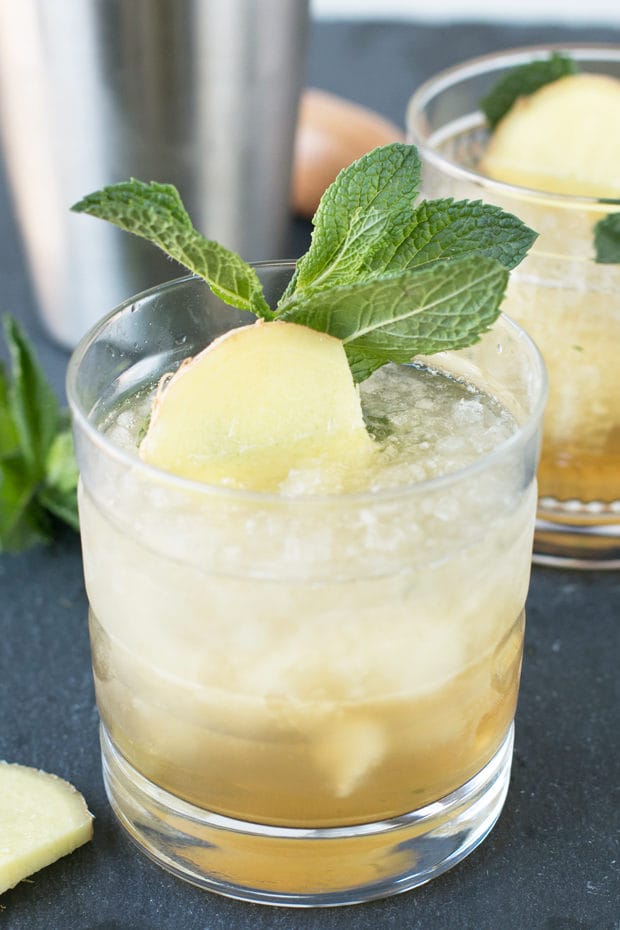 Glistening… ummm sure, let's go with that!
After a carriage tour, we were both dehydrated and ready for a drink. We stopped into a place with A/C and all they could boast about was their juleps. I ordered one and holy WOW, I understood the hype in one sip.
The mint, the cold silver glass, and the bourbon all melded together to bring me intense satisfaction in that first sip. It was cool, refreshing and had just the right bite to snap me right out of my humidity-laced haze.
This version of the mint julep is a little different than the classic as it features a spicy ginger simple syrup and a splash of seltzer to give it a little extra sparkle. It features an extra hit of refreshment that is everything you want out of a cocktail throughout spring and summer.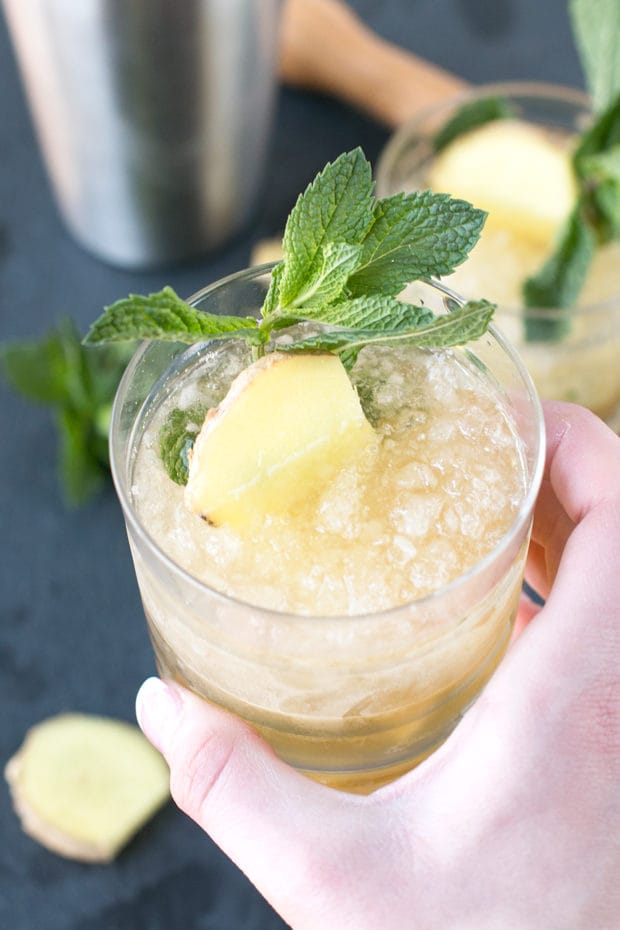 And if you're feeling extra fancy, gather the gang together this May to enjoy the Derby festivities, a round of sparkling ginger mint juleps and all the big hats your heart desires (because you only live once, so you might as well celebrate as often as you can!).
This Recipe's Must-Haves
If you want to go totally old school and classic Southern, pick up a Professional Lewis Ice Bag and Mallet
to make your own crushed ice (or just add it to the blender and let that baby go to town…). Regardless of your ice-crushing preferences, you definitely need a Wooden Muddler
(this one's my favorite!) to get those mint leaves to open up and get all the flavors out. Finally, drink in style with a classic silver Mint Julep Cup
! Mine got delayed in the mail or you would see them here (I can't even begin to tell you how sad I am about this….)…
Pin this Sparkling Ginger Mint Julep recipe for later!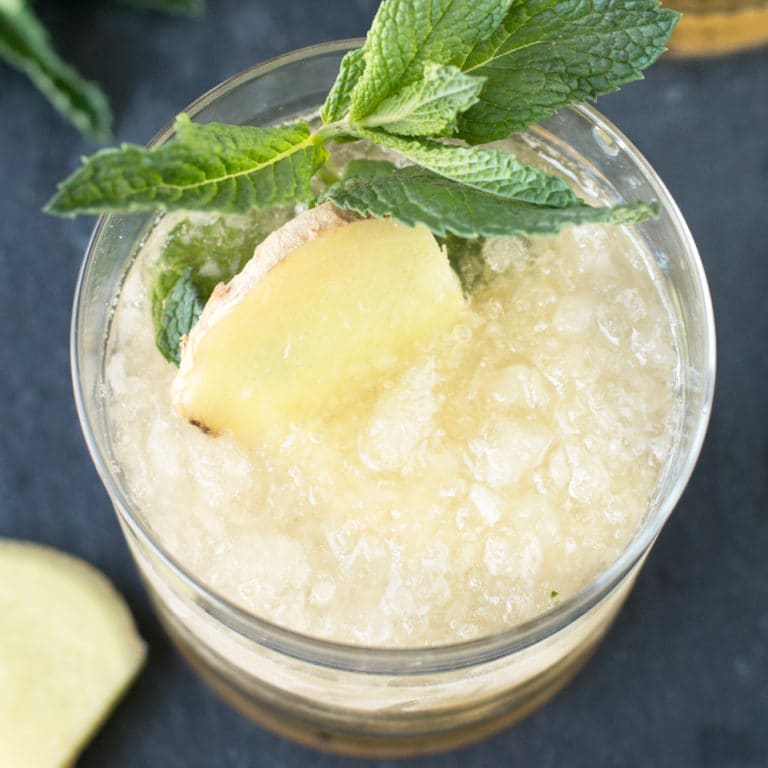 Sparkling Ginger Mint Julep
Yield:
1 cocktail + 1/2 cup ginger simple syrup
The classic cocktail gets a sparkling and spicy upgrade with this oh-so easy recipe!
Ingredients
Ginger Simple Syrup
1/2 cup sugar
1/2 cup water
One 2-inch piece of fresh ginger, peeled and thinly sliced
Cocktail
10 mint leaves
1/2? oz ginger simple syrup
2 1/2 oz bourbon
Seltzer water
Crushed Ice
Instructions
In a small saucepan, stir together sugar, water and sliced ginger for the simple syrup. Bring to a boil over high heat. Once boiling, remove from heat, cover and steep for 15 to 30 minutes (the longer it steeps, the more intense the ginger flavor becomes!). Strain out ginger slices and cool syrup completely in an airtight container. Store in the refrigerator for up to 2 weeks. In a large glass, muddle mint leaves with ginger syrup. Strain into a julep or rocks glass. Add crushed ice and pour bourbon over the ice. Top with seltzer water to fill the glass. Stir to combine. Garnish with mint and a slice of ginger, as desired.