Please note this post contains affiliate links.
Peanut Butter Oatmeal Chocolate Chip Cookies are soft, chewy, and go perfectly with a big glass of your favorite milk. Made with oats, brown sugar, and peanut butter, these cookies have just the right balance of add-ins to get your chocolate peanut butter fix! Makes approximately 2 dozen.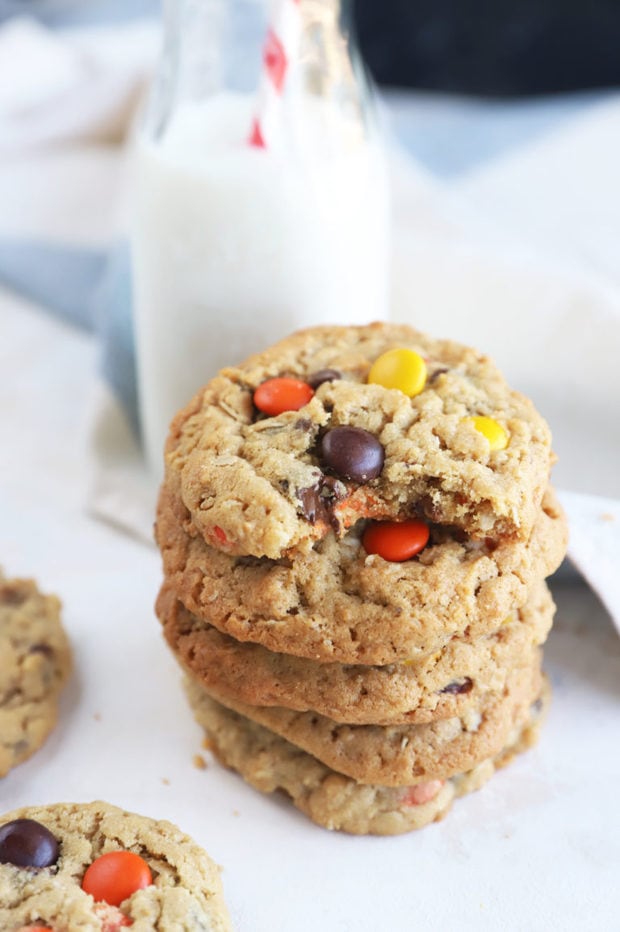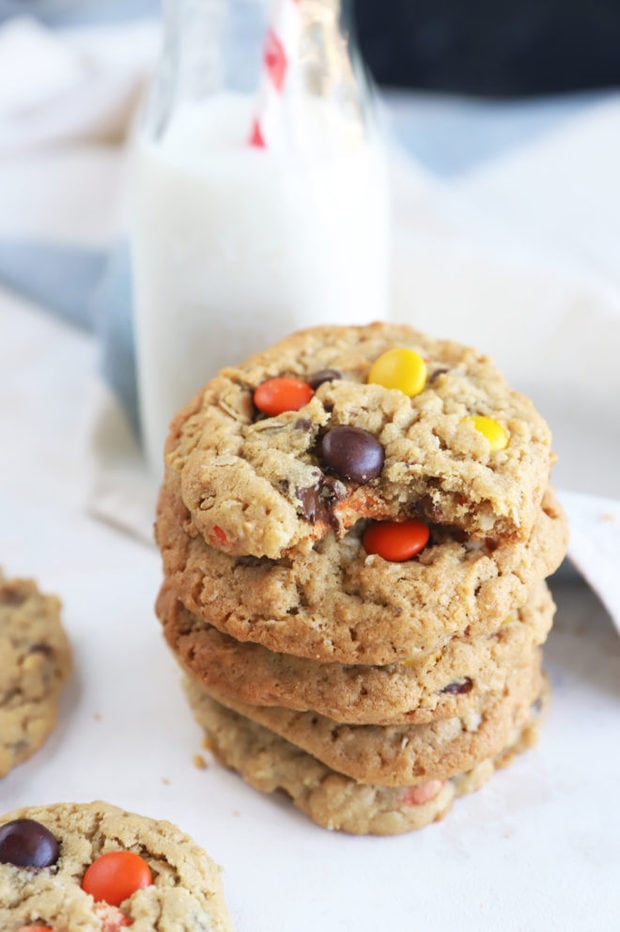 Nothing beats a really good cookie, am I right?
The gooey chocolate, the soft and chewy cookie… it's a level of comfort that can't be beat by any other food in my book.
I've taken that classic oatmeal chocolate chip cookie and given it a little something extra this time – peanut butter.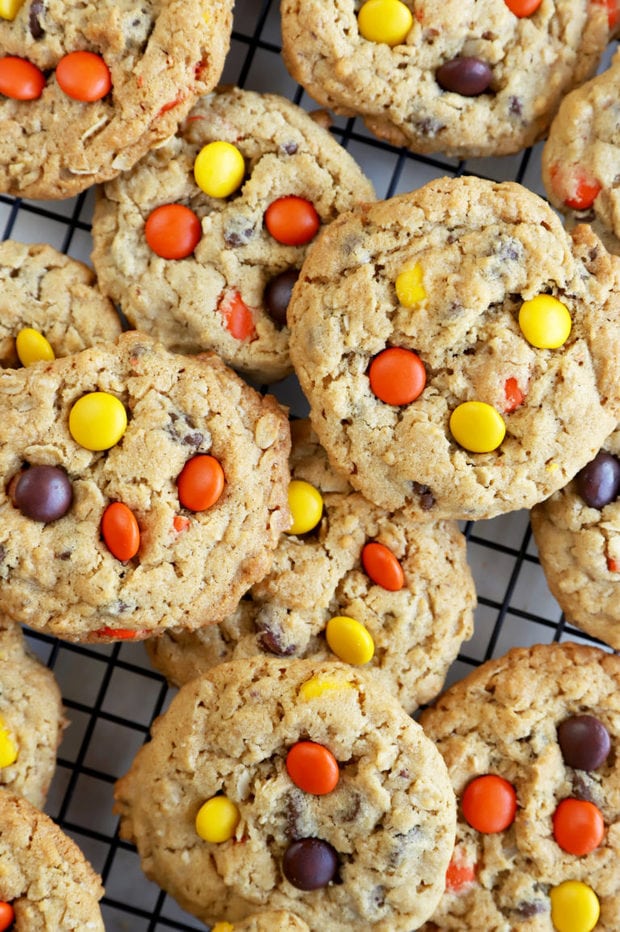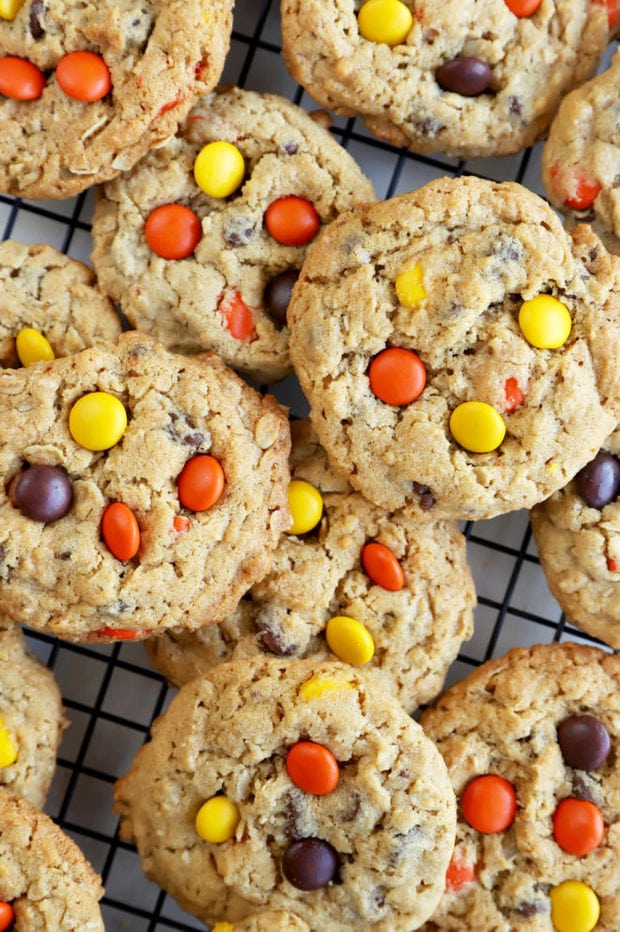 I'm a peanut butter chocolate kinda gal. Reese's peanut butter cups, chocolate peanut butter ice cream, I'll take it in any form I can get it in.
But these cookies are a whole other level of delicious with the addition of creamy peanut butter and Reese's Pieces. The peanut butter is the best match for the chewy cookie dotted with warm bites of chocolate! I love to eat these fresh out of the oven with a big glass of milk, but they will stay chewy for awhile on the counter.
With any cookie, you should really pop it in the microwave for about 5 to 10 seconds if they aren't fresh from the oven… It gets them just a little warmer and to me, that makes most cookies taste even better.
Plus, the colors of the Reese's Pieces are perfect for making these fall-themed! Make them for a Halloween party, family gathering, or just because you feel like stuffing your face with cookies this weekend.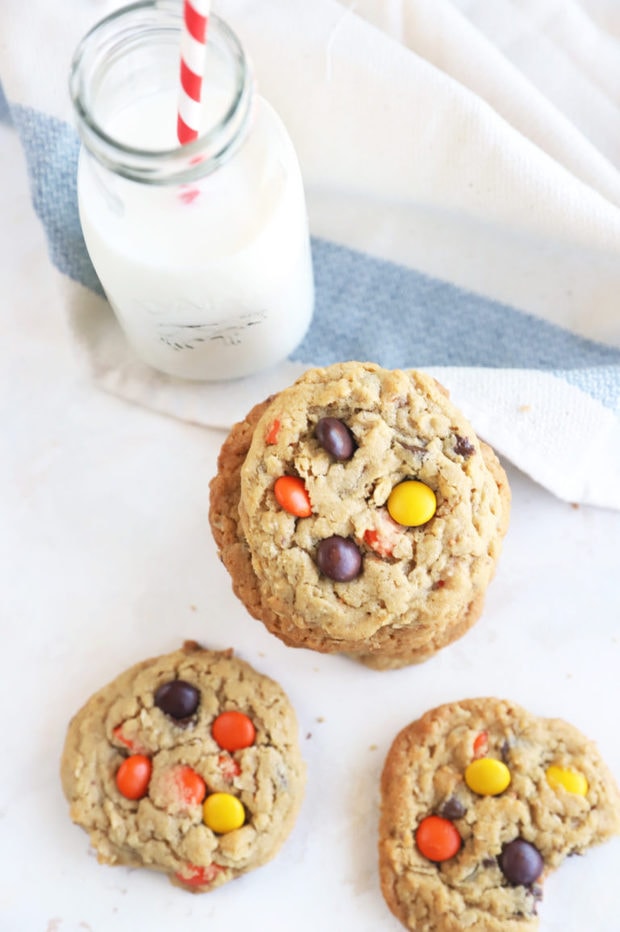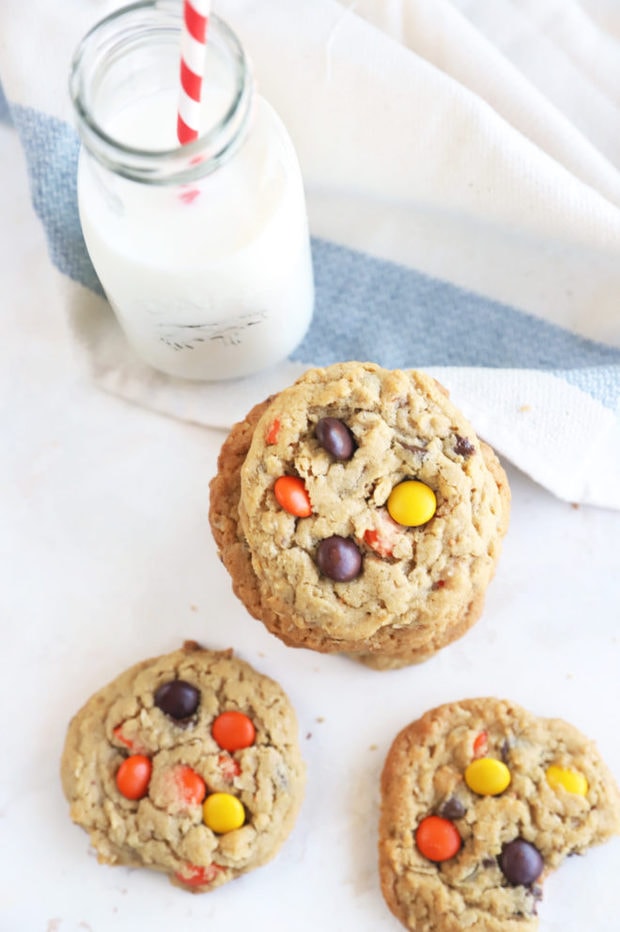 this recipe's must-haves
I love using a stand mixer for this recipe because it comes together so easily. You'll also need a set of measuring cups and measuring spoons!
For baking, I recommend a large baking sheet and a silicone baking mat to line it with.
A cookie dough scoop is how I get perfectly portioned cookies every single time!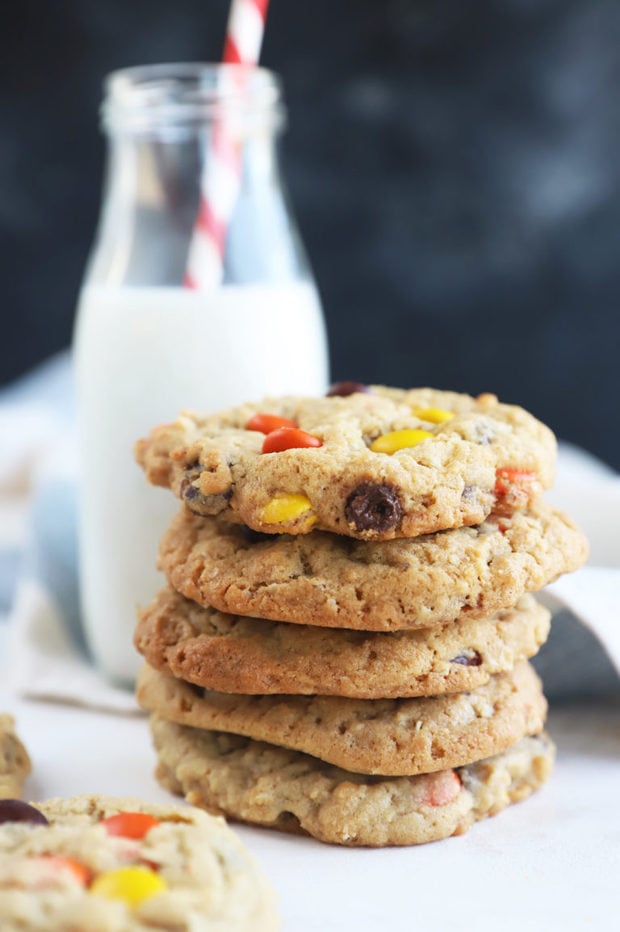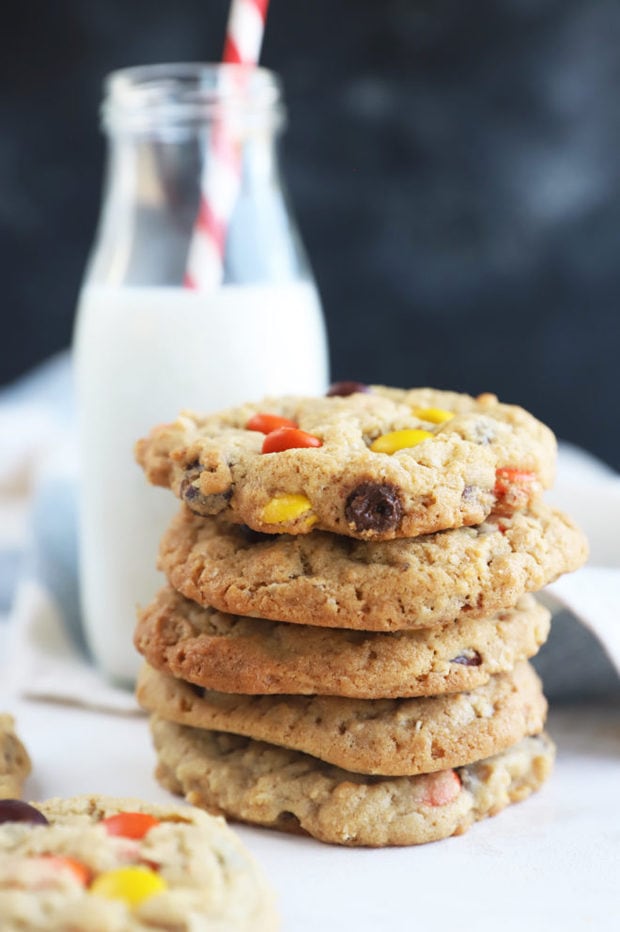 here's how to make peanut butter oatmeal chocolate chip cookies!
Beat Wet Ingredients
Cream the butter until it's smooth, about 1 minute. Then add in the sugars and beat together until the mixture is creamed together, which will take about 2 minutes. Add in the remaining wet ingredients, beating until combined.
Don't forget to scrape down the sides as needed!
Add Dry Ingredients
Add the dry ingredients and mix on low speed until combined. Leave the mixer going and add in the oats. Then slowly stir in chocolate chips and Reese's Pieces.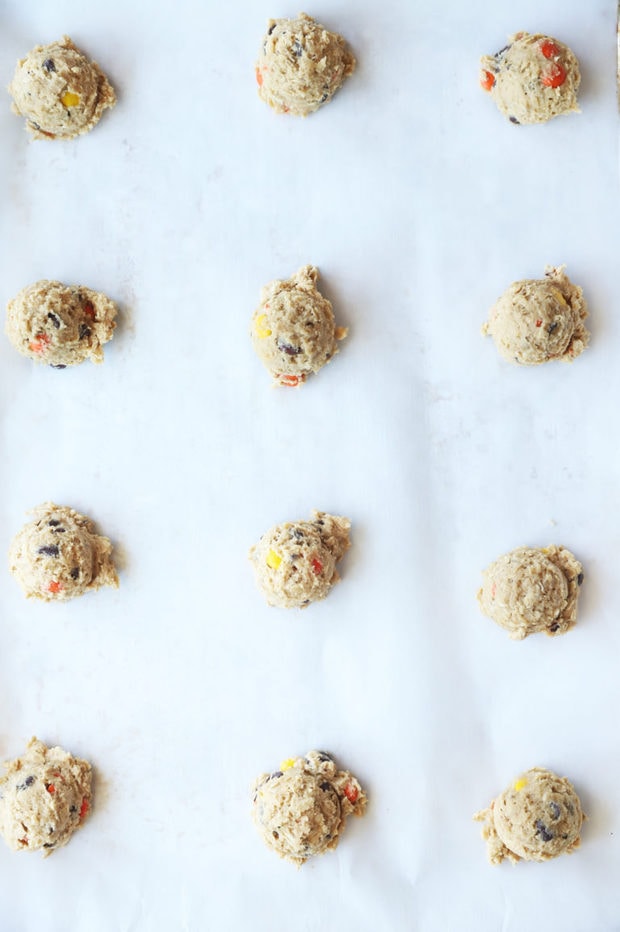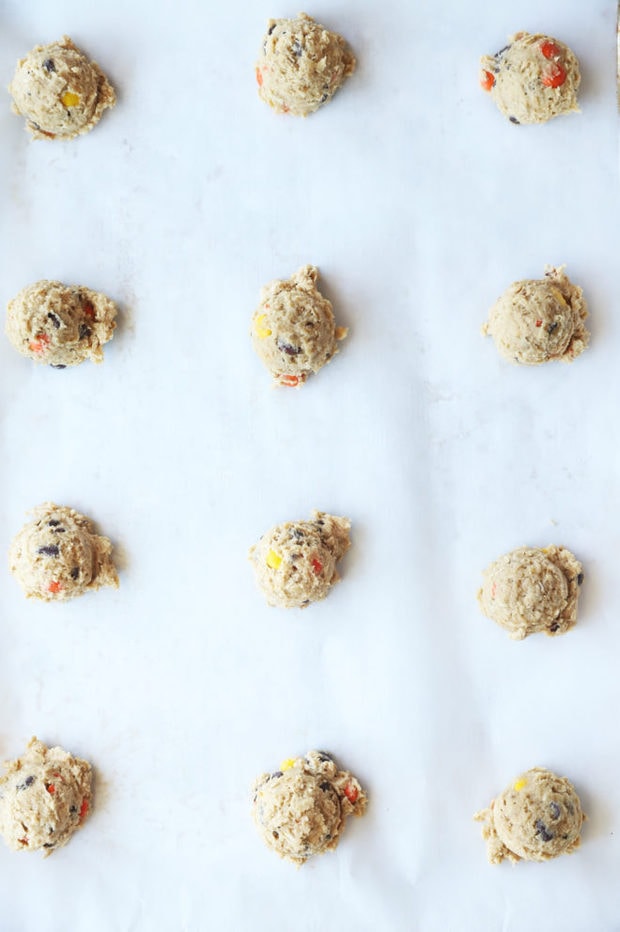 Chill Dough
Cover the dough and place in the refrigerator for at least 30 minutes, up to 2 days.
Using a cookie scoop, or your hands to roll into balls of about 2 Tbsp dough, add to a lined baking sheet. Place the cookies about 2 to 3 inches apart.
Bake
Bake for 12 to 14 minutes, until they are lightly browned on the side. The centers will still be soft.
For decoration, you can press a few Reese's Pieces into the tops of the cookies when they come out of the oven.
Need some more inspiration for your sweet tooth? Check out my dessert recipes page!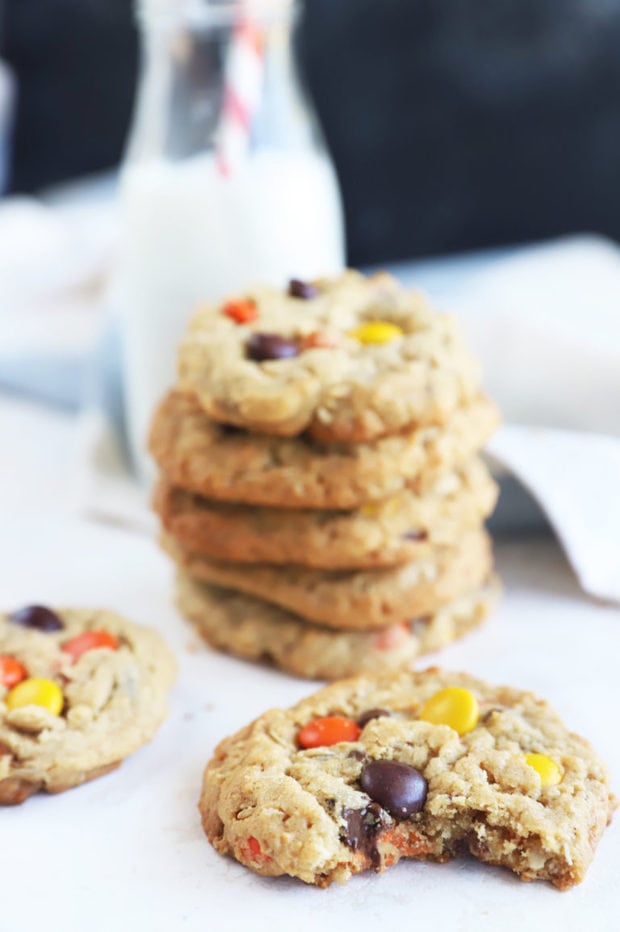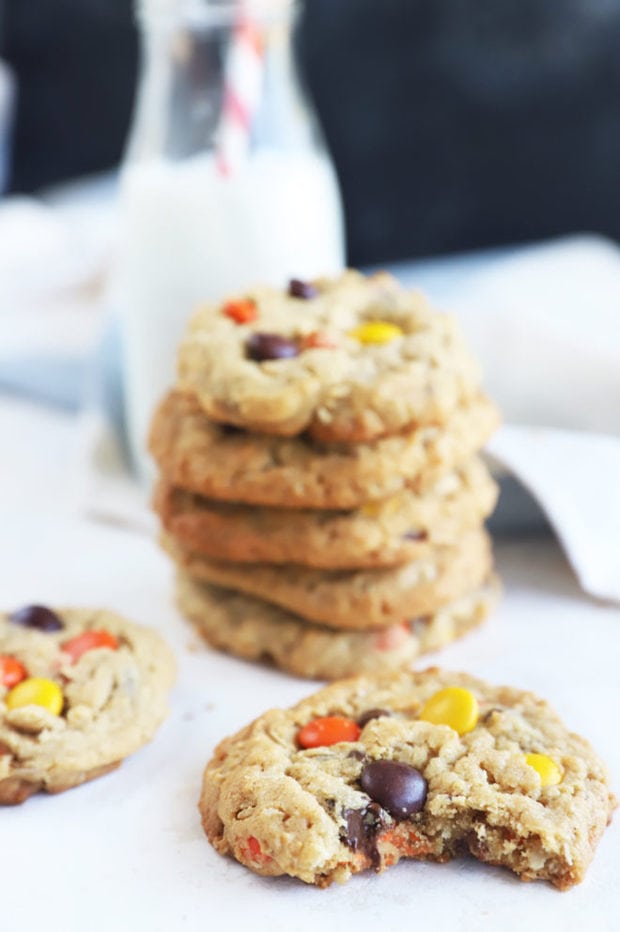 do I have to chill the dough?
I highly recommend chilling the dough for at least 30 minutes before baking. This keeps your cookies thicker as they bake and the texture will be better overall. You can skip this step if you are tight on time, but adjust the baking time down to 10 to 12 minutes.
Need another chocolate chip cookie experience? Check out these no bake edible cookie dough bites!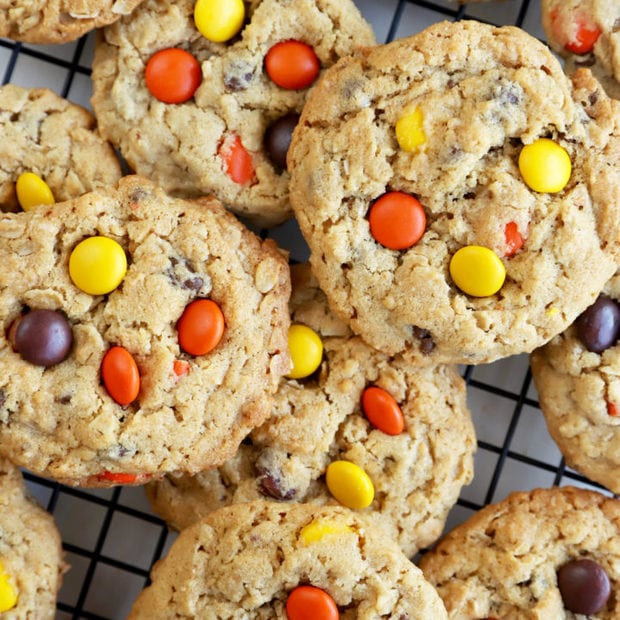 Peanut Butter Oatmeal Chocolate Chip Cookies
Additional Time:
30 minutes
Chewy, soft, and thick, these cookies are always a winner for peanut butter chocolate lovers!
Ingredients
1 1/2 cups all-purpose flour
1 tsp baking powder
1 tsp baking soda
1 tsp salt
1 cup (2 sticks) unsalted butter, room temperature
1 cup granulated sugar
1/2 cup packed dark brown sugar
2 large eggs, room temperature
1 cup creamy peanut butter
2 tsp pure vanilla extract
2 cups old-fashioned whole rolled oats
1 cup semi-sweet chocolate chips
1 1/2 cups Reese's Pieces, plus more for topping if desired
Instructions
In a medium bowl, whisk together flour, baking powder, baking soda, and salt. Set aside.
Add butter to the bowl of a stand mixer fitted with the paddle attachment. Beat on medium-high speed until smooth, about 1 minutes. Add sugars and beat again until creamed, about 2 minutes. Beat in eggs, peanut butter, and vanilla until just combined.
Pour in the dry ingredients and beat on low speed until just combined. Leaving the mixer on, add in oats and beat until combined. Stir in chocolate chips and Reese's Pieces.
Cover the bowl with plastic wrap and chill in the refrigerator for at least 30 minutes. You can chill the dough for up to 2 days.
Preheat oven to 350˚F. Line two large baking sheets with silicone mat or parchment paper.
Scoop out balls of dough 2 Tbsp at a time, spacing them 2 to 3 inches apart on the baking sheets,
Bake for 12 to 14 minutes until lightly browned on the edges. Remove from oven and press Reese's Pieces into the top for decoration, if desired. Cool on the baking sheet for 5 minutes before removing the cooling racks to cool the rest of the way.
Recommended Products
As an Amazon Associate and member of other affiliate programs, I earn from qualifying purchases.