Please note this post contains affiliate links.
Thick and Chewy Peanut Butter Cookies are the ultimate peanut butter lover's dream. With a chewy texture and tons of rich peanut butter flavor, you can whip up a batch easily! They are classic, simple, and perfect for sharing (if you want to, that is).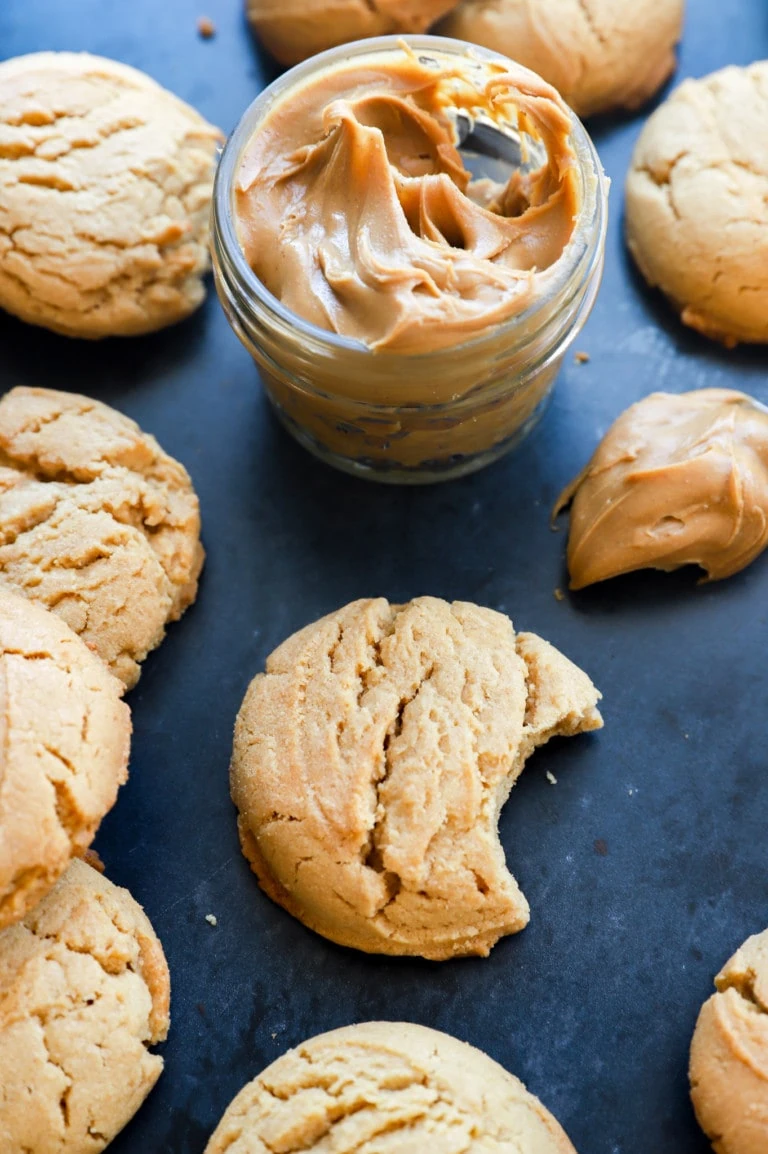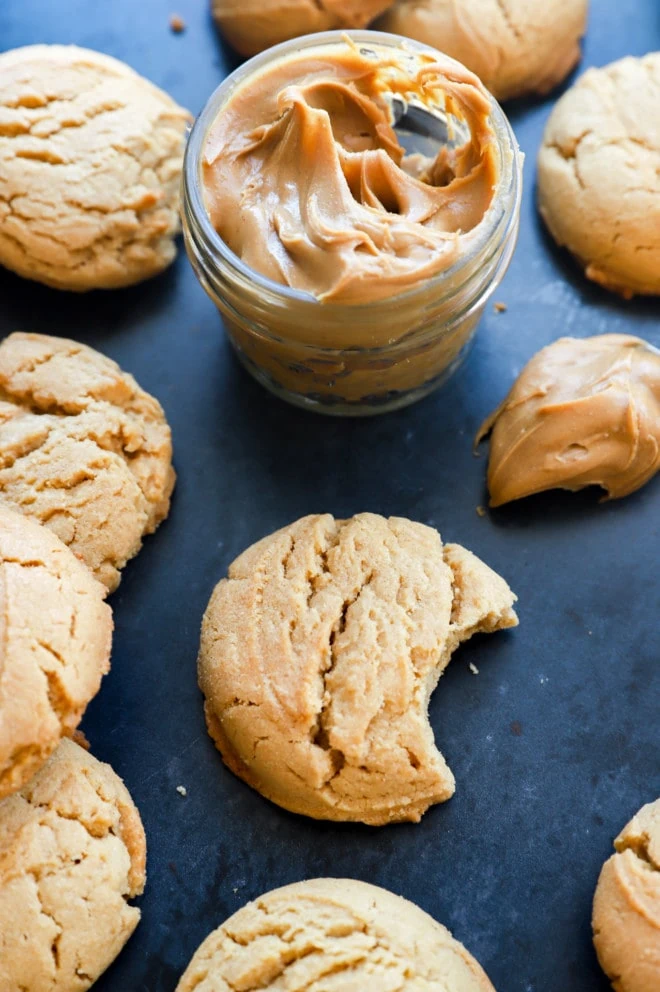 Ah, the classic soft peanut butter cookie. This is the timeless dessert that has been handed down through generations, and one that everyone enjoys. To me, this is the kind of cookie that's the ultimate comfort food. It's the cookie that reminds you of your childhood, the cookie that is truly classic, and the cookie that is always simple but never boring.
The truth is, we didn't have a ton of peanut butter cookies growing up. At least not that I can remember. It's not the cookie that I ever requested and it's not one that comes to my memory when I think back to the warm cookies of my childhood. Instead, it's another one of those recipes that I am enjoying more as adult.
Just think of this as another in the long list of recipes I want to perfect as an adult because I didn't learn to make it as a kid. Instead I learned to make shortbread, lavender cookies, chocolate chip cookies, and pavlova.
Any peanut butter lover is going to flip out over these chewy cookies! They are packed with rich and nutty flavor, with an irresistible texture. This makes them the perfect cookie for any occasion, whether you need a memorable dessert, a quick snack, or a cookie to add to a cookie box.
It doesn't matter if you are baking these for yourself or planning to share them, there's nothing better than a well-made peanut butter cookie.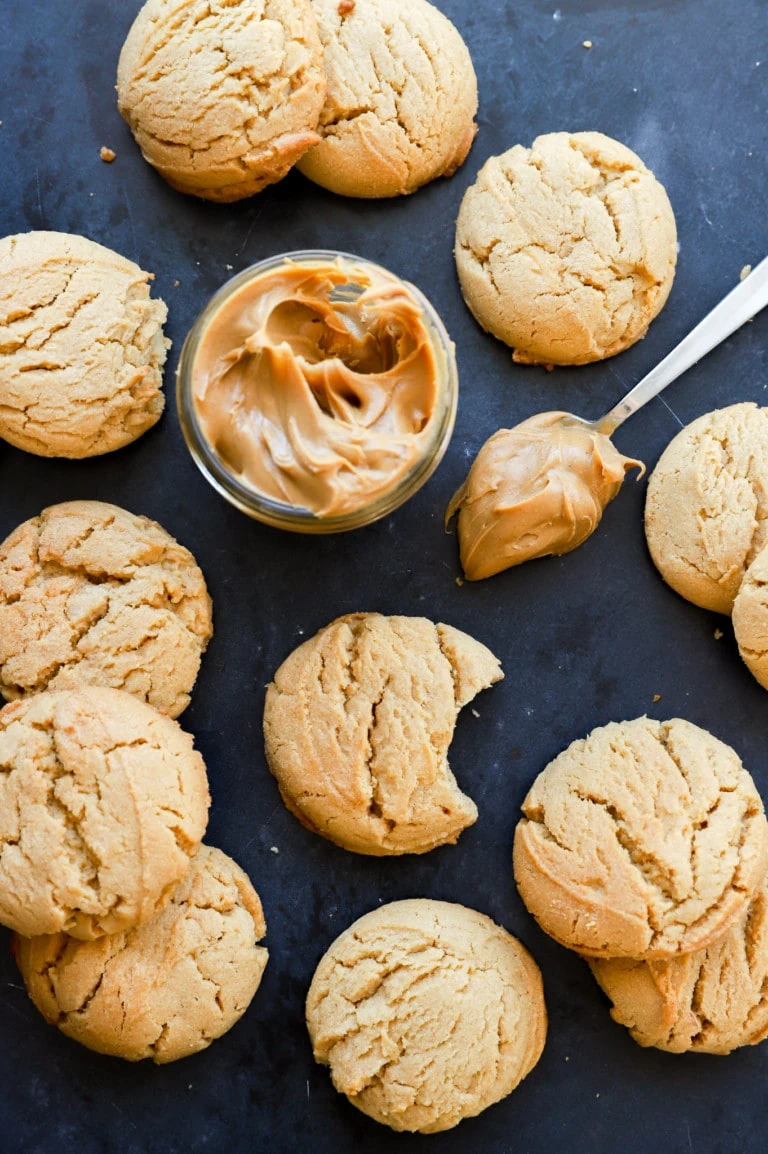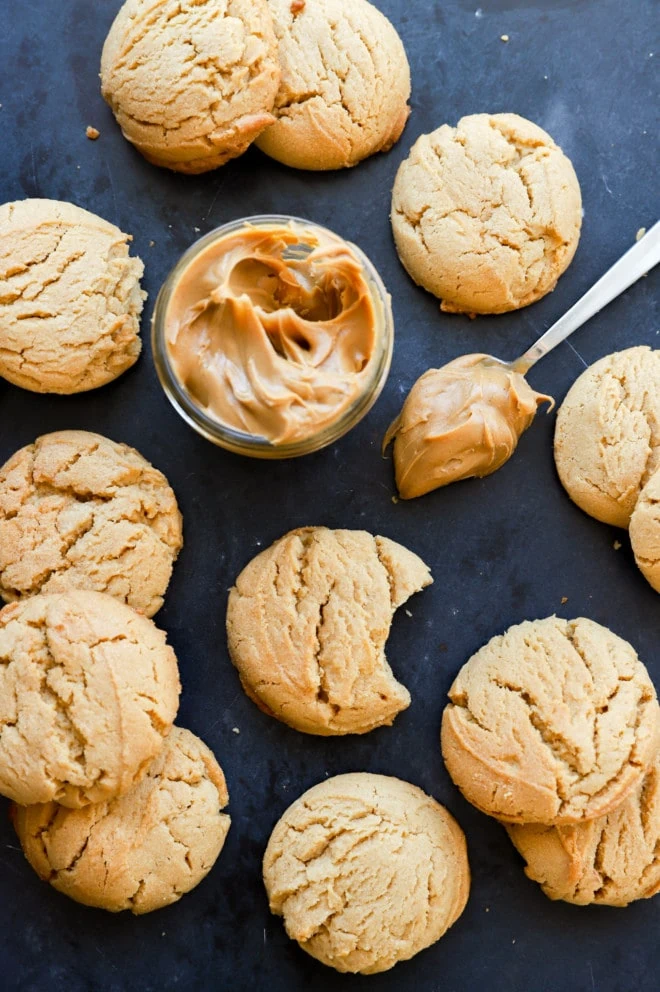 There are so many reasons to make these cookies, but here are the top ones:
First, the flavor of peanut butter is super present in this cookie. There are some cookies out there that do not have enough peanut butter flavor. When I have a peanut butter cookie, I want it to taste like peanut butter!
The chewy texture is just the right balance of chewy in the center with just a little crispness on the edges. Each bite is pure bliss.
Finally, these cookies are so simple to whip up! You only need one bowl (either the bowl of a mixer or a large bowl) to bring the batter together. Yes, the dough does need time to chill, but it's well worth the wait to make the perfect cookie.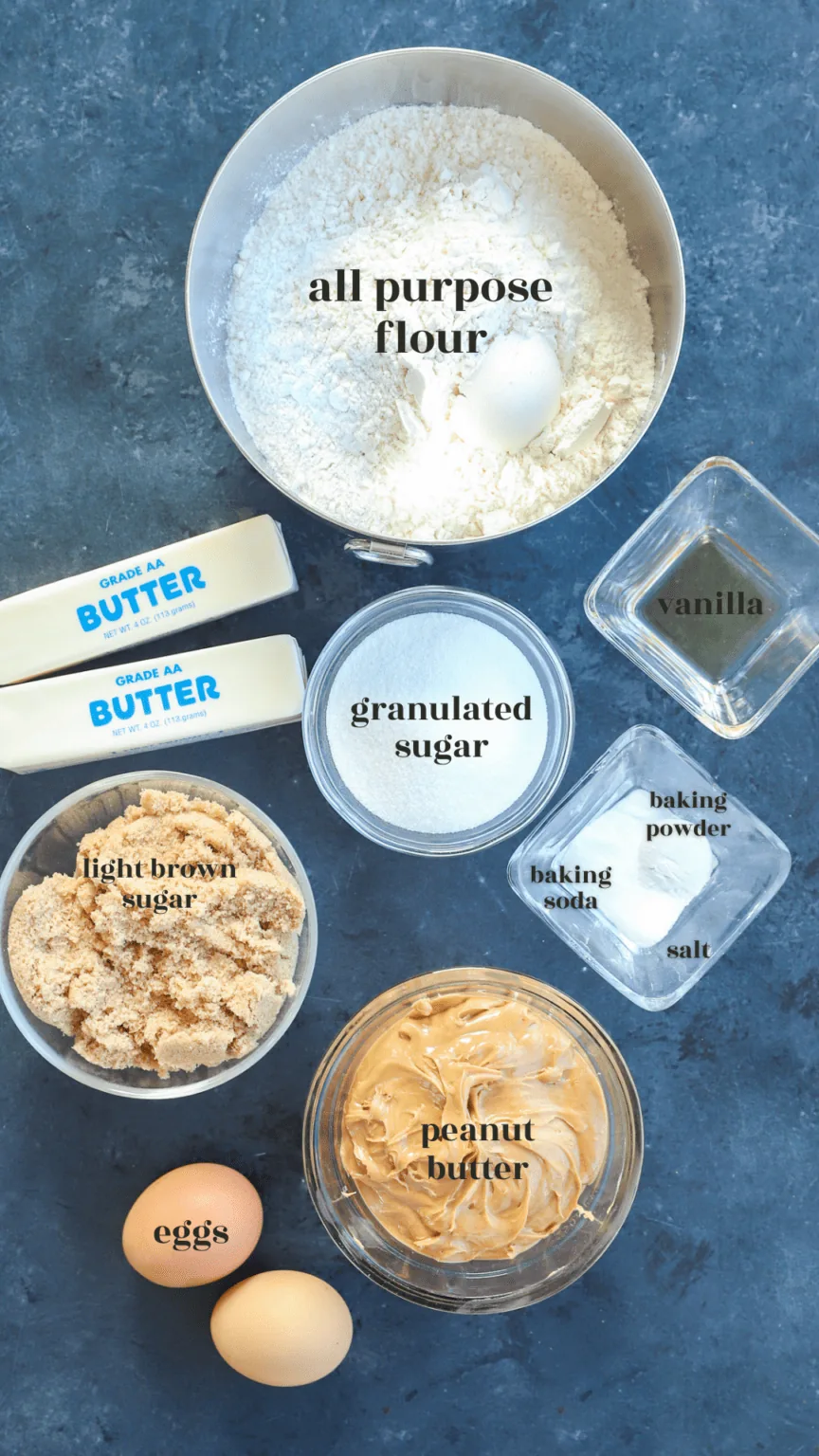 ingredients
butter. You will need unsalted butter, brought to room temperature. Salted butter can also be used, but if you use it, be sure to omit the salt called for in the recipe.
sugar. A combination of granulated sugar and light brown sugar is required. You can also use dark brown sugar instead of light brown sugar.
eggs. Use large eggs for the recipe and make sure that you bring them to room temperature before starting the recipe.
vanilla. A high-quality vanilla extract is always preferred for any recipe. This Madagascar Bourbon Pure Vanilla Extract is my personal favorite.
peanut butter. I like to use creamy peanut butter for this recipe, but you can also use chunky peanut butter. If you use chunky peanut butter, note that the texture will be different and a little less chewy. You can also use natural peanut butter, but it will result in a less chewy cookie.
flour. All you need is all purpose flour for this recipe. You can also use a gluten free 1:1 ratio flour instead.
baking soda and baking powder. You will need both leavening agents for these cookies.
salt. Use fine kosher salt.
this recipe's must haves
Measure out all the ingredients with measuring spoons and measuring cups. Make sure that you properly measure your flour! See my notes on a dry cookie in the FAQs below.
To make these cookies, I like to use a stand mixer. You can also use an electric hand mixer with the largest bowl from your set of mixing bowls.
You will also need baking sheets like this half sheet baking pan and silicone mats.
I like to use a cookie dough scoop to make sure all of the cookies are the same size.
everyday seasonal cookbook
With seasonal produce guides, recipes, and more, this cookbook is filled with seasonal food for every occasion.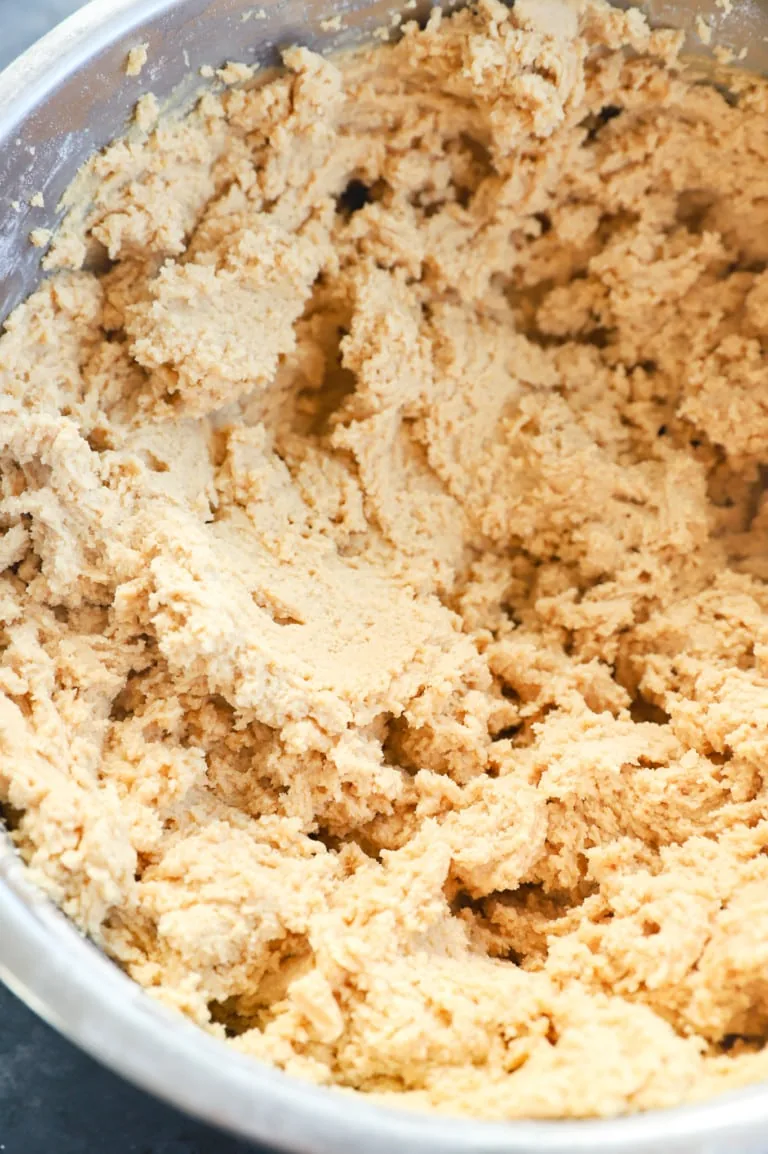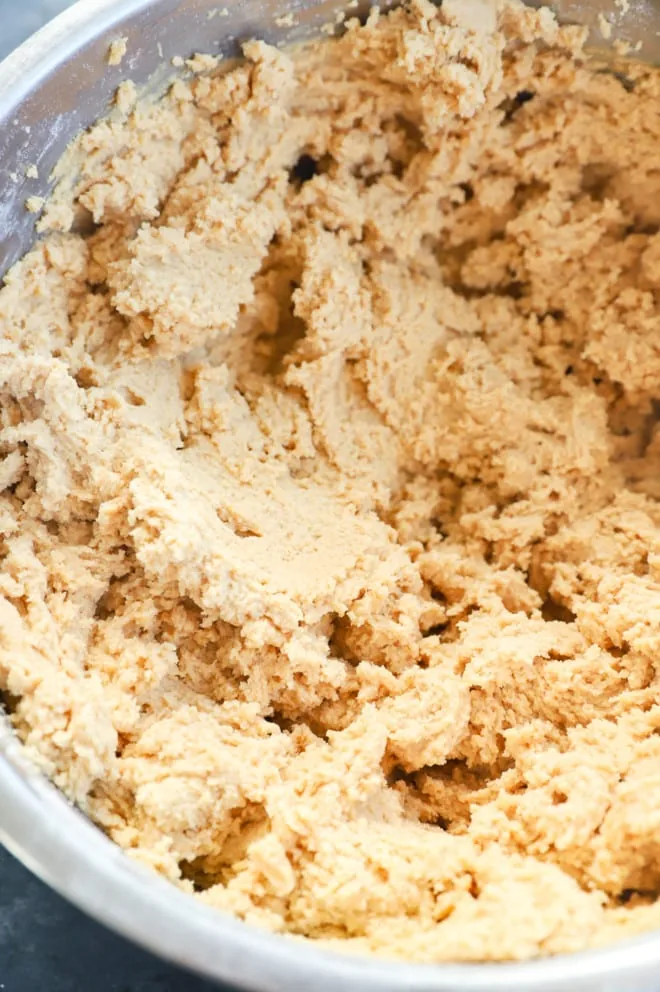 wet ingredients
Cream together butter and sugars in the bowl of a stand mixer. You can also use a large bowl with an electric hand mixer if that's what you have on hand. Once creamy and fluffy, add eggs, beating until combined.
Scrape down the sides of the bowl as needed. Mix in vanilla extract and peanut butter, beating until just combined.
make batter
Add flour, baking soda, baking powder, and salt. Mix on low until just combined. Do not over mix. You should beat the batter together just until the dry ingredients are incorporated.
chill
Cover the bowl and chill in the refrigerator for at least 1 hour. Honestly the longer the better – I like to chill my dough for 2 to 3 hours.
bake
Scoop out 2 Tbsp of dough and form into balls. Place on lined baking sheets approximately 3 inches apart. You can press the tops down with a fork in the traditional way to make a sort of hashtag mark on top, if you want. I prefer to leave mine as is.
Bake for 15 to 20 minutes, or until the edges are just set, at 350˚F. Cool for 5 to 10 minutes on the baking sheets before removing to wire racks to finish cooling.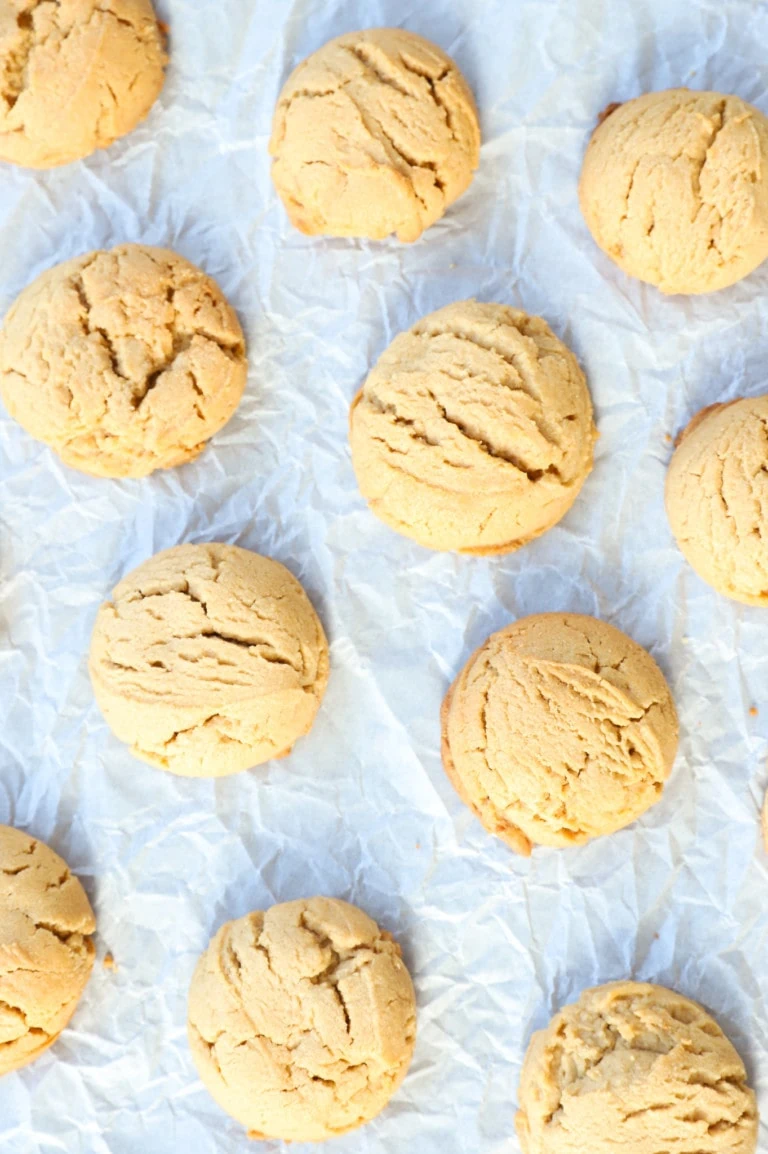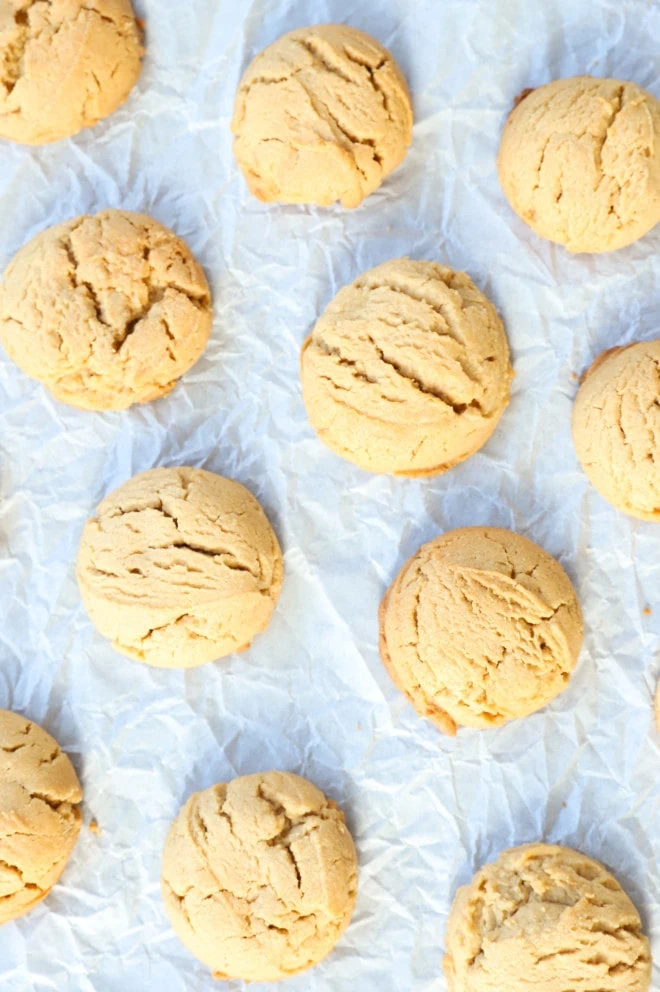 tips and tricks
room temperature ingredients. Prepare to make these cookies by ensuring all the noted ingredients that need to be room temperature are at room temperature. This will ensure a smooth batter and overall, a better cookie.
under bake the cookies. When you bake these cookies, you are looking to slightly underbake them. You do not want to finish the cookies all the way through in the oven. Why? The cookies will continue to bake when you remove them from the oven, taking them from chewy to dry very quickly. Pull the cookies from the oven when the edges are set but the middles still look soft. They will keep cooking on the baking sheet for another 5 to 10 minutes.
chill the dough. Be sure to chill the dough as this will help you achieve a chewier cookie! You can even chill the dough overnight if you want to. The longer the dough sits, the more the peanut butter flavor will come through.
More delicious cookies to bake up: Coffee Cookies | Carrot Cake Cookies | Caramel Stuffed Pumpkin Cookies | Cranberry White Chocolate Oatmeal Cookies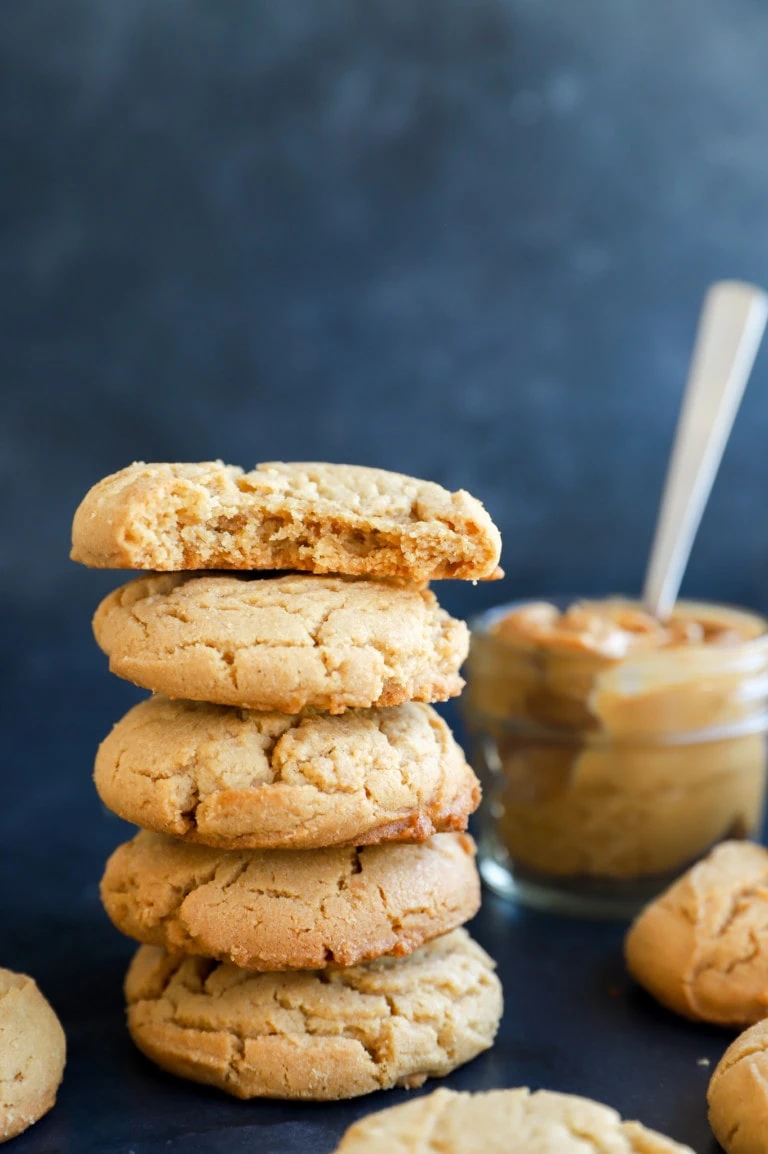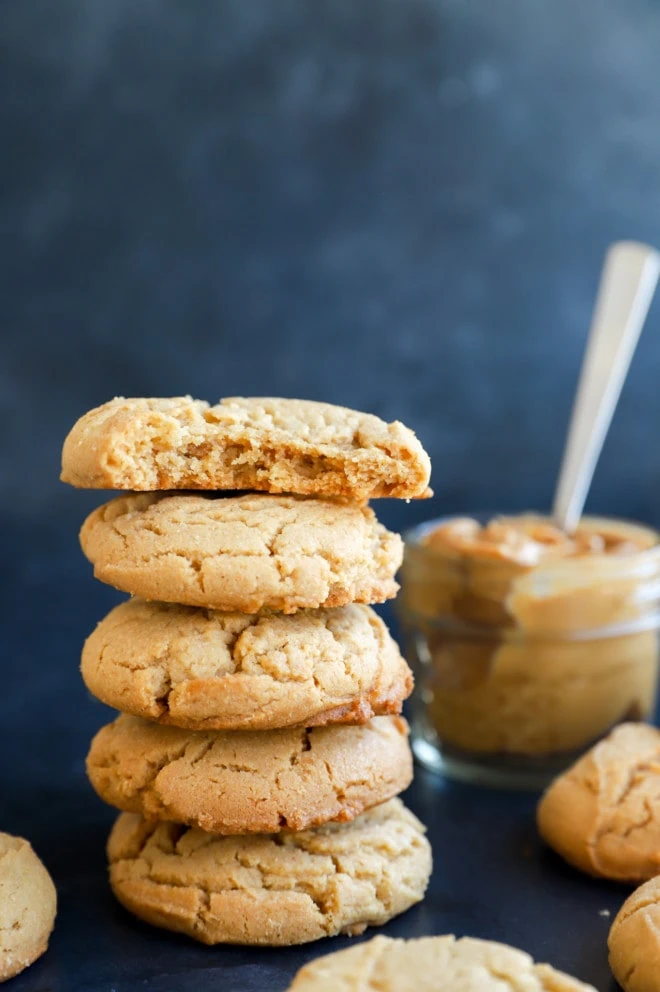 There are two main culprits when these cookies come out dry. First is using too much flour and second is over-baking.
It is very important to measure the flour correctly for this recipe. Even just a small amount of excess flour can take these cookies from chewy to dry and crumbly. Make sure that you fluff up the flour with a spoon and spoon it into your measuring cup.
If you bake these cookies too long, they will be dry. You want to bake them just until the edges are set but the centers will still look soft. Remove the baking sheet and let the cookies continue to bake on the hot pans for about 5 to 10 minutes.
can I use almond butter?
Yes, you can! The cookie will not have the same texture and will likely be a little drier. However, you can still create the recipe with almond butter and the flavor will be delicious.
can I add the iconic crisscross pattern on top?
You certainly can! To me, I love the crinkled top, but you might prefer that crisscross pattern and that's no problem for this recipe. Use a fork to press the crisscross into the tops of the dough balls before you bake them. Bake them for the shorter end of the time range given, as they may bake a little faster since you are pressing them down.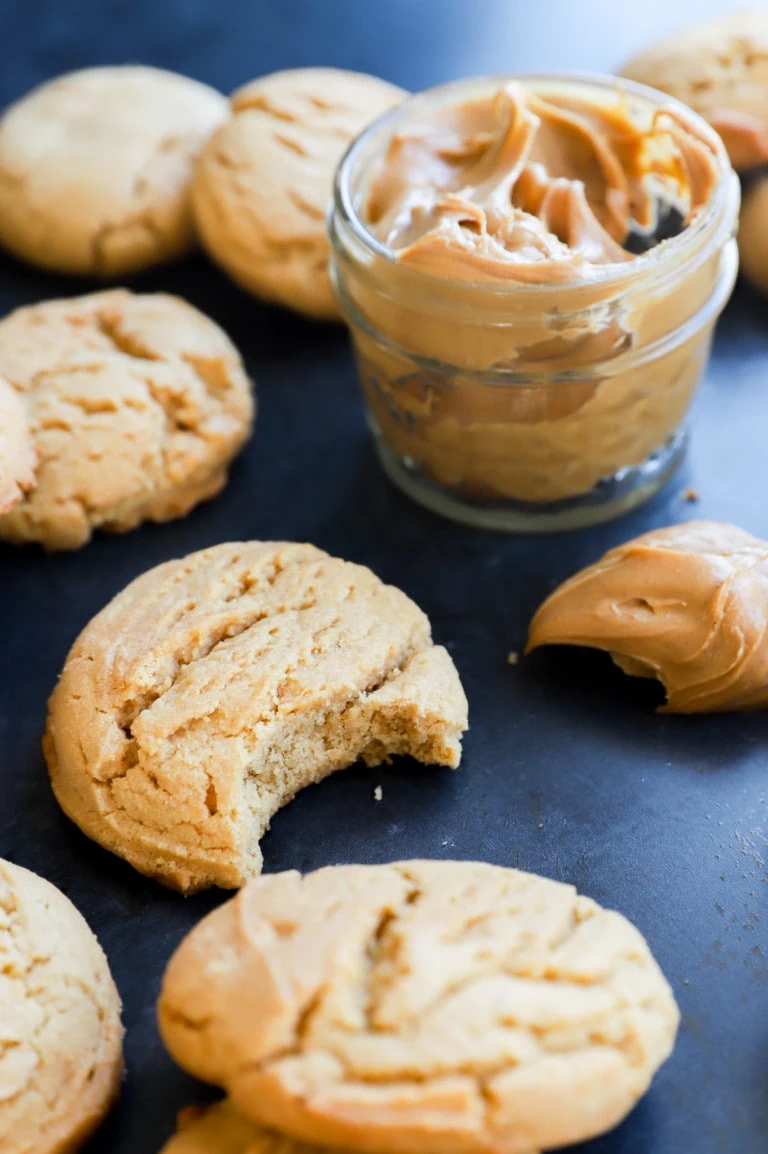 is it ok to use natural peanut butter instead of regular peanut butter?
You can use natural peanut butter! Make sure that you stir the peanut butter well so it is not separated from the oil that sometimes accumulates on top with natural peanut butter. Note that the cookie might come out a little less chewy if you use natural.
The best way to store these cookies is in an airtight container at room temperature. Make sure that you cool the cookies completely before storing them in containers. I recommend reheating the cookies slightly in the microwave (about 5 to 10 seconds), because they just taste so dang good when they are warm.
variations
There are so many easy ways to customize these cookies! Here are some ideas to get you started:
Fold in chocolate chips after the batter has come together. You only need a 1/2 cup to 2/3 cup total. I like to use semi-sweet chocolate chips, but milk chocolate, dark chocolate, and white chocolate all work too. Pick your favorite!
If you want a different texture, try using crunchy peanut butter instead of creamy peanut butter. Note that the cookies will have a different texture.
Another way to add a different texture is to add in crunchy chopped peanuts! Use about 1/2 cup to 1/3 cup total.
Need more inspiration for dessert? Check out my dessert recipe page!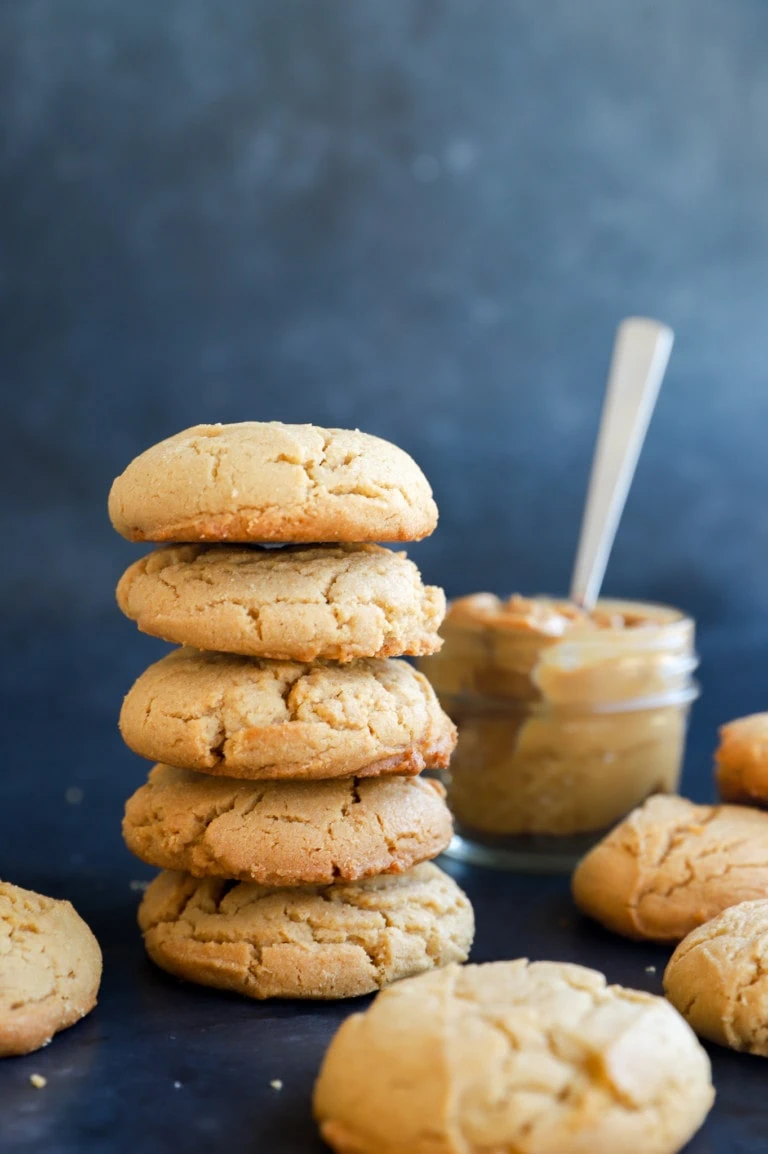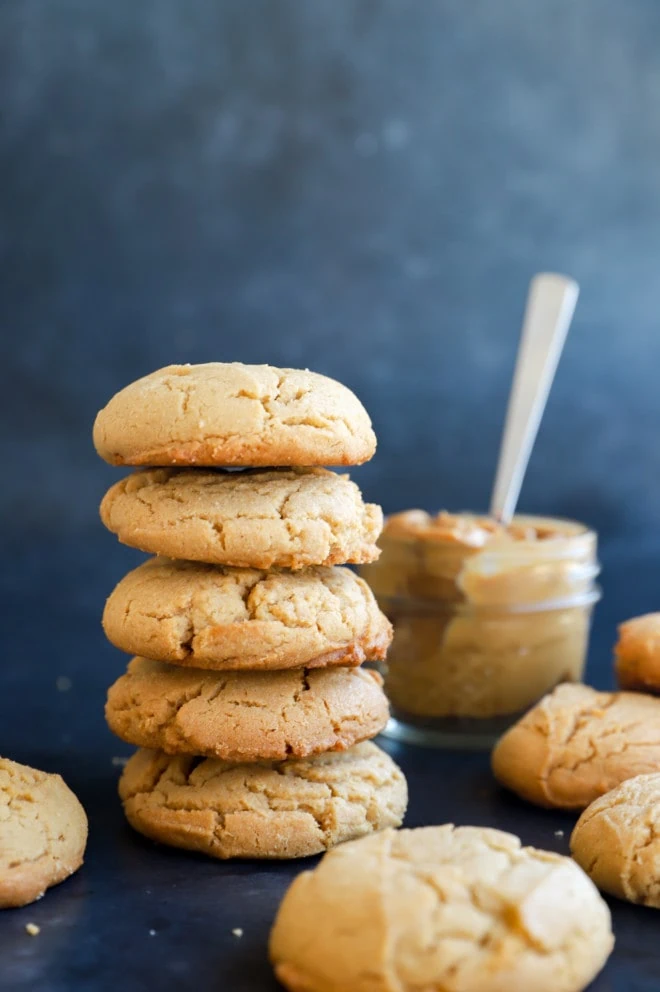 What goes better with a chewy peanut butter cookie than a big ol' glass of milk?! Make sure you warm up the cookies in the microwave for a few seconds before enjoying them – it makes them taste like they are fresh out of the oven!
I love to serve these cookies as dessert, but also as an afternoon snack with a cup of tea or coffee.
how to store and freeze
Store. Cooled cookies can be stored at room temperature for up to 1 week in an airtight container.
Reheat. I like to warm up my cookies in the microwave for about 10 seconds! Tastes like the cookie just came out of the oven.
Freeze. I prefer to freeze cookie dough instead of baked cookies. To freeze the dough, skip the chill time and form the dough into balls. Place on a lined baking sheet and freeze for 3 to 4 hours until solid. Store in a resealable bag in the freezer for up to 3 months.
If you want to freeze baked cookies, cool them completely before placing in a resealable freezer bag. Store in the freeze for up to 3 months.
Thaw. Thaw uncooked cookie dough balls or baked cookies in the refrigerator overnight. Bake as instructed or reheat the cookies in the microwave as desired.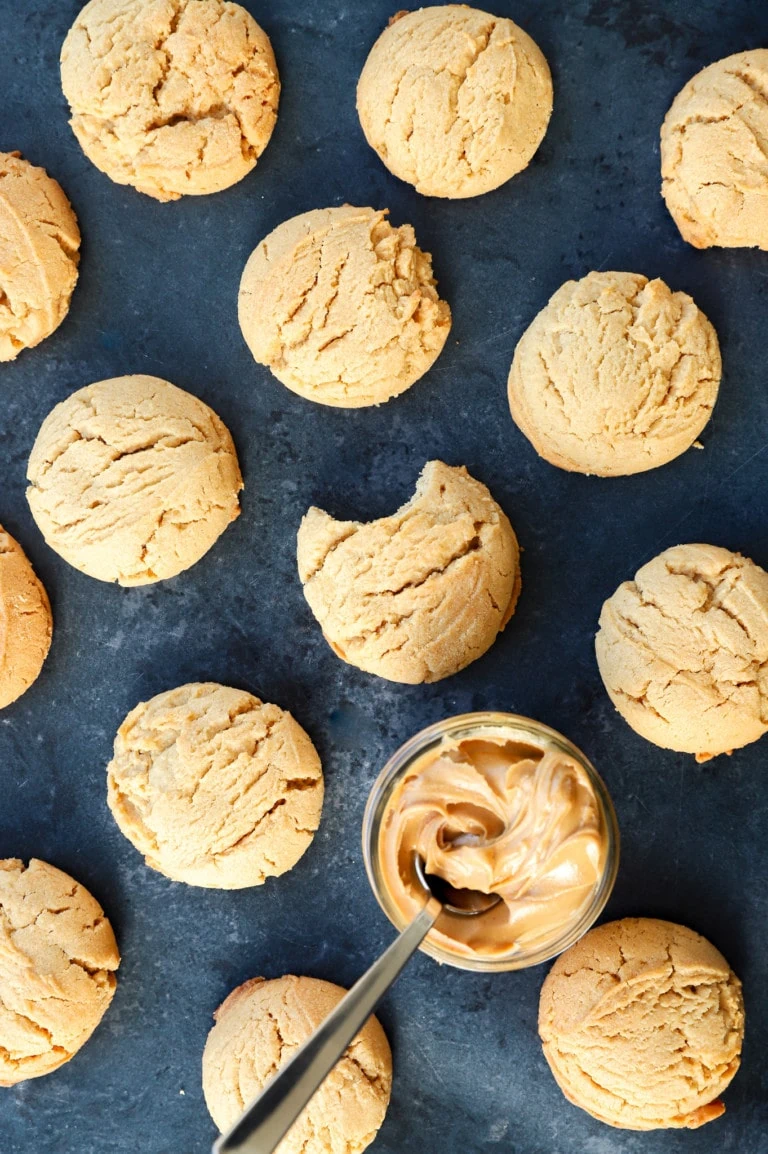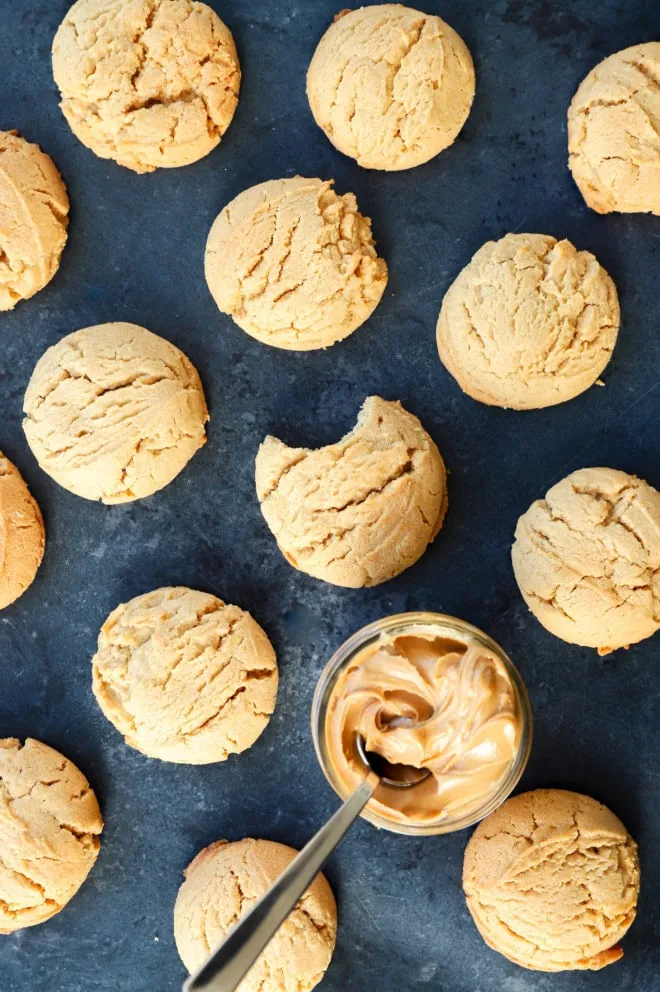 more tasty peanut butter recipes
If you love oatmeal cookies, you have to try these peanut butter oatmeal chocolate chip cookies!
Peanut butter rice krispie treats only require six ingredients and come together without any baking time.
Amp up this peanut butter cookie recipe with these caramel stuffed peanut butter cookies.
Finally, if you make this perfect peanut butter cookies recipe, please be sure to give this recipe a rating and/or leave a comment! I love to hear when you all make recipes, and I do take the time to respond to every single comment.
Feel free to drop questions below too, if you have them!
Oh and be sure to tag me on Instagram if you make the recipe! I love being able to see these recipes come to life in your homes – it's my favorite thing to look through those photos. It really means the world to me!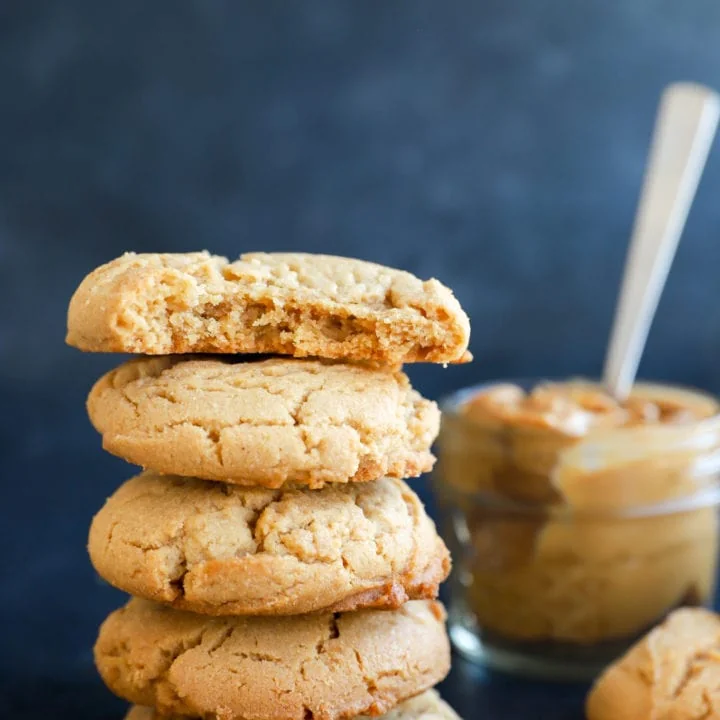 Chewy Peanut Butter Cookies
Yield:
Makes approx. 3 dozen cookies
Total Time:
1 hour
25 minutes
These are the perfect chewy and soft peanut butter cookies!
Ingredients
1 cup unsalted butter, room temperature
1/2 cup granulated sugar
1 1/4 cups light brown sugar
2 large eggs, room temperature
2 tsp vanilla extract
1 1/4 cups creamy peanut butter
3 cups + 2 Tbsp all purpose flour
1 tsp baking soda
1 tsp baking powder
1/4 tsp salt
Instructions
In the bowl of a stand mixer, cream together butter and sugars until combined on medium high speed. Add eggs and beat until combined. Use a spatula to scrape down the sides of the bowl. Add vanilla and peanut butter, beating again until combined.
Add in flour, baking soda, baking powder and salt. Mix on low until just combined.
Cover the bowl with plastic wrap and refrigerate for at least 1 hour. The dough can be refrigerated up to 48 hours before baking.
When ready to bake, preheat oven to 350˚F. Line 2 baking sheets with silicone mats or parchment paper.
Roll approximately 1 1/2 to 2 Tbsp of dough into a ball or scoop with a cookie dough scooper. Place balls of dough on baking sheets, spacing them 3 inches apart. You can do the traditional press down of the tops with a fork if you want, but I prefer to skip that step.
Bake for 12 to 18 minutes. Cool for 5 to 10 minutes on the baking sheets, before removing to cooling racks to finish cooling.
Recommended Products
As an Amazon Associate and member of other affiliate programs, I earn from qualifying purchases.