Please note this post contains affiliate links.
A Spicy Bacon-Wrapped Bratwurst with Homemade Pickled Red Onions is THE recipe of the summer – you heard it here first! Bratwurst gets an extra hit of pork goodness with crispy bacon, and that's just the start. Pile it up with homemade quick pickled red onions, jalapeño lime aioli, crushed tortilla chips and more, and you've got a serious winner for dinner.
LOOK AT WHAT I MADE.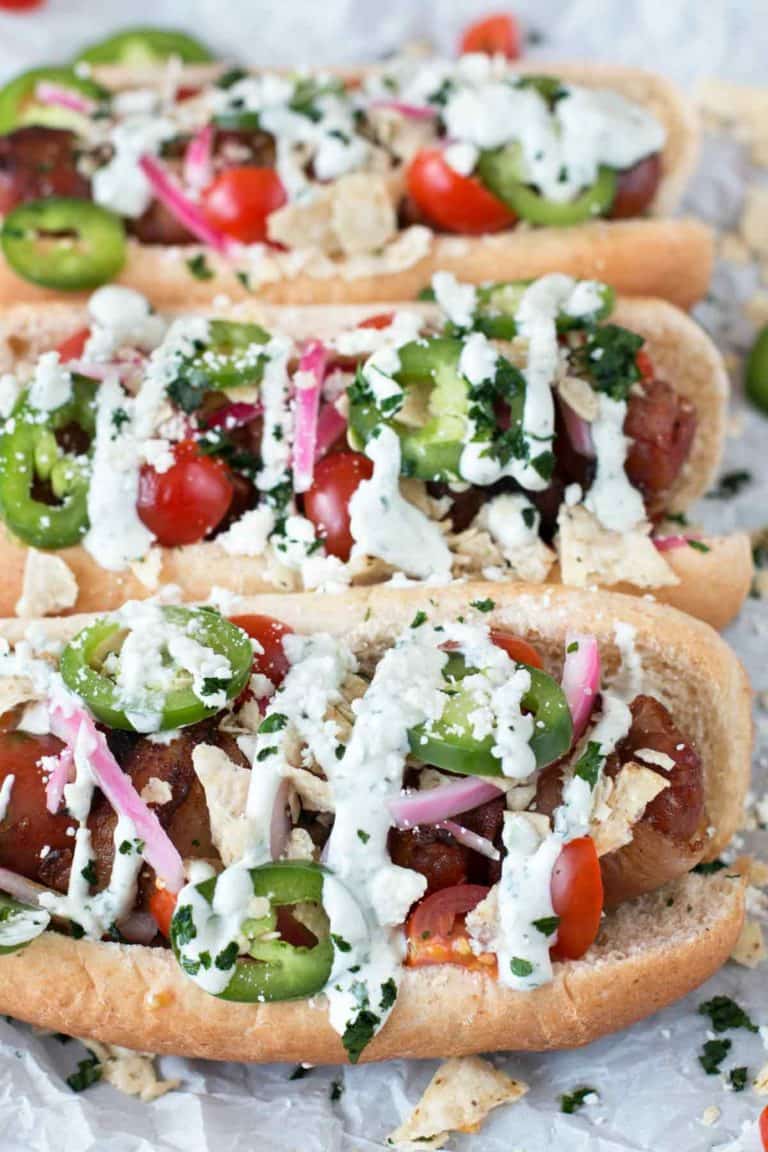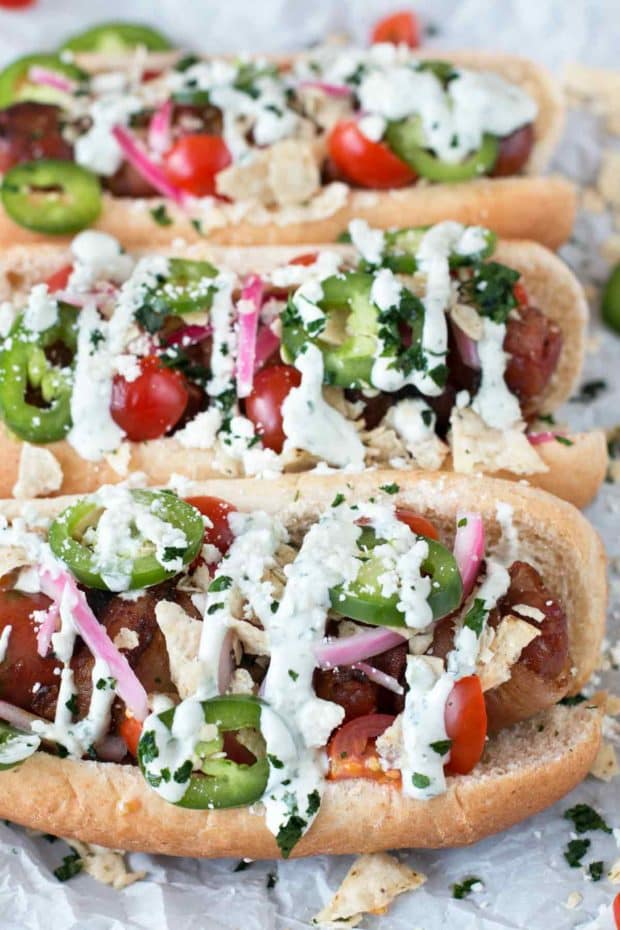 Just look at this gorgeous, colorful mess of pork and all those ridiculous toppings.
The moment I even look at the pictures, I honestly start drooling all over again.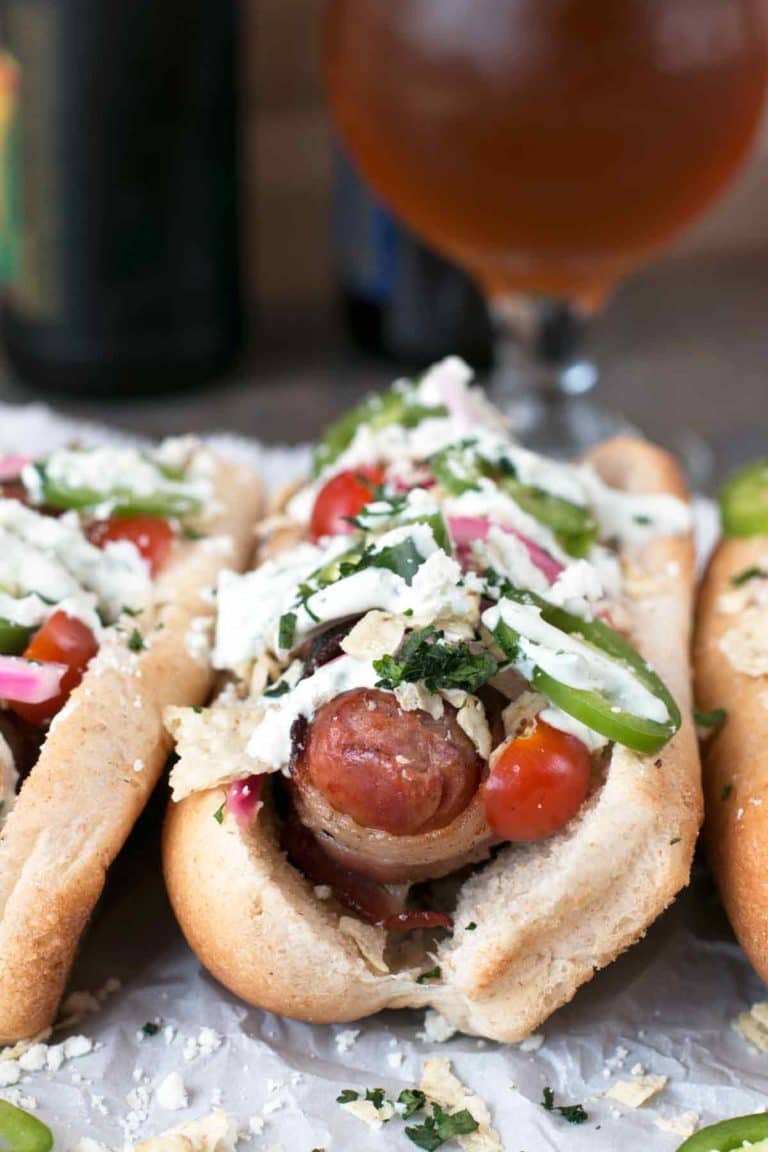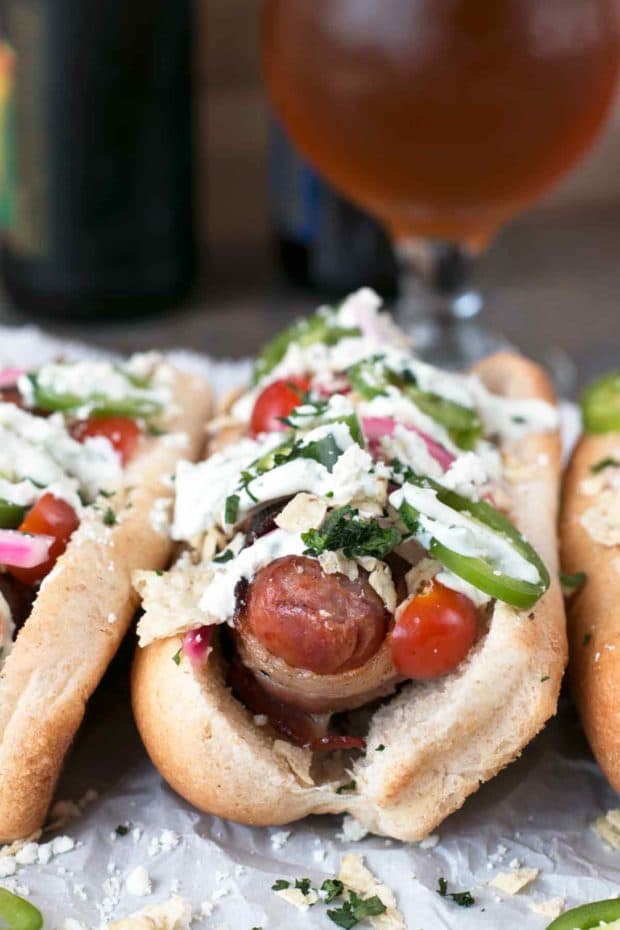 You all know I love going over-the-top with most of my recipes, and with the Fourth of July coming up, I thought this would be the perfect opportunity to share one of those recipes with you all.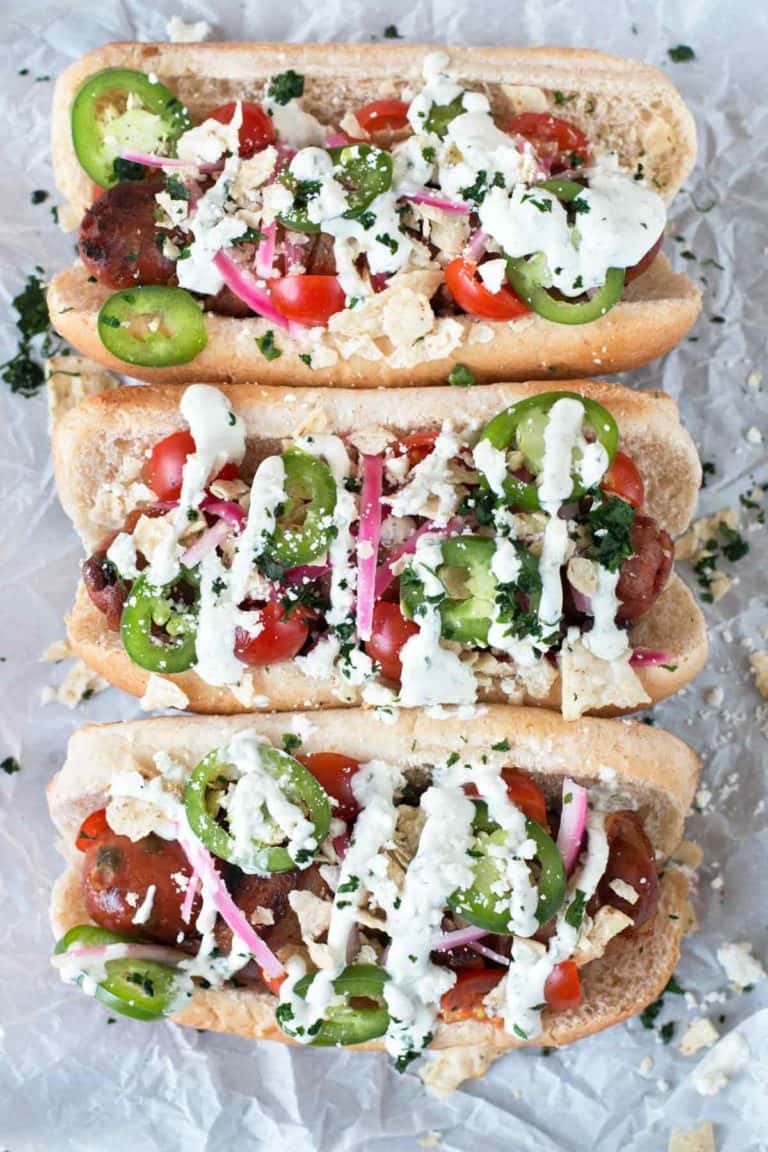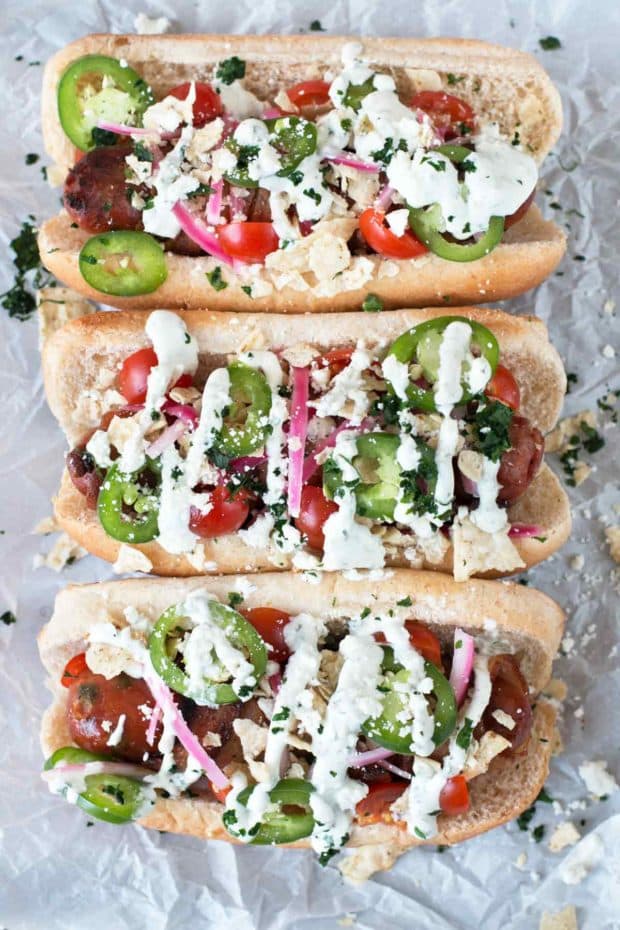 I mean, with all those parties that you have coming up, you want something to really wow the crowd don't you?
Instead of serving up wimpy hot dogs, make every bite memorable.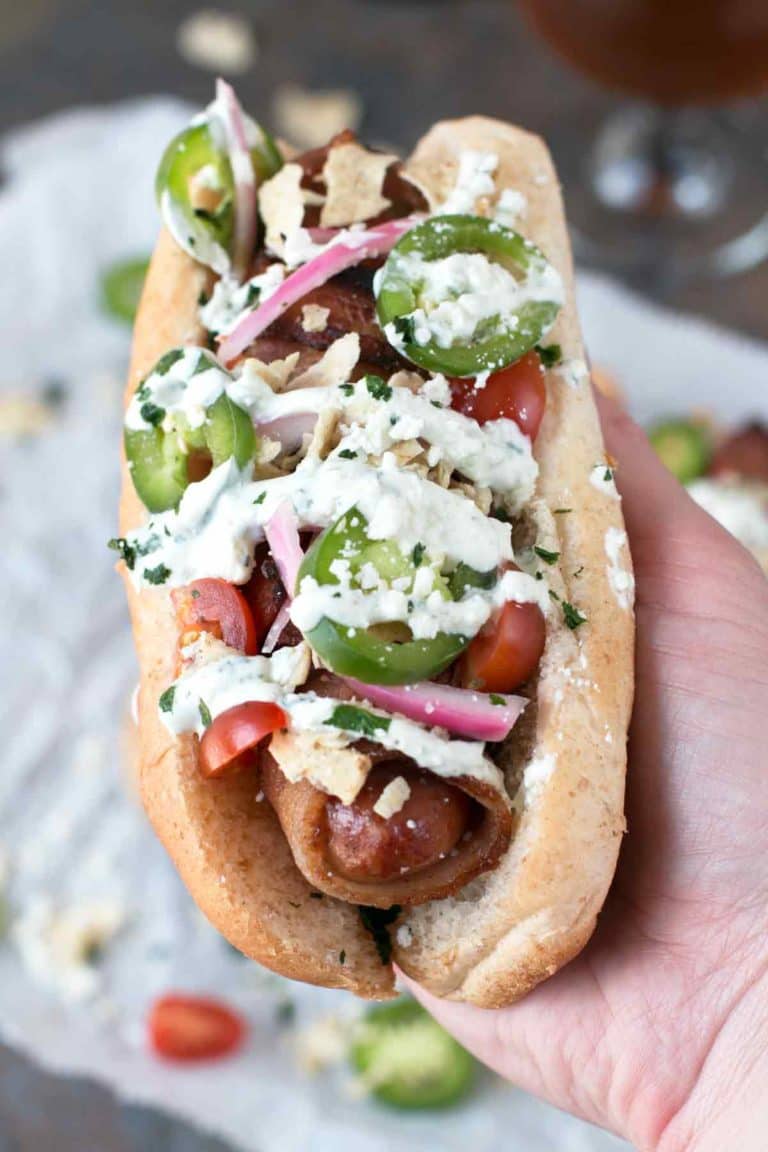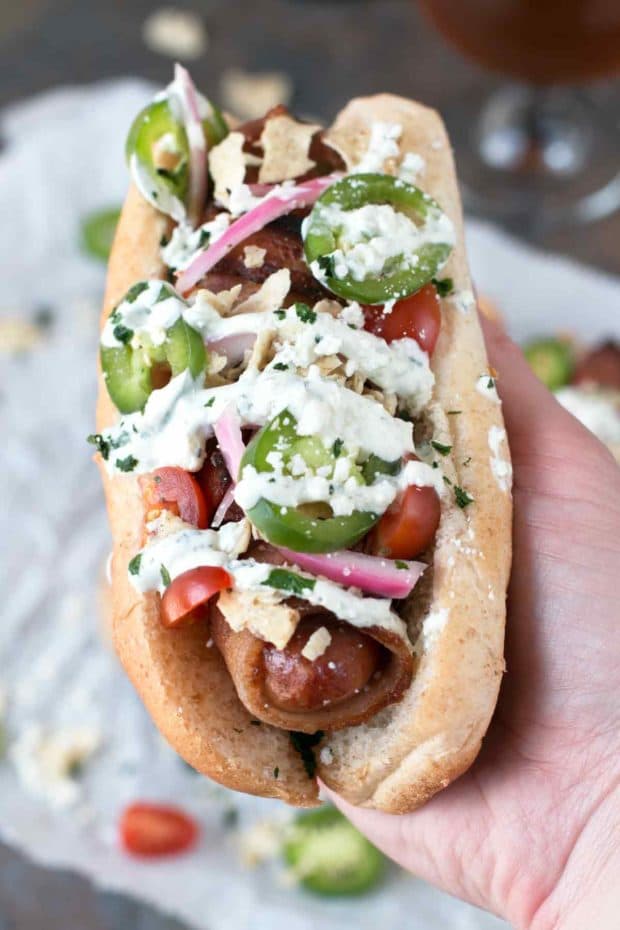 And what's more memorable than bacon-wrapped bratwurst??
Not much, to be honest.
Except when you top it with a carefully selected variety of ingredients that bring out all the best flavors in the bacon and bratwursts.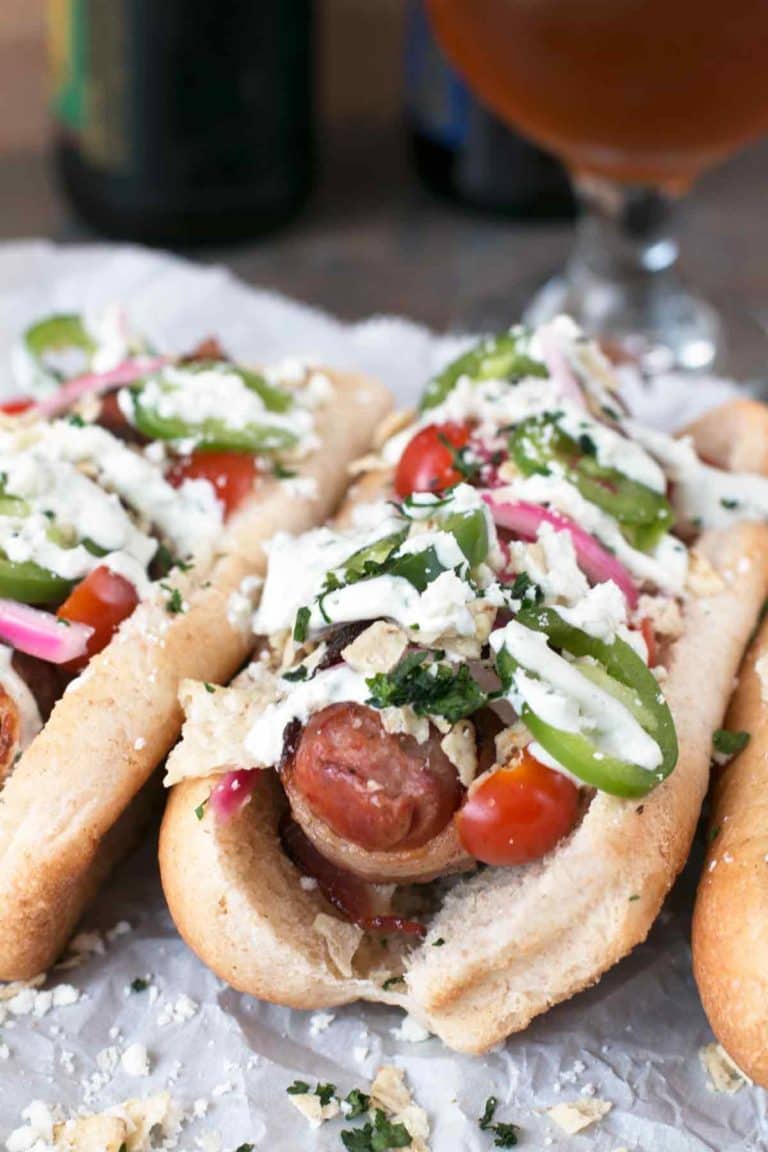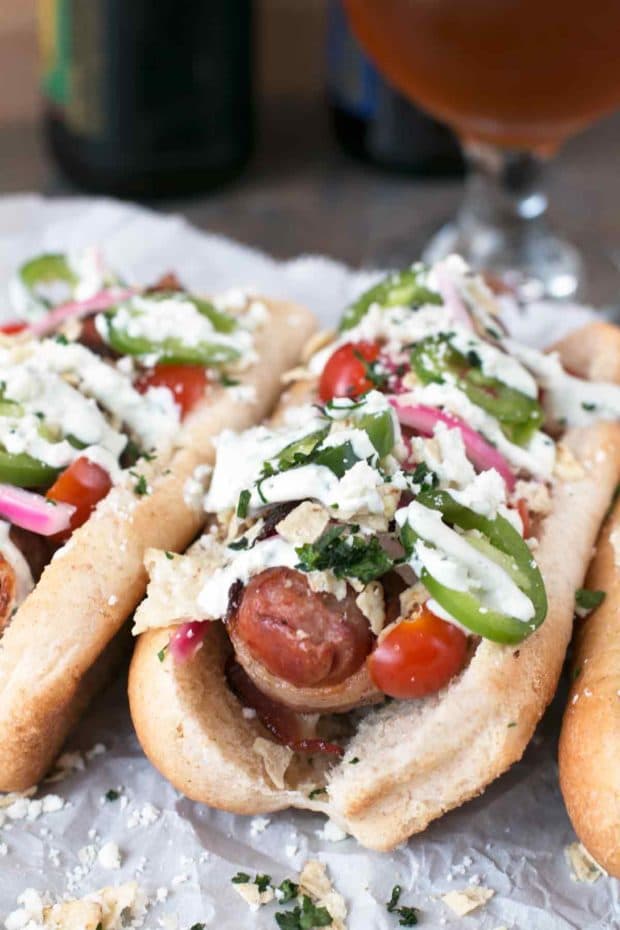 The homemade quick pickled red onions give a tangy and tart bite. The jalapeño lime aioli brings in a slow and creamy heat. The jalapeños give you an extra burst of spiciness, the tomatoes give a burst of sweetness and acidity, and the crushed tortilla chips give the crunch the whole dish is craving.
All in all, this might be the most perfect brat I've ever made in all my 30+ years on this Earth.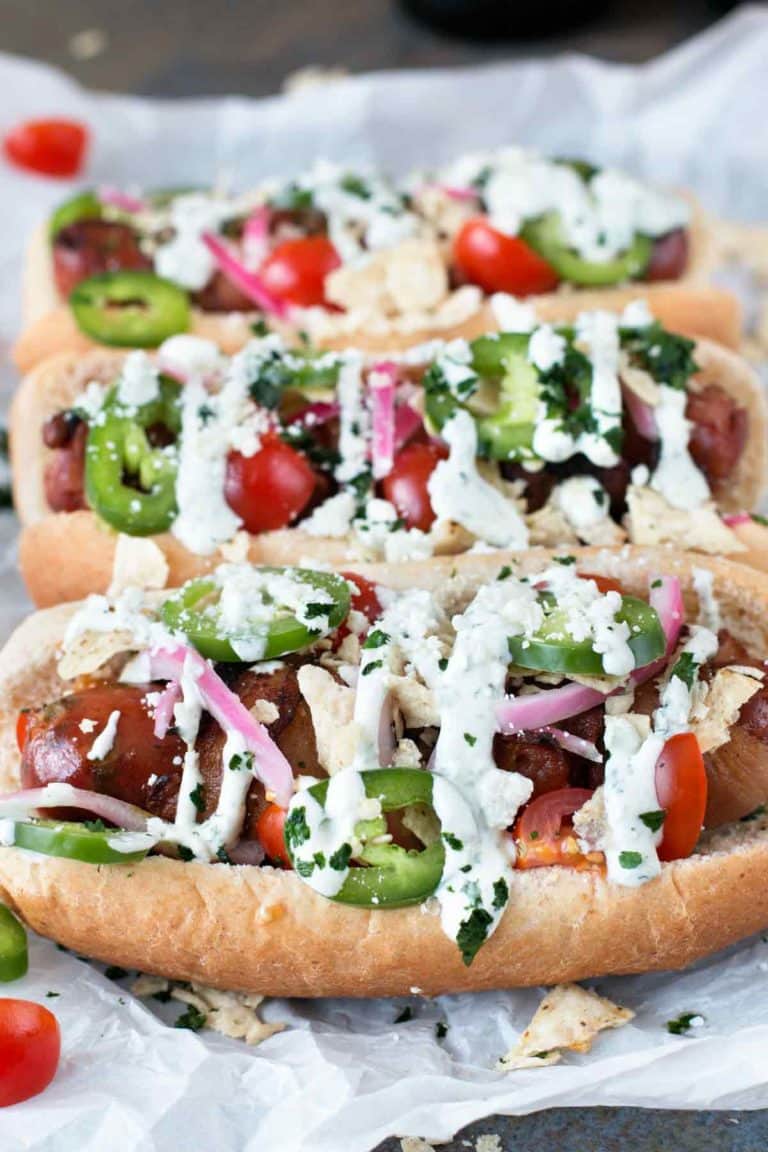 I can promise you that all your friends will totally agree. This bacon-wrapped bratwurst is a MUST.
What should I serve with these brats?
Here's a list of some of my favorite side dishes to pair with these brats, particularly for a party!
Bacon Cilantro Lime Grilled Corn Salad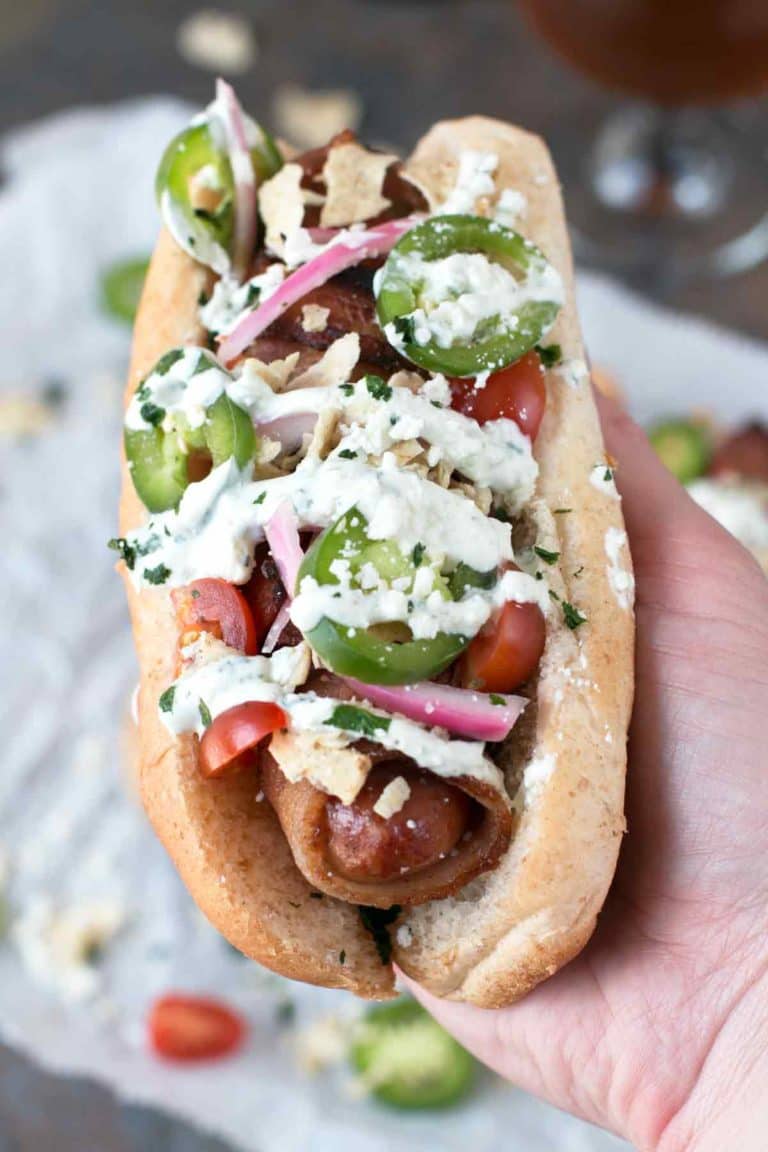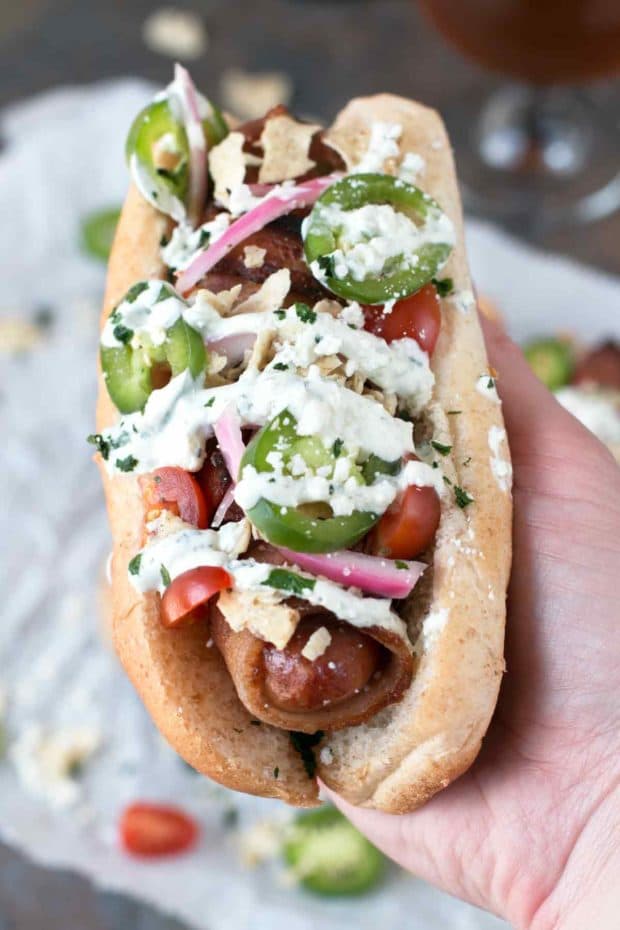 This Recipe's Must Haves
This cast-iron skillet grill
is my favorite pan to use for these – you get the grill without having the bacon fall through the grates! Of course, if you want to go classic, go for the Traeger grill. I actually bought a silicone mat liner that allows you to grill without the bacon falling through the grates.
To make the perfect aioli topping, make sure you have either a food processor or blender like a Vitamix handy.
Finally, you will need a saucepan to get the whole pickling process done right.
What kind of bacon should I use?
Personally, I am all about the thick-cut bacon! From there, you can choose any flavor you want. I like applewood smoked, but black pepper bacon would also be SUPER SUPER tasty.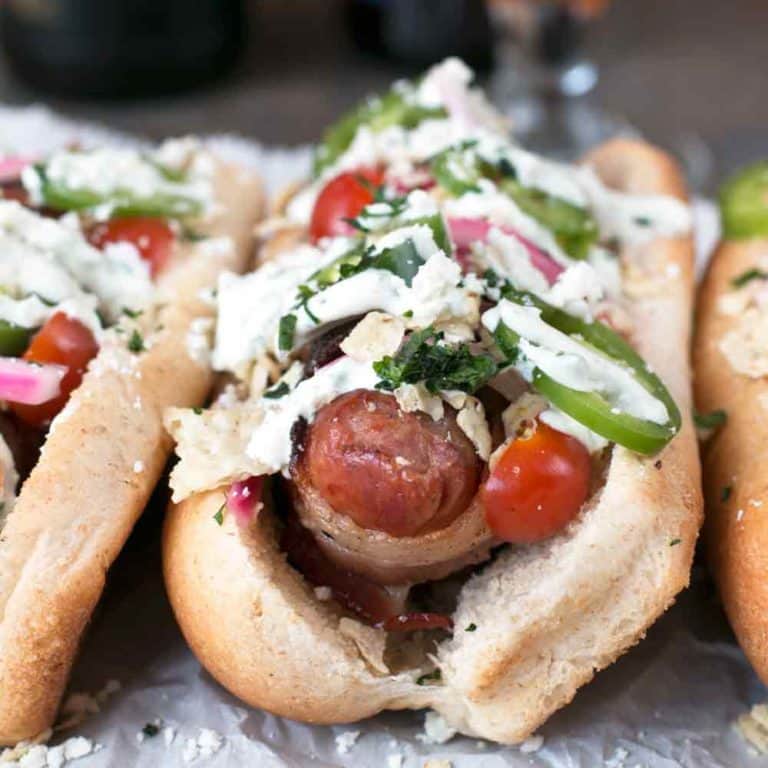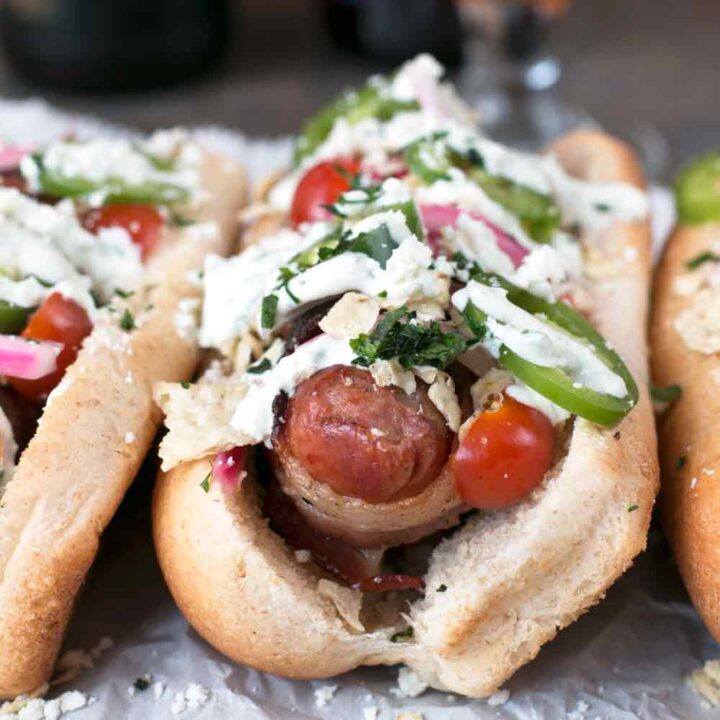 Spicy Bacon-Wrapped Bratwurst with Homemade Pickled Red Onions
Total Time:
1 hour
30 minutes
Bratwurst wrapped in bacon is topped with an insane variety of flavor to bring you the ultimate bratwurst of the summer!
Ingredients
Hot Dogs
4 hot dog buns
4 bratwurst of your choice (I chose a jalapeño cheddar one because YAS)
12 slices bacon
1 cup quartered cherry tomatoes
1/3 cup crushed tortilla chips
Garnish: fresh sliced jalapeños, cojita cheese, freshly chopped cilantro
Pickled Red Onions
1 medium red onion, sliced
1/2 tsp sugar
1/2 tsp salt
3/4 cup rice vinegar
1 clove garlic, halved
5 black peppercorns
1 tsp red pepper flakes
Jalapeno Lime Aioli
1/2 Tbsp freshly chopped cilantro
1/2 Tbsp lime juice
1/2 jalapeno, seeded and chopped
1/4 tsp cumin
1/4 tsp garlic powder
1/4 cup mayonnaise
Instructions
To make the pickled onions, bring 2 cups of water to a boil over high heat in a medium saucepan.
Add sugar, salt, rice vinegar, garlic, peppercorns and red pepper flakes for the pickled red onions to a container larger enough to hold 2 cups. Stir to combine. Set aside.
Add sliced red onion to a fine mesh sieve. Slowly pour boiling water over the onions and drain. Add onions to the container with the pickling liquid. Cover and refrigerate for 1 hour (the longer the better) until ready to serve.
To make the jalapeño lime aioli, add all ingredients to the bowl of a food processor. Puree until combined. Season with salt and pepper to taste. Set aside in the refrigerator until ready to serve.
To make the hot dogs, heat a large skillet or grill pan over medium-high heat. Partially cook the bacon until the edges are crisp, approximately 5 minutes. Remove from skillet to a clean plate.
Add bratwursts to the same skillet and cook until brown, approximately 2-3 minutes per side. Remove from skillet. Wrap partially cooked bacon slices around the bratwursts, overlapping them as you wrap. You will use about 2 to 3 bacon strips for each bratwurst. Use toothpicks to secure bacon slices on each end of the bratwurst.
Return bacon wrapped bratwursts to the same skillet, cooking over medium heat, turning often. Cook until the bacon is crisp and browned, approximately 5 minutes.
To serve, add bacon-wrapped bratwursts to hot dog buns. Garnish as desired with pickled red onions, cherry tomatoes, sliced jalapeños, jalapeño lime aioli, cojita cheese, crushed tortilla chips and cilantro.
Recommended Products
As an Amazon Associate and member of other affiliate programs, I earn from qualifying purchases.