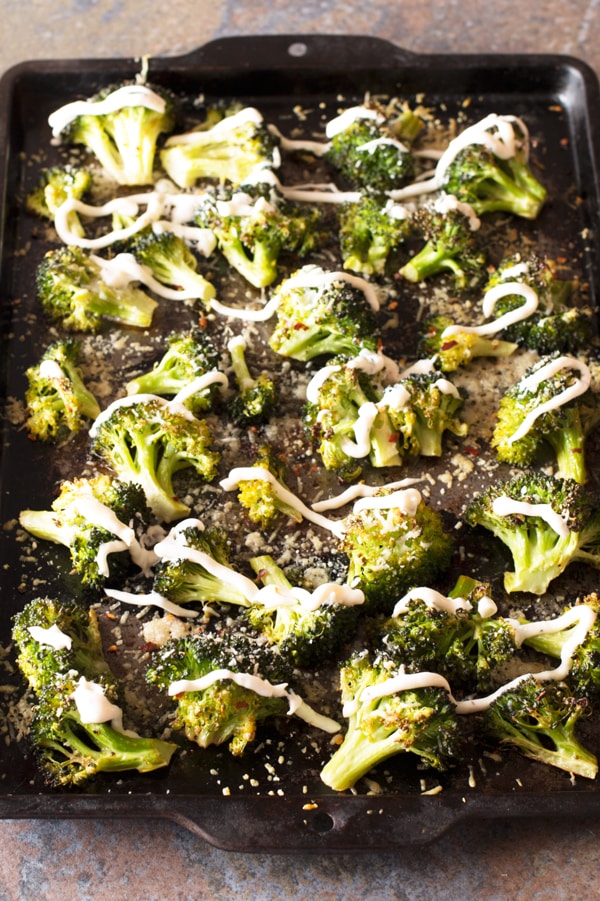 This is the only way I will eat broccoli from now until forever. After too many meals of steamed broccoli, I'll admit I was getting bored with the vegetable. The texture was becoming monotonous and I was feeling uninspired. On a particularly lazy evening after a too-long week, Ben was making dinner and decided to roast the broccoli.
As soon as I tried it, I was hooked. Even though it only had a little salt and pepper, the crispy texture and roasted flavor completely rocked my world and changed how I thought about the vegetable I once called boring. Isn't it amazing how simply changing the way you cook something completely changes the whole dish?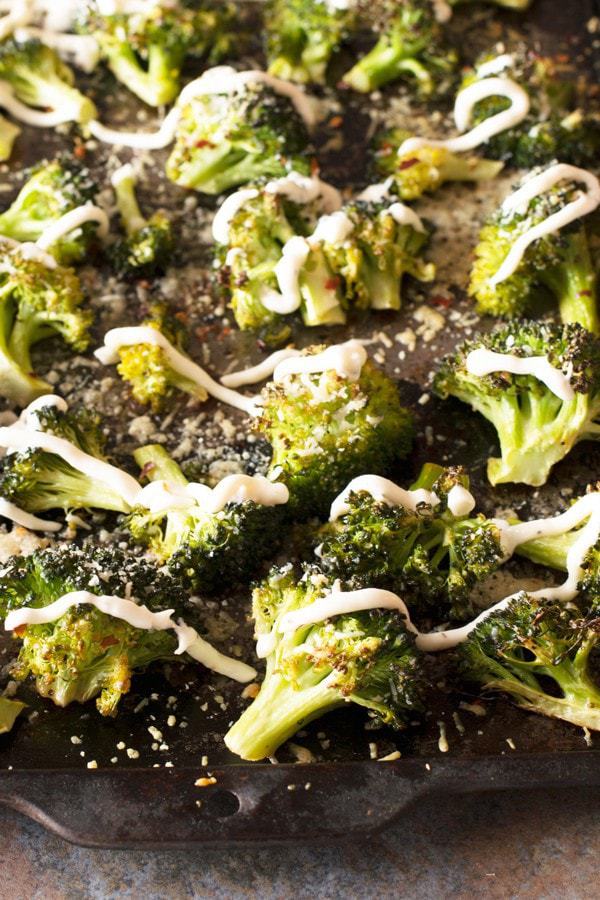 Seriously, cooking is awesome.
Of course I couldn't just leave it with a simple topping of salt and pepper. You all know me! There had to be cheese, garlic, spice, and acidity thrown in to make the most rockin' broccoli you'll ever taste. I swear this broccoli is so darn good you will find me eating it for a snack on any day of the week. Heck, the roasted garlic aioli is so good you might just end up sucking it up with a straw and skipping the broccoli altogether…
Want a tasty entree to pair with this side? Check out my baked lemon garlic salmon – it's SO easy!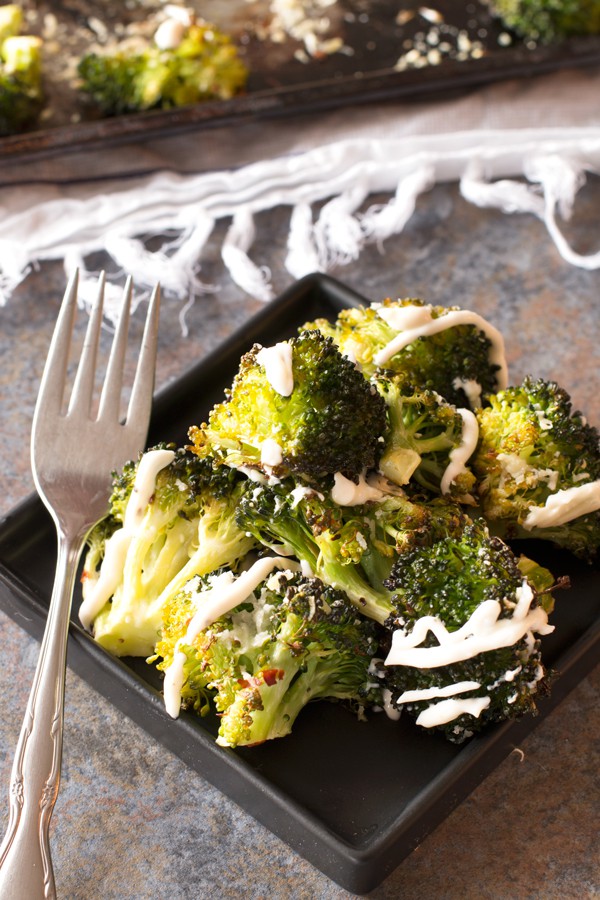 Don't you just want to dive right into a big pile of this crispy, creamy mess?
Pin this Crispy Roasted Broccoli with Roasted Garlic Aioli recipe for later!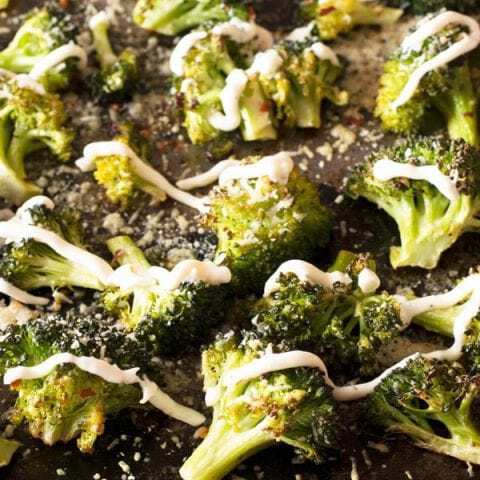 Crispy Roasted Broccoli with Roasted Garlic Aioli
Crispy broccoli is roasted with lemon, red pepper and cheese, then topped with a creamy roasted garlic aioli.
Ingredients
Broccoli
1 bunch broccoli, cut into florets approximately 1-2" in length
2 Tbsp olive oil
1 Tbsp fresh lemon juice
2 pinches red pepper flakes
1/4 cup parmesan cheese
Roasted Garlic Aioli
4 garlic cloves
1/4 cup mayonnaise
1/2 Tbsp lemon juice
Salt & pepper
Instructions
Preheat over to 450 degrees.
Cut the ends off the garlic cloves and roast in a garlic roaster or wrapped in aluminum foil in the oven for 20-30 minutes, until tender. Squeeze out roasted garlic into a small bowl. Add mayonnaise and lemon juice to the bowl and stir to combine, making sure to mash up the garlic well. Season with salt and pepper to taste. Set the aioli aside.
In a large bowl, toss broccoli florets with olive oil, 1 Tbsp lemon juice, and red pepper flakes. Spread in an even layer on a baking sheet. Season with salt and pepper.
Roast the broccoli for 10 minutes. Sprinkle the cheese over the broccoli and roast for an additional 5 to 10 minutes. Drizzle garlic aioli over the broccoli. Serve warm.