Please note this post contains affiliate links.
A Smoked Salmon Avocado Cream Cheese Bagel is a new way to do breakfast or brunch. Instead of the default lox and bagel routine, switch to flavorful smoked salmon paired with creamy avocado, rich cream cheese, red onion and capers. It's a twist on the traditional pairing that will start your day off the right way!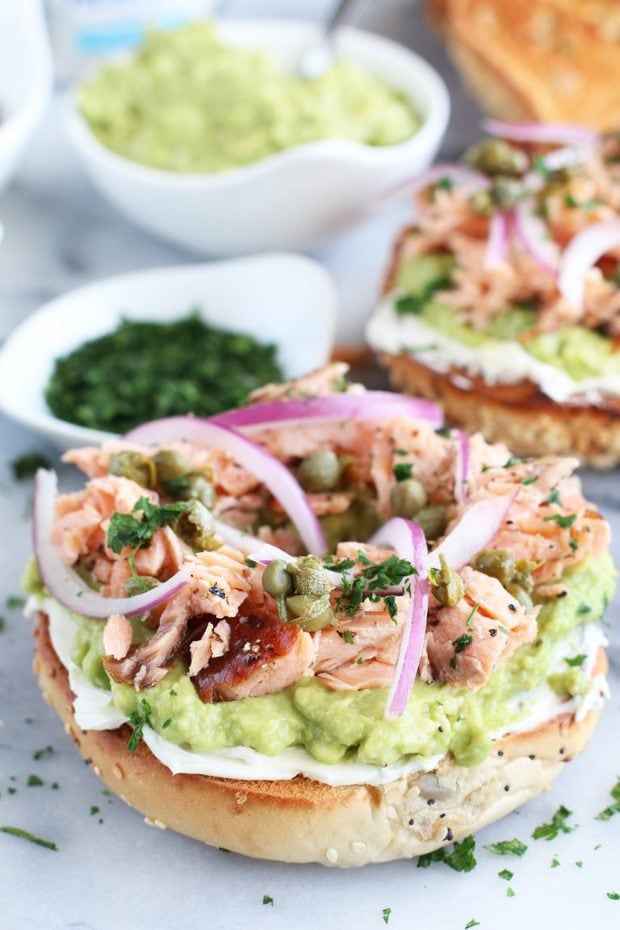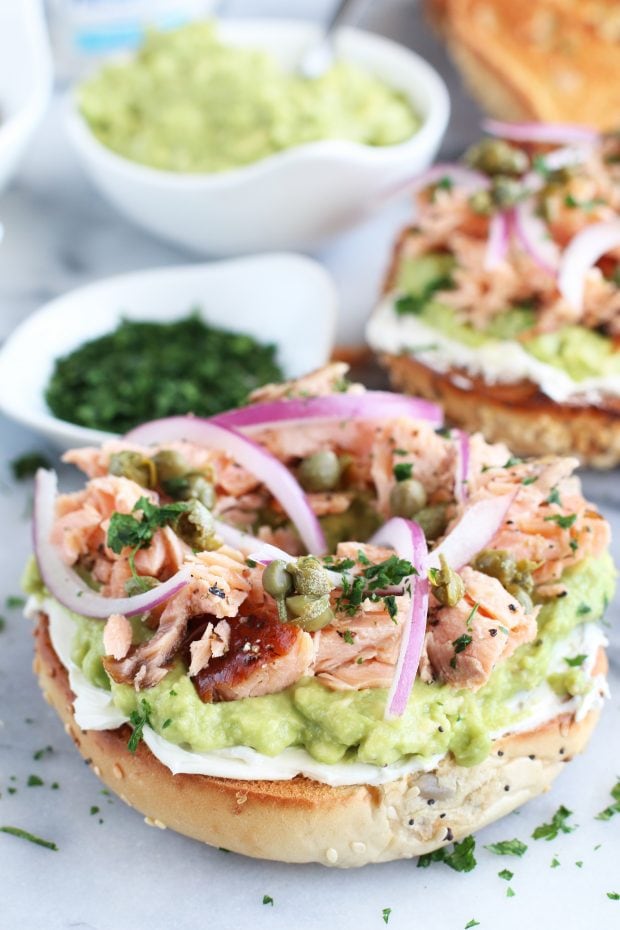 It's time to change up your breakfast routine, my friends.
As much as I looooooove cereal, French toast, pancakes, waffles and all the other sugary breakfast and brunch options, sometimes you need to start your morning with something a little more hearty.
Currently I am on the whole "OMG my wedding is in less than a month" diet train, which has forced me to think about things like getting protein in the morning and starting off my day with something more hearty that a 90 calorie breakfast bar.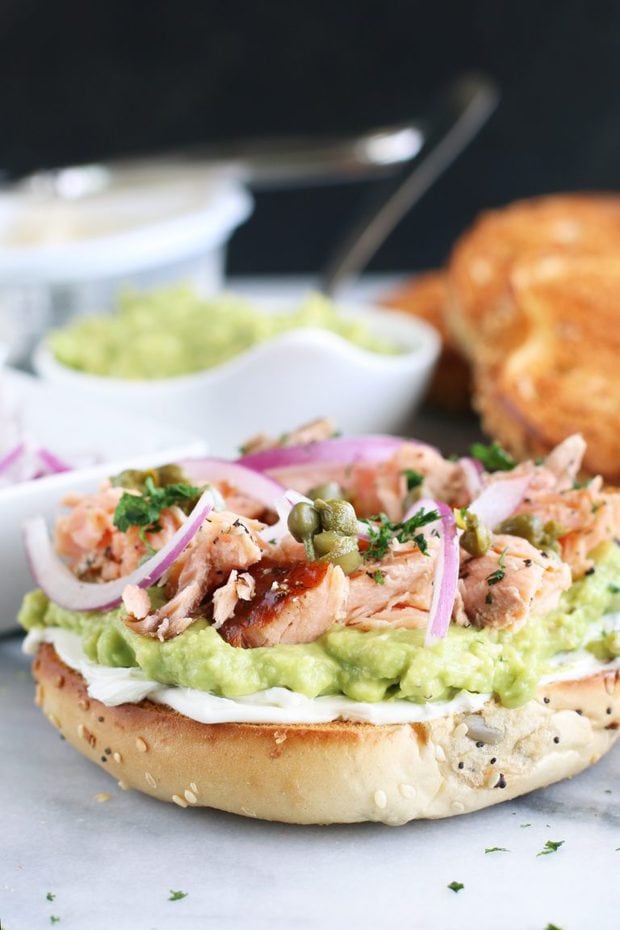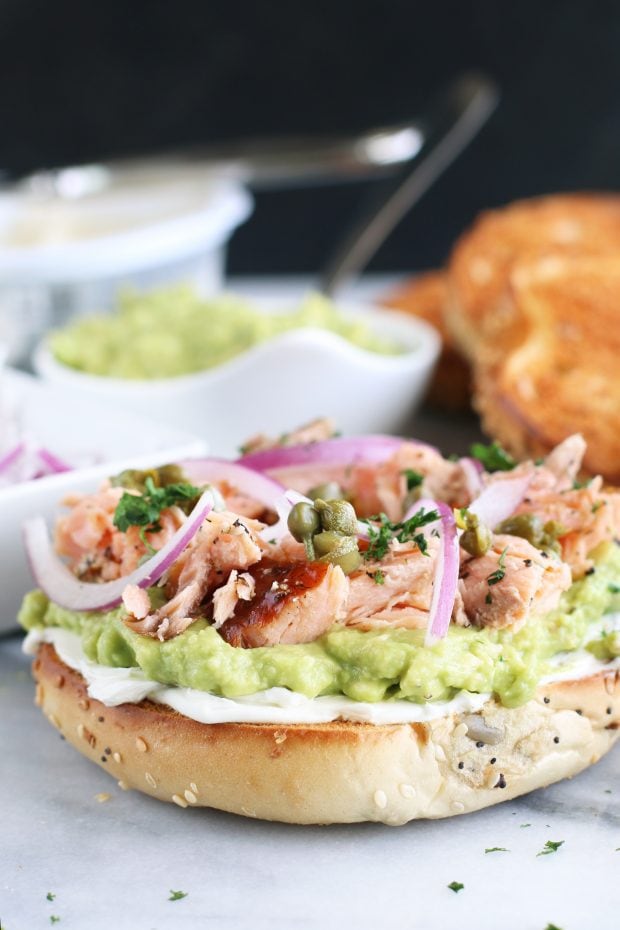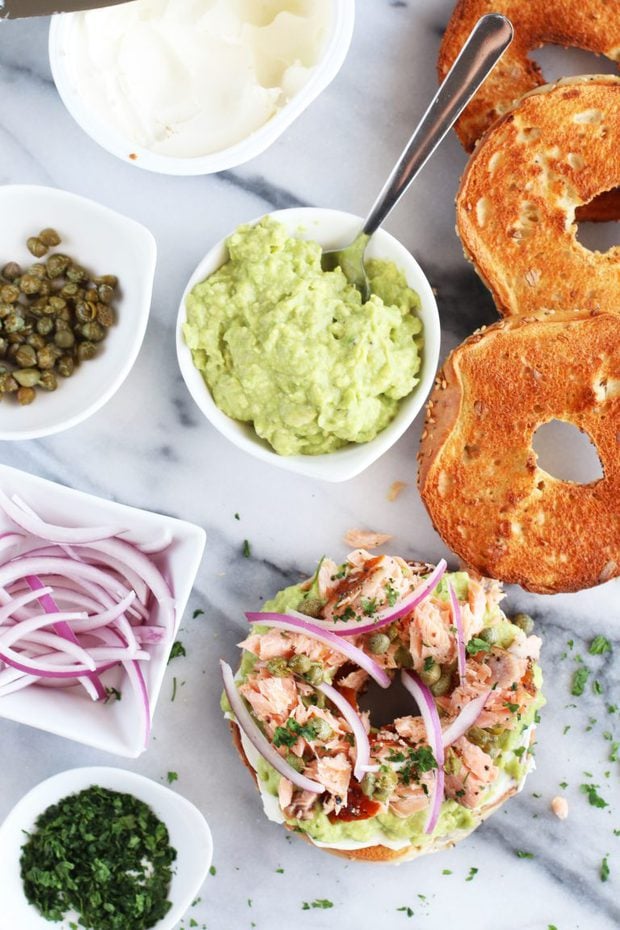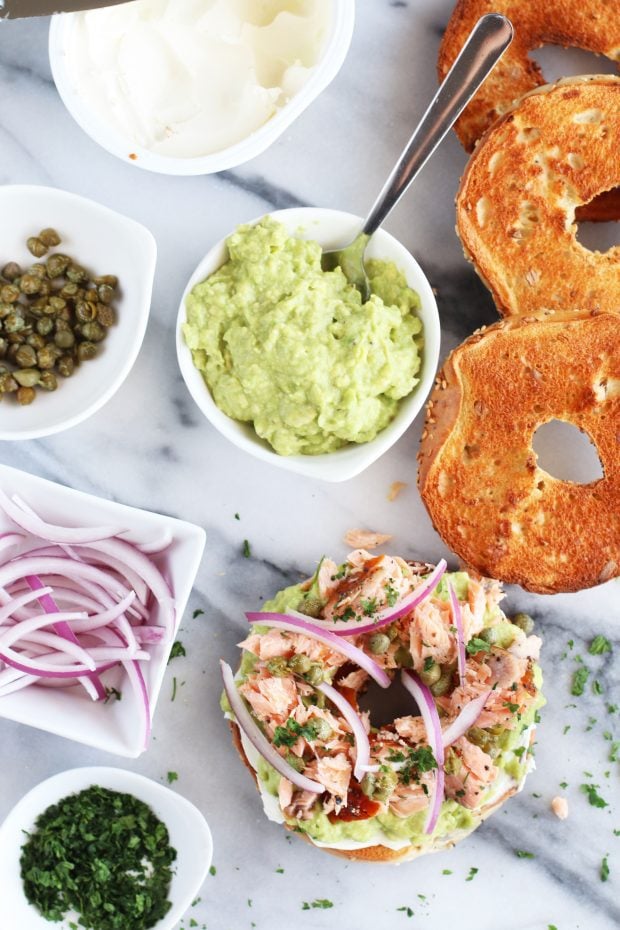 It's been tough to figure out different ways to tickle my taste buds, but this Smoked Salmon Avocado Cream Cheese Bagel has become a new favorite that I can't seem to stop making.
The layers of flavor in these bagels is absolutely divine. You start with a flavorful everything bagel that's toasted to golden perfection.
Follow that with a traditional smear of rich cream cheese and then add a delicious layer of creamy mashed avocado.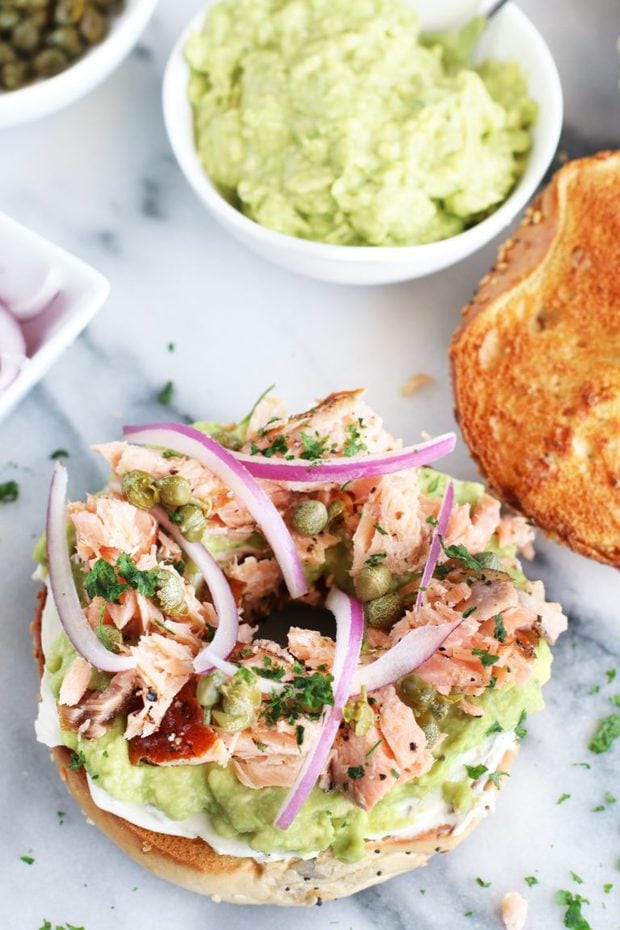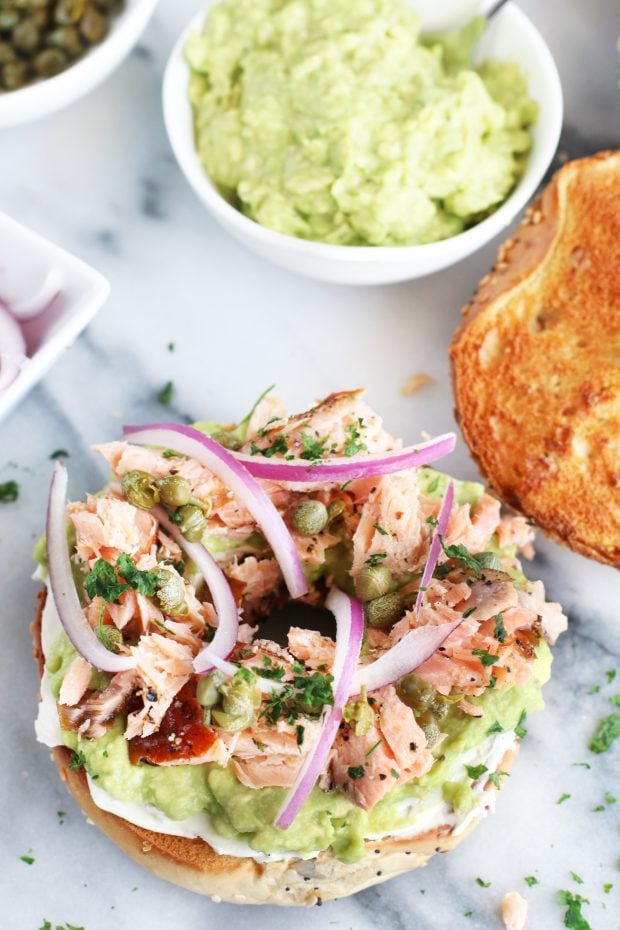 I love to season up my avocado with garlic, lime juice, salt and pepper to give it some extra brightness to counter the richness of the other layers of flavor.
Then instead of the traditional lox, I went for gorgeous smoked salmon.
I know that some of you out there are not giant fans of raw fish in the morning, so this is fantastic option for those of you who don't like lox.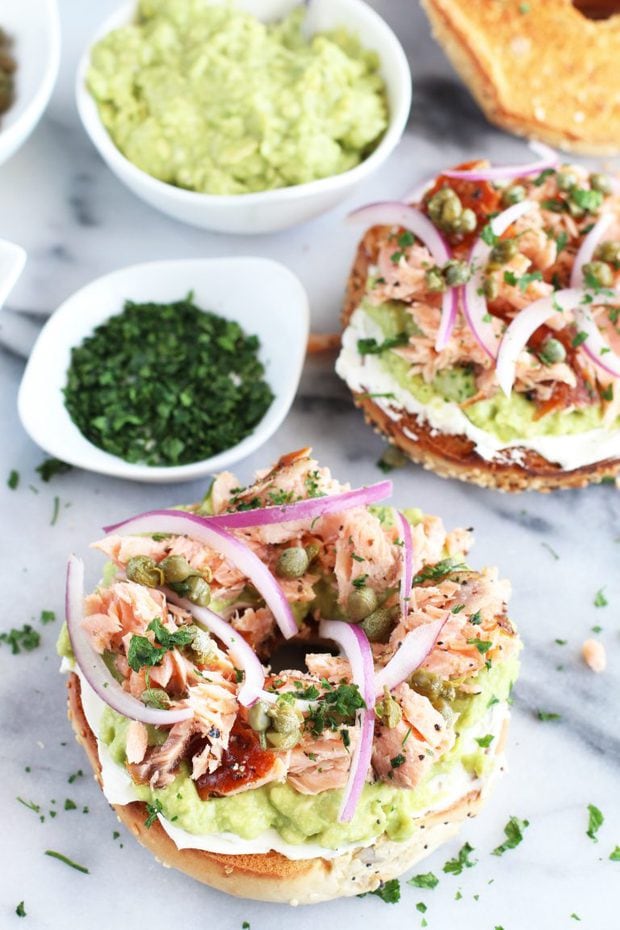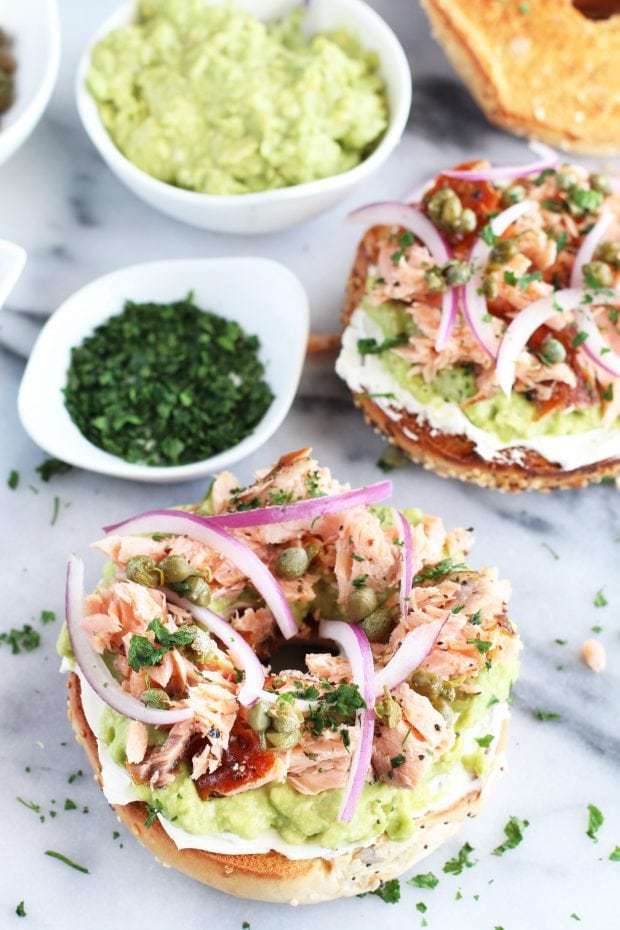 Even if you do like lox, this is a fun way to change things up for yourself in the morning!
You have the traditional red onion and capers on top, giving you a balance of richness, brightness, and a little bite to get a full and delicious meal all piled on top of a lovely bagel.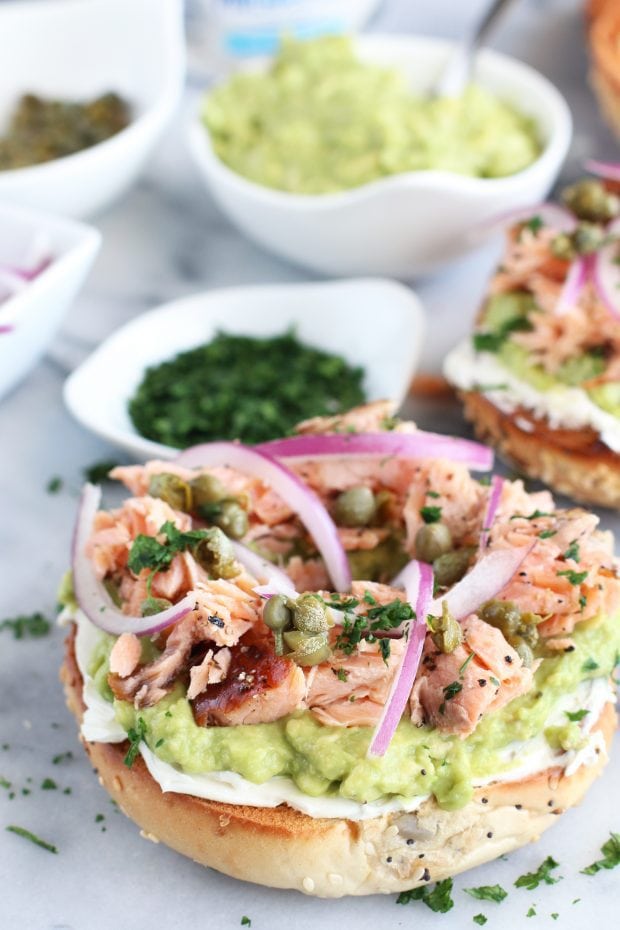 This Recipe's Must Haves
This KitchenAid 12-Inch Compact Convection Countertop Oven
is one of my favorite appliances! I love using it to toast bread or even bake treats for one or two people.
Mash up the avocado in one of these metal mixing bowls.
I also like this Stainless Steel Straight Edge Wide Cream Cheese Spreader
to spread the cream cheese on.
Smoked Salmon Avocado Cream Cheese Bagels
Instead of the default lox and bagel routine, switch to flavorful smoked salmon paired with creamy avocado, rich cream cheese, red onion and capers.
Ingredients
Mashed Avocado:
2-3 Avocados, peeled and pitted
1/2 teaspoon Lime Juice
1/8 teaspoon Salt
1/8 teaspoon Black Pepper
1/4 teaspoon Garlic Powder
Bagels:
2 wholes Everything Bagel, halved and toasted
1/2 cup Cream Cheese
8 ounces Smoked Salmon, I personally love the Honey Smoked Fish Company, but you can certainly use any brand!
1/2 Red Onion, sliced
1/4 cup Capers, drained
Fresh Chopped Parsley
Instructions
In a medium bowl, mash avocados. Stir in lime juice, salt, black pepper, and garlic powder.
Spread each bagel evenly with creamy cheese, then top with the mashed avocado mixed.
Shred the smoked salmon with your hands and add it on top of the avocado. Finish with sliced red onion, capers and a sprinkle of fresh parsley.
Serve immediately.
Recommended Products
As an Amazon Associate and member of other affiliate programs, I earn from qualifying purchases.