Please note this post contains affiliate links.
Sesame Salmon Avocado Bowls are a rich and hearty bowl of delicious Asian flavors that won't have you worrying about your waistline. Broiling the salmon gives it a crust that gives a wonderful texture to break up all the creamy avocado and fluffy white rice.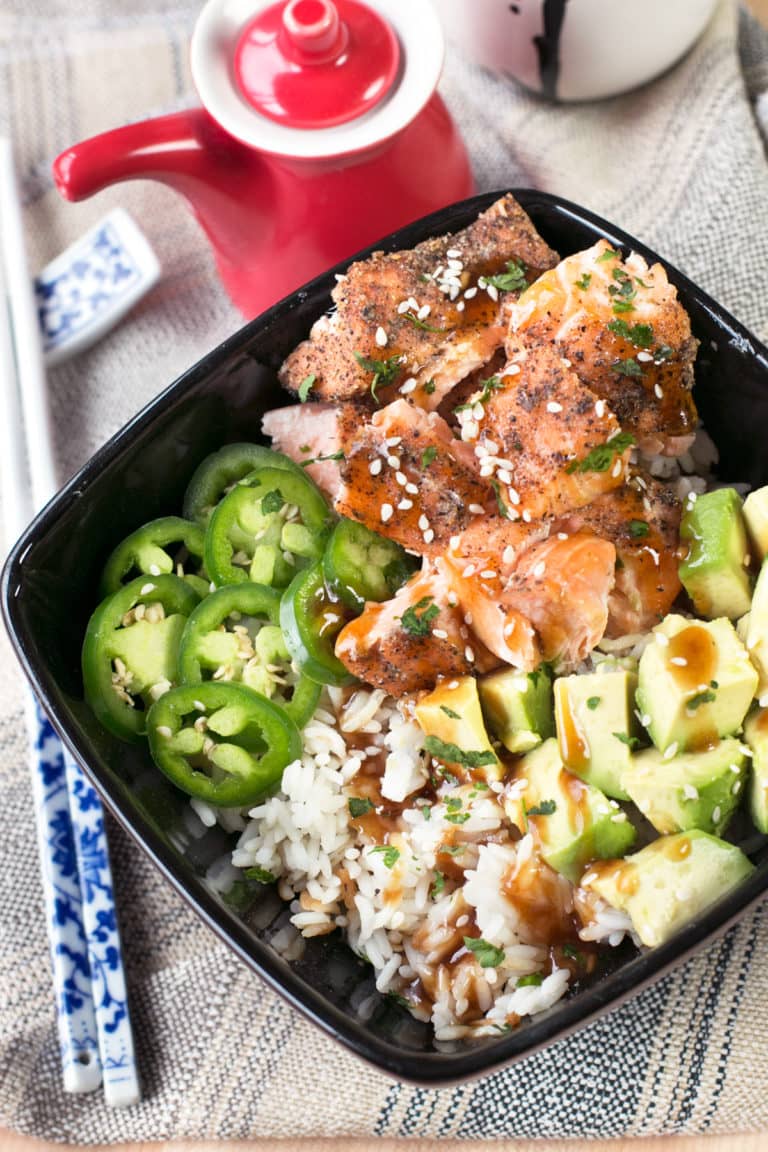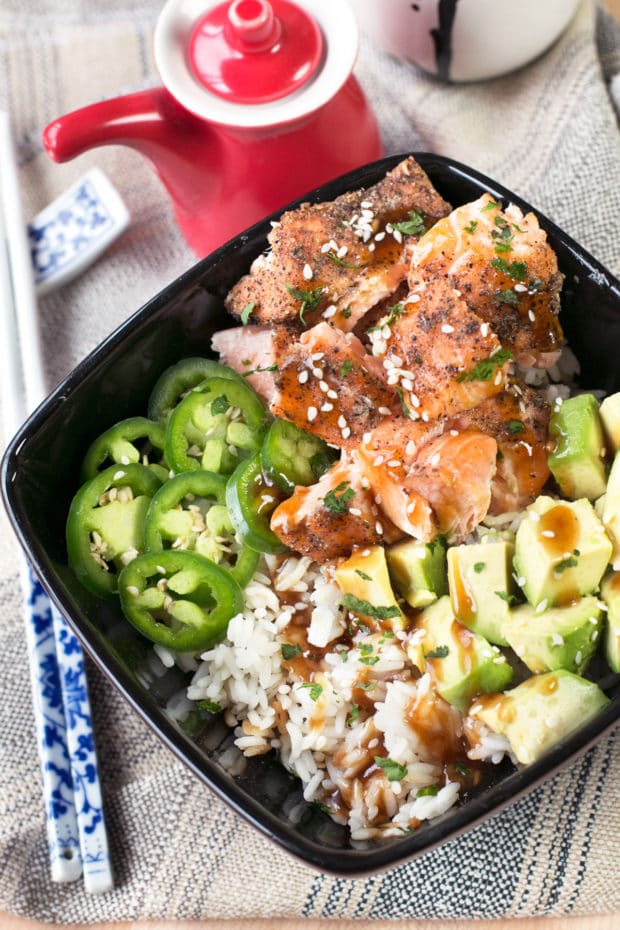 When I was in Hawaii, I had the most amazing poke bowl. It was rich and creamy, full of a variety of flavors and incredible fresh. When I loaded it up with extra jalapeno slices and wasabi, it was darn near the most amazing bowl of fish, veggies and rice that I've ever had.
Now before you all start freaking out on me… Yes, I am aware that this is NOT a poke bowl.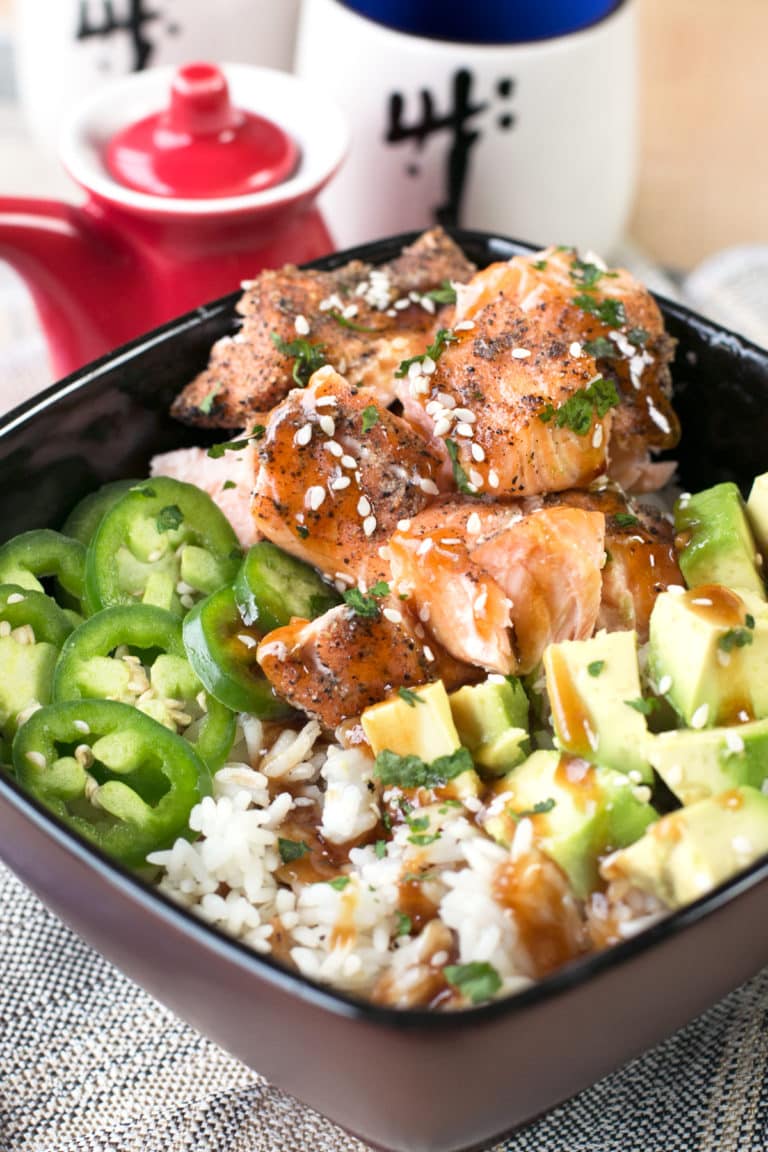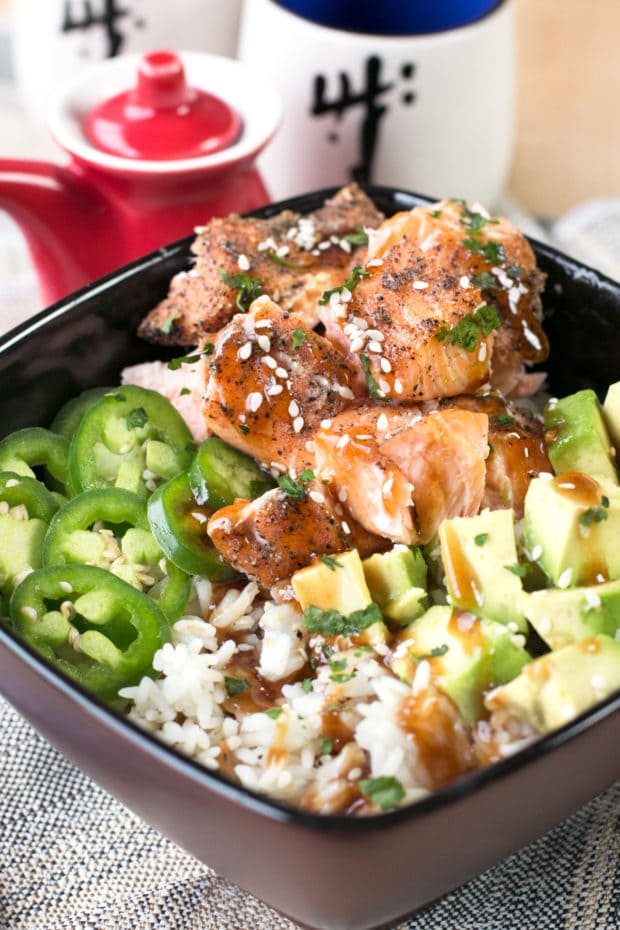 Unfortunately being located in a landlocked state, I am fairly limited to incredibly fresh raw fish to make poke with. If I wanted to hunt it down, you can bet that it's going to cost me an arm and a leg to eat a little bowl.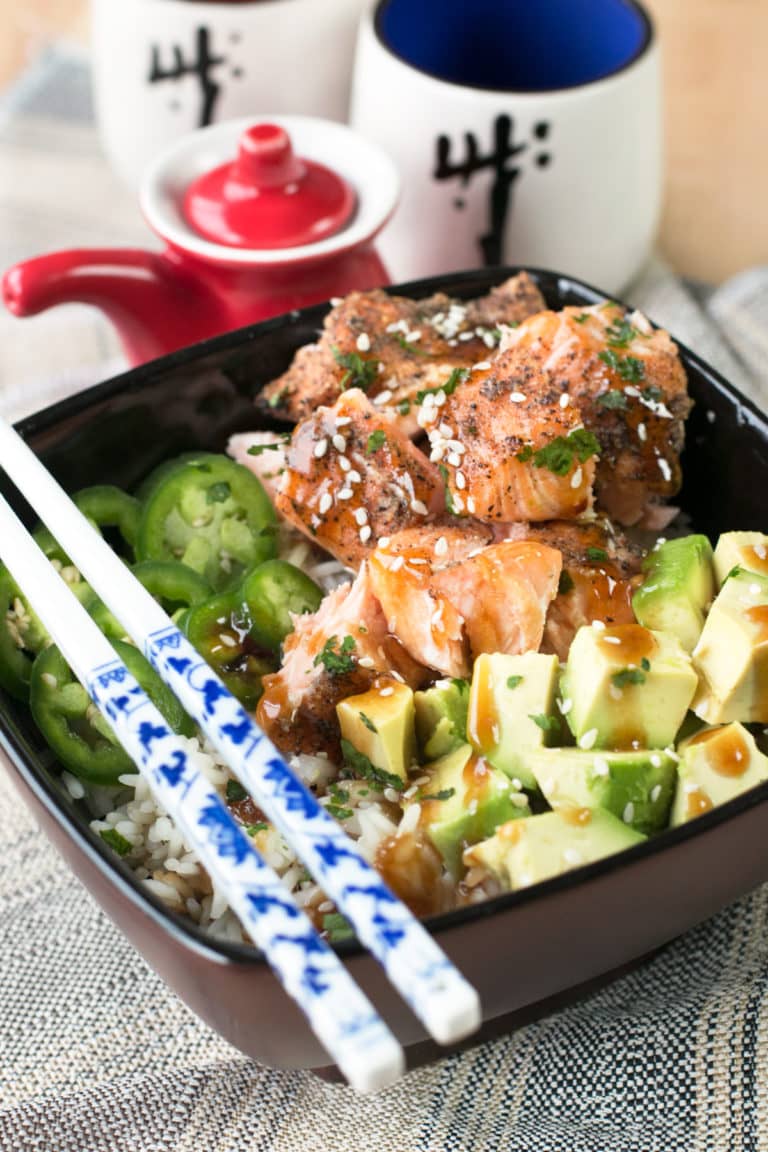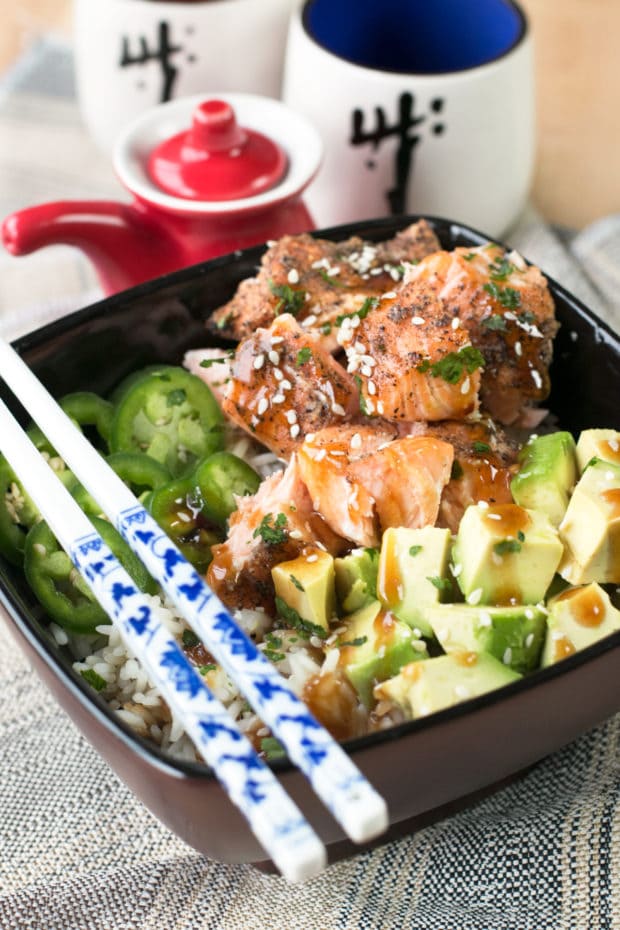 I LOVE eating salmon both in poke and on a regular basis, so I took two of my favorite meals and smashed them together in one bowl of creamy, spicy flavors.
So basically this is your new spring and summer meal that you won't be able to get enough of.
Now that seasons have shifted, I am getting out of the comfort food mode and right into fresh, flavorful meals filled with all the fruits and veggies I can find at the market. When you pile up creamy avocado, spicy jalapeno, and salmon on top of a fluffy bowl of rice, you get a variety of textures and flavors that will bring your taste buds out of their winter coma.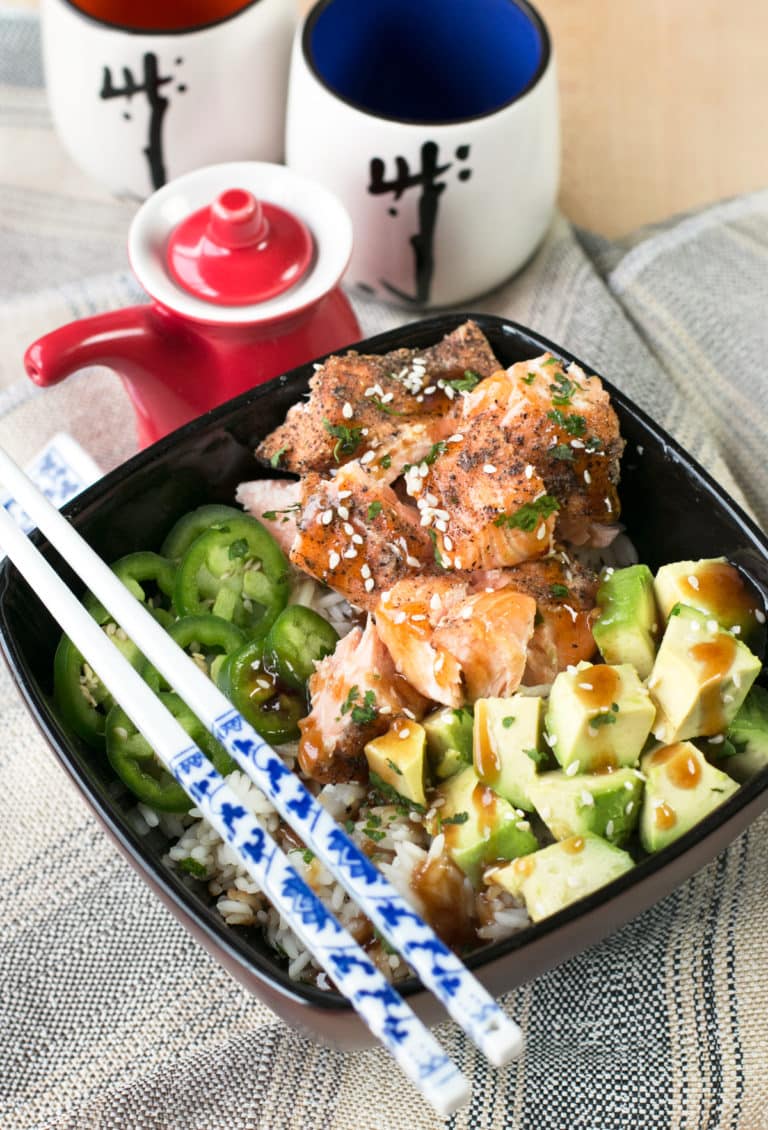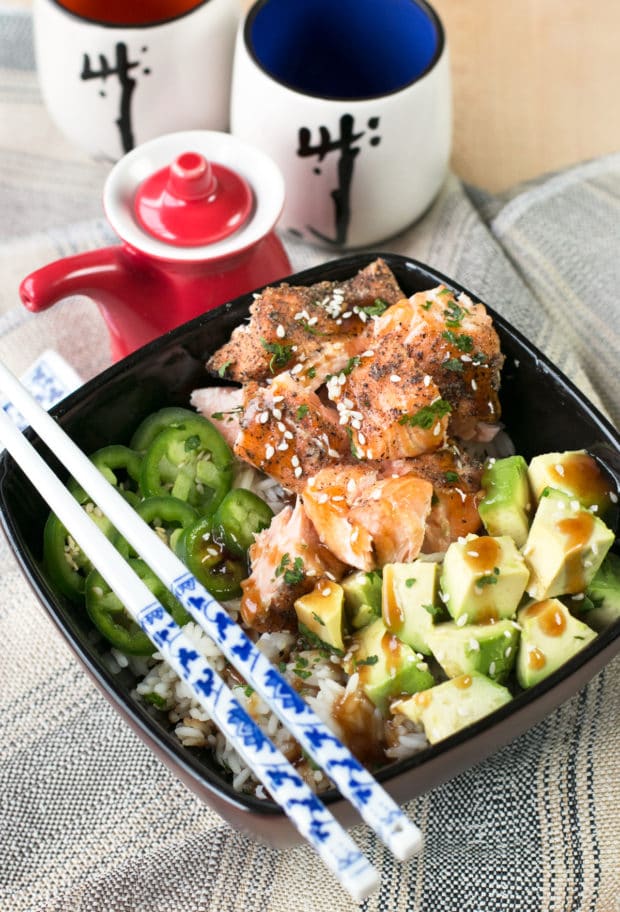 The crust on the salmon is so flavorful when the fish is broiled, so it isn't just a giant bowl of the same texture all the way through. Instead you get a perfectly balanced bowl to satiate that appetite, without being fattening!
We've all got to start worrying about those summer bods at some point… right? That's what normal people do?
This Recipe's Must-Haves
To prep the ingredients for these bowls, you'll need a chef's knife and cutting board.
I like to use the smallest of my metal mixing bowls to whip up the lime honey drizzle. You'll also need a whisk.
Finally, the cook the salmon, you'll need a basic half sheet baking pan.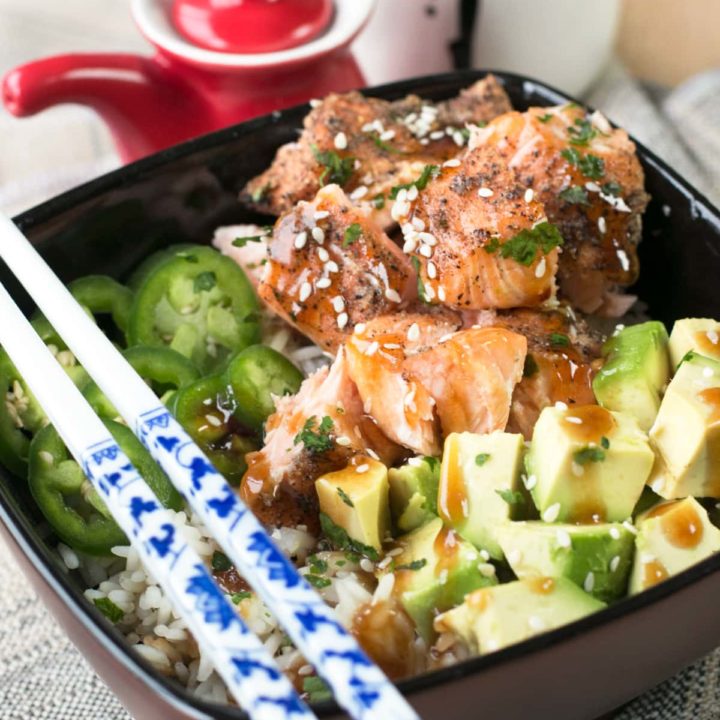 Sesame Salmon Avocado Bowls
Need something to chow down on that won't kill your waistline before summer? Sesame Salmon Avocado Bowls are your rich, hearty and oh-so fresh answer!
Ingredients
Lime Honey Drizzle
2 teaspoons Unsalted Butter
1 clove Garlic, minced
Pinch of Crushed Red Pepper Flakes
2 tablespoons Agave Syrup
2 tablespoons Fresh Lime Juice
2 tablespoons Soy Sauce
1 teaspoon Cornstarch
Salmon
1 pound Salmon, fresh, cut into 2 filets, skin on or off
1/2 teaspoon Salt
1/2 teaspoon Black Pepper
1/2 teaspoon Garlic Powder
1/4 teaspoon Chinese Five Spice
Bowls
1 1/2 cups Cooked White Rice
1 Avocado, diced
1 jalapeños Jalapeño, sliced
Toppings
Chopped Scallions
Soy Sauce
Sesame Seeds
Instructions
In a medium saucepan, melt butter for the lime honey drizzle over medium-high heat.
Add garlic and cook until browned, approximately 1 to 2 minutes. Stir in agave, lime juice, soy sauce and red pepper flakes.
Whisk cornstarch in a small bowl with 1 tsp water.
Stir into the sauce. Cook until thickened, approximately 1 minute. Set aside and keep warm over low heat.
Line a rimmed baking sheet with aluminum foil. Grease lightly with olive oil.
In a small bowl, stir together salt, pepper, garlic powder and Chinese five spice.
Place salmon on the baking sheet. Season with salt and pepper. Pat on the spice mixture to the tops of the filets.
Broil on low for 5 minutes, then flip and broil for another 5 minutes until cooked through. Remove skin.
Add half the rice to each bowl. Top with avocado and jalapeño. Finish with the salmon on top. Drizzle over the lime honey sauce.
Garnish with sesame seeds and chopped scallions. Serve with soy sauce if desired.

Recommended Products
As an Amazon Associate and member of other affiliate programs, I earn from qualifying purchases.