Peach Basil Goat Cheese Tarts are sweet, tangy, and herbaceous, making them the perfect summer appetizer. Take advantage of peach season in more than just desserts with this fantastic flavor explosion! It's about time you really wow'd a crowd, isn't it?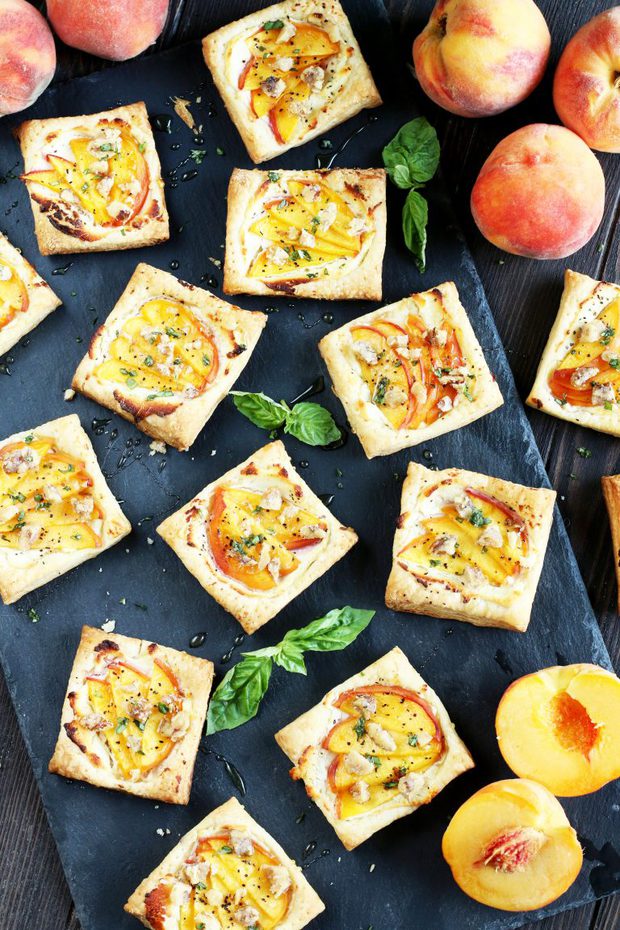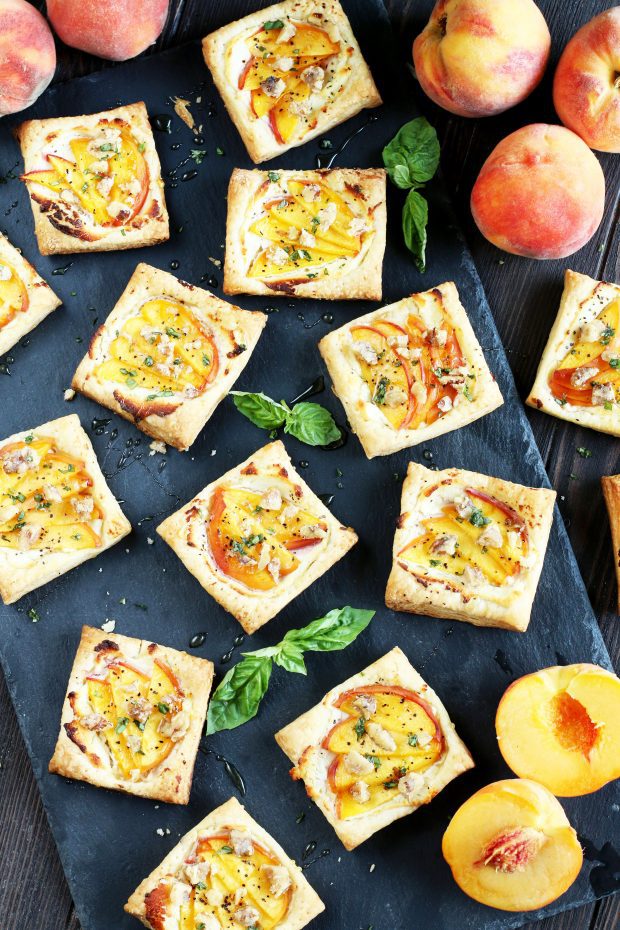 Please note that some of the links below are affiliate links. If you make a purchase through one of these links, I will receive a small commission.
Now that we are back and settled from the wedding, honeymoon, and a week visiting family, I am getting excited about having people over to celebrate the end of summer.
I hadn't realized until recently that we never had a housewarming party when we moved into our new house because we were so caught up with remodeling and planning the wedding, not to mention hosting my mom's side of the family for Christmas Eve.
SO, we finally had people over for a small dinner party the other night, and I was so elated to have people in our house again.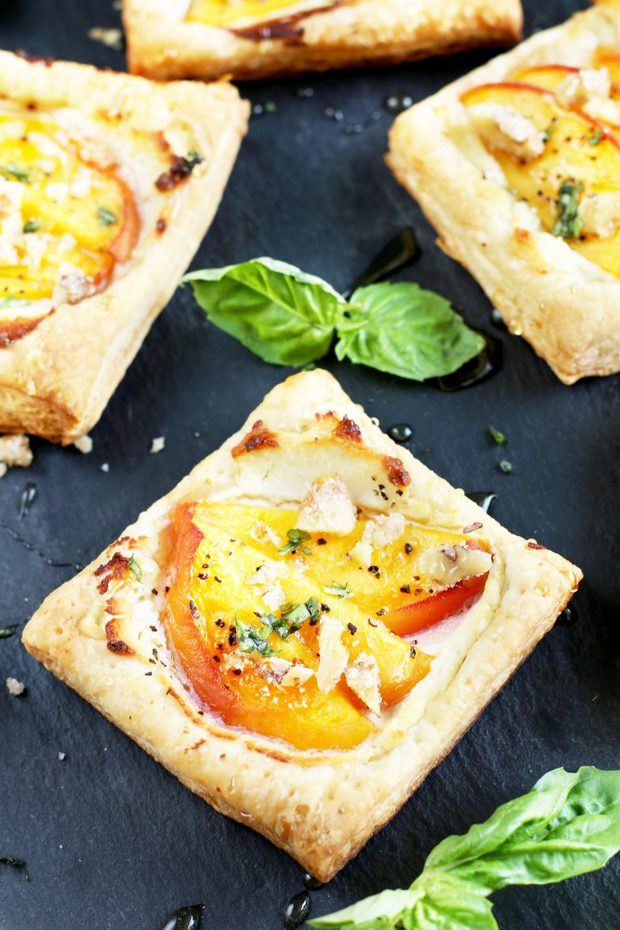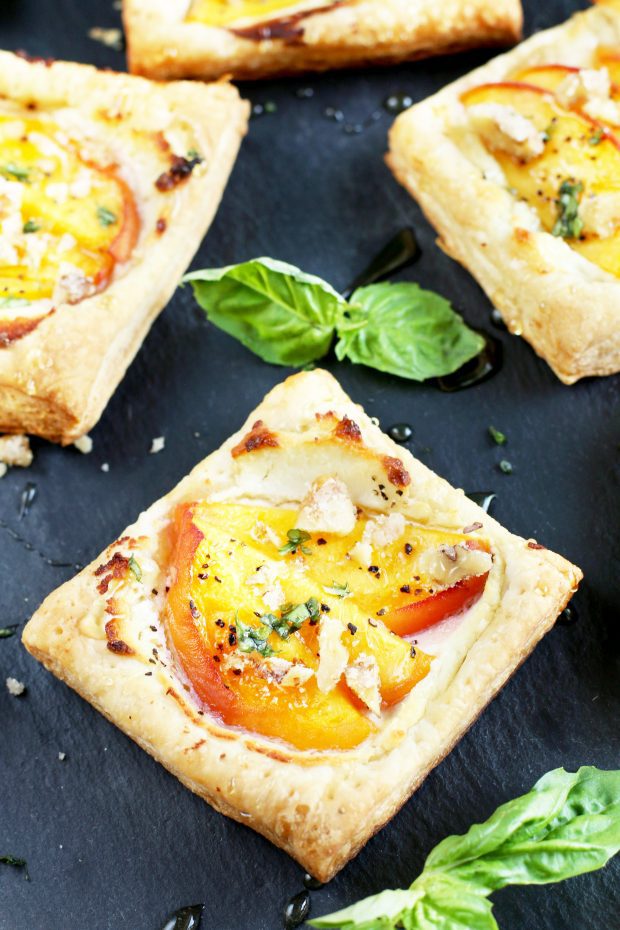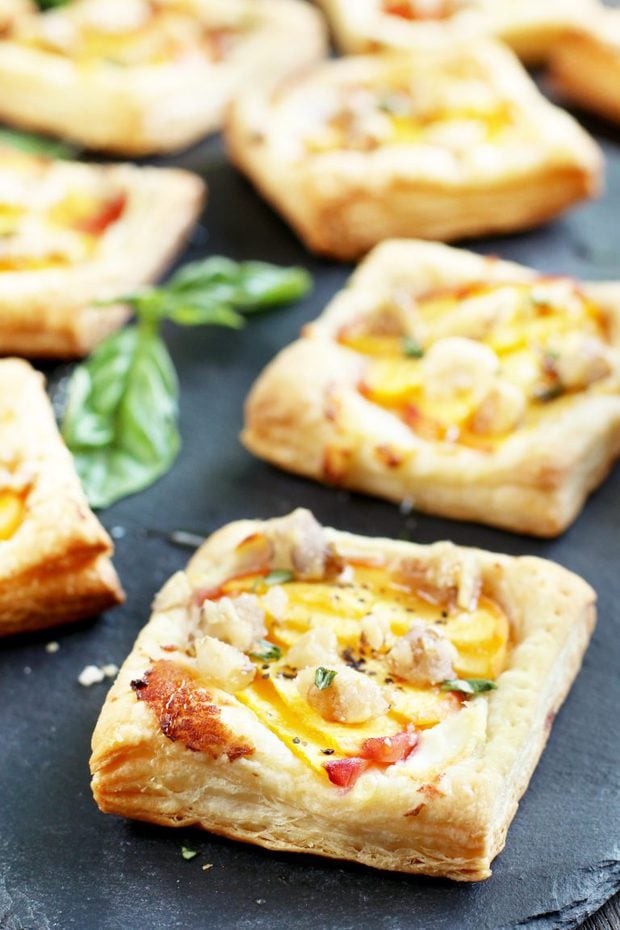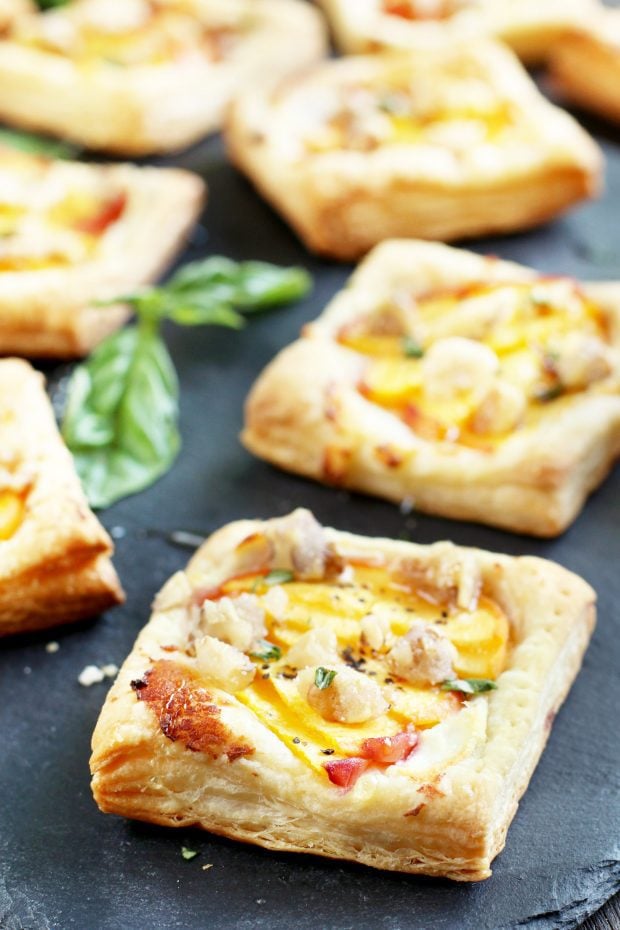 Lately it's been a bunch of in-and-out visits from our parents and friends, that I haven't really put on the hostess cap to wow a crowd with my cooking.
Of course I always have food around and whip things up constantly, but sometimes you really want to make an impression, you know?
That's what this recipe is all about.
These peach basil goat cheese tarts are gorgeous two-bite appetizers that really embrace the end of summer season.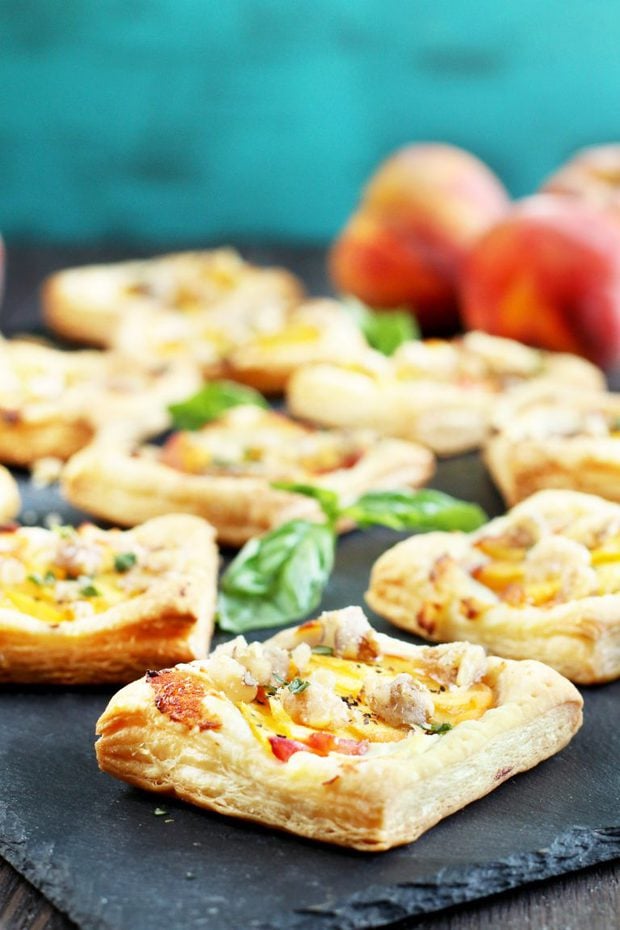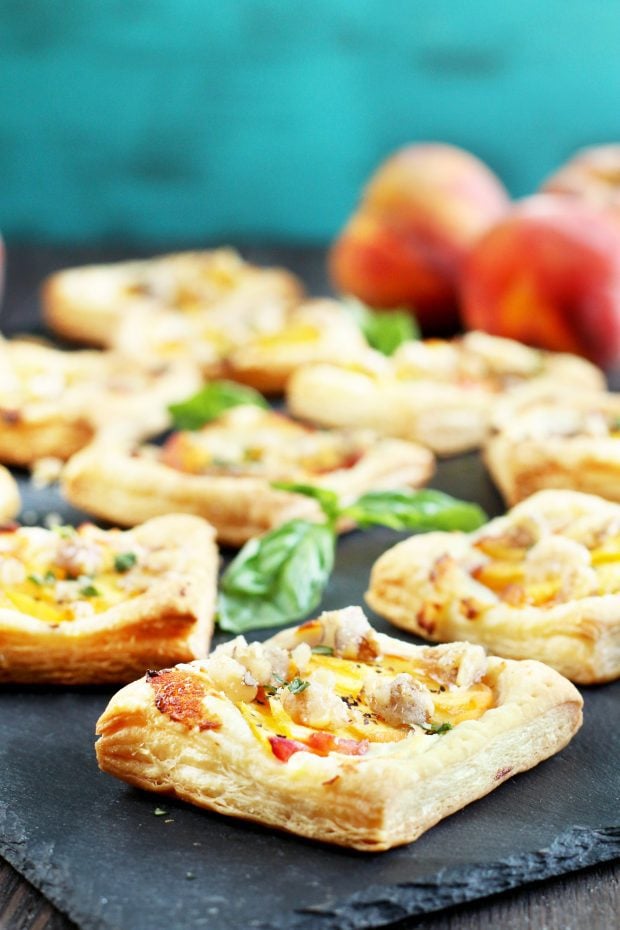 You all know I've been obsessed with peaches, so this is yet another chapter in that book of deliciousness.
The tang of the goat cheese, the sweetness of the peaches, and the herbaceous basil are layers of flavor that are light and bright, livening up the palate to get a dinner party started right.
Stunning as they are, they are also oh-so EASY to make.
Puff pastry seriously is the miracle solution to quick but tasty appetizers and desserts. I swear by it and I always have it on hand.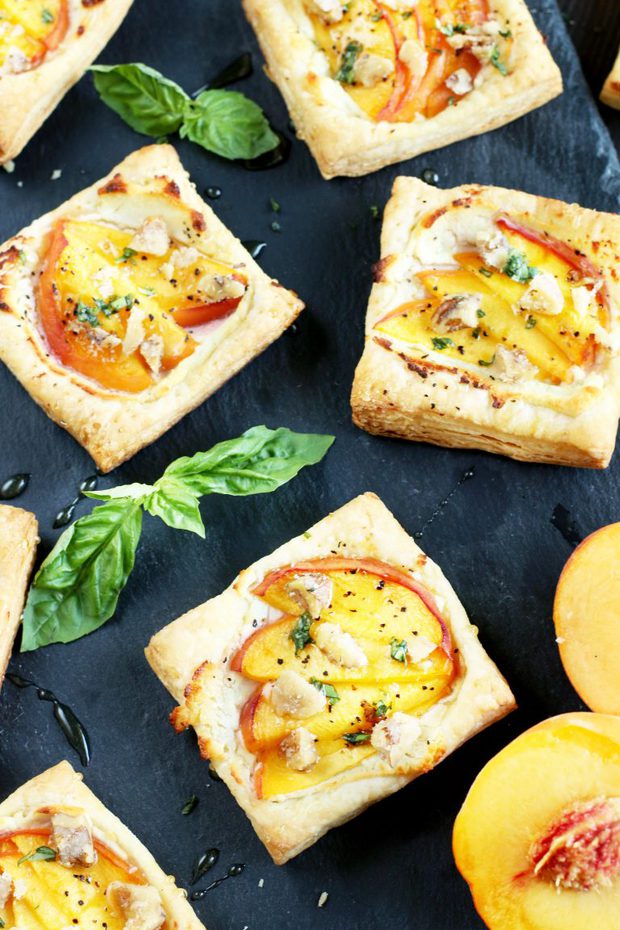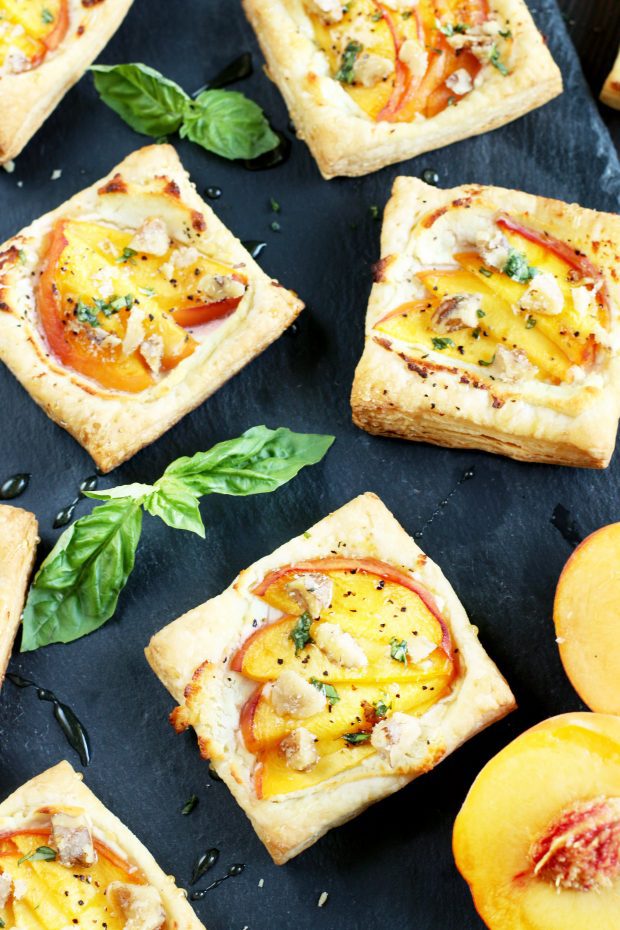 You can make so many different things with it, with a limited amount of ingredients.
Just like these tarts.
So whip out the puff pastry and peaches, my friends! It's time to cook to impress 😉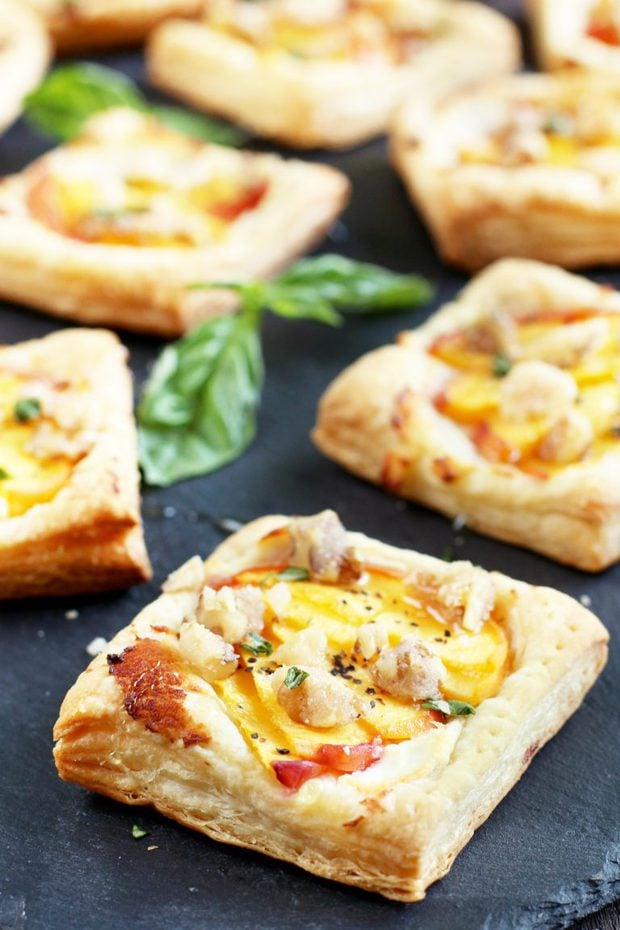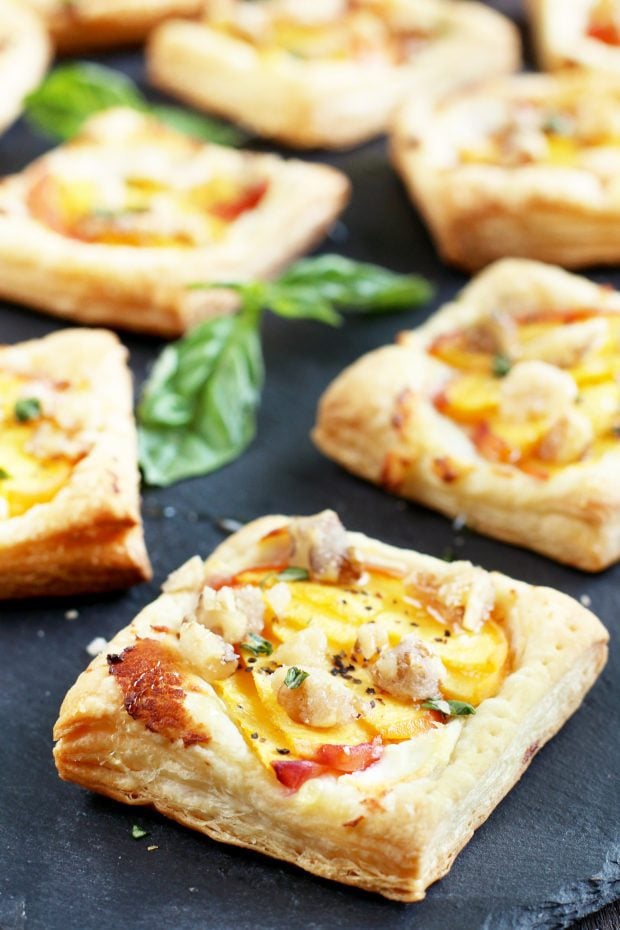 This Recipe's Must Haves
For another goat cheese appetizer, these cheese bites with tomatoes and goat cheese are so summery and savory!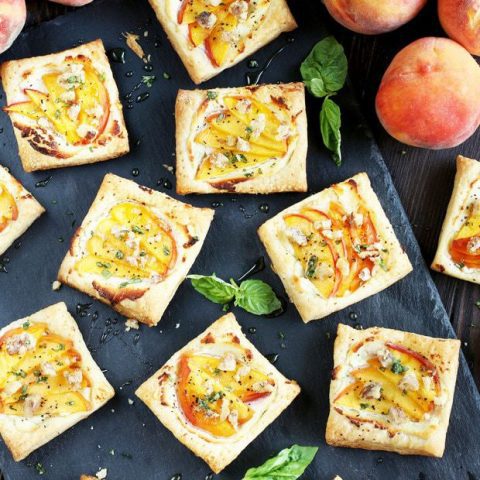 Peach Basil Goat Cheese Tarts
Sweet, herbaceous, and tangy, these tarts are the easiest summer appetizer ever!
Ingredients
Tarts
2 sheets frozen puff pastry (14-oz), thawed
4 ripe, sweet peaches, pitted and cut into ½ inch wedges
8 oz goat cheese, softened
1 tsp freshly cracked black pepper
2 Tbsp honey
2 Tbsp freshly chopped basil
Candied Walnuts
1/2 cup walnut halves and pieces
1/8 cup white granulated sugar
1/2 Tbsp unsalted butter
Instructions
Preheat oven to 425 degrees F. Line two baking sheets with parchment paper or silicone mats.
For the candied walnuts, add walnuts, sugar, and butter to a nonstick skillet over medium heat. Cook for 5 minutes, stirring frequently. When the sugar begins to melt, stir constantly until the sugar is completely melted.
Pour out nuts onto a sheet of parchment paper and separate the nuts so they don't stick to each other. Let cool 5 to 7 minutes. Chop into small pieces and set aside.
Cut each sheet of puff pastry into 9 squares, about 2 to 2 1/2-inches wide. Prick each square all over with a fork.
Place the squares on the two prepared baking sheets. Spread each square with a layer of goat cheese, leaving a small border around the edge.
Top the squares with about 4 to 5 slices of peach each. Top with a sprinkle of freshly cracked black pepper.
Bake for 20 to 25 minutes.
Drizzle with honey and sprinkle with chopped basil and candied walnuts before serving.