Please note this post contains affiliate links.
Smoked Salmon Avocado Cream Cheese Pastries will seriously impress at your next gathering. Homemade avocado cream cheese combined with smoked salmon, fresh herbs, and capers makes for the ideal appetizer any time of day! They are ideal for Easter, Mother's Day brunch, and everything in between.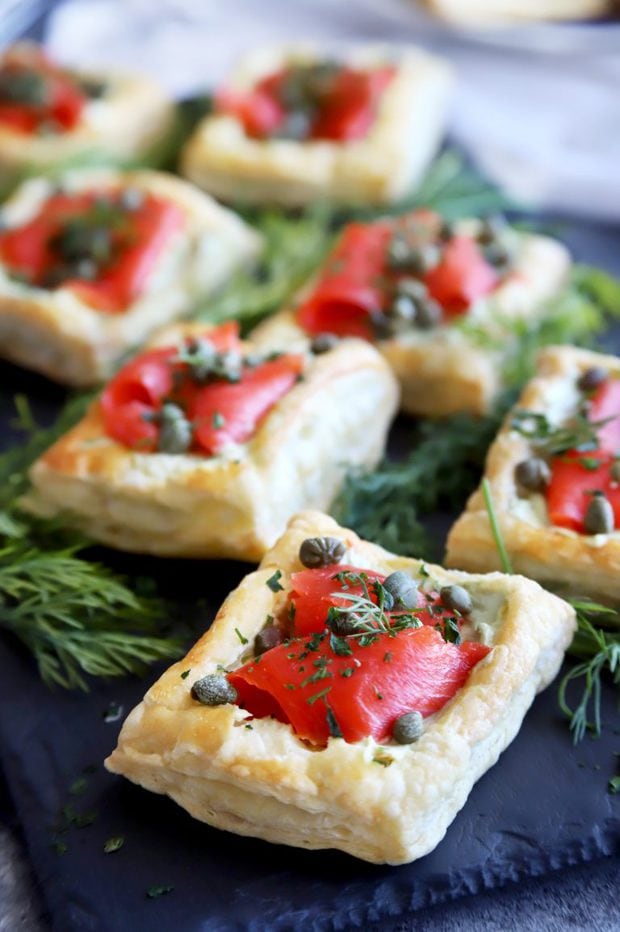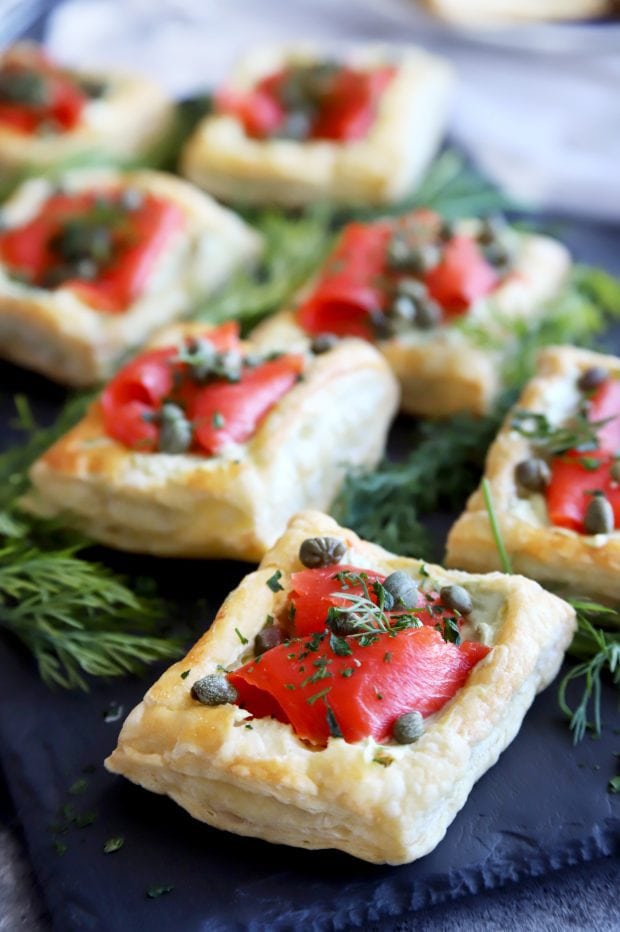 Please note that some of the links below are affiliate links. If purchases are made via these links, I will receive a small commission.
Sometimes, you just need to get fancy with your appetizers, don't you?
Now, as someone who likes to get fancy, but tends to be a little lazy when it comes to getting things done, I want fancy and easy all in one little flavorful package.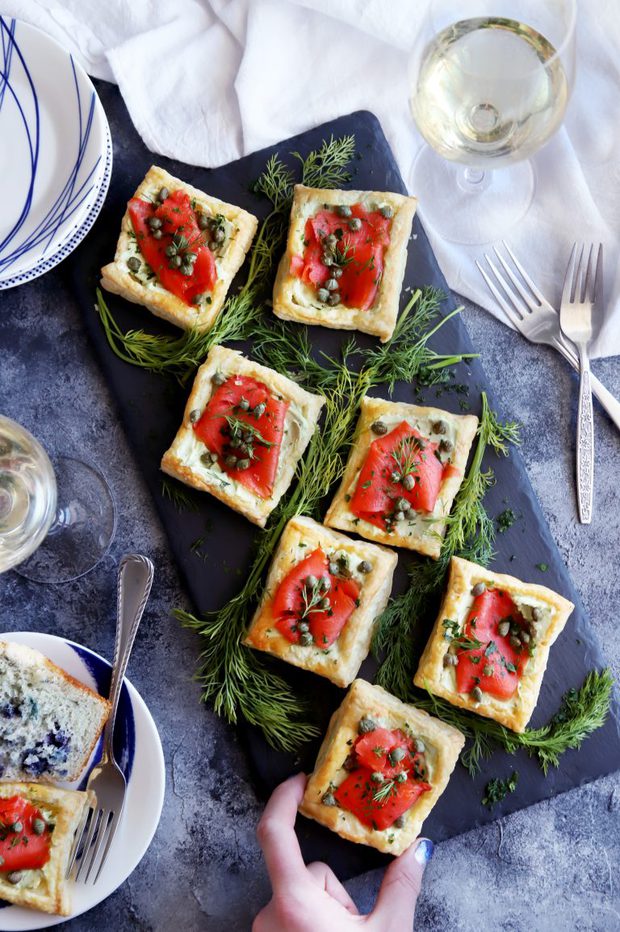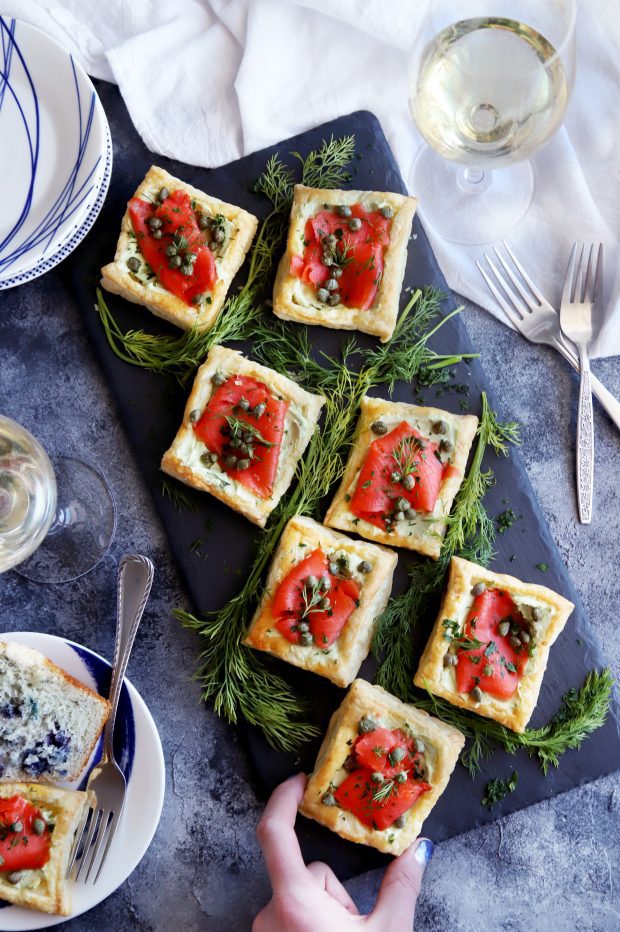 I love having people over in our house. Hearing the laughter of friends and family gathered around the table is worth the amount of dishes I have to do as a result.
Of course, I'm a little OCD when I have people over.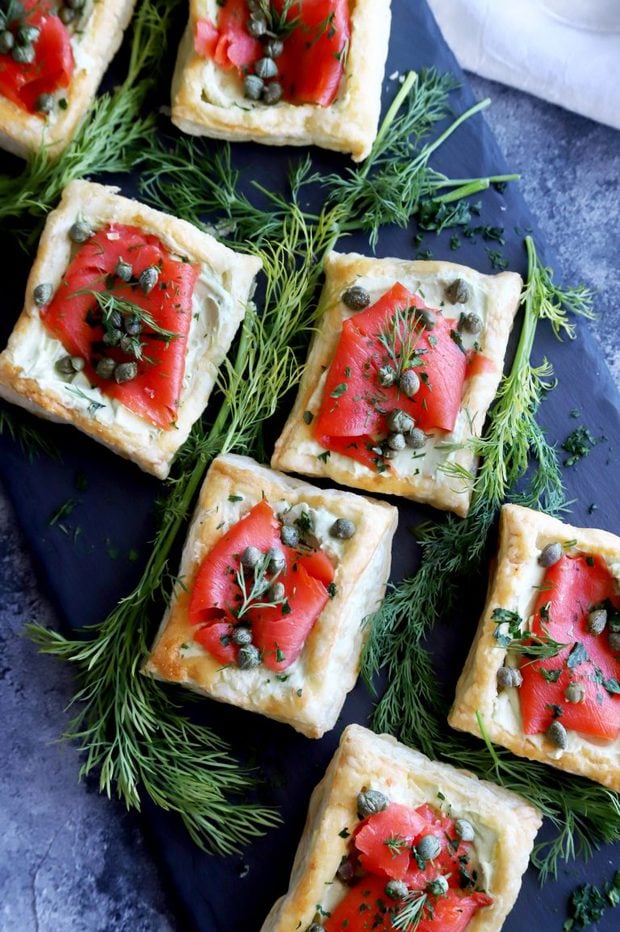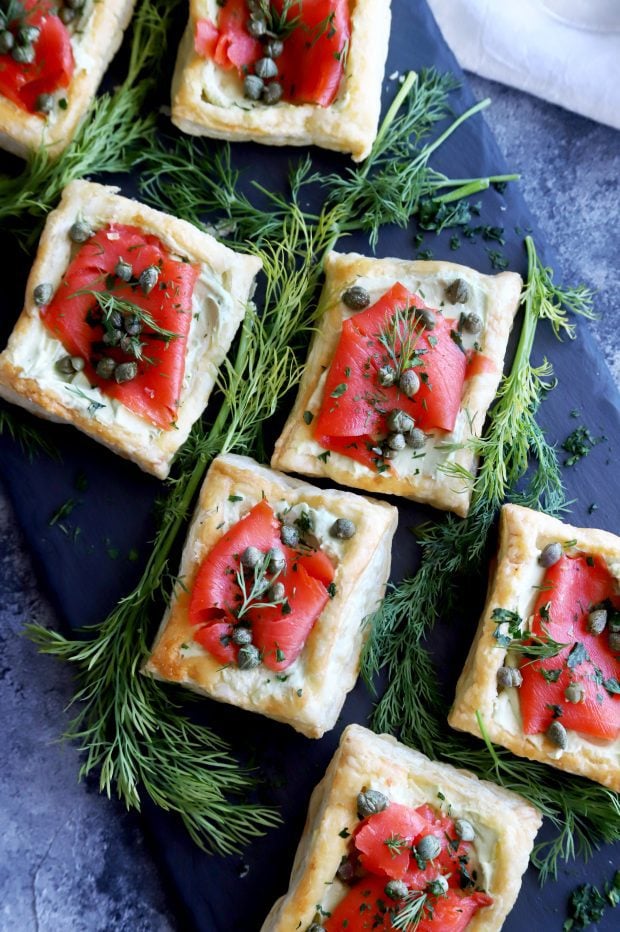 I want to have the house completely clean. The food should be out right when everyone arrives. There should be some sort of semblance of gracefulness in my demeanor.
That only happens when I am using recipes that don't make me want to lie down on the kitchen floor and sob uncontrollably.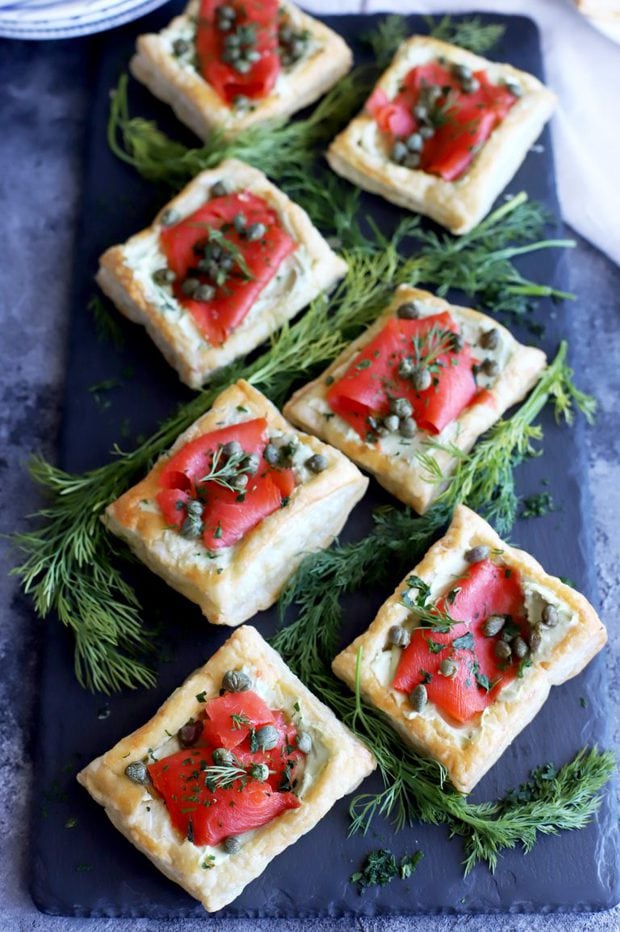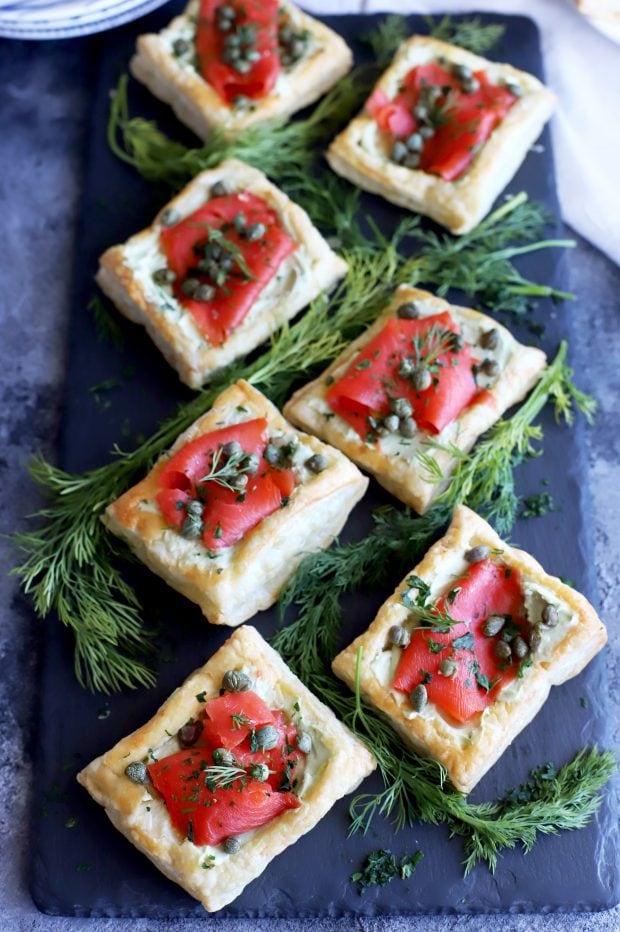 This is why I'm bringing you these tasty little pastry bites today. 🙂
It's recipes like this that save my sanity and totally make a party at the same time.
Anything with puff pastry always is a hit. So it makes me infinitely happy when I can use frozen puff pastry from the store.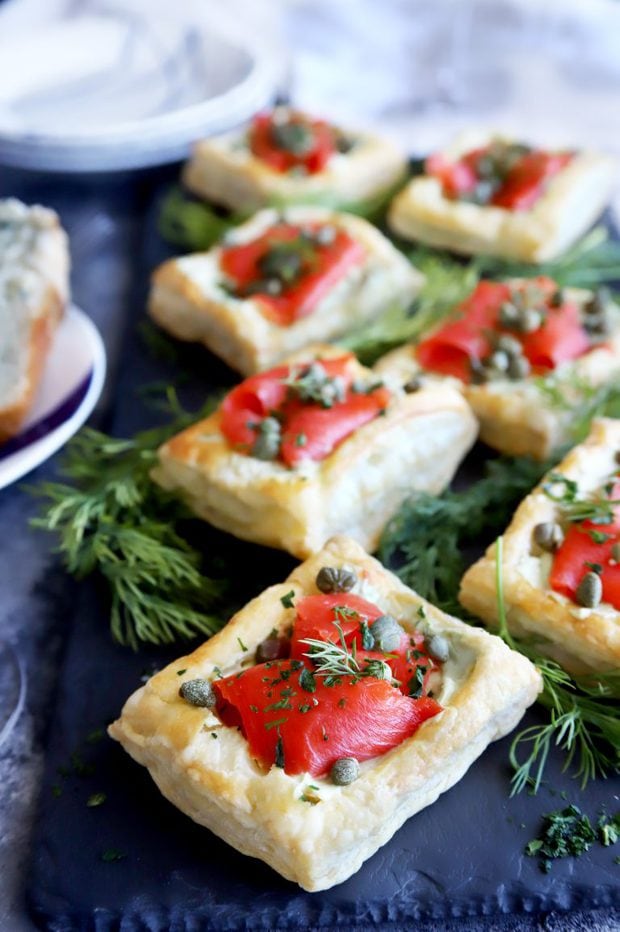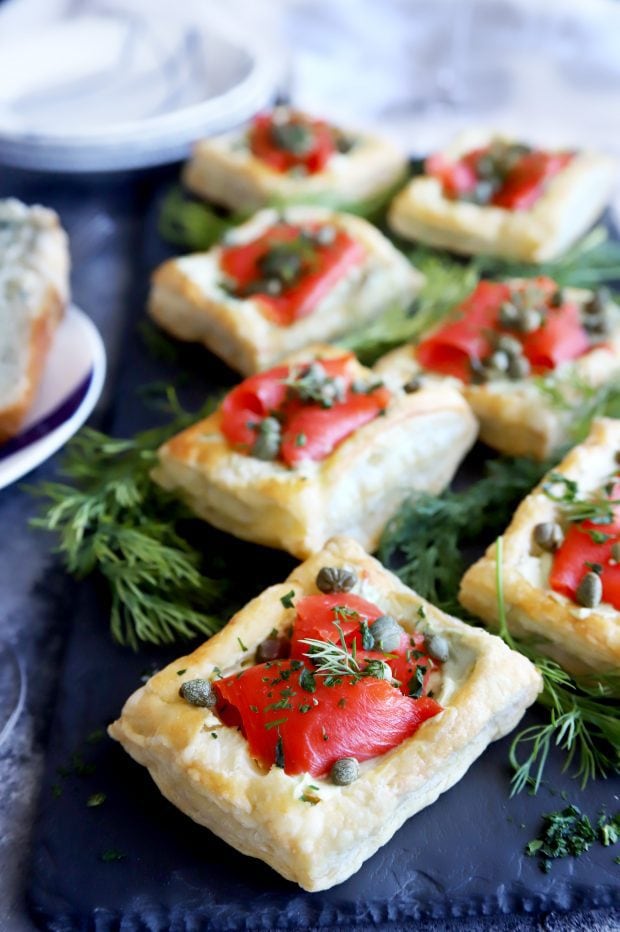 Now, I learned how to make puff pastry from scratch once… it was fun and took all day.
Ain't nobody got time for that in the real world of schedules, work, and general craziness of everyday life.
When you serve these little smoked salmon avocado cream cheese pastries, everyone is going to think you are just the fanciest person that ever lived.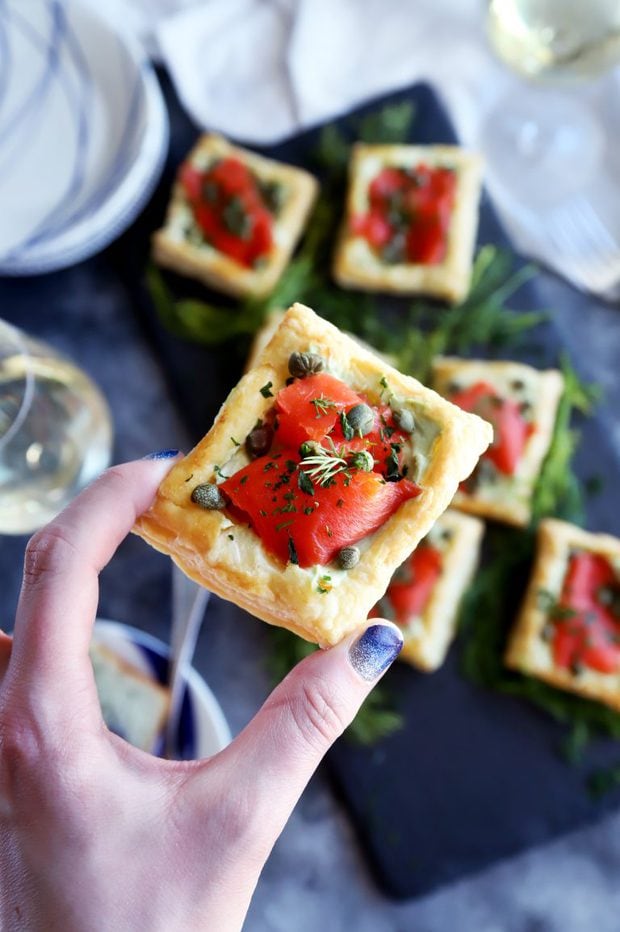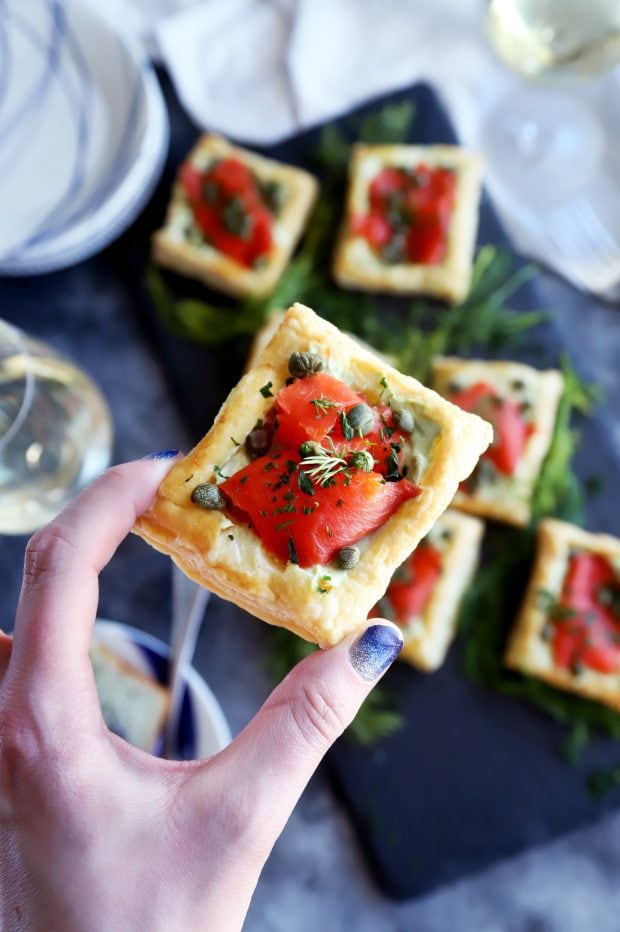 Golden brown pastries are topped with homemade avocado cream cheese, slices of smoked salmon, and a smattering of fresh herbs and capers to give a balance of savory, bright, and herbaceousness.
These little guys are ideal for any spring appetizer need that you have. It doesn't matter if it's for a bridal shower, Mother's Day brunch, Easter, a spring dinner party, or a random weeknight where you just want to be fancy.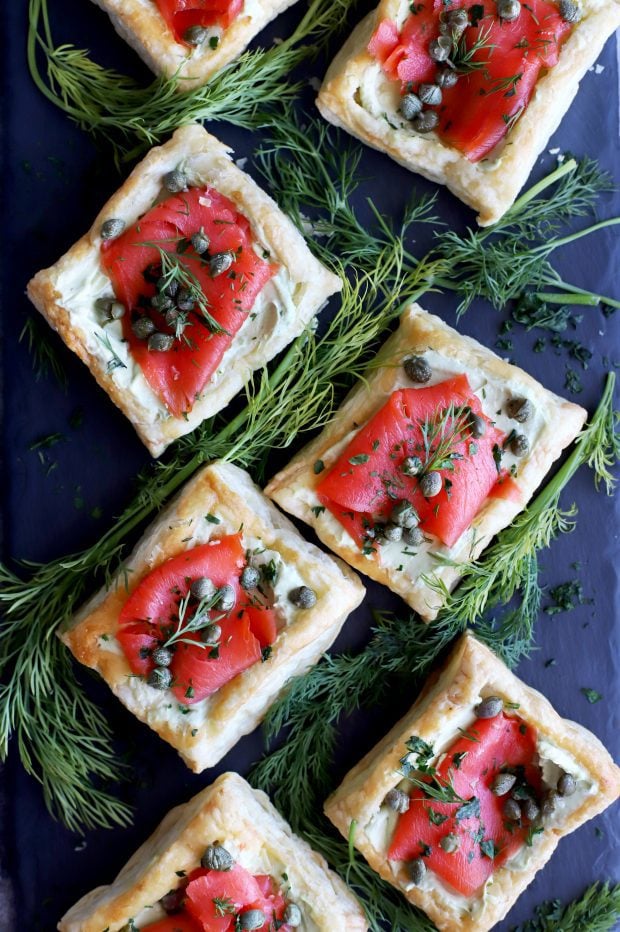 Each mouthful is light and bright, giving you a taste of springtime flavor in a two-bite snack.
What occasion will you be pinning this recipe to serve at later?
If you want more puff pastry recipe inspiration for spring, check out my asparagus prosciutto goat cheese puff pastry tart. Also for a sweet treat, check out these nutella rhubarb puff pastry croissants!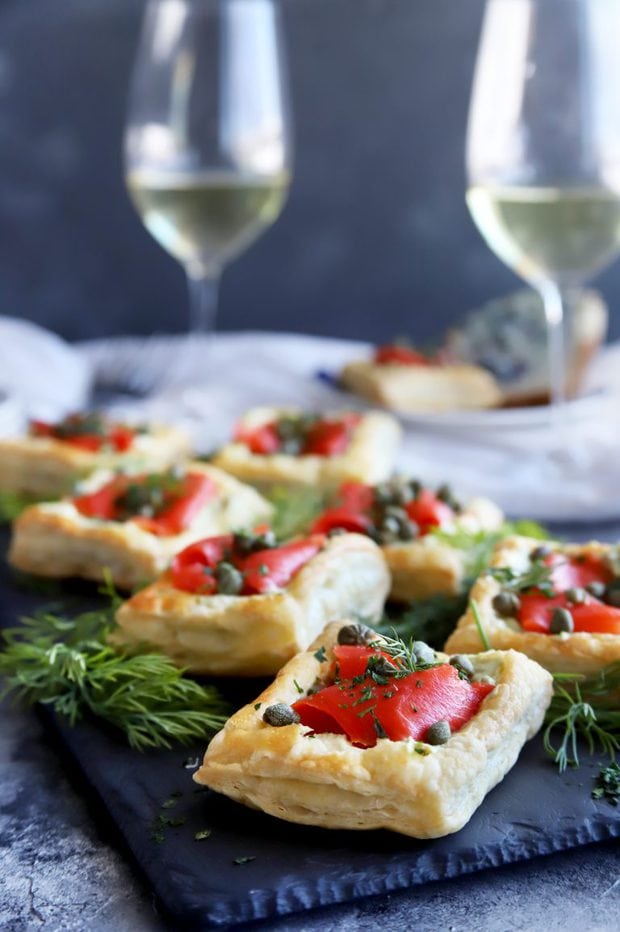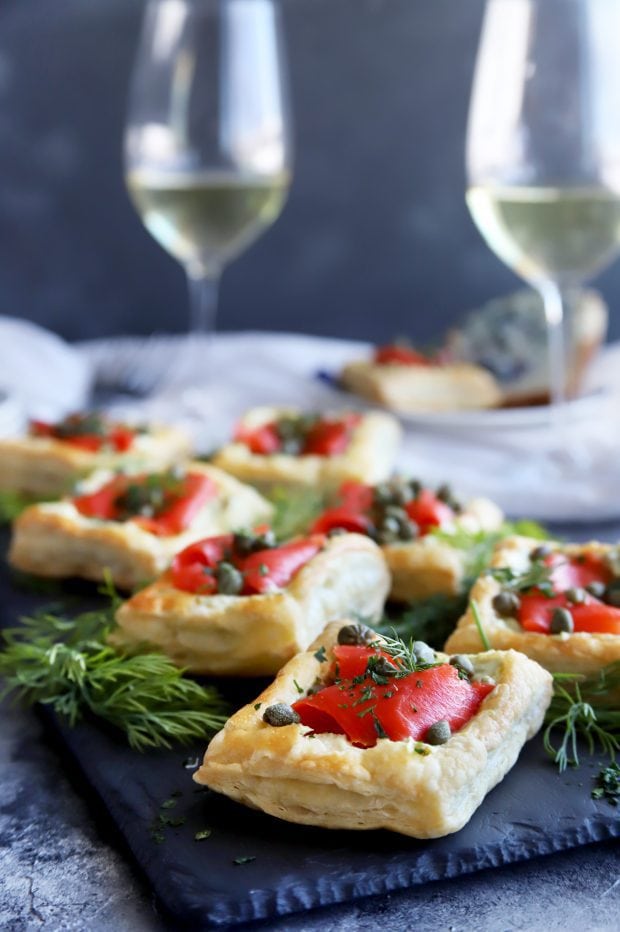 This Recipes Must-Haves
To cut the pastry, I love to use my Fantes Double-Blade Pastry Cutter! It's super easy to use and it doesn't scuff up your cutting board or surface as much as a knife might.
I always roll out my pastry and doughs on my Sur La Table Marble Pastry Board. It keeps dough chilled and it's just plain gorgeous.
To make the avocado cream cheese, I use my Vitamix E310 Explorian Blender. It's small enough for this and big enough for everyday use!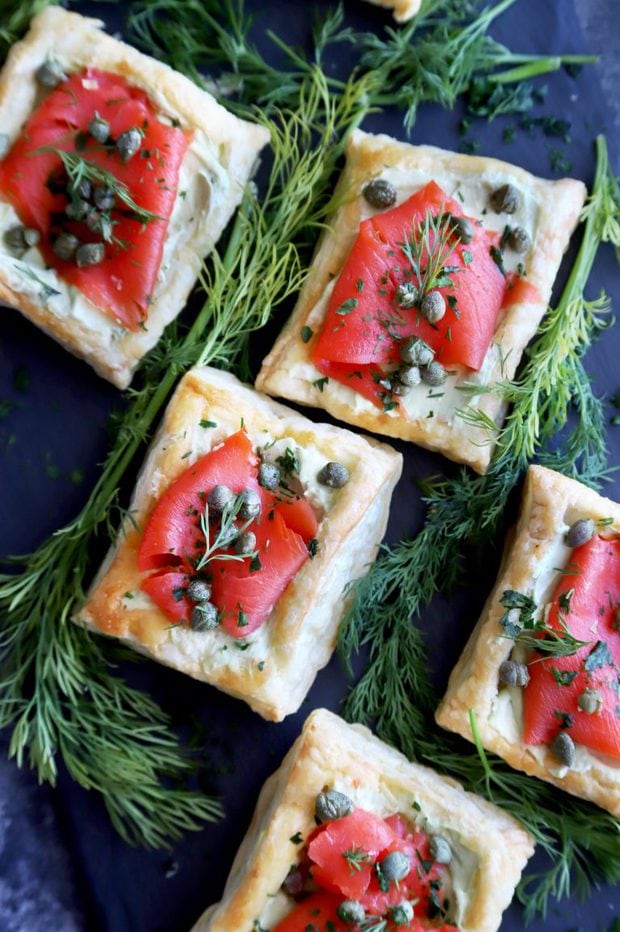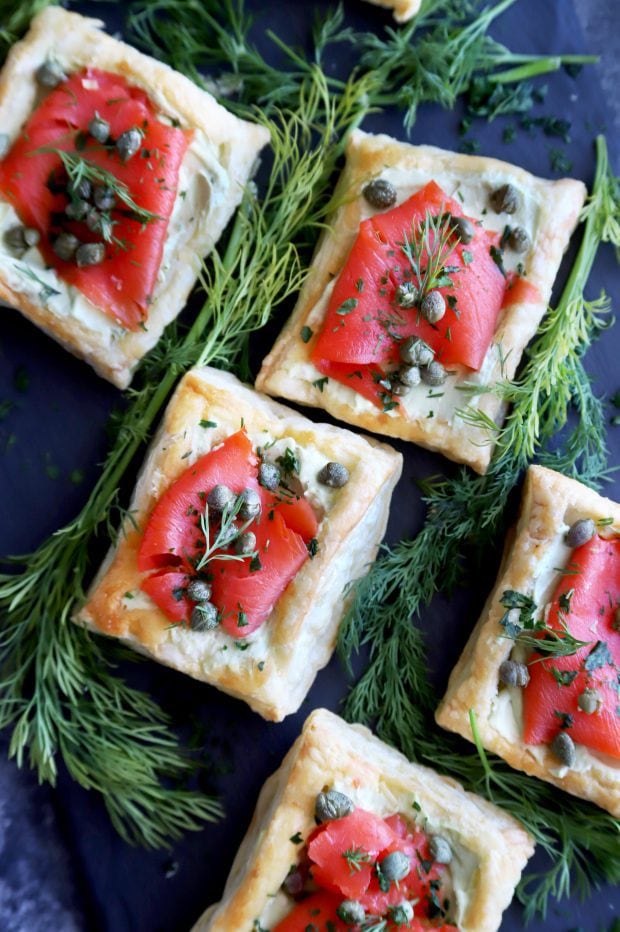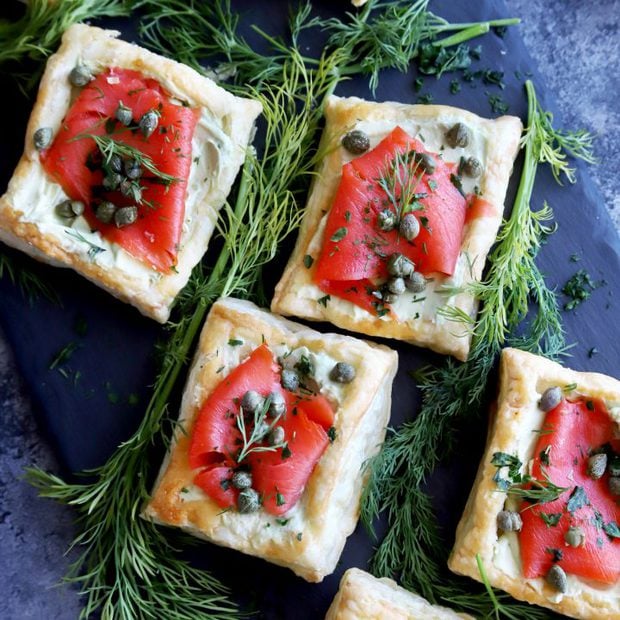 Smoked Salmon Avocado Cream Cheese Pastries
Creamy avocado cream cheese is spread on flaky pastry and topped with smoked salmon.
Ingredients
pastries
1 sheet Puff Pastry, thawed
1 Egg, lightly beaten
1 tsp Water
Avocado Cream Cheese Spread, (see recipe below)
5 oz Smoked Salmon
Avocado Cream Cheese Spread
1 Avocado, peeled and pitted
4 oz Cream Cheese, softened
1 Tbsp Lemon Juice
2 cloves Garlic, minced
1/2 tsp Salt
Toppings:
1 Tbsp Chopped Fresh Dill
1 Tbsp Chopped Fresh Chives
2 Tbsp Capers
Coarse Sea Salt
Instructions
Preheat oven to 400˚F. Line a rimmed baking sheet with parchment paper.
In the bowl of a food processor or in a blender, add avocado, cream cheese, lemon juice, garlic, and salt. Process until smooth. Cover and refrigerate until ready to use.
Gently roll out puff pastry sheet on a clean, floured surface slightly. Cut the sheet into 9 equal sized squares. Using a knife, score a thin border around the edges of each square. Use a fork to poke all over the center to the pastry.
Place squares on the lined baking sheet.
In a small bowl, whisk together egg and 1 tsp water. Brush the squares with the egg wash.
Bake for 10 to 12 minutes, until golden brown. Cool for 5 minutes.
Spread avocado cream cheese in the center of each pastry square. Top with a piece of smoked salmon. Sprinkle with chopped dill, chives, capers, and coarse salt.
Serve immediately.
Recommended Products
As an Amazon Associate and member of other affiliate programs, I earn from qualifying purchases.