Creamy Charred Tomato Soup with Garlic Croutons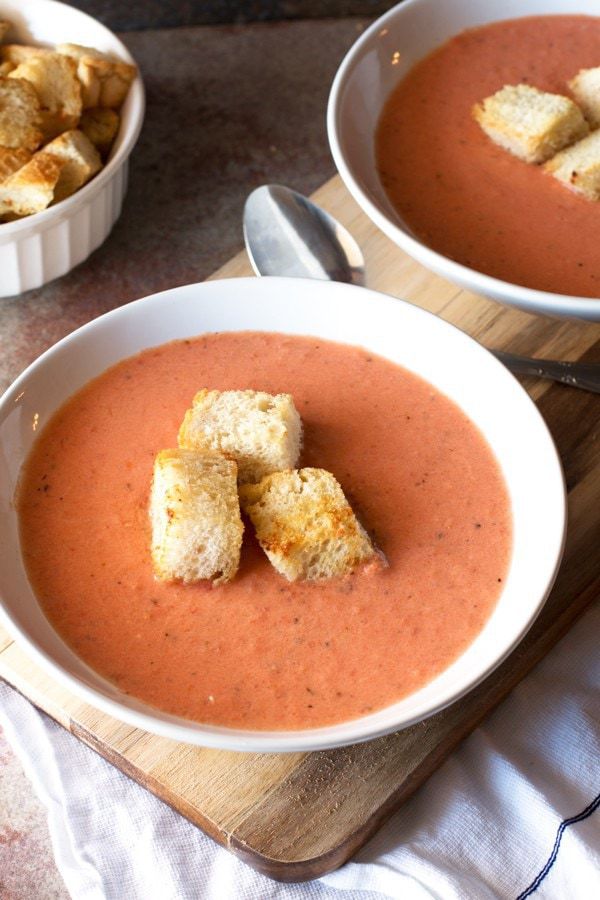 If you follow me on Instagram you know that I had a whirlwind 24 hour trip to Dallas this week. It was snowing in Denver when I left and it's still pretty darn cold here after the quick jaunt to Texas, so I am ready to warm up with a big ol' bowl of this oh-so addictive soup…
The rustic, charred tomato flavor in this soup is exactly what makes me come back to it bite after bite after bite. All to often, tomato soup can be flat in flavor and very one note, requiring me to pair some sort of sandwich with it to feel truly satisfied.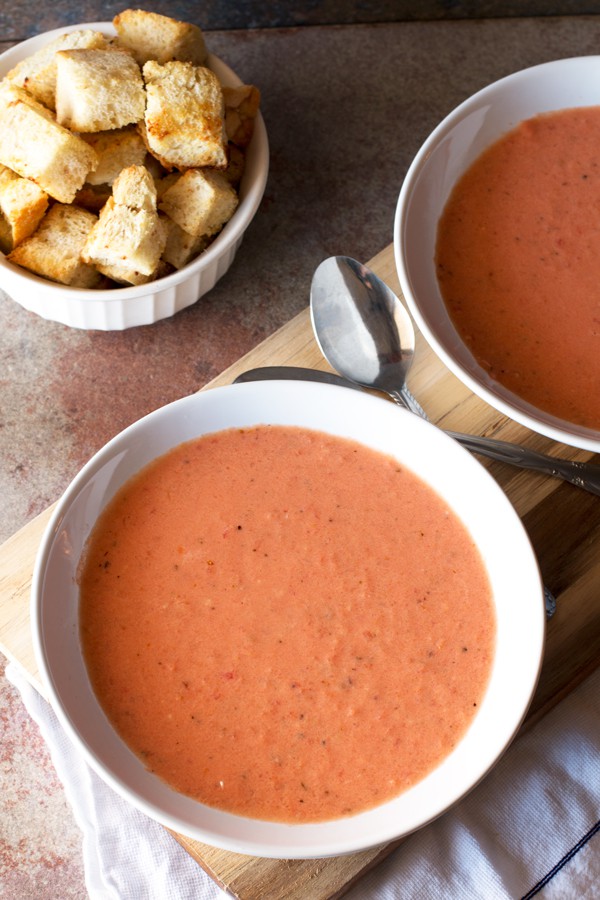 You can easily sit down to a bowl of this soup with a handful of crispy croutons and be completely satisfied with the deep flavors bouncing off your tongue.
I love making a big batch of this soup on Sunday and keeping it in the refrigerator to eat for lunches every day during the week. It keeps long enough to last the week and is a lot healthier than the typical lunches I go for (oh it's been tough to give up those flatbreads in our cafe downstairs…).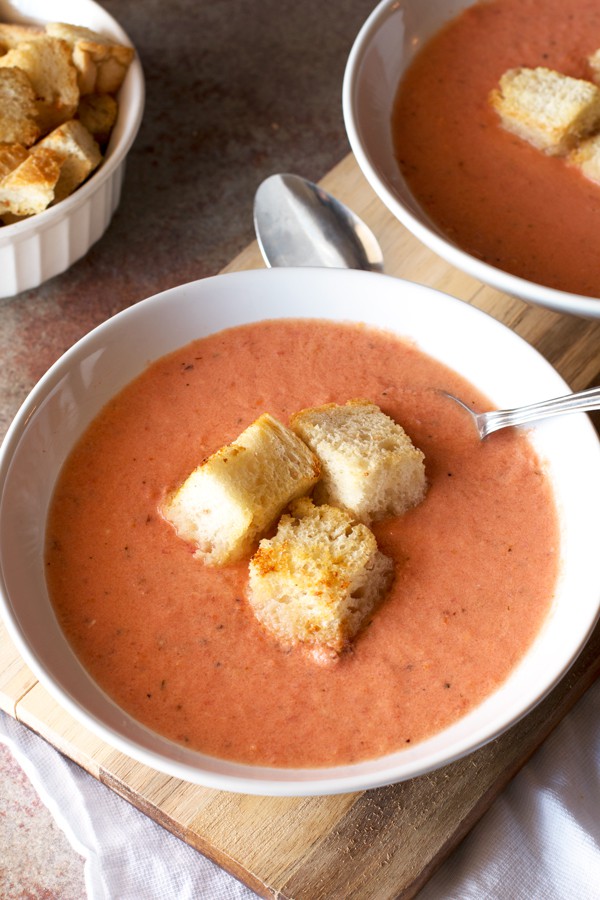 Won't you join me for a bowl?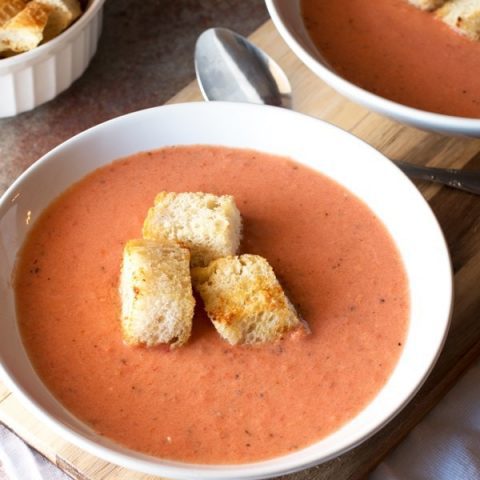 Creamy Charred Tomato Soup with Garlic Croutons
Yield: 10 to 12 servings
Prep Time: 15 minutes
Cook Time: 35 minutes
Total Time: 50 minutes
This creamy, comforting tomato soup is enhanced with charred tomatoes and crunchy garlic croutons.
Ingredients
Tomato Soup
3 Tbsp olive oil
13 roma tomatoes, cored
9 cloves garlic, sliced
1 shallot, sliced
1 tsp red pepper flakes
1 28oz canned diced tomatoes
1 1/2 Tbsp dried oregano
1 cup water
1 cup heavy cream
Croutons
1/2 loaf sourdough bread, cut into 1 to 2" cubes
3 cloves garlic, crushed
4 Tbsp olive oil
Salt & pepper
Instructions
Preheat oven to 350 degrees. Line a large baking sheet with a silpat or aluminum foil.
Toss the cubed bread with 4 Tbsp olive oil and crushed garlic cloves. Empty out onto the lined baking sheet. Bake for 15 minutes until the cubes of bread are crisp on the outside. Set aside.
In a large cast iron skillet, heat 2 Tbsp olive oil over high heat. When hot, add the cored roma tomatoes to the pan. You'll want to essentially blister or char all sides of the tomatoes. Once the sides are blistered and blackened, reduce heat to low and continue to cook while you prepare the rest of the soup.
In a large soup pot, heat 1 Tbsp olive oil. Add sliced garlic cloves, shallot, and red pepper flakes. Season with salt and pepper, and stir in the oregano. Cook over low heat for approximately 4 to 5 minutes, or until the shallots are translucent. Add canned diced tomatoes and cook 12 to 15 minutes, stirring occasionally. Finally, stir in heavy cream and water.
If you have an immersion blender, add the charred tomatoes to the sauce pot and blend the mixture together until mostly smooth (I like my soup to have a little texture but you can blend until completely smooth if desired). If you don't have an immersion blender, used a standard blender and blend the soup together in batches (first the soup base in the soup pot, then the charred tomatoes, and combine in the soup pot to finish). Season with salt and pepper to taste.
Serve the tomato soup warm with the garlic croutons.