Please note this post contains affiliate links.
Pistachio Pesto Pizza with Crème Fraîche and Roasted Garlic is the ideal pizza for anyone who loves pistachios. Plus, you'll be left with some extra pesto to spread all over your favorite bread so you can keep the pistachio goodness around for a while.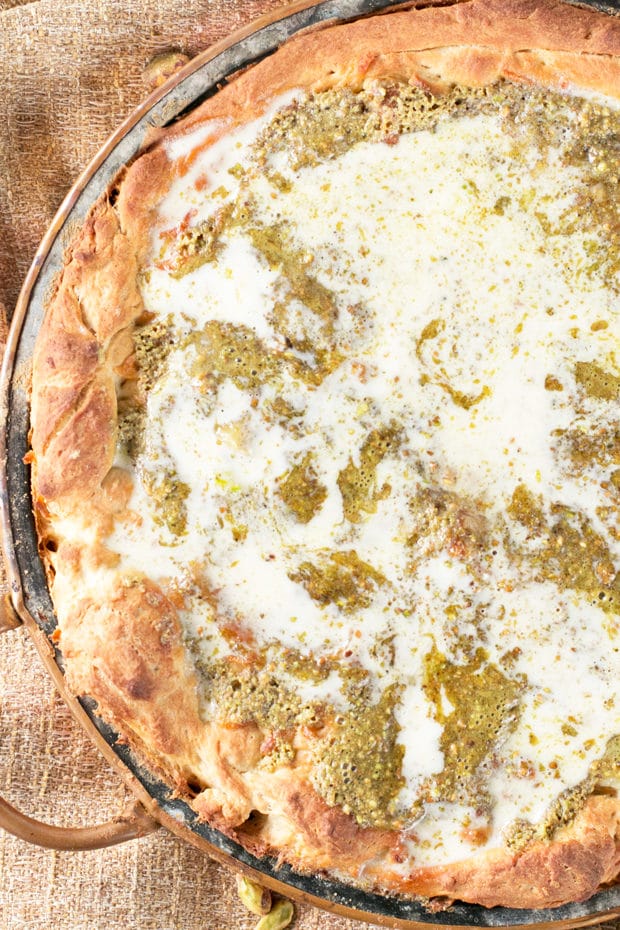 Calling all pistachio lovers… All you lovers of the green nuts, all you pistachio-obsessed folks who literally can't get enough of that salty, savory flavor!
This is the only pizza recipe you need to make for the rest of your lives.
I know that's a bold statement to make, but that's just how strongly I feel about the pistachio pesto that's slathered all over this crispy pizza crust.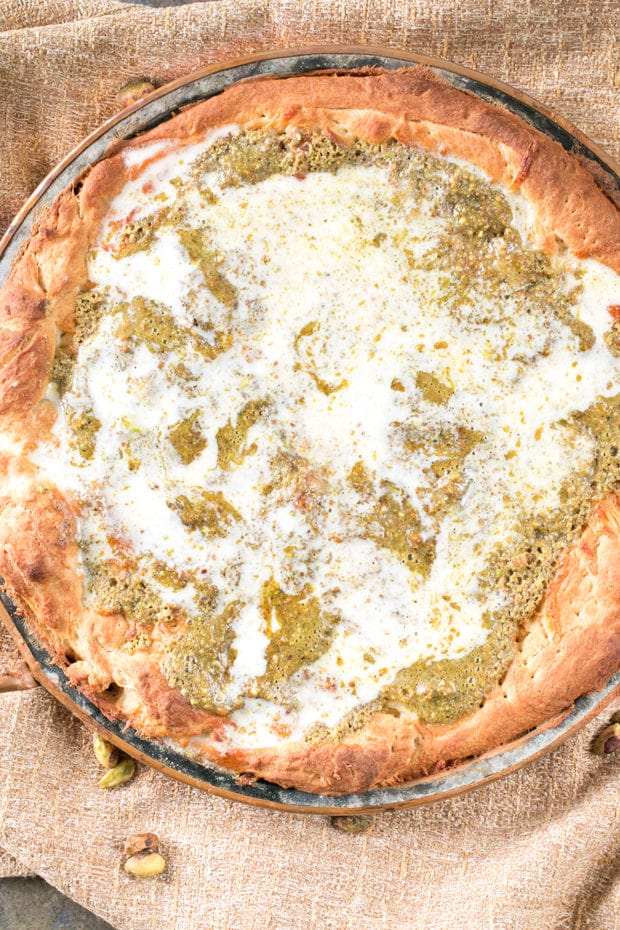 This recipe is one that I had to figure out how to make at home after I indulged in the entire thing in Charleston, SC this June. I 100% ate the entire pizza. There was no regret. I didn't care that I didn't share. I had to have every bite because good lord it was so damn delicious.
There's one secret to making the perfect pesto…
You want me to say pistachios here, but that's not what I'm gonna say.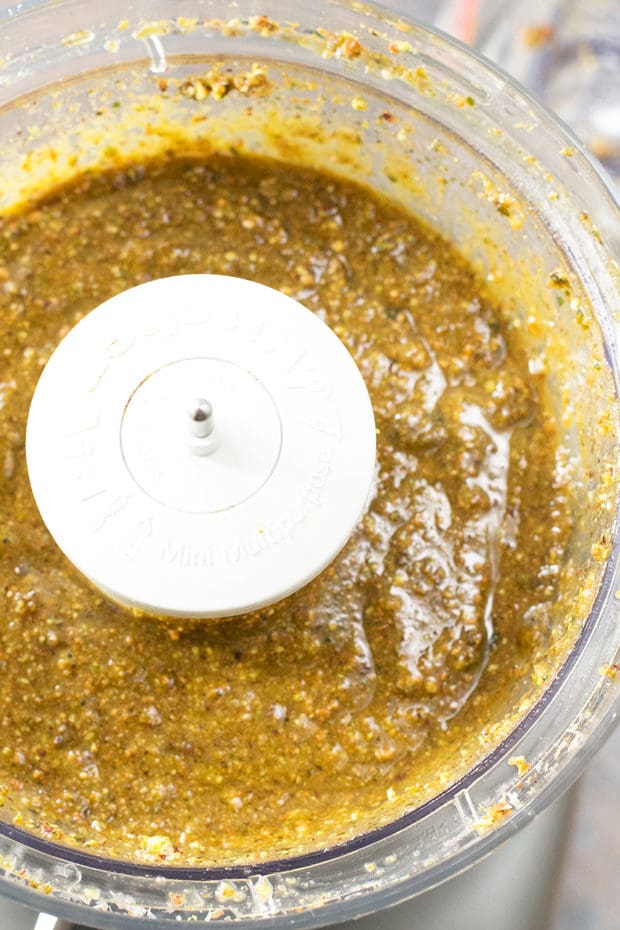 It's a food processor. You might be rolling your eyes and thinking "well DUH" but it's so so sooooo necessary. I have actually tried to make it without one. I ended up slicing my hand open, with basil leaves all over the floor, tears in my eyes, wondering why the hell I didn't just buy the dang food processor when I was at the store 2 hours earlier.
Of course, there are good and bad food processors out there. There are also GREAT ones. Enter the KitchenAid® 9-Cup Food Processor with ExactSlice™ System. When I say GREAT, I really mean fantastic/amazing/knock-your-socks-off GREAT. I have been using this food processor for EVERYTHING since I got it and I am constantly finding new uses for it. It holds a crazy amount of food in it (I mean, 9 CUPS), but it also comes with this little mini bowl insert so you can make smaller things (read: pistachio pesto) without battling with a giant blade and bowl.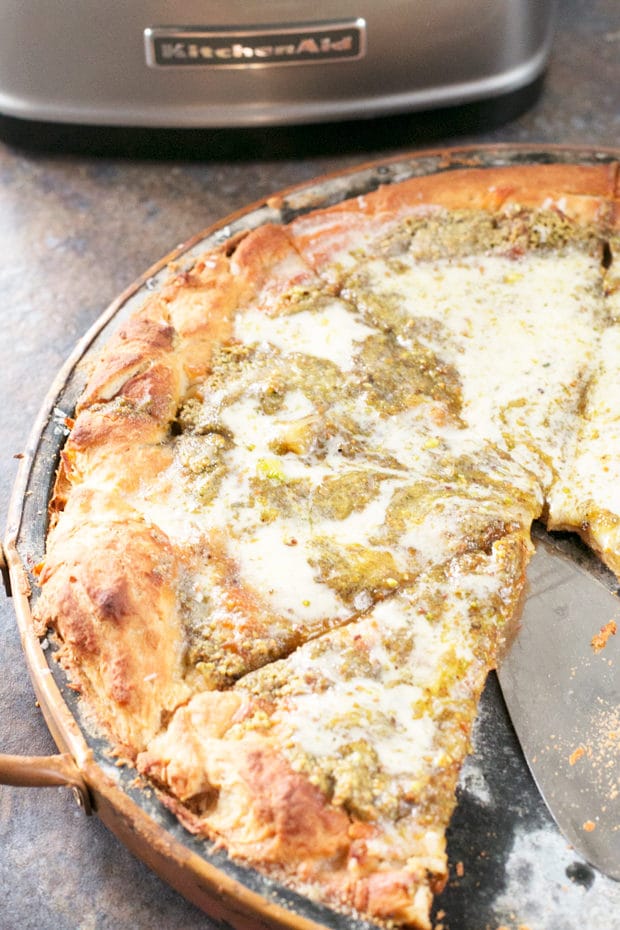 It slices, chops, and purees. I think it could probably help me launch pistachio pesto into space if I wanted to (and no, I don't mean all over my ceiling because it won't start without the lid firmly locked in place – no messy disasters here!).
Just whip up this pesto, slather it on pizza with roasted garlic (because all the YES), and melt on some crème fraîche. You seriously won't believe the difference that lil' bit o' dairy makes.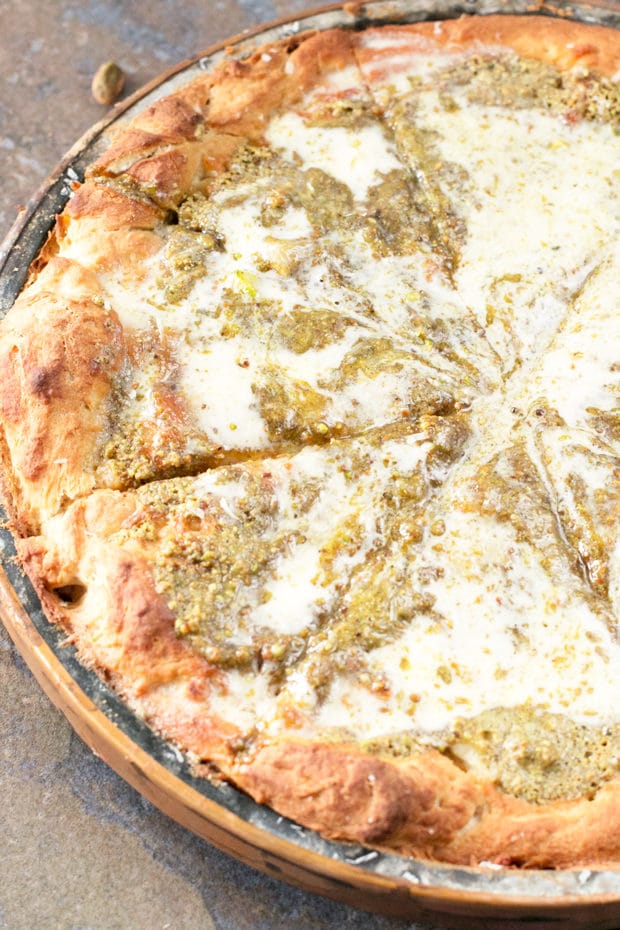 Not to mention how easy it all is with this freakin' amazing food processor.
KitchenAid® seriously knows their stuff, you guys. So get on it and enter the giveaway below the recipe!
Disclosure: I received free product from KitchenAid® as part of this giveaway and post. As always, all opinions and recipe are my own. Thanks for supporting the brands that support Cake 'n Knife!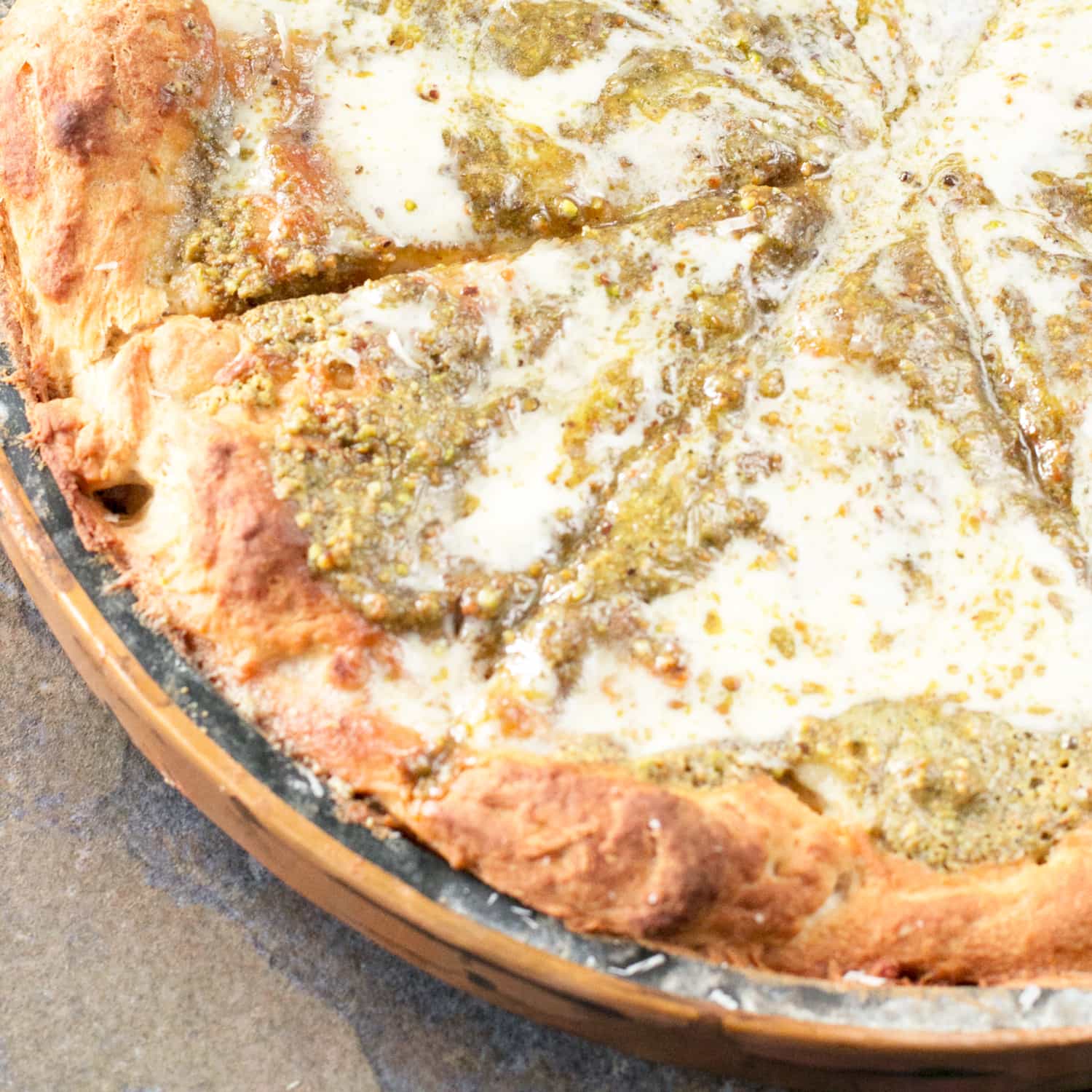 Pistachio Pesto Pizza with Crème Fraîche and Roasted Garlic
Total Time:
2 hours
10 minutes
Fresh homemade pistachio pizza makes this pizza so rich and flavorful. Topped with some crème fraîche to make you completely lose your mind!
Ingredients
1 lb pizza dough
1 head of garlic, top cut off
1 cup shredded mozzarella cheese
1/3 cup creme fraiche
Pistachio Pesto
1/2 cup pistachios shelled
1/2 cup basil
3 garlic cloves
1/3 cup grated parmesan
1 1/2 tsp lemon zest
1 cup olive oil
Instructions
Preheat oven to 400 degrees.
Peel off the outside papery layers of the head of garlic, leaving the rest of the head in tact. Cut off the top and drizzle with 1 tsp olive oil. Wrap in foil and bake for 40 minutes until tender. Bake in additional 10 minute increments as needed if the garlic isn't tender after 40 minutes. Squeeze out the roasted garlic cloves when it's cool enough to handle. Set aside.
In the bowl of the KitchenAid® food processor (using the mini bowl attachment), pulse together pistachios, basil, garlic cloves, parmesan, scallions and lemon zest. Set the food processor to high and slowly drizzle in 1 cup olive oil through the opening in the top. Store in the refrigerator until ready to use.
Roll out pizza dough on a lightly floured flat surface into desired shape (rectangle or circle). Place on greased sheet pan or warmed pizza stone and bake 12 to 15 minutes until golden brown.
Add the roasted garlic cloves on the baked crust and top with mozzarella cheese. Bake 5 minutes, or until cheese is melted.
Spread the pizza with a layer of pistachio pesto (yes, you will have pesto leftover!) and dollop creme fraiche around the pizza. Bake an additional 5 minutes, or until the creme fraiche is melted.
Remove from the oven and serve immediately.
Notes
Note: this pizza is note ideal for leftovers so be sure to eat it all! Not that it will be a problem to do that.. trust me.
Giveaway rules:
Enter the giveaway through the Rafflecopter widget below. Everyone gets a free entry! You can enter multiple times, up to 29 total entries by following on social media. (If you've followed in the past, that counts! Just enter the information as prompted.) All entries will be verified. No purchase is necessary to win.
The giveaway is open until Monday, September 5th at 11:59 p.m. CST. One winner will be chosen at random and e-mailed within 48 hours. Winners must claim prize within 48 hours of initial contact. The retail value of the prize is $199. Prizes listed above are the only ones available.
Open to U.S. residents with a valid shipping address only.