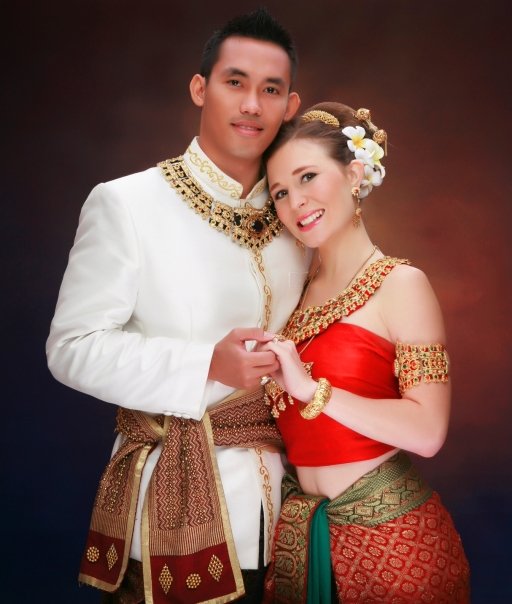 Another month means a new cuisine and a new interview! This month I decided to really go for something outside my comfort zone and try Thai cooking. I will admit at first I was nervous, but Sherri from Thai Foodie definitely made me feel a lot more confident. It was SO much fun talking to her and getting a great introduction to Thai food!!
So I am dying to know, what was it like living in Thailand?
‪It was amazing! I tell everyone the reason I moved to Thailand was because I fell in love with Thai food and wanted to eat it super cheap all the time, and it's so true. I feel so blessed that I got to savor authentic Thai food on the street every day for a dollar per meal! And I adore the beautiful beaches, and laid-back culture! How I miss it!!
When you moved to Thailand did you know how to cook Thai food?
When I moved to Thailand I had no clue how to cook Thai food. That's one reason why I think it all seemed so magical and amazing to me! —because I had no idea how they made it taste so good!
How did you end up learning how to cook Thai food?
‪When we came back from Thailand to America, my Thai hubby and I were going into Thai food withdrawal because we missed it so much, and couldn't afford to eat it at overpriced Thai restaurants. So I've always enjoyed cooking, and decided to try out cooking Thai food. Dom knew the basics from watching his grandma in the kitchen when he was growing up, so I started trying to make some of the simple dishes we liked through his help. Also, he found authentic Thai cooking websites, but translated poorly into English, that I could look at. I also had a Thai friend I got tips from, and started to read Thai cooking books like It Rains Fishes by Kasma Loha-Unchit. But after cooking it for a few years, I now know the tastes and flavors that all go well together, so it's so amazing to see how I've progressed since I first started cooking it.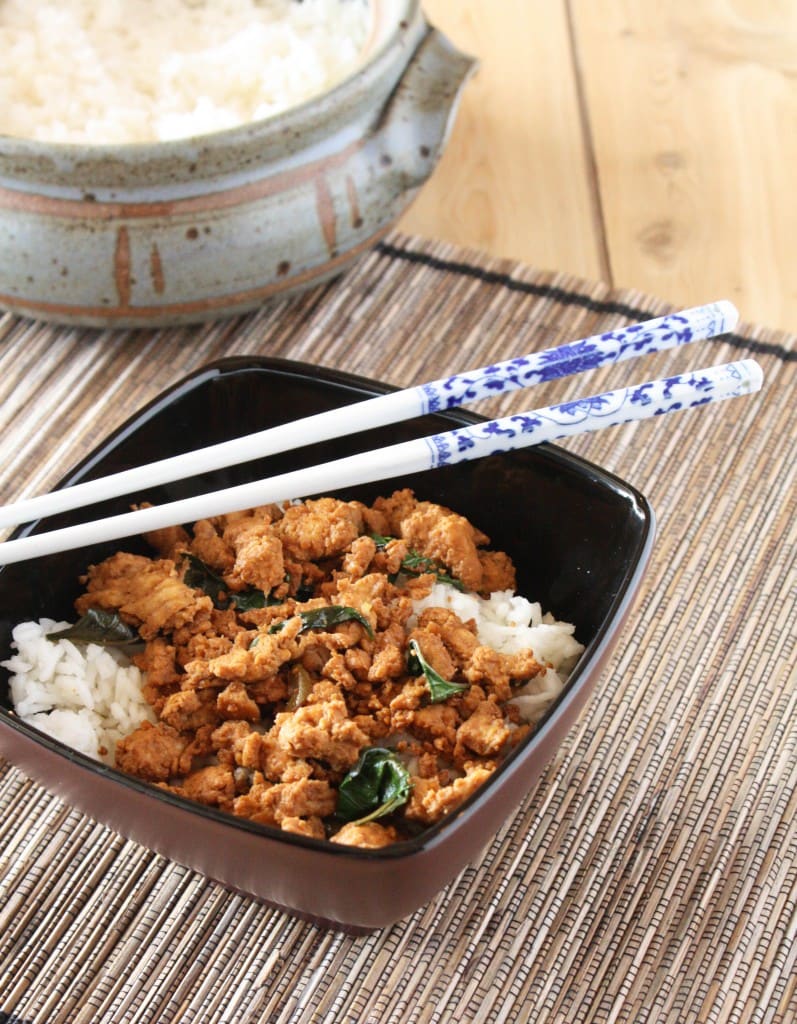 Ok I saw that you have a Thai cooking class; what is the first thing you teach your new students?
‪Yeah! I love teaching Thai cooking! The first thing I teach them is about the main flavors in Thai cooking. In most Western cooking, you just have a savory or spicy flavor. But in Thai cooking, in one dish you could have sweet, spicy, savory, bitter or sour. So the main thing to keep in mind when cooking Thai is to keep the flavors balanced, however you enjoy most!
Are there any staple ingredients in Thai cooking that you always have in your pantry?
Yes! It's essential to always have next to your stovetop when cooking Thai, sugar and fish sauce, and in the fridge I usually always have on hand lime, garlic and cilantro. Those are key players in a lot of dishes, but other things I can't live without are oyster sauce, Thai chili paste, white pepper powder, ginger and shallots. And of course Thai chili peppers!
Are all Thai peppers pretty hot? Or is there a range?
Yes, all Thai peppers are quite hot, especially for farangs, (the Thai term for foreigners). When cooking with them, if you don't want a dish as spicy, don't pound the peppers as much, and the spiciest part is the part of the pepper that holds the seeds, so some people like to avoid that part or using the seeds. But I love spicy, but had to train myself to be able to eat Thai-spicy!
What has been the most difficult Thai meal to master?
Good question! I think the hardest one was probably Pad Thai. There is a lot of pressure when making Pad Thai since Americans love it so much, but when I make it I want it to taste like the Pad Thai from the street in Thailand, which is very hard since Pad Thai street vendors have been making it their whole lives. But after trial and error, and reading a great Pad Thai series on shesimmers.com I finally made a sauce I like and figured out how to get the noodles how I wanted them. I still get a little nervous when making it for a dinner party, but my very honest Thai hubby always says it's great!
Speaking of street vendors, I always see specials on TV about how incredible Thai street food is. Do you have some favorites?
Dear me! So many favorites! I long for the day we go back to visit and I get to eat Krapaw Gai, which is spicy stir-fried chicken with basil. It's my hubby's favorite food from his childhood. And I adore Pad Kee Maw, which is like Krapaw, but over noodles and a bit different. And Khao Man Gai, which is a very simple and amazing chicken dish that my hubby and I ate all the time at a vendor near his place when we were dating. I still haven't mastered cooking that one yet, but hopefully I'll get to it soon
Final question, and this one is a bit tough and perhaps a little unfair… What would be your ultimate full course Thai meal?
Whoa!! Hard one for sure! This question makes me hungry! I would say—Tom Kah Gai, Khay Jieo, Larb Gai, Som Tum, Tom Yum, Massaman Curry, and Krapaw Moo. But really those are just what I feel in the mood for today, it's impossible to pick a favorite full course Thai meal cuz I love too many dishes!! Want me to translate those names of dishes into English terms?
Yes please!!
So, Tom Kah Gai is a coconut soup with chicken and galangal, Khay Jieo is a Thai-style omlette, Som Tum is a papaya salad, Tom Yum is a Thai clear lemongrass soup, Massaman Curry has potatoes and peanuts in it, Krapaw Moo is spicy pork and basil! And all of that with lots of jasmine rice!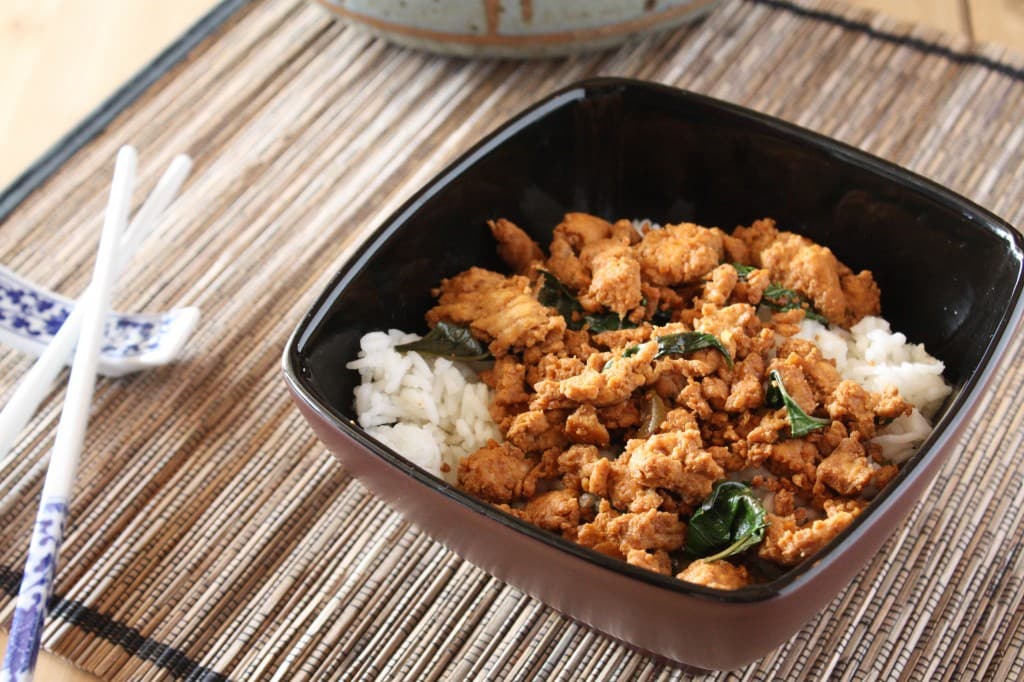 I decided to go for Sherri's recommendation and started off with Krapaw Gai. I had no idea what it would taste like but I was completely blown away, not only by the flavors but with how easy this recipe is!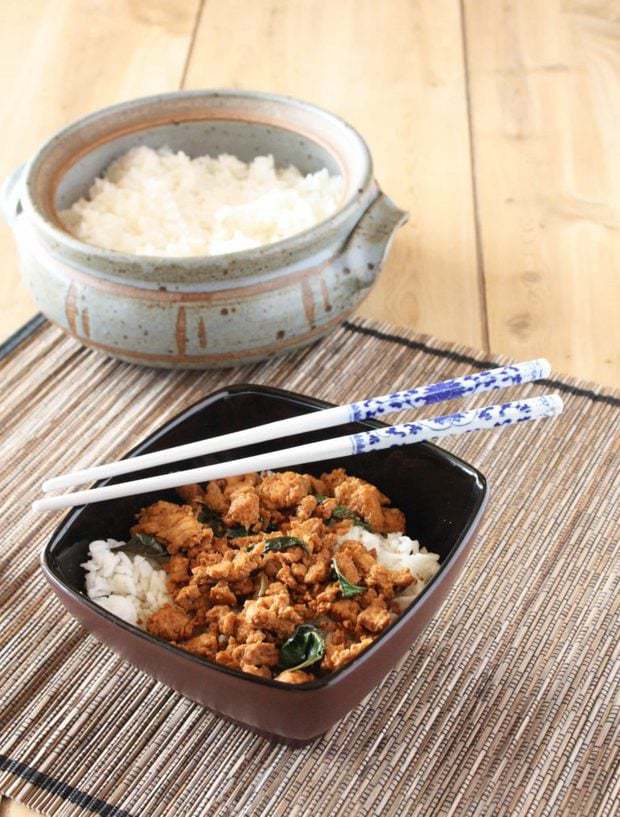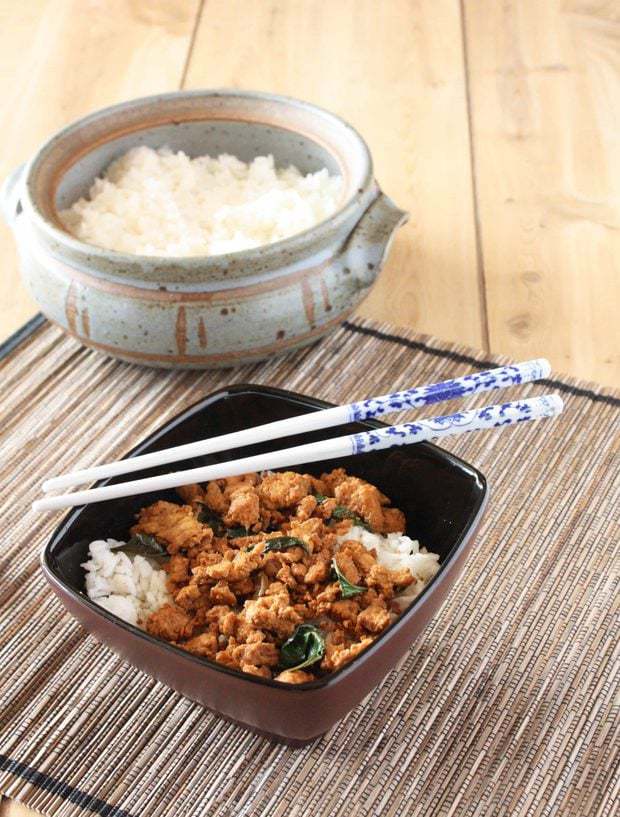 Krapaw Gai
This flavorful Thai dish comes together quickly and is a great healthy weeknight dinner option.
Ingredients
1 Tbsp cooking oil
5 garlic cloves, smashed
2-15 thai chilies (depending on your spice tolerance - I used about 3-4 and it was just the right amount of spice)
1 1/2 lbs ground chicken
2 Tbsp of fish sauce
1 tsp of black, sweet soy sauce
1 tsp of sugar
1 cup of holy basil leaves and flowers (use sweet basil if you need to)
Instructions
Smash the garlic and chilies together in your mortar and pestle. If you don't have one, you can mince them and stir together.
Heat oil in either a wok or large skillet. Once it is shimmering, add garlic and chiles (be prepared for the fumes to make you cough, especially if you add in several chiles!).
Add chicken and cook until no longer pink, stirring occasionally. Stir in sugar, fish sauce and soy sauce. Add in more fish sauce to taste, if desired.
Stir in basil until it wilts. If the mixture seems dry, try adding a little bit of water.
Serve immediately with rice.
Add some water if you think it's dry. Toss in the basil until it wilts. Serve with rice.