Freezer Spicy Herb Pumpkin Lasagna is an incredible pan of layers of cheese, herbs, pumpkin, spicy sausage, and more cheese. It makes for a fantastic freezer-friendly dinner! Serves 12.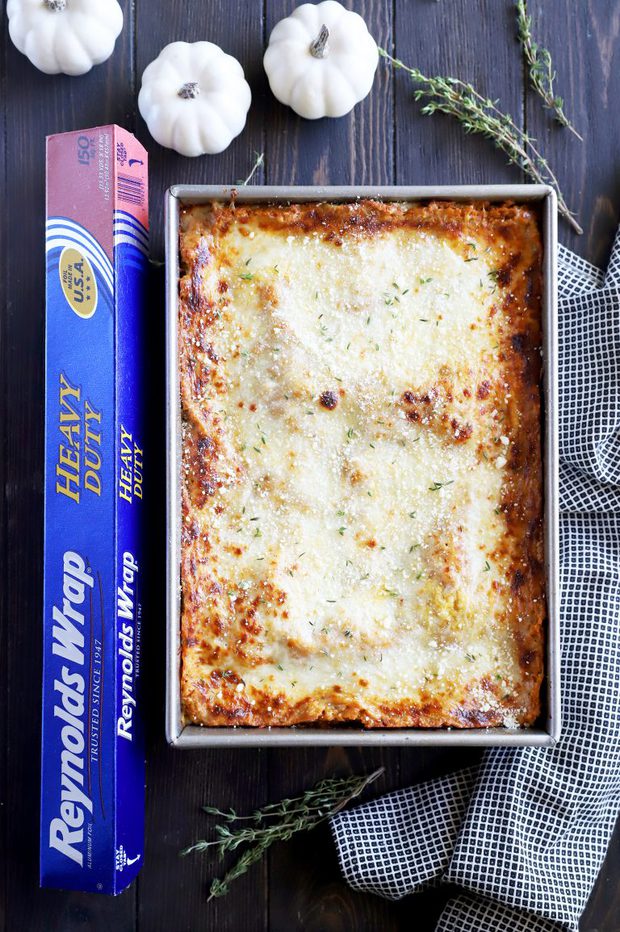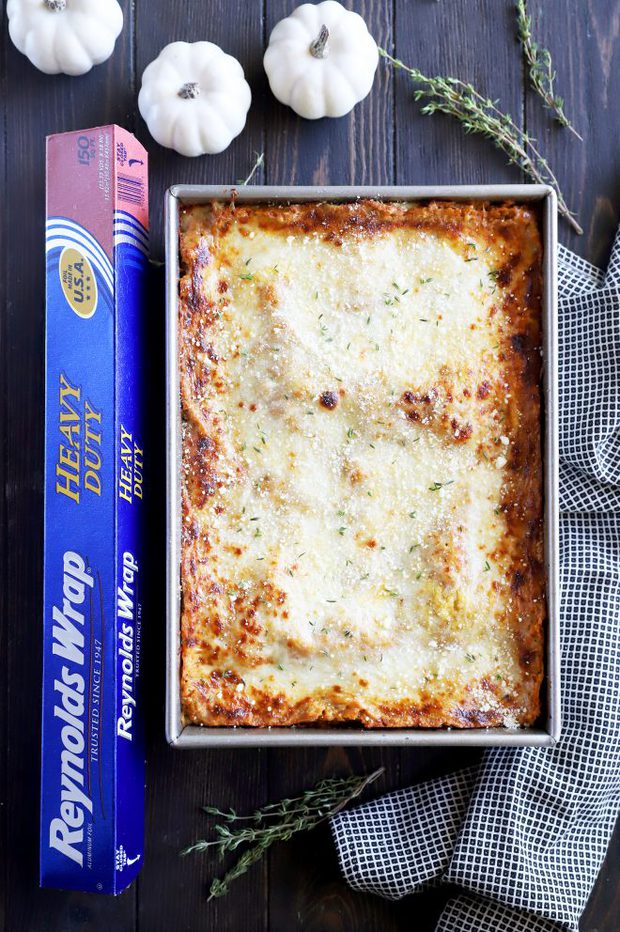 Disclosure: This post is sponsored by Reynolds Wrap® Foil. As always, all opinions are my own.
The big thing for me right now is thinking ahead for Baby. I know that I am NOT going to be in the mood to cook for a bit. So, I have really been trying to think about freezer meals that I would love to make ahead of time!
My first thought was lasagna. Of course, knowing the Man and I, I know that we will be making lots of easy peasy spaghetti when the baby arrives. Therefore, we are going to need some variety and to me, that equals PUMPKIN.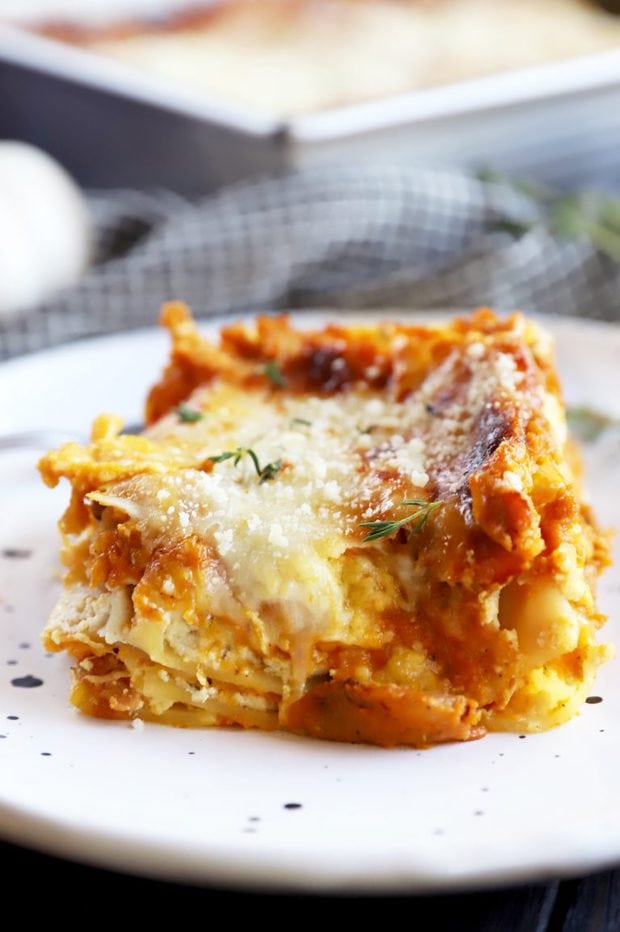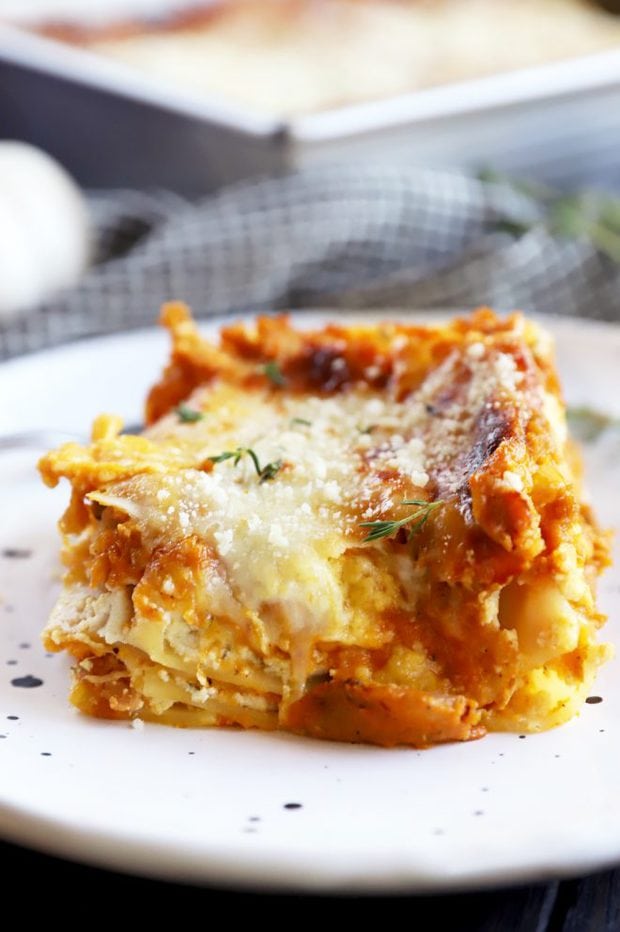 Ok so let's talk about freezer meal prep!
The big key to preparing food to be frozen is to make sure that you are prepping it correctly so it stands the test of time. For example, this pumpkin lasagna can be frozen for up to 3 months!
That's a heck of a long time, am I right?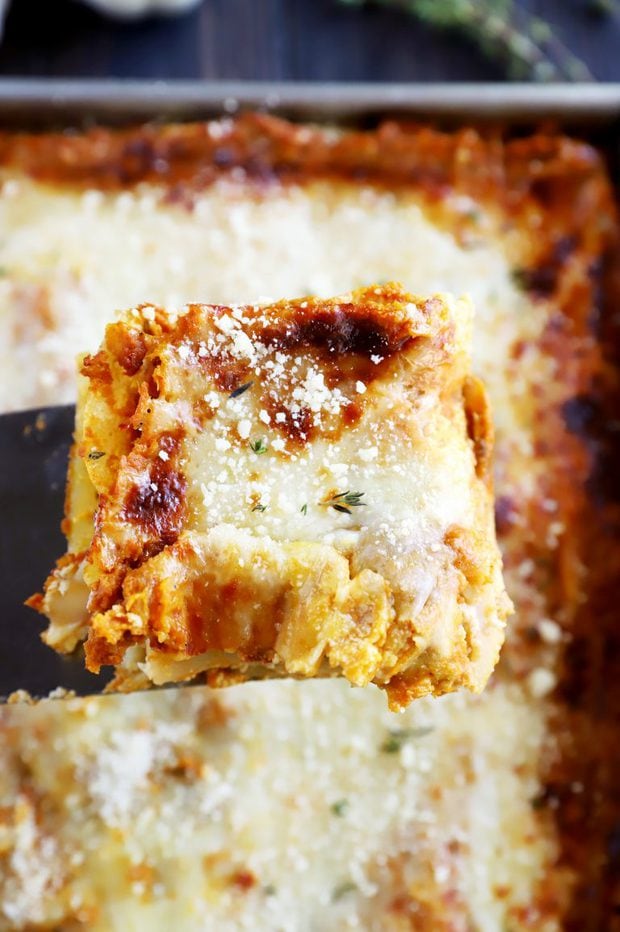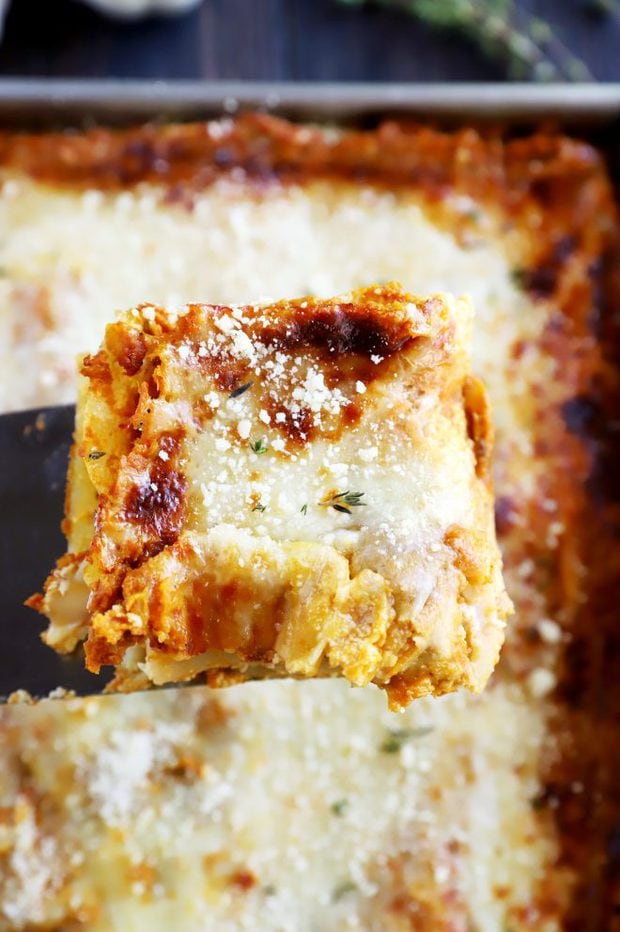 However, you can't just cover it with plastic wrap and call it good. You need my secret weapon… Reynolds Wrap® Heavy Duty Foil.
I don't know about you, but whenever I think about aluminum foil, I always think about Reynolds Wrap® Foil. It's the brand that my grandma used. Also, the brand my mother uses. So therefore, it's the one I've come to swear by.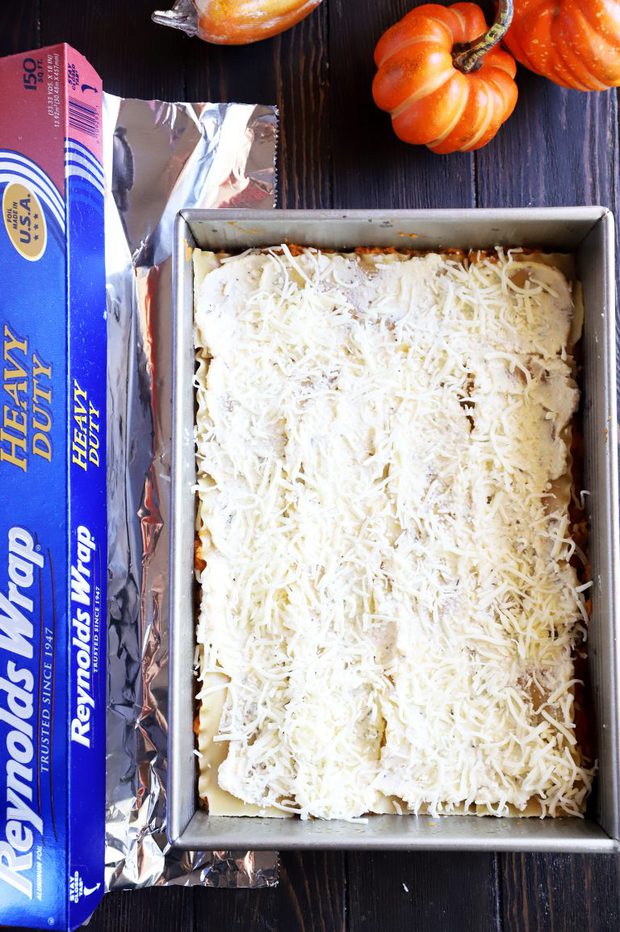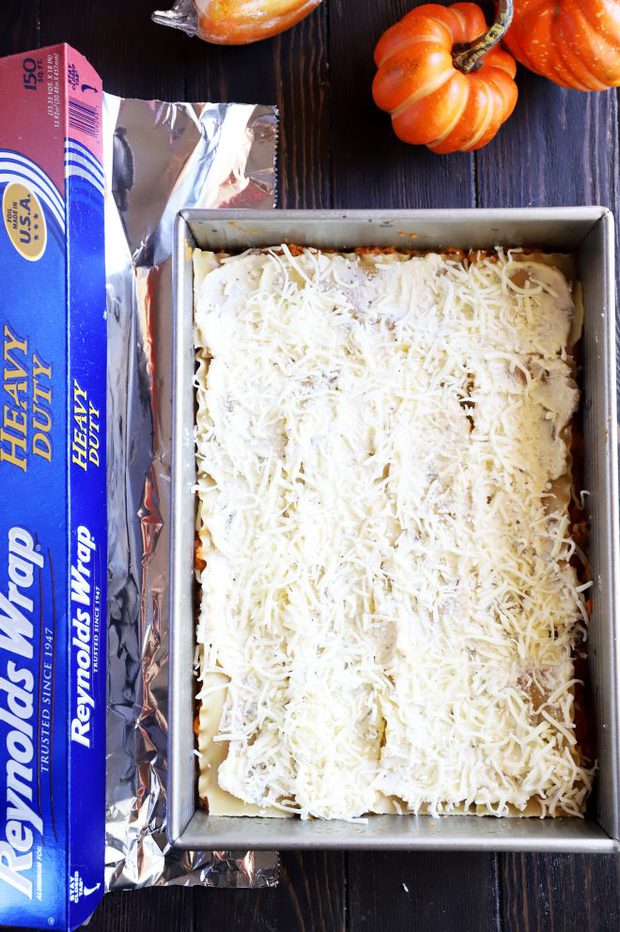 Trust me, I've done my research too.
In college, I thought I was super sly to buy the generic foil but it never worked the way I needed it to. It would tear too easily, or it would fall apart on the grill. Nope, I've learned my lesson and it's only Reynolds Wrap® Foil for me.
Reynolds Wrap® Heavy Duty Foil helps lock out freezer burn and makes sure that your pan of pumpkin lasagna will stay fresh and tasty months later. Which is exactly what I'm counting on as I slowly start to fill our freezer with meals… Plus you can reuse the foil you wrapped the pan in to cover it when you are ready to bake!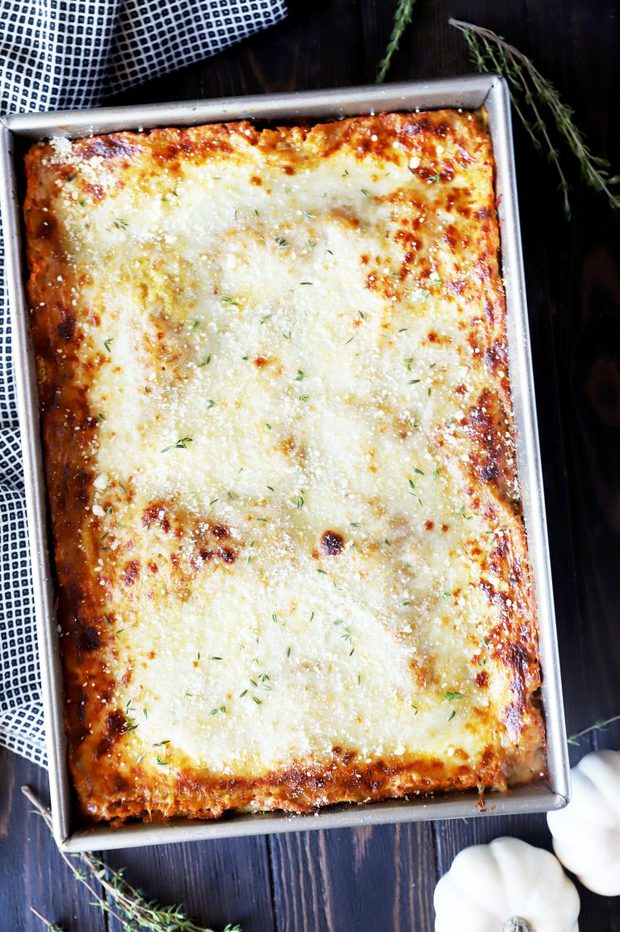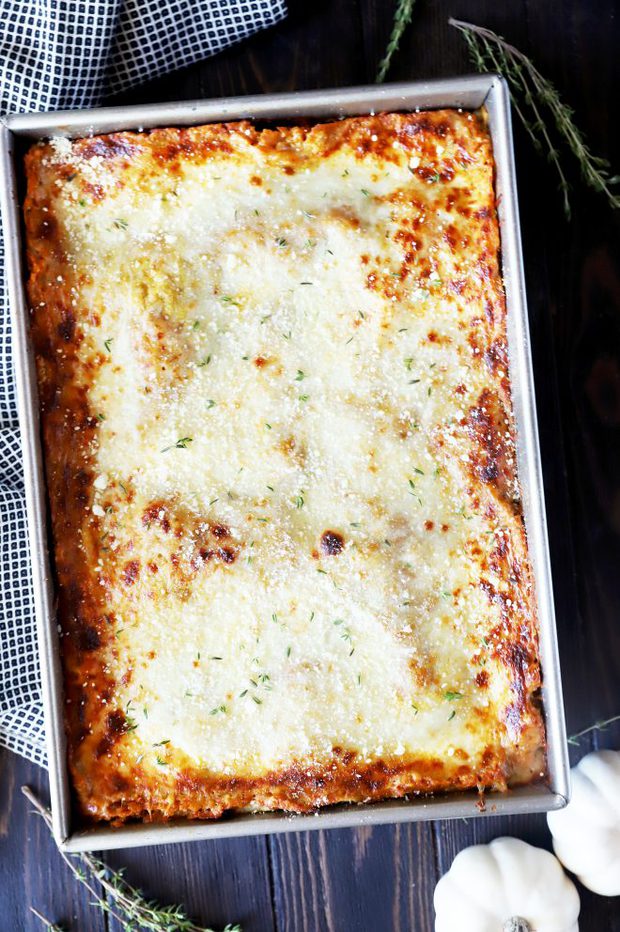 this recipe's must-haves
There are a few different tools that make this dish so much easier to whip up! First, you'll want some mixing bowls to make the two different filling layers for the lasagna.
I like to have one or two of my favorite half sheet baking pans nearby. They are SO handy for laying out the drained noodles so they don't stick to each other. Reynolds Wrap® Non-Stick Foil works great for this so you don't need to spray the pans.
For spreading out the pumpkin and ricotta layers, I love to use a spatula or even an offset spatula if you have one handy.
I used this cake pan for baking the recipe, but you can also use a stoneware baking dish if you want.
Finally, don't forget the Reynolds Wrap® Heavy Duty Foil to cover the pan or to wrap the entire thing if you are baking it!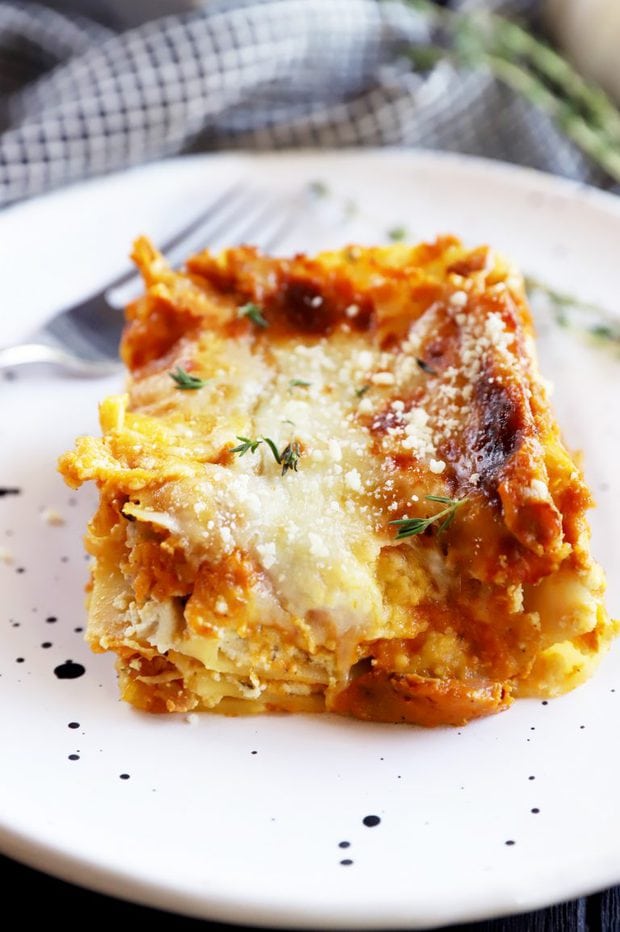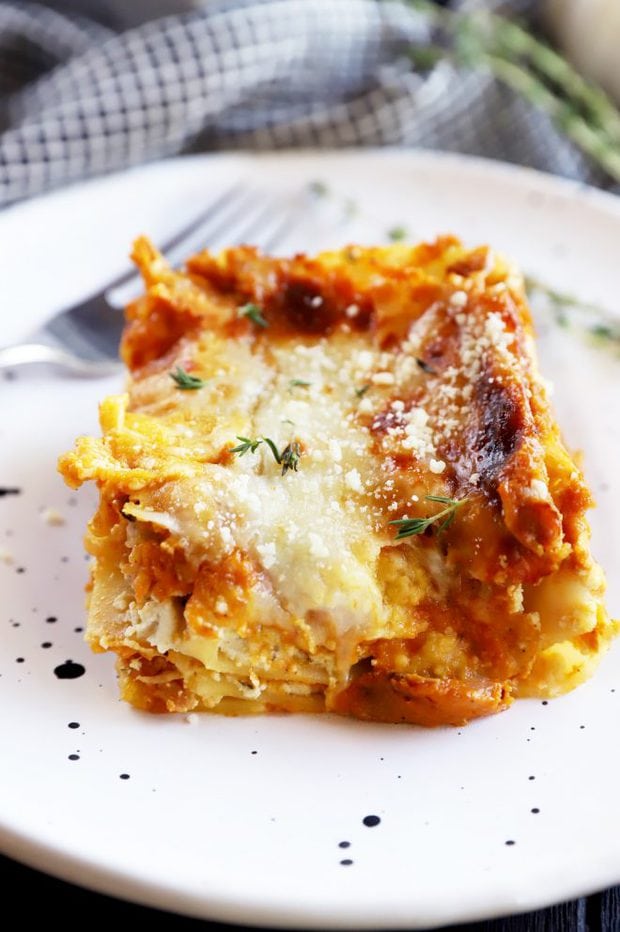 how do I freeze this pumpkin lasagna?
If you are planning to freeze this lasagna, assemble it completely as the recipe states. Instead of baking, double wrap the pan in plastic wrap (this is where using a disposable pan comes in handy because you aren't tying up a pan for months in your freezer!). Then wrap the entire thing in Reynolds Wrap® Heavy Duty Foil. Freeze!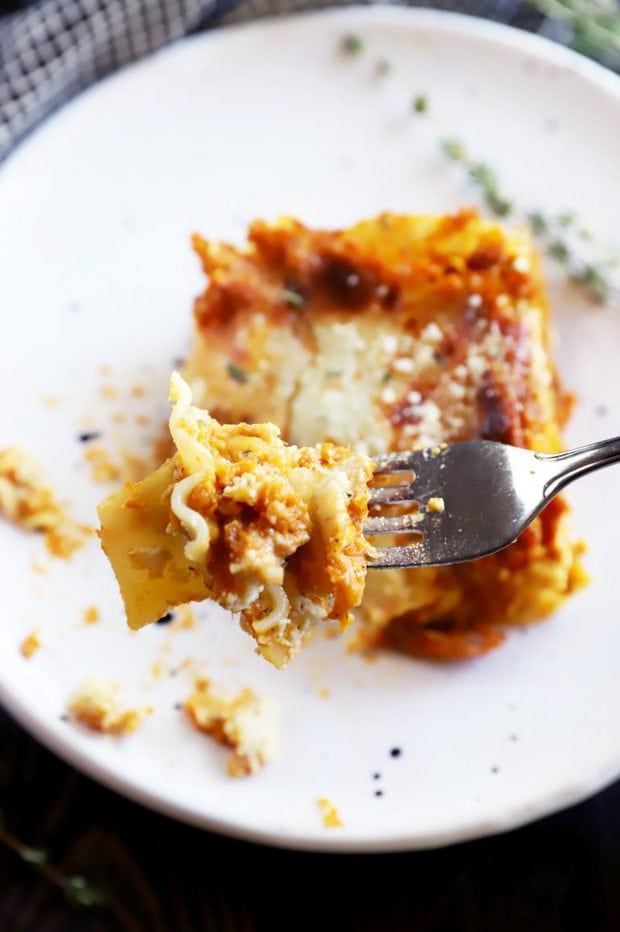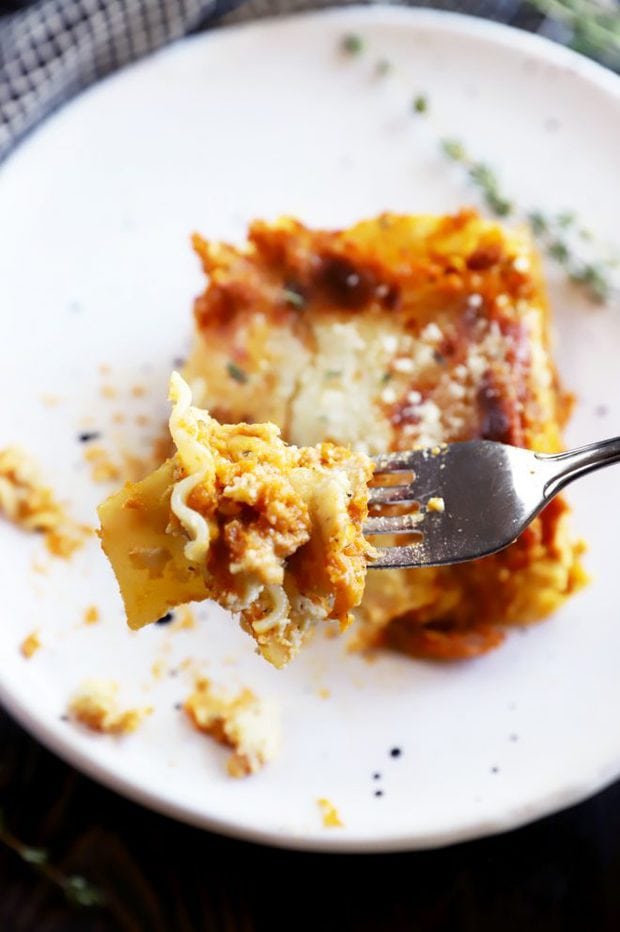 how long does it last in the freezer?
This lasagna will last for up to 3 months in the freezer. When you are ready to eat it, be sure to thaw overnight in the refrigerator and then unwrap. Cover with foil and bake as directed.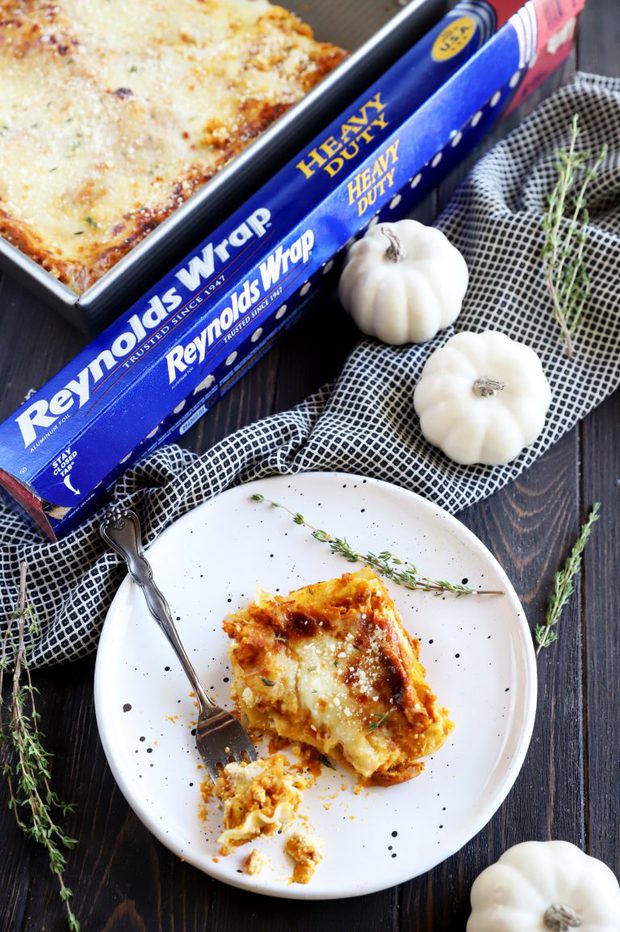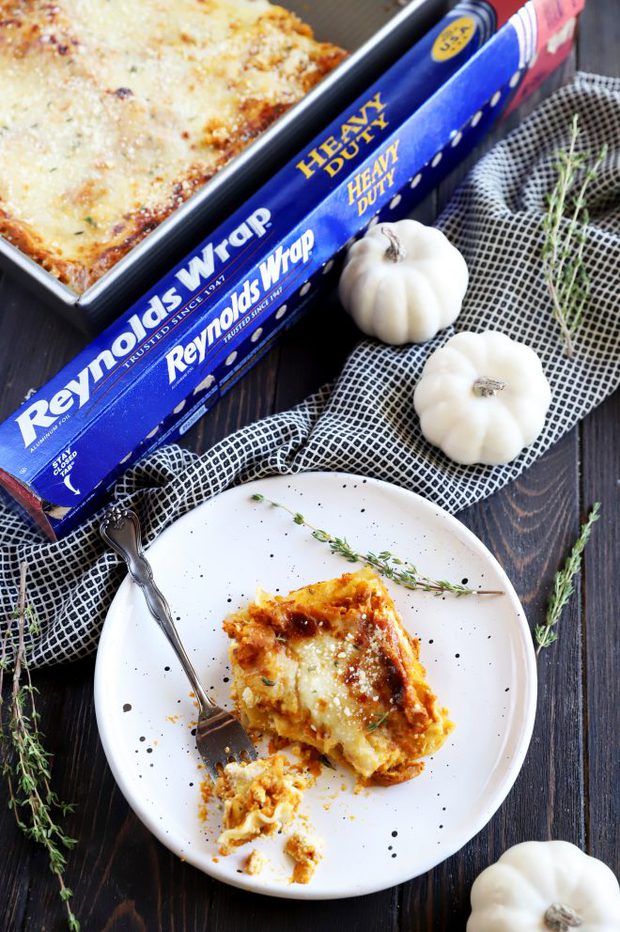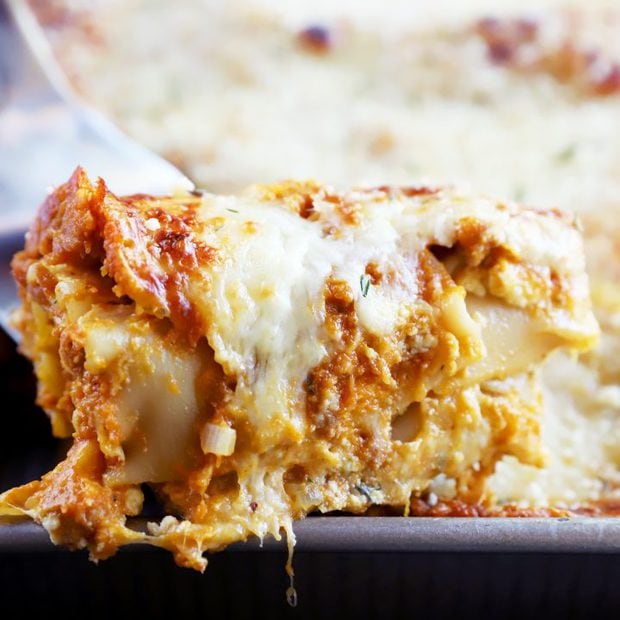 Freezer Spicy Herb Pumpkin Lasagna
Total Time:
1 hour
5 minutes
Gooey and pumpkin packed, this easy lasagna can be made right away or as a freezer meal!
Ingredients
Noodles
10 lasagna noodles
For the ricotta mixture:
1 (15 ounce) container part skim ricotta
1 egg
½ tsp garlic powder
1/2 tsp dried thyme
1/2 tsp dried oregano
1/4 tsp cayenne pepper
1/2 tsp salt
1/4 tsp black pepper
Pumpkin
1/2 tablespoon olive oil
1 lb hot Italian sausage
1/2 yellow onion, diced
2 (15 ounce) cans pumpkin puree
½ cup skim milk
¼ tsp cinnamon
¼ tsp nutmeg
¼ tsp allspice
1 tsp salt
1/2 tsp black pepper
Layers
3 cups shredded mozzarella cheese, divided (approximately 12 ounces)
1 cup grated parmesan cheese, divided
Reynolds Wrap® Heavy Duty Foil
Fresh thyme leaves
Instructions
Preheat the oven to 400˚F. Lightly spray a 9x13-inch baking pan with nonstick cooking spray.
Bring a large pot of salted water to a boil. Cook lasagna noodles for 5 to 6 minutes, then drain. Place the noodles flat on a couple baking sheets that have been sprayed with nonstick spray. This will keep the noodles from sticking and make it a LOT easier to assemble. You can also use no-cook lasagna noodles, but I don't love them personally.
In a medium skillet, heat oil for the pumpkin layer over medium-high heat. Add sausage and onion, cooking and stirring occasionally, until the sausage is browned, about 5 minutes. Drain out any excess liquid, place in a medium bowl, and let cool for a couple of minutes.
Add the remaining pumpkin layer ingredients to the bowl with sausage and onion. Set aside.
Stir together all the ingredients for a ricotta mixture in a medium bowl until combined. Set aside.
To assemble lasagna, spread 1 ½ cups of pumpkin mixture on the bottom of the prepared baking pan. Place 4 noodles vertically and 1 at the top horizontally. Spread over half of the ricotta mixture on top of the noodles, then top with 3/4 cup shredded mozzarella.
Top with 1 1/2 cups of the pumpkin mixture, then sprinkle with 1/2 cup parmesan cheese.
Repeat layers of noodles, remaining ricotta mixture, and 3/4 cup shredded mozzarella. Top with remaining pumpkin and 1/2 cup parmesan cheese. Sprinkle with remaining 1 1/2 cups shredded mozzarella cheese. If you plan to freeze, stop here and refer to freezer notes below!
Cover with Reynolds Wrap® Heavy Duty Foil. Bake for 25 minutes, then remove foil and bake for another 15 to 20 minutes, until cheese is browned lightly on top. Garnish with more grated parmesan cheese and fresh thyme leaves. Cool 15 minutes before cutting and serving.
Notes
Freezer Notes: To freeze before baking, assemble the lasagna as written above. Double wrap in plastic wrap, then wrap in Reynolds Wrap® Heavy Duty Foil. Freeze for up to 3 months. When ready to bake, thaw out completely and bake according to instructions above.

Recommended Products
As an Amazon Associate and member of other affiliate programs, I earn from qualifying purchases.