Please note this post contains affiliate links.
Curried Roasted Butternut Squash Soup with Bacon Pumpkin Seed Bread is a creamy, dreamy soup that encompasses everything you love about fall, with a curry twist. The sumptuous soup is silly smooth and thick, pairing perfectly with an easy no-yeast bread packed with crispy bacon and crunchy pumpkin seeds. Prepare to be warmed through with every sultry spoonful!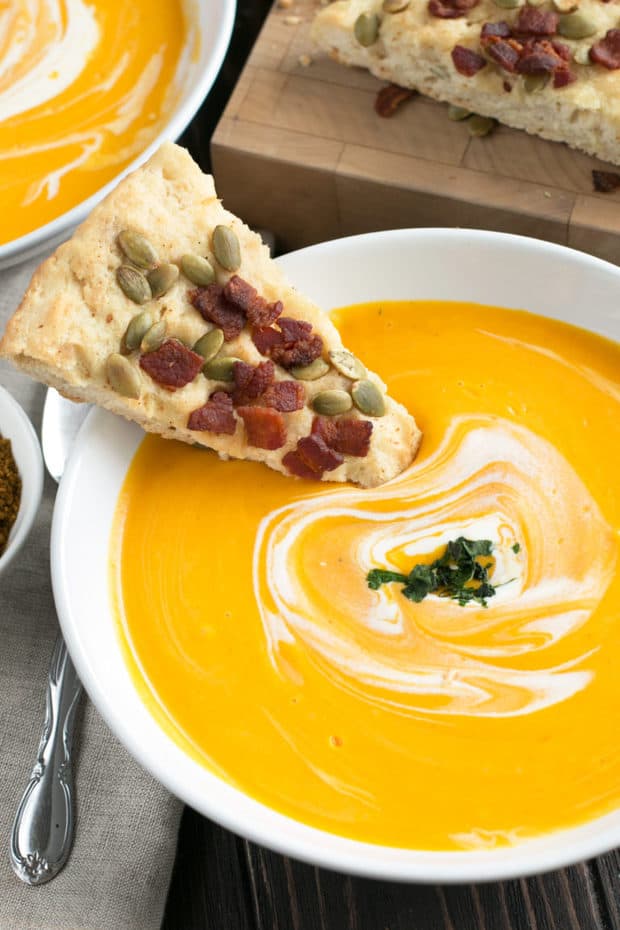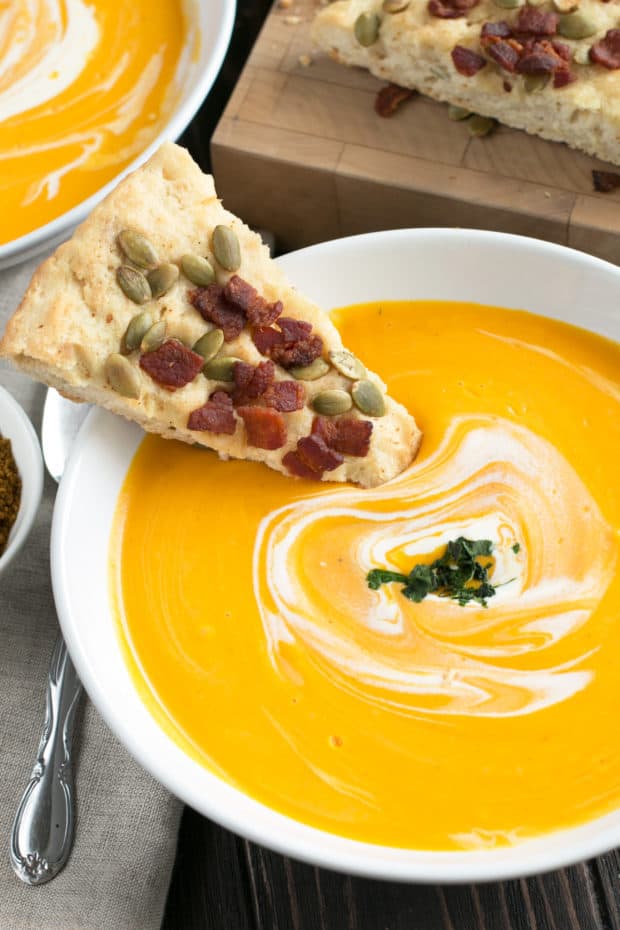 Disclosure: This post is sponsored by Vitamix! While I was compensated and given product in exchange for this post, as always, all opinions and the recipe are my own. Thanks for supporting the brands that support Cake 'n Knife!
FALL = Butternut Squash Soup.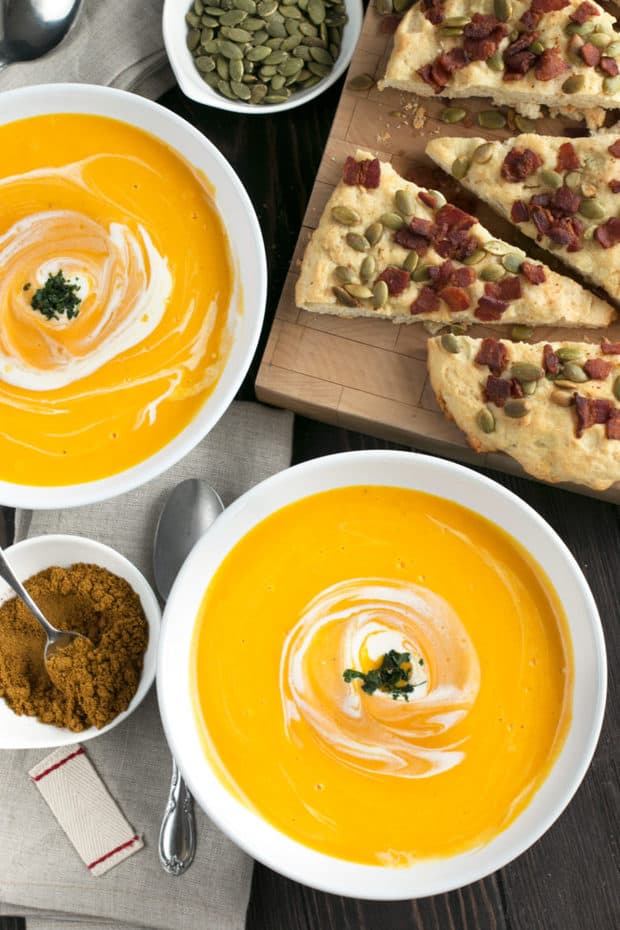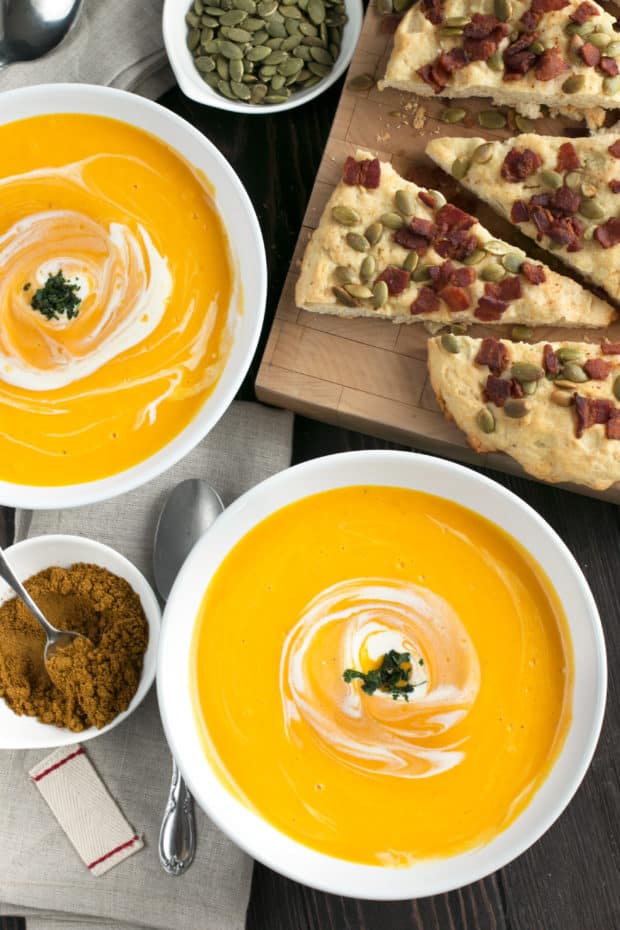 Thick, rich and creamy butternut squash soup to be exact. I have made it a tradition in my home to make my roasted butternut squash soup with bacon croutons every fall, but this year, I wanted to shake things up a bit.
So I added a heaping helping of curry to the mix and all I can say is holy WOW.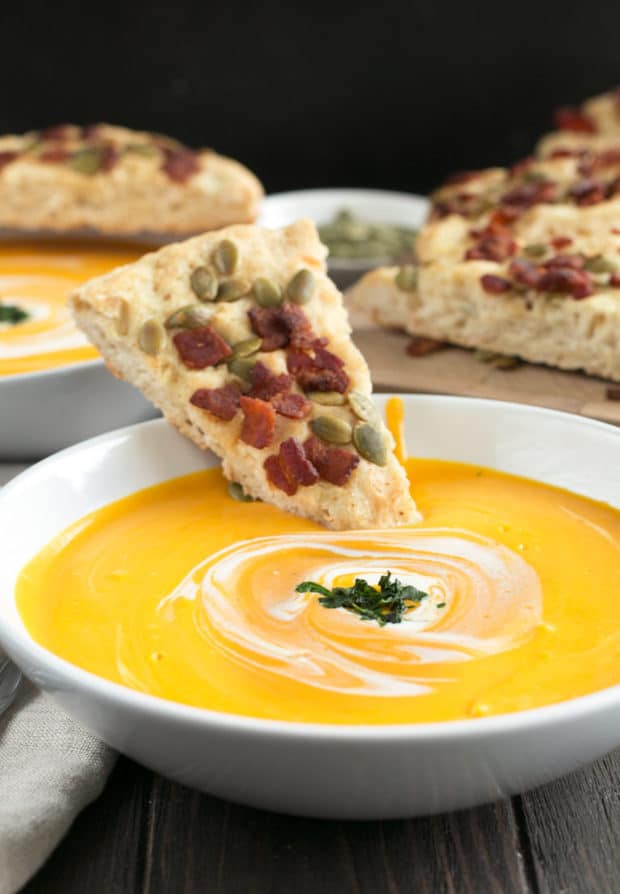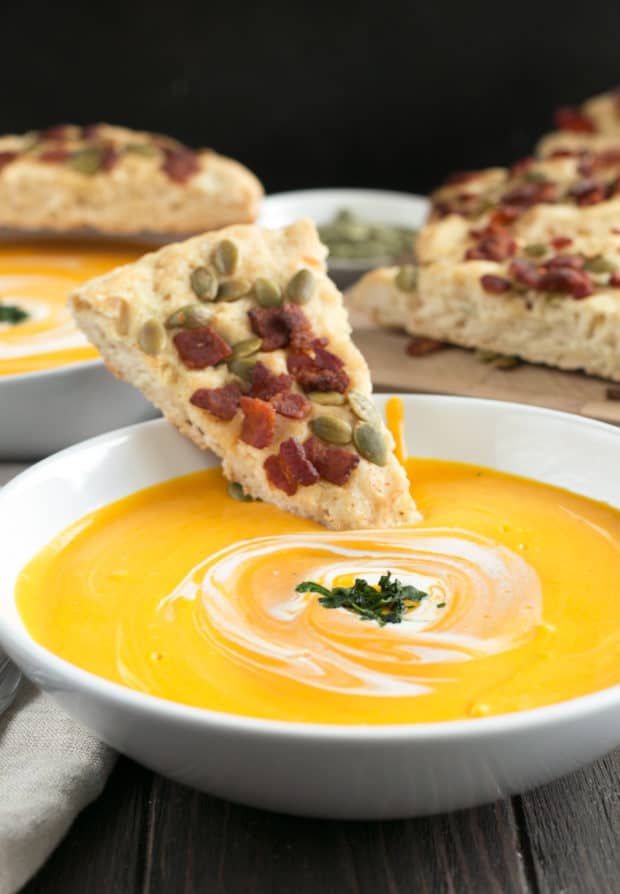 Please note that some of the links below are affiliate links. If you make a purchase through one of these links, I will receive a small commission. Thank you for supporting Cake 'n Knife!
The curry flavor in this creamy, dreamy soup brings out the richness of the butternut squash in a completely unique way. It's absolutely divine and even more warming than the traditional roasted butternut squash soup I have been making for a couple of years now.
I honestly never knew a soup could be so fall and so comforting all in one bite!
I used to think homemade, thick soups were too hard to make. All the cooking and attempting to get the soup to the perfect smooth texture… I never could get it quite right.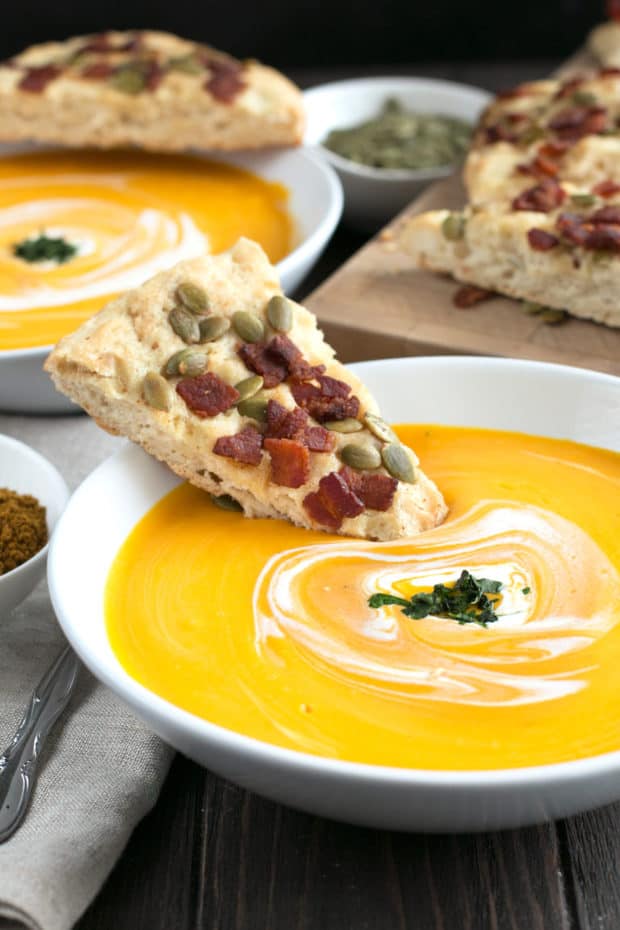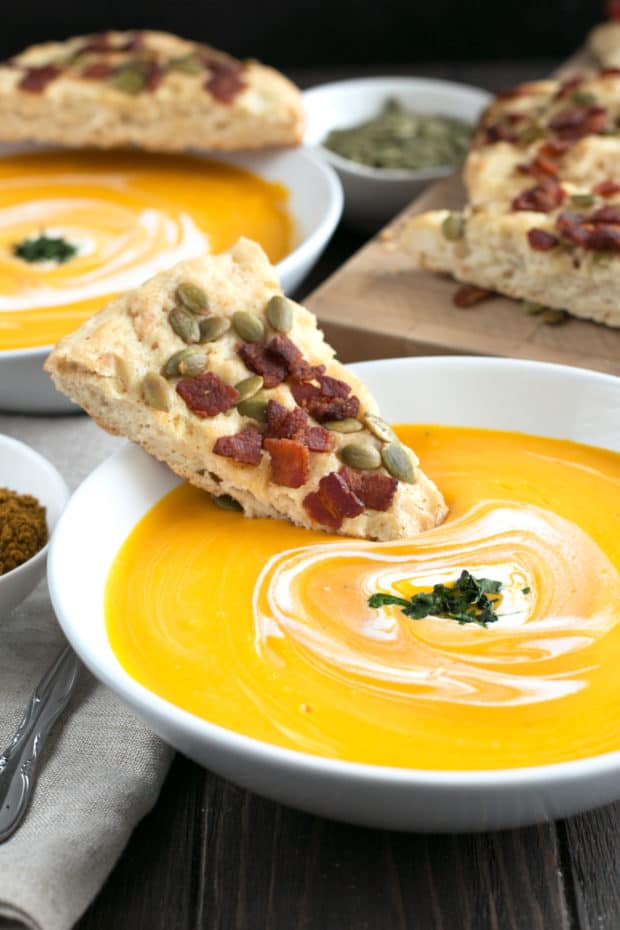 That is, until I was introduced to my very first Vitamix.
A Vitamix is one of those tools we all dream of owning as home cooks. It's the powerful blender you see in pro chef kitchens, and the versatility of the machine is nothing short of astounding.
When I got my hands on my first one, I was all like "OH so THIS is what a blender should be able to do."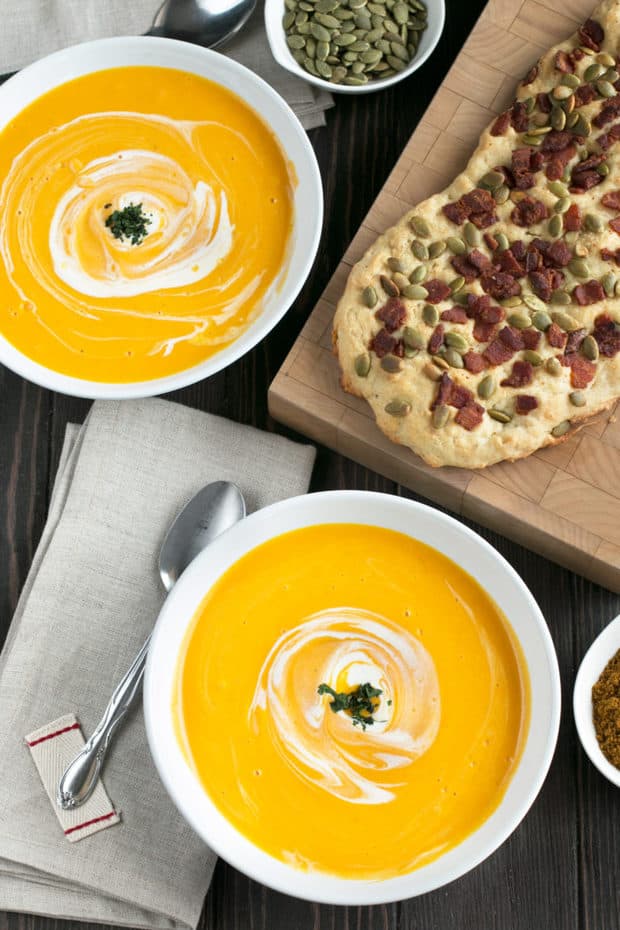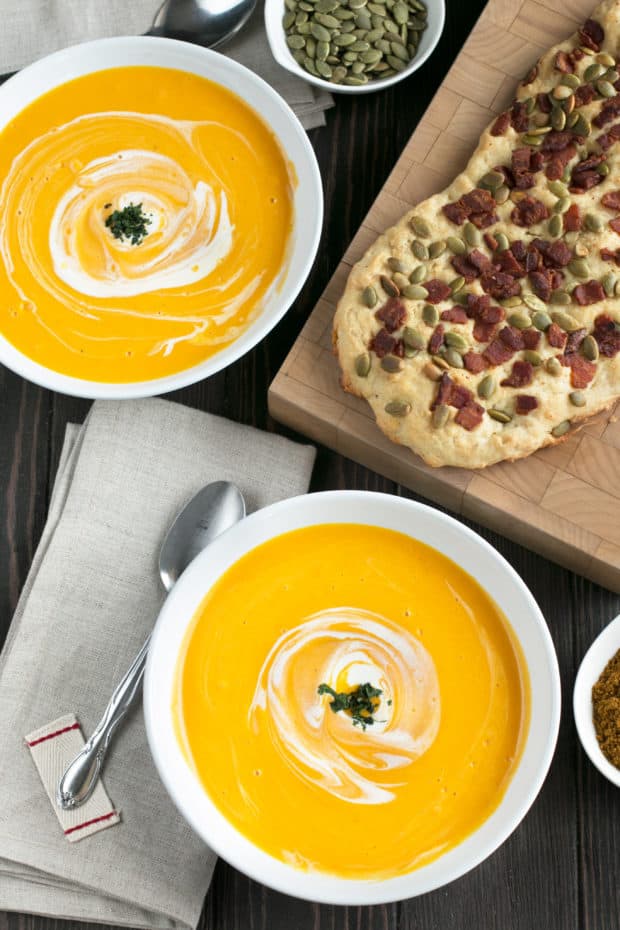 Seriously, it was a magical moment when my first smoothie whirred together in mere SECONDS.
Now I love my first Ascent series blender, but my excitement is through the freaking roof about the new Vitamix product series.
May I introduce, the brand new Vitamix E310 Explorian Blender…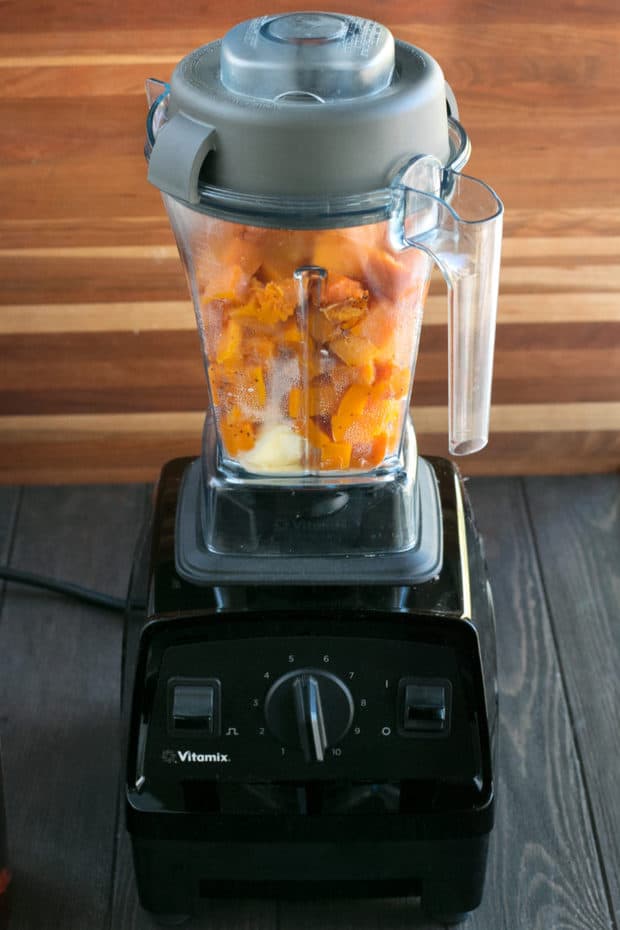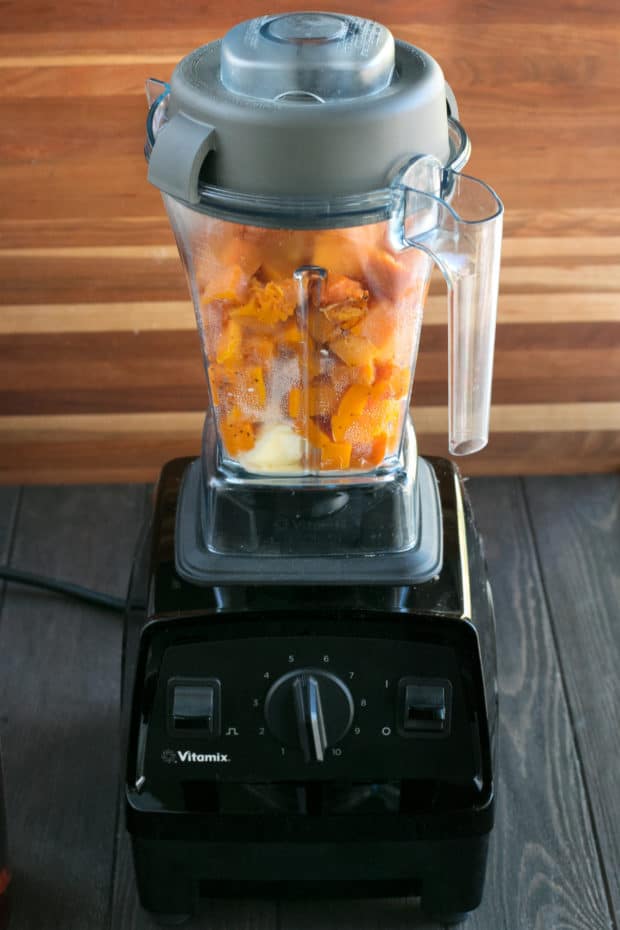 So what's so new and different about this blender?
This is the first smaller size blender from Vitamix. That's right, FINALLY a blender that is just the right size for daily use with all the power and dependability of a bigger Vitamix!
The size of this smaller Vitamix is perfect for sitting on my counter and ever since I got it, I have used it every single day. From breakfast smoothies to salsas, dips to quickly chopped dinner veggies for me and the Man; it's easy to use and it isn't a pain to clean (you don't even have to disassemble it to clean it!).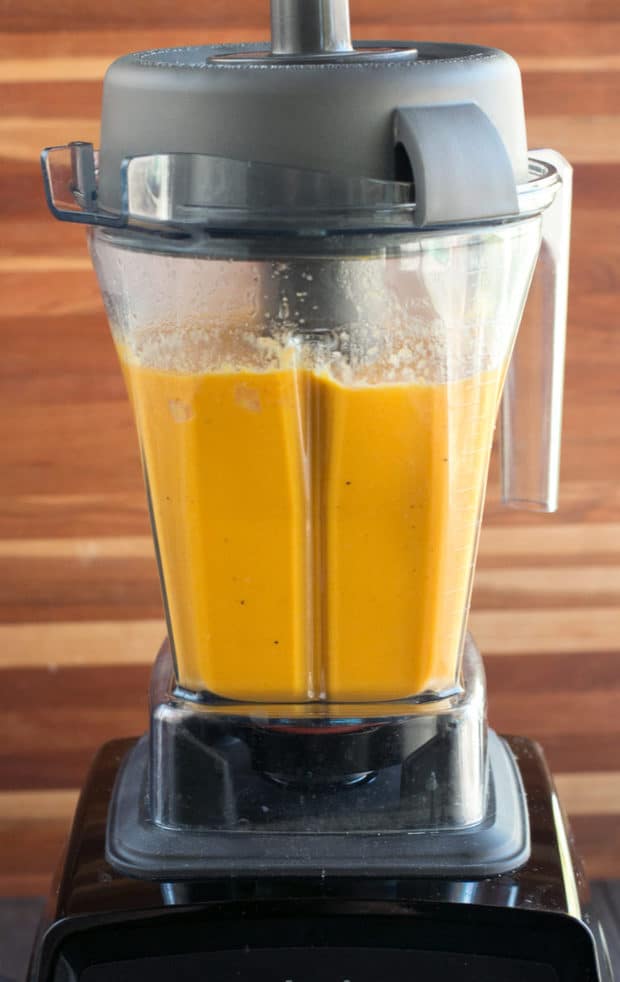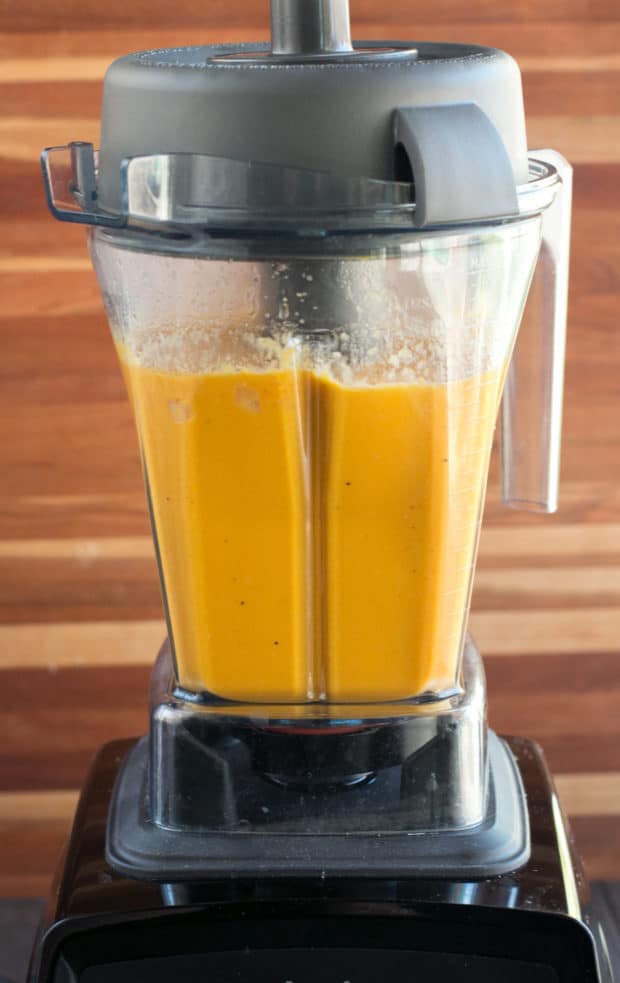 Not to mention, the 48-ounce pitcher fits just right in my fridge, so I can even make this soup base the day before and set it in the fridge for a dinner party the next day.
It's SO nice to be able to blend in medium batches for more everyday purposes like dinner for four or even just me and the Man. I honestly have been waiting for a reliable small blender like this for a long time!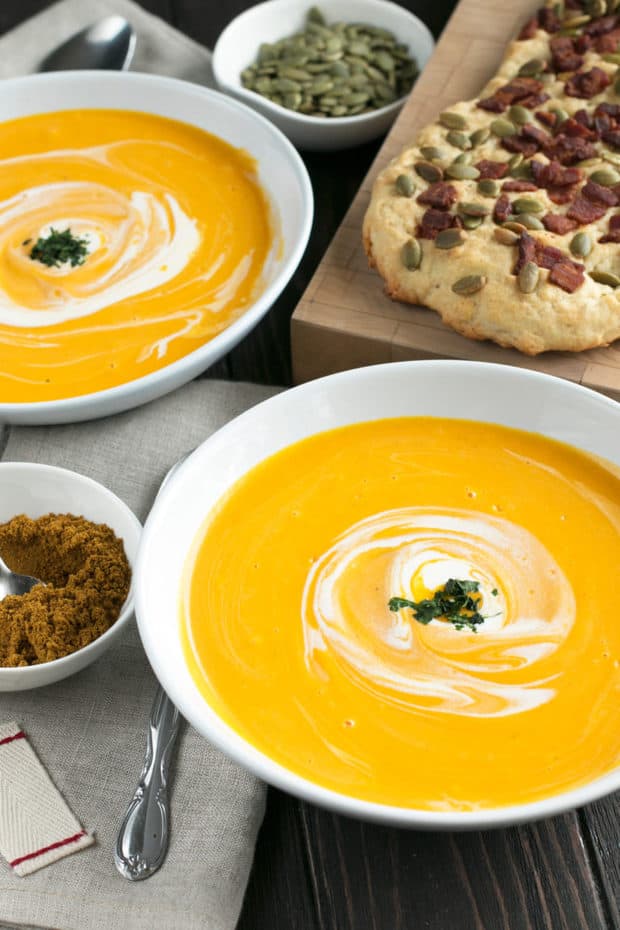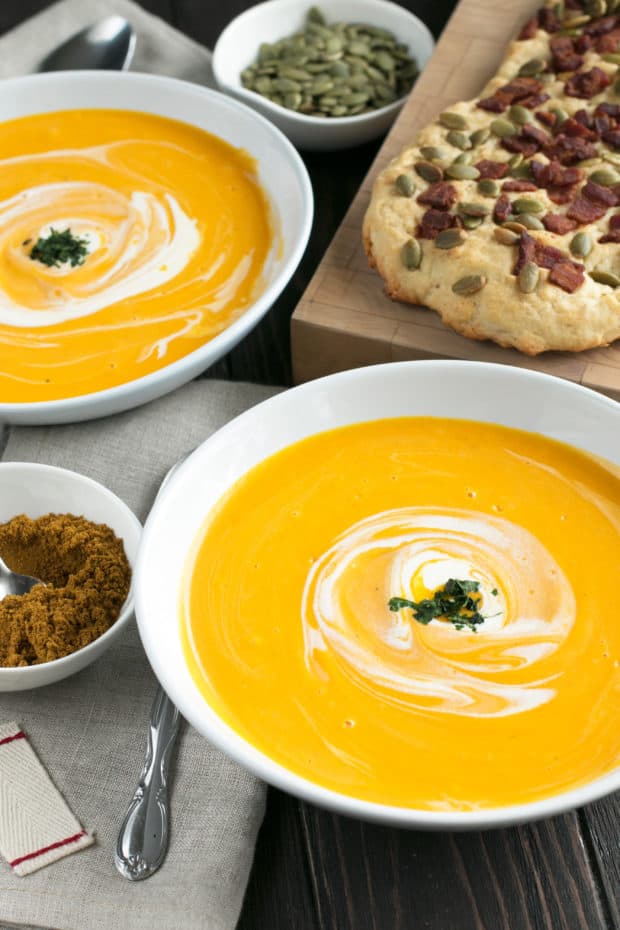 Obviously I'm obsessed with this little guy, and once you try out this RIDICULOUSLY amazing soup in it, you'll feel just as excited about it as I do.
Trust me.
This Recipe's Must Haves
Pin this Curried Roasted Butternut Squash Soup recipe for later!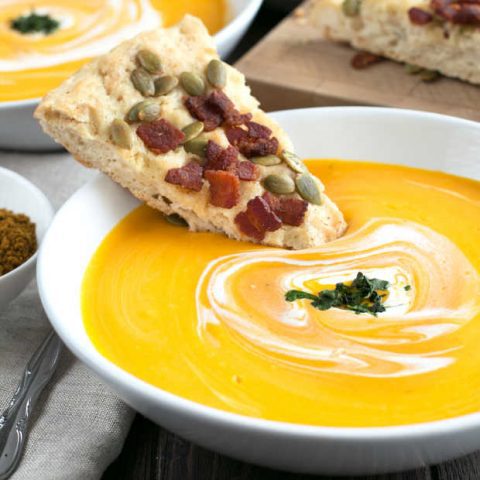 Curried Roasted Butternut Squash Soup with Bacon Pumpkin Seed Bread
Total Time:
1 hour
10 minutes
Sumptuous roasted butternut squash is combined with coconut milk and curry to create a flavorful, simple soup ideal for serving two to four people! Served up with bacon pumpkin seed no-yeast bread, this is a family favorite every year.
Ingredients
Curried Butternut Squash Soup
1/2 large butternut squash, chopped into 1-inch cubes
1 Tbsp butter
1 Tbsp heavy cream
3 slices bacon, chopped
1/3 yellow onion, chopped
2 garlic cloves, diced
3/4 tsp curry powder
1/4 tsp ground coriander
1 tsp chili garlic paste
1/2 cup chicken stock
1/4 cup coconut milk
Salt & pepper
Garnish: chopped cilantro
Bacon Pumpkin Seed Bread
2 cups all-purpose flour
2 tsp baking powder
1 1/2 tsp salt
1 cup water
1 Tbsp olive oil
1 tsp garlic powder
1/4 tsp onion powder
Cooked bacon reserved from making the soup (see instructions)
1/3 cup toasted pumpkin seeds
Instructions
To make the soup:
Preheat oven to 400 degrees. Place chopped squash on a rimmed baking sheet. Season with salt and pepper. Roast for 30-35 minutes, or until fork tender (if you have a thicker squash it may take a little longer). Pro Tip: while the squash is baking, prep the bread dough. Once the squash is done, increase the temp to 425 degrees for the bread.
Add the roasted squash to the Vitamix blender with 1 Tbsp butter and 1 Tbsp heavy cream. Puree until smooth and set aside.
Heat a small sauté pan over medium-high heat. When hot add bacon and cook until crispy. Remove bacon with a slotted spoon and set aside on a paper towel-lined plate to drain.
Leave 1 tsp bacon fat in the saute pan. Add onion and garlic over medium-high heat. Sauté until the onion is soft and tender, approximately 3 to 4 minutes.
Remove from heat and add to the blender with the butternut squash puree. Add in the curry powder. coriander, chili garlic paste, chicken stock and coconut milk. Puree until the soup is smooth. Season with salt and pepper to taste. Keep warm.
Serve the soup with bread, heavy cream and chili garlic paste to taste. Garnish with freshly chopped cilantro.
To make the bread:
Preheat oven to 425 degrees. Grease a baking sheet with a light coat of cooking spray or butter, and set aside.
Sift together flour, baking powder and 1 tsp salt into a large bowl. Stir in water and knead in the bowl for a couple of minutes. The dough will be a little sticky.
Turn out the dough on a greased baking pan and press it out until it's approximately 1/2 inches thick. Coat the dough with olive oil, then sprinkle with garlic powder and onion powder. Press the reserved chopped bacon from the soup and toasted pumpkin seeds into the top of the dough.
Bake for 25 minutes, until golden brown.