Please note this post contains affiliate links.
Slab Caramel Apple Pie with Salted Caramel Sauce is how you do apple pie, the easy way! With a homemade pastry crust, apple filling, crumb topping, and salted caramel sauce, it's a dessert that's perfect for your holiday dinner. It's made to serve a crowd!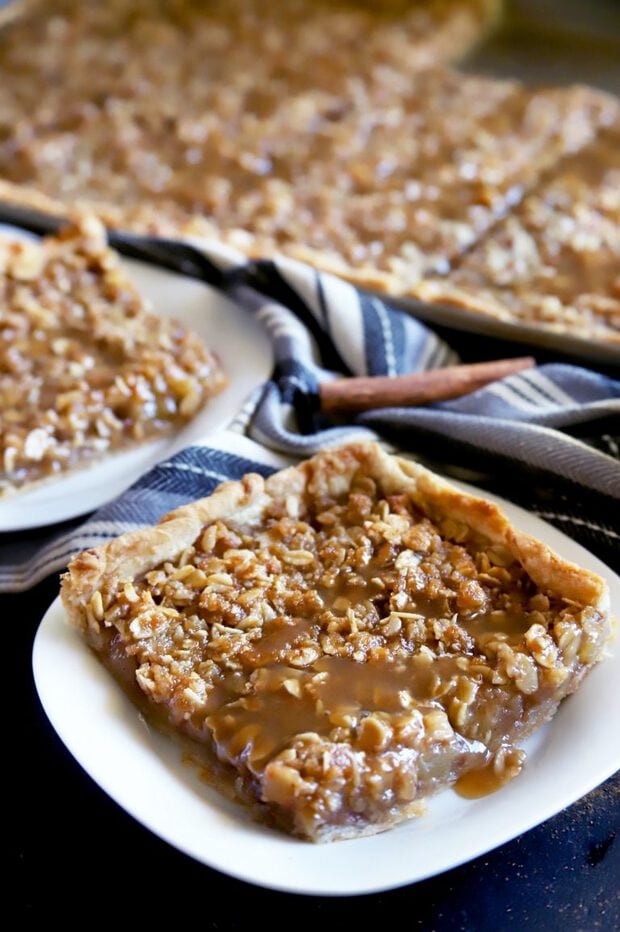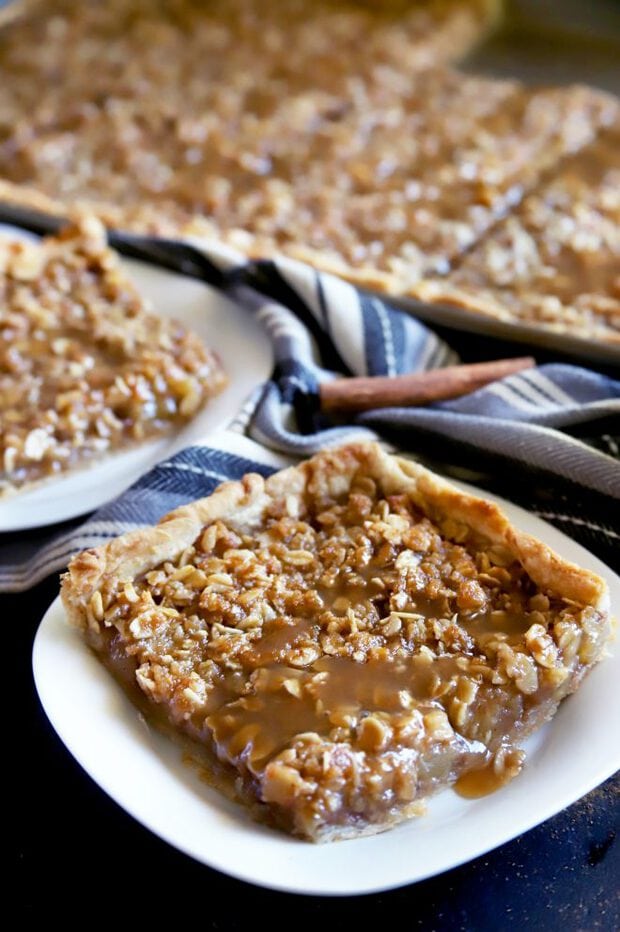 Do you know what totally freaks me out? Seeing people who post how many days until Christmas… Because it's seriously going to be here before you know it, and you know what that means?
There's a whole lot LESS time until Thanksgiving and all the various parties/gatherings that happy during the holiday months. AH.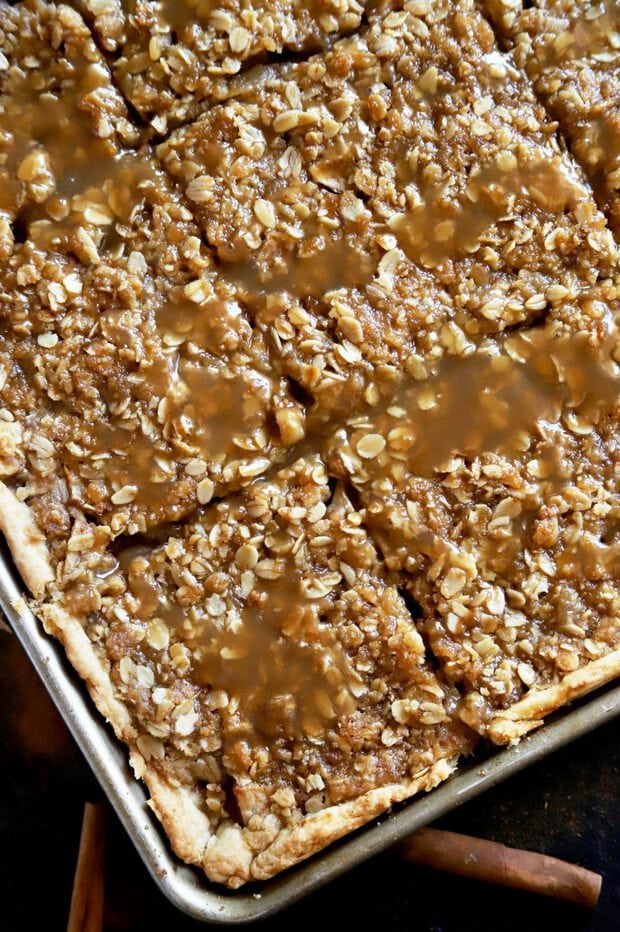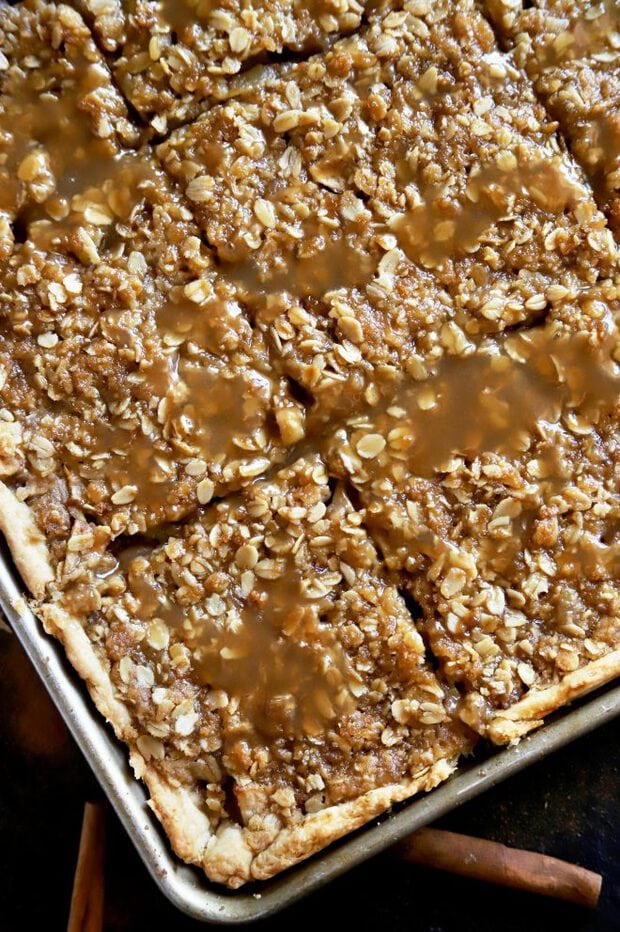 So yea, this tends to freak me out a bit and therefore, I start going into overdrive in my planning.
Honestly, I love pie so so much. It's so much better than cake, or cupcakes, or candy.
Pie is the ultimate dessert to me and when it comes to fall, apple pie is KING.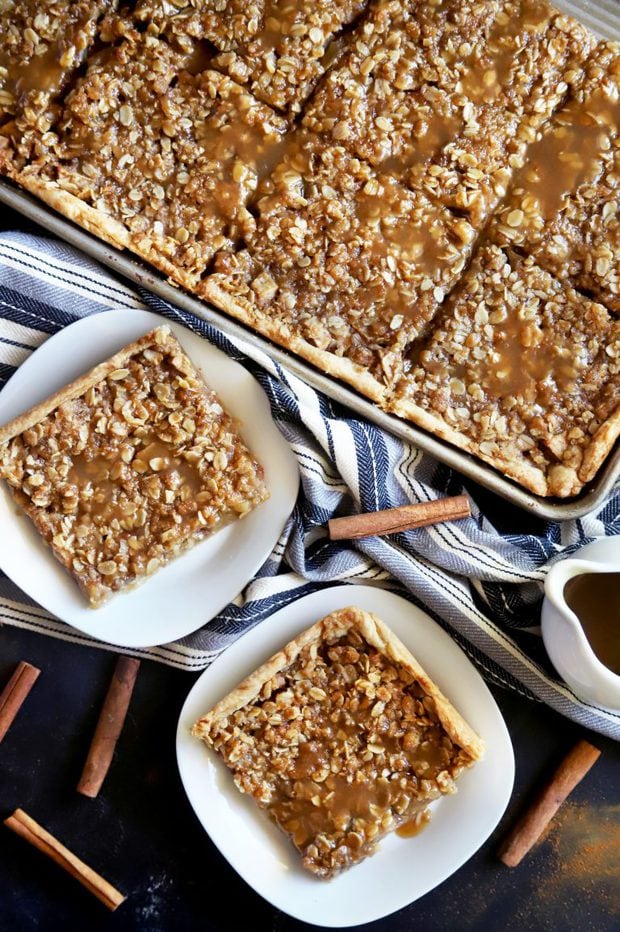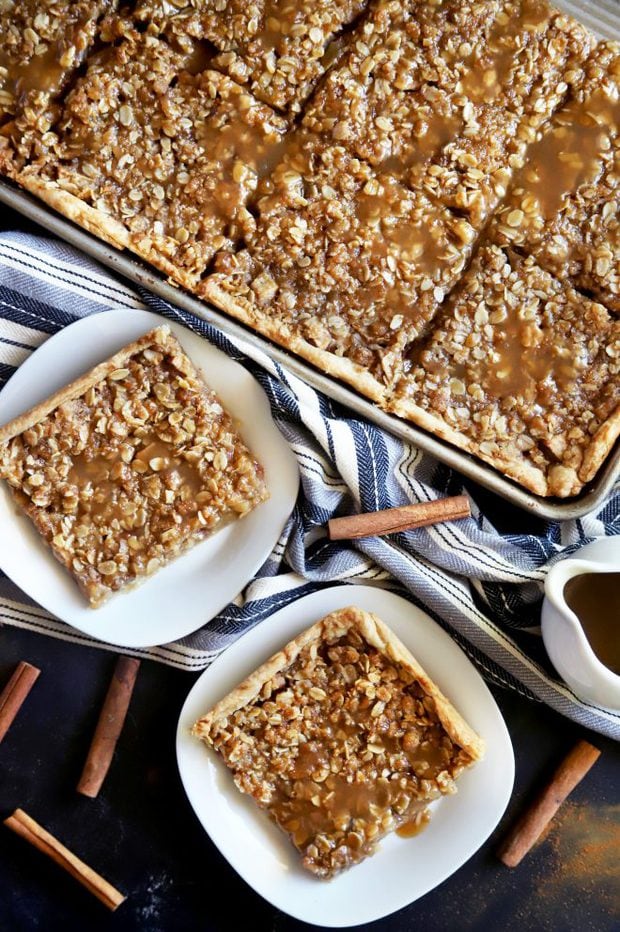 However, I also suck at making pretty apple pies. I swear I have tried, multiple times. No matter what I do, the crust comes out soggy and breaks or the lattice top looks like a crazy mound of weird…
Therefore, this year, I'm forgetting about trying and going with what I know. YUMMY FLAVOR.
Say hello to the best low maintenance pie in the world. All you need to do is line a baking pan with crust, then top it with filling and a crumb topping. BOOM BABY. Then you have a salted caramel apple pie of magnificence.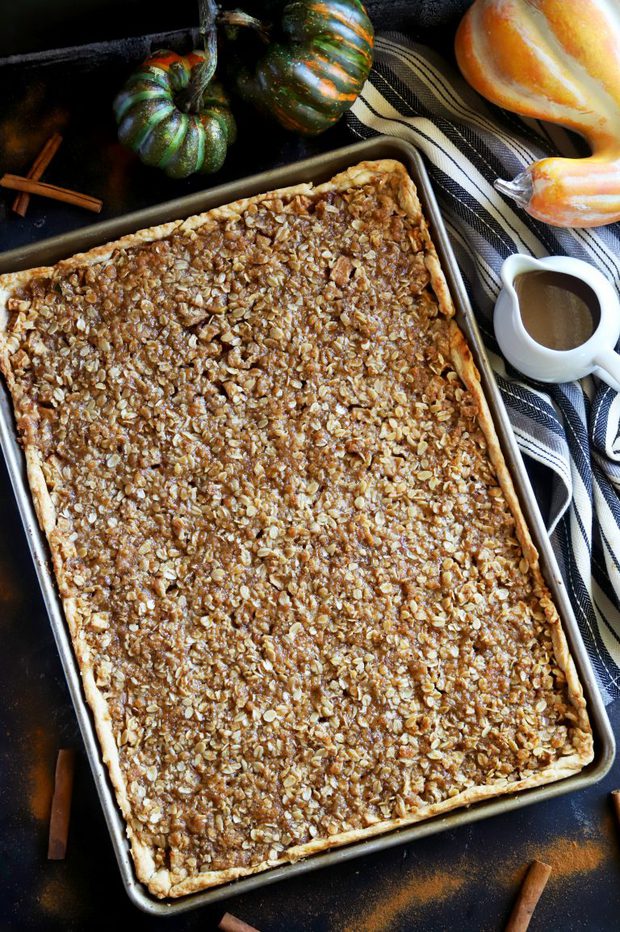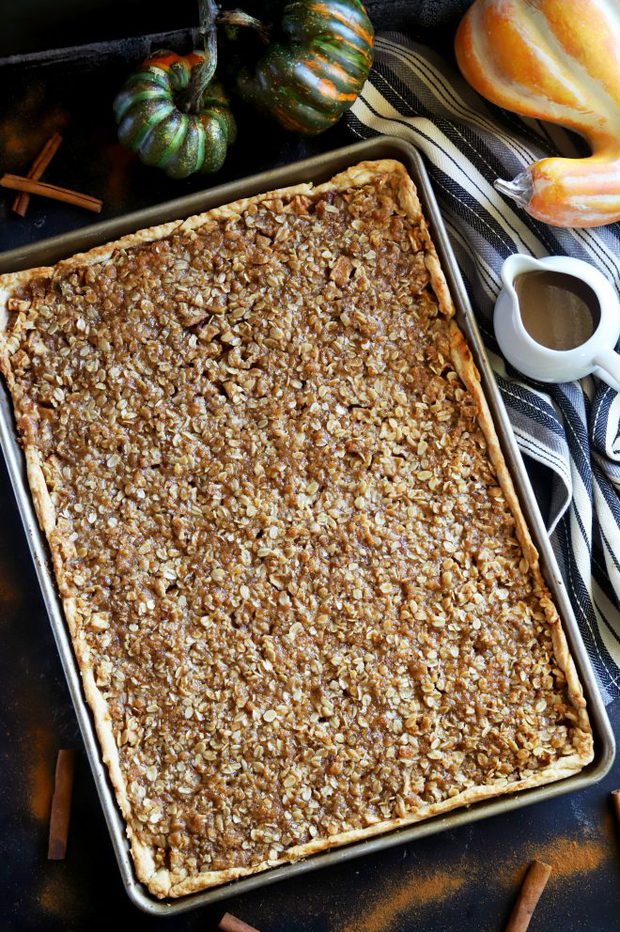 This Recipe's Must-Haves
You will definitely need some mixing bowls to put together each element of this pie from the crust to the filling to the topping.
For the salted caramel sauce, be sure to have a saucepan and whisk handy. It comes together really easily over medium heat, and isn't a scary complicated sauce like others you may have run into in the past.
Finally, the holy half sheet pan is all you need to bake the pie!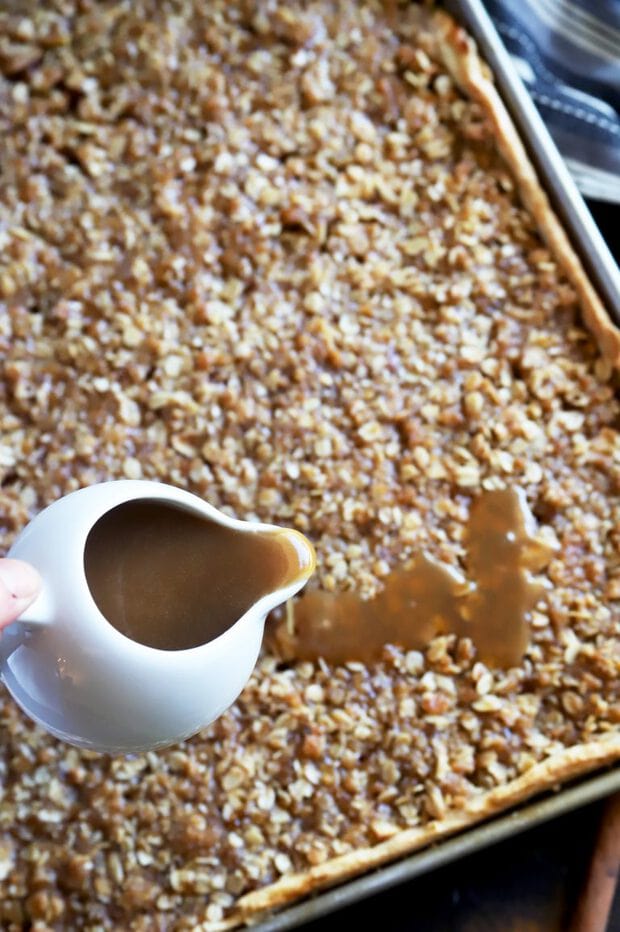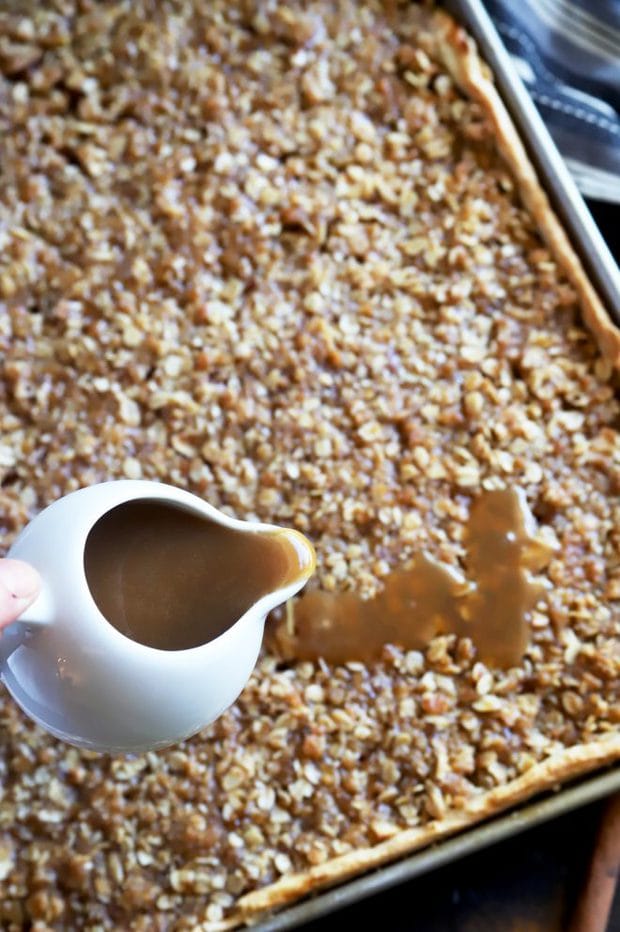 How To Make Slab Caramel Apple Pie
Make Crust
You will need to have at least a couple of hours to chill the pastry crust after you make it so be sure to keep that in mind. The entire thing comes together in one bowl so it's super easy!
Make Filling
Again, on the easy train, all the filling ingredients are added to a large bowl. You can even make this element ahead of time if you want!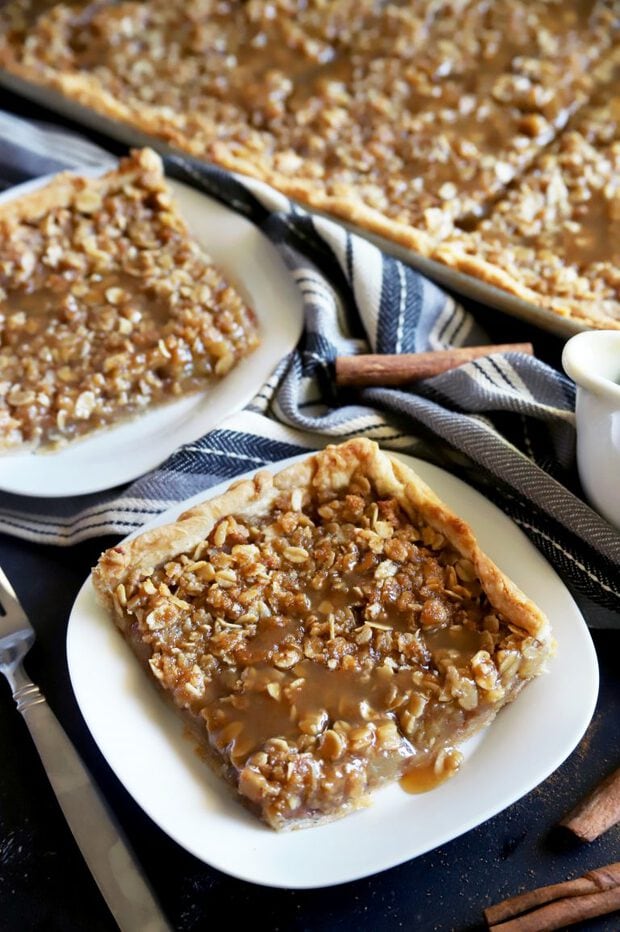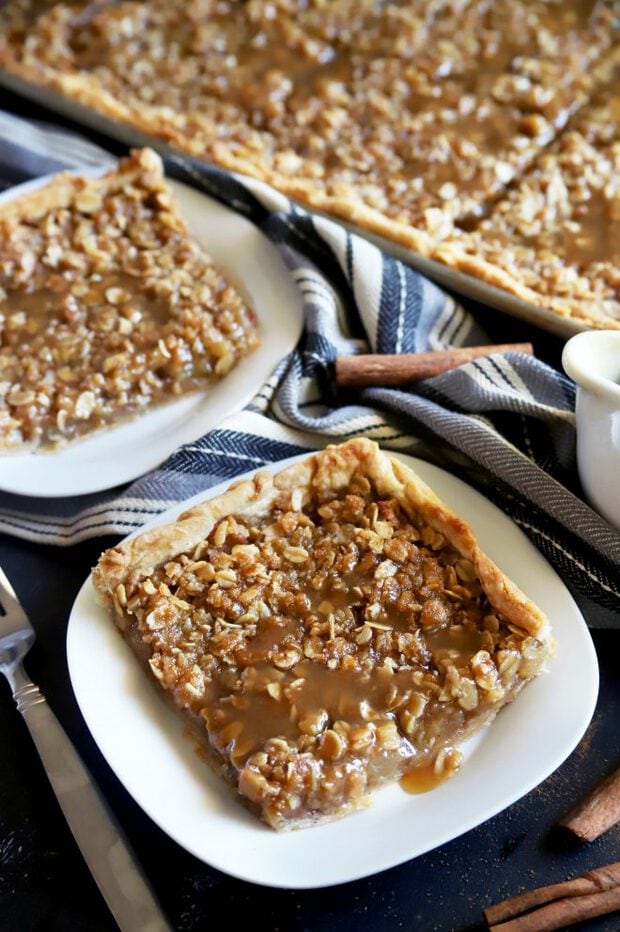 Make Crumb Topping
When you are ready to assemble and bake, make the eat oat crumb topping. It gives the pie a yummy crunch on top.
Bake
To assemble, spread out that homemade pastry on the bottom of the pan. Then top with the filling and the crumb topping. It all gets baked up until everything is golden brown and bubbling.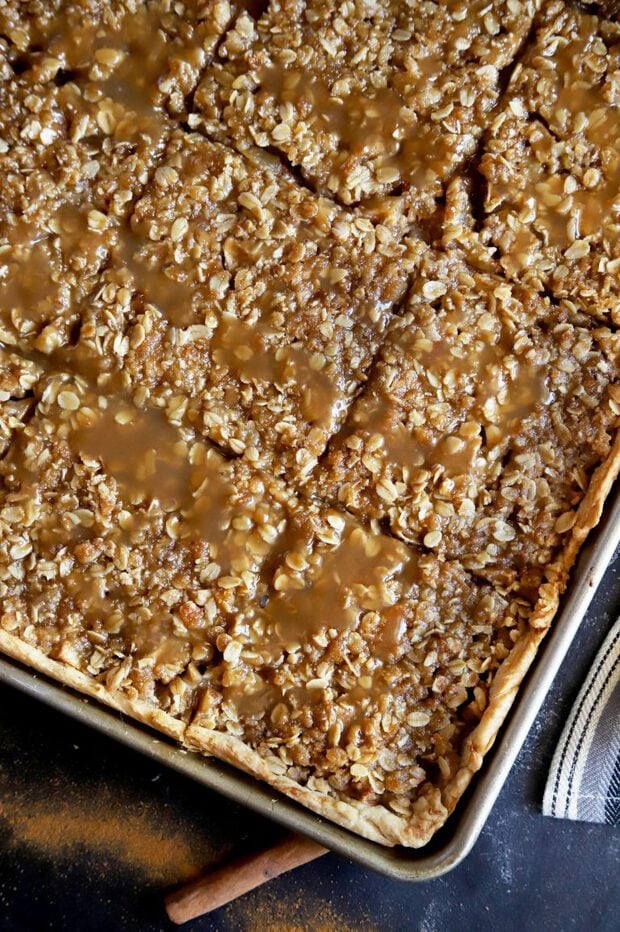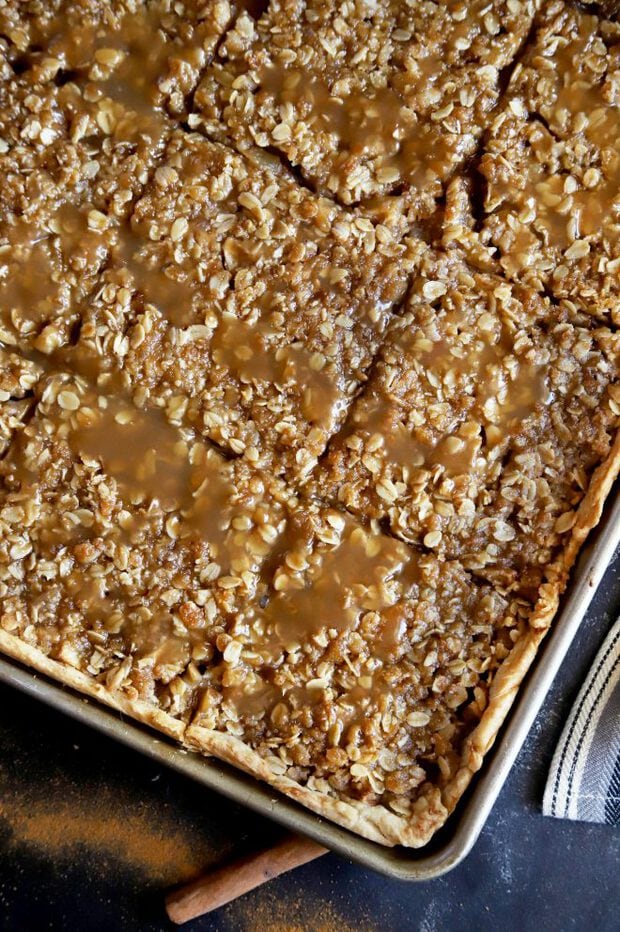 Make Salted Caramel Sauce
The salted caramel sauce is SO EASY. You literally put everything into a saucepan at the same time, whisking it up until it forms a thick sauce. Isn't that so easy??!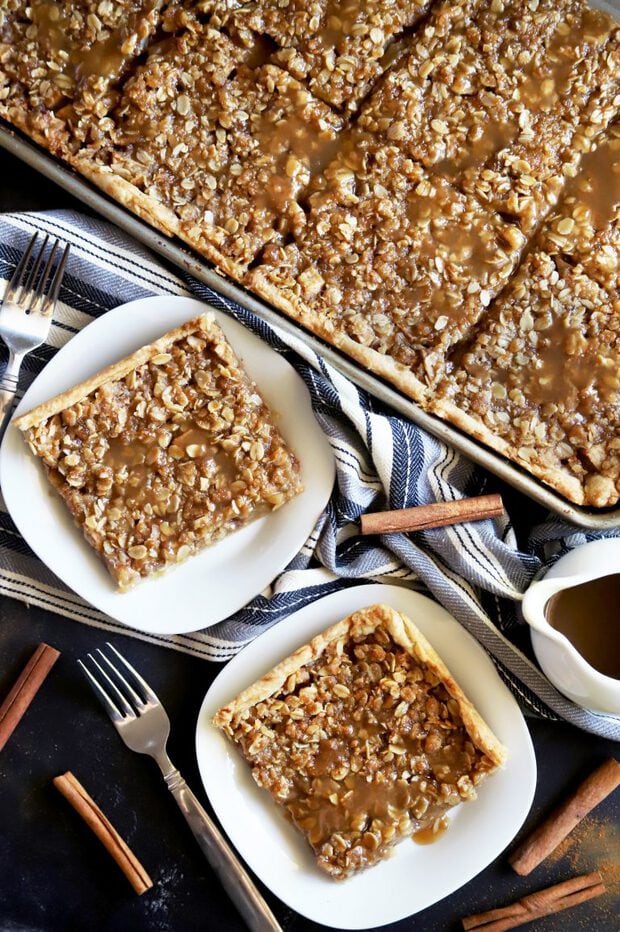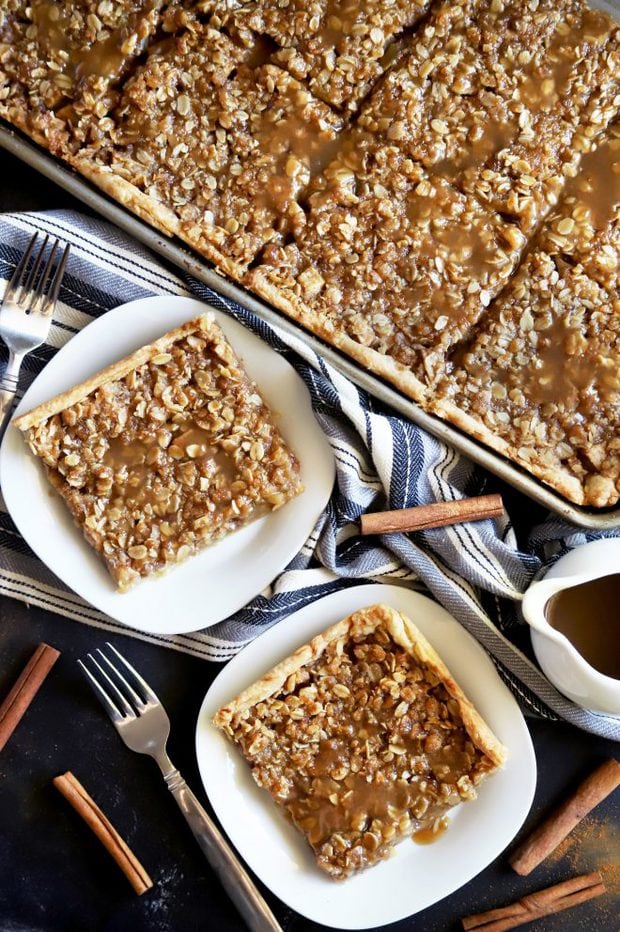 What can I make ahead of time?
There are a few elements of this pie that you can make ahead of time! The crust can be made and kept wrapped up in the fridge for up to 5 days total.
The caramel sauce can also be made ahead of time and refrigerated for at least 2 days ahead of time. Add the sauce to a saucepan and reheat over low heat when you are ready to top off your pie.
Finally, the filling can be made and covered, then left in the refrigerator for up to 2 hours before you use it.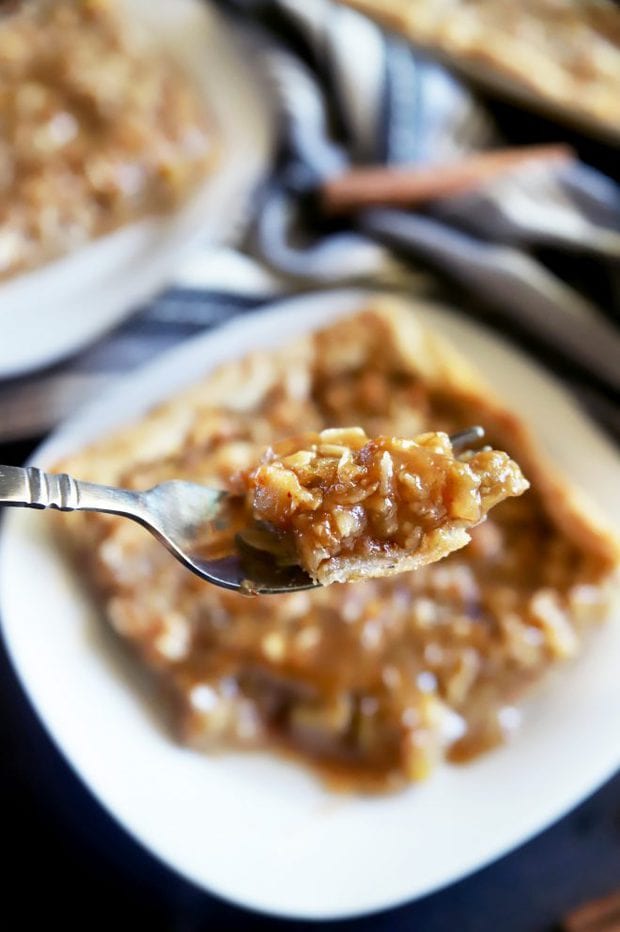 That way, you have plenty of opportunity to make each element at different times to stagger during your holiday meal prep.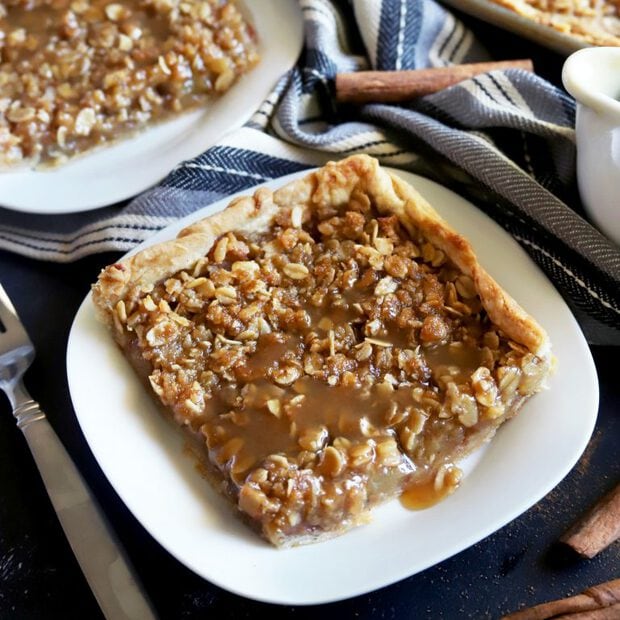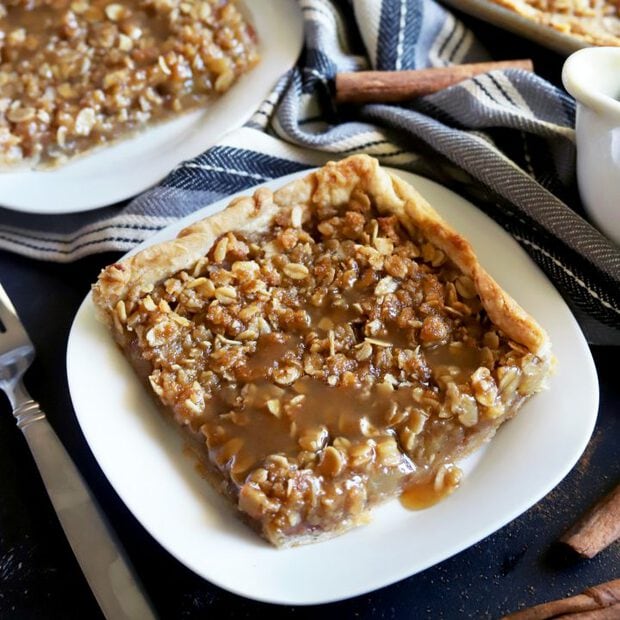 Slab Caramel Apple Pie with Salted Caramel Sauce
The easiest apple pie you'll ever make! Simple homemade crust is topped with spiced apples, a crumb topping, and salted caramel sauce. Y-U-M.
Ingredients
Crust
2 cups all-purpose flour
1/2 tsp salt
1/2 tsp granulated sugar
1 tsp ground cardamom
14 Tbsp unsalted butter, very cold and cubed
6 Tbsp cold water
Filling
10 cups peeled and chopped Granny Smith apples
2/3 cup granulated sugar
1/4 cup all-purpose flour
2 Tbsp fresh lemon juice
1 tsp pure vanilla extract
2 tsp ground cinnamon
1/2 tsp ground cloves
1/4 tsp ground nutmeg
Topping
1 cup quick-cooking rolled oats
1 cup packed brown sugar
½ cup all-purpose flour
½ cup butter
Salted Caramel
1/2 cup Brown Sugar
2 Tbsp butter
1/4 cup Half-and-half
1/2 Tbsp Vanilla
1/2 tsp salt
Instructions
To make the pie crust, add flour, salt, and sugar for the crust to a large bowl. Use a pastry cutter or two forks to cut in the butter until it resembles a coarse meal. The butter should be pea-sized or smaller. Drizzle over cold water, 1 Tablespoon at a time, bringing the mixture together with your hands. Stop adding water when the dough begins to form large clumps.
Use your hands to knead the dough until the flour is fully incorporated and the dough is no longer sticky. Form dough into a ball and wrap tightly with plastic wrap. Refrigerate for at least 2 hours.
When ready to bake, preheat oven to 375˚F.
Add all of the filling ingredients to a large bowl. Stir until combined and set aside.
On a floured, flat work surface, roll out chilled pie crust into an 18x13-inch rectangle. Place dough into a half sheet pan, and press up the rimmed edge. Trim the dough that hangs over the edges. Make sure to smooth out the crust so it fits into the corners of the pan.
Spread filling on top of the crust in an even layer.
Add oats, sugar, and flour for the crumb topping to a large clean bowl. Stir together until combined. Add butter and use a pastry cutter or your hands to cut in the butter until it forms a coarse crumb texture. Sprinkle evenly on top of the filling.
Bake for 40 to 45 minutes, until the crust is golden and crumble is toasty. Remove from oven and cool slightly in the pan.
While the pie is cooling, make the salted caramel. Add all the caramel ingredients to a medium saucepan over medium heat. Cook, whisking constantly, for 5 to 7 minutes, until thickened. Remove from heat and drizzle on top of the slab pie.
Recommended Products
As an Amazon Associate and member of other affiliate programs, I earn from qualifying purchases.