Roasted Butternut Squash Black Bean Tacos are the savory (healthy!) way to savor the fall season, all in a handheld magical little package. Rich butternut squash and seasoned black beans make sure a hearty filling that you won't even miss the meat! Say helloooooo to the new Taco Tuesday my friends 😉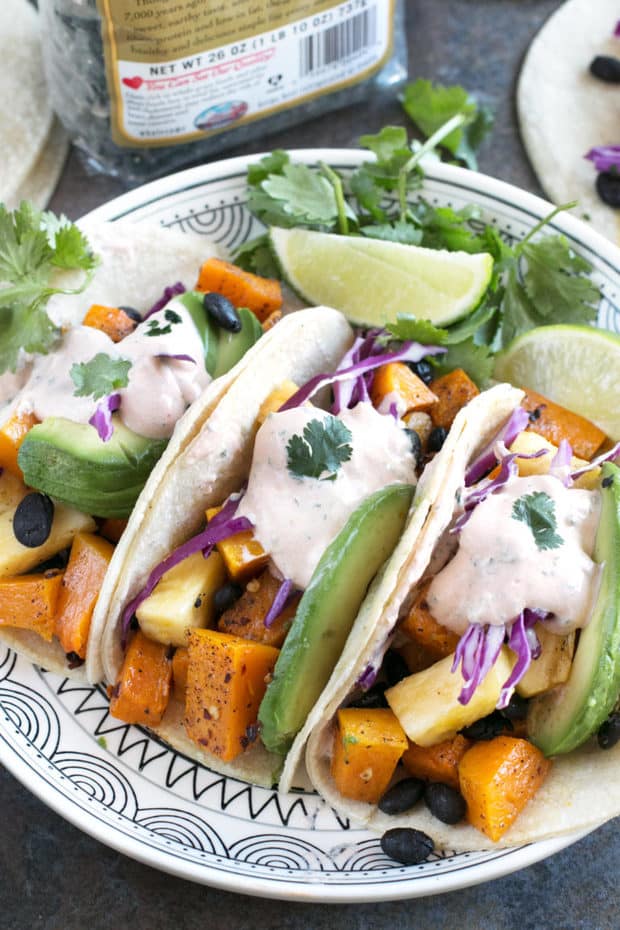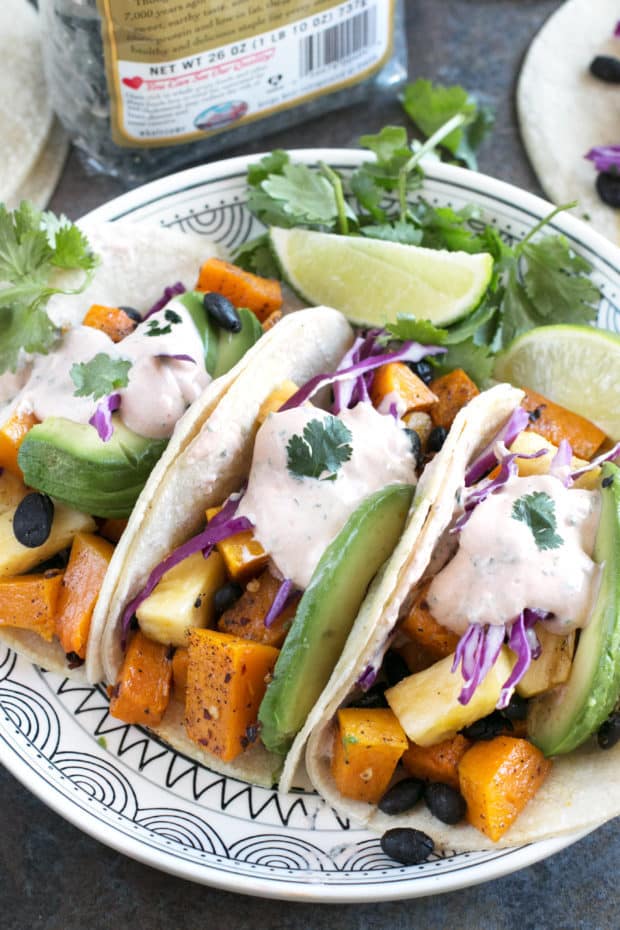 Disclosure: This post is sponsored by Bob's Red Mill! While I was compensated, as always, all opinions and the recipe are my own. Thanks for supporting the brands that support Cake 'n Knife!
I made something vegetarian…
*GASP*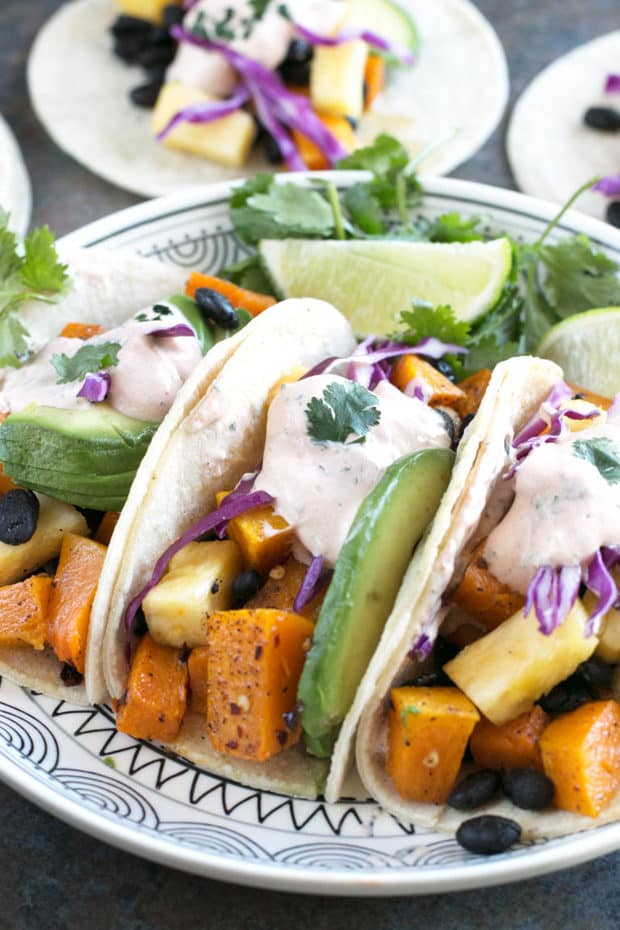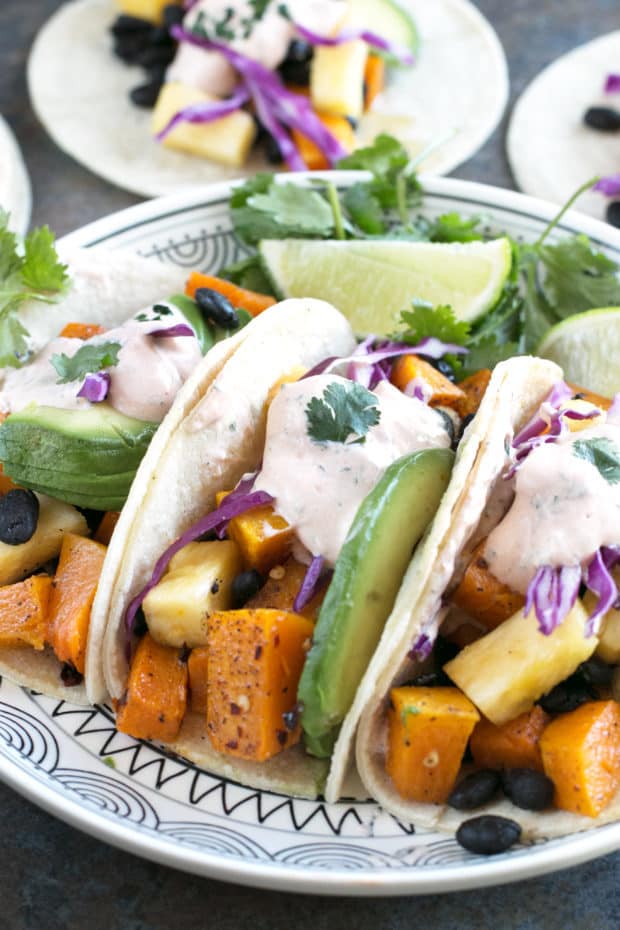 I KNOW.
I am not usually the one to bust out the Meatless Monday recipes, or try to be "healthier" by going without meat a few times a week. What can I say? I'm a carnivore through and through.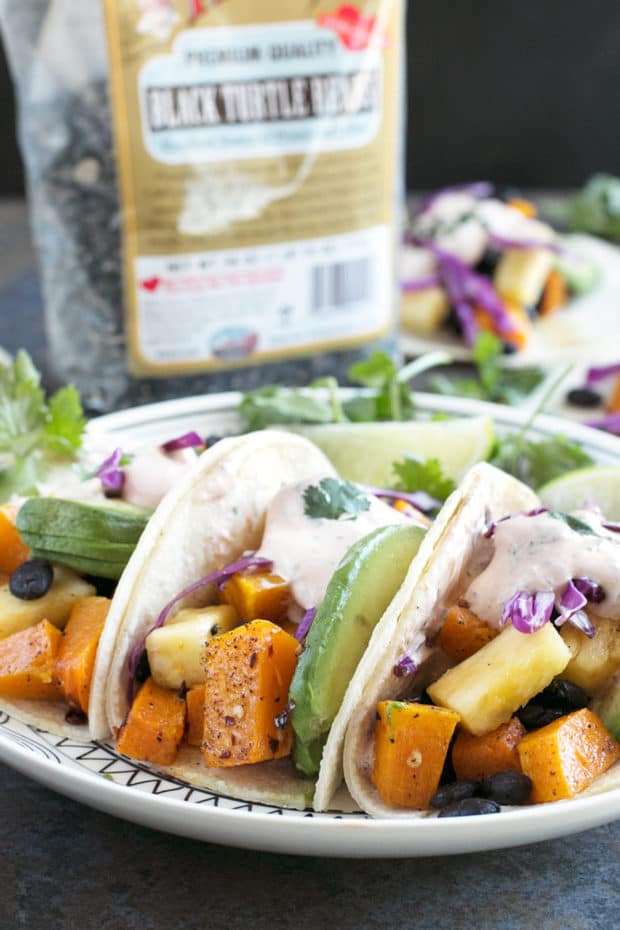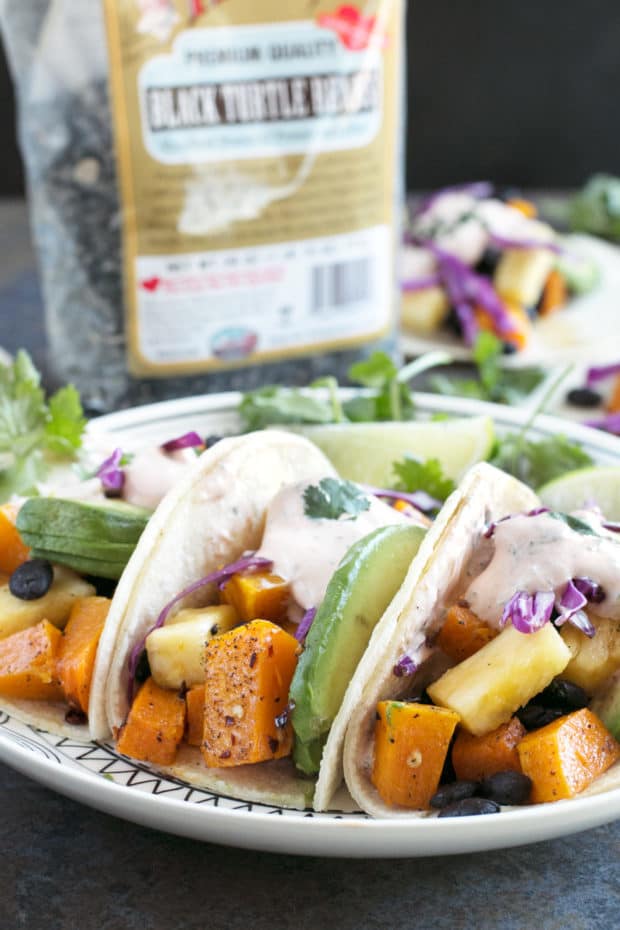 Please note that some of the links below are affiliate links. If you make a purchase through one of these links, I will receive a small commission. Thank you for supporting Cake 'n Knife!
But sometimes… I just want VEGGIES. This isn't something that I experienced before the last year or so.
Perhaps it's at the 30 mark that we truly become adults that will eat our greens and be happy about it?
I have actually found myself craving vegetables and beans and fruits… Usually it's when I've deprived my bodies of these things for too long and my body is simply screaming "stop abusing me already! Give me healthy things!"
Now that we are officially in Fall mode, I am filling my plate with all of the pumpkin, squash, and other seasonal harvest vegetable things.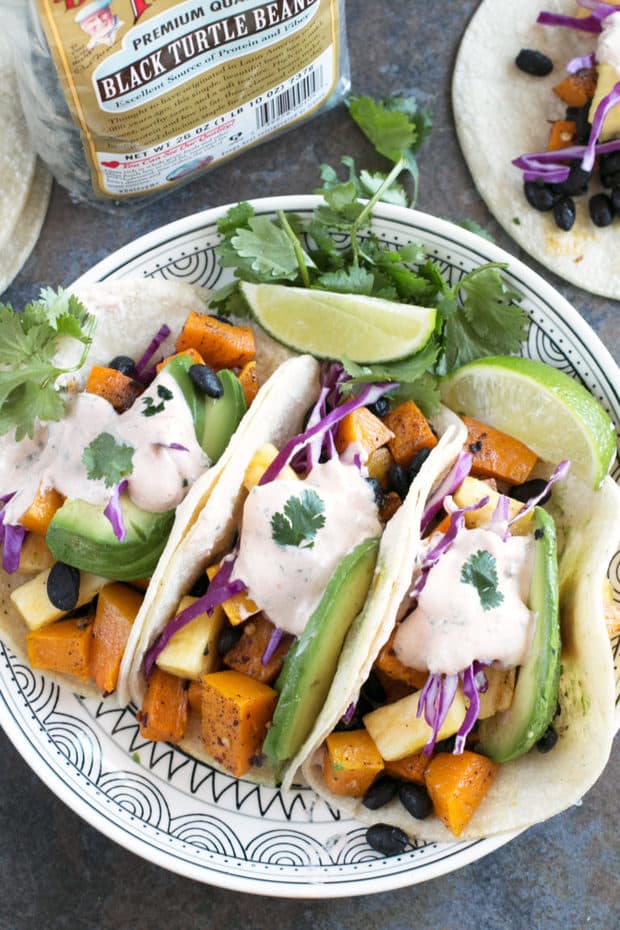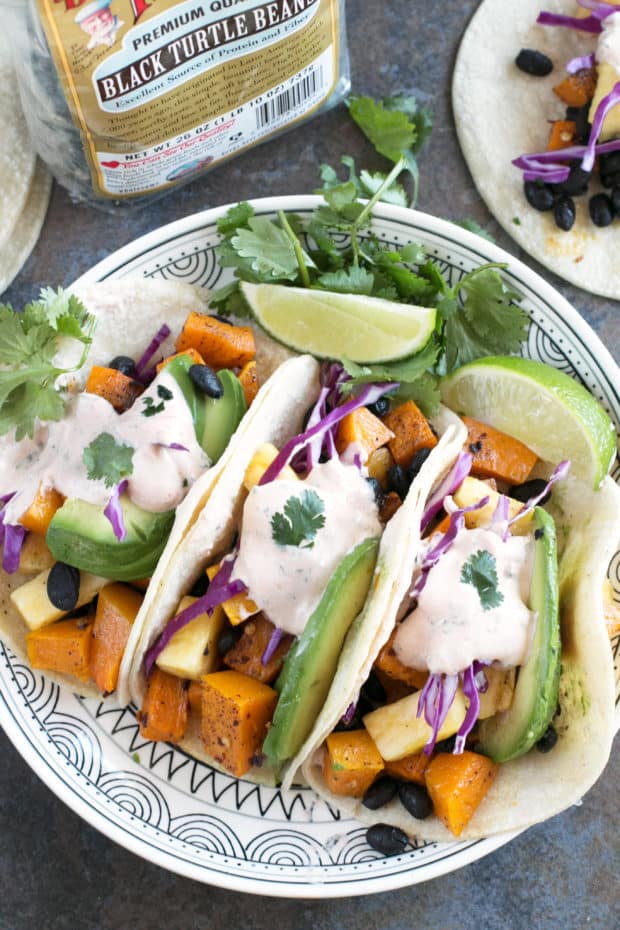 Roasted butternut squash is one of those fall flavors I love to feature as a side or in a main dish as often as I can. However when I'm putting roasted butternut squash in an entree, it's tough to just rely on that on it's own. That's where my favorite bean comes into play!
I really love the pairing roasted butternut squash with flavorful black beans. The savory flavors and the hearty textures are a delicious pairing that are perfect in one thing….
TACOS.
Have you ever made black beans before? I used to only buy black beans in cans, draining them and hoping the tin flavor would fade away after I warmed them up (which it rarely ever did).
The moment I made Bob's Red Mill's Black Turtle Beans for the first time, I knew I had found the better way to enjoy black beans.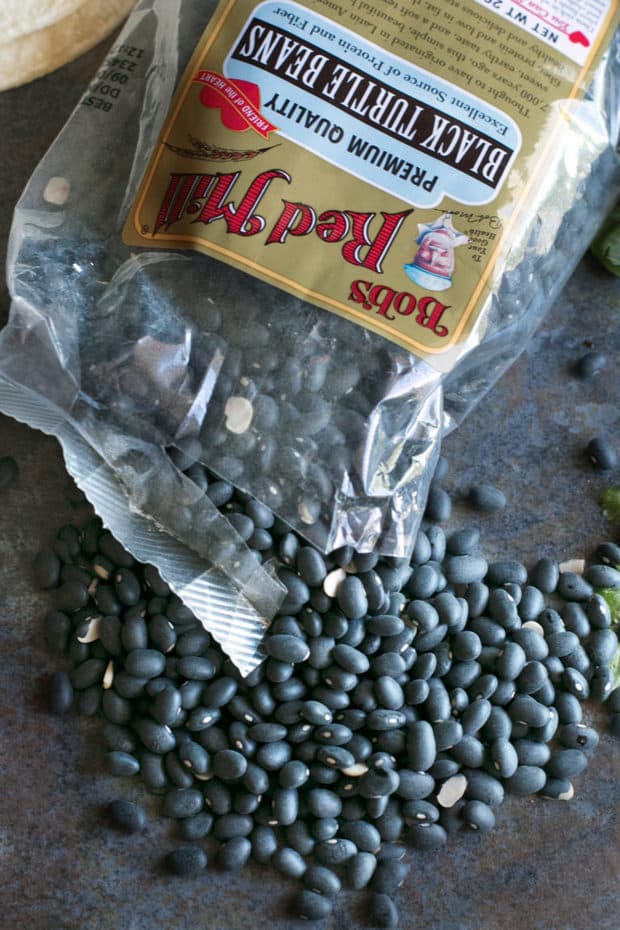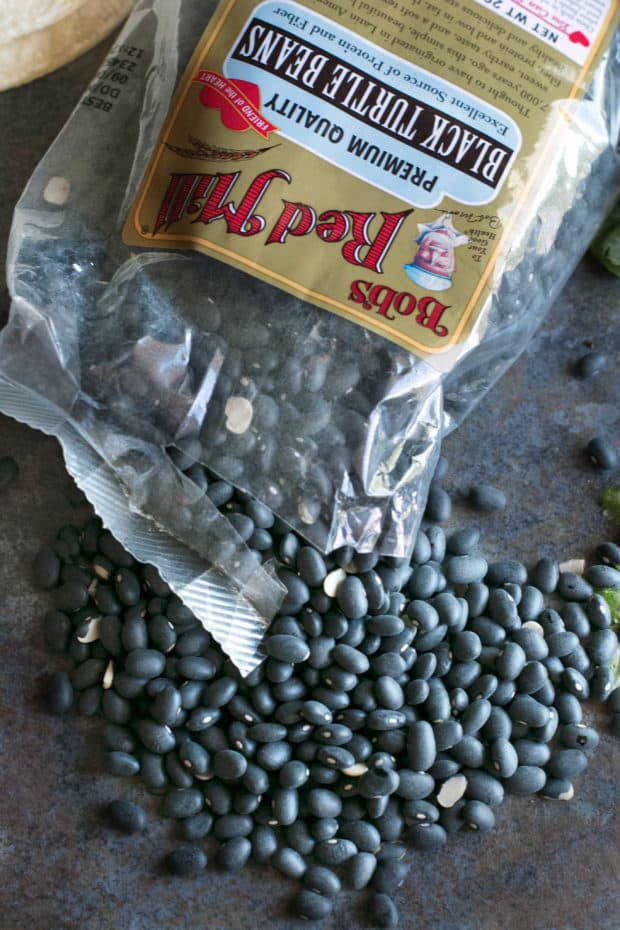 I love when I can make things from scratch easily and ahead of time. Bob's Red Mill's Black Turtle Beans are just the thing that you can make one night or a lazy weekend afternoon, then store in the refrigerator until you are ready to use them. You can use them in tacos, burritos, turn them into refried black beans, or even make black beans and rice with them! All you have to do is simmer it on the stove for an hour and a half, then you are done! It's so ridiculously simple and you can flavor them in so many different ways.
I used a simple flavor combination of cumin, garlic, salt and pepper to complement the rich, savory black beans. When paired with seasoned butternut squash, it becomes a hearty filling for the tacos (and I promise you won't even miss the meat!).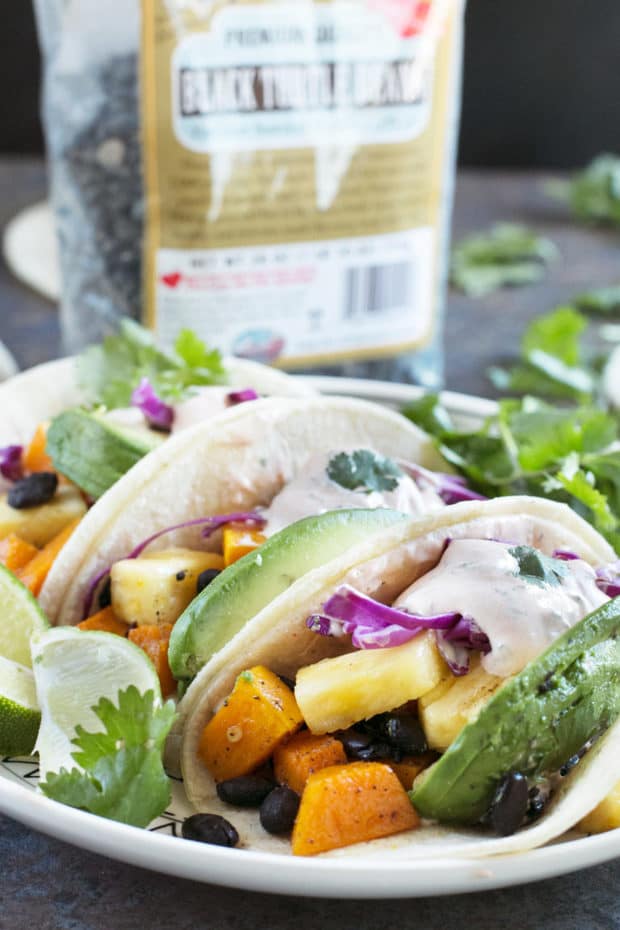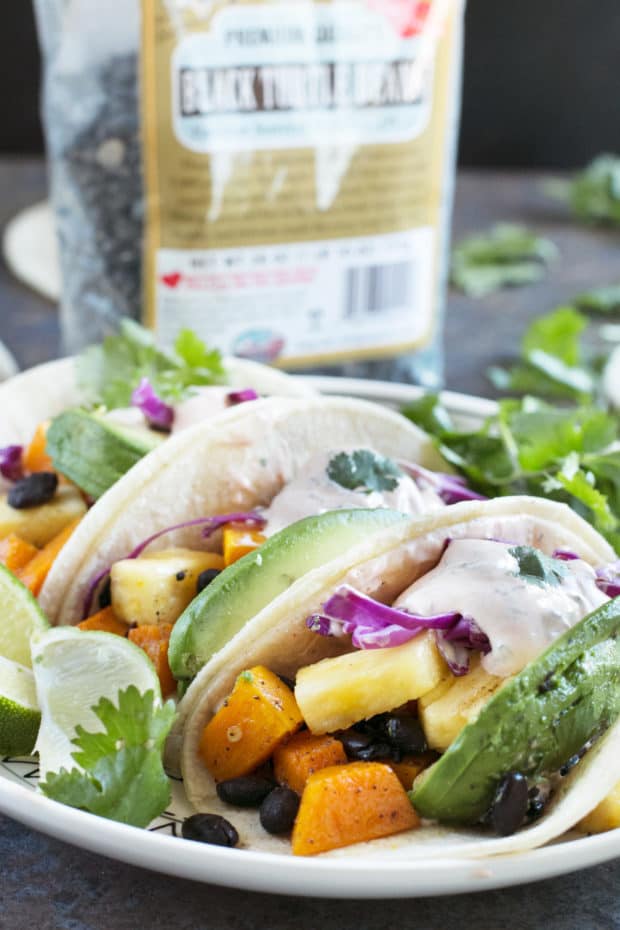 After that, it's all about bringing a little more color, texture and flavor variety to the party. I topped these bad boys off with some shredded purple cabbage for crunch, pineapple for sweetness and tang, and a zesty creamy chipotle sauce to bring it all together. A little avocado (because DUH, it's me) and you have a taco that will conquer all Taco Tuesday nights!
This Recipe's Must Haves
Pin this Roasted Butternut Squash Black Bean Tacos recipe for later!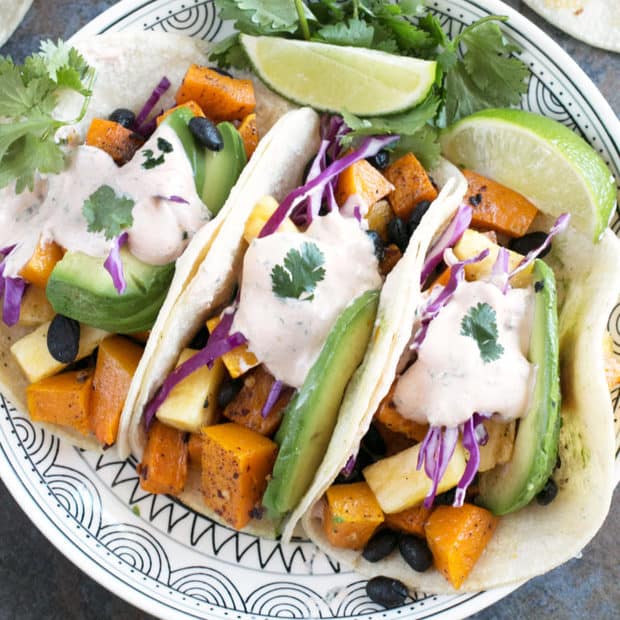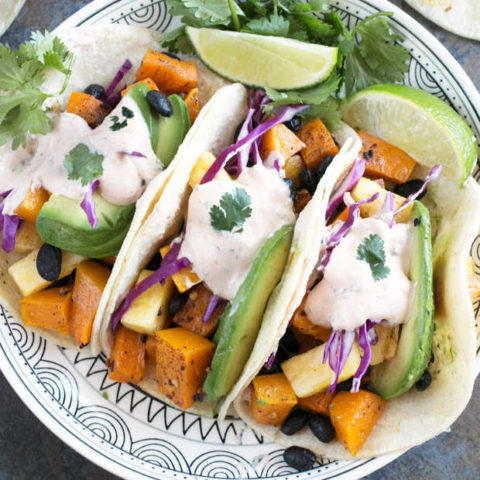 Roasted Butternut Squash Black Bean Tacos
Total Time:
1 hour
45 minutes
Taco Tuesday gets a whole new (and healthy!) twist with these flavorful tacos made with roasted butternut squash, Bob's Red Mill Black Turtle Beans, pineapple and a creamy chipotle sauce!
Ingredients
Butternut Squash
1/2 butternut squash, seeded and cubed
2 Tbsp olive oil
1/2 tsp salt
1/2 tsp black pepper
1/2 tsp red pepper flakes
Black Beans
1 cup Bob's Red Mill Black Turtle Beans
3 cups water
1/4 tsp cumin powder
1/4 tsp garlic powder
Salt and pepper to taste
Creamy Chipotle Sauce
1/2 cup sour cream
2 tsp adobo sauce from canned chipotle peppers
1 tbsp freshly chopped cilantro
Juice of 1 lime
Pinch of cayenne pepper
Tacos
12-14 small corn tortillas
1 cup shredded purple cabbage
1 avocado, peeled, pitted and sliced
1 cup diced pineapple
Garnish: freshly chopped cilantro
Instructions
In a medium saucepan, bring 3 cups of water to a boil over high heat. Add black beans to the water and reduce heat to a simmer. Cover and cook for 1 1/2 hours, or until all water has been absorbed.
Preheat oven to 400 degrees.
In a medium bowl, toss butternut squash with olive oil, salt, pepper and red pepper flakes. Spread squash out on a rimmed baking sheet in an even layer. Roast for 25 to 30 minutes.
When the beans are done cooking, stir in cumin powder, garlic powder and salt and pepper to taste for the black beans. Set aside and keep warm over lowest heat setting.
In a small bowl, whisk together the ingredients for the chipotle sauce. Set aside.
To assemble the tacos, layer butternut squash with black beans, shredded cabbage, sliced avocado, and pineapple. Drizzle over chipotle sauce and garnish with freshly chopped cilantro.