Please note this post contains affiliate links.
Pumpkin Spice Chicken Tacos are the ultimate taco for your fall gatherings. The spice blend makes your house smell like fall as the chicken slow cooks throughout the day! The flurry of creamy and crunchy toppings makes for a taco that you will never want to stop eating. Happy fall cooking!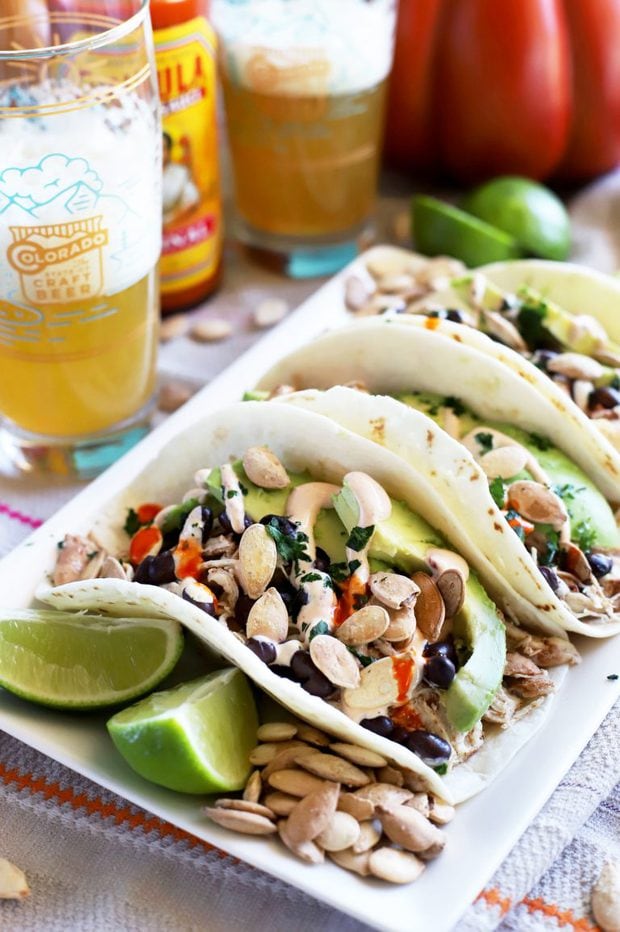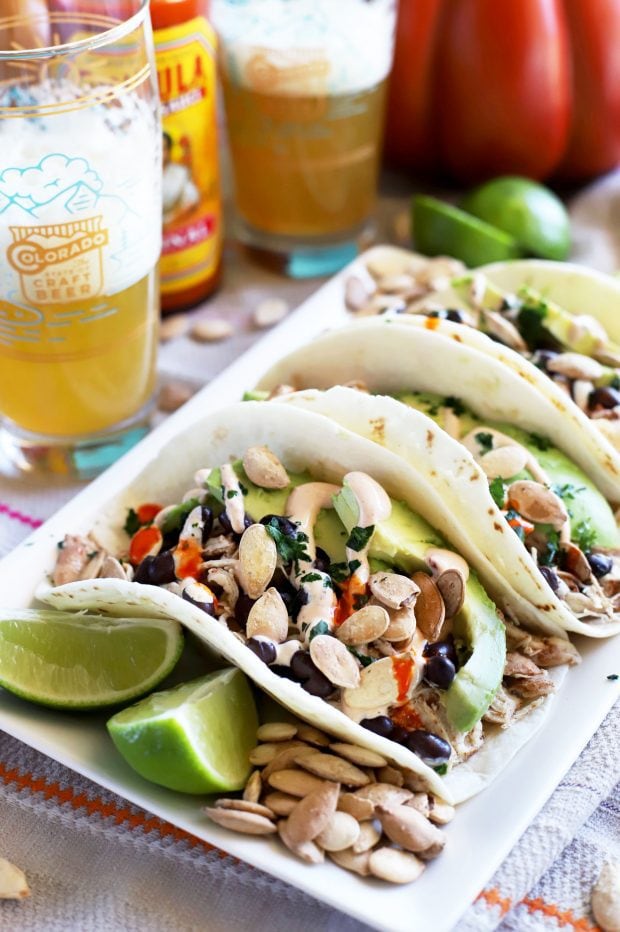 I know, I know, I am going a little crazy with the pumpkin spice right about now.
It's all I can think about though! Honestly it's all I've been thinking about for the past month as I've been working on freelance projects that are allll about pumpkin recipes.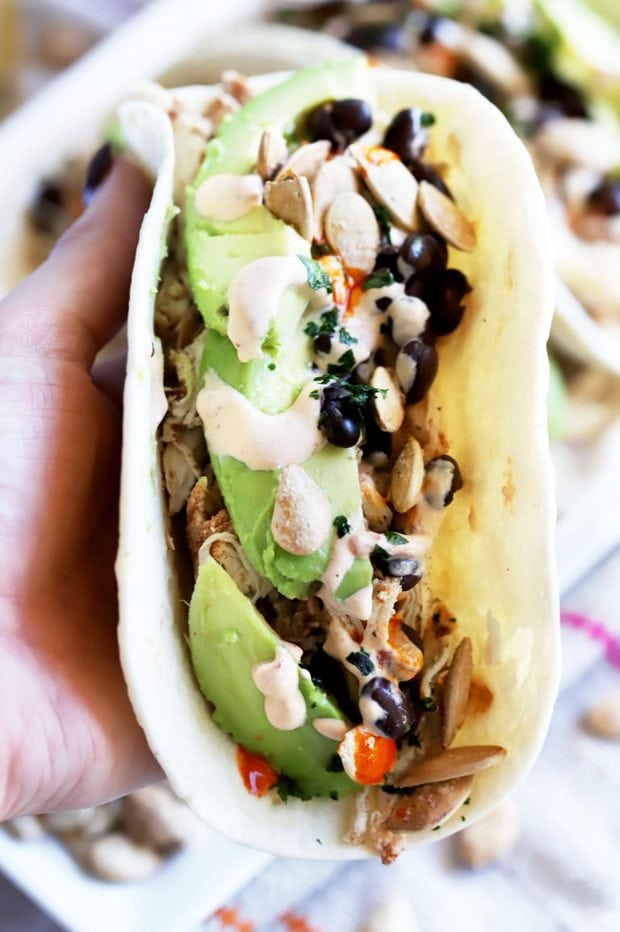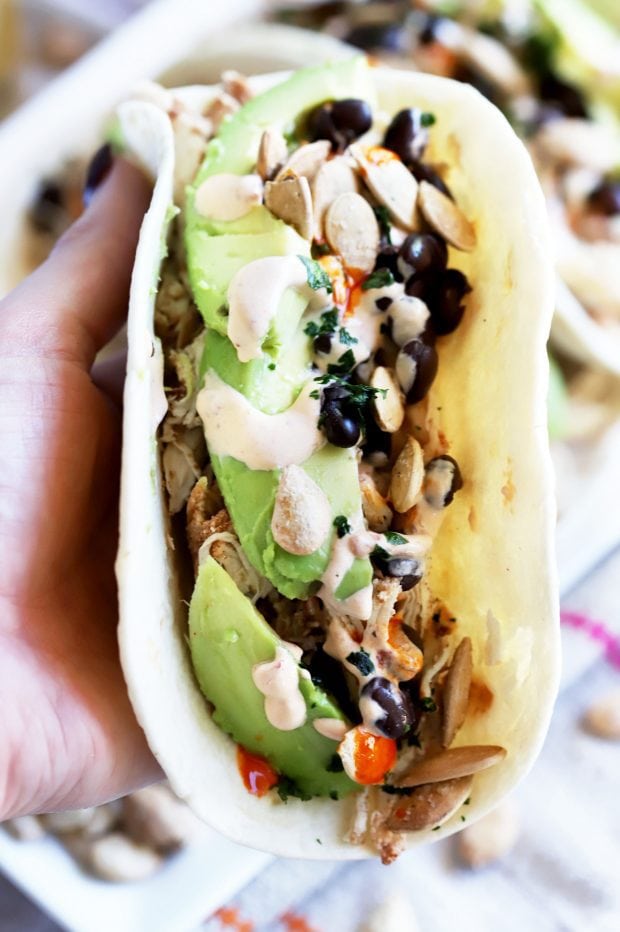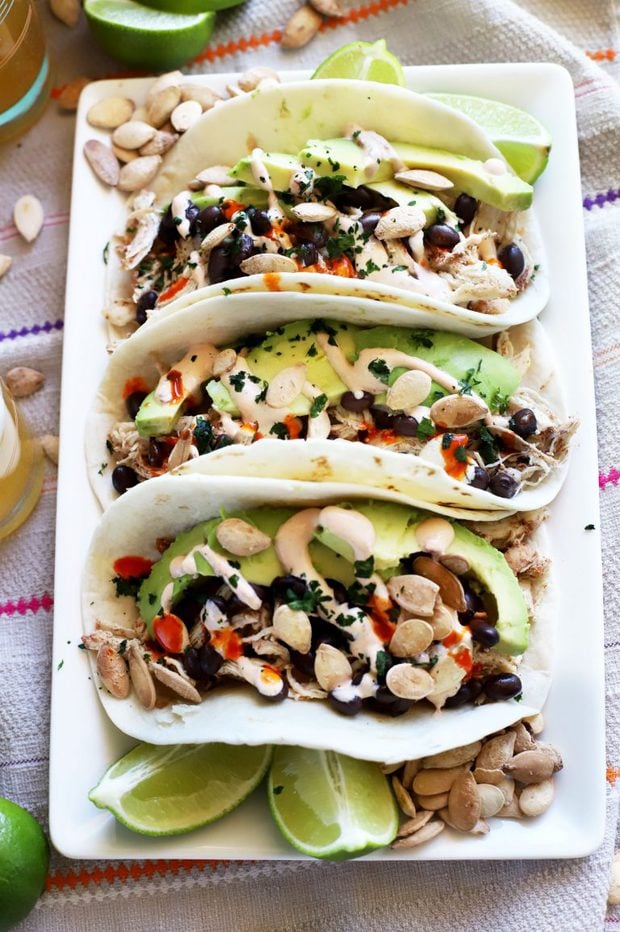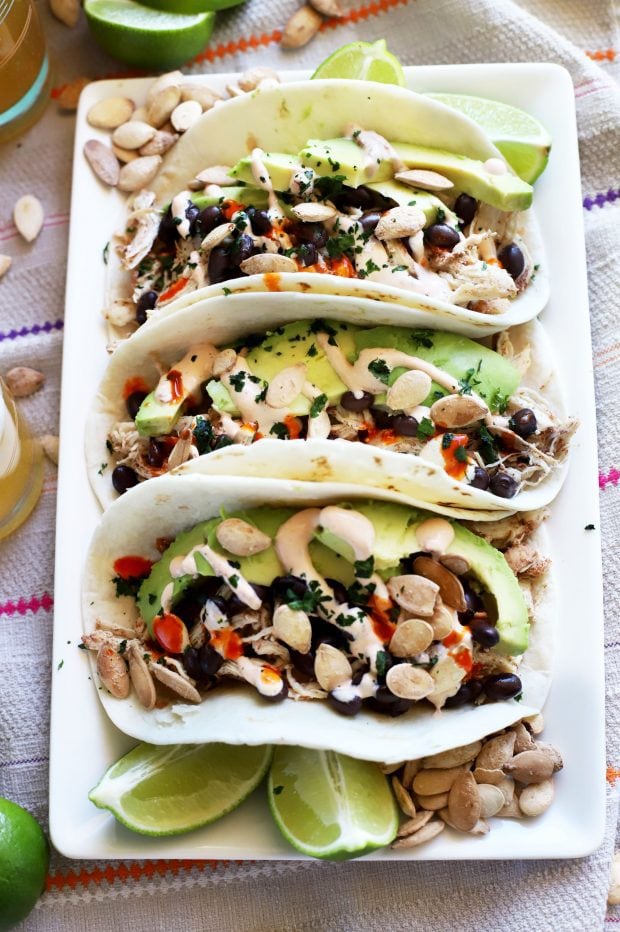 Of course, all of those pumpkin recipes were sweet, and I've been craving a savory way to incorporate pumpkin spice once more.
As you know, I made pumpkin spice ribs the other week and they were mind-blowing.
Who knew pumpkin spice can be for more than just sweets?!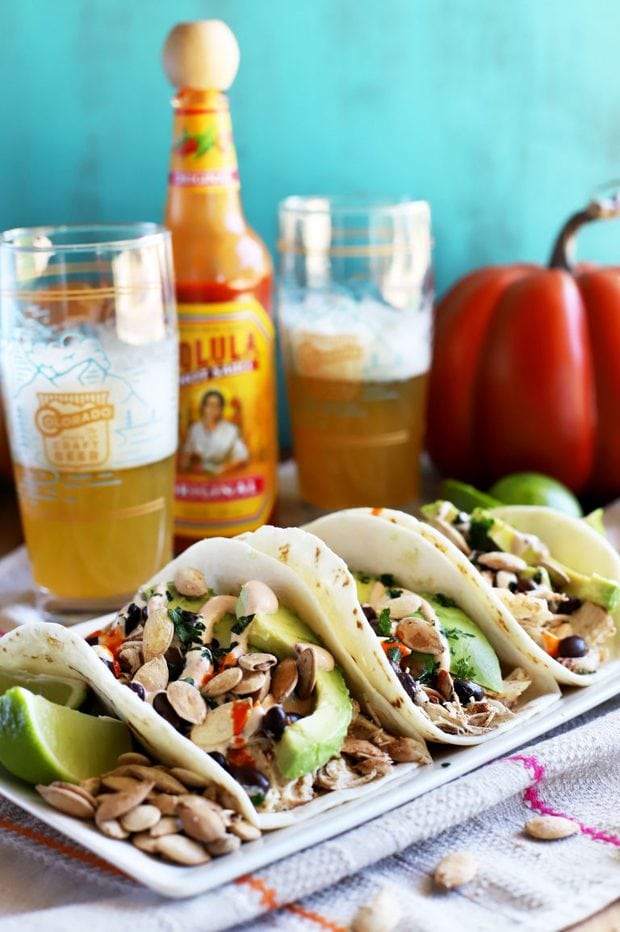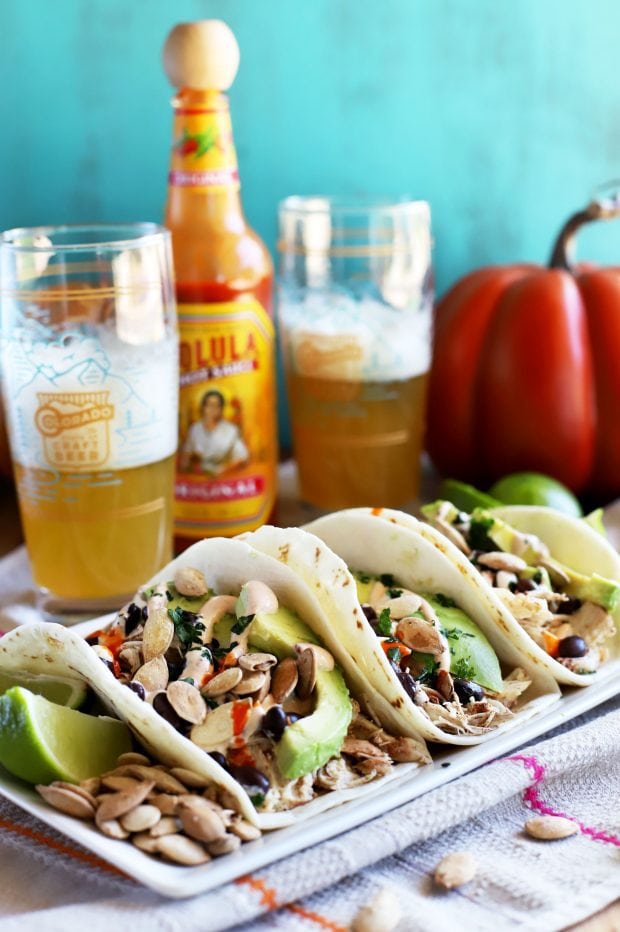 I had the pork down, but ribs take quite a bit of time on the grill, so it's not a set-it-and-forget-it kinda meal that you can pull off during the week (at least for most of us who have a day job). So I thought about how delightful it would be to have a savory pumpkin spice recipe that can be whipped up in the slow cooker or Instant Pot.
This pumpkin spice chicken is so stinking easy to make, and it makes for the best fall chicken tacos you can possibly imagine.
The flavors of the spice blend with the smoky chipotle crema is a dreamy flavor explosion, and when paired with creamy avocado, hearty black beans and the crunch of toasted pumpkin seeds, it's just what you need in life.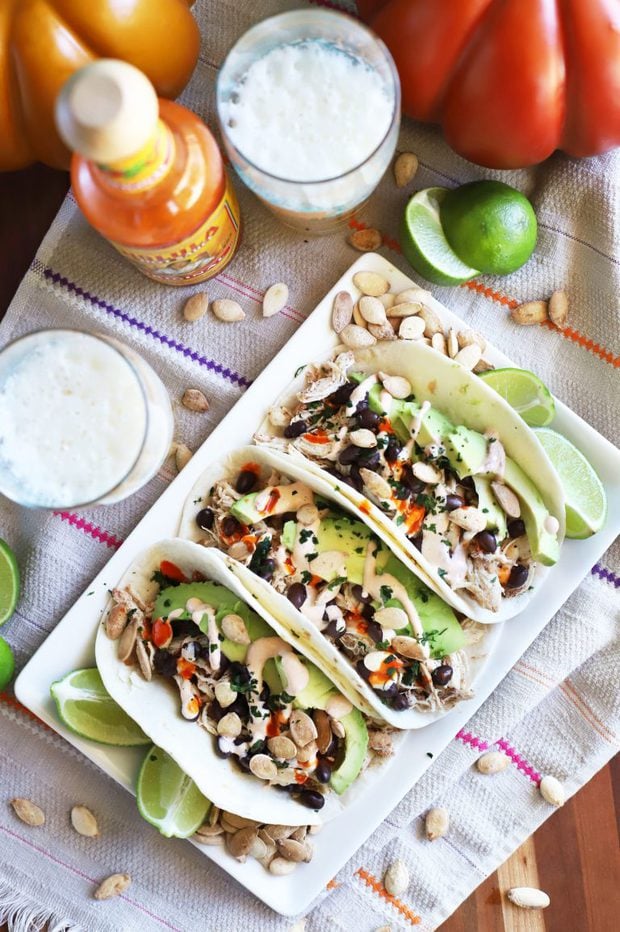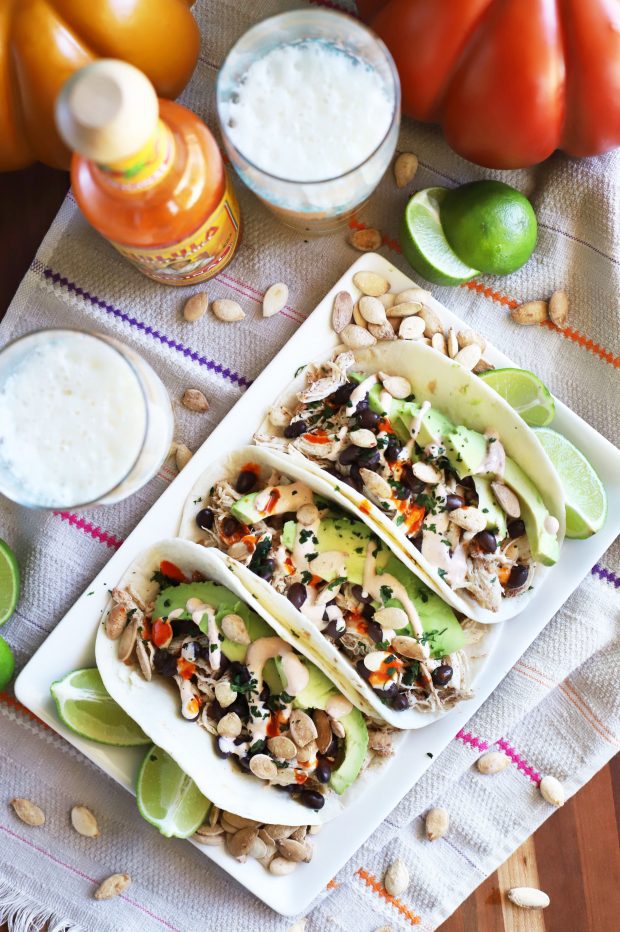 If you have leftovers of the chicken after you eat the tacos (I'm not sure why you would, because I inhaled three in the matter of mere minutes), you can use them up in an open-faced sandwich with cheddar cheese or think about putting them in some enchiladas! The chicken works so well with other latin flavors and you are going to love what adding some spicy heat from hot sauce can do to the whole combination.
Want more pumpkin spice deliciousness? Check out this fall-themed boozy affogato!
Happy fall eating, my lovelies!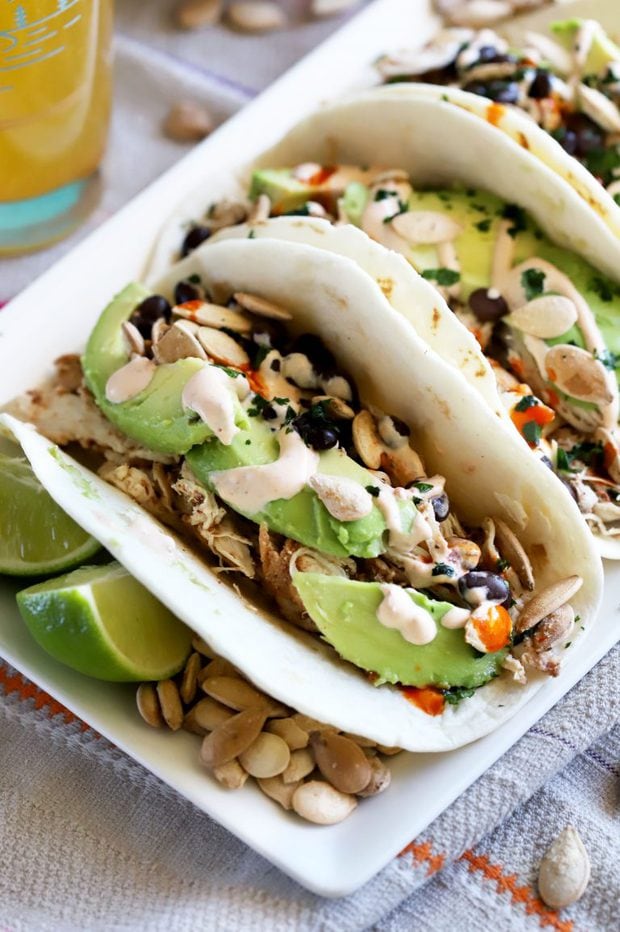 This Recipe's Must Haves
Want to drizzle on sauce like a pro? I love to use a large clear squeeze bottle
for the crema to get that ideal look. Plus you can keep any leftovers in the bottle in the refrigerator!
I LOVE MY Instant Pot Ultra. It's a slow cooker, a pressure cooker, and so many other things, making it my favorite multi-purpose appliance EVER. I use it at least 5 times a week and that is the key to the right appliance. Lots of use, so it was totally worth the purchase (and that's coming from me years later!).
If you are toasting the pumpkin seeds yourself, I highly recommend doing it in this countertop convection oven! I use this thing every day, whether it's to toast nuts or to broil a cheesy turkey sandwich for lunch. It's worth dedicating some of your countertop space to it! Since I can't have a double oven especially, it's extremely handy.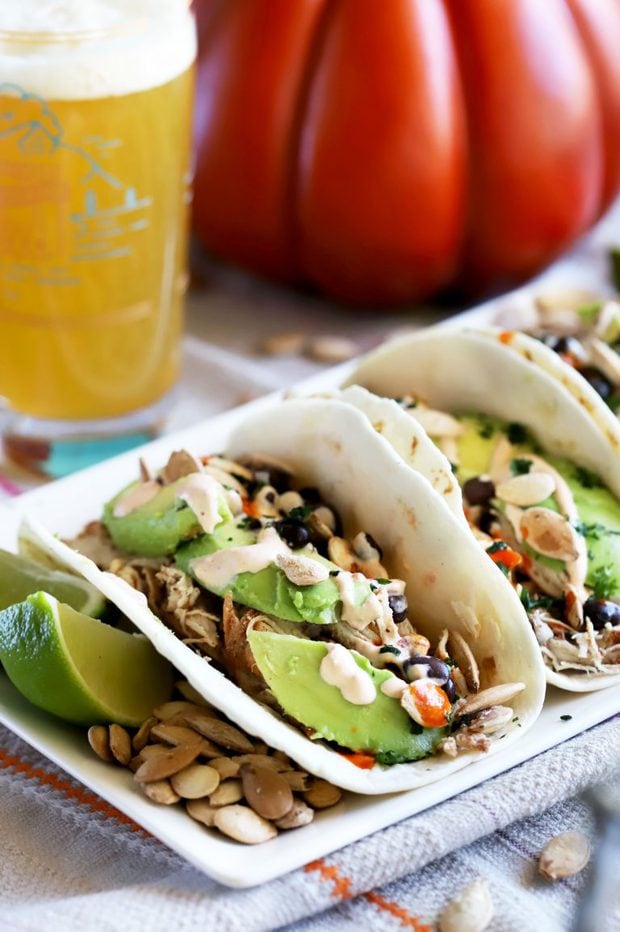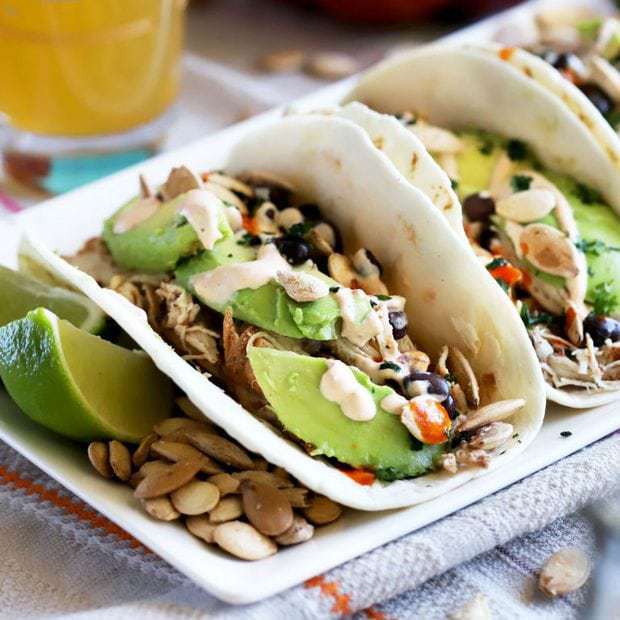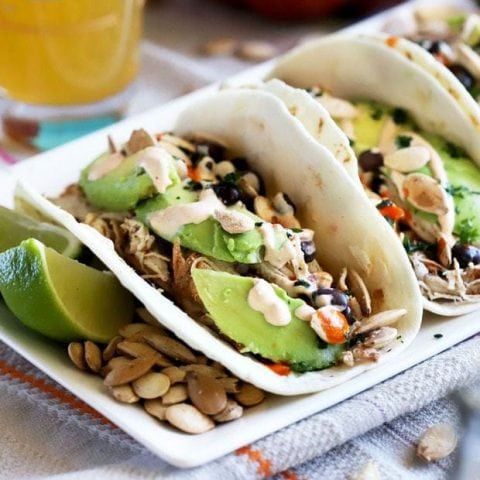 Pumpkin Spice Chicken Tacos
Total Time:
6 hours
10 minutes
Chicken gets a savory kick of pumpkin spice in this easy slow cooker beer pulled chicken. It's the ultimate fall taco!
Ingredients
Chicken
2 1/2 lbs boneless, skinless chicken breast
12oz beer (I used an IPA)
1 tsp garlic powder
1/4 tsp cayenne pepper
1/2 paprika
1/2 tsp pepper
1/2 tsp salt
1 1/2 tsp pumpkin spice
Chipotle Crema
1 cup sour cream
1 chipotle in adobo with 2 tsp adobo sauce
Toppings
1 avocado, peeled, pitted and sliced
1 cup canned black beans, drained and rinsed
1/2 cup toasted pepitas
12 flour taco tortillas
Instructions
Combine chicken, beer, garlic powder, cayenne pepper, paprika, pepper, salt, and pumpkin spice in a slow cooker or in an Instant Pot.
For the slow cooker, cook on high for 4 to 6 hours, until the chicken is cooked through.
For the Instant Pot, cook on high pressure for 20 minutes and release naturally.
While the chicken cooks, add sour cream, chipotle, and adobo sauce to a blender. Blend until smooth. Set in the refrigerator until ready to serve.
Remove the chicken from the liquid to a large bowl. Shred the chicken using two forks.
Warm the tortillas in the microwave for about 15 to 20 seconds. To assemble the tacos, add pumpkin spice chicken to each tortilla. Top with avocado, black beans, chipotle crema, and pepitas. Serve immediately.