Please note this post contains affiliate links.
Pumpkin Spice Latte Ice Cream with Gingersnap Crumble is the new way to be "basic." Creamy no churn ice cream gets a big hit of pumpkin spice and espresso for a melt-in-your-mouth frozen version of the PSL. Topped with a crunchy zing of ginger cookies, it's the only fall dessert you need to indulge in this week.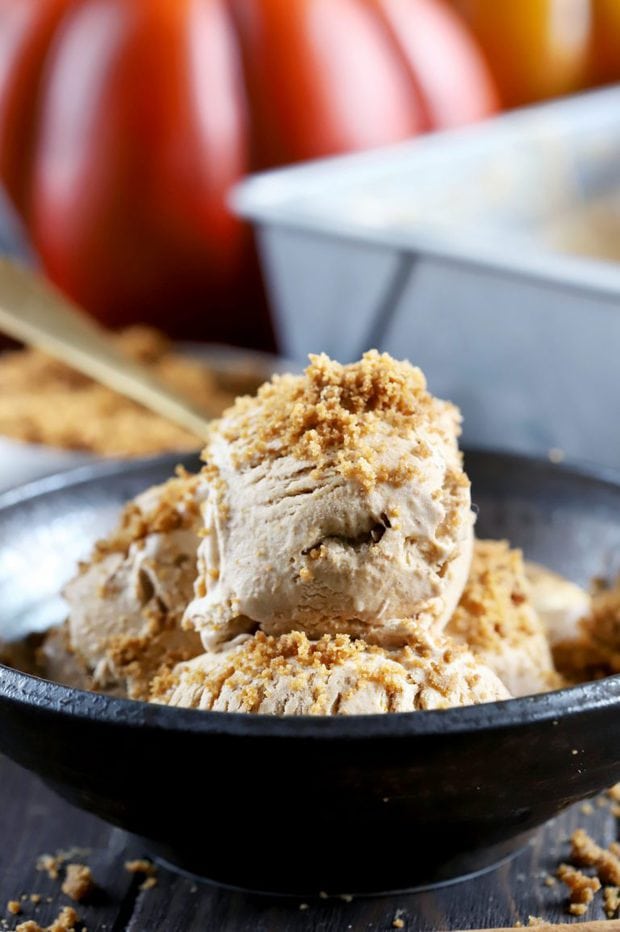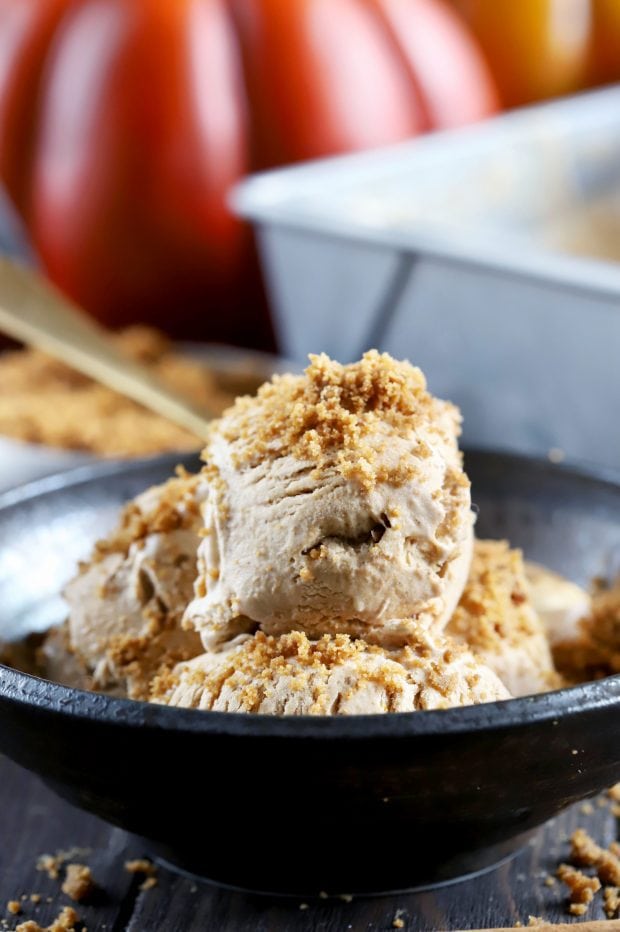 Heyyyyyyyy, where all my basic gals at??
Just so you know, I completely embrace being totally basic from time to time, and I don't care who knows it.
There are days where I just want to where flannel with my leather boots and leggings and a big oversized scarf while sipping on a latte.There are days when I want to go to brunch for bottomless mimosas to gossip with my gal pals.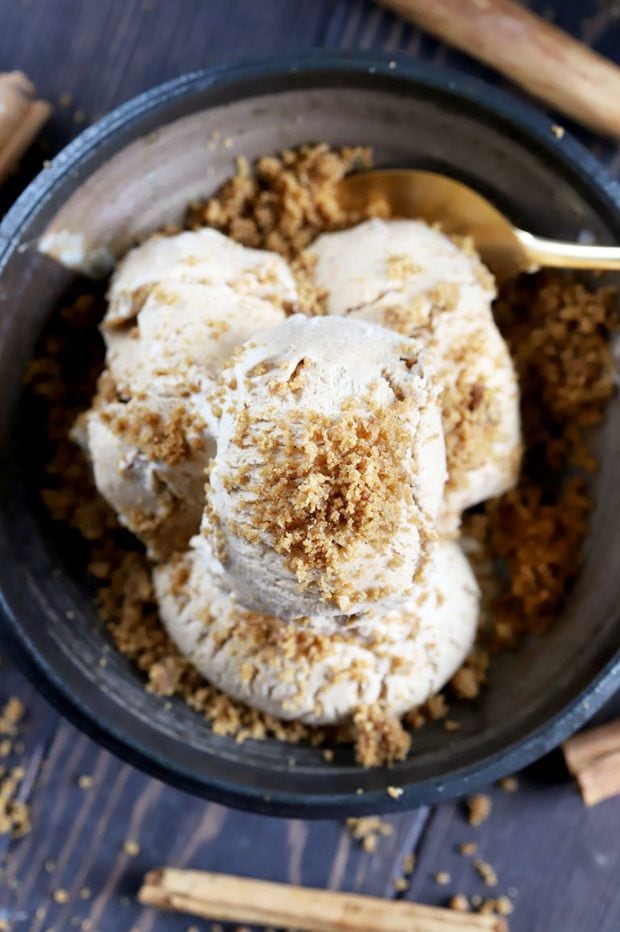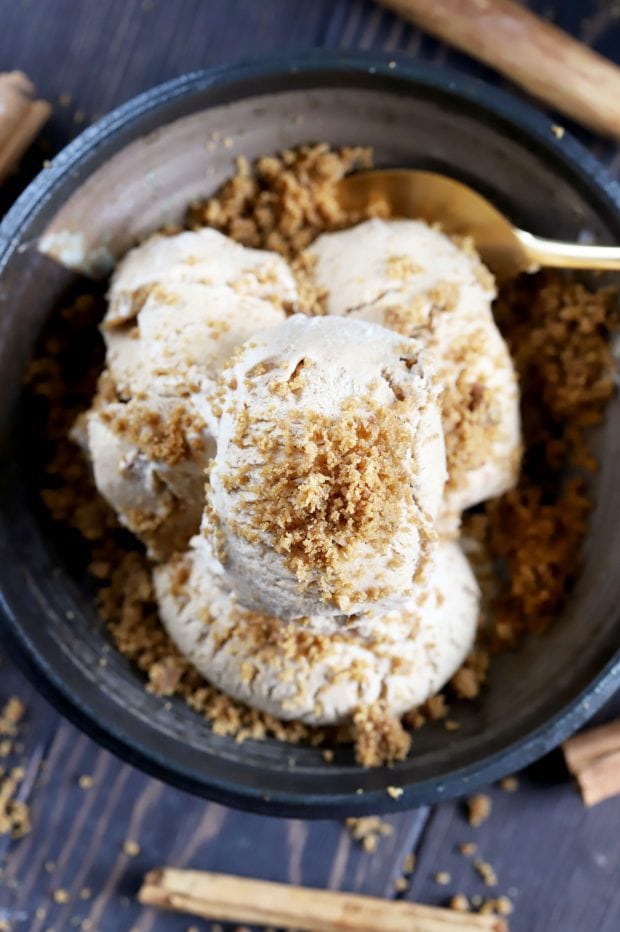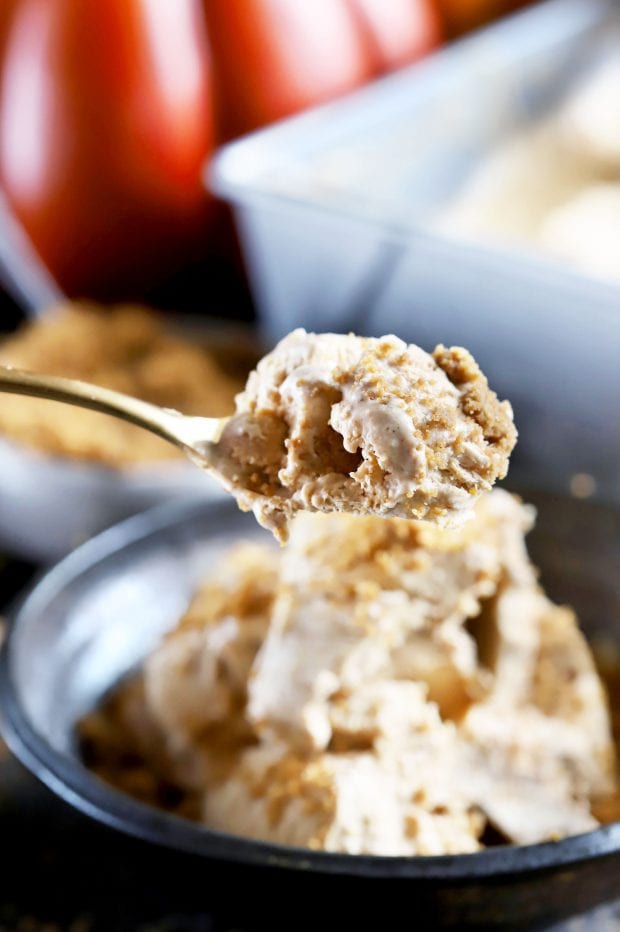 If you like to be basic, just know there are NO JUDGEMENTS coming from me. 😉
It's this whole "basic" thing that really drove me to make this ice cream. As much as I love a warm latte, I am not a PSL girl. I don't love the drink and I just prefer to get my pumpkin spice fix elsewhere.
However, I also enjoy espresso and want to put it with pumpkin spice as fall sets in.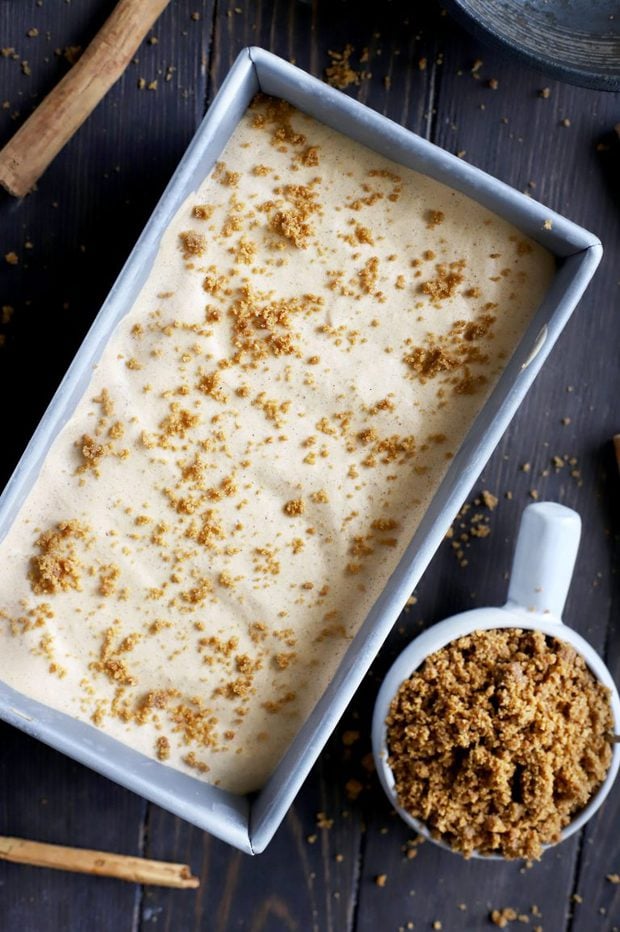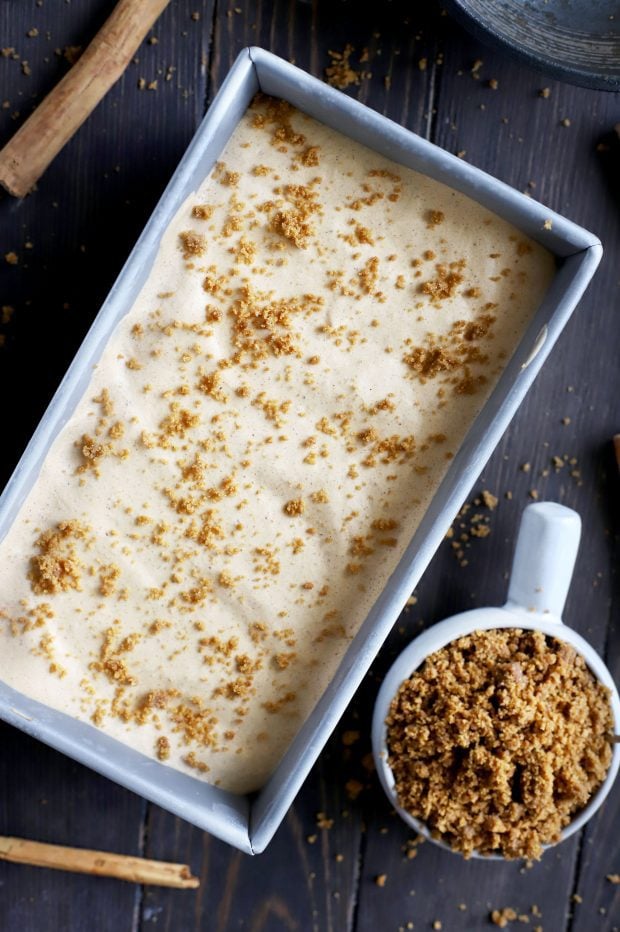 Soooo voila. Pumpkin spice latte ice cream to the rescue!
Here in Denver it's still pretty hot (it was over 90 degrees yesterday, YUCK), which makes it hard to want to reach for warm drinks.
Therefore I took the PSL to frozen heights of deliciousness instead.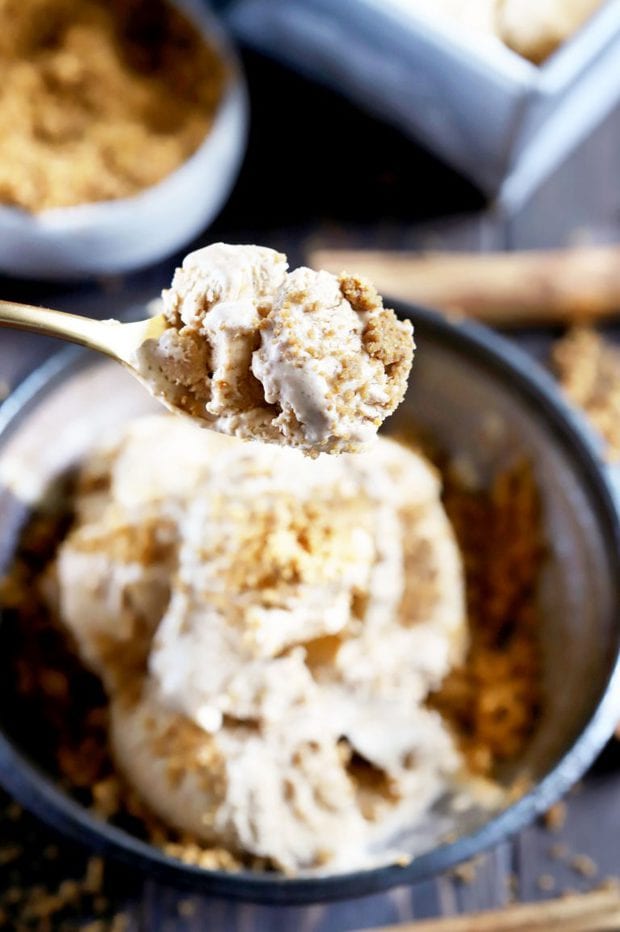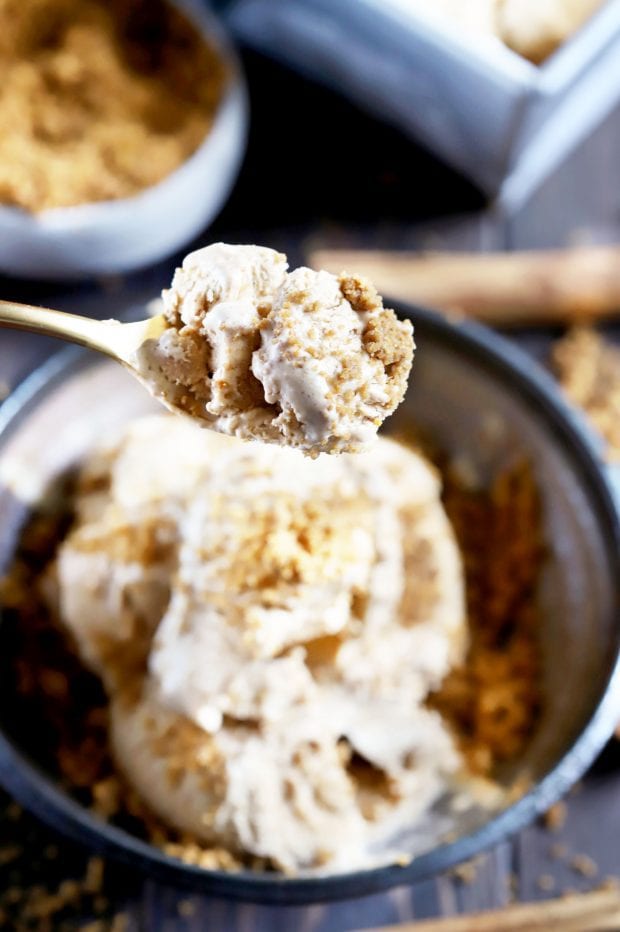 BECAUSE I CAN, that's why.
The ice cream is actually a no churn recipe so you don't even need an ice cream maker. It is full of pumpkin pie spice, as well as instant espresso, so you feel like you are drinking that seasonal warm drink, but in a cool and sweet way.
A topping of crunchy gingersnap crumble makes for a fun textural party in your mouth, and the gingersnap brown sugar combination is the sweet and spicy addition that the ice cream pairs perfectly with.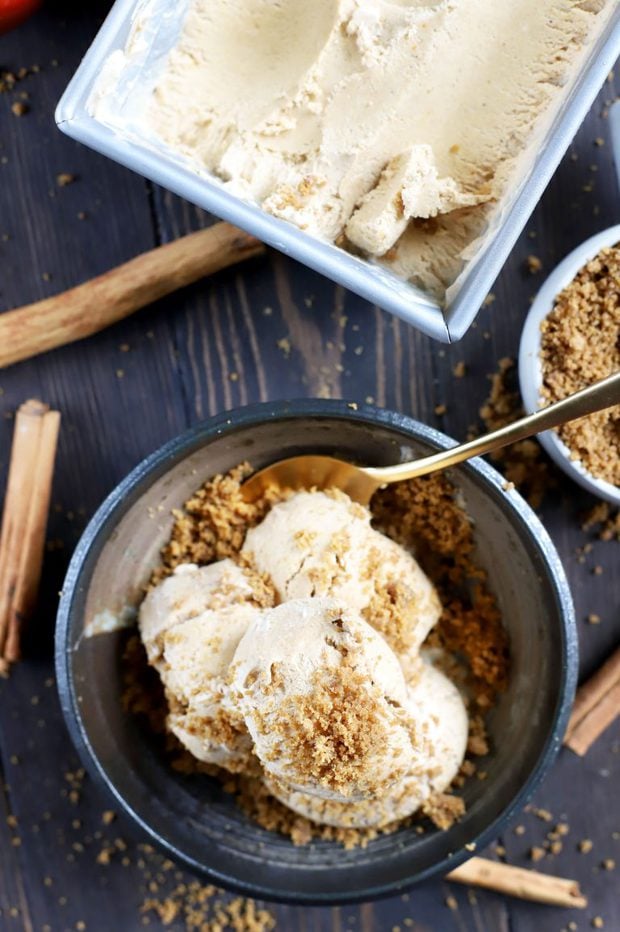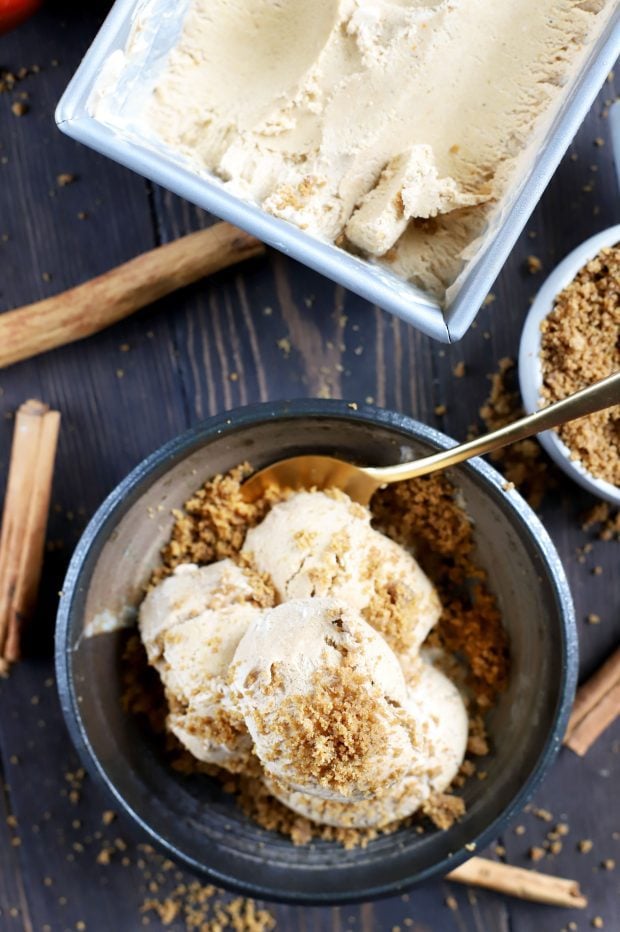 So run on down to the store to get all the ingredients – you'll be wanting to live off this ice cream throughout the fall season!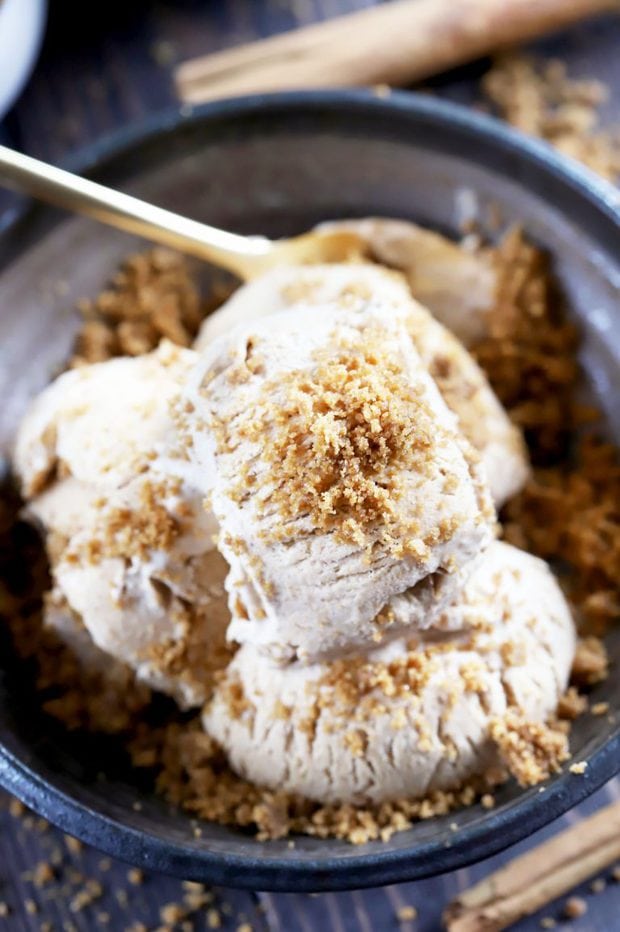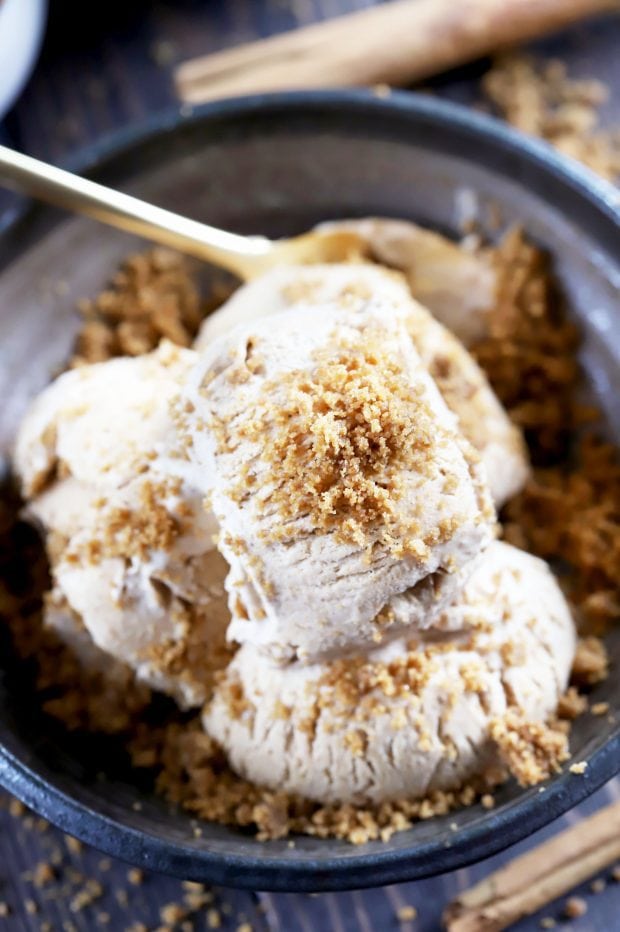 This Recipe's Must Haves
My pro stand mixer is the best gift the Man's ever gotten me and it is the only appliance that I allow to sit on my counter 🙂
A set of mixing bowls is just what you need to make the base of this ice cream!
This spatula because it is so reliable and well-made. I have bought crappy ones before, and they just never last you know? This one LASTS.
I always freeze my ice creams in this loaf pan because it looks great and doesn't wear down easily, whether you are baking or freezing in it.
My favorite blender? This small Vitamix is lightweight and just the right size for everyday use and recipes!
I swear that this ice cream scoop is the best one ever. It's easy to use and sits on rests so it won't get your counters all sticky.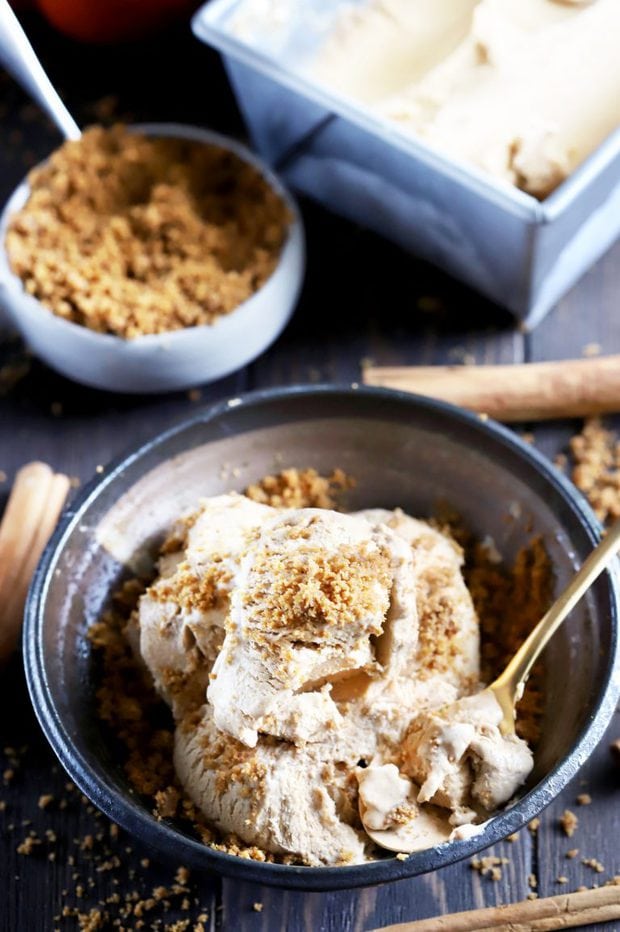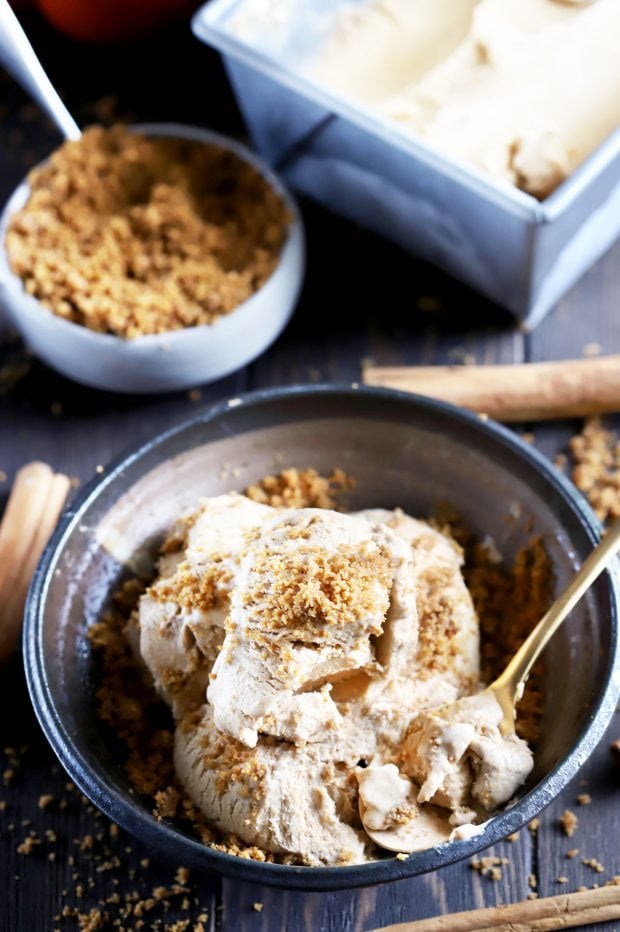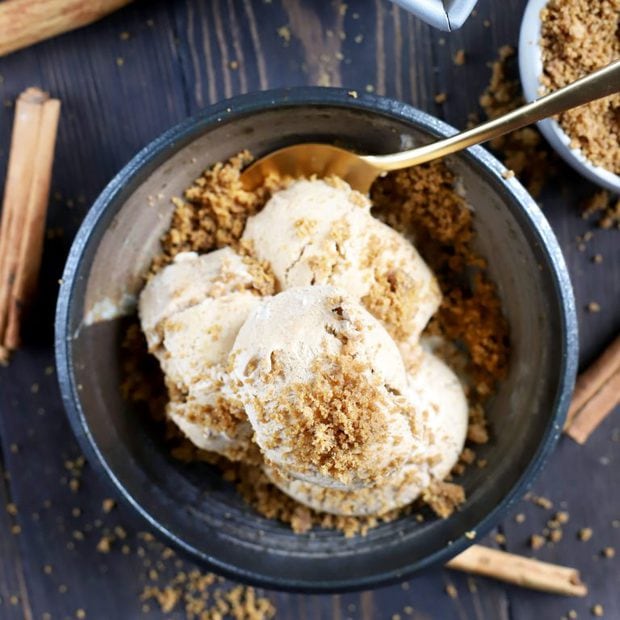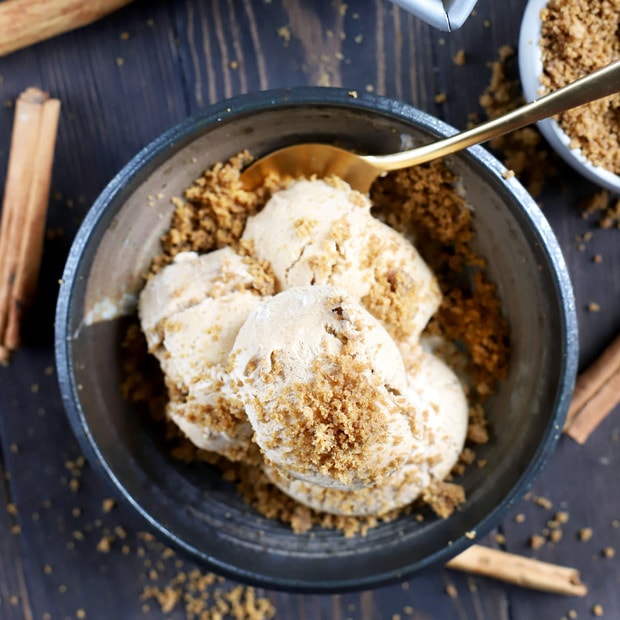 Pumpkin Spice Latte Ice Cream with Gingersnap Crumble
Yield:
Makes approx. 1 quart
Prep Time:
6 hours
20 minutes
Total Time:
6 hours
20 minutes
Creamy, no-churn ice cream tastes just like a pumpkin spice latte in frozen form. The crunchy topic makes it perfection!
Ingredients
Pumpkin Spice Latte Ice Cream
14 oz (1 can) sweetened condensed milk
1 tsp pure vanilla extract
1 Tbsp instant espresso
2 1/2 tsp pumpkin pie spice
2/3 cup pumpkin puree
2 cups cold heavy cream
Gingersnap Crumble
13 gingersnap cookies
2 tsp brown sugar
3 Tbsp butter, melted
Instructions
In a large bowl, stir together sweetened condensed milk, vanilla, espresso, pumpkin pie spice, and pumpkin puree.
In a separate large bowl, beat heavy cream with an electric hand mixer until it reaches stiff peaks.
Fold whipped cream into the sweetened condensed milk mixture gently until fully incorporated.
Pour mixture into a standard loaf pan. Freeze for 6 hours.
When the ice cream is set, pulse gingersnap cookies, sugar, and melted butter until it forms a crumble.
Add the crumble to the top of the ice cream. Serve immediately.