Almond Butter Yogurt Coffee Cake is just what you need to start your morning off right this week. Indulgent coffee cake made with almond butter and vanilla yogurt is moist and rich without being too sweet. The tart lemon cream cheese frosting is just (literally) the icing on the cake!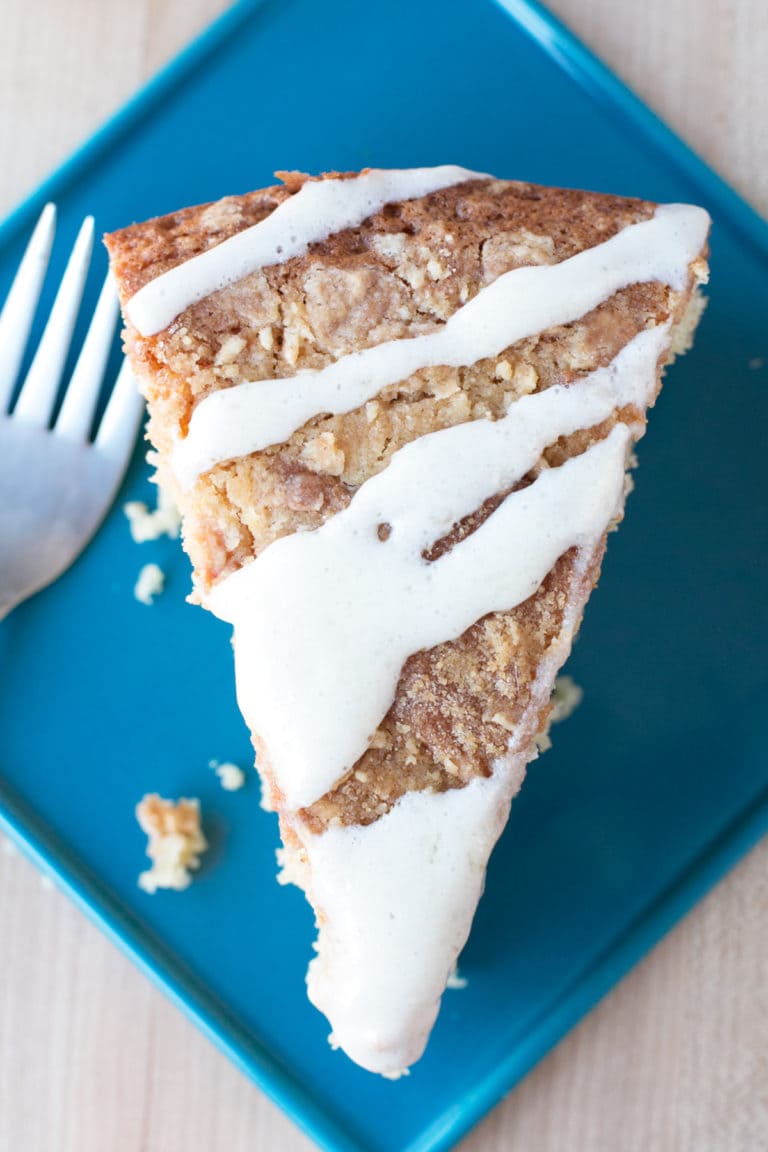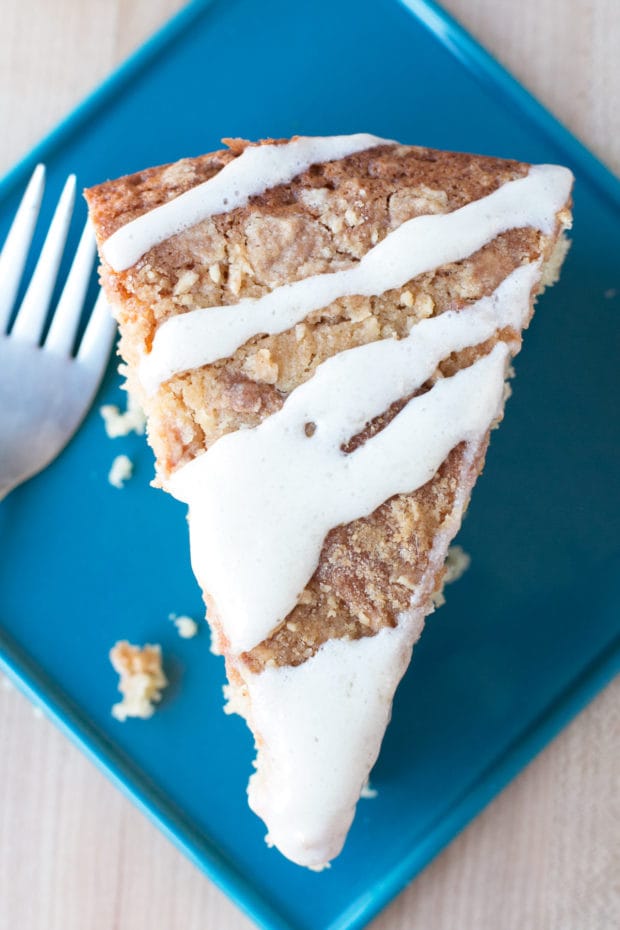 Disclosure: This post is sponsored by the Stonyfield and WoodStock Foods. While I was compensated and given free product in exchange for this post, as always, all opinions and recipe are my own. Thanks for supporting the brands that support Cake 'n Knife!
One of my fondest memories growing up was brunch at my grandma and grandpa's house every Sunday.
The entire family including my mom's four siblings and their children (and grandchildren) would descend like a force upon the house, filling it with food, laughter and love.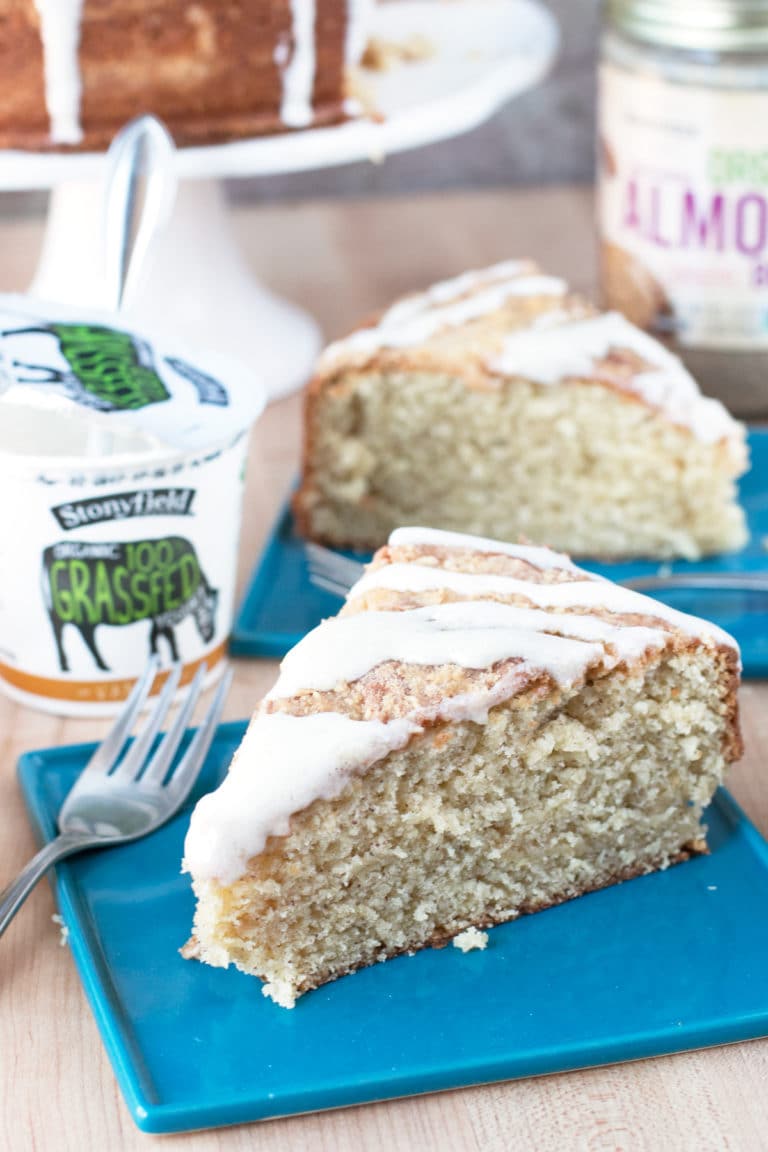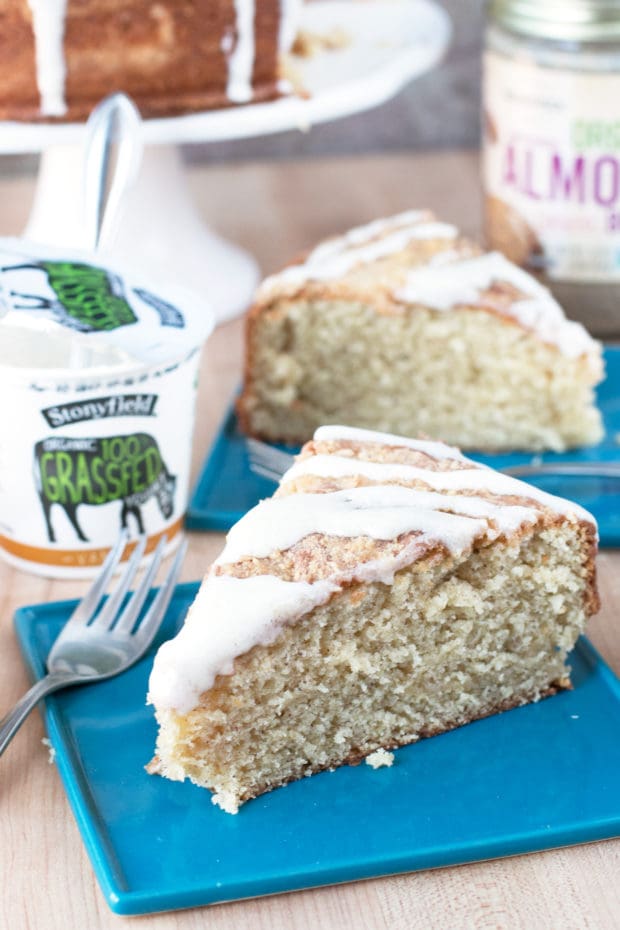 We would always gather in the kitchen together as my mom made eggs and my uncles bickered about the bacon. There was also endless amounts of coffee and some sort of baked treat from doughnuts to coffee cake to muffins.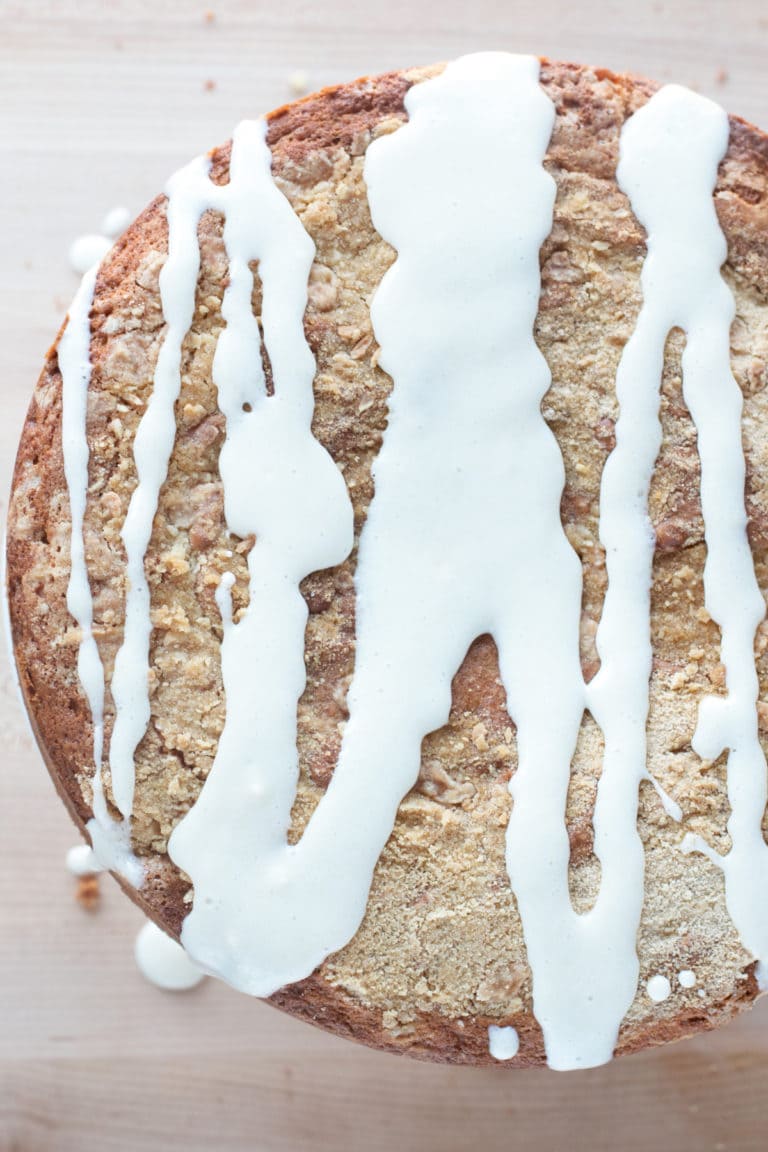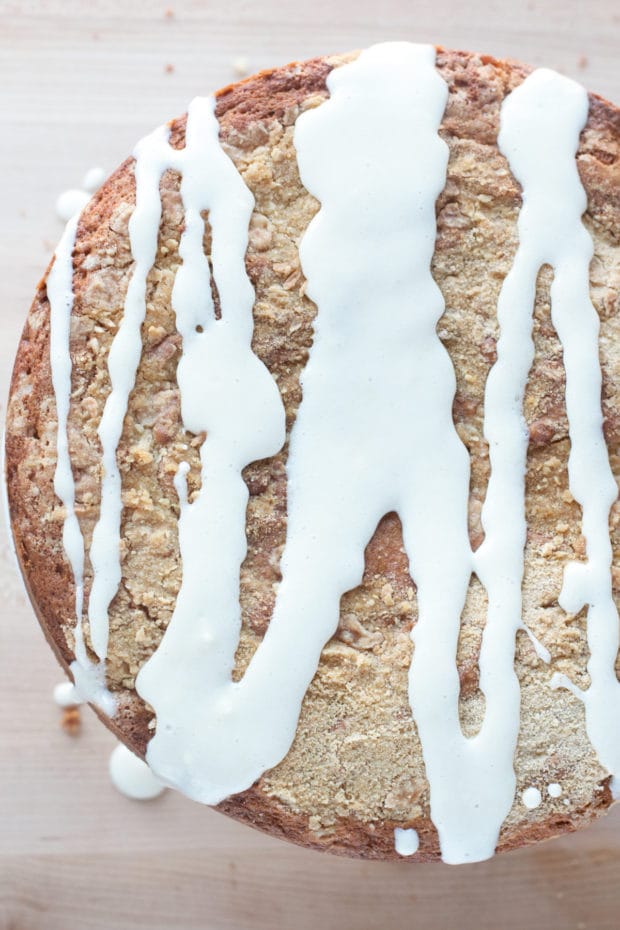 I've really been missing that sense of tradition in the kitchen lately, so I wanted to get back to brunch mode this week, just in time to kick off a new season of food this spring!
I can't believe I'm about to say this but I swear this coffee cake is one I know my grandma would be proud of.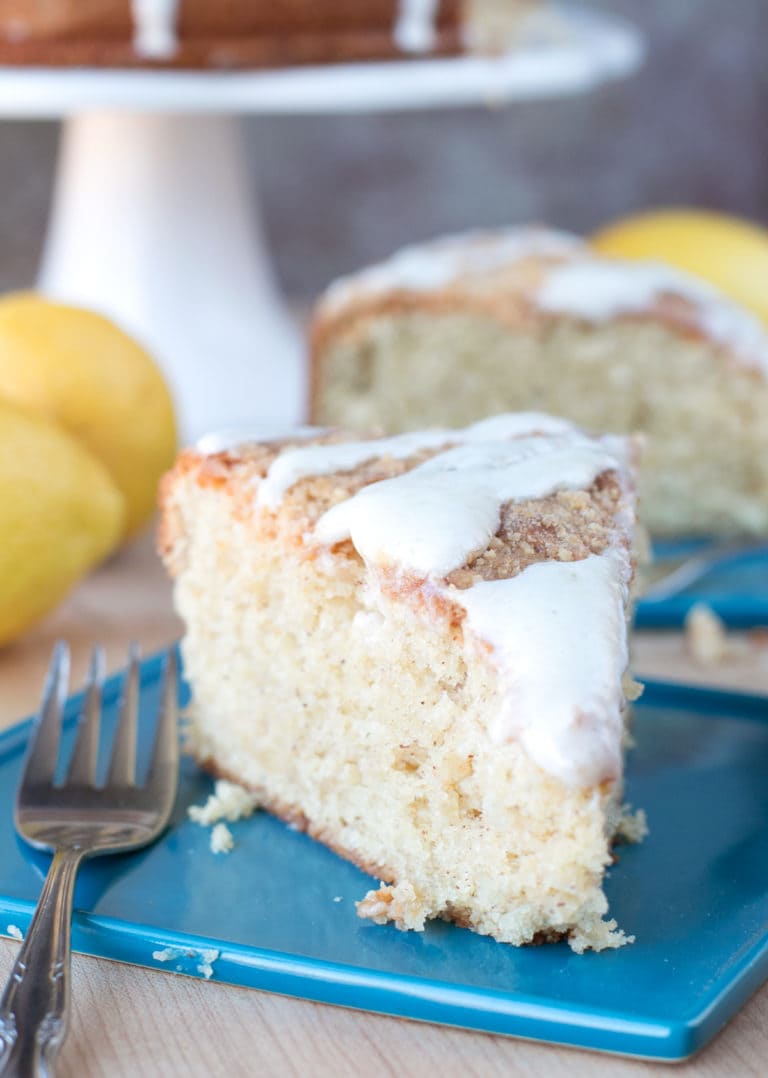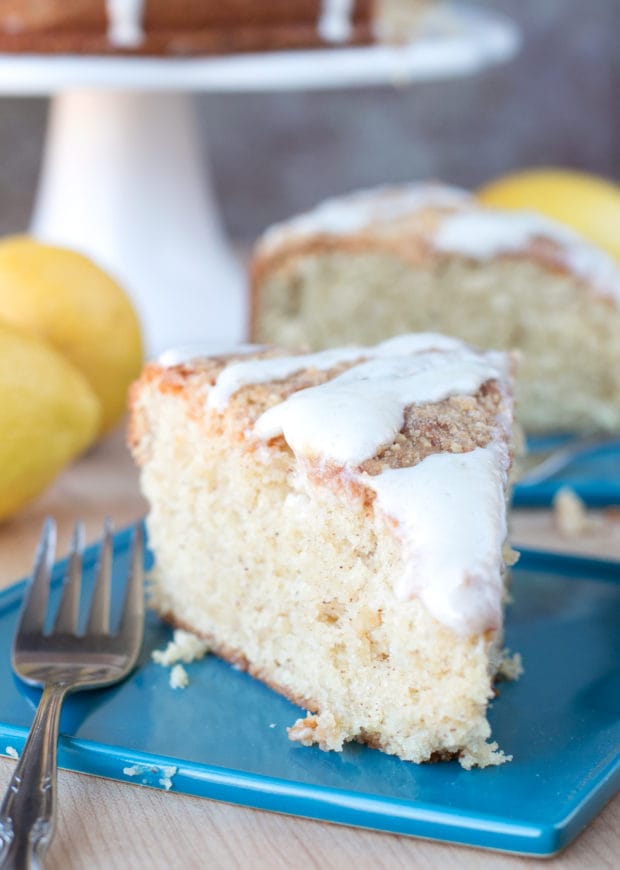 My grandma was the Julia Child of our family, with expert skills and a palate that I would kill for. So saying she would love this coffee cake is no small confirmation.
There are a few things that make this cake so off-the-charts tasty. First, it's incredibly moist (I still HATE that word but I have yet to find a good replacement for it….) and light. Second, the rich almond and vanilla flavor of the cake is positively mouthwatering. Third, the drizzle of lemon cream cheese frosting gives it a refreshing burst of acidity and sweetness.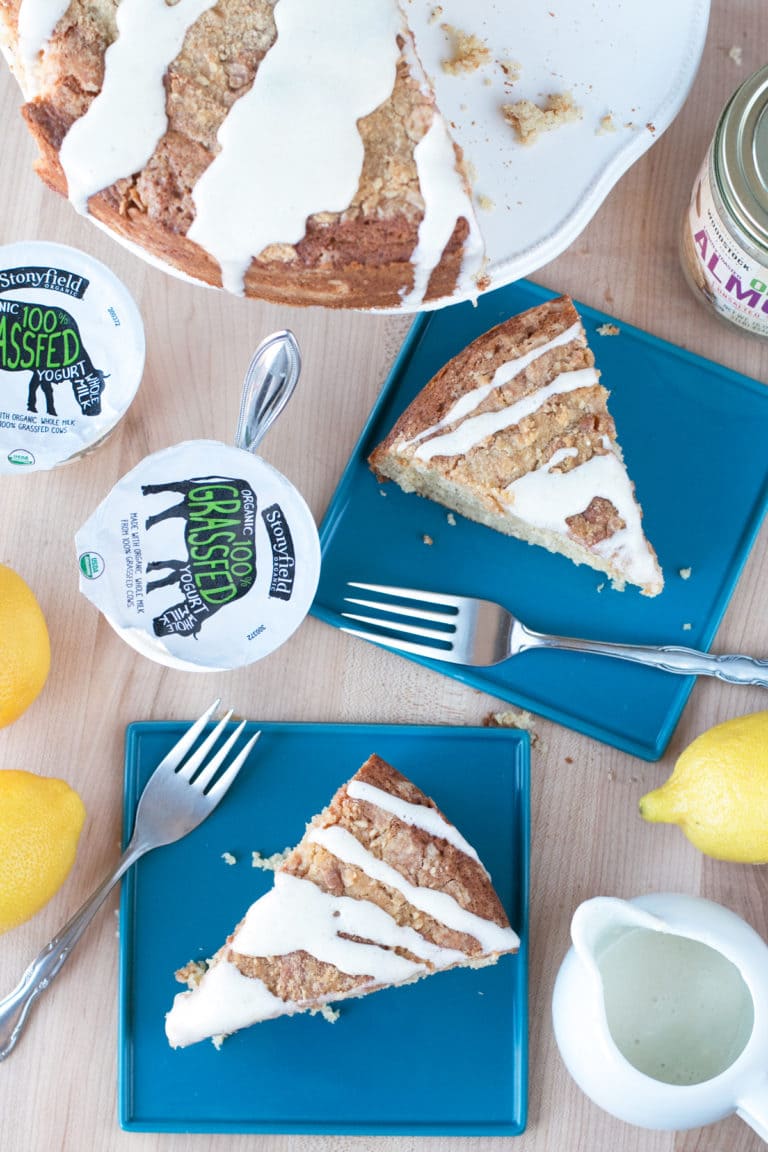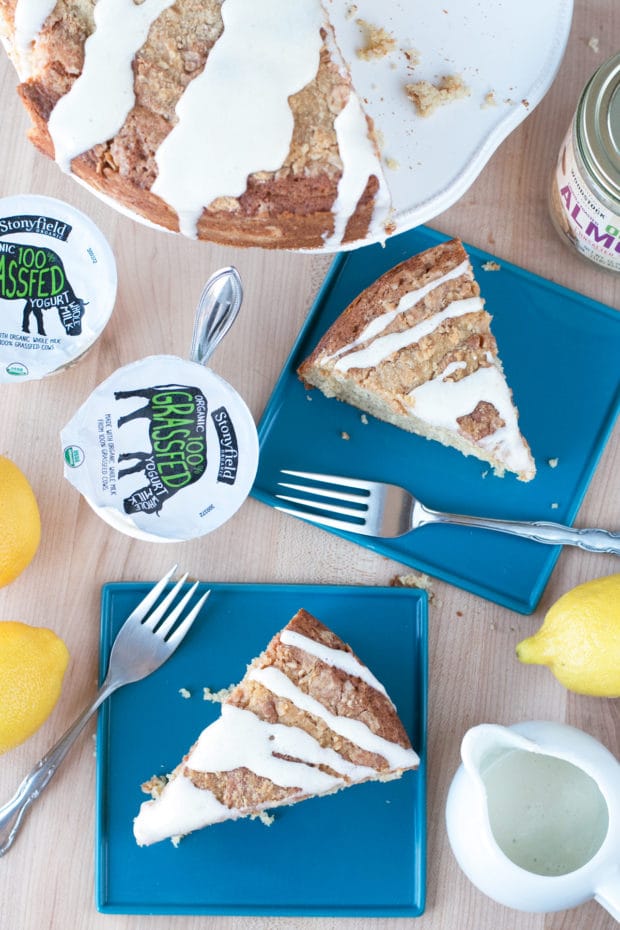 It's the vanilla yogurt and the almond butter in this cake that give it a dreamy texture making it both rich and indulgent, as well as light and fluffy, all in the same bite. Each bite is filled with almond vanilla flavor and the tartness of the lemon cream cheese frosting gives a little extra burst of sunshine to make your taste buds jump to attention. Plus the streusel topping crumbled on top makes a crisp and sweet exterior to give you a little texture.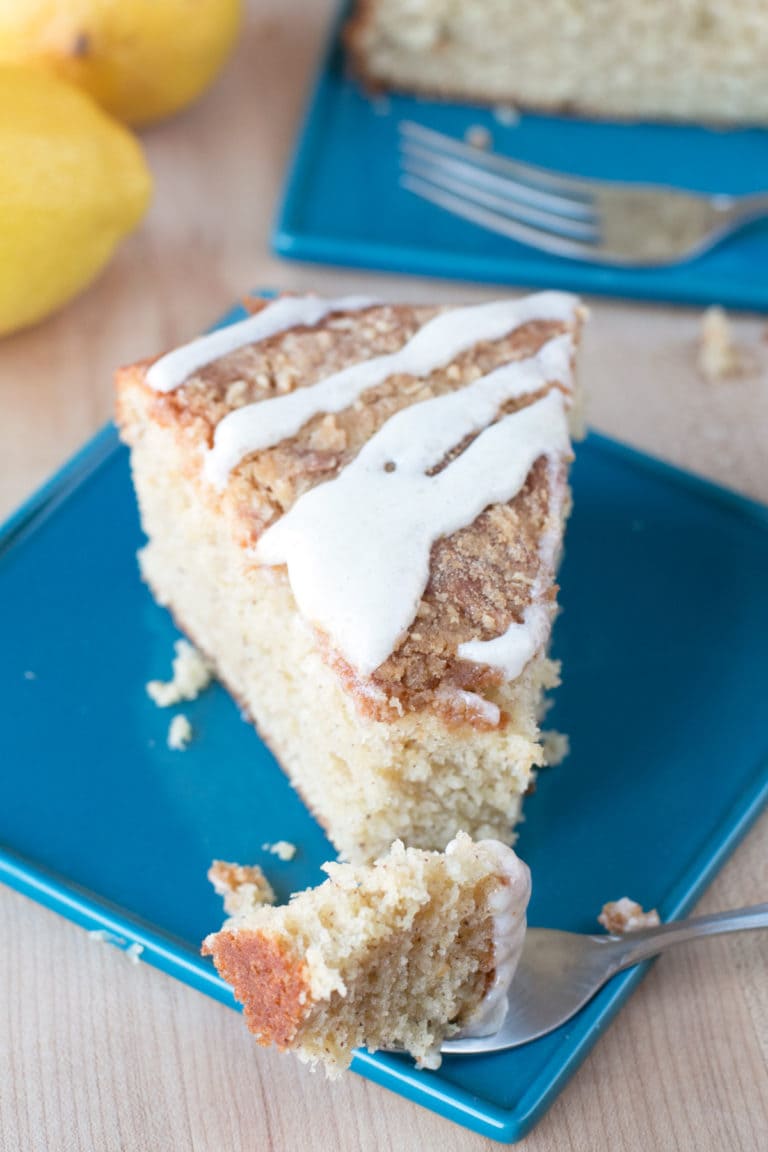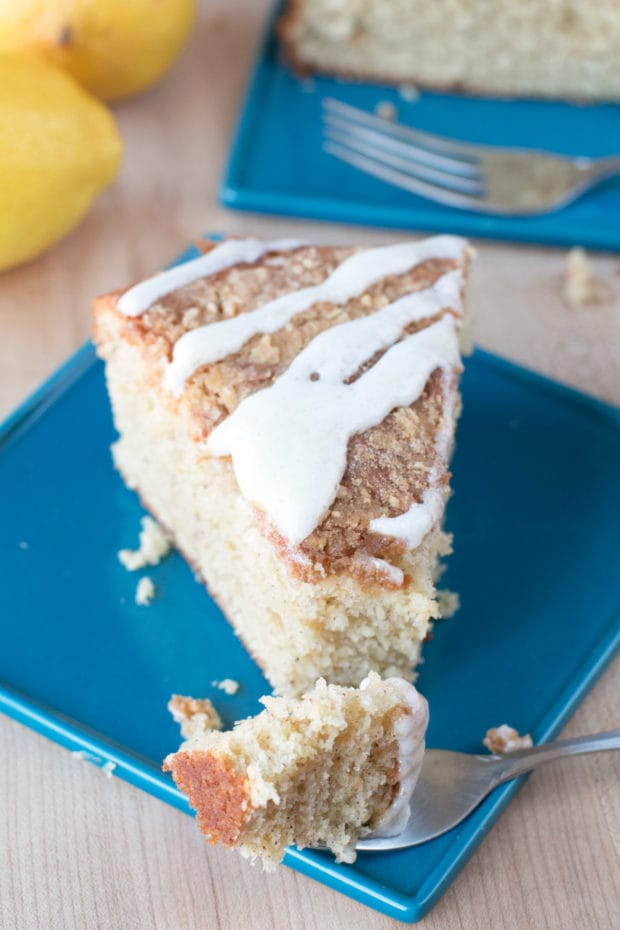 Pair it with a cup of your favorite coffee and your day is going to be made.
This Recipe's Must Haves
Pin this Almond Butter Yogurt Coffee Cake recipe for later!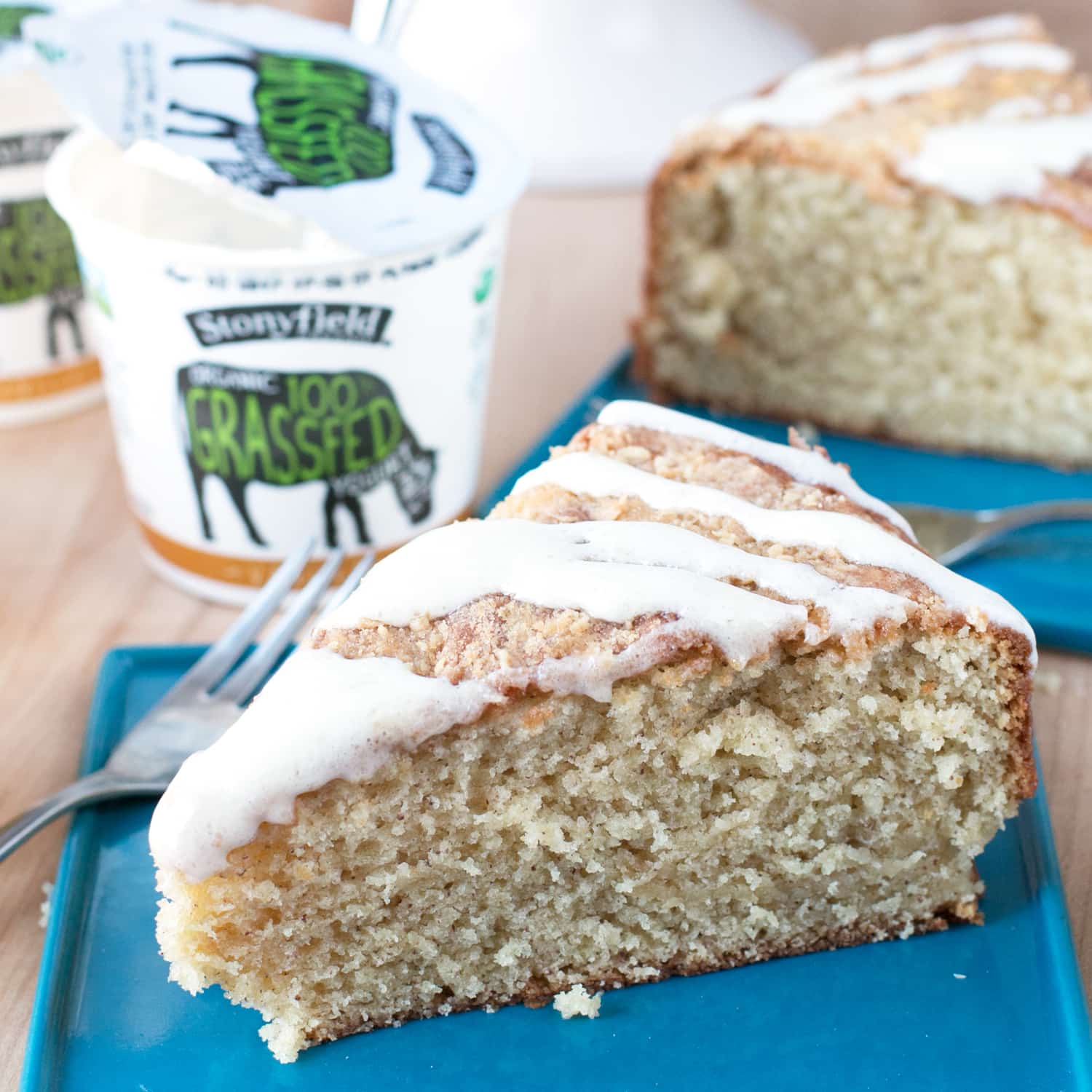 Almond Butter Yogurt Coffee Cake
Total Time:
1 hour
10 minutes
Almond butter, yogurt and a lemon cream cheese frosting. The morning doesn't start off much better than this, now does it?
Ingredients
12 Tbsp unsalted butter, softened
1 1/2 cups granulated sugar
3 large eggs
1 tsp vanilla extract
1/2 tsp almond extract
1 1/4 cups plain Stonyfield yogurt
1/3 cup Woodstock Almond Butter
2 1/2 cups all-purpose flour
2 tsp baking powder
1/2 tsp baking soda
1/4 tsp salt
STREUSEL
1/4 cup light brown sugar
1/3 cup all purpose flour
Pinch of salt
3 Tbsp cold unsalted butter, cubed
GLAZE
3 oz cream cheese, softened
2 Tbsp butter, softened
2/3 cups powdered sugar
1/4 tsp vanilla
1 tsp fresh lemon juice
3 Tbsp milk
Instructions
Preheat oven to 350 degrees. Grease a 9-inch springform pan with butter.
In the bowl of a stand mixer, beat butter and sugar together until creamy, approximately 4 minutes. Add eggs one at a time, beating them in after each is added. Add vanilla, yogurt and almond butter. Beat until well-combined.
Add flour, baking powder, baking soda and salt. Beat until completely incorporated.
In a small bowl, add all ingredients for the streusel. Pinch together butter with other ingredients until butter is about pea-sized or smaller.
Add the batter to the springform pan and top with the streusel topping.
Bake for 50 minutes to 1 hour, or until a toothpick comes out clean when inserted in the center.
Cool on wire rack.
While the cake is cooling, beat cream cheese and butter for the frosting together with an electric mixer in a medium bowl. Beat in sugar, vanilla, lemon juice and milk.
Drizzle frosting over cooled cake.