Chocolate Fig Thumbprint Cookies make the most of one of my favorite fall ingredients – figs! Figs and chocolate are a rich, delicious filling for tasty shortbread thumbprint cookies.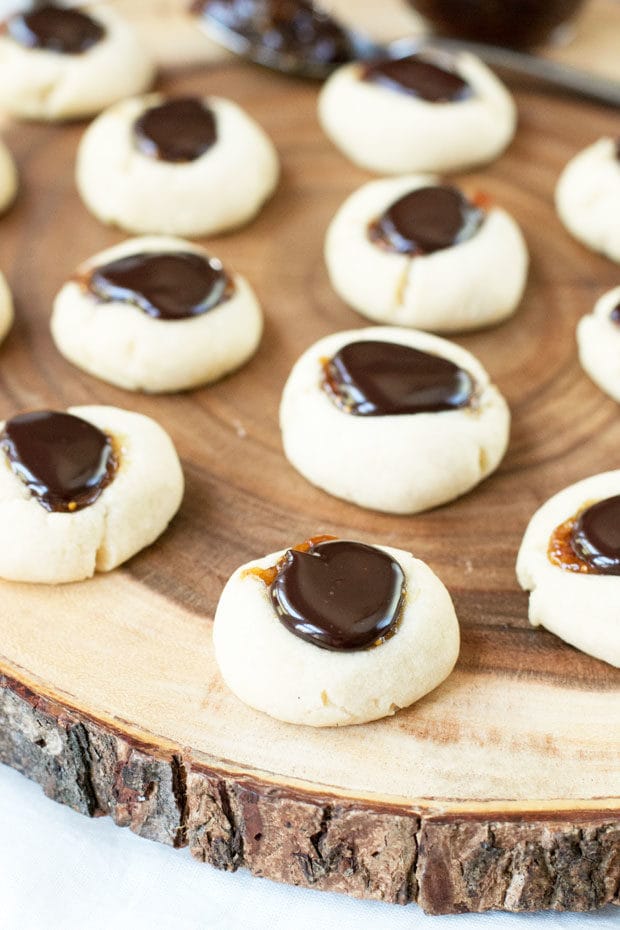 It's Friiiiiiiiiidayyyyyy!!! I'm bring you some delicious little cookies for your weekend baking project because, let's face it, you always could use a little more chocolate in your life on the weekend.
I have been obsessed with fig jam every since I had it in Italy. It's the perfect addition for any meat and cheese plate, plus a little fig jam and ricotta on a toasted piece of bread is the best snack you'll ever eat in your entire life.
Well, until you try one of these little thumbprint cookies, that is.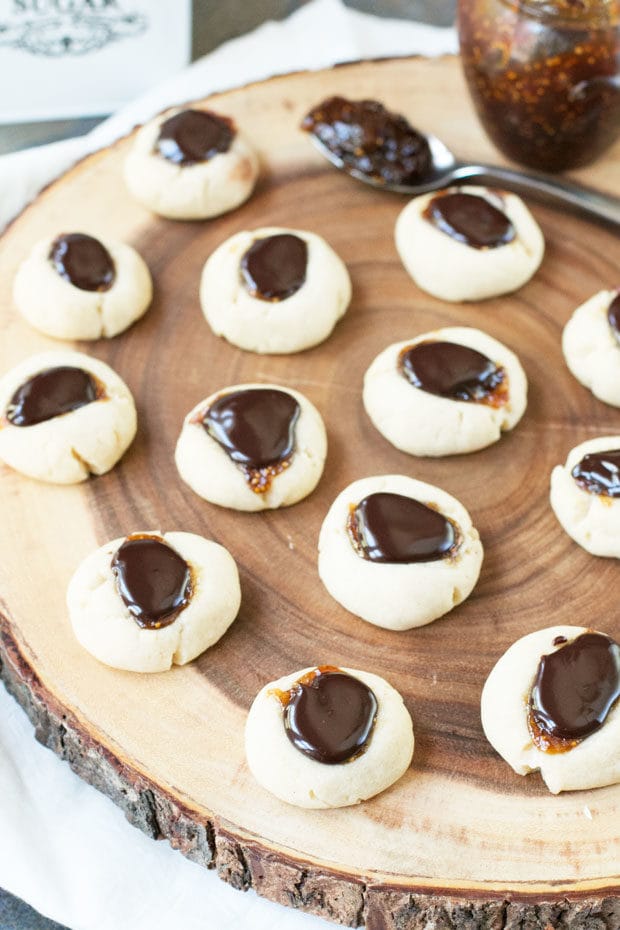 Fig jam and chocolate are seriously a match made in heaven. I've had chocolate covered figs before, but I tend to only be able to indulge in one or two before feeling overwhelmed with fig flavor. That's why these shortbread cookies are the perfect vehicle for the combination. The soft, buttery cookie gives you just the right break from the rich dark chocolate ganache and sweet fig jam.
That's why these cookies are so easy to enjoy one after another, after another, after another…
Plus these shortbread cookies aren't anything like the super hard shortbread you might run into at the store. No, these shortbread cookies practically melt in your mouth with every bite.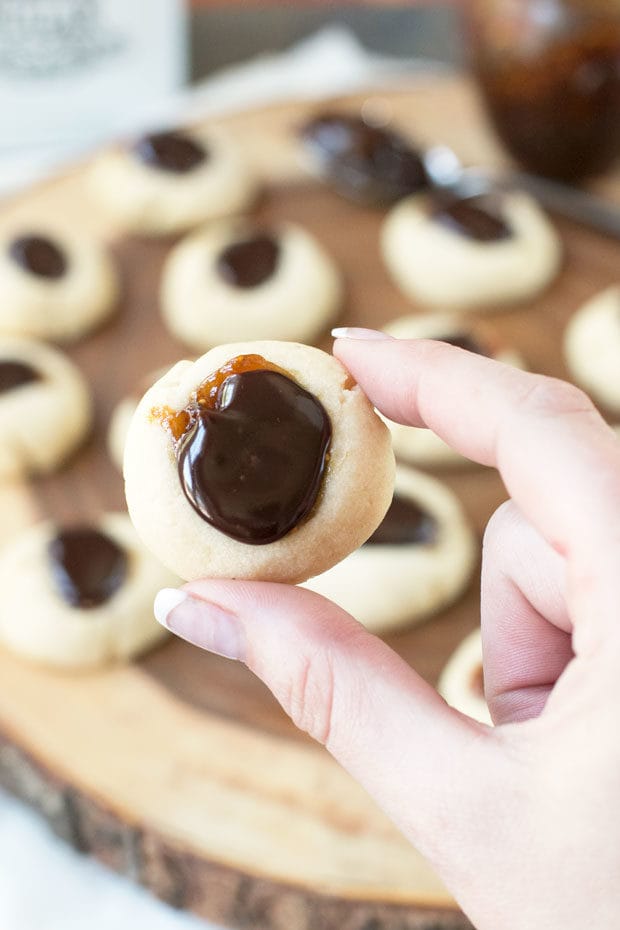 I might be slightly drooling now that I'm thinking about them again… Don't judge me. I'm happily working on my winter sweater figure, mmkay?
So forget all those pumpkin spice recipes that you've been obsessing over this week. Instead, go give into temptation and grab a pumpkin spice latte. Then come home, make these cookies and revel in all things fall. Because it's FINALLY here. *happy dance*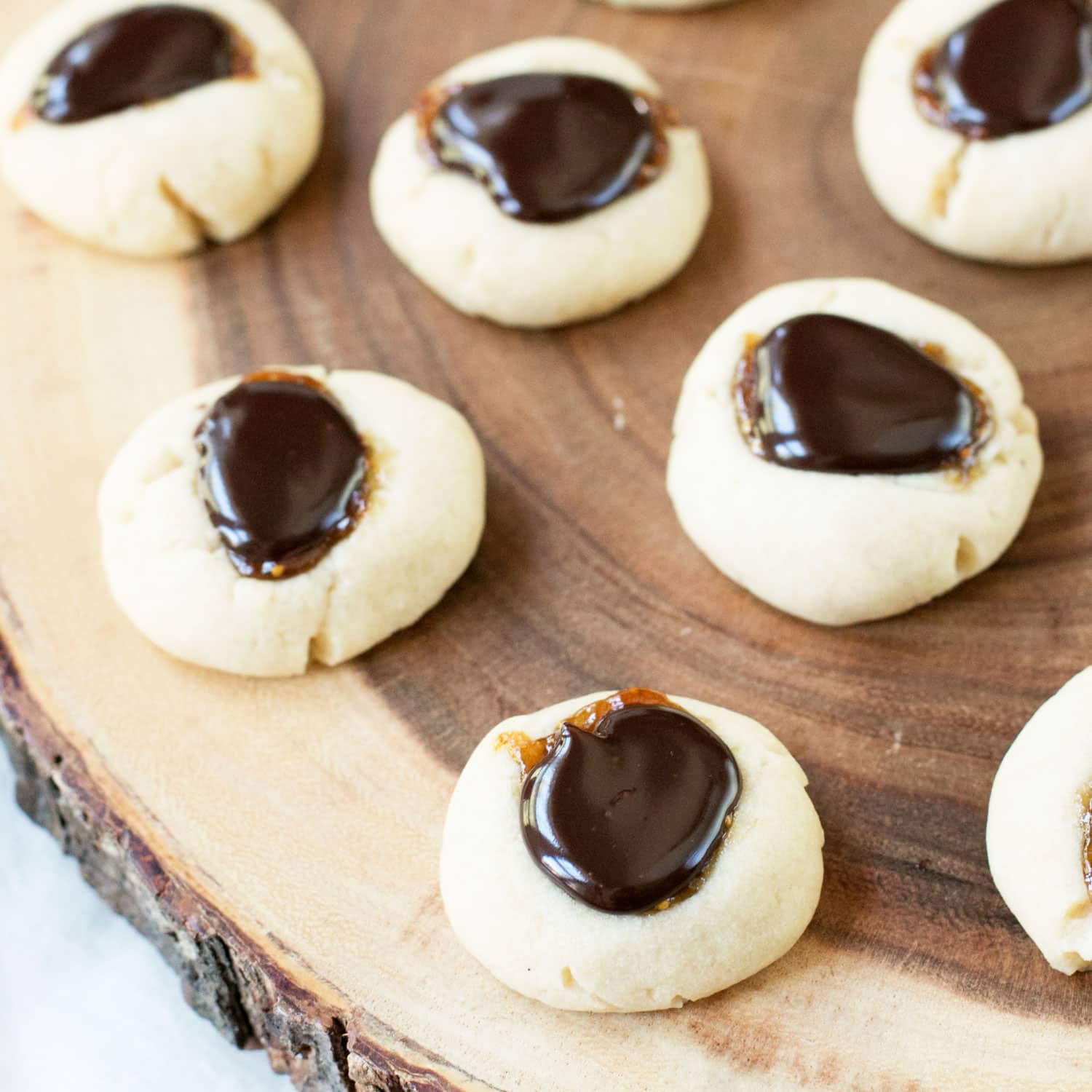 Chocolate Fig Thumbprint Cookies
Fig and chocolate go together like peanut butter and jelly!
Instructions
Preheat oven to 325 degrees.
In a large bowl, cream butter and sugar together using an electric mixer. Add vanilla and beat until combined. Blend in flour and salt, mixing until thoroughly combined.
Roll one tablespoon of dough into a small ball about 1 inch in diameter. Place dough ball on lightly greased cookie sheets. Repeat the process with the remained dough, placing balls roughly 1 inch apart. Press down the center of each ball with a spoon, forming a small depression. Fill each with a teaspoonful of fig jam.
Bake 15-20 minutes or until golden brown. Transfer cookies immediately to a cool, flat surface.
In a small saucepan, heat heavy cream for the ganache over medium heat. When simmering, remove from heat and add chocolate chips. Let sit for 2 to 3 minutes. Stir until smooth.
When cookies are completely cool, top with a teaspoon of dark chocolate ganache. Let rest for at least 15 to 20 minutes in a cool area to firm up.