Please note this post contains affiliate links.
Vampire Bite Bloody Mary Shots are how I do Halloween like a classy AF adult. Who doesn't like getting a little foggy on some booze in vials on the spookiest night of the year, right?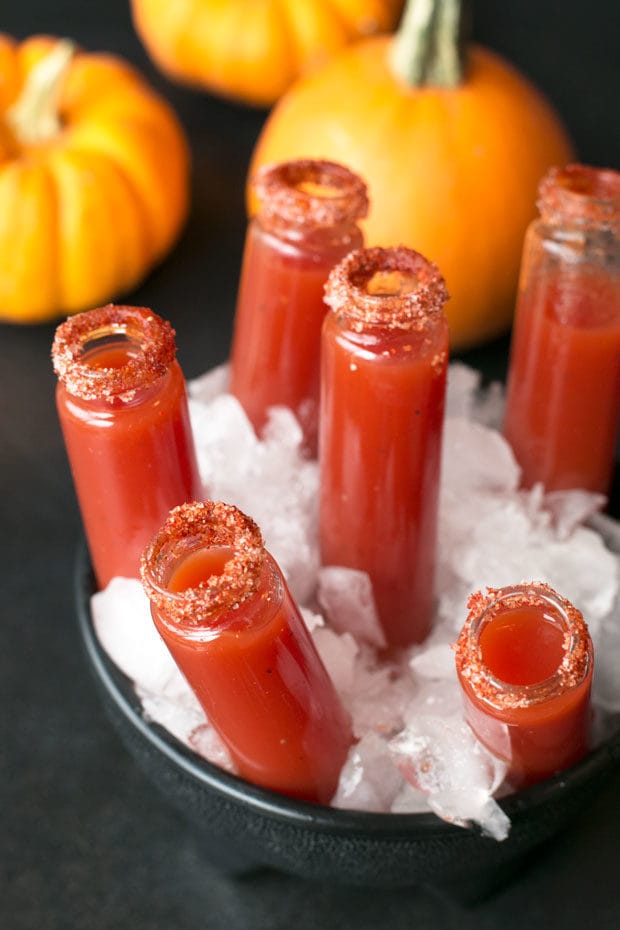 Ah, Halloween… It's the first of all the holidays that sneaks up on you before you know it to kick of the final weeks of the year that always pass by in a FLASH.
I remember getting so so SO excited about Halloween as a kid. I was a whole new character every single year. Sometimes my mom would make the costume, sometimes I would thrift store it up, and, honestly, as I got older I would trash it up just a wee bit from those big Halloween costume shops…
Hey you are only young once right?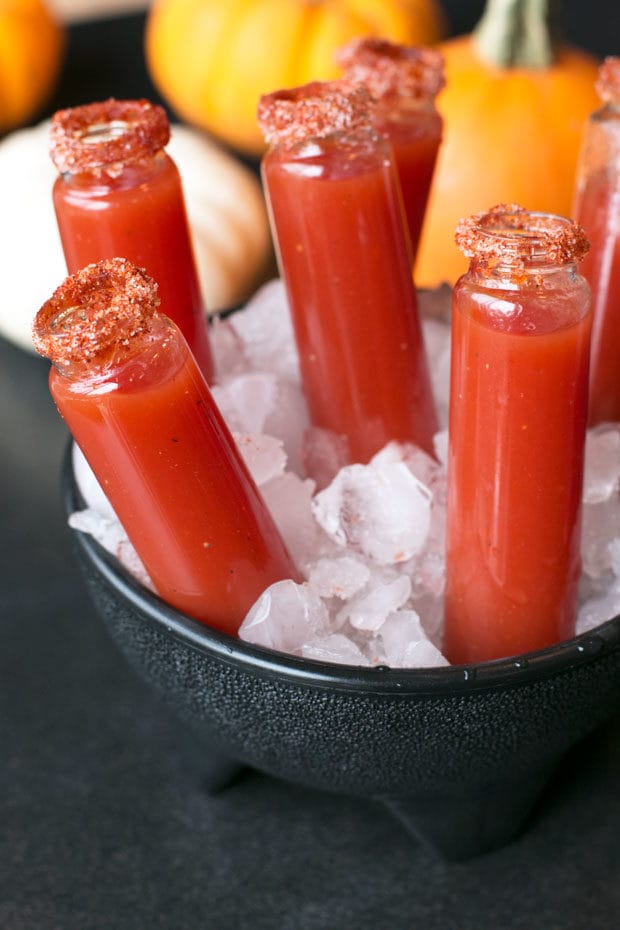 Now that I've hit the big 3-0 (eep!), I am not 100% sure how to process Halloween. Do I dress up now or am I past that? What should I be for Halloween now?
All I've really been able to figure out is that I need to be consuming some quantities of alcohol. And by some, I really should say a lot. What's a crazy night like this supposed to be like without a little boozy lubrication to make it through?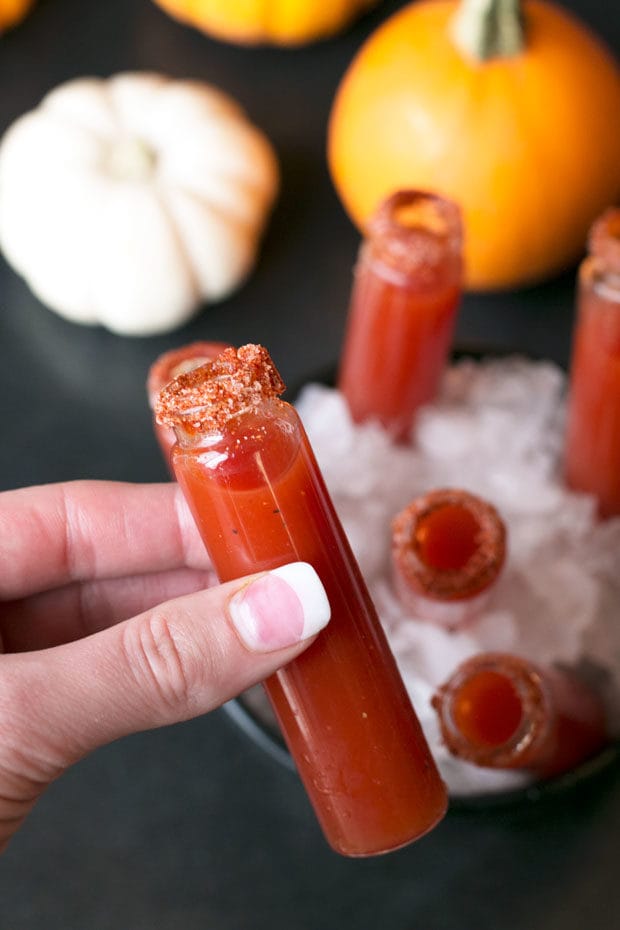 These vampire bite bloody mary shots are just what you need to get the party started. It's a quick bloody Mary mix poured into vials rimmed with a spicy cayenne salt.
You get the bite from the spice and the booze, so take that as fair warning. After a few of these, the night might seem even more spookier than you thought it would be.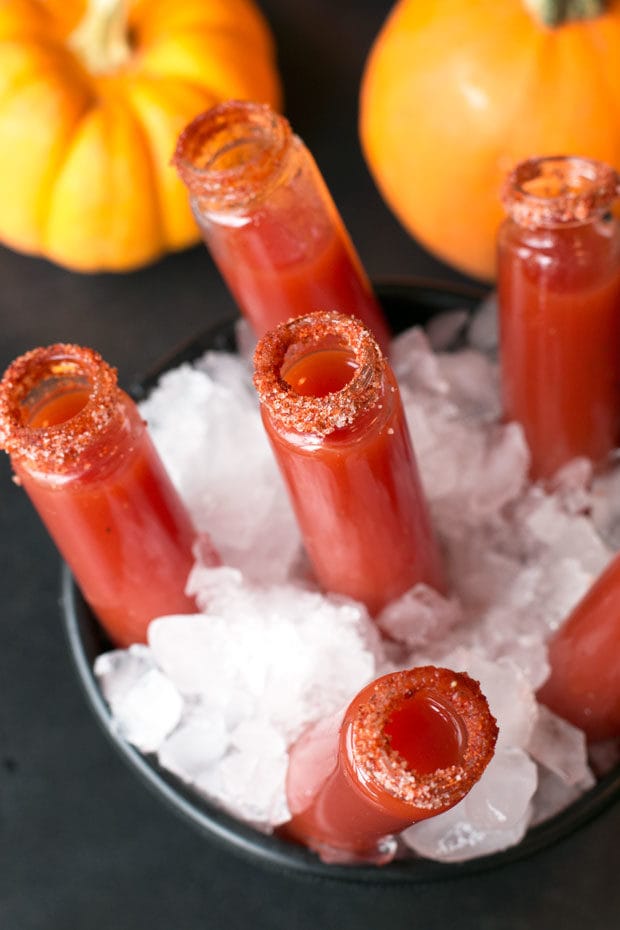 I love to serve them up in bowls of crushed ice (the ones for guacamole kind of look like tiny cauldrons!) with tons of pumpkins all around. Who's getting all festive? Looks like it's THIS GIRL.
Need some treats to serve with these shots? Here's some Cake 'n Knife favorites!
Spooky Halloween Meringue Swirls
The Best Roasted Pumpkin Seeds
Peanut Butter Spiderweb Cookies
This Recipe's Must-Haves
This cocktail comes together super quickly in a pitcher and all you need is a mixing bowl to stir it all together.
In addition, I like to serve these shots in rimmed vials like the ones linked here!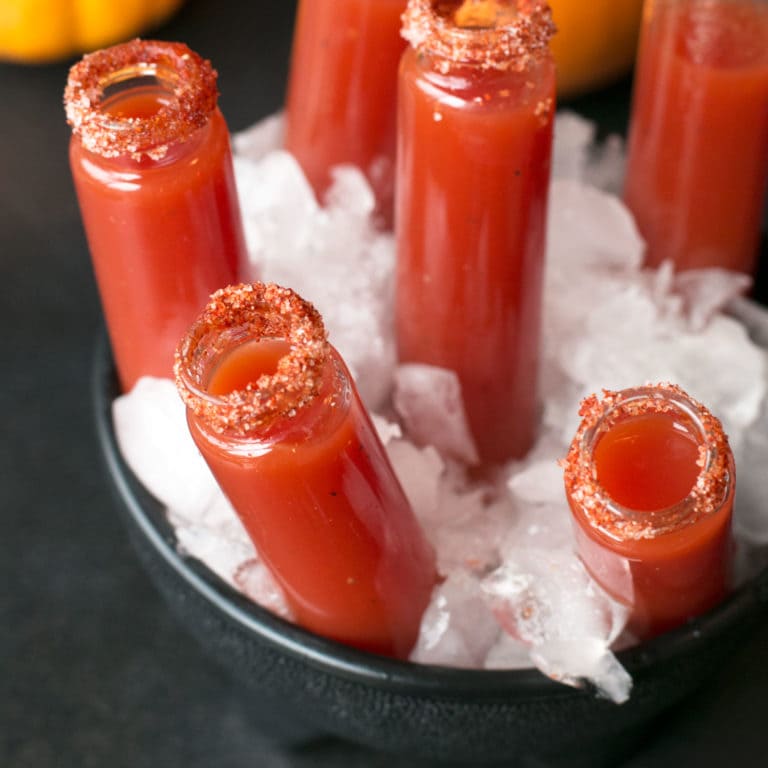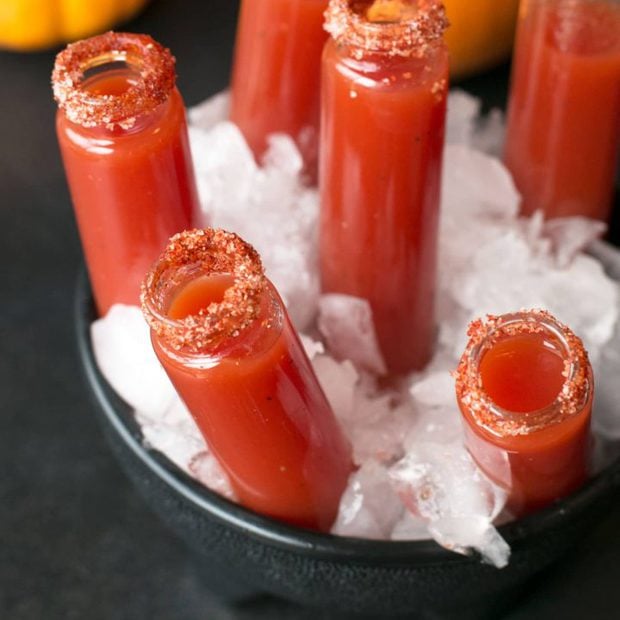 Vampire Bite Bloody Mary Shots
Who wouldn't want to drink boozy bloody Mary's out of vials on Halloween?
Ingredients
1 Tbsp salt
1/2 Tbsp cayenne pepper
11 oz tomato juice
5 oz vodka
6 drops Tabasco
2 dashes Worcestershire sauce
Instructions
Combine salt and cayenne pepper in a small shallow bowl, stirring to combine. Dip the rims of the vials into a shallow plate with water. Rim with the cayenne salt and set aside.
In a pitcher, stir together tomato juice, vodka, Tabasco and Worcestershire sauce.
Carefully fill the vials with the vodka mixtures. Serve vials in a bowl filled with crushed ice for easy access.